Whether you're someone who's gotta catch 'em all or a more restrained fan of the adorable but tough pocket monsters, the new Pokémon café in Tokyo is a must-visit on your next trip to the city.
Even if you're not sure what this Poké-craze is all about, you can add another quirky eatery to the long list of them in Tokyo! Plus, who can resist the opportunity to meet the super-adorable Pikachu (yup, we said meet!) or enjoy Pokémon-themed food?
Even if you are already sold and are all sorted for your visit, we have a recent Pokemon Cafe Tokyo menu at the end to get you excited and planning all your exciting meals…
Just don't plan us if you need more than one visit to try them all!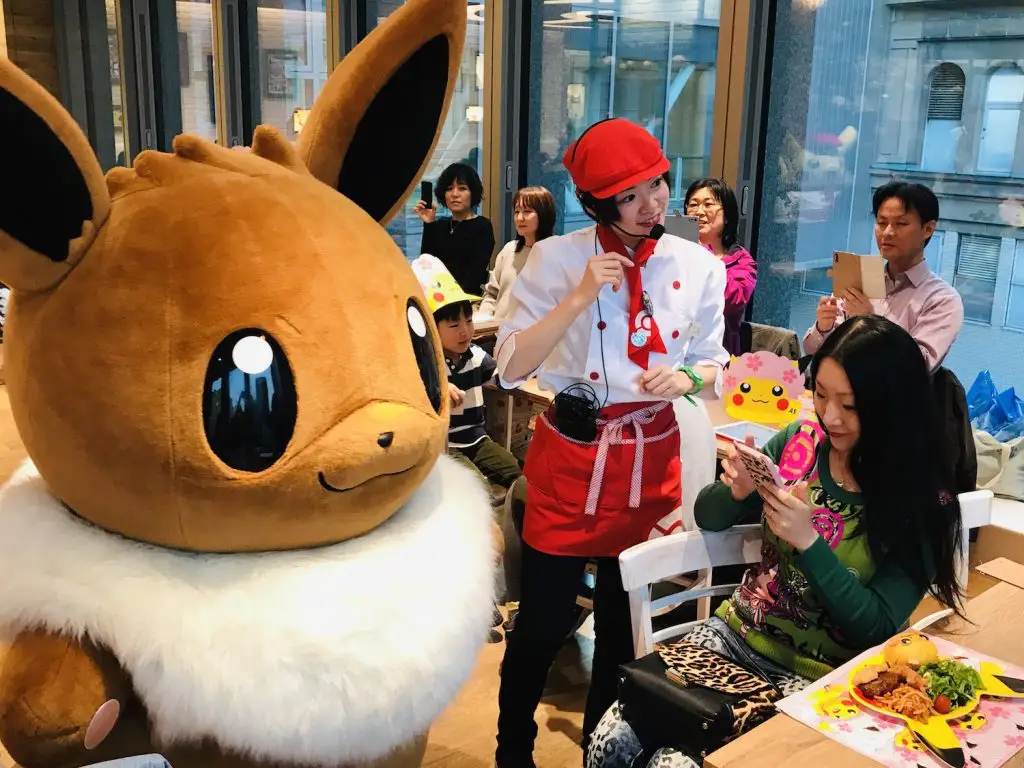 Where Can You Find The Pokémon Cafe In Tokyo?
As you might expect, the Pokémon café is right next to the largest Pokémon Center Tokyo where you can buy all the Pokémon plushies and merch your heart desires (more on that in a minute!). As well as the store and the cafe, you'll find state-of-the-art digital interactive screens that you can use to learn more about all your favourite Pokémon.
This is actually the biggest Pokémon Center in Japan – to date! It's conveniently close to Tokyo Station, in one of Nihonbashi's huge department stores, Takashimya.
But trust us, you won't be finding this on your average tour of Japan. Somehow, it's still very much a hidden gem for dedicated fans of all things Pokemon.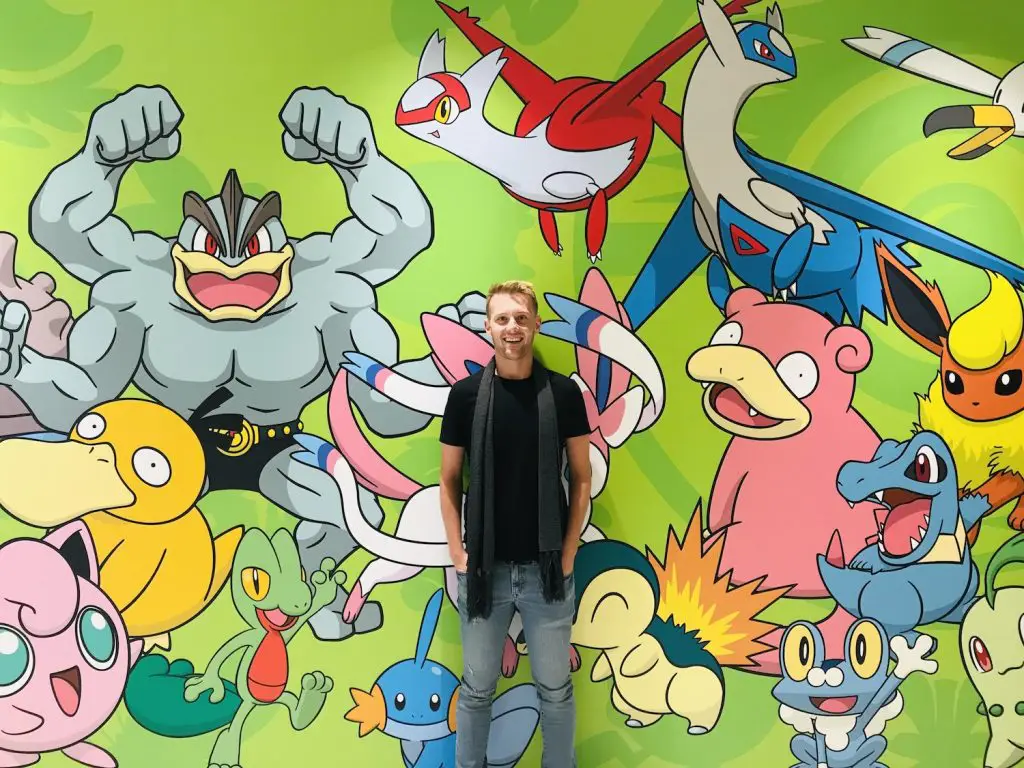 Tell Us About The Goodies At The Pokémon Store Tokyo!
Seriously, where do we even start? Literally (and we don't use this word lightly!) every possible Pokémon goodie you can imagine is stocked in the enormous Pokémon store Tokyo. Soft toys as far as the eye can see, Pokémon-themed foodstuffs, old-school games and much, much more.
We hadn't seen anything this crazy since, well, DisneySea or the Robot Restaraunt in Tokyo. Ok, there is a lot of craziness to love in this city.
You might think that given Pokémon is such a huge thing, there's nothing new here that you can't find at one of the many other Pokémon stores around Japan – we're afraid you're wrong. There are items here that can't be found anywhere else, with a particular focus on 'Japanese-style' merchandise, like Pikachu in a hakama, which is a traditional outfit in Japan.
We also loved the Pikachu in a fire-fighter's outfit, and in the garb of a 'gentleman'. Basically, anything involving Pikachu and we love it!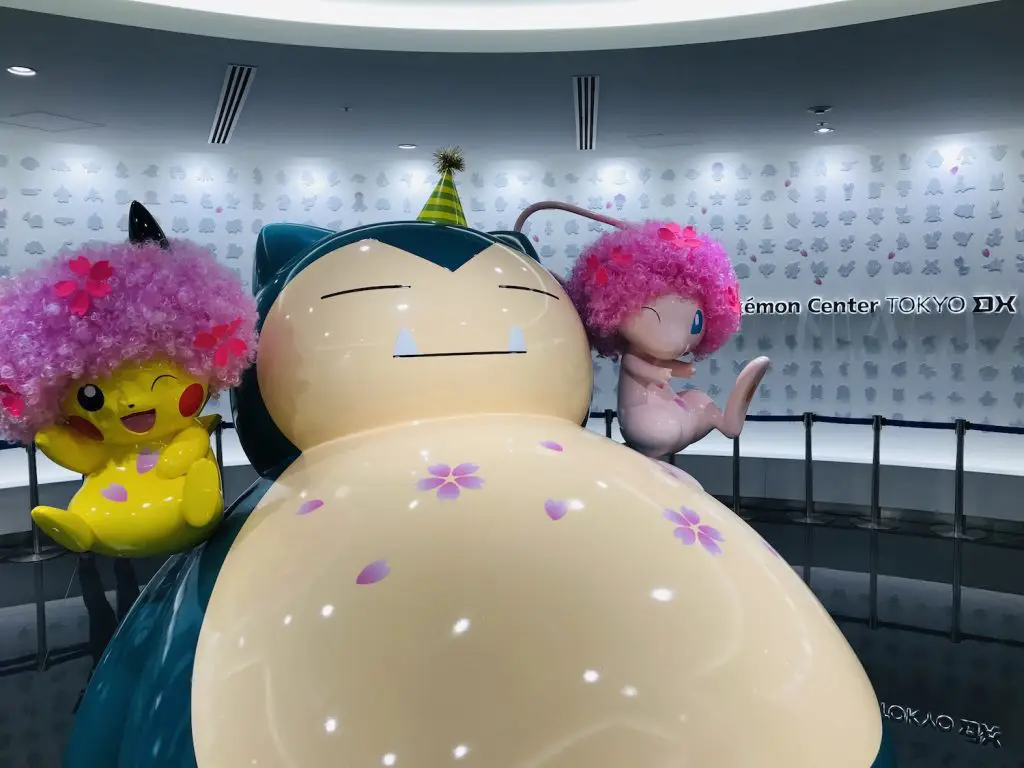 As the area was the centre of Tokyo during the Edo area, this Pokémon store in Tokyo also stocks goods from renowned local shops specialising in traditional items. That's why you'll find wooden boxes with toothpicks, stationary sets and wooden brush boxes – all Pokémon-themed, of course!
Try to resist spending all of your money in this shiny and inviting store, however, and take yourself over to the Pokémon Café across the foyer.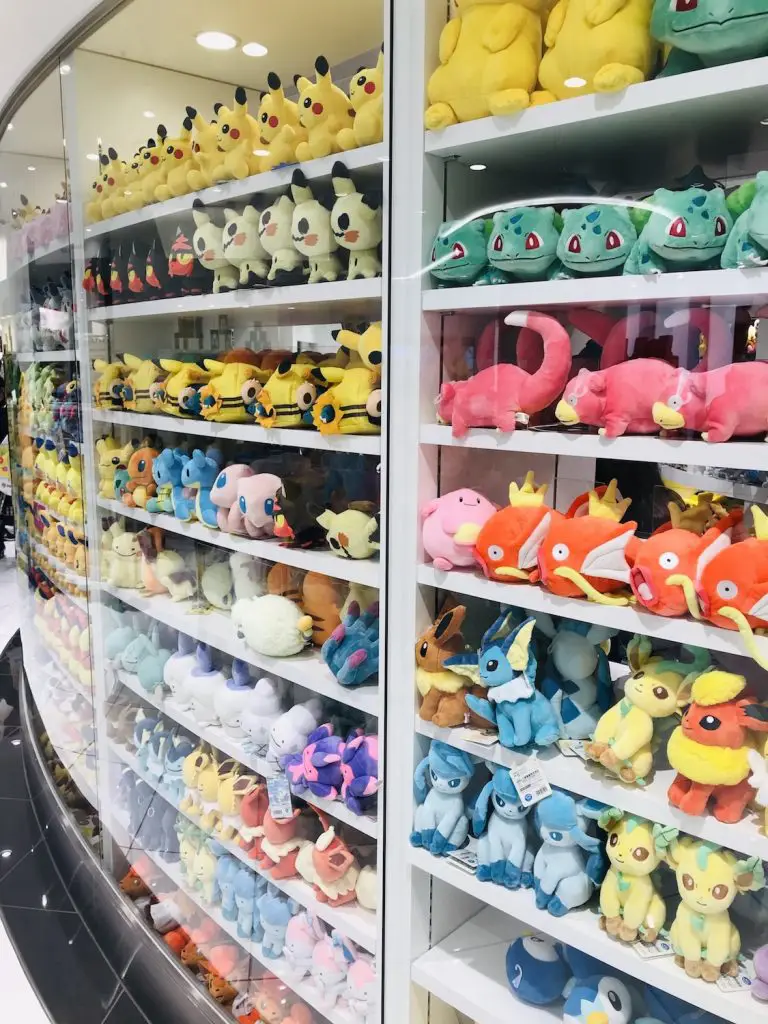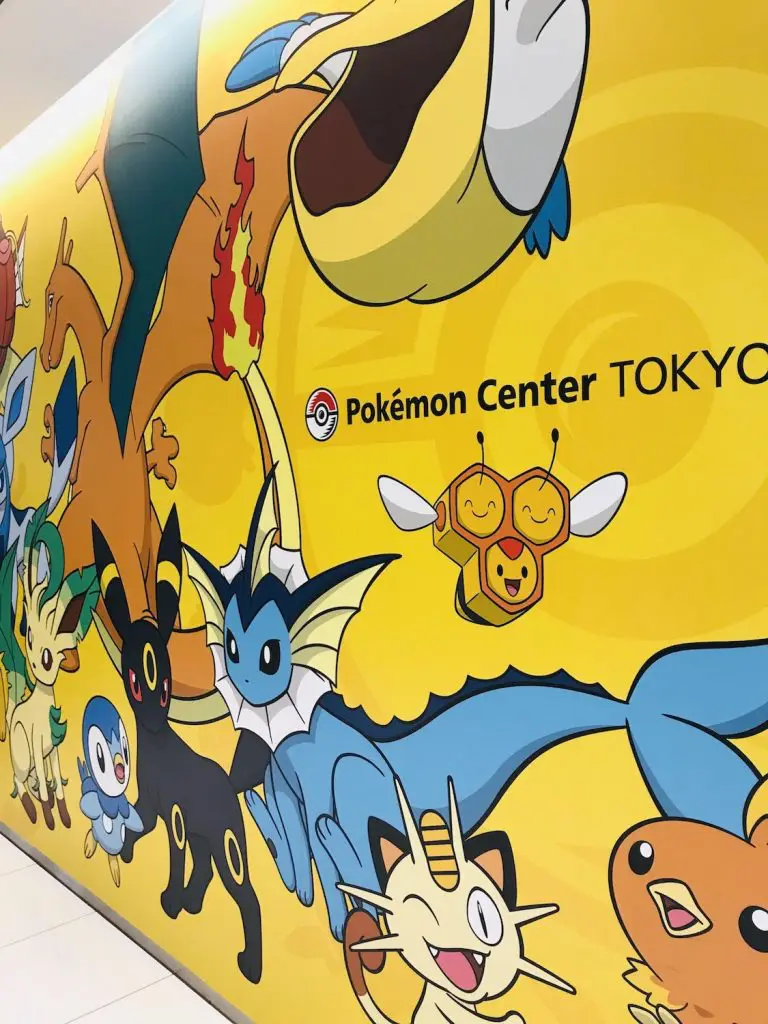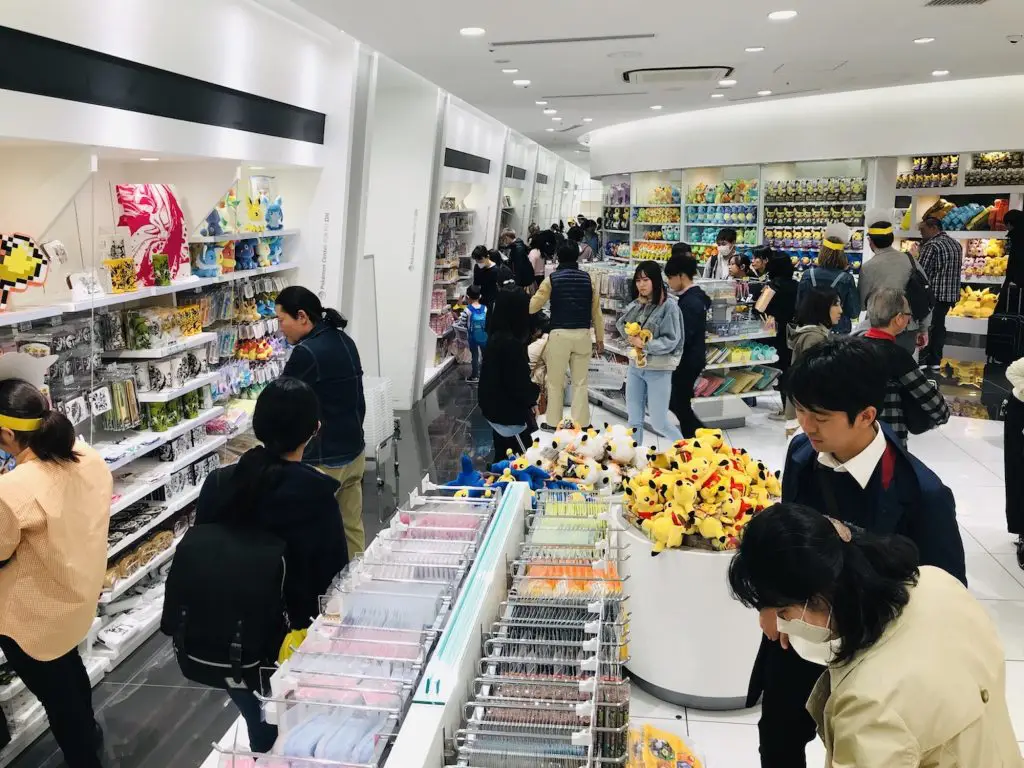 What's The Pokémon Cafe In Tokyo Like?
While the café is clearly Pokémon-themed, it's surprisingly understated. A light and open space decorated with simple wood floors and tables, with plenty of space for the big groups who flock here, you'll get a warm welcome and a great view (if you're lucky enough to get a seat next to the windows).
The tables are occupied with centrepieces of mini Poke-monsters who keep an eye on you as you eat. You order using a 'digital waiter' – an iPad menu system with helpful pictures of the food. You'll have a 90 minute slot to enjoy your experience at the café and they're happy for you to take as many photographs as you like.
This is a good thing because the food is perfect for Instagram!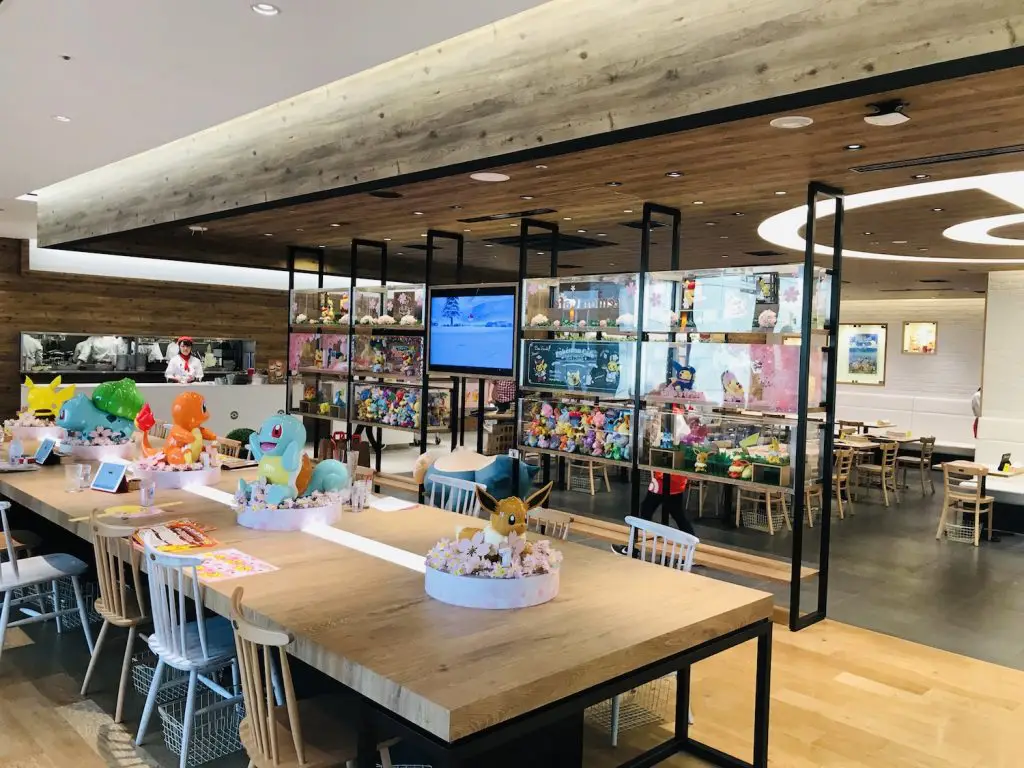 What's The Food Like?
Taste-wise, the food is totally acceptable. But let's be honest, that's not the main talking point! Every dish is playfully designed with an adorable Pokémon theme. The only issue with this? Can you bear to eat a burger that looks exactly like Pikachu's cute face? Or a cheesecake Jigglypuff?
Or a … well, not so beautiful Bulbasaur burger. Hmmmmm.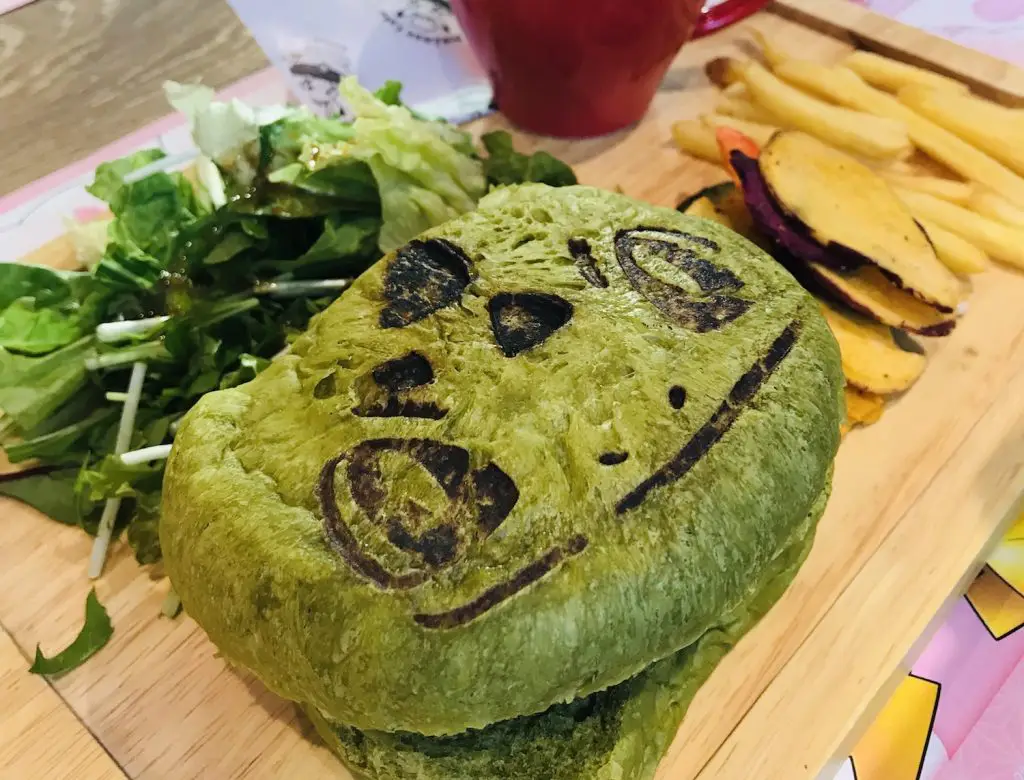 Luckily, we managed to get around this so we didn't go hungry, but there will be a 10 minute gap between food arriving and actually being eaten to ooo and ahhh, and take all those photos. The Pikachu curry is full of flavour and the hide and seek Pikachu carbonara is hilarious.
Definitely get a coffee or tea as they come with chocolate-sprinkle artwork and in some seriously cute mugs. You can actually pay extra to keep your dish or your mug – this is why we said not to spend all your money at the store!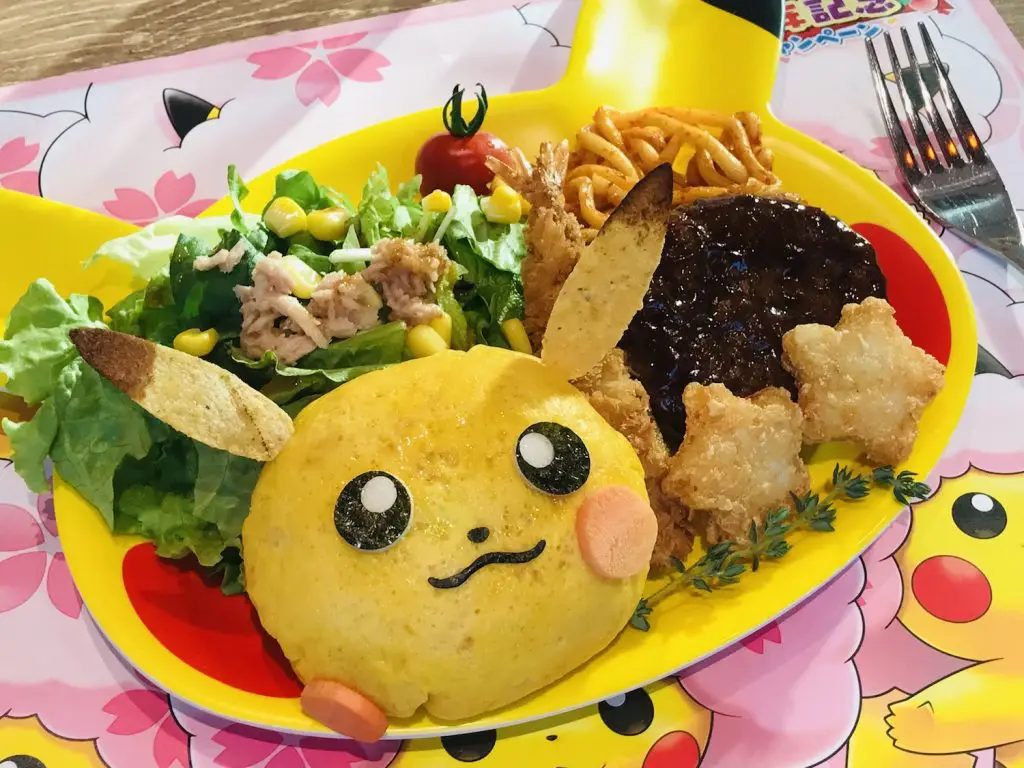 What Makes The Tokyo Pokemon Cafe So Unique?
Aside from the innovative food design and futuristic ordering system, the obvious high point of meeting the amazing Pikachu himself really sells this great experience. To lure Chef Pikachu out of the kitchen (where he's preparing all your food, of course!) you join in a lot of cheering and clapping.
When he ventures out in his chef's outfit, he'll visit every table, shake your hand and take a photo with you. It's such a fun experience and, seriously, how cute is Pikachu?! We can't ever get over it, so meeting him is a real thrill!
It's a lovely touch that he takes the time to visit every single table, and it's nice to see all the kids (and not only the kids!) get so excited.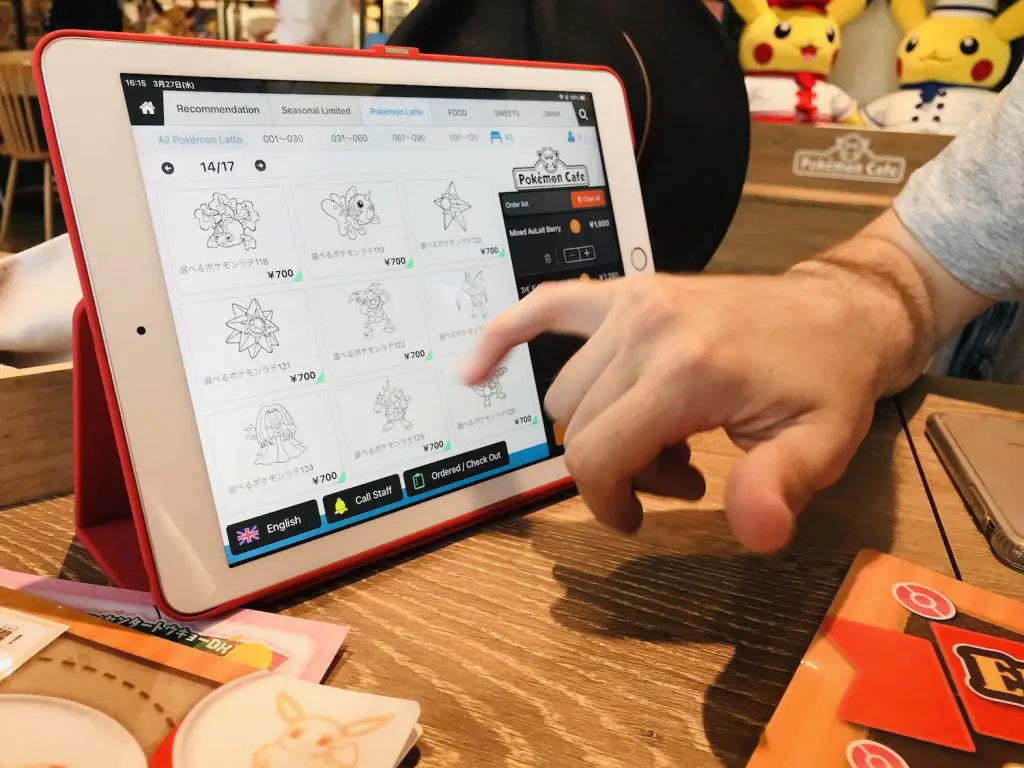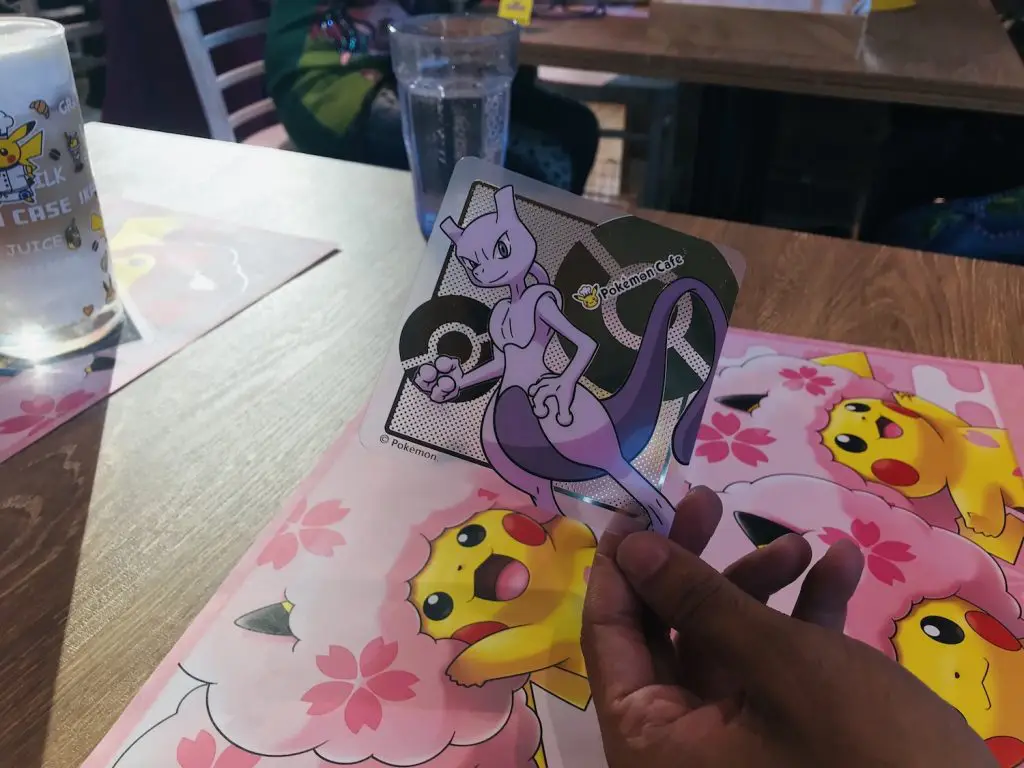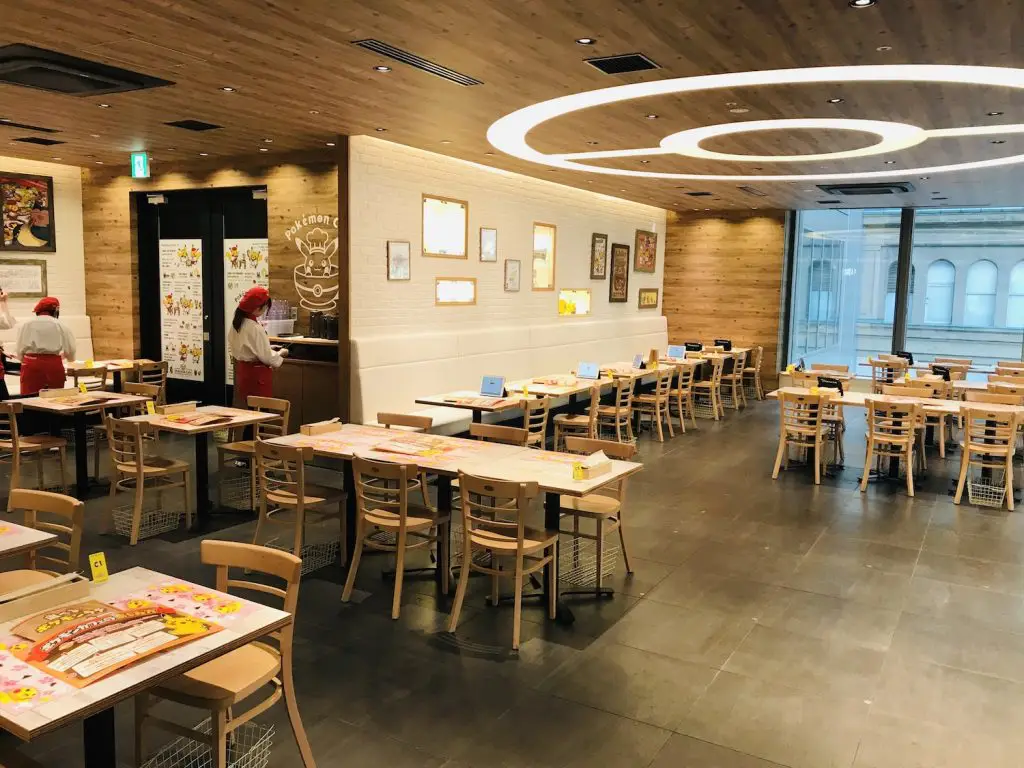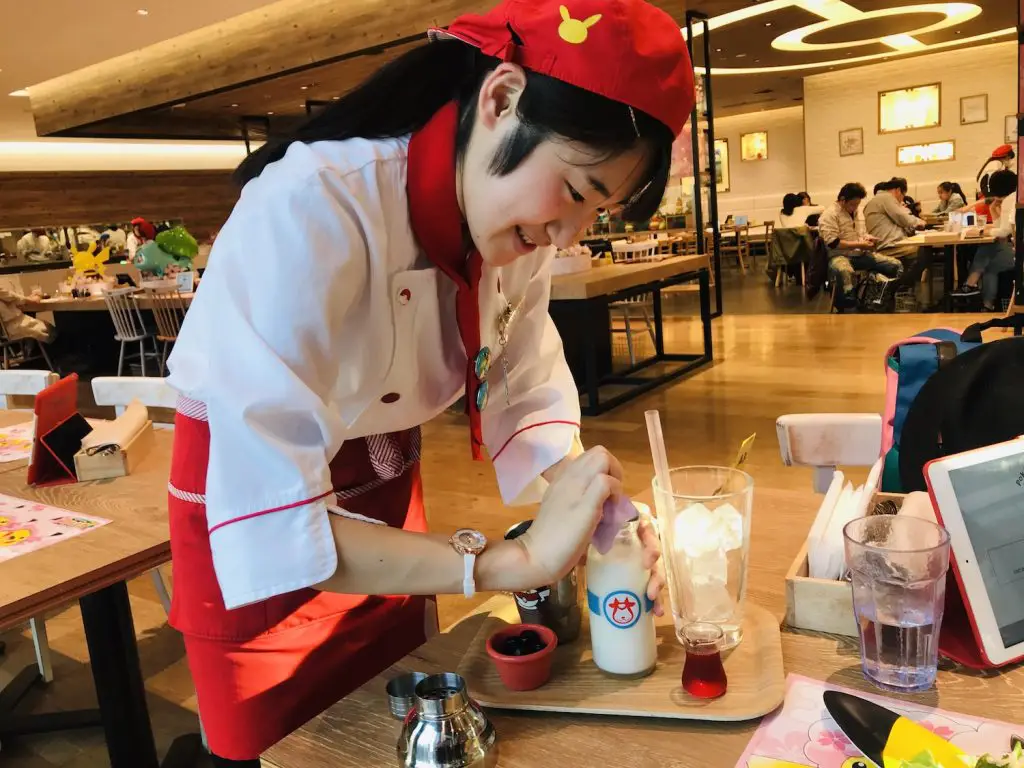 Is There Anything Else You Should Know Before You Go?
In one word? Book! No surprises that the Pokémon Cafe in Tokyo is popular, of course!
It gets incredibly busy so if you want to guarantee your visit, go to the website and make reservations in advance, especially if you want to go over the weekend. The website is in Japanese so you'll have to use handy Google translate (unless you want to practice your Japanese). They ask you to arrive 10-15 minutes early so everything runs as smoothly as possible. Naturally, things run very smoothly indeed, so you won't be waiting long.
It's also worth noting that it will be a little more pricey than similar, non-themed cafes, so be prepared for that. Factor in the fact that you might be tempted to buy the crockery, as well!
You'll have such an enjoyable experience that any extra cost is well worth it. This is kawaii at its very best, after all! Now – the only tough decision left is what to get off the Pokemon Cafe Tokyo menu…and to make a reservation.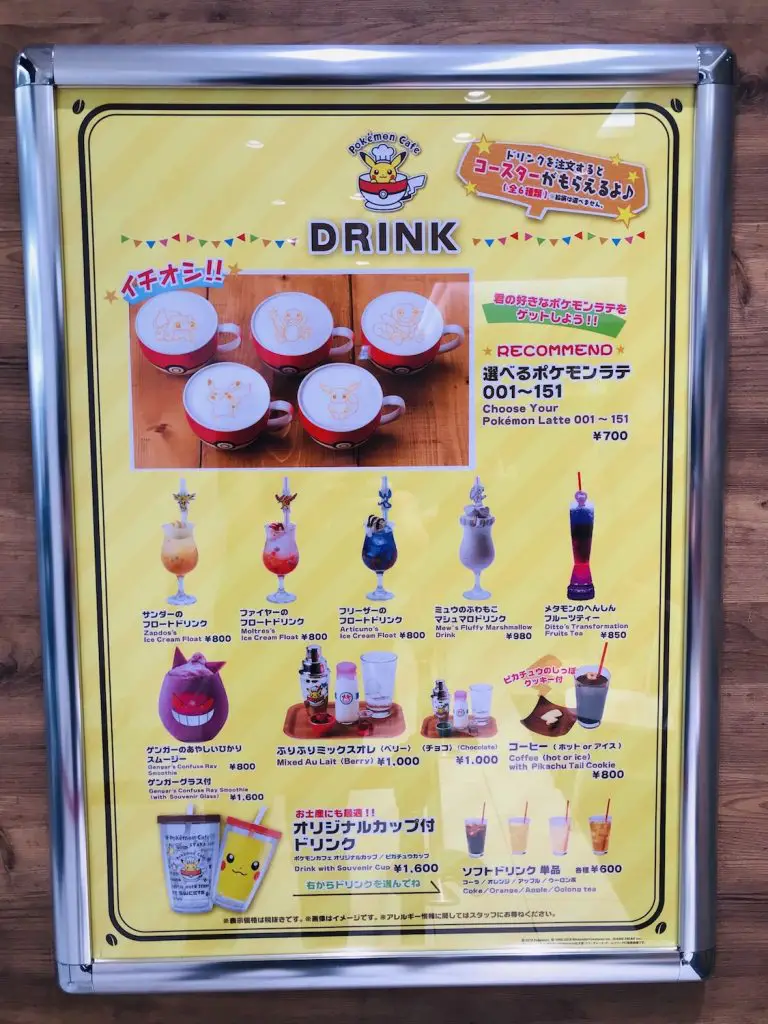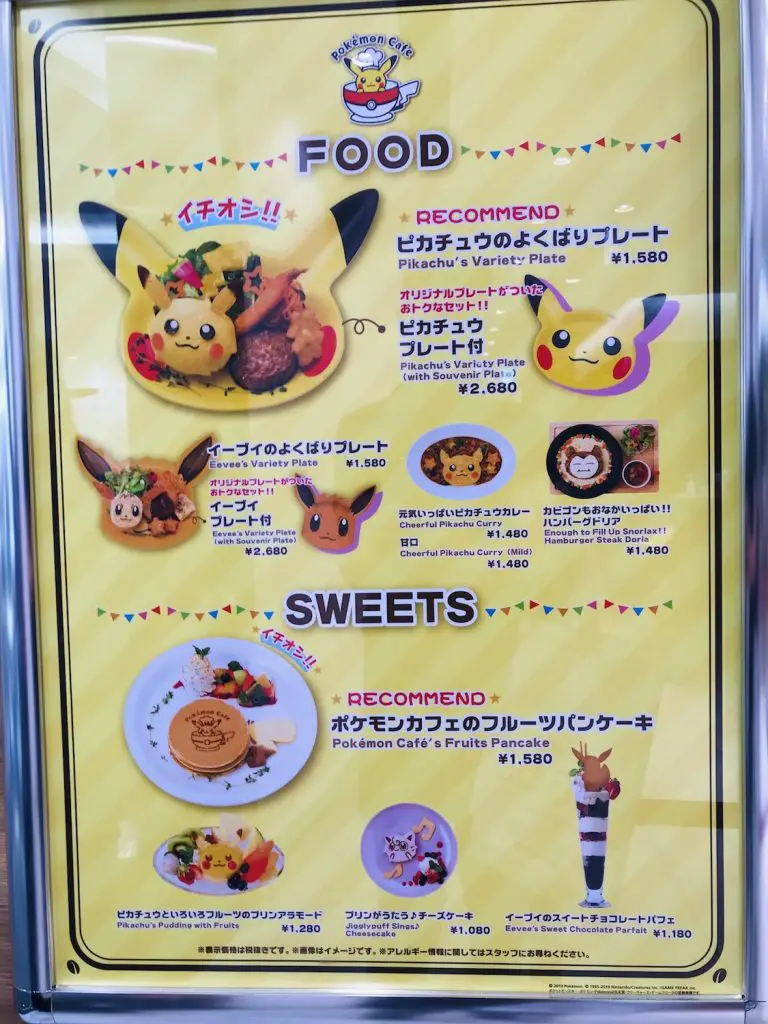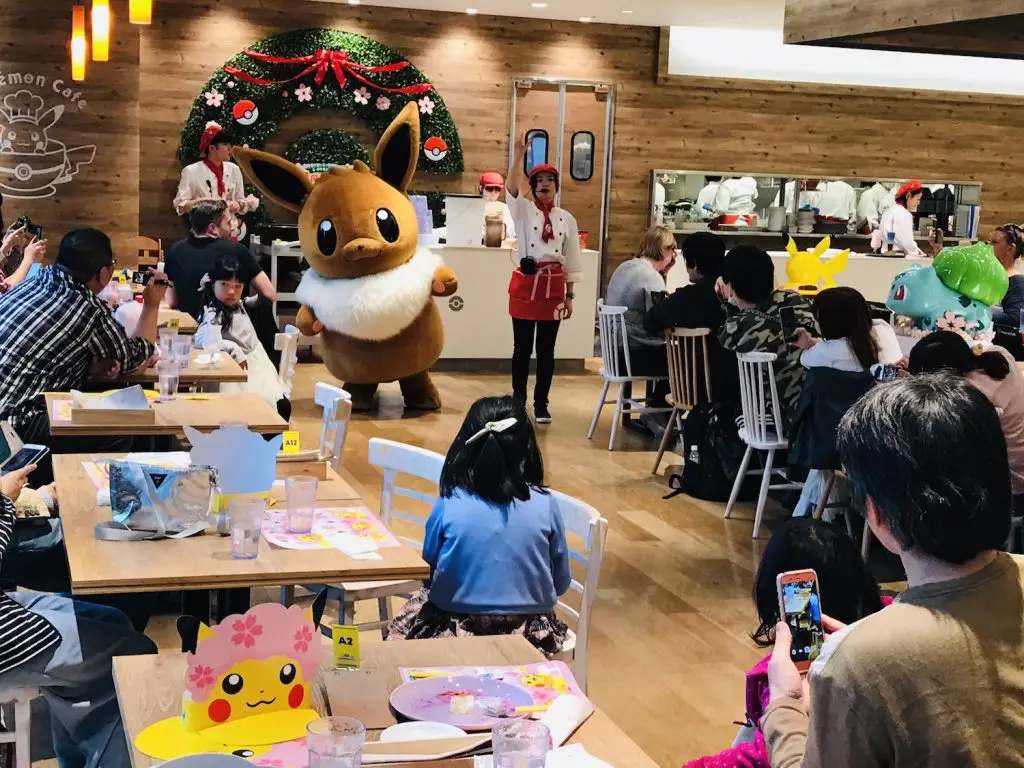 Staying Connected While Travelling
In today's increasingly connected world, staying online while traveling has become essential for a seamless experience. That's where eSIMs come into play, revolutionizing the way we access mobile networks during our global adventures. Say goodbye to hunting down local SIM cards at the airport; eSIMs provide instant activation the moment you land, sparing you the fortune usually spent on international roaming and allowing you to genuinely travel like a local (without getting hopelessly lost!).
With eSIMs, tasks like restaurant recommendations and reservations, up-to-the-minute public transport instructions, checking opening hours, and accessing further information become a breeze. And, of course, sharing your journey on social media is easier than ever. To stay connected wherever you roam, consider using either Airalo or Holafly. Airalo boasts the most extensive range of destinations worldwide, offering smaller data bundles tailored to your needs, while Holafly provides unlimited data packages and fantastic EU data deals.
So why wait? Embrace the future of travel connectivity with eSIMs and make your next journey effortlessly smooth.
Further Things To Consider Before Any Adventure
Now you're all set and prepared to explore our big wide world, why not sort out everything else out all in one go? If necessary for your travel plans make sure you have brought proper travel insurance, protected your privacy by getting a secure VPN, compared all the top hotel booking sites to find just what you're after, reserved an unbeatable rental car price and - of course - booked the best flight deals!
Or maybe just forget it all and go for a last-minute cruise or effortless tour instead?
Many budget travelers (including me) indulge in worldwide airport lounge access, so we can experience luxury while still slumming it in economy. Naturally, we would never leave home without a more general travel guide since we couldn't possibly cover everything here!
Just add an adventurous attitude and plenty of smiles - they go a long way - and that about covers it all! Now go out, find your own path and don't forget to share your best inspiration stories with me on Facebook, Twitter, and Instagram...I'd love to hear from you!