Hot off the press: Berlin and Hamburg aren't the only cities in Germany (and while we're on the subject, Frankfurt is more than just an airport with a lot of transfers). Fabulous as both those cities are if they're the only places you've visited in Germany, you're missing out.
Case in point: Düsseldorf.
This western German city on the Rhine is full of hidden gems waiting to be discovered. Wealthy German cities like this one, famous for its banking, telecommunications, and advertising industries, have the reputation of being a little stuffy when there's actually a lot more to them than suits (should we mention Frankfurt again?).
One of the most exciting aspects of Düsseldorf is the architecture and art scenes, both pushing boundaries. This is where the West German art scene thrived before reunification put Berlin on the artist's map, and it still has fantastic galleries and an annual showcase for international galleries and artists.
The avant-garde architecture reflected in the Rhine adds to the sense that you're somewhere really creative.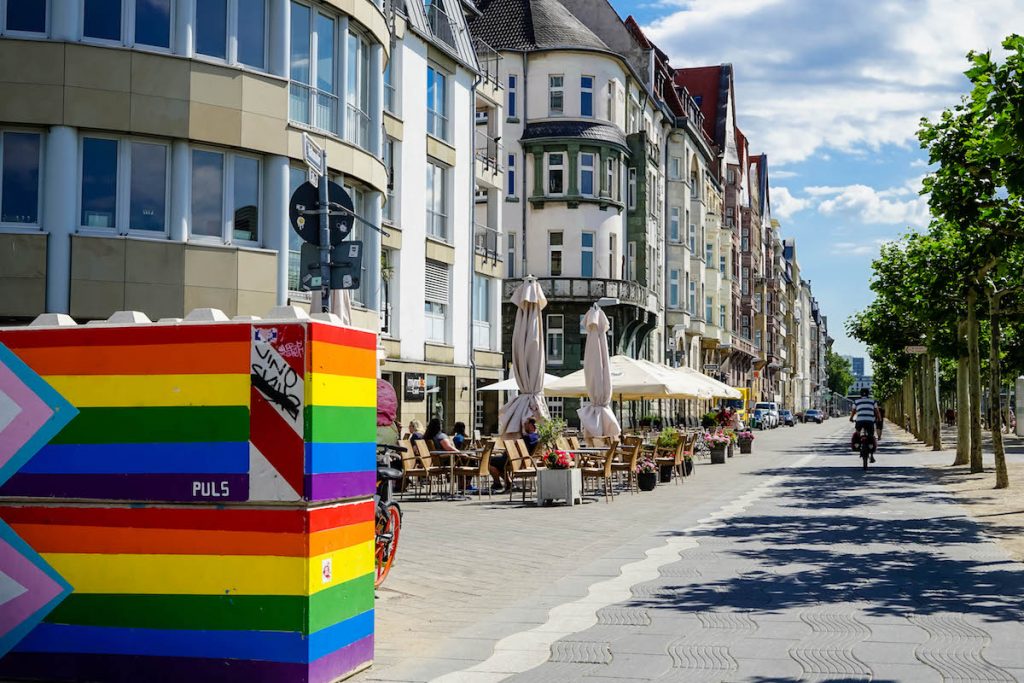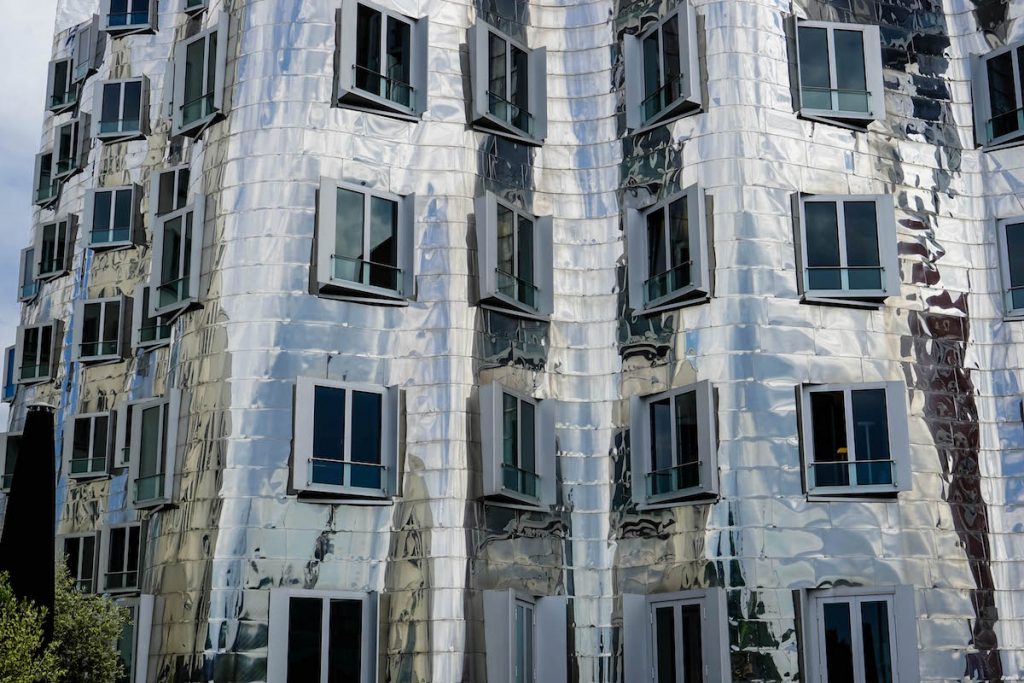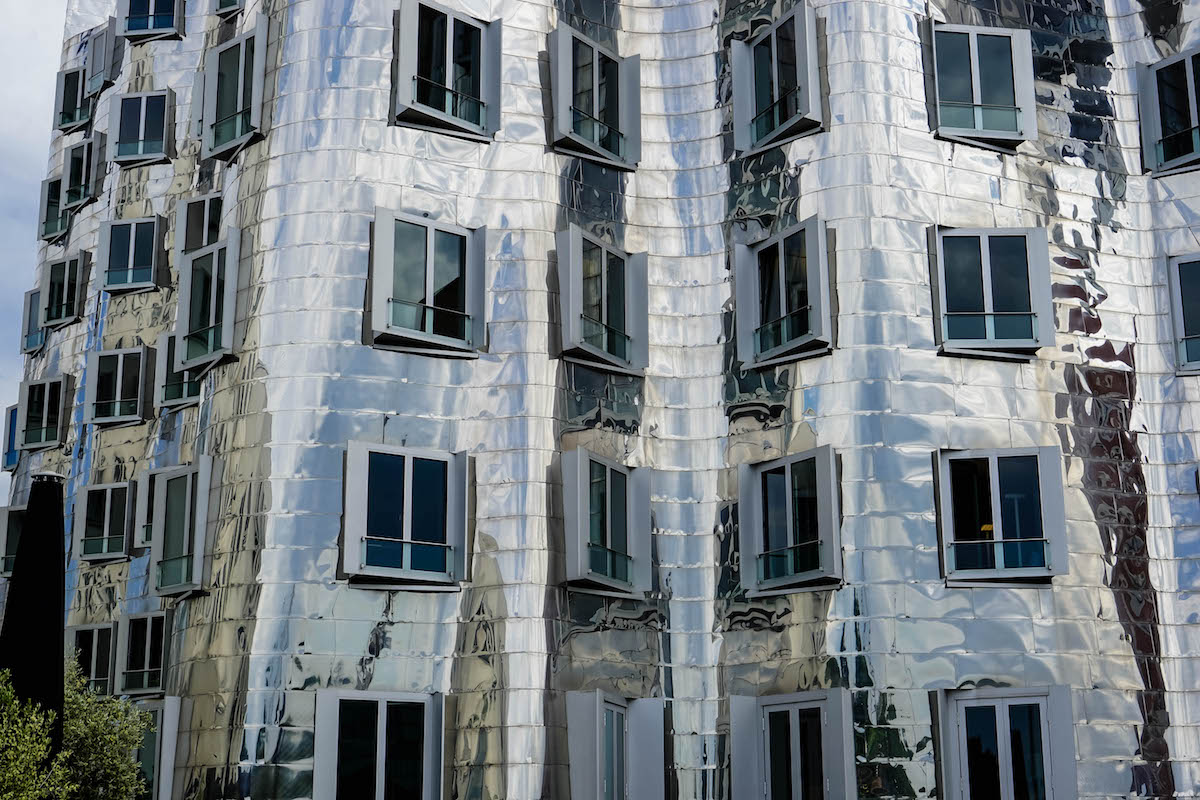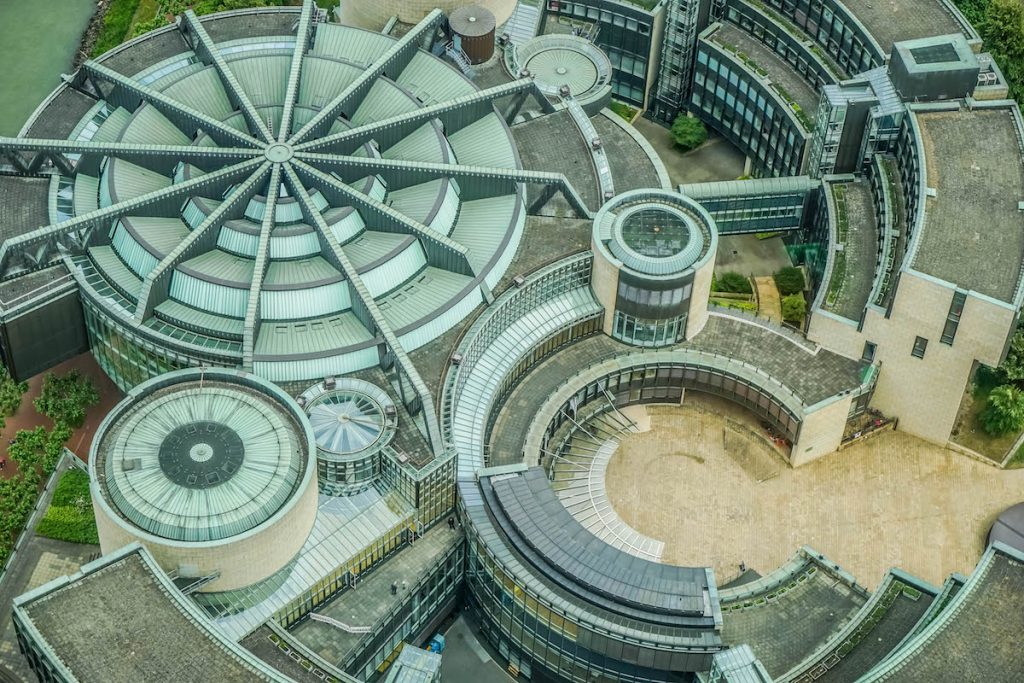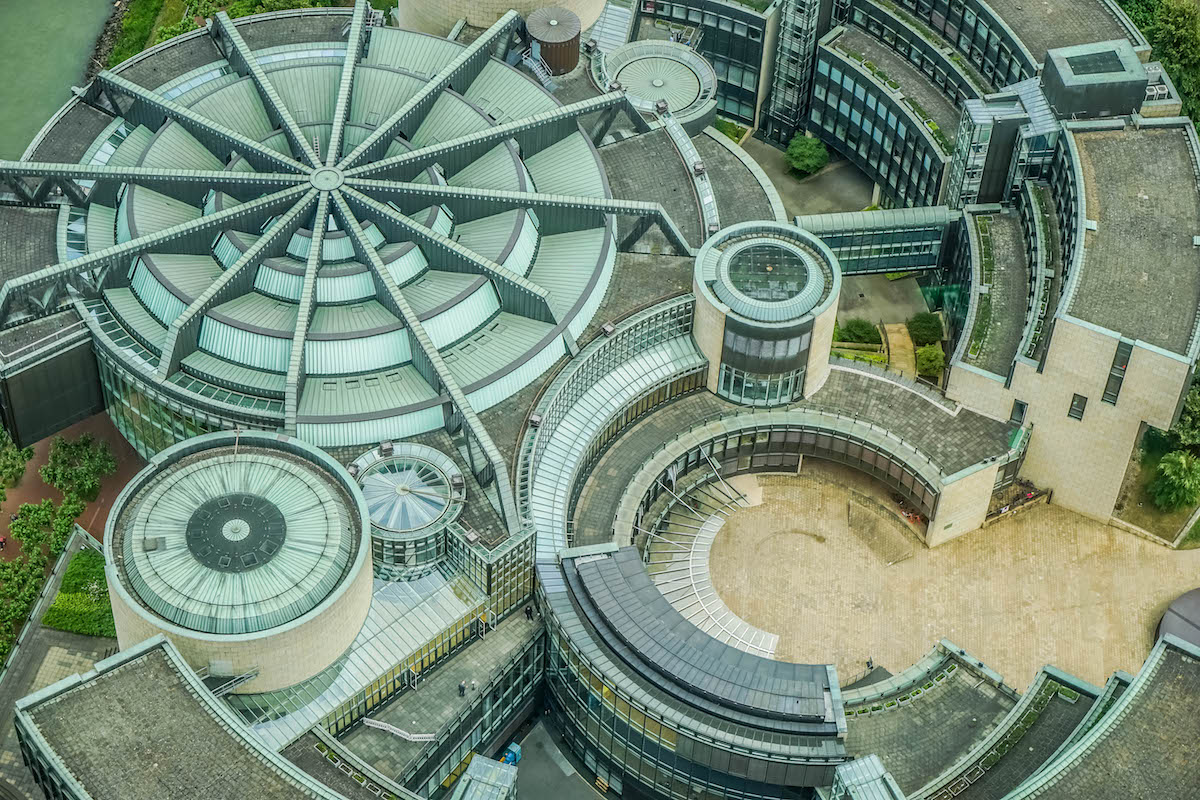 Things are never boring here, and for those curious few willing to actually give this modern destination a chance – you'll be greatly rewarded with a welcoming city filled with hipster districts, incredible food, contemporary architecture, and an art scene up there with the best in Europe. Not to mention have plenty of photo ops without tourists pushing you or getting in your way at every turn.
Yes, we are looking directly at you: Vienna, Prague, and Brussels…
Despite the modern feel to many parts of the city, Düsseldorf has a cozy and welcoming atmosphere – after all, 'Dorf' means village, so the sense of belonging and tradition that can be found in lots of the pubs and cafes here is understandable.
Experience some of that tradition in the Altstadt, the party district known as 'the longest bar in the world,' where you can still get the local Altbier (more on that later).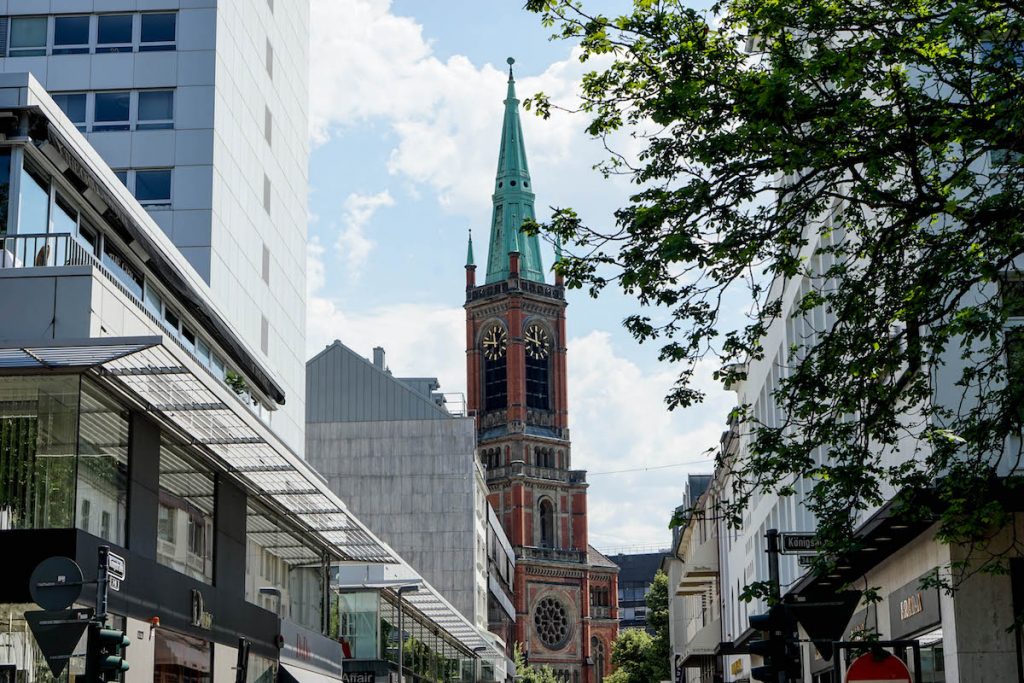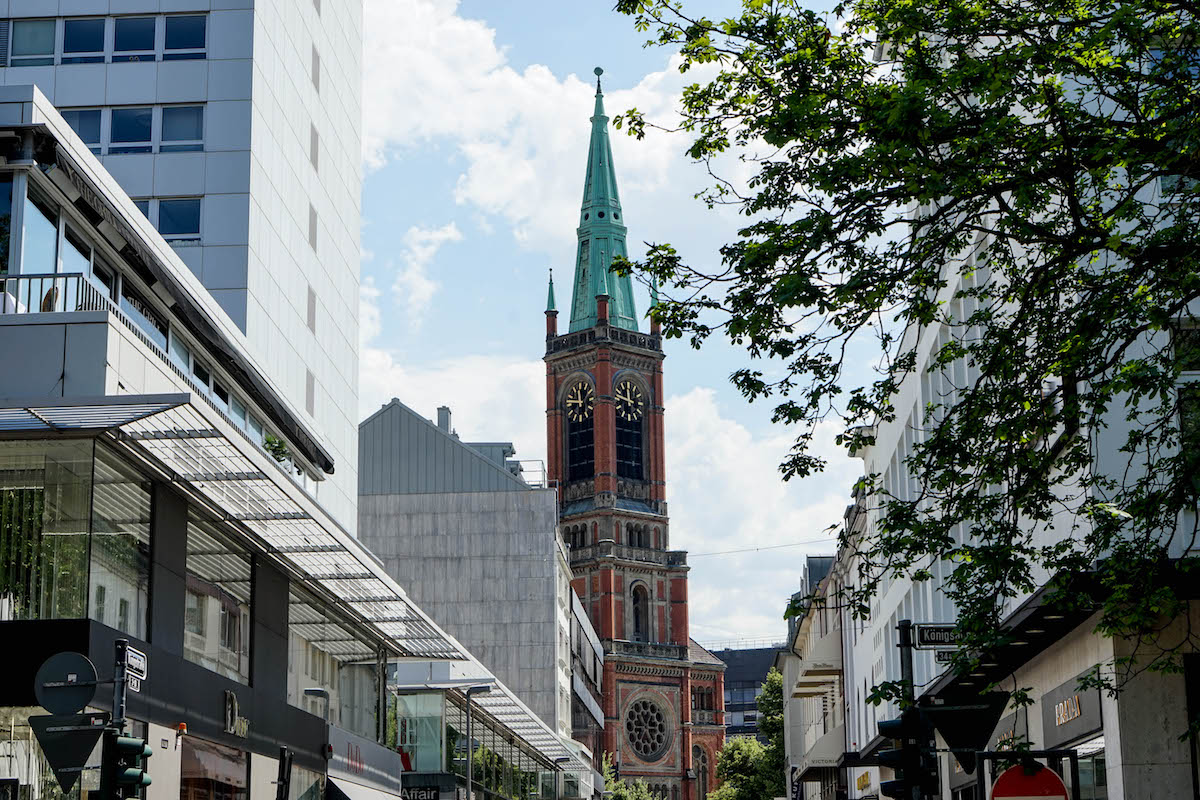 If you want to hang with the hipsters, Medienhafen, the harbor area, is evolving into an architect's dream, and Flingern is becoming very cool. But these aren't the only things to do in Düsseldorf – you'll find so much more here to keep you busy than you'd expect.
Perfect for a city escape, where escaping is truly the goal, Düsseldorf is the perfect combination of easily accessible (with one of Germany's biggest airports), lower hotel prices, and few tourists to contend with. However, when we went, we were so pleasantly surprised that we wished we'd booked a longer trip.
If you want to join our Düsseldorf fan club, book a ticket and use our inspiration for some of the best things to do in Düsseldorf.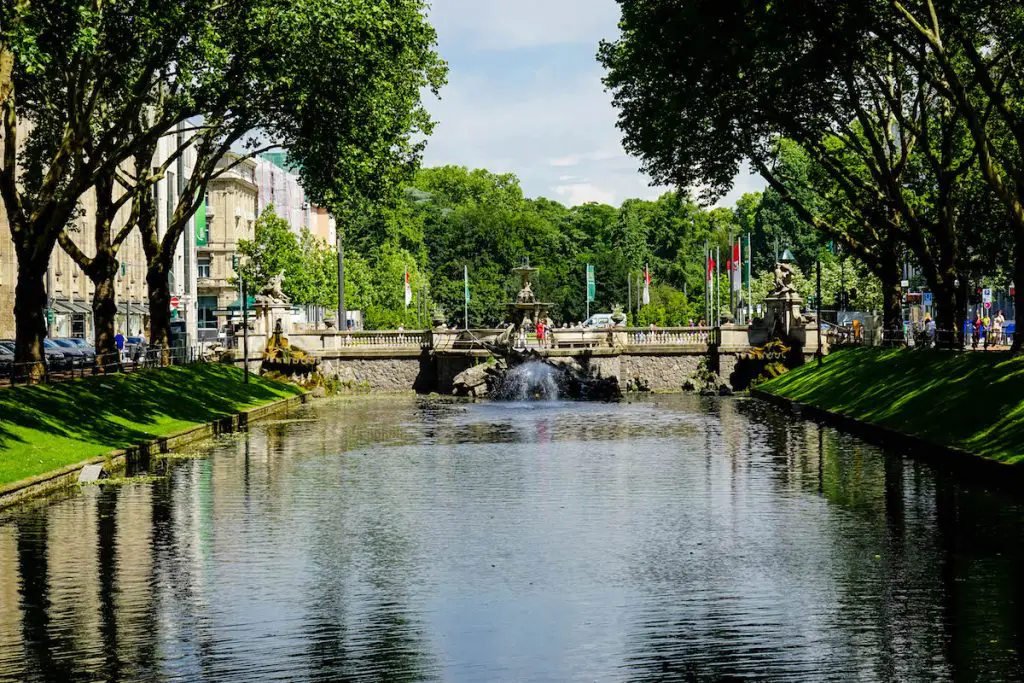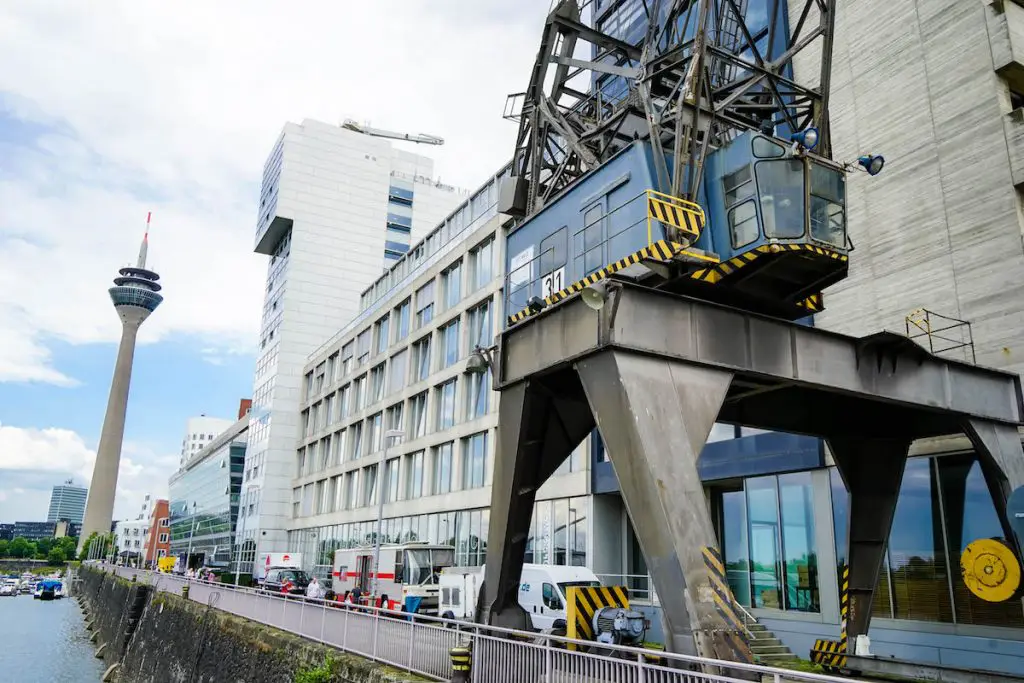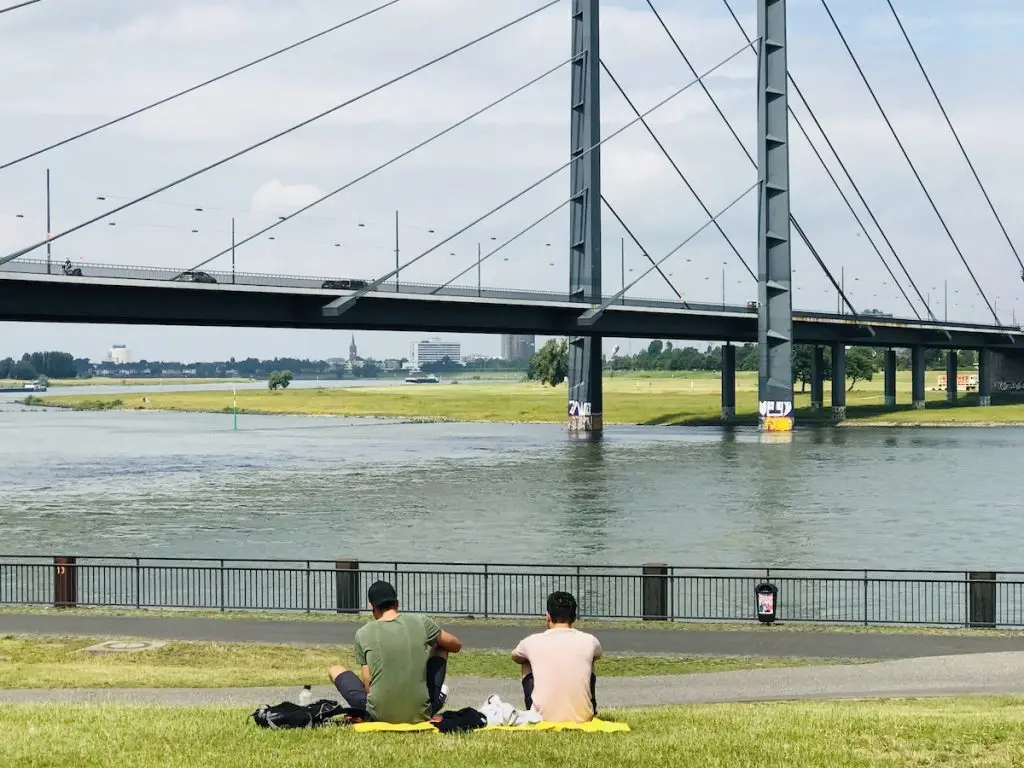 15 Top Things To Do In Düsseldorf: Culture, Food, History, And Exploration! 🇩🇪
1. Explore The Curious Little Tokyo District
We know what you're thinking: how on earth does Düsseldorf have a Little Tokyo? Well, the answer lies in the twice-weekly flights between the city and Japan's capital of Tokyo, combined with the fact that Düsseldorf has the third-largest Japanese community after Paris and London.
And lucky it does, because Little Tokyo is a delight, by far one of our favorite things to do in Düsseldorf.
The six or seven blocks are lined with authentic Japanese supermarkets, intimate ramen joints, and some of the best sushi places outside of Japan. Yoshi and Nagaya, sister restaurants with matching Michelin stars, showcase fresh, creative sushi. Elsewhere, you can find melonpan in the bakeries, rice ball cakes, and the wonderful Takagi, a bookshop packed with manga comics and Japanese novels.
To be honest, you can easily spend all your time in Düsseldorf in Little Tokyo, exploring the best of Japan without actually going, but try to drag yourself away for some of these other unique Düsseldorf activities.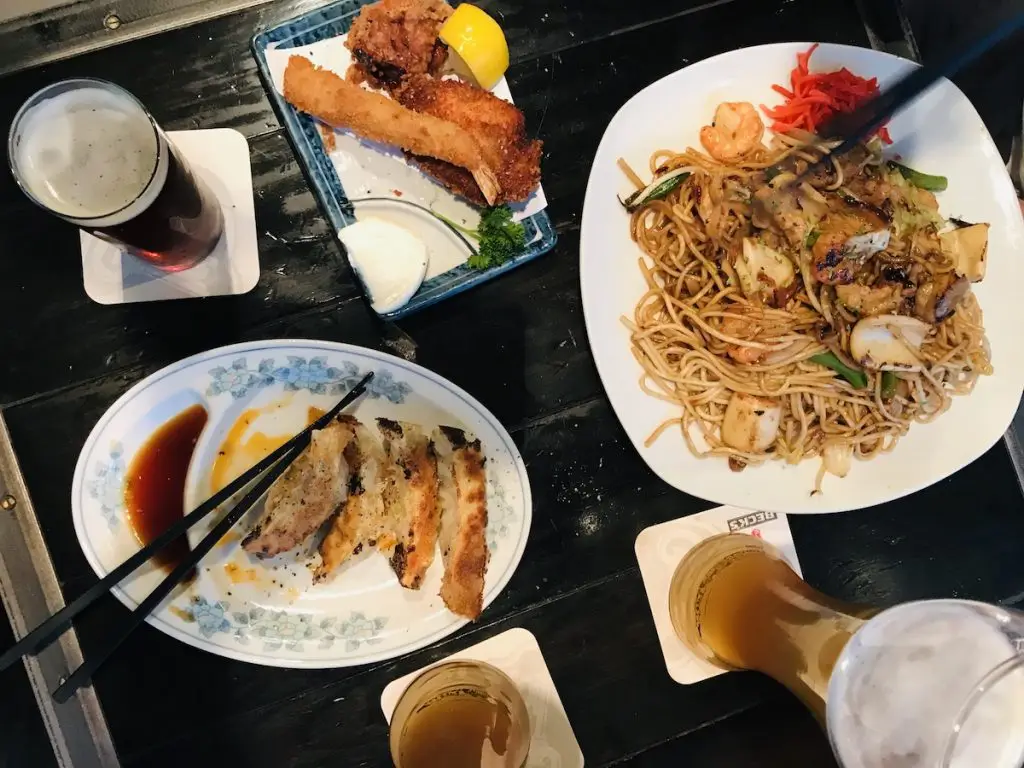 2. Discover The Joys Of Alt Beer In The Düsseldorf Breweries
Germany is known as a country of beer-drinkers, and Düsseldorf is the epitome of that. At a mere 1 square kilometer, Altstadt manages to squeeze in about 260 breweries, bars, and pubs.
Try to avoid the tourist traps with their loud dance music and shots; take a beer tour or simply find the quieter breweries beloved of locals to sample your Altbier. This is a dark-colored beer with a bitter taste and malty flavors. It's not that strong, but it's often served in small glasses to maintain the taste – you'll see everyone drinking it, from businessmen to pensioners to women on a night out.
There are lots of breweries to choose from, but we loved Uerige in the heart of Altstadt, where the beer tastes almost caramel-y, Füchschen (little fox), where you can get breakfast with your Altbier, and Kürzer for when you feel like an all-night party.
For a more traditional vibe, head to Schumacher and line your stomach with the hearty food on offer. And be warned: just because Altbier is in small glasses, doesn't mean you can have double the amount!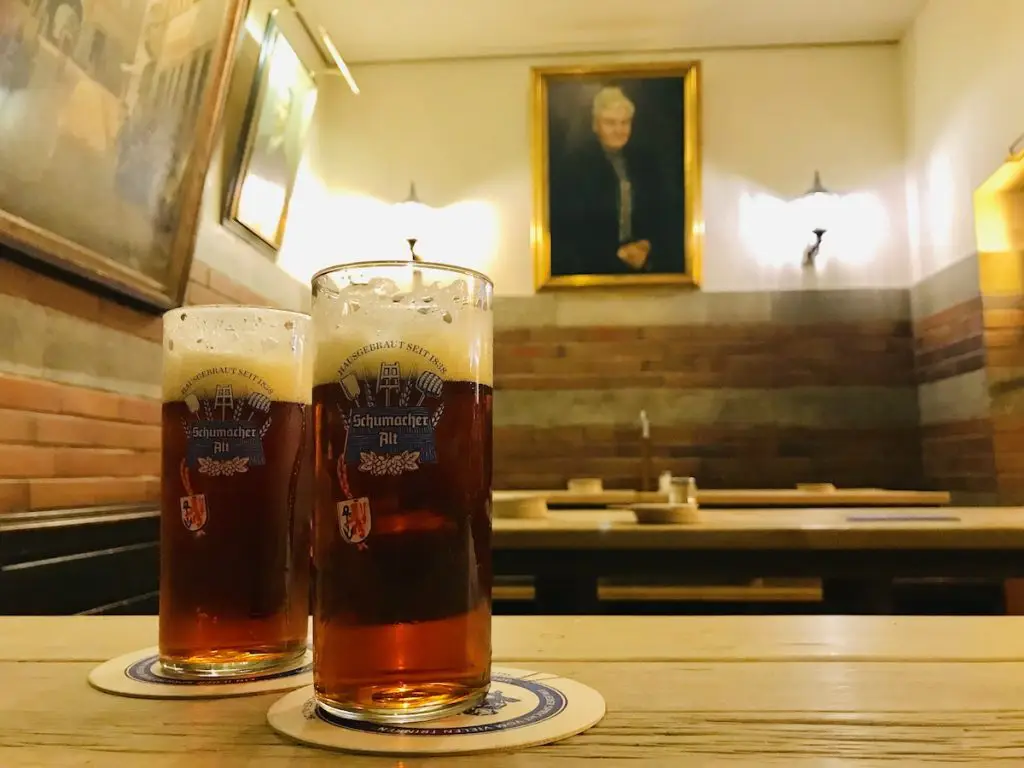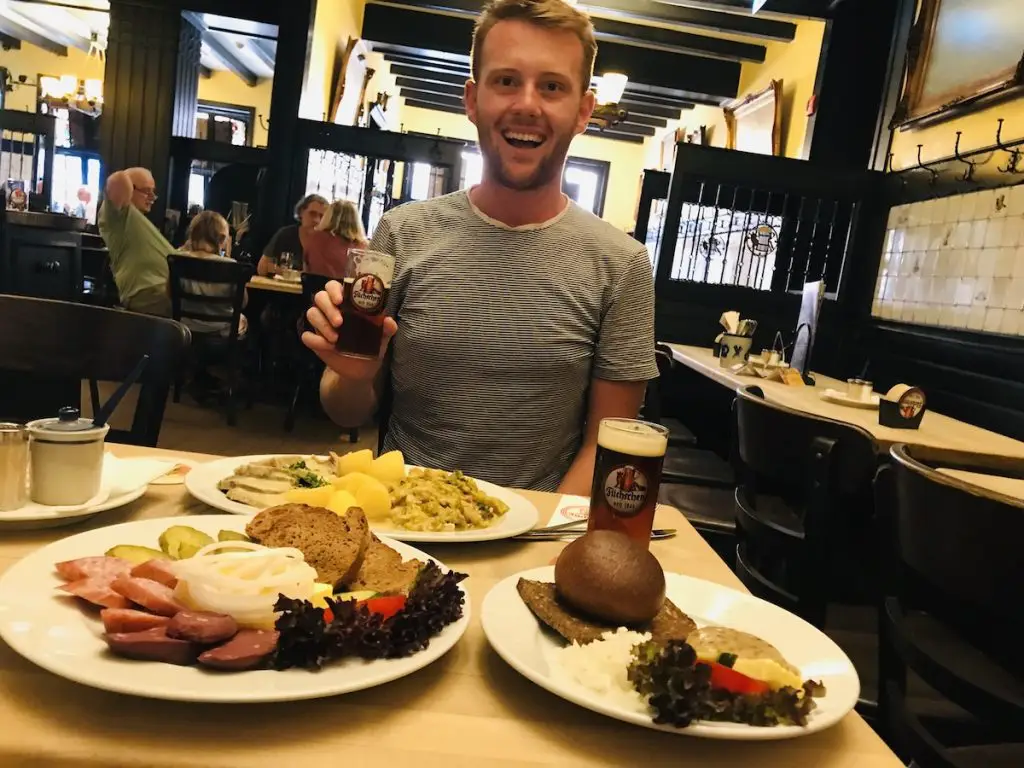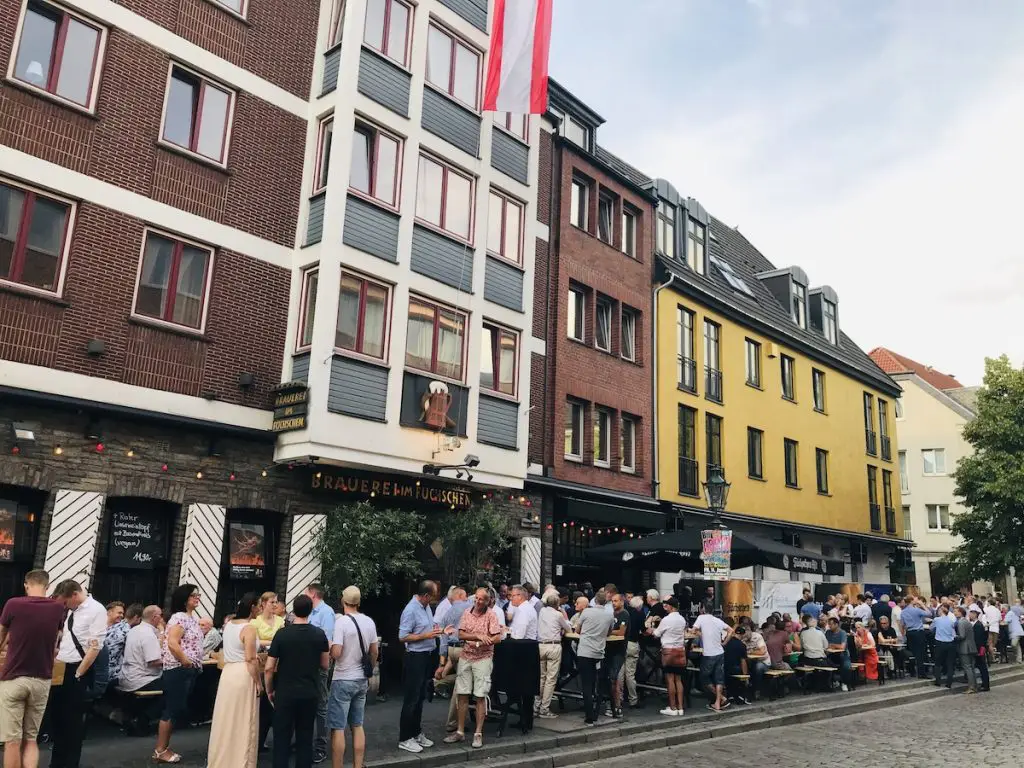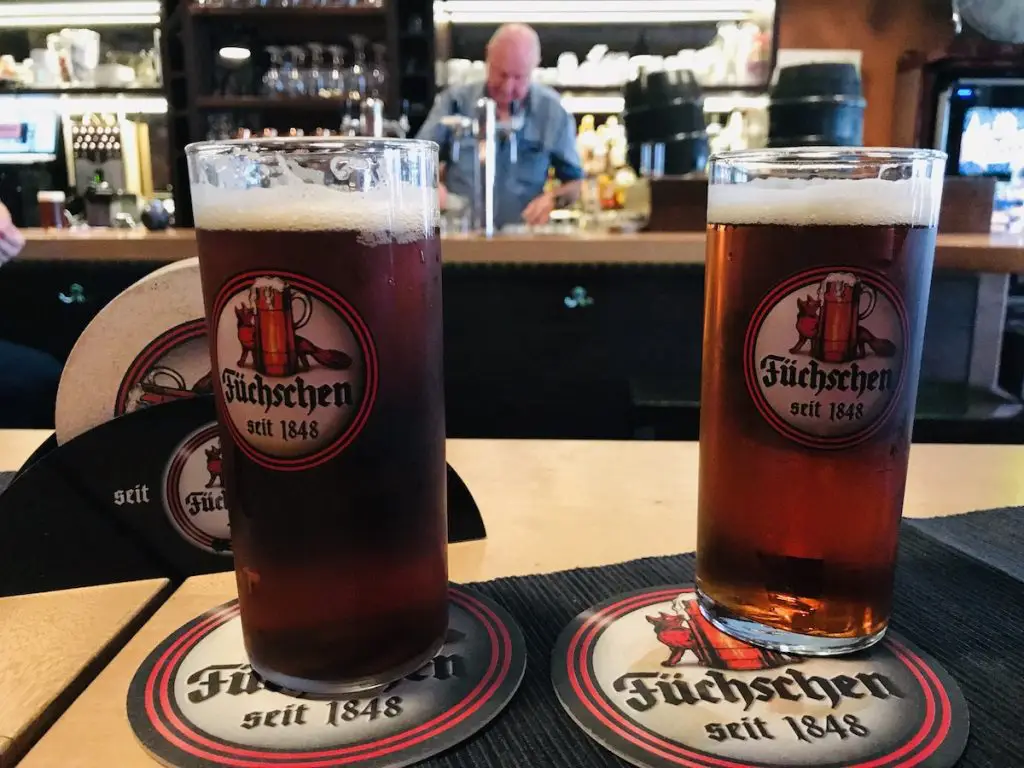 3. Admire The Thoroughly Modern MedienHafen District
This is Düsseldorf's most revitalized area, a place where high-rise buildings are shooting up faster than you can say Frank Gehry, who just happened to design the Neuer Zollhof.
These triplet high-rises in red brick, white plaster, and stainless steel are in competition with the equally eye-catching Grand Bateau, designed by Claude Vasconi to look like an ocean liner. Across the quay, you'll see the kaleidoscopic glass Colorium, designed by William Alsop.
If all these architects' names mean nothing to you, you'll still find plenty to admire in MedienHafen. Among all these buildings nestle several sky-high bars where you can sip fancy cocktails while looking out over the water. The surrounding media, design, and fashion companies mean you can be sure that everything in MedienHafen is hip and happening!
There is so much to see in this small area, and you can just wander around freely at your own leisure – but for those who are curious about the unique compliments of architecture and quirky facts on offer here, you should consider a deep-dive into the area with a MedienHafen tour.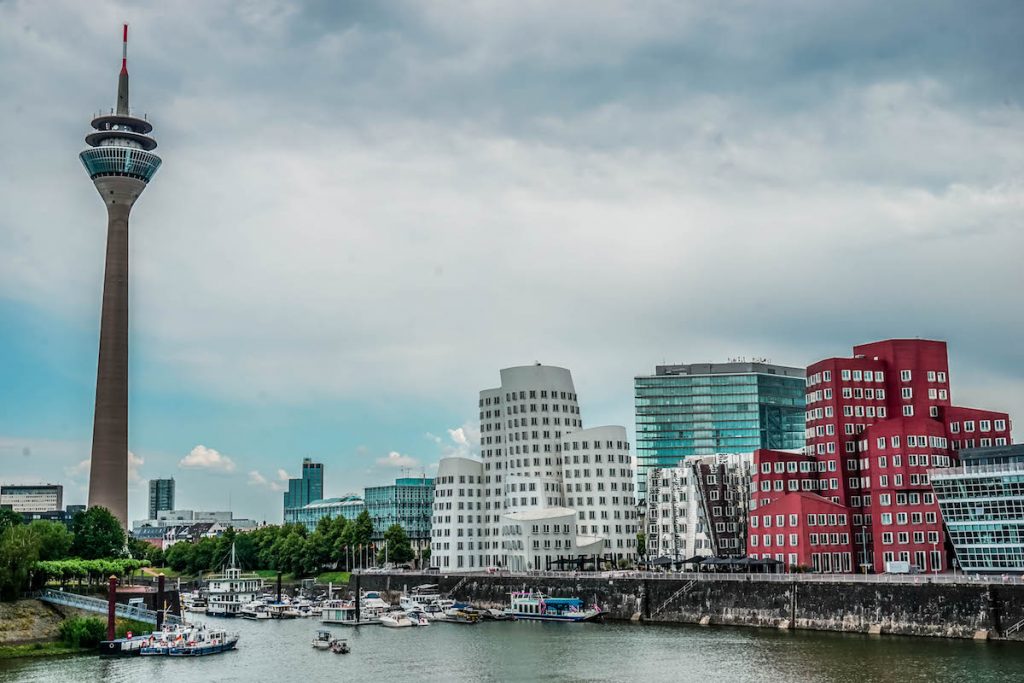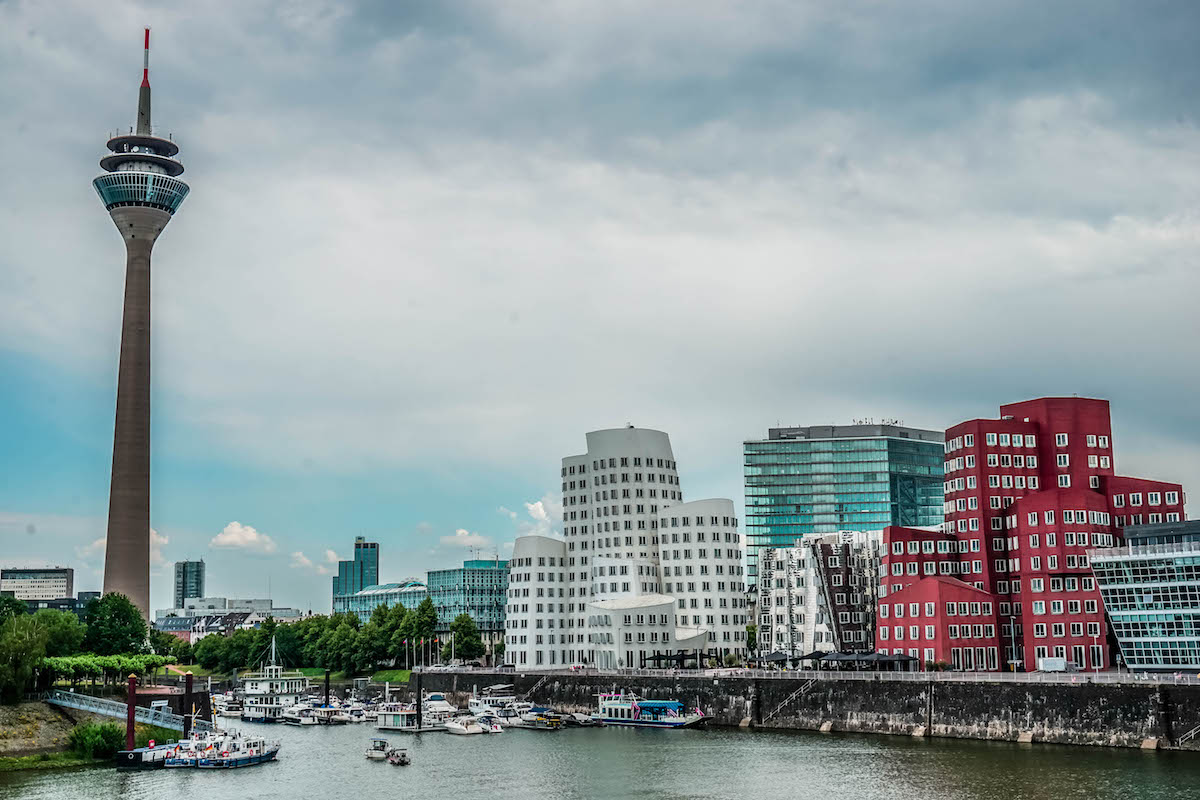 4. Hire A Bike And See

Düsseldorf Like A Local
You're in Germany now, so it's time to embrace the bike. With a mercifully flat landscape and a great city infrastructure for cycling, one of the best things to do in Düsseldorf is to get on two wheels and discover the city that way. It's definitely how all the locals get around, so why not join in the fun? It's effortless to rent a bike, and there are even bike tours if you want to be guided around.
Various routes will show off different parts of the city. The Rhine Promenade takes you past the Hofgarten, the main shopping streets and down to MedienHafen, along roads lined with trees, restaurants, and bars. Going out to the nearby Unterbacher Lake, you'll find a 15 km route through the forest, which is excellent if you want to see more of the scenery around Düsseldorf.
The best part about hiring a bike is the total freedom it brings – go where you want, stop off where you want. Plus, it's great exercise. For those who are – well – less inclined towards exercise on their holidays (us, included), Dusseldorf also offers a very cool segway tour to explore with.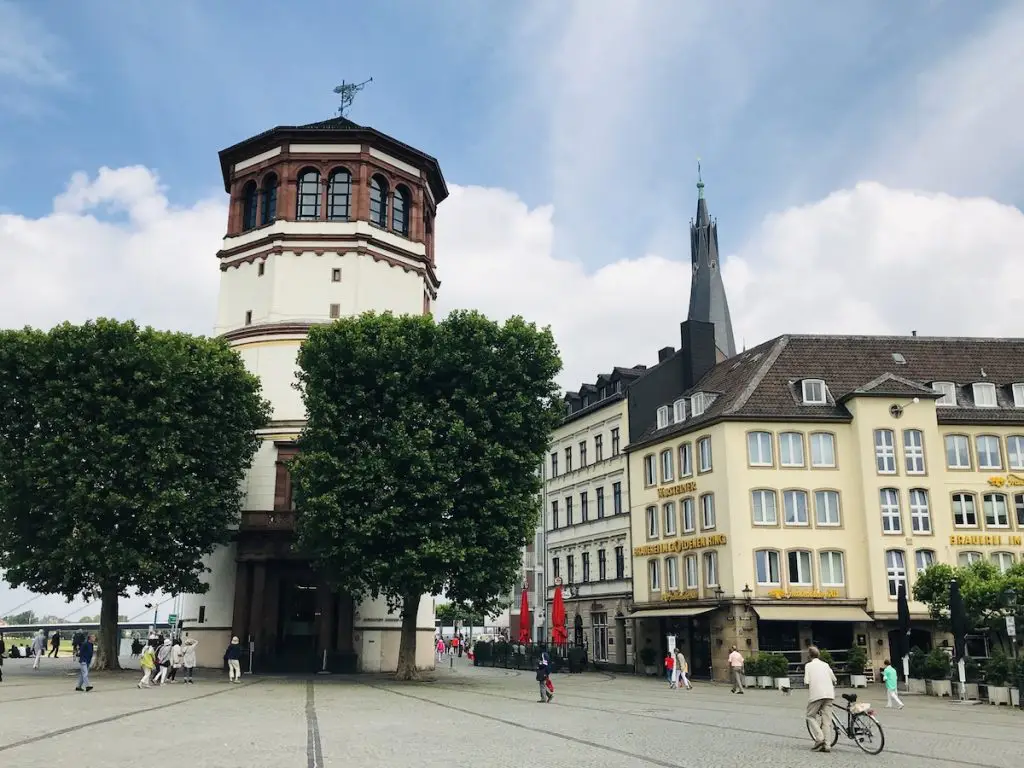 5. Enjoy Germany Hospitality With A Stay At The Quaint Hotel Sir & Lady Astor
As you'd expect from a cosmopolitan city, there are tons of great places to stay in Düsseldorf, and one of our favorites is this quirky central hotel, Hotel Sir & Lady Astor.
Only 10 minutes from the main shopping areas, this boutique bed and breakfast offers you the best of German hospitality. Cozy décor in vibrant colors, superb breakfast, and friendly staff beaming in welcome make this the perfect nest for when you're exploring Düsseldorf.
It's actually two adjoining buildings with distinct styles – the Sir Astor part has a more robust, Scottish/African style. At the same time, the Lady Astor half is more delicate and 'feminine,' with lighter colors and florals. There's an attractive garden where you can lounge if the sun is shining, or if it's colder, snuggle up in the library with a good book.
Each room was completed as a labor of love by owner Mr. Wilfried Meuser, and it shows in the attention to detail and quality room fixtures. It was no wonder, so many of the other guests we chatted with were regulars here – once you stay at Hotel Sir & Lady Astor, it is hard to imagine staying anywhere else.
We were absolutely obsessed – not just with the insanely personal service and warm staff, but with the location, price, and incredible breakfast that was amongst the best of any hotel we have stayed at around the world. It's included for free if you book direct!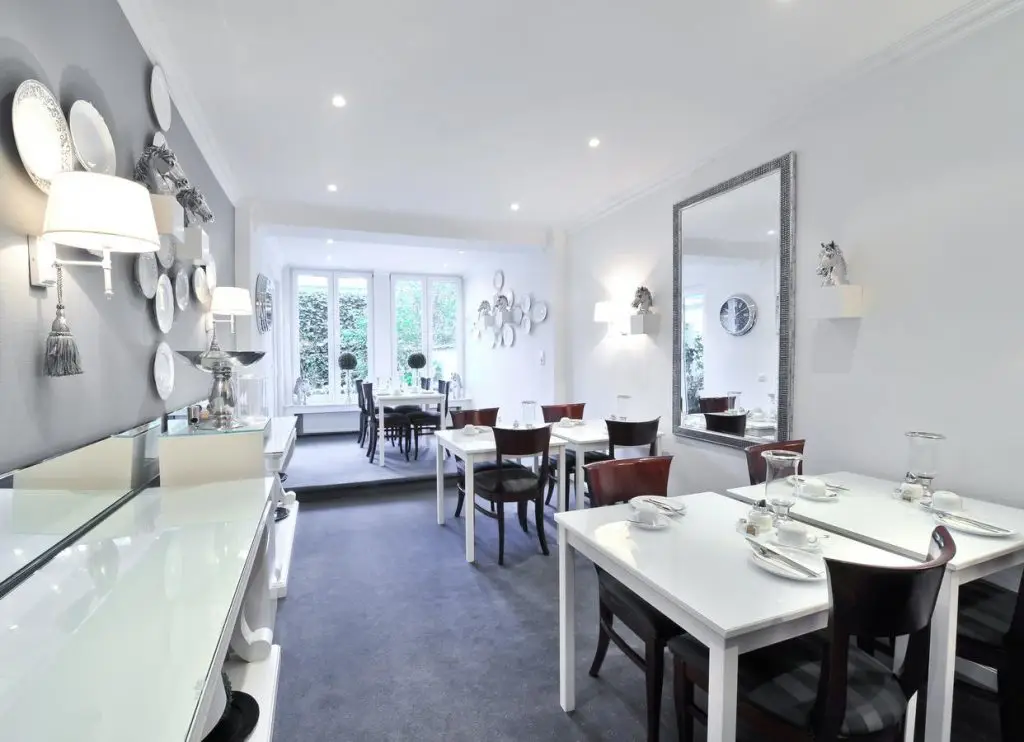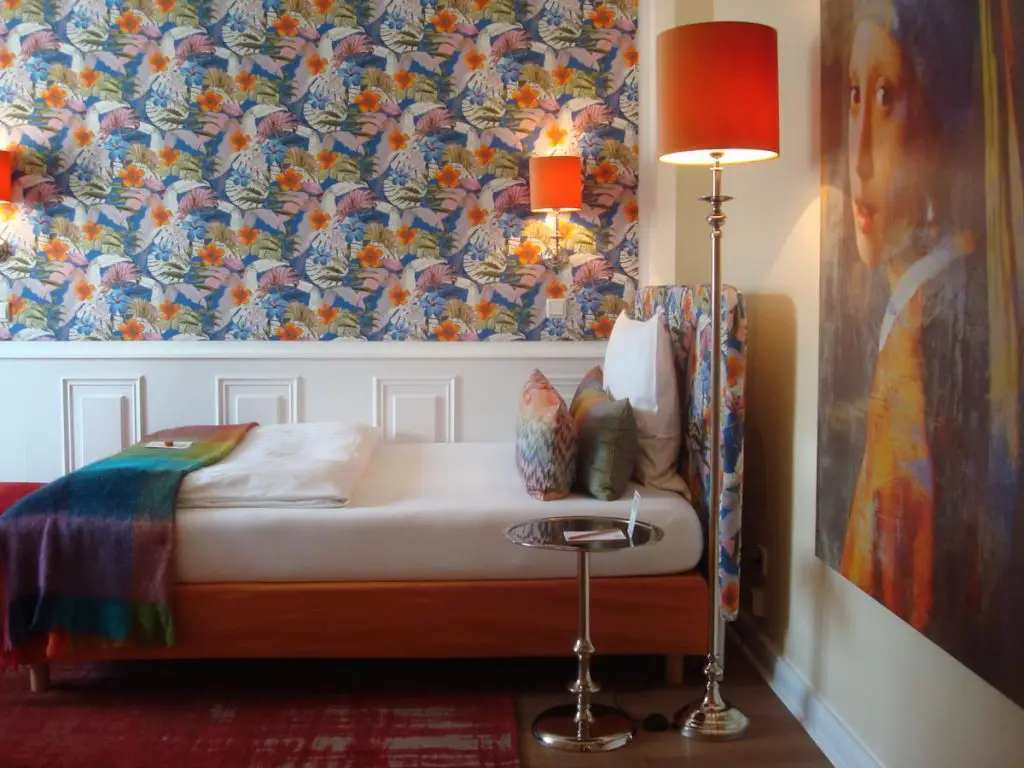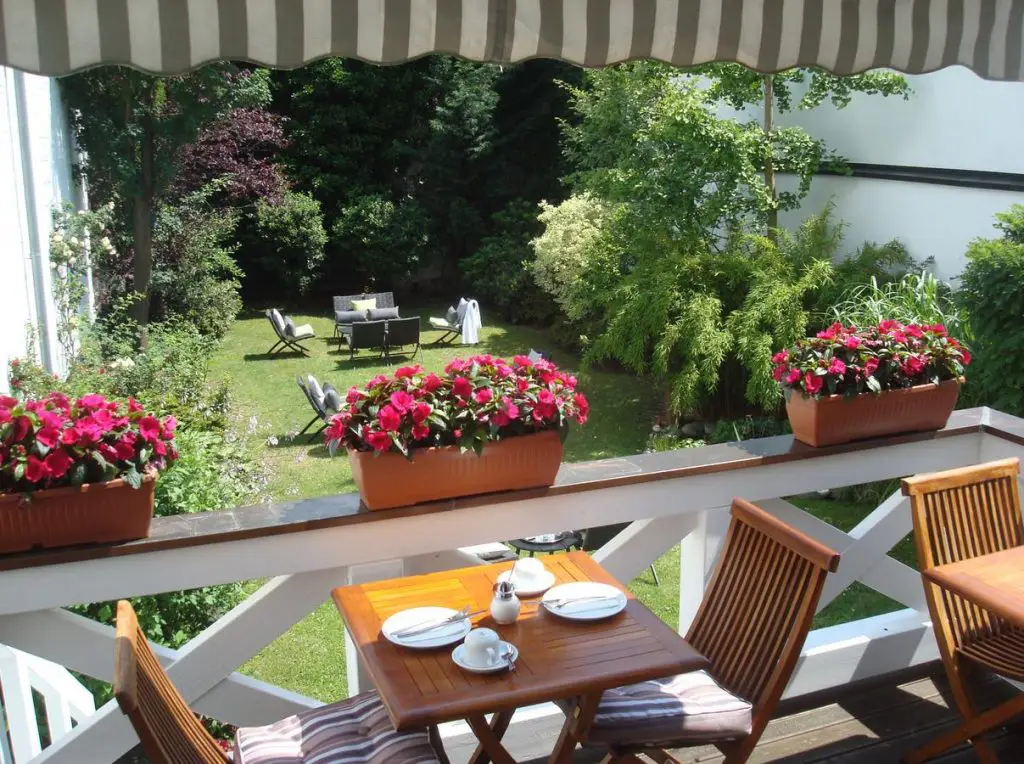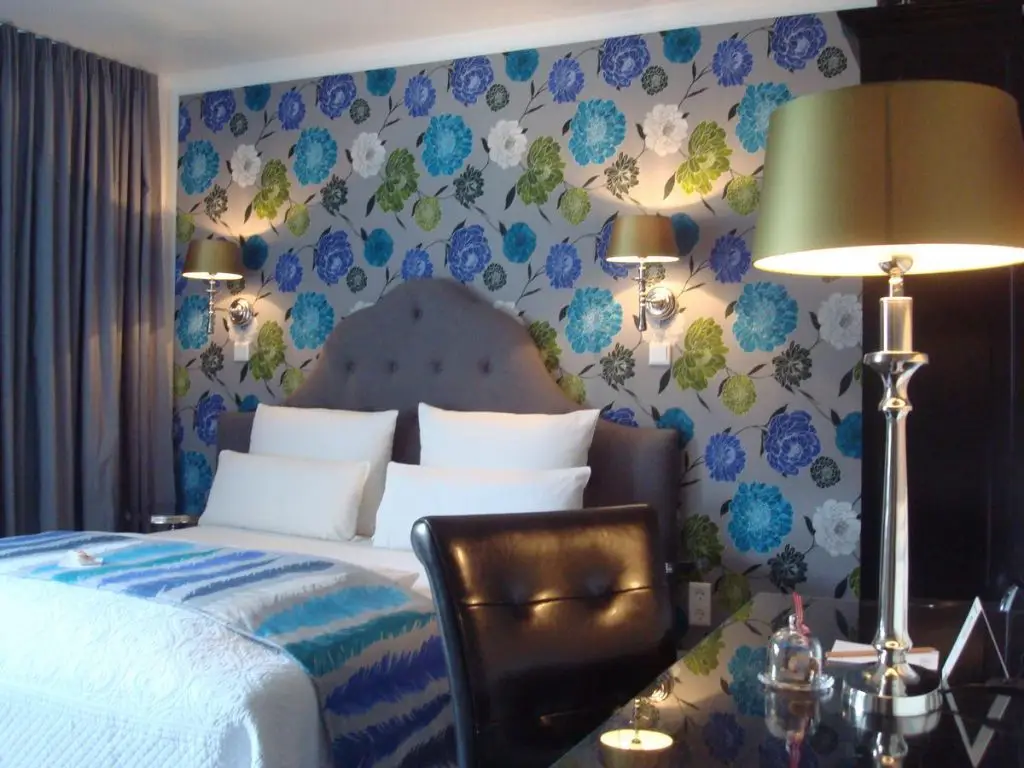 6. Experience Provocative, World-Class Art At Either K20 Or K21
These two exhibition venues are where you'll find the Düsseldorf art scene you've heard about (from us!). They're part of the 'Kunstsammlung' (art collection) of Nordrhein-Westfalen and sit a mere 20 minutes from each other in the center of the city.
K20 has an eye-catching façade of curving black granite and hugely tall spaces of up to 14 meters, designed to truly showcase the art; K21, on the other hand, is a historic building with a public square, whose interior has been completely remodeled.
Between them, they house a truly astonishing permanent collection with works by Picasso, Kandinsky, Pollock, and the German Expressionists. Classical modernism and American art since World War 2 form a significant part of the collection. Coming here feels like stumbling across hidden gem after hidden gem, without the crowds of galleries in London or New York.
Frequent temporary exhibitions provide even more interest, such as the 2019 Ai Weiwei collection at K20 + 21. Seeing the 60 million porcelain sunflower seeds spread out before you at the K20 is another fantastic example of the quality of work you could see.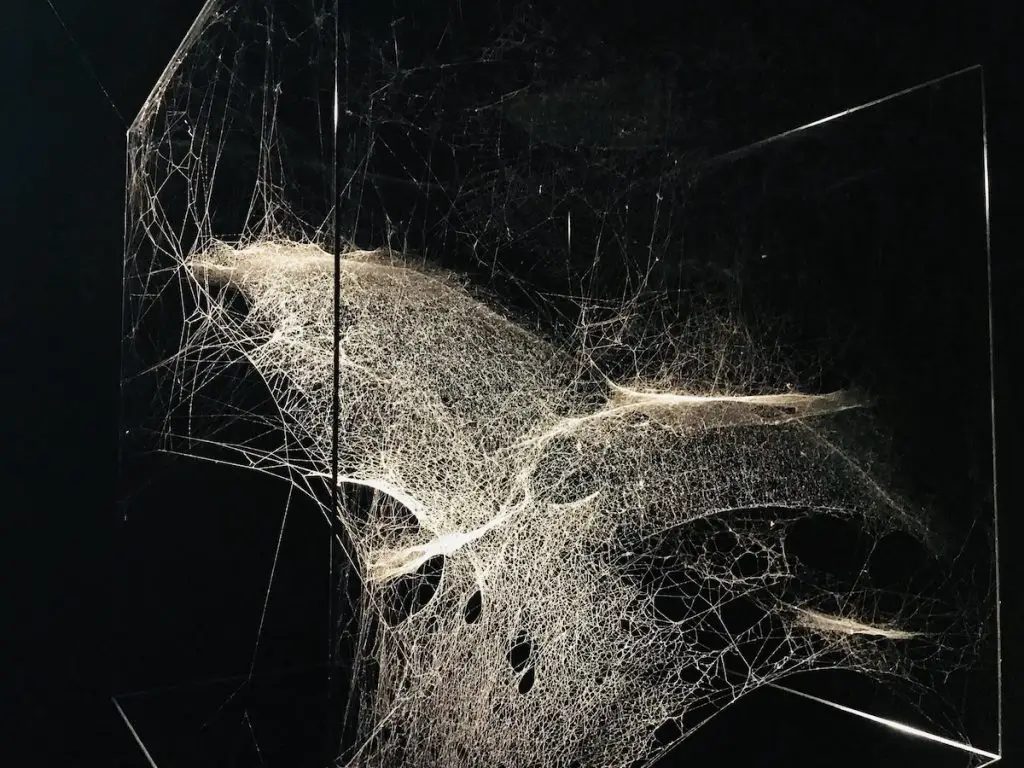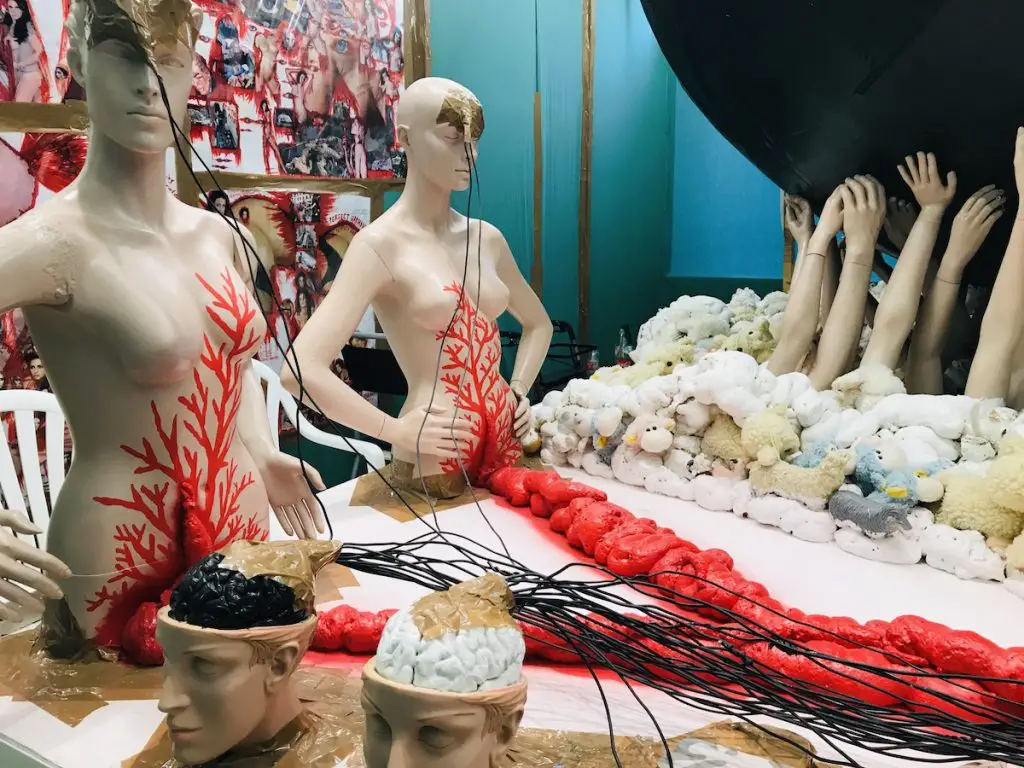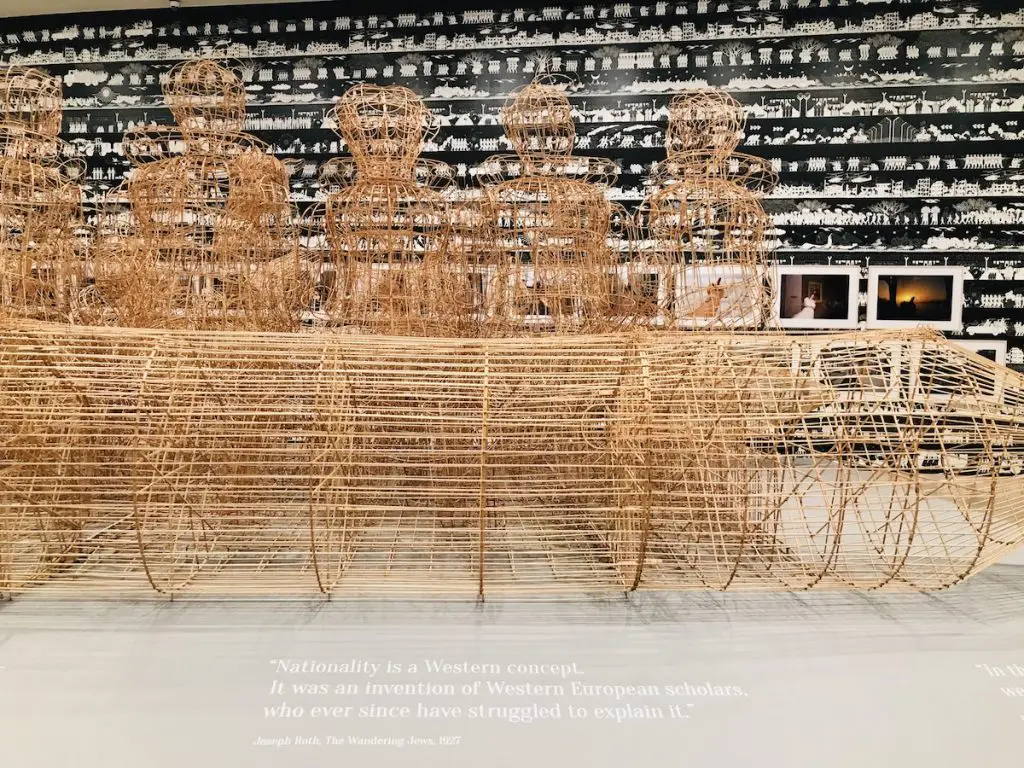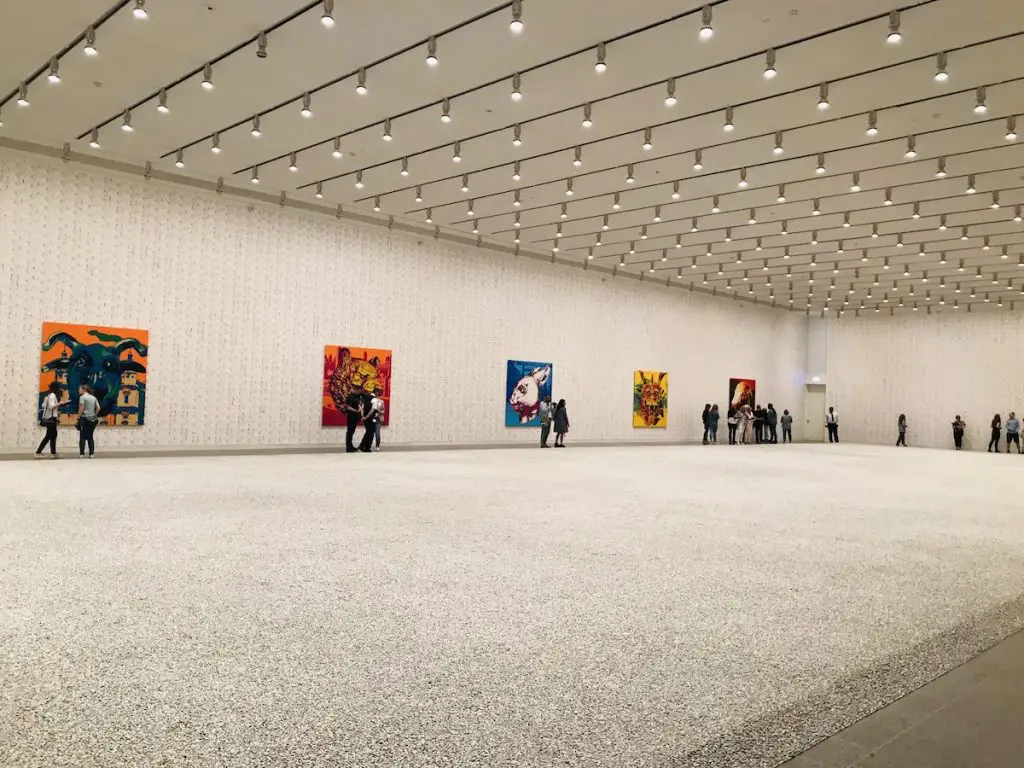 7. Treat Your Tastebuds At The Carlsplatz Market
Open since the 13th century, Carlsplatz is the oldest market in Düsseldorf and sells practically everything you could imagine – meat, vegetables, fruit, flowers, coffee, fish soup (famous).
Seriously, if we lived in Düsseldorf, we'd do all our grocery shopping here. As a visitor, you don't really need to stock up on potatoes, but you can enjoy sampling the delicious food from various stalls underneath the glass roof.
Currywurst is on offer, of course, but so are crepes, Indian street food, that famous fish soup, and much more. It's also a great place to come for your morning coffee, the brewing of which has become an art among the local vendors. If you're traveling on a budget, have a lot of meals here – filling, affordable and varied.
Real foodies, however, will want to take a food tour to discover all the hidden gems that this city has for culinary adventurers. The rest of Germany might be a bit of a quagmire when it comes to food exploration, but Düsseldorf is a food city at heart, and there is a lot to try here.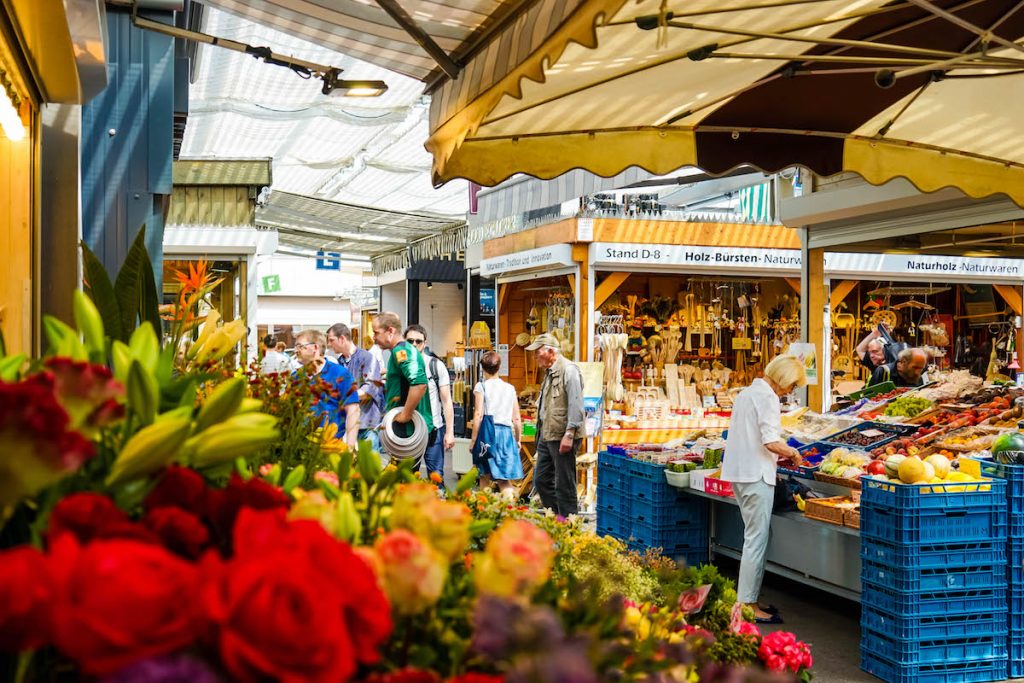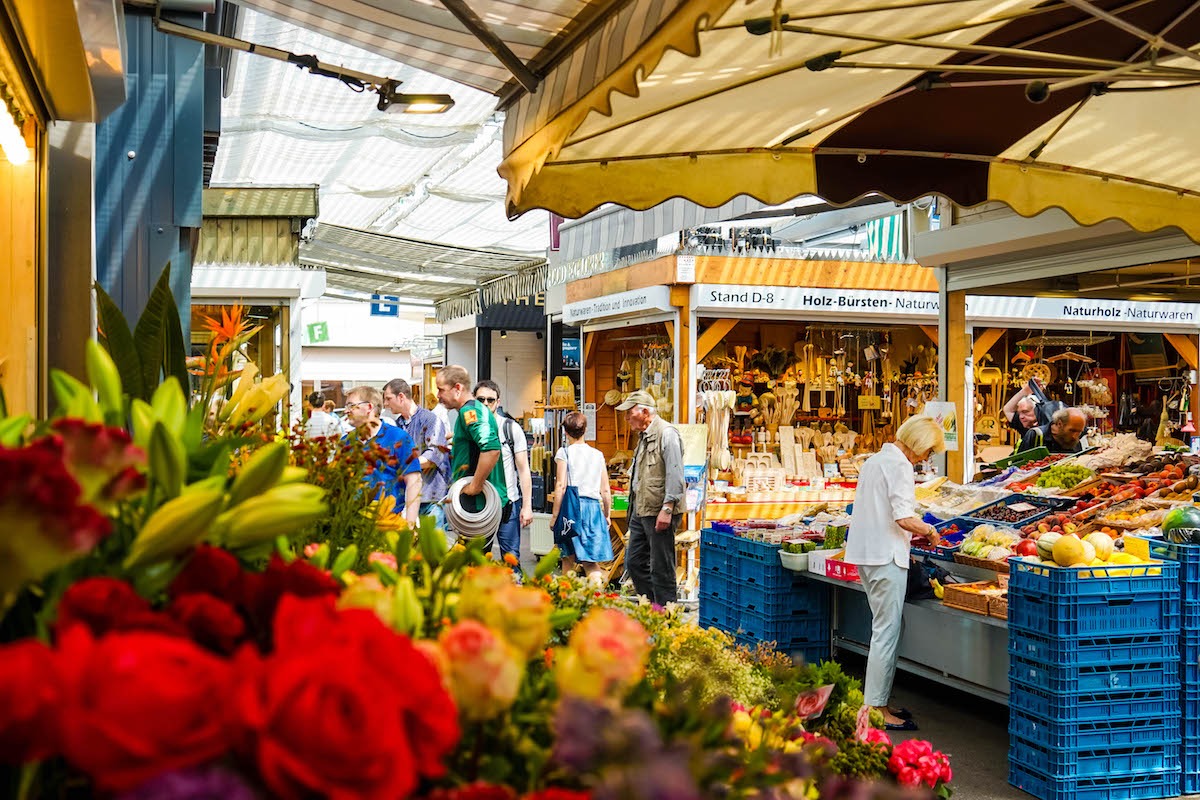 8. Relax By The Rhine, Germany's Most Important River
Starting in Switzerland and emptying into the North Sea, the Rhine passes through Cologne, Bonn, Koblenz, Maine, and Düsseldorf, among others. With this much reach, no wonder we confidently call it Germany's most important river.
It has been an artery for transporting goods in and out of almost-landlocked Germany for centuries. Cutting through the center of Düsseldorf, it dominates the city, off-setting the modern architecture with its constant presence.
As a visitor here, you'll find that you keep coming back to its banks. Whether you're walking or cycling the Embankment Promenade, or merely sitting by it with a drink in hand watching the sun go down, you'll find it the perfect place to relax and absorb the atmosphere of the city. You could also consider a river cruise on the Rhine if you have enough time – it is one of the most popular activities for a reason…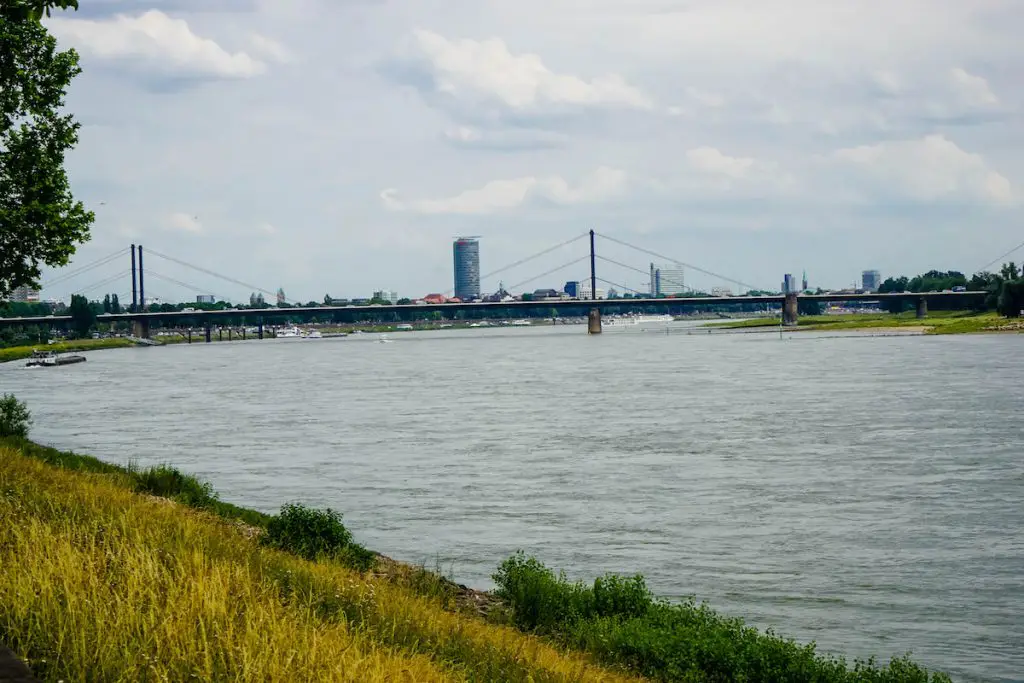 9. Take It All In Atop The Rhine Tower
Some of you might want to take your river appreciation a step further than simply strolling the banks – the Rhine Tower is for you.
This imposing 240-meter-tall structure is an iconic landmark in Düsseldorf (a great way to help you get your bearings if you get lost) and houses a sophisticated cocktail lounge with some superb views. The revolving restaurant is a hot spot as well if you're not prone to motion sickness!
Even if you don't want to eat or drink up there, it's well worth the elevator ride to the observation deck, where you get panoramic views of the city and how the river shapes it. The harbor area is particularly fascinating from high up, and on a very clear day, you might even spot Cologne Cathedral.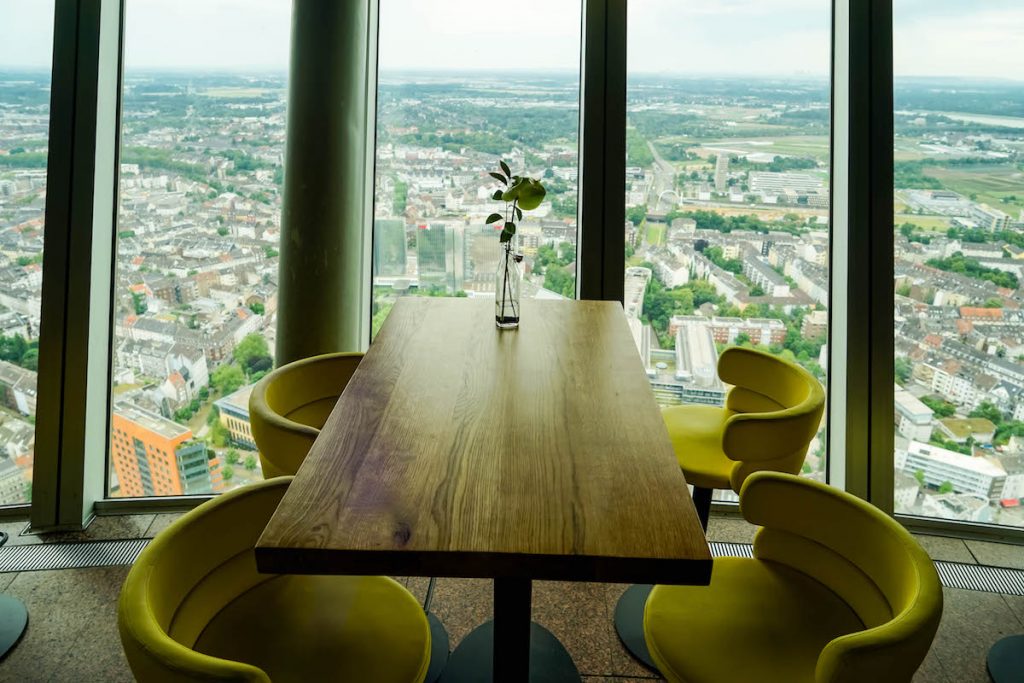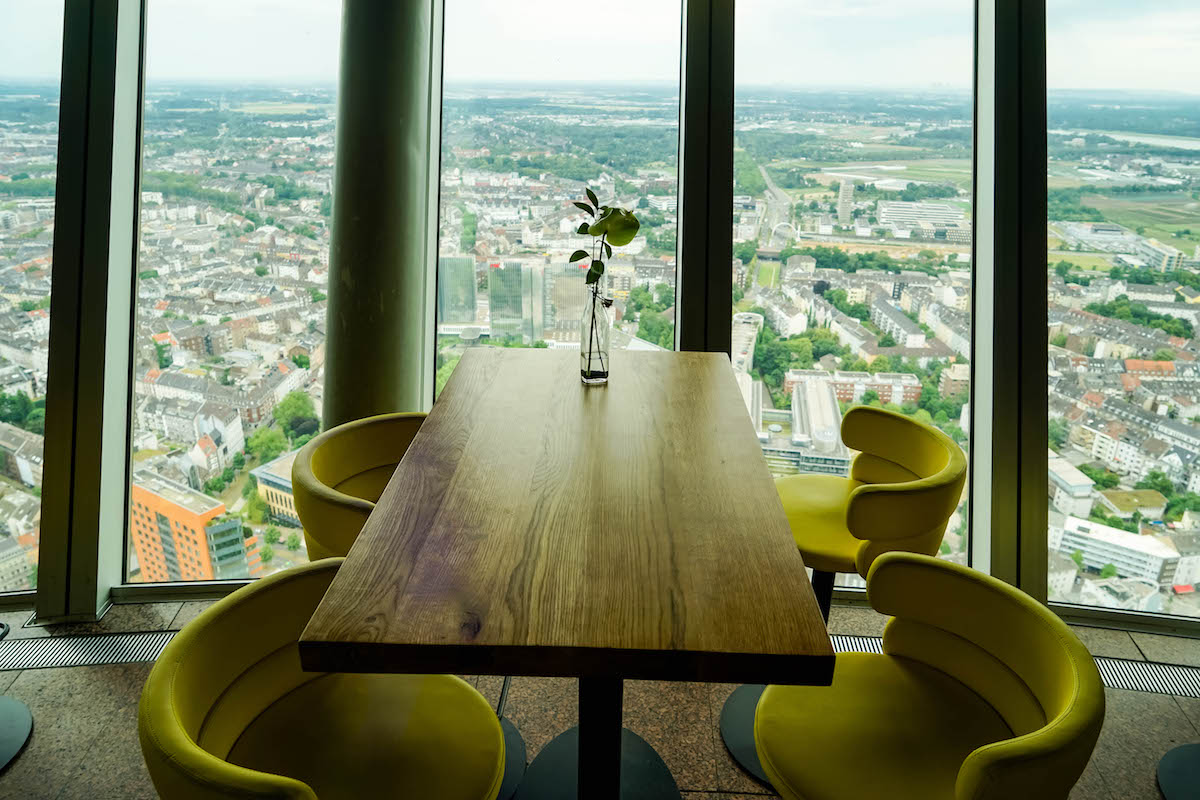 10. Embrace The Night In the Happening Düsseldorf Bars And Clubs
OK, we're not quite saying that Düsseldorf nightlife is better than Berlin, but we're coming close to it. While this might seem controversial, the rich and varied scene here makes it not totally unlikely.
We've already mentioned some spots in Altstadt, the most well-known nightlife destination, where you can get your Altbier fix. Here you'll find streets lined with pubs and bursting with music and you can happily bar-hop around here until the wee small hours.
As for nightclubs, you've got everything from punk-rock clubs to sophisticated cocktail lounges to jazz bars. Salon des Amateurs is a 70s-style space created by artists for artists, so you'll find Düsseldorf's hipster crowd firmly ensconced here. If you want to dance, Rudas Studios has two floors of electro and house music; or head to Schickimicki for the 'alternative' scene.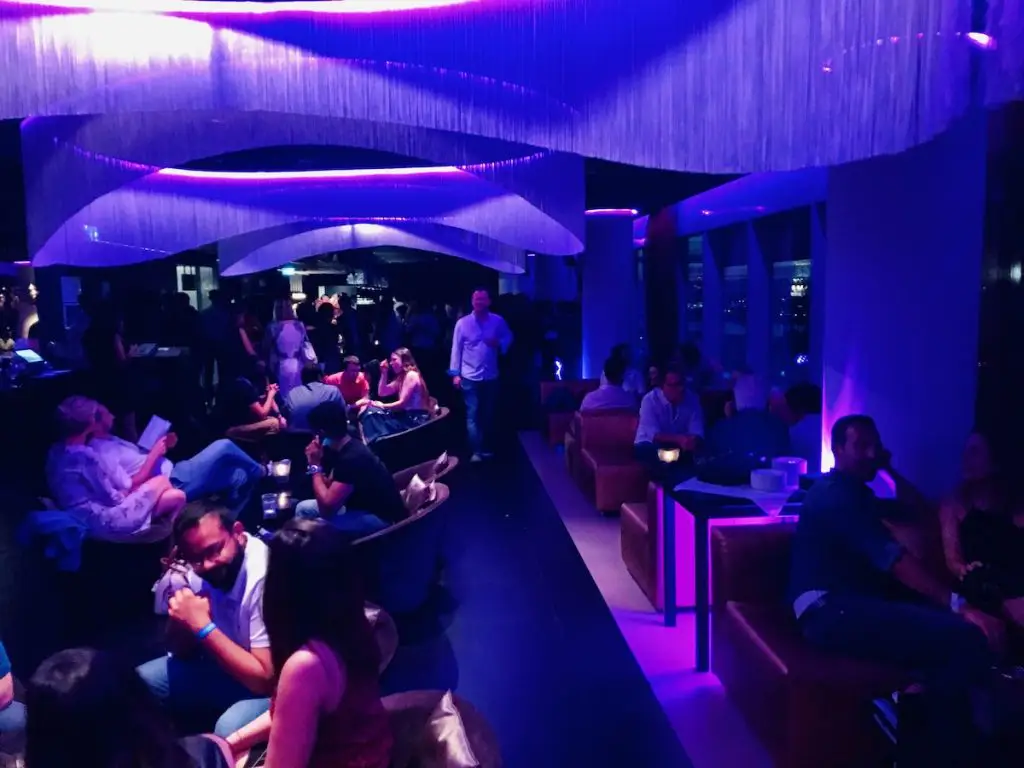 11. Find Your Inner Zen At The Japanese Garden
Düsseldorf's links with Japan have resulted not only in Little Tokyo but in this charming corner of the Nordpark inspired by Japanese pleasure gardens.
Every section of this tranquil garden has a meaning, whether it's the seating arrangement by the pond, the placement of the stones, or the use of lanterns. Little wonder it's called the Garden of Reflection.
You can walk on one of the looping trails through the garden, planted with Japanese maple trees and pines, as well as other Japanese horticulture. It's a very soothing space to spend time in; we'd recommend bringing a book and sitting by the pool for some quiet time alone.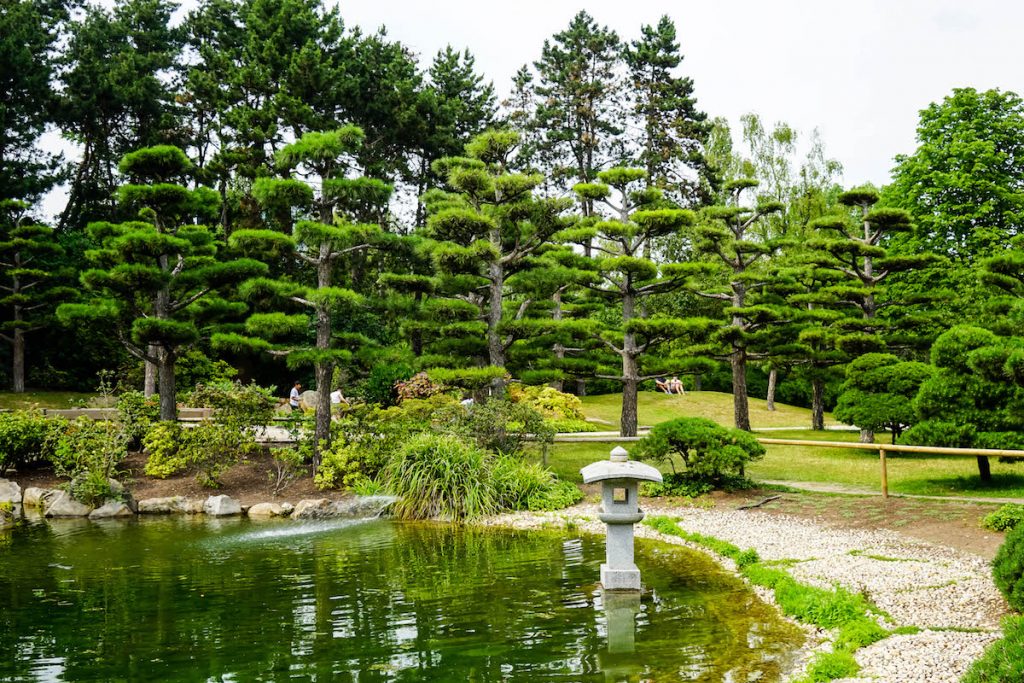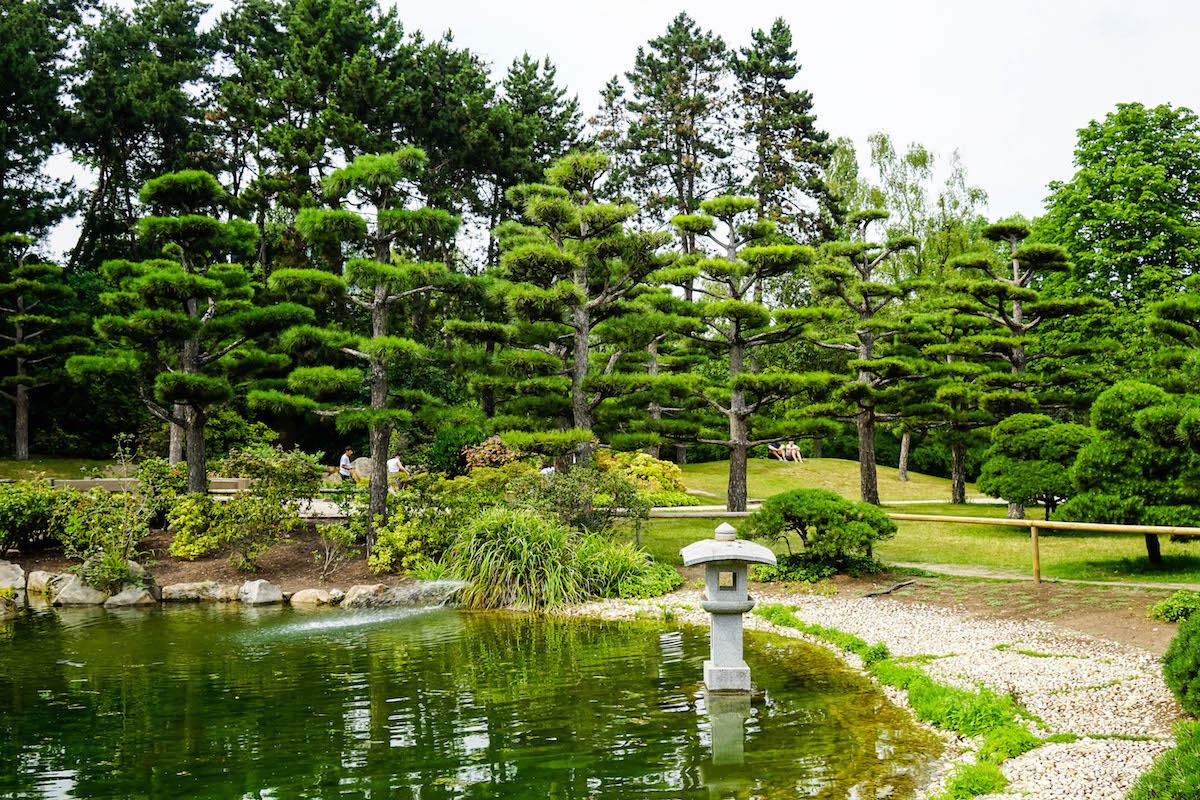 12. Be Inspired By The Underwater World At The Aquazoo Löbbecke Museum
Also in the vicinity of Nordpark, this fascinating combination of zoo, aquarium, and museum is a great way to spend an afternoon in the city. This unique concept was born in 1904 when a private collection was donated by the collector's widow to the city, which then merged the museum with the local zoo. In 1948 the aquarium was added.
Here you'll find 25 themed rooms that follow the development of sea life and the underwater world. There are 140 aquariums, terrariums, and exhibits, all offering amazing insight into the variety of marine and freshwater lifeforms that go about their lives underwater with us none the wiser.
Seeing these exhibits definitely makes Finding Nemo suddenly seem a lot more realistic, as you realize the true intricacies of the natural world.
Entrance is free with the DüsseldorfCard – but even if you don't have one, a visit here is still entirely worth it. Not since the National Aquarium Denmark, Den Blå Planet in Copenhagen (or you know, actually diving) have we been so enamored by aquatic life. Young or young-at-heart, there is no way you are not going to enjoy a visit here. We just wish they have some signs in English to help us learn more about what we were looking at…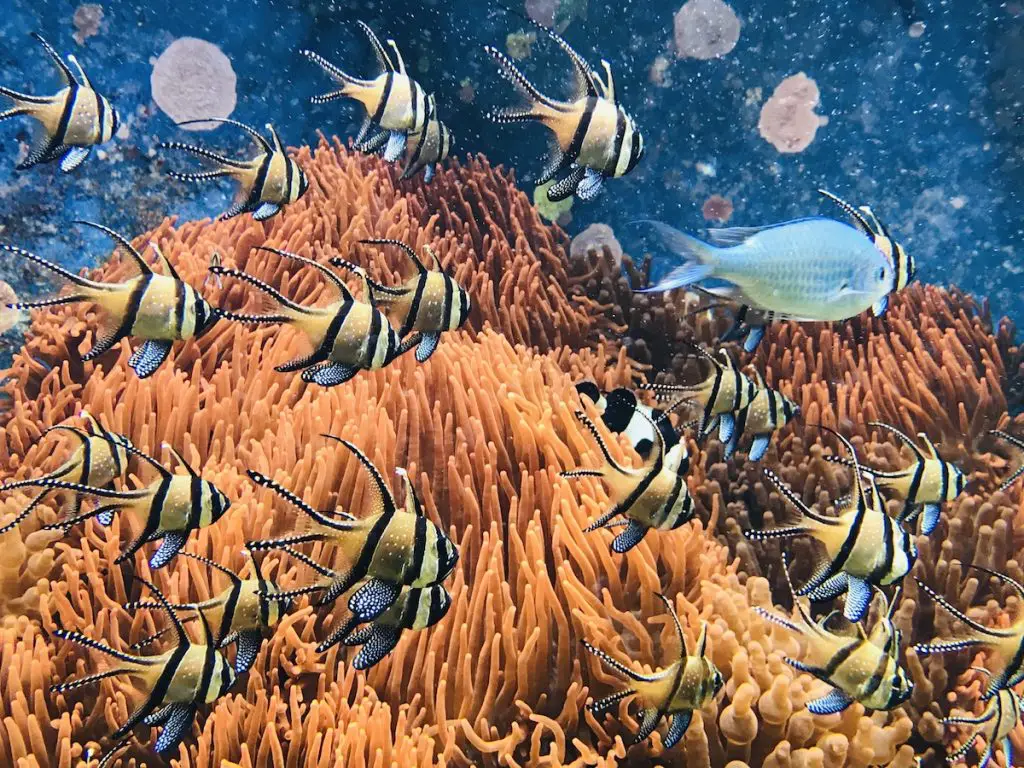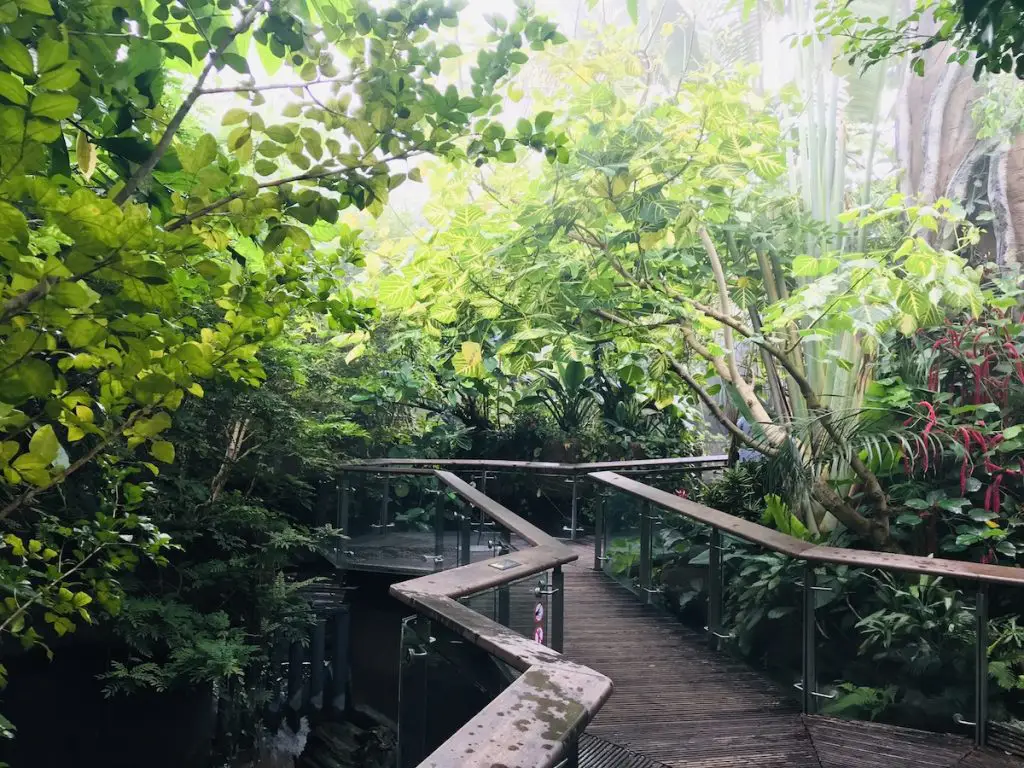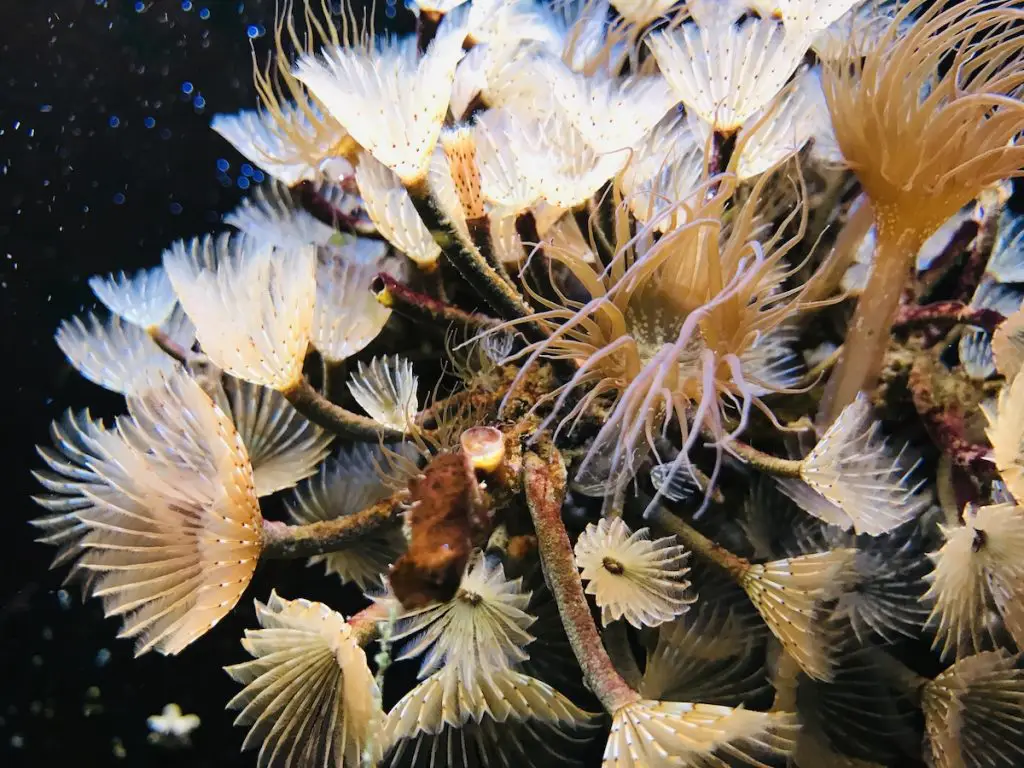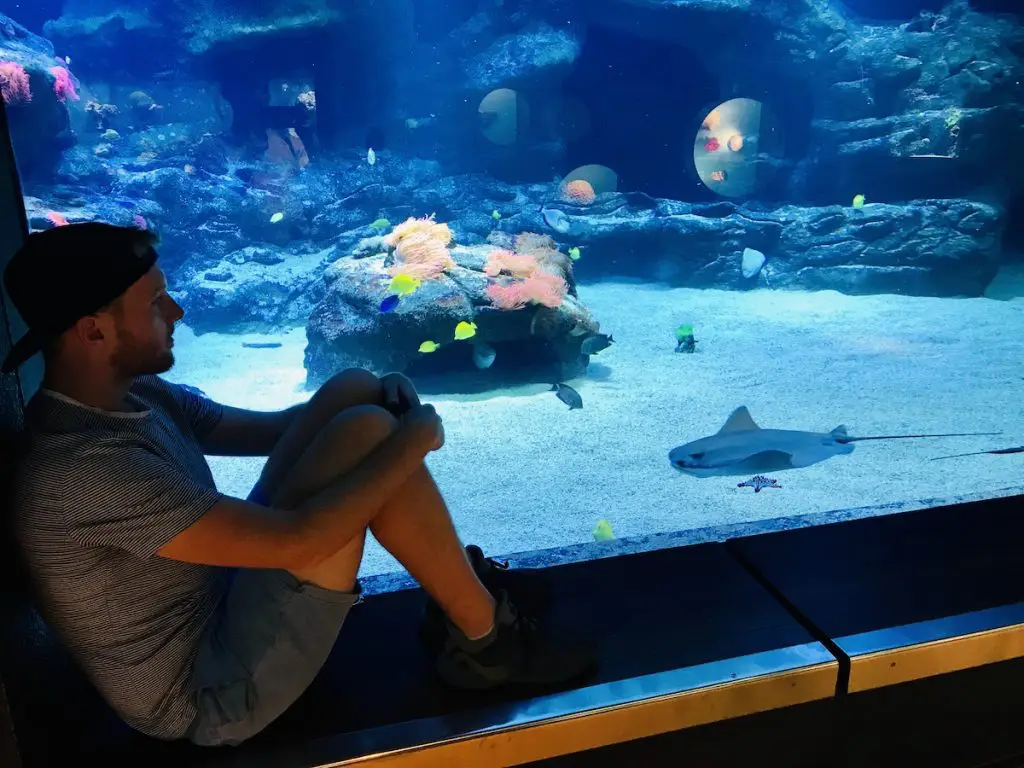 13. Wander The Picturesque Old Town Of Düsseldorf
We all know that no exploration of a city is complete without a good old aimless wander, which is why among all the things to do in Düsseldorf, we recommend you make time to meander the Old Town, taking photos along the way (there is a lot to take photos of).
Of course, you'll come here to get your beer and pork knuckles (see 2), but there's also plenty to see outside the breweries.
There are some beautiful churches here, like the Sankt Lambertus Basilika, built in the 13th century with a twisting spire that defines the city's skyline. The arts and culture scene is also represented, by the Opera House on the Rhine, the Theatre and the Concert Hall, as well as museums and art venues. The cobbled streets and traditional buildings make the Old Town pretty; the buzzing atmosphere brings it to life.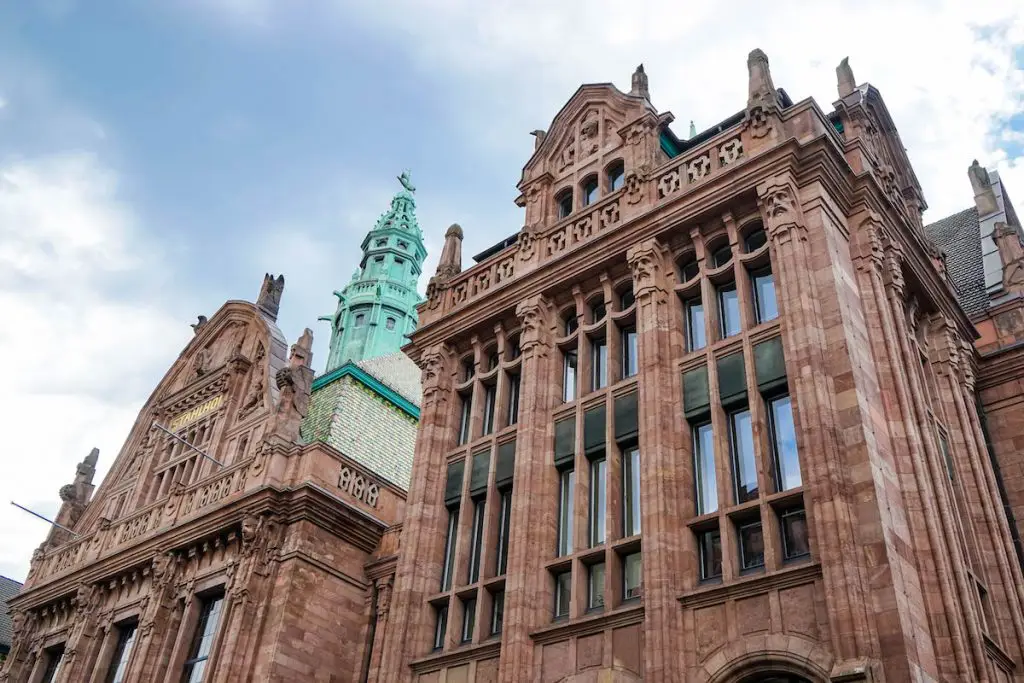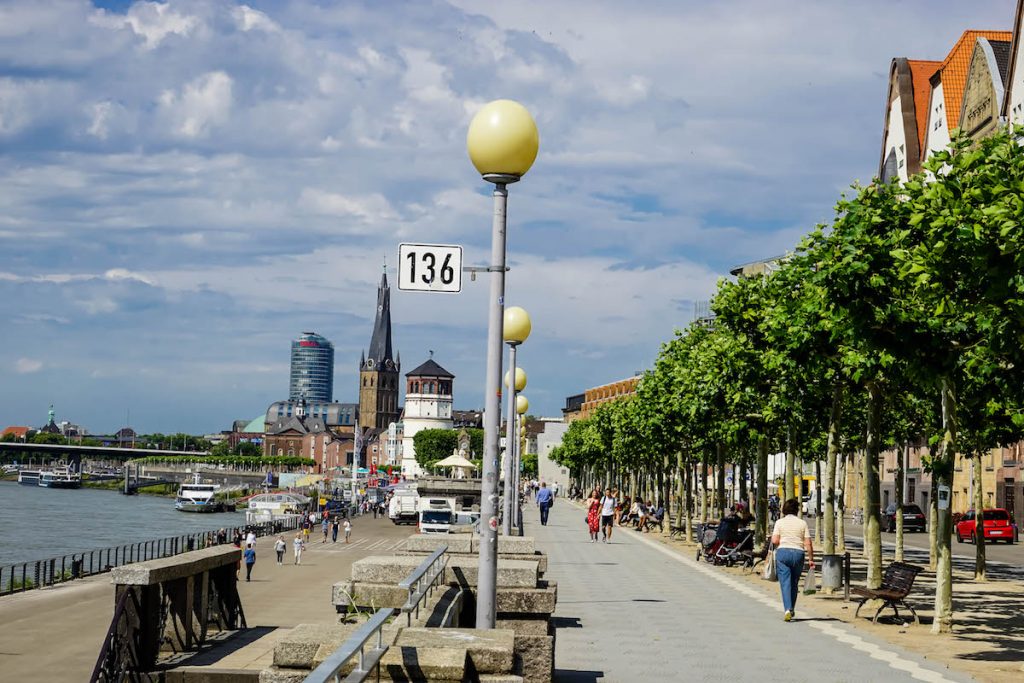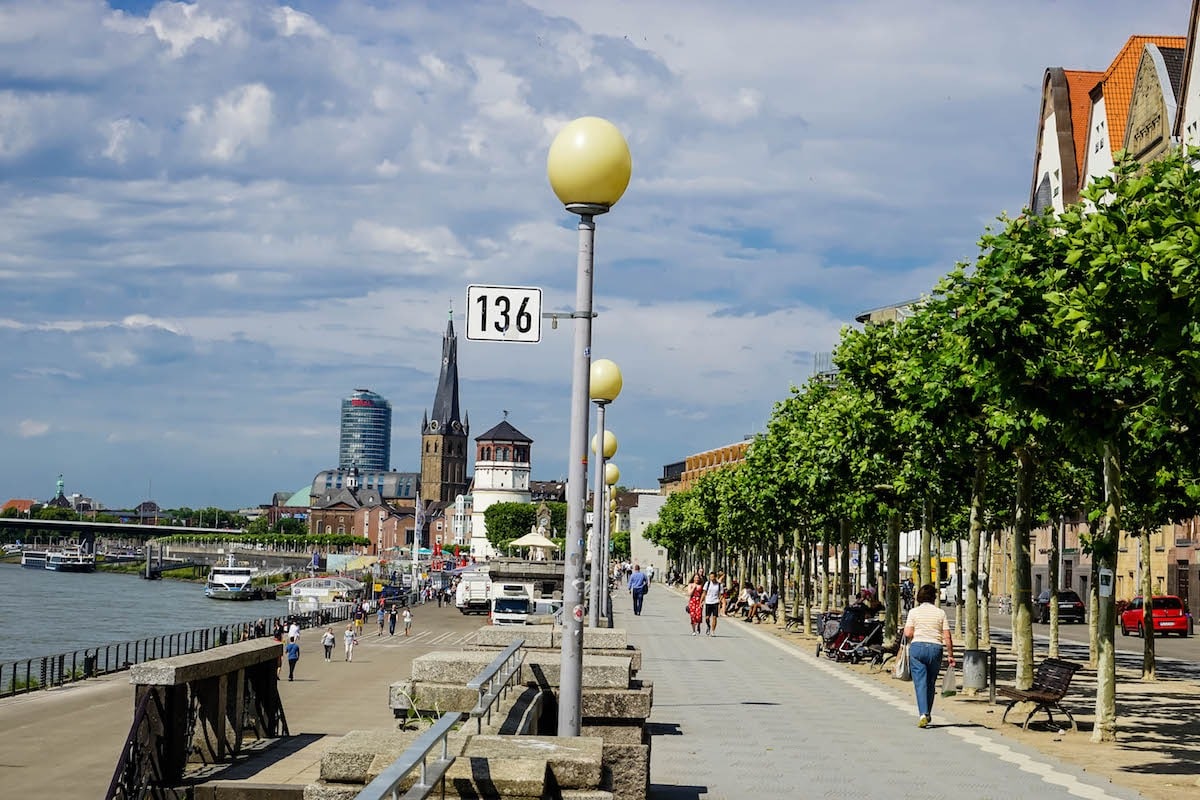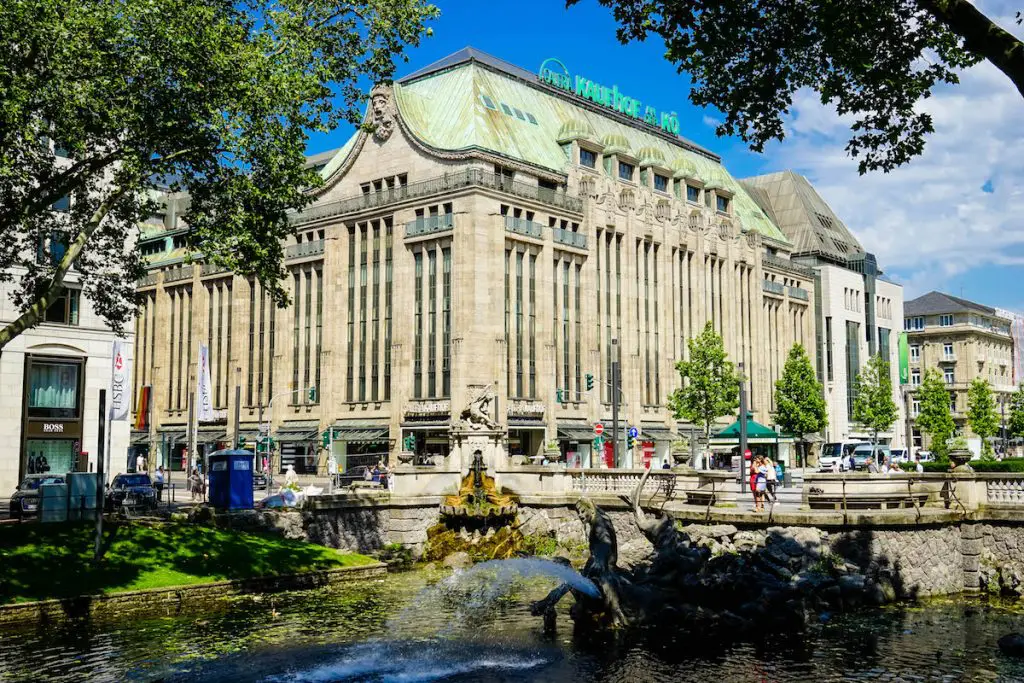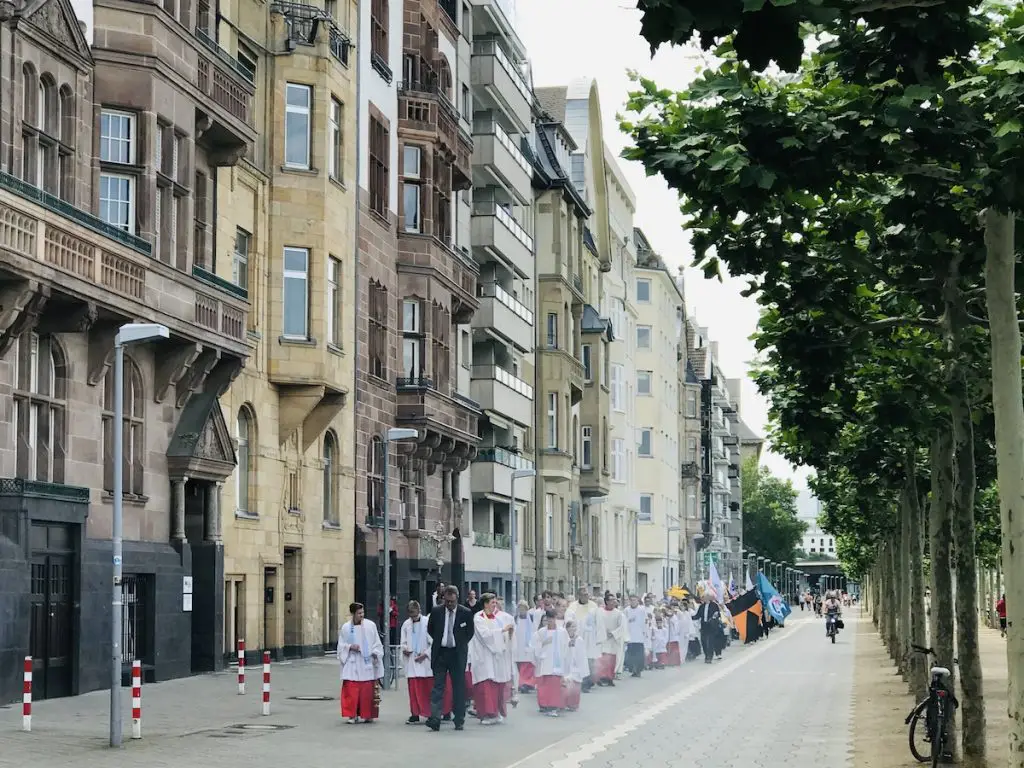 14. Explore The Happening Flingern Street Art Scene
Traditionally a working-class area, Flingern is now home to much of Düsseldorf's burgeoning art scene. Here you'll find masses of independent shops, places to eat and bars, as well as studios and galleries galore.
It's the street art that really makes it stand out, though. Colorful and innovative murals can be found all over the city but no more so than on Kiefernstrasse in Flingern, where each apartment building has its own mural.
The size and intricacy of some of these are really mind-boggling. From the monkeys climbing up one building's façade to the crossword on another, there's almost more than your eyes can take in. Even upon the roofs, you can spot Buddhas, sunsets, and insects. How they got up there, it's hard to imagine – in any case, walking around Flingern is as good as any art gallery (and much cheaper!).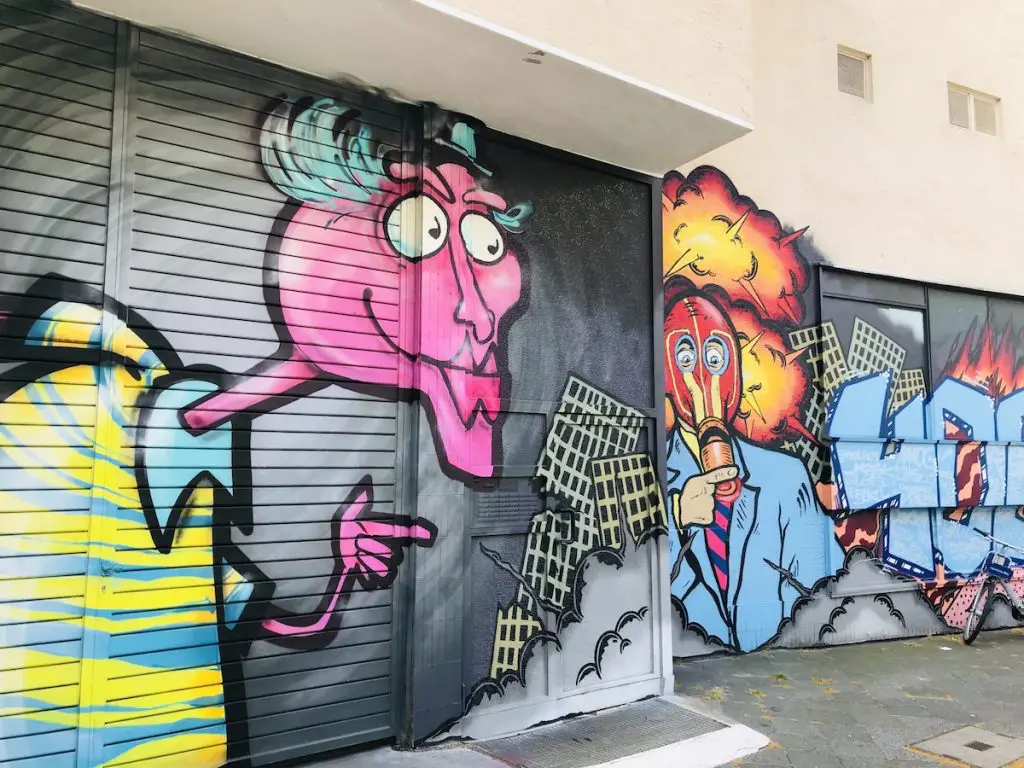 15. Step Back In Time At The Baroque Masterpiece, Schloss Benrath
Built as a hunting lodge over 200 years ago, this stunning Baroque-style mansion is one of Düsseldorf's highlights – and one that even many locals haven't seen.
The interior is painstakingly preserved and has period furnishings and art that make you feel like you've been transported back to the 18th century. Every room was matched with an area of the gardens, so there is perfect unity between outside and inside – something we'd never heard of before.
The surrounding gardens are absolutely stunning. The wooded areas stretch almost to the river, and the geometric design of the avenue creates a star around the vast lawn. The French and English gardens are ideal for gentle promenades and imagining you are guests of the lord gossiping about the others!
One thing we also really loved is that, with few exceptions, you can only visit with a guided tour. It is rather inexpensive – and you will be guided around by a local history expert means you will really get an idea and appreciation of what you are seeing.
Trust us, we have visited way too many castles around Europe. Still, at Schloss Benrath, we actually walked away with a much deeper appreciation of the small details of the castle as well as the intricacies of royal life at the time.