Anybody who has been to, heard about, or seen New Zealand knows the insane landscape the island country has to offer. With tons of impressive sights to see, it's impossible not to be moved by how beautiful this destination is.
One of these stunning attractions that I'm talking about is Milford Sound.
Milford Sound is a fiord located in the southwest area of South Island. For those who aren't familiar with fiords yet—it is a long, narrow, and deep inlet of the sea that is surrounded by towering cliffs. This scenery is typical on the island of New Zealand, but Milford Sound is an unmissable one.
Milford Sound is a hidden treasure tucked away in Fiordland National Park, which is then sitting on Te Wahipounamu, a UNESCO World Heritage Site. Judging by this alone, you would already know why it's a must-visit attraction for those visiting the South Island. Fun fact: this fiord is the only one in the country that is accessible by road.
But due to its remote location and natural protection in the form of high cliffs and lush greeneries, Milford Sound remains unspoiled.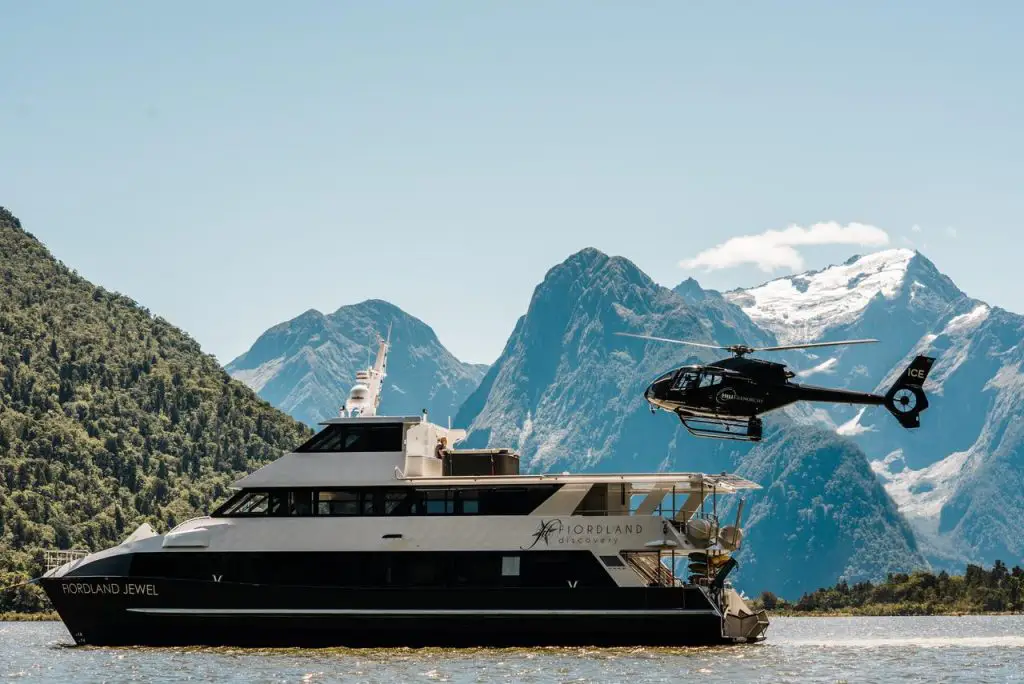 Planning the Perfect Milford Sound Overnight Cruise In New Zealand 🛥️
What Is The Best Time to Visit Milford Sound?
It's always a good idea to take note of the weather whenever visiting a particular destination. This will help you prepare all the necessary things needed to ensure a hassle-free and jam-packed trip.
The west side of South Island is the wettest area of New Zealand. This part is notorious for its high rainfall. And so regardless of when you're coming in to check out Milford Sound, make sure to pack a waterproof layer with you. It's also worthy to note that in the southern part of the country, showers are more likely to pour during the summer season—specifically December to January—than in the winter season.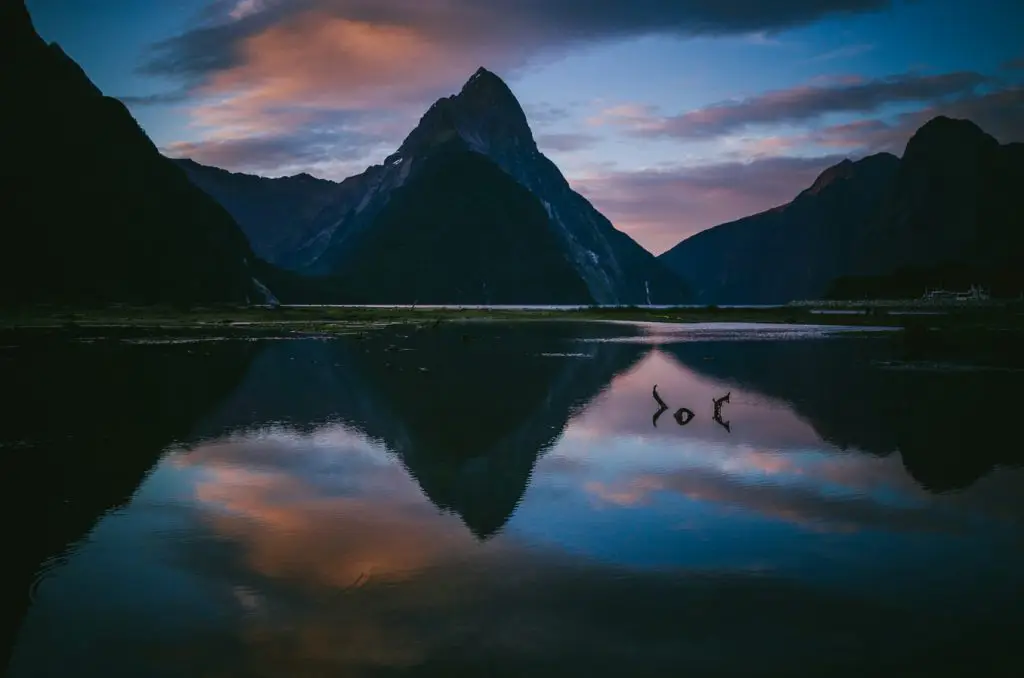 Ok, ok – so when exactly is the best time to visit Milford Sound?
The answer to this is depending on what you want to see and do in the area. During spring and autumn, seals, penguins, and other local wildlife tend to be more active. On the other hand, during winter, the view becomes even more picturesque care of the white peaks of the Southern Alps.
And thankfully, even in the rainy season, Milford Sound is still as amazing as ever, with the sight of the waterfalls getting more spectacular as the rain increases. And there is often a lot of rain here, in fact, Milford Sound is the wettest inhabited place in New Zealand, and one of the wettest places in the world!
It rains here on average 182 days a year… but luckily the weather here (just like in Auckland) can change of a whim from clear skies to downpours to back again, so your chances of seeing that postcard view are pretty high if you opt to stay overnight in Milford Sound…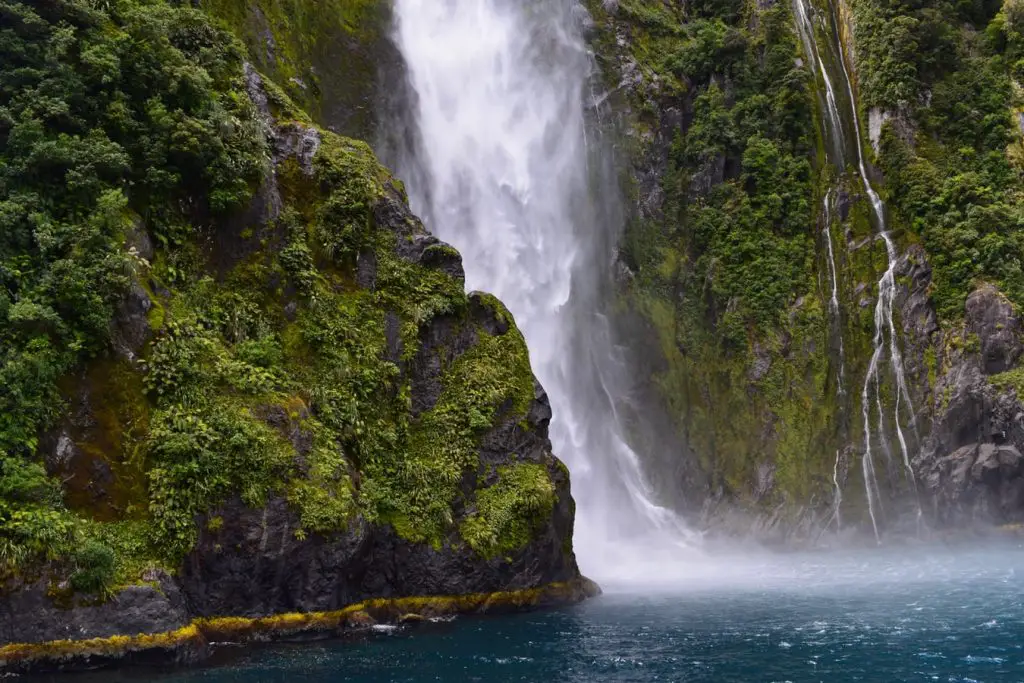 What Are The Things To Do In Milford Sound?
There are literally so many things to do here in Milford Sound. The destination offers a varying range of activities, so whether you're planning to go here by yourself, with a partner, or with the whole family, your days will be filled with a whole lot of adventures.
For those who want to explore the natural treasures of Milford Sound, I highly recommend grabbing a raincoat and checking out the beautiful waterfalls around. The towering cliffs in the area provides some of the most magnificent views of waterfalls in New Zealand.
For families visiting with kids, you'll be delighted to find out that Milford Sound is a good place to spot adorable local wildlife such as seals, dolphins and penguins. If the children just can't get enough of it, consider coming through the Milford Sound Underwater Observatory to see more of what this natural wonder has to offer below the surface.
And for those looking for some more action, Milford Sound doesn't come short when it comes to adventurous activities. Be it going on a hike, kayaking the fiord, or getting a birds-eye-view of South Island on a scenic flight—this is a place that is guaranteed to leave a wanderer like you in awe.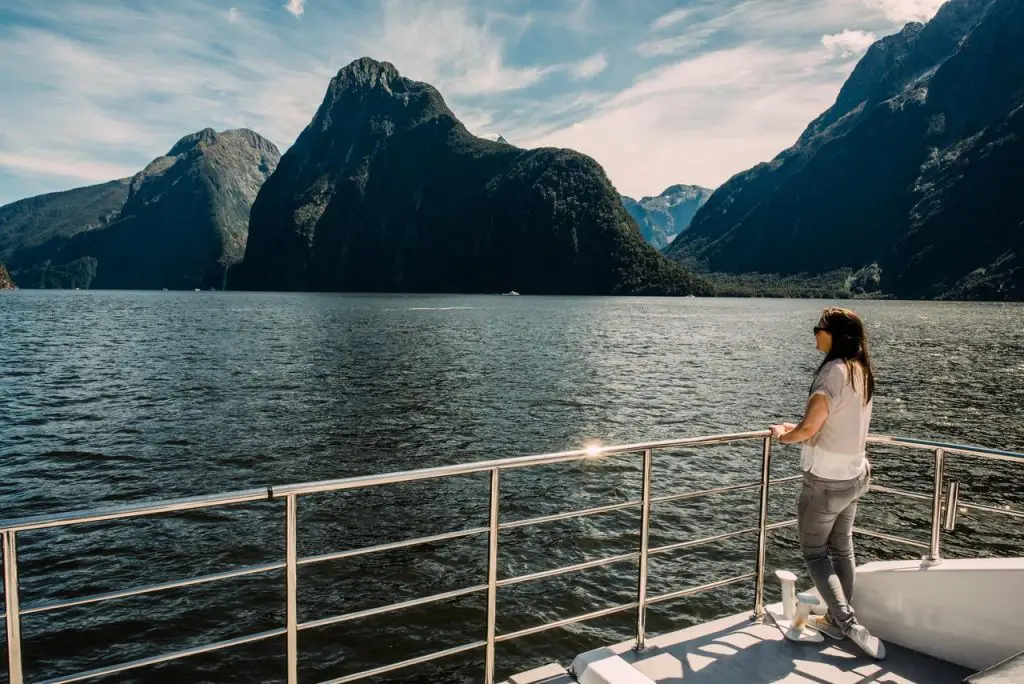 Why You Should Opt For A Milford Sound Overnight Cruise
There are just too many things to experience here that will leave your day busy. The truth of the matter is, one full day isn't enough to completely soak up on the beauty that this fiord has to offer. Luckily for us, Fiordland Discovery offers overnight cruise tours so that we can make the most out of our visit here in Milford Sound. Jump onboard the luxurious nine-cabin Fiordland Jewel and spend two days journeying this little piece of paradise.
The Milford Sound Overnight Cruise is an exclusive tour, taking only 20 passengers per night. The Fiordland Jewel is equipped with climate-controlled cabins, each featuring a private bathroom and a stunning sea view. It is one of the dreamiest ways to enjoy the fiord, even offering the use of its onboard top-deck hot tub during the night.
Pop a glass of bubbles, or a carefully selected bottle of wine from your earlier visit to the vineyards of Queenstown or Wanaka and enjoy the view. New Zealand has some stunning, stunning vistas … but we are pretty sure nothing beats this.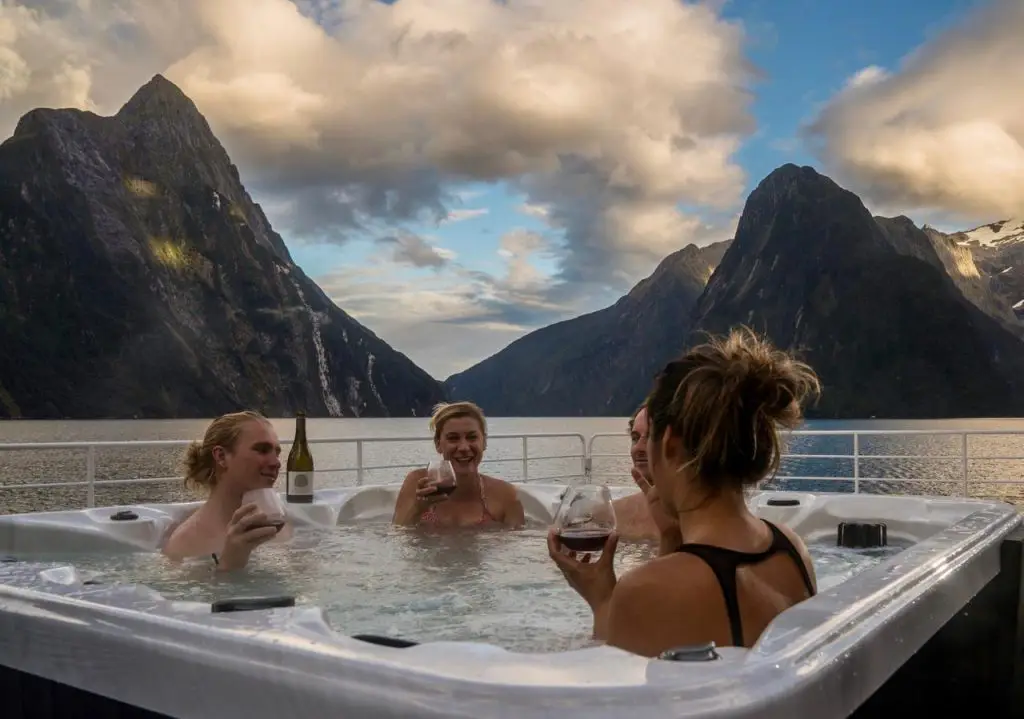 To get a quick preview of what a typical day looks like on a Milford Sound Overnight Cruise, make sure to read through this article until the end. The trip begins by cruising down the southern part of the fiord—Bowen Falls, Sinbad Gully, Mitre Peak, Mt. Pembroke, Bridal Veil Falls, and Fairy Falls.
If the weather is nice, the boat will head further to take a peek at the west coast before going up the northern part of the fiord—Dale Point, the Piopiotahi Marine Reserve, Seal Rock, Stirling Falls, and The Lion and the Cascade Range.
The Jewel parks at the Deepwater Basin for the night, giving passengers some free time to use the kayak and Zodiac tender. The first day is typically capped with some drinks and a three-course meal.
But it doesn't end there…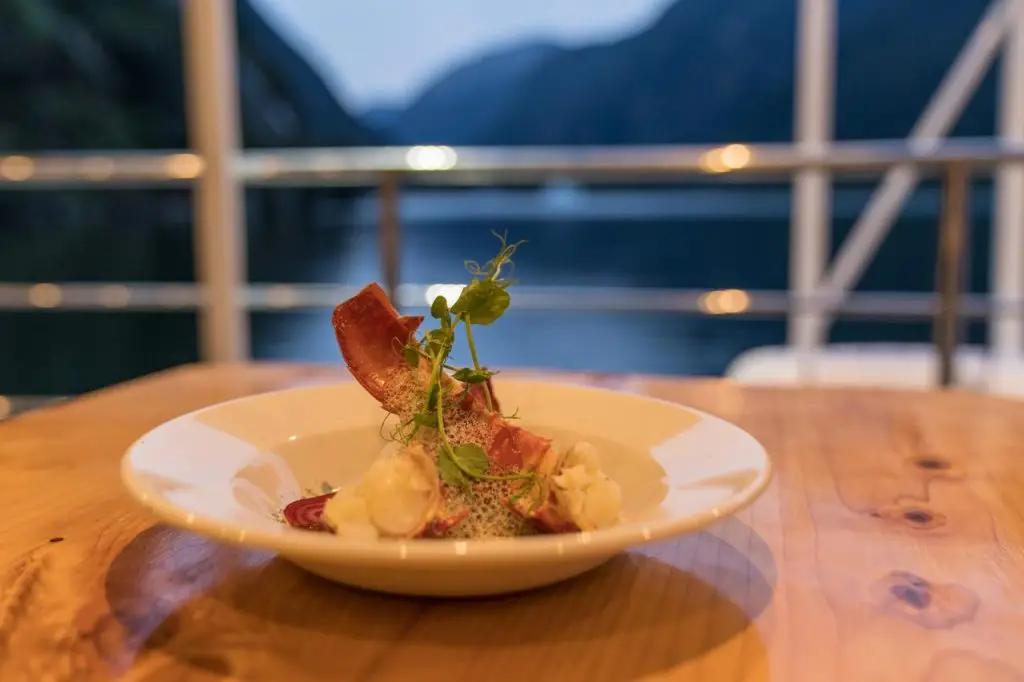 When dawn arrives in the morning, Fiordland Discovery prepares a continental breakfast for everyone, which will be enjoyed with the majestic view of South Island sunrise. I don't know about you, but this overnight cruise is easily one of the most impressive parts of a South Island trip!
If this sounds exciting enough, go and check out Fiordland Discovery. I highly recommend this to partners who are looking for a romantic getaway on the island and families who are finding ways to create fond memories with the kids here in New Zealand. And that helicopter ride (for applicable sailings), well, let's just say it beats the already stunning Queenstown to Milford Sound drive.
If you are wondering if their schedule will work in with your, no need to wonder anymore. Their Milford Sound Overnight Cruises and Heli Lunch Cruises run during peak season from September 1st till around mid-April. Outside of this, so April, May, June and August, they run an incredible Fiordland 7 day cruise.
Once a year in August they also run a Stewart Island 7 day cruise…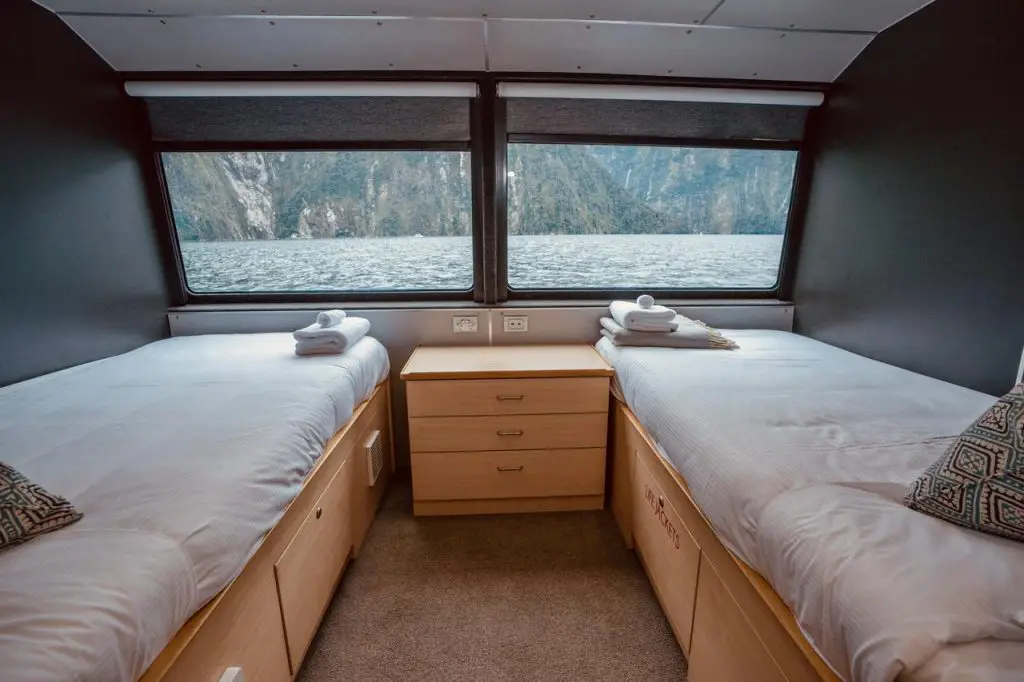 Background To Fiordland Discovery
Husband and wife Rob Swale and Kate Rollason, a Queenstown family with roots deeply entrenched in Fiordland launched this luxury cruise business with a custom-built 24m catamaran in 2016. As we already cover: luxury means luxury, with a helicopter pad, top-deck hot tub, private king suite, and chef-prepared cuisine.
Guests can experience a range of trips from exploring Milford Sound overnight – a 7-day scenic cruise of Preservation Inlet and the surrounding Southern Fiords including Doubtful Sound, Dusky Sound and Stewart Island, or privately charter the boat for multi-day fishing, hunting and diving trips – while taking in New Zealand's largest national park in complete luxury.
The idea behind Fiordland Discovery and the Fiordland Jewel is to offer visitors up-close-and-personal access to the stunning wilderness area through operators that have a genuine connection to the area.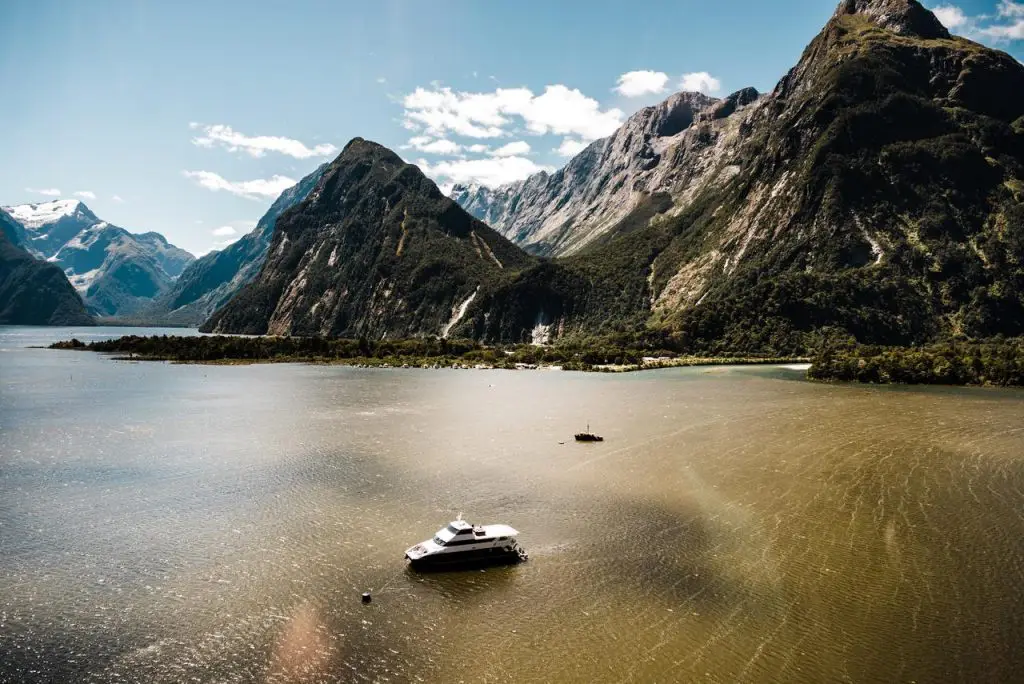 About The Fiordland Jewel
The Fiordland Jewel is a 24m, three-deck catamaran with a high-quality 5-star marine fit-out. Sleeps 20 passengers a night in nine climate-controlled cabins, each with their own ensuite bathroom. The Fiordland Jewel was designed and purpose-built for Fiordland Discovery and the conditions of Milford Sounds.
Guests can enjoy kayaking or taking a trip on the Fiordland Jewel's tender boat – and with the peace-of-mind that comes with knowing this vessel is well-equipped in case of emergency in remote locations with an onboard satellite phone and defibrillator. Staff are also trained in first aid.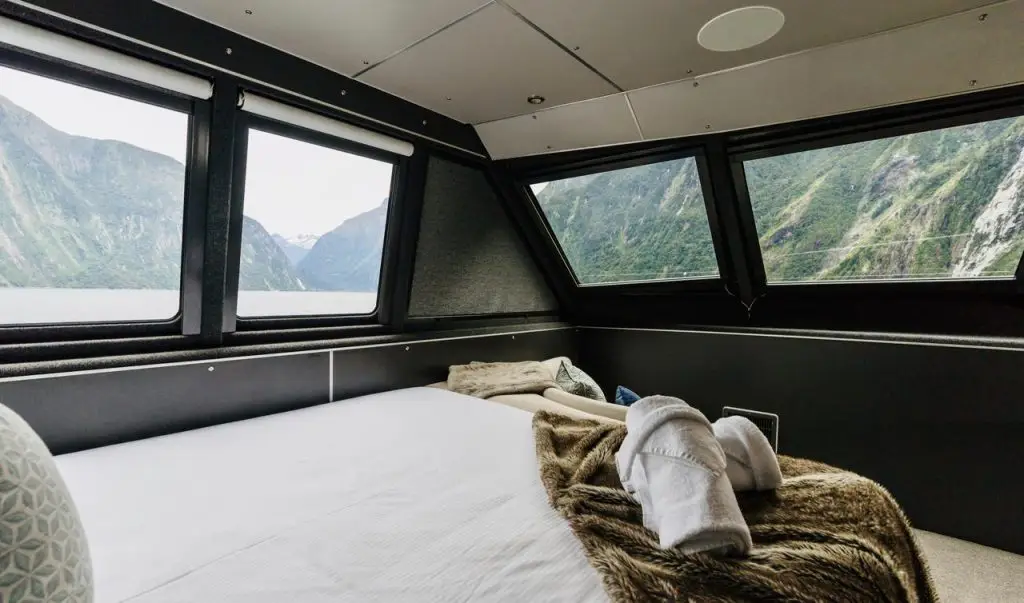 In addition, this top-of-the-line boat offers:
Remote Operating Vehicle (ROV): The Fiordland Jewel hosts Fiordland's first and only remote-operated vehicle, which provides high resolution live underwater footage.
Helicopter pad.
Top-deck hot tub.
Onboard chef preparing top-quality cuisine daily.
The ability for private charters / exclusive boat use.
Thanks for reaching the end of this post and I hope this helps with your next Kiwi adventure in all ways possible! Feel free to bookmark this article and let me know should you have any other question to ask before you decide if Fiordland Discovery is right for you…