For those of you who don't know – I have a little obsession with visiting UNESCO heritage sites. Not all of them I love, and not all of them are worth your time … but the Collegiate Church, Castle and Old Town of Quedlinburg, is absolutely 100% worth it! In fact it would be even if it were not a protected site – I mean, how often can you stroll through a 1,000-year-old town and see the seamless blending of past and future.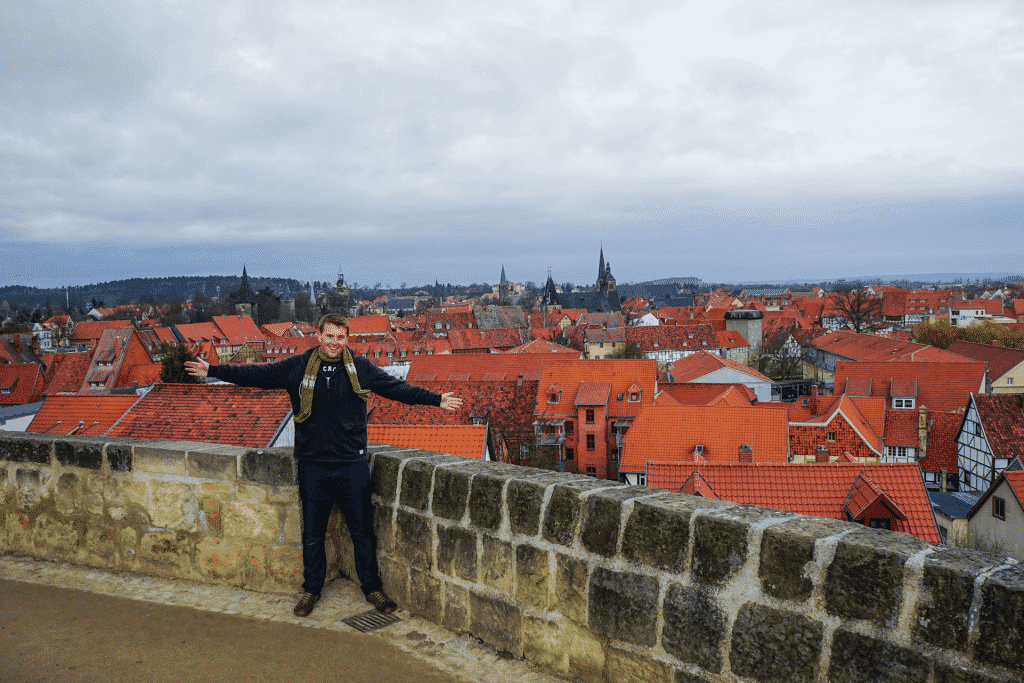 In particular Quedlinburg is famed for it's 1,300 Romanesque half-timbered houses and later Art Nouveau villas and of course the Quedlinburg Romantic Road leading to the Quedlinburg Renaissance Castle, the Collegiate Church of St. Servatius and the towns cathedral housing the Quedlinburg treasure. All of this – and more – fuses to create one of the most beautiful medieval town in Germany, deserving of its UNESCO World Heritage listing and a few days visit if you are travelling around Germany! As I said – It's worth it, but in case your not convinced yet here are a few things to do in Quedlinburg Germany!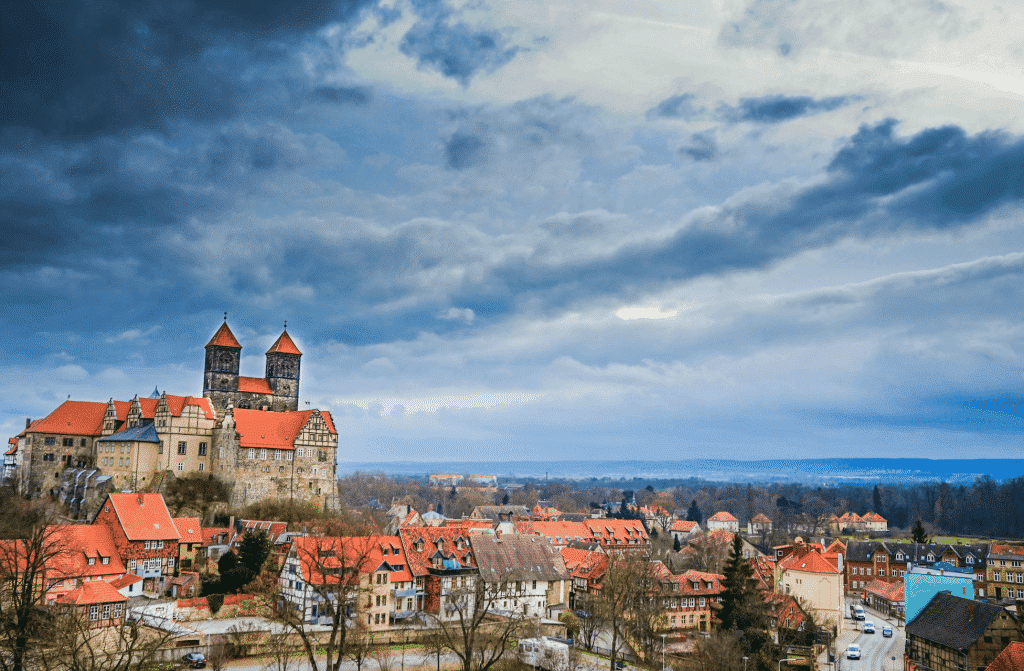 Still don't believe me?? … And this isn't even the half of it!
---
Quedlinburg: Medieval Treasure Hidden in the Heart of Germany
So if you're like me, I bet you are wondering …What is Quedlinburg? How do you even pronounce it??! Well, Quedlinburg (pronounced Keed-lyn-berg) is an exceptionally preserved medieval European town filled with timber-framed buildings, churches, windy lane-ways and a castle on a hill… Admittedly all fairly standard for Europe, but the degree to which this has been preserved is astounding and like no where else! You feel like you have been transported back to when the town was a prosperous trading town since the Middle Ages, especially at the Weihnachtsmärkte (Christmas markets) and that at any moment a bard will break into a tale or the city bells will announce invaders… Hmmm well maybe not but you get the idea!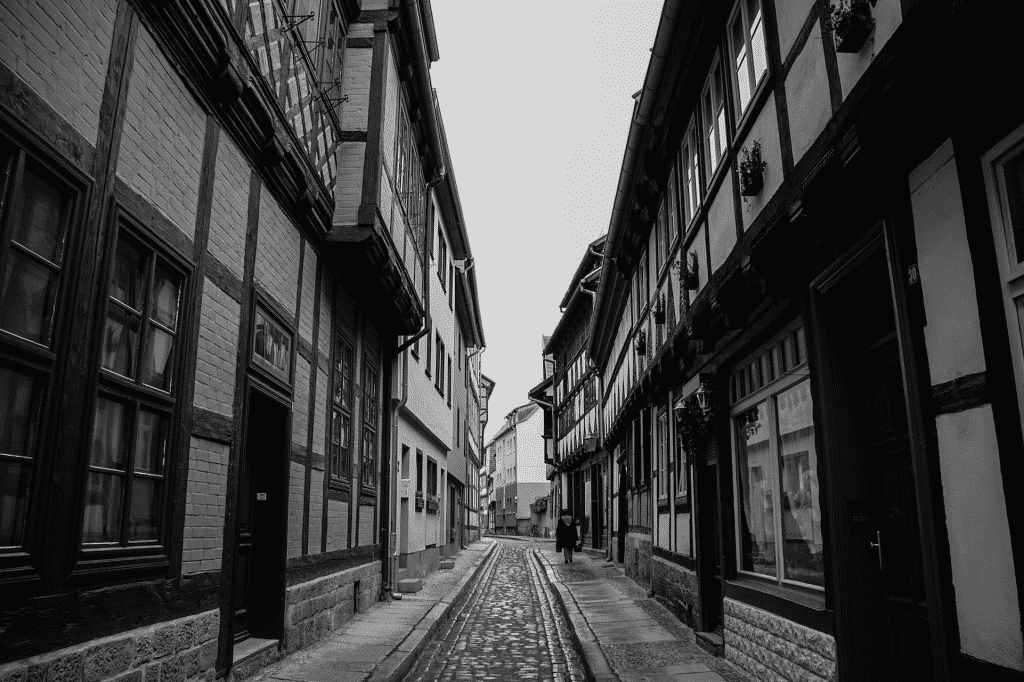 Quedlinburg can best be accessed by regional trains from Hanover or Berlin, but being located in the Harz mountains (and the relative seclusion is part of the allure) it does take about 4 hours each way. I would recommend a one night, or two night stay as I did at the Hotel Garni Am Dippeplatz, a gorgeous 13th century half-timbered house in the center of the old town, in one of the oldest streets of Quedlinburg (and one of the cheapest stays in town)!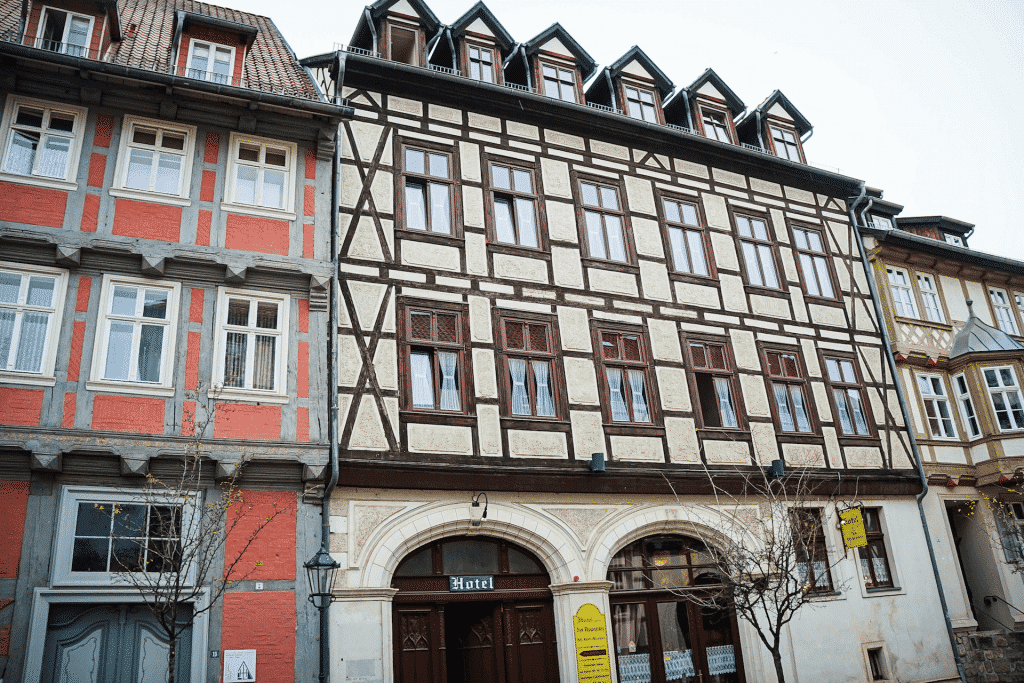 This is the exact building I stayed in … Not bad for on a budget!
When you come here  you are instantly submerged in seven centuries of half-timbered architecture and more than a thousand years of German history and magic in this unique medieval town. The castle-hill and the Münzenberg," the Old Town and the historical New Town – There are so many significant sights here to draw you in and it is difficult to separate out such a rich and diverse collection, but I will make an attempt below to convince you of why this should be on the stop for the next trip to Europe with just a few of the things to do in Quedlinburg Germany!
---
If you like reading about the Quedlinburg Germany UNESCO Site you might also like:
---
Top Things to Do in Quedlinburg Germany!
The New Town
The Quedlinburg New Town uses the term rather loosely as in fact it started to develop around 1,200 AD and the city spilled out over the walls of the old city. Remarkably different – here residential dwelling's consisted of large entry gates and even larger inner courtyards in order to accommodate crop storage space and livestock. Some of the main must see sights in Quedlinburg New Town are the St. Nikolai Church, The City Towers and the New Town Churchyard – though, like most of the city, half the joy is simply in wandering aimlessly and discovering the beauty of Quedlinburg for yourself!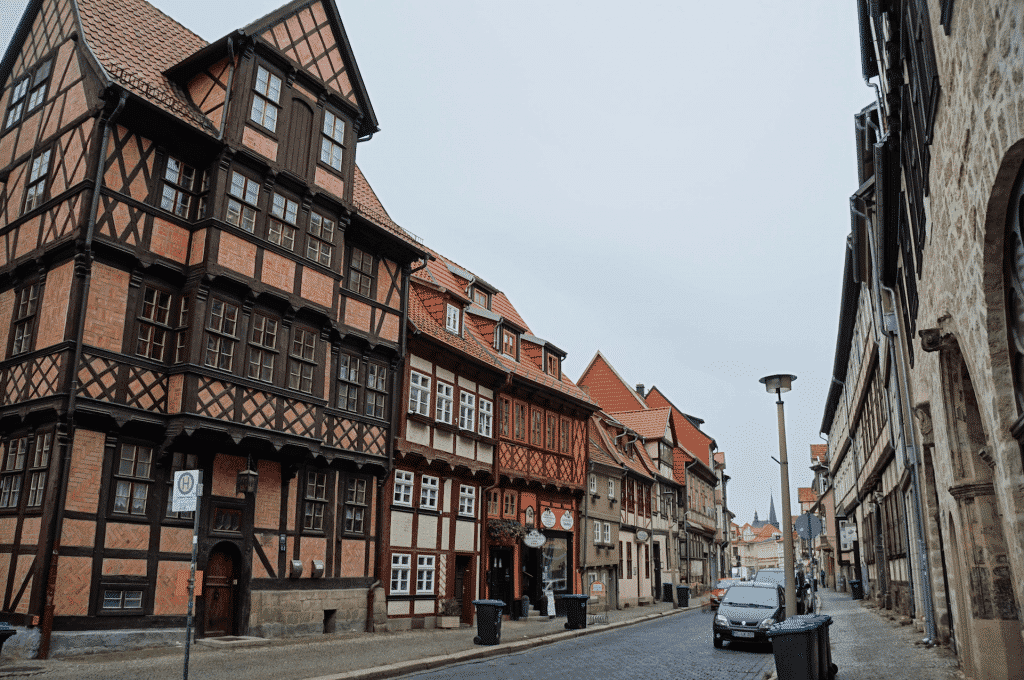 The Old Town
The Quedlinburg Old Town offers everything you need to create the most beautiful medieval town in Germany and to be honest, at times it looks just like a move set. Get lost in long, unending cobblestone lanes, admire the timber buildings towering above you, get snap-happy with all the different architectural styles and count just how many churches you can fit into one town. Hint: it's alot!

The Castle-Hill
Towering over the historic town the Castle-Hill is one of the blatantly obvious things to do in Quedlinburg, and yet it is easily one of the best! Besides offering the best view of Quedlinburg and some of the best photo opportunities the thousand year old Romanesque collegiate church St. Servatius, towering above on a sandstone cliff, just begs to be explored along with the famous collection of the Quedlinburg church treasures that have been housed within it's protected vault for generations – and on display since 1993.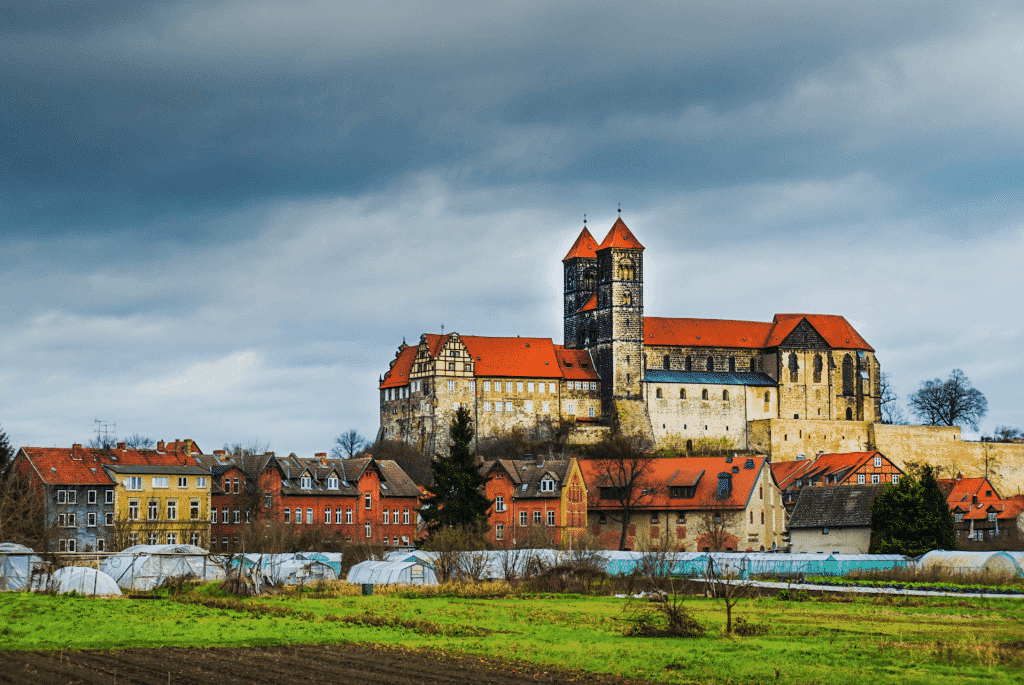 The "Münzenberg"
One of the top thing to do in Quedlinburg is to visit the Münzenberg Museum which housed the Convent of St. Mary (Marienkloster) until 1525 when an uprising of Peasants occurred and the site was left to decay. Reclaimed by various groups over the ages, which is left now is a selection of rift-raft tiny half-timbered houses laid directly on the ruins, making it charming to explore and learn about the intriguing history of the Münzenberg.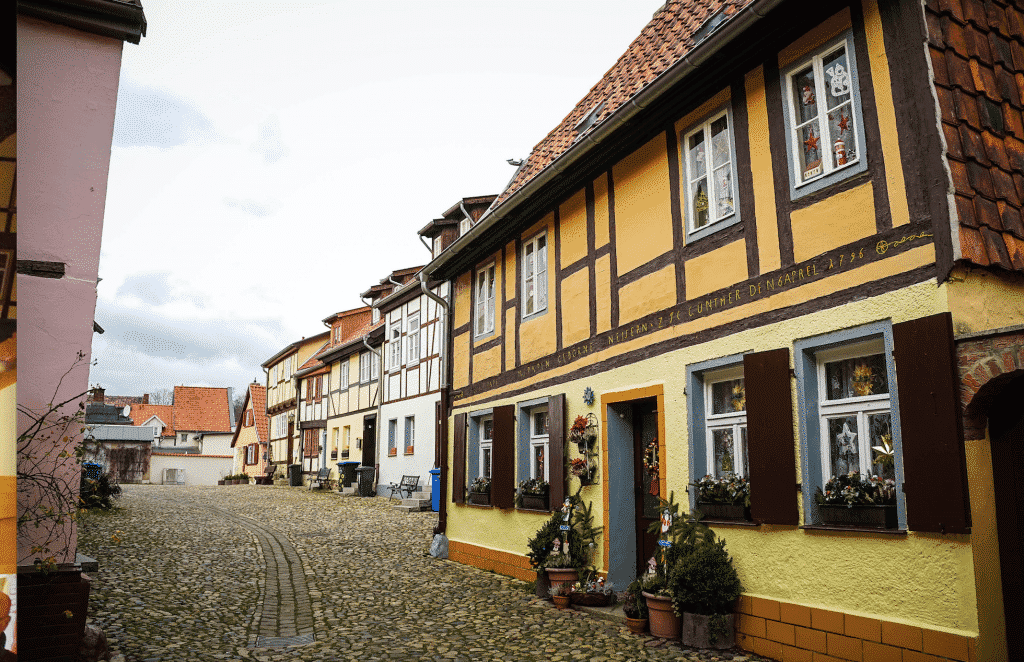 Half-timbered Architecture
The half-timbered buildings of Quedlinburg not only adds to the medieval towns charm but also it's uniqueness that led to Quedlinburg being inscribed on the UNESCO World Heritage Site. Because of the uninterrupted progress on half-timbered architecture in Quedlinburg it is possible to explore the history and changing construction styles over the ages just by wandering from street-to-street. With the oldest half-timbered houses in Germany this alone is a reason to visit Quedlinburg!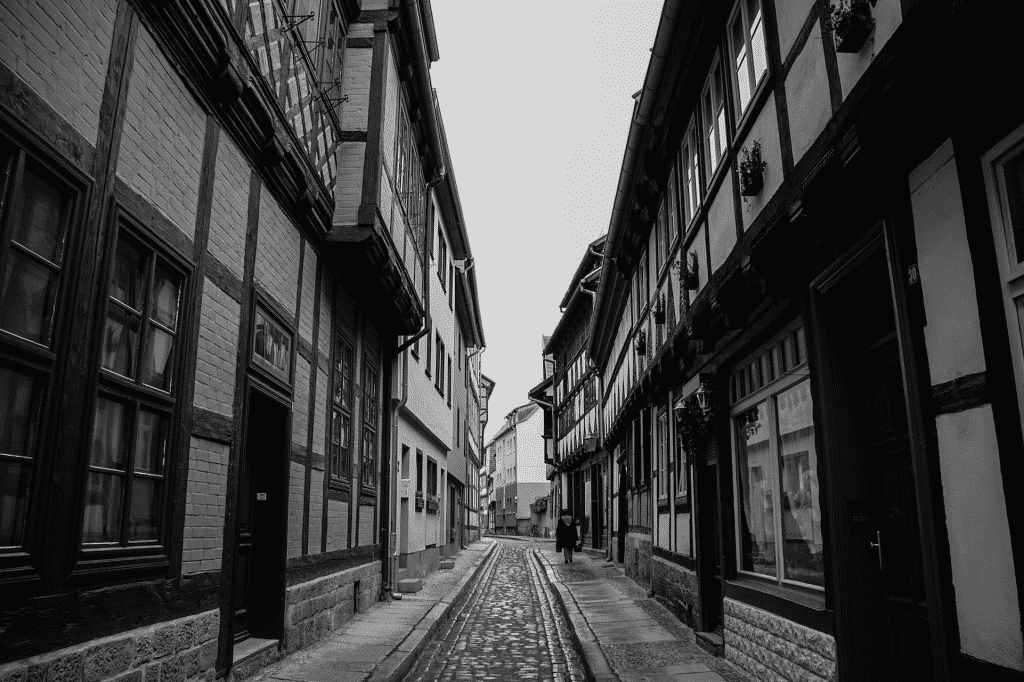 Advent City
If the seasons allow then one of the top things to do in Quedlinburg Germany should be to visit the famous Quedlinburg Christmas market in December. During this time the town is magically transformed into a Christmas dreamscape set around the historic town square and offer's temptations for all the senses. Every public space seems to be alive and humming and the timelessness of Quedlinburg really comes on display and everybody seems to be out laughing, snacking on Pretzels and drinking Glühwein. Incomparable!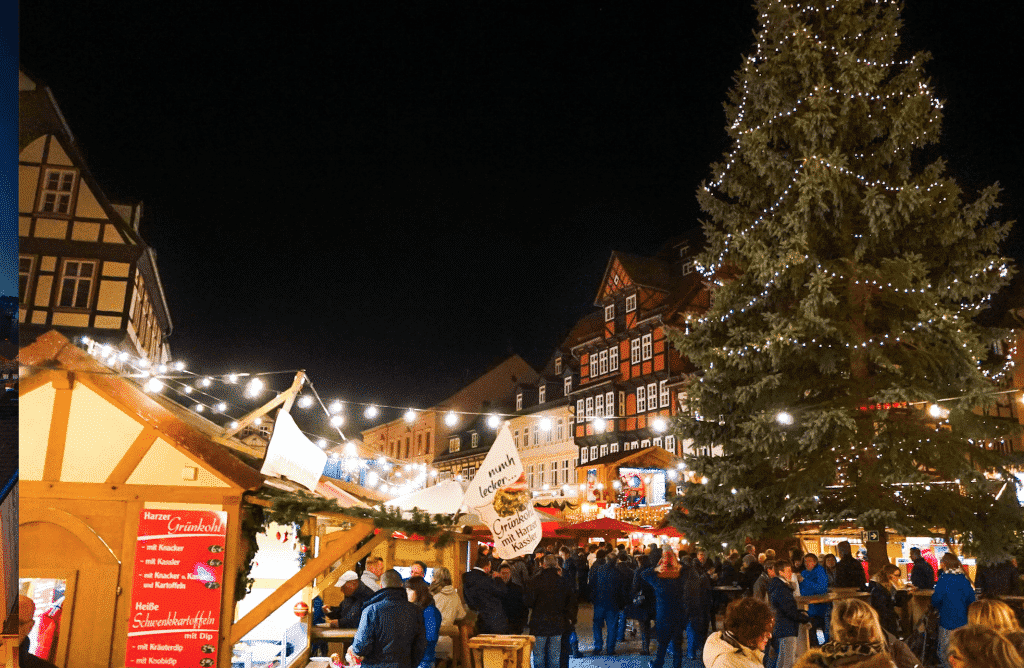 ---
Ok …So the Q
uedlinburg Christmas market

  is only in December but still, gives those on a winter get-away a reason of their own to come!  This city is so incredible and perfect, photos can only show so much – When you are here it feels like you are on a movie set, or a theme park. Its unbelievable that people actually live and work here every day, but they do! Its a bit of a secret treasure at the moment though, largely unknown outside of Germany so be sure to add this to your hit list of European 'must-dos' on your next trip and live it up like a medieval king!
Further Things To Consider Before Any Adventure
Now you're all set and prepared to explore our big wide world, why not sort out everything else out all in one go? If necessary for your travel plans make sure you have brought proper travel insurance, protected your privacy by getting a secure VPN, compared all the top hotel booking sites to find just what you're after, reserved an unbeatable rental car price and - of course - booked the best flight deals!
Or maybe just forget it all and go for a last minute cruise or effortless tour instead?
Many budget travelers (including me) indulge in worldwide airport lounge access, so we can experience luxury while still slumming it in economy. Naturally, we would never leave home without a more a more general travel guide since we couldn't possibly cover everything here!
Just add an adventurous attitude and plenty of smiles - they go a long way - and that about covers it all! Now go out, find your own path and don't forget to share your best inspiration stories with me on Facebook, Twitter, and Instagram...I'd love to hear from you!