Located just a few hours of flight south of Mainland China, Taiwan is a beautiful island-country where traditional ways of life intermingle with modern developments in harmony. Its capital is Taipei, a lovely and vibrant city that never fails to make it to the must-see list of the world savviest travelers.
Authentically Chinese with traces of Japanese and American influences, Taipei stands as one of the most vibrant and modern cities in East Asia.
As Taiwan develops in economic power, so has Taipei developed in urban development. The city now owns an impressive skyline with numerous prideful high-rise properties, aiming to touch the zenith of the sky.
However, in spite of that rapid development, at its core, Taipei is still an Eastern jewel with traditional Chinese heritage permeated throughout the town. Whether it be an old street food stall or a calm temple at dusk, every detail of this city exudes authentic Chinese ambiance, making this town one of the best tourist destinations in the island country.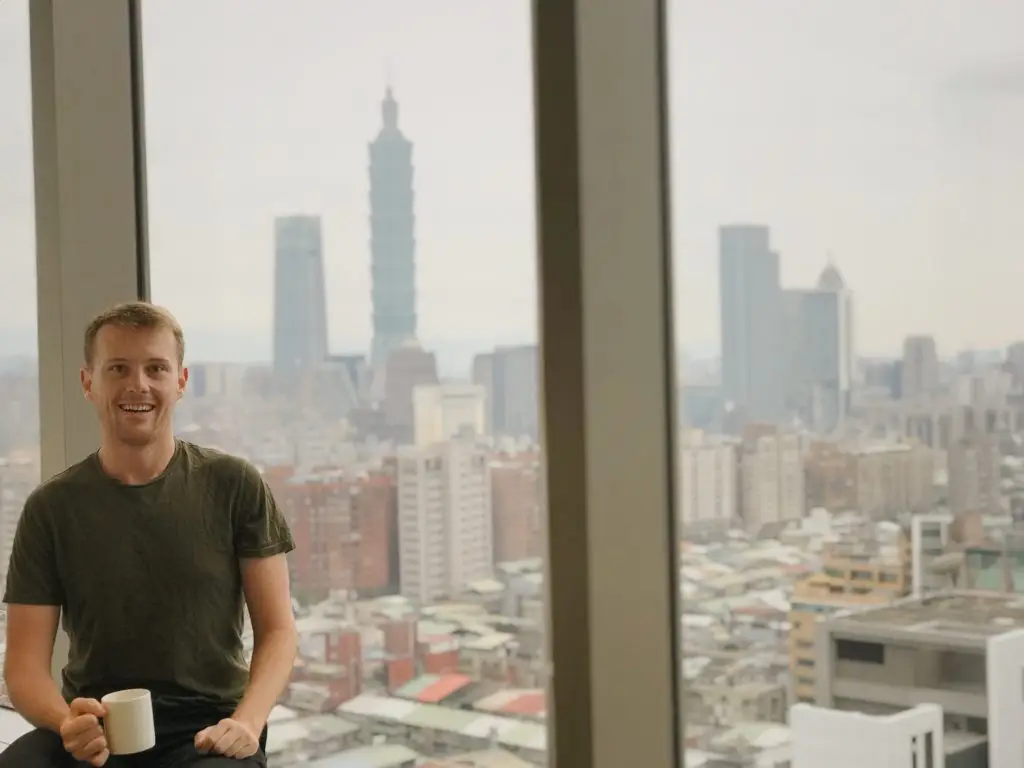 Taipei is not exactly famous for its romantic vibes, at least not as famous as other romantic cities like Vienna, Tallinn or Sydney, but the city itself does have very romantic moments which are hidden from plain sight. Whether it be strolling along the streets of Taipei or simply enjoying a lovely moment at local bizarre cafes, Taipei's romance is not for those who hurry from landmark to landmark.
To feel romance in Taipei, both you and your partner must pace yourselves slowly and keep your eyes open to notice the little things that many tourists might have missed on their jam-packed tours.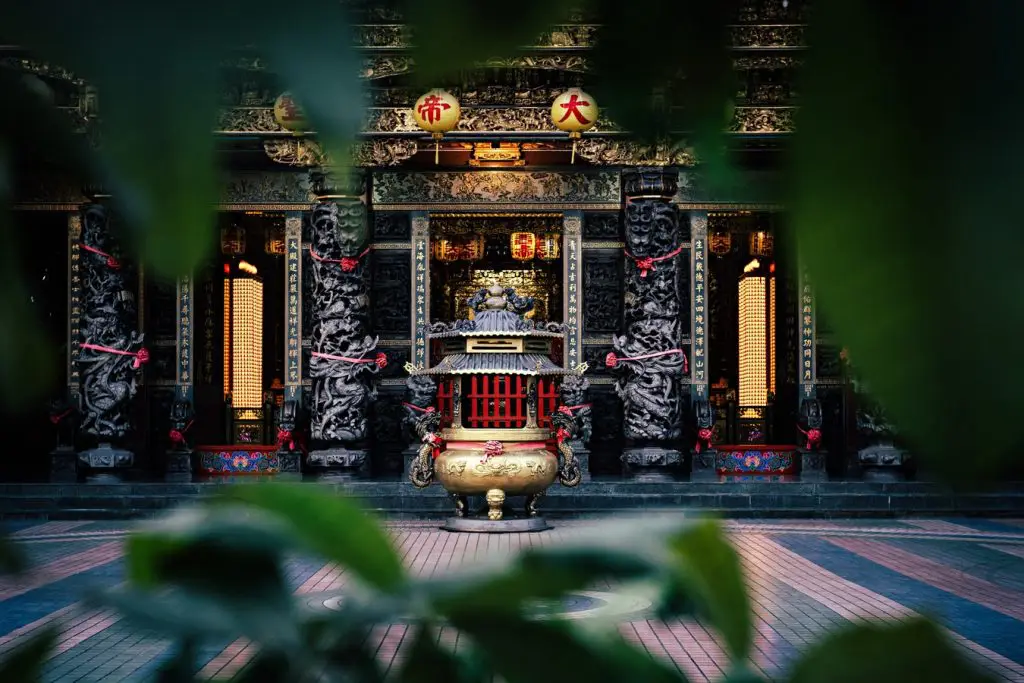 We have also made exploring easier with a companion article giving a step-by-step Taipei itinerary for 3 days! Or check out our more comprehensive articles which focus on where to stay in Taipei, the best things to do in Taipei alone and all the best day trip options from Taipei…
But for now, to help you find the perfect romantic experience in this exotic Eastern mega-city, we have compiled a list of romantic things you can do when you are in Taipei. But, as for the question of the most romantic hotel to stay in Taipei, well, it has to be the mesmerizing amba Songshan….if only for those Taipei 101 views from your bed…
---
Before exploring Taipei, arrange an eSIM to avoid hefty international roaming fees. Staying connected while traveling is essential, and eSIMs have transformed mobile network access for globetrotters.
No need to search for local SIMs at the airport; eSIMs offer a hassle-free experience upon arrival. They save time and money while preventing loss or damage to physical SIMs. To stay connected, consider Airalo or Holafly, the biggest names in global eSIMs.
Airalo offers a wide variety of destinations and smaller data bundles, while Holafly has unlimited data packages and excellent EU data deals. Don't delay; enhance your travel experience with eSIMs for seamless connectivity.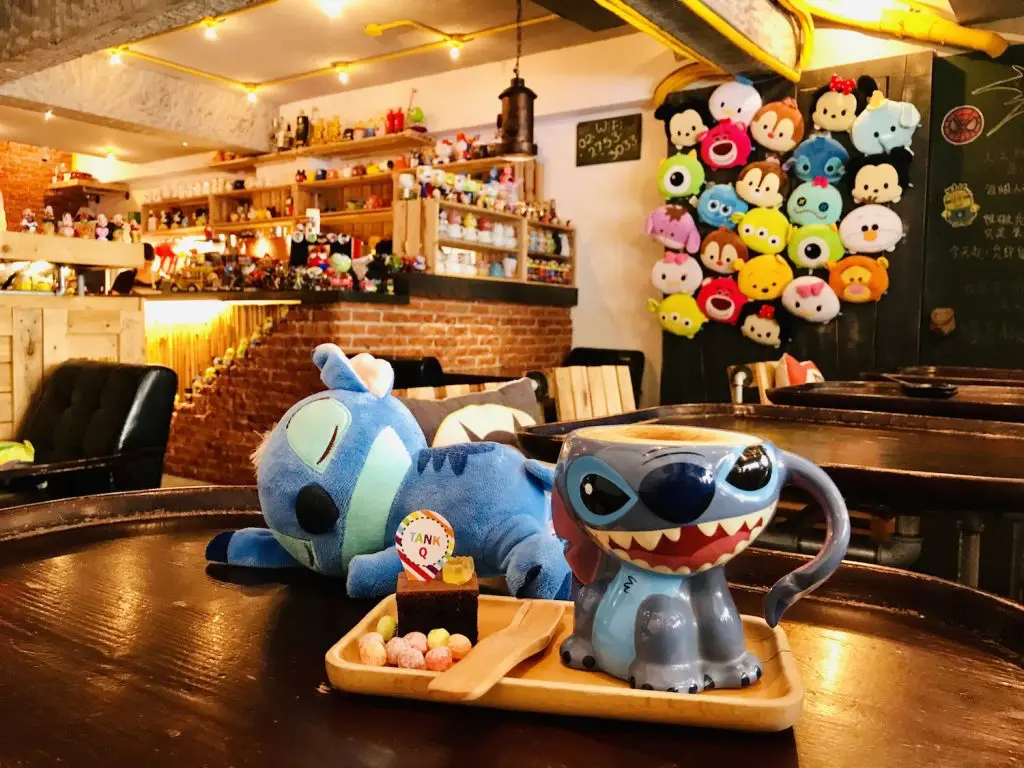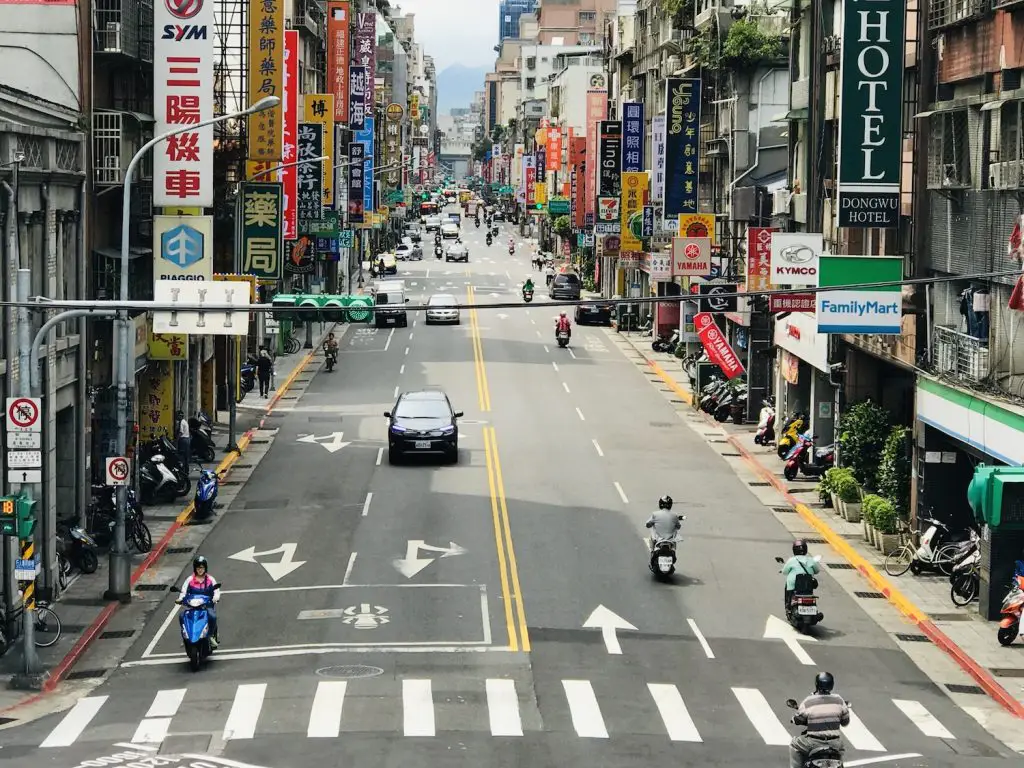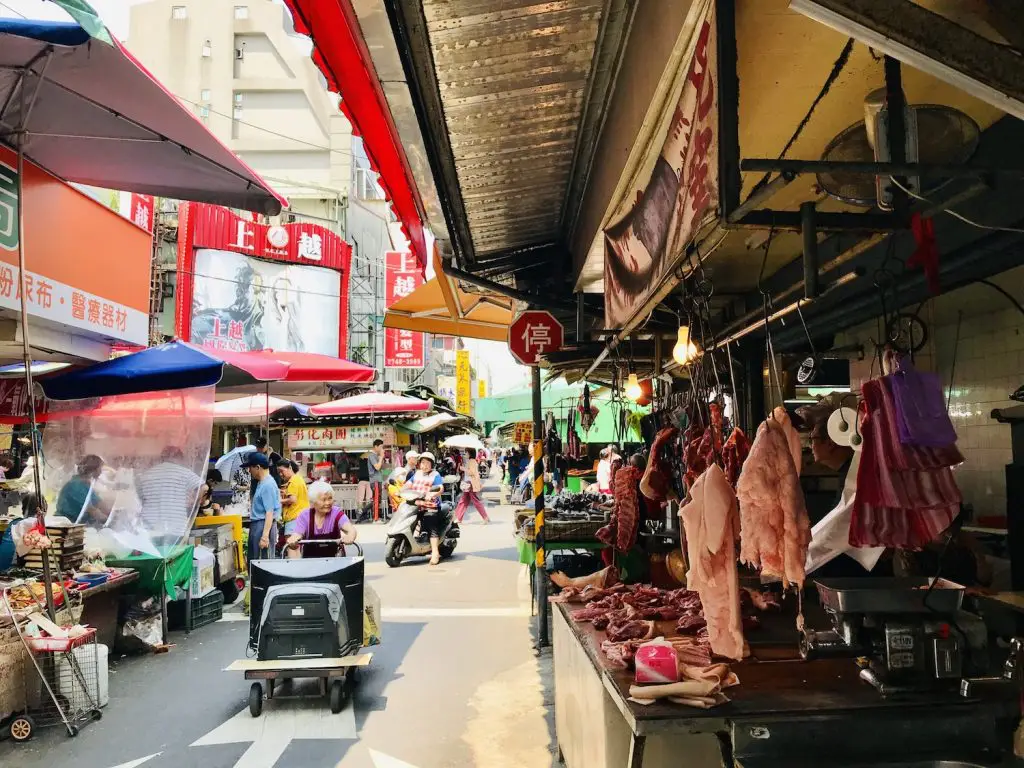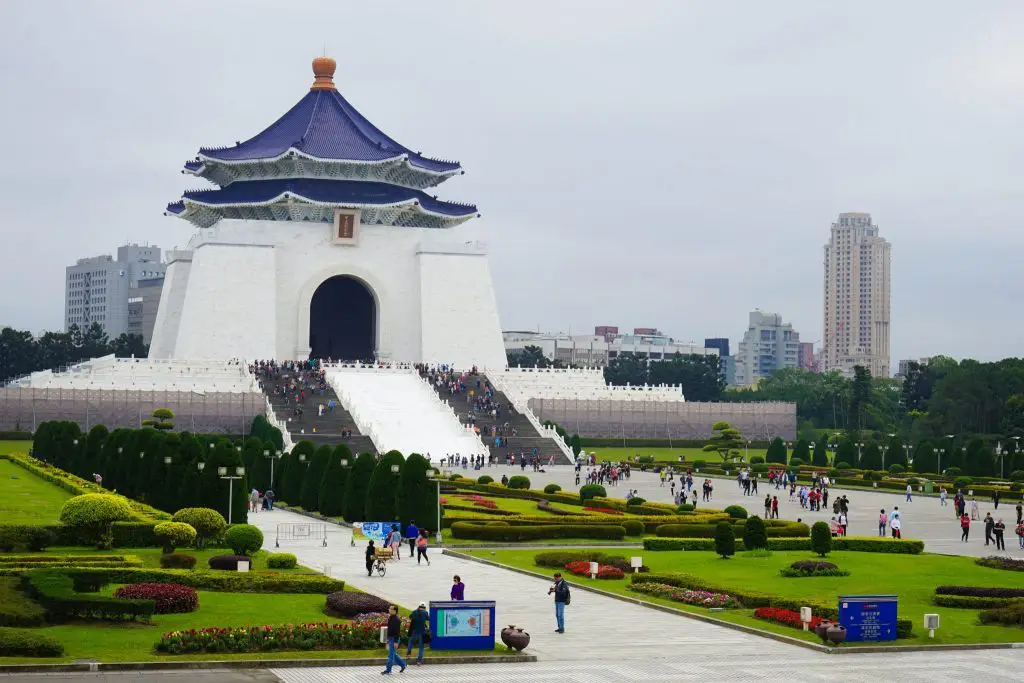 Fall In Love All Over Again With These 10 Romantic Things To Do In Taipei! 💖
1. Enjoy A Stroll Around The Lush Taipei Botanical Garden
Like Singapore, Taipei also possesses a botanical garden with a plethora of exotic tropical plants and herbs. Located in the centre of the city, the Botanical Garden serves as a much-needed green space, and a quick getaway destination, for its denizens.
Its history dates back to 1921, when it was founded by the local government. However, one could also say that its history goes back way further than that, as a Japanese botanical garden had been founded 22 years before in 1897 on the same property. Today, the property houses many unique endemic plants and flowers for research purposes and also public education.
On a sunny weekday, take your partner out on a walk around the garden and smell the fragrances of flowers slowly unfurl themselves whenever the wind rises.
As your promenade reaches the fabled lotus pond, take a moment of rest and enjoy the beautiful view of the garden with your loved one, and you will find that romance can thrive on very fleeting and small moments.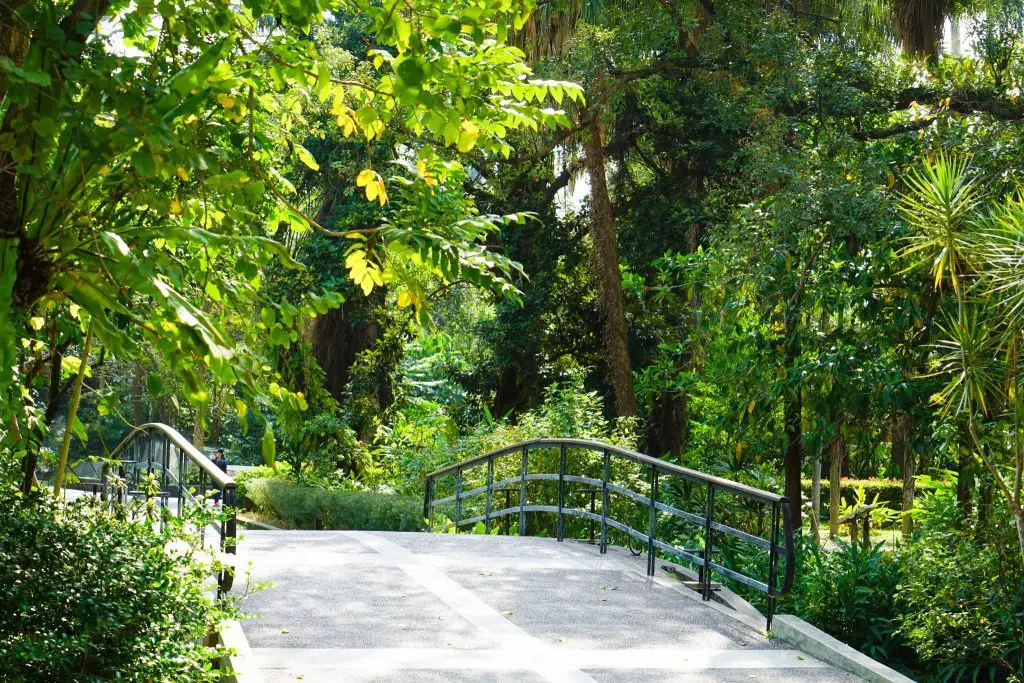 2. Ride A Bike Together Along Taipei Riverside Bike Path
Once almost hopelessly polluted and dirty, the two rivers which run through Taipei, Tamsui, and Keelong, are now pristine clean thanks to the continuous effort of the government and local citizens.
So efficient was their effort that the riverside paths that run along the two rivers have now become scenic routes with trees and flowers abound, making these streets famous chill out spots for local people.
Because of the scenic and romantic views around these paths, you and your partner could enjoy a bike ride around the rivers in the afternoon. Slowly pace around the twist and turn of the rivers to enjoy the fragrance of wildflowers.
As dusk approaches and you both are getting tired, find a bench and watch the sun setting together in absolute tranquility.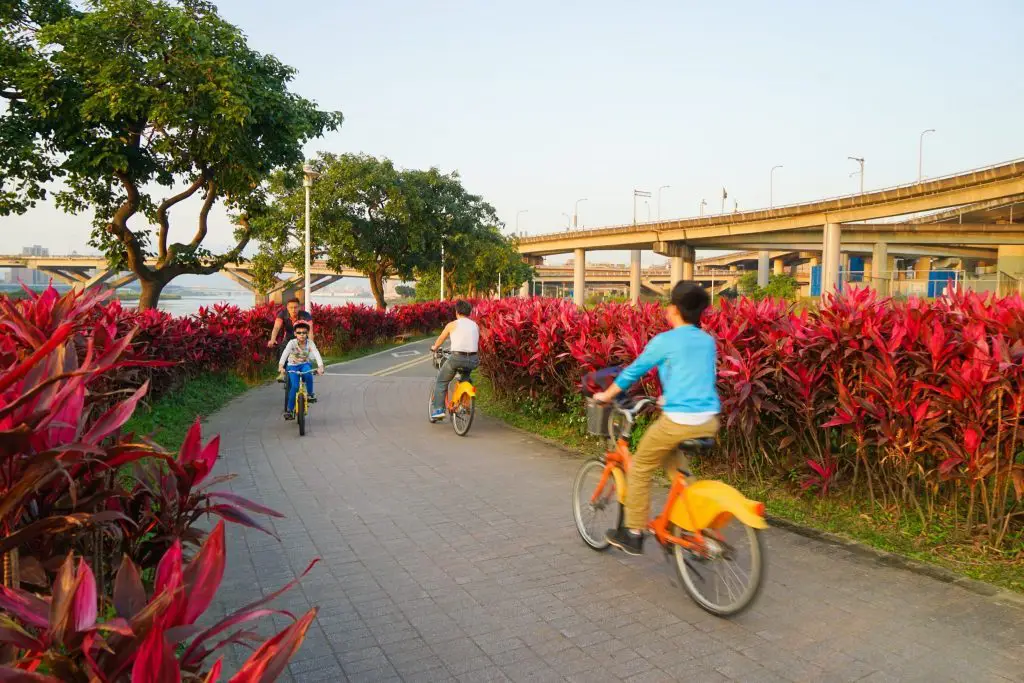 3. Take A Few Selfies Together On The Rainbow Bridge
Crossing the two banks of Keelung River, this bridge twists itself much like a rainbow across calm waters. This venue offers you unparalleled views of the river and the town, so it should definitely be on the list of places to visit on your bike tour around Keelung River.
As a huge plus, the bridge does not allow cars, so it is usually very serene and quiet.
We recommend that you visit the bridge at night, as the amazing display of lights here will certainly take your breath away – but there is so much else to explore in Songshan, including one delicious pineapple cake shop and the famous amba Songshan hotel, you might want to explore this area during the day.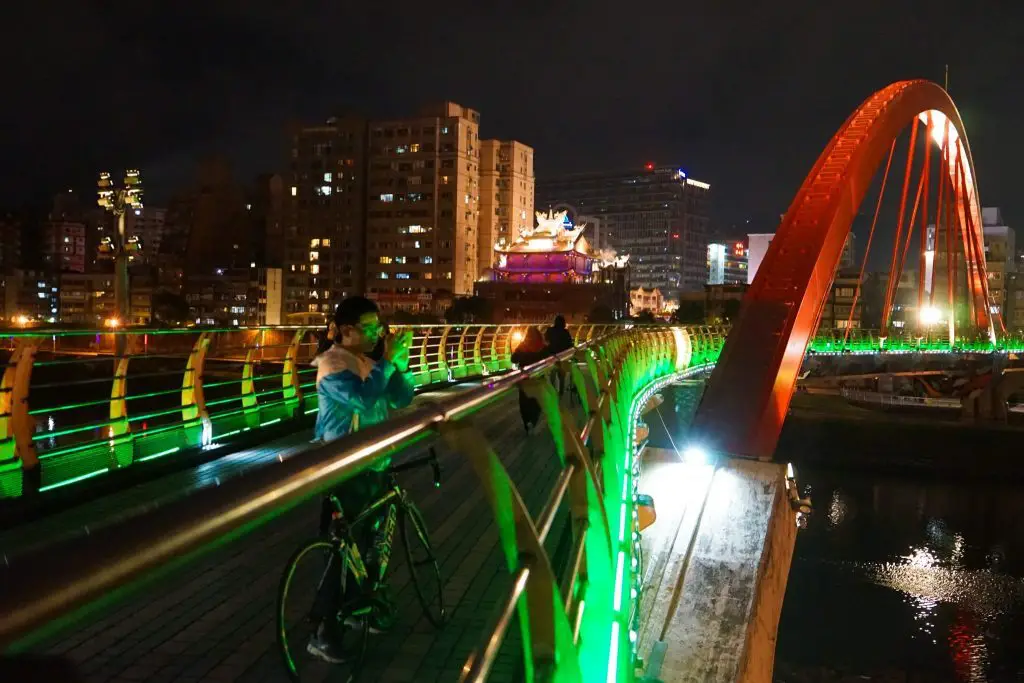 4. Visit The Breath-Taking And Traditional Longshan Temple
Once considered the centre of Taiwanese cultural and spiritual life, Longshan Temple is one of the oldest and most venerable temples in Taiwan.
Local people would come to this temple on special occasions to pray for good health to them and their family in the belief that Buddha will listen to their prayers, making this place a perfect destination if you both enjoy exploring the religious life of local people.
The Buddhist architecture of the temple is also an amazing work of art deserving widespread laud, so if you and your partner both enjoy a geeky romantic tour, this is the place to be.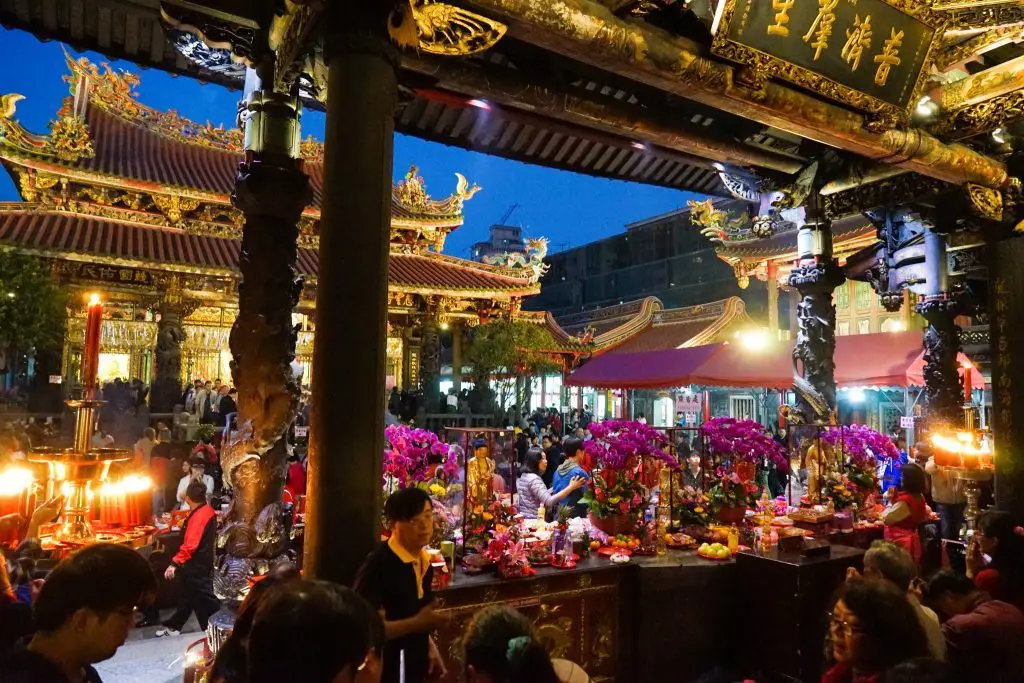 5. Enjoy Taipei's Special Box Toasts Together
This is for die-hard fans of desserts only! Asia is home to some of the most bizarre and innovative desserts ever, and Taiwan is no exception.
If you both crave for a sugary cold treat on a hot day, you are in for a bit of a surprise! The locals don't really dig traditional ice cream that much, but they instead prefer ice cream on a toast, topped with some sliced fruits! While this strange dessert might leave you skeptical at first, do not worry!
It is still as refreshing and as uplifting as any other kind of ice cream, perfect for an ice cold treat for your partner on really hot days. Just make sure you share – as one is enough between two, trust us!
6. Shop Til You Drop In Energetic Ximending
No trip can be completed without a shopping day! Widely known as the Harajuku district of Taipei, this area is where youths from all over the island meet up and show off their best outfits.
With almost a hundred shops and stalls selling a wide variety of products and street foods, Ximending is arguably the most famous shopping district in Taipei. The best time to visit this busy shopping venue is at night, when the neon lights are lit and the music is on. You will not find another place with this special vibe in Taiwan.
A trip to Ximending with your partner can be romantic or not so much, depending on your personalities. If you both enjoy a great shopping and street dining experience together, then this might be the perfect spot. For those who enjoy a quieter experience, this destination might not be the best choice.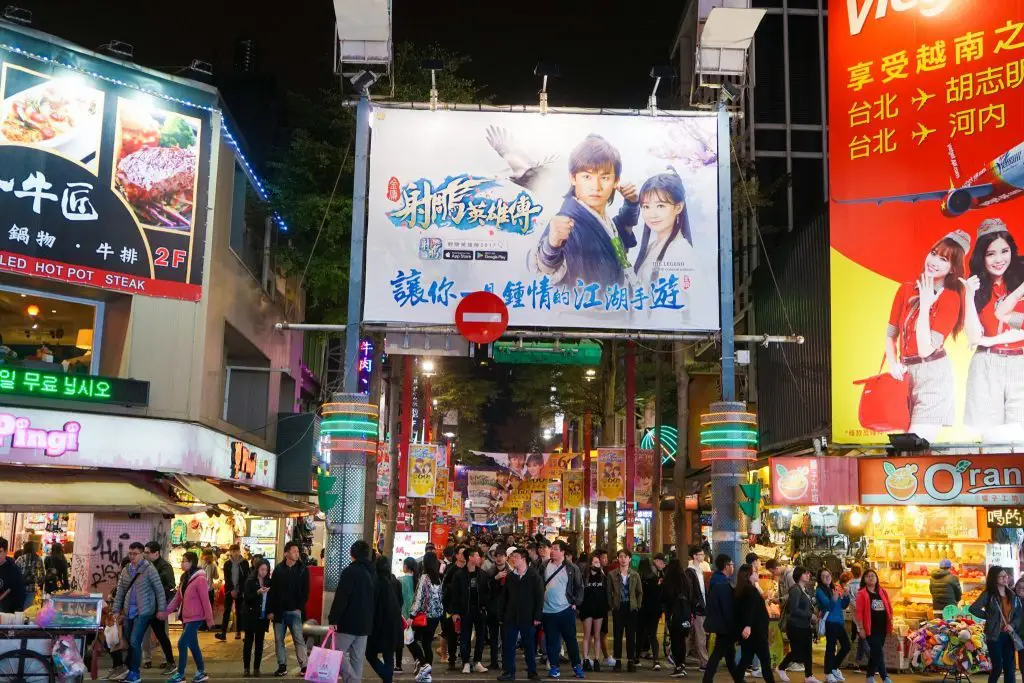 7. Try Your Luck At The Crane Game At One Of Taipei's Best Arcades
While the word crane games might invoke the image of Japanese arcade shops, Taipei is also an honorable mention on the list of the best crane games. Bright, cute, and ubiquitous, these crane games will offer you some good hours of fun as you stroll around the streets of Taipei with your partner.
If you happen to win at a crane game, don't hesitate to give the prize to him or her! Nothing will be more romantic than receiving a cute present from your significant other!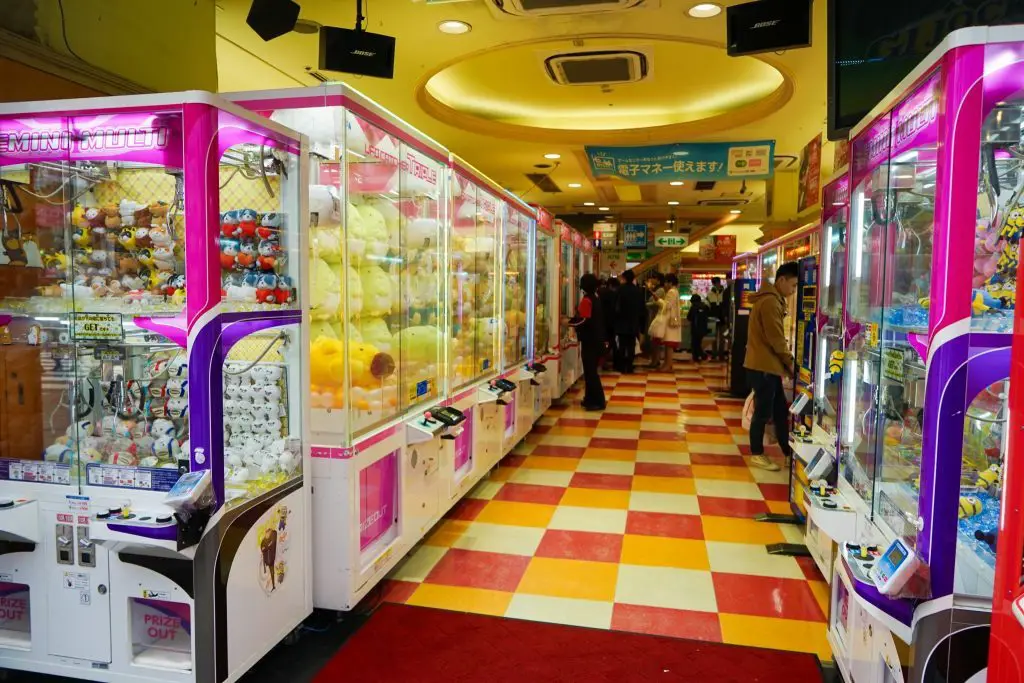 8. Sipping Coffee At The Alice In Wonderland-Themed Cafe
East Asian cafes are some of the cutest things in the world. Most of these cafes follow a certain theme for decorations, and perhaps Alice Is Coming is one of the most beautifully decorated cafes in Taipei…though for this title, there is *a lot* of competition.
As you step through the cafe's doorstep, a fantastically whimsical world presents itself before you with all its fairytale-like features, beckoning you to stay. The decorations and alimentations take inspiration from the famous novel Alice in Wonderland, so if you both fancy sharing a cup of tea with the Mad Hatter, the cafe will be a great choice.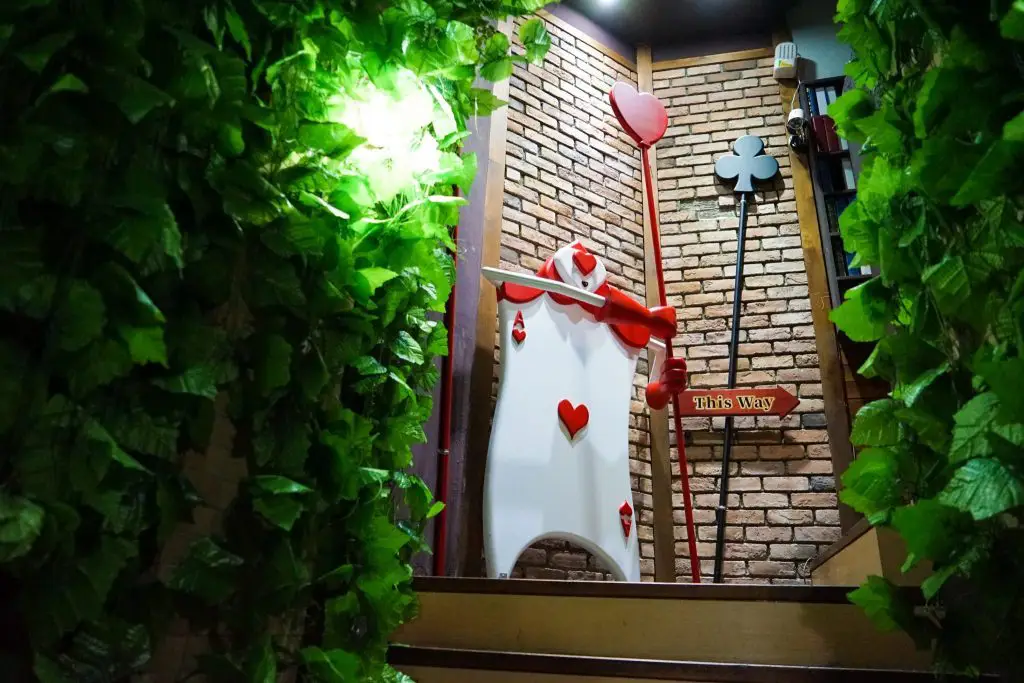 9. Overindulge In Authentic Taipei Street Food
An all-you-can-eat food tour around Taipei is a must for any trip to Taipei!
Come to Maji Maji Square Food Market with your partner, and you both will be amazed at the number of food stalls here. The entire area is bazaar-like, so as long as you have got a seat in the dining area, you can enjoy all the dishes that the stalls have to offer. There is also a great Lego cafe nearby if you aim for some cool refreshments.
Or during the night explore any of the seemingly endless miles of night markets that pop up all over the city. We have no idea how many there are, but are certain you could explore for years and still never get bored. For those who are interested in experiencing and tasting more amazing Taiwanese dishes, we also recommend Taipei Eats – the cities top rated food tour and night market company!
Try their Dadaocheng Historical Tour to head back in time to mid-19th century Taipei and revel in recipes that have been handed down over a century while soaking in architecture influenced by the Dutch, Chinese, and Japanese. Or try their Yansan Night Market Tour where you can rub elbows in a market that's been around since the 1940's; designed for the blue-collars of Taipei.
No matter what you do, a highlight your romantic trip to Taipei will undoubtedly be Experiencing the food and layout of today's modern Taipei night market.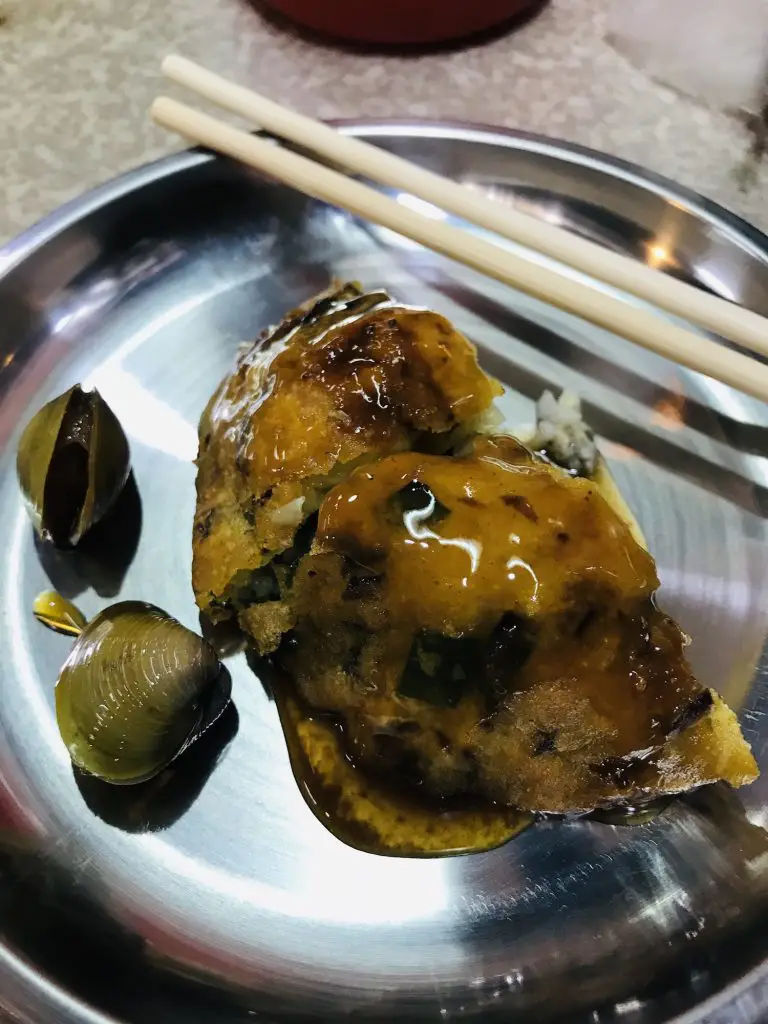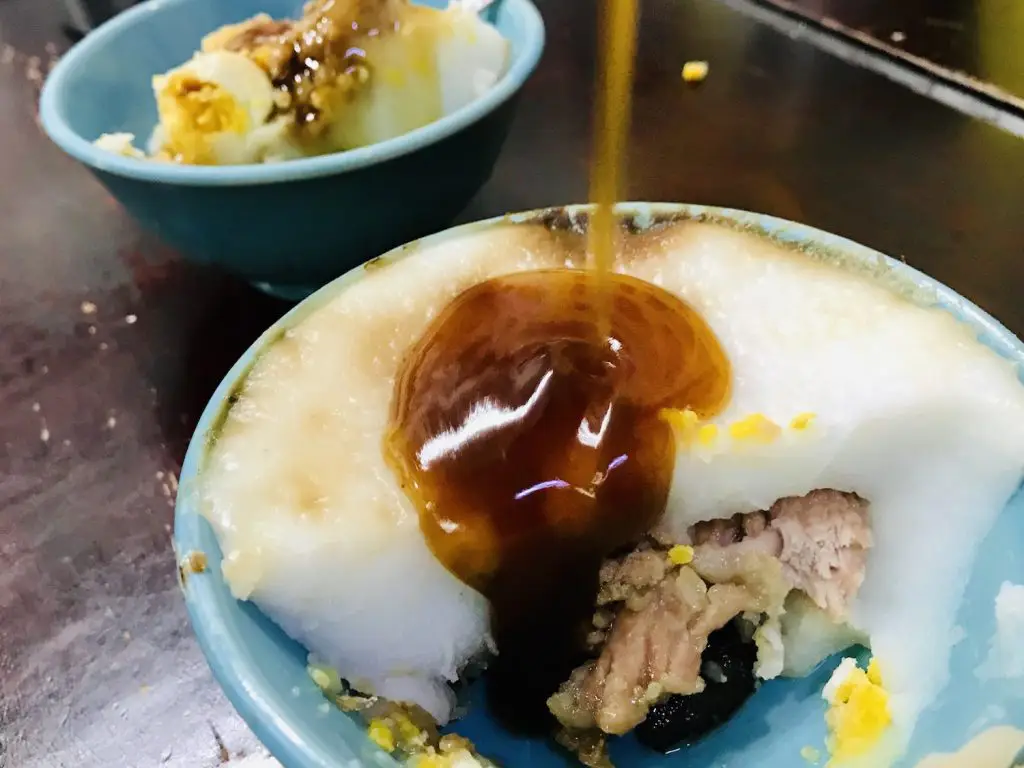 10. Chill Out At The Upscale Mud Cocktail Bar
This is the place to be if you want to get the best cocktail glasses in Taipei. Hidden from plain sight in the amba Zhongshan hotel, this cocktail bar exudes a strange alluring ambiance thanks to its quirky yet luxury design.
The noise level here is always kept at an acceptable level, so if you are tired of all the bustling and busy air of other venues, come to this destination and chill out with your significant other in the best cocktail bar in Taipei.
Taipei is one of the most vibrant cities in East Asia, but its mystical Eastern influence has not in another way fades from local daily life.
Although romance in the traditional sense might not be easy to find here in Taipei, both you and your partner will not be disappointed in a trip to Taipei together, as you both will be able to enjoy a refreshing and deeply religious kind of romance that is oddly calming and serene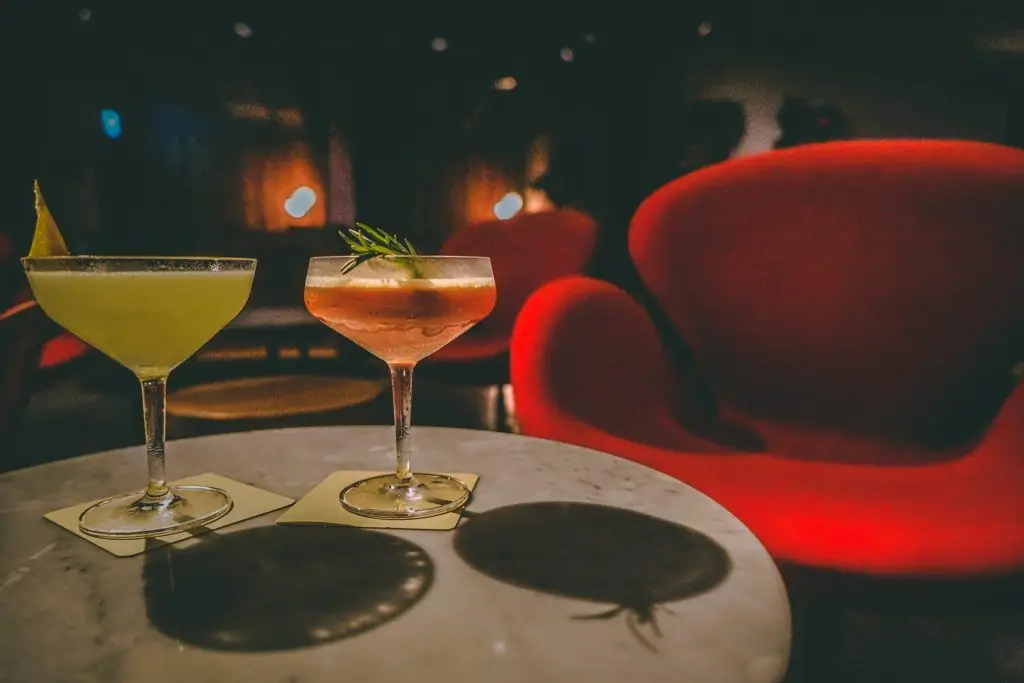 Staying Connected While Travelling
In today's increasingly connected world, staying online while traveling has become essential for a seamless experience. That's where eSIMs come into play, revolutionizing the way we access mobile networks during our global adventures. Say goodbye to hunting down local SIM cards at the airport; eSIMs provide instant activation the moment you land, sparing you the fortune usually spent on international roaming and allowing you to genuinely travel like a local (without getting hopelessly lost!).
With eSIMs, tasks like restaurant recommendations and reservations, up-to-the-minute public transport instructions, checking opening hours, and accessing further information become a breeze. And, of course, sharing your journey on social media is easier than ever. To stay connected wherever you roam, consider using either Airalo or Holafly. Airalo boasts the most extensive range of destinations worldwide, offering smaller data bundles tailored to your needs, while Holafly provides unlimited data packages and fantastic EU data deals.
So why wait? Embrace the future of travel connectivity with eSIMs and make your next journey effortlessly smooth.
Further Things To Consider Before Any Adventure
Now you're all set and prepared to explore our big wide world, why not sort out everything else out all in one go? If necessary for your travel plans make sure you have brought proper travel insurance, protected your privacy by getting a secure VPN, compared all the top hotel booking sites to find just what you're after, reserved an unbeatable rental car price and - of course - booked the best flight deals!
Or maybe just forget it all and go for a last-minute cruise or effortless tour instead?
Many budget travelers (including me) indulge in worldwide airport lounge access, so we can experience luxury while still slumming it in economy. Naturally, we would never leave home without a more general travel guide since we couldn't possibly cover everything here!
Just add an adventurous attitude and plenty of smiles - they go a long way - and that about covers it all! Now go out, find your own path and don't forget to share your best inspiration stories with me on Facebook, Twitter, and Instagram...I'd love to hear from you!