Looking for a lively happening holiday in Palm Springs? Well, why not check into the chic and fashionable Saguaro hotel, the most colorful hotel in Palm Springs.
Whether for a night, a long weekend, a month – or to move it, the Saguaro is waiting for you.
Simply pack your bags and choose your view— pool, mountain, garden, courtyard, or city lights. You'll have either your own private balcony or patio depending on your selection, and some even have gardens, and all rooms offer organic bath products and linens, indoor and outdoor sitting areas, and workstations.
Not that you'll be getting much work done with the 350 days of sunshine every year here.
Then there is the fun Mexican restaurant onsite with daily Happy Hour special, featuring an outdoor pool with a pumping bar, hot tubs, spa, a 24-hour gym and yoga sessions, along with cruiser bike rentals. But we are getting ahead of ourselves.
In case you are not convinced already here are 10 reasons to stay at the Saguaro Palm Springs. Because life is better in color.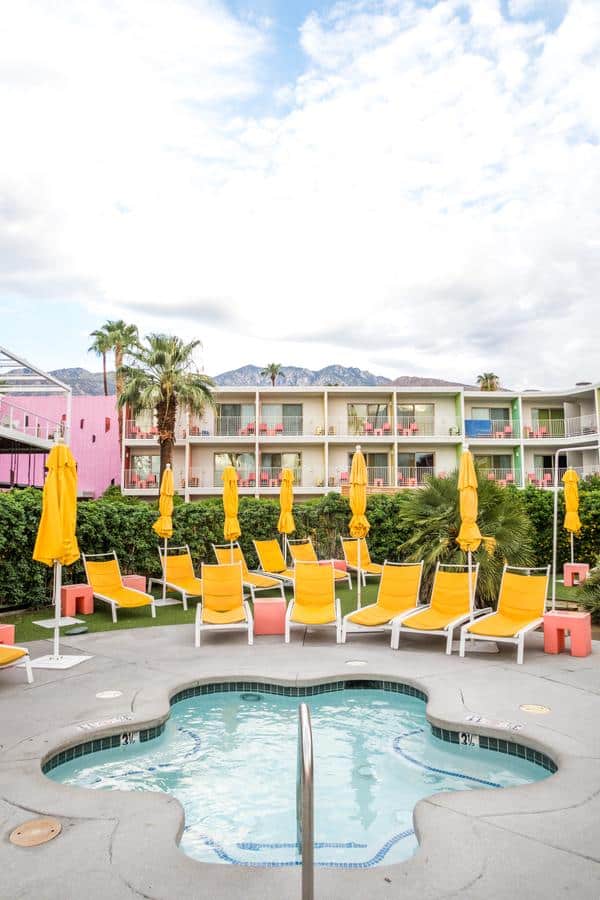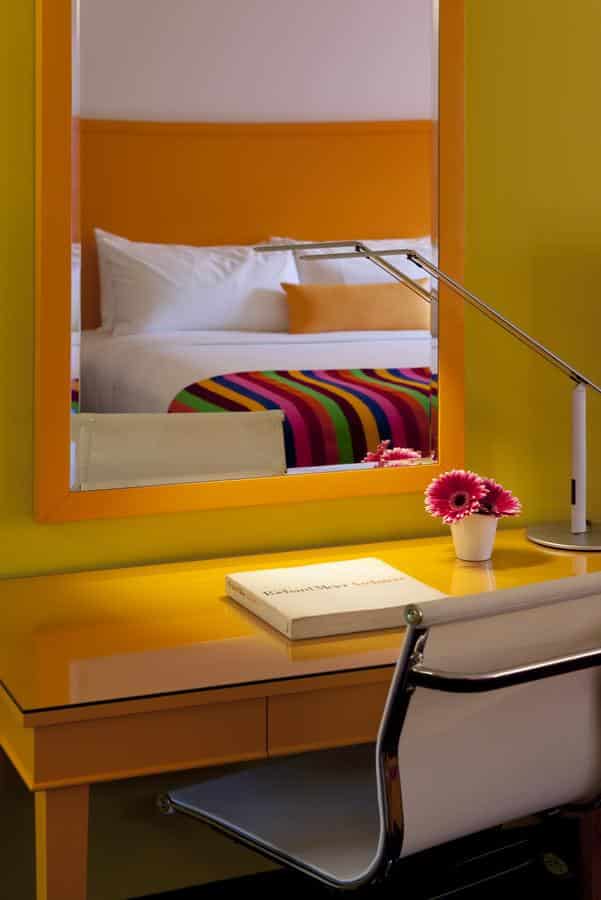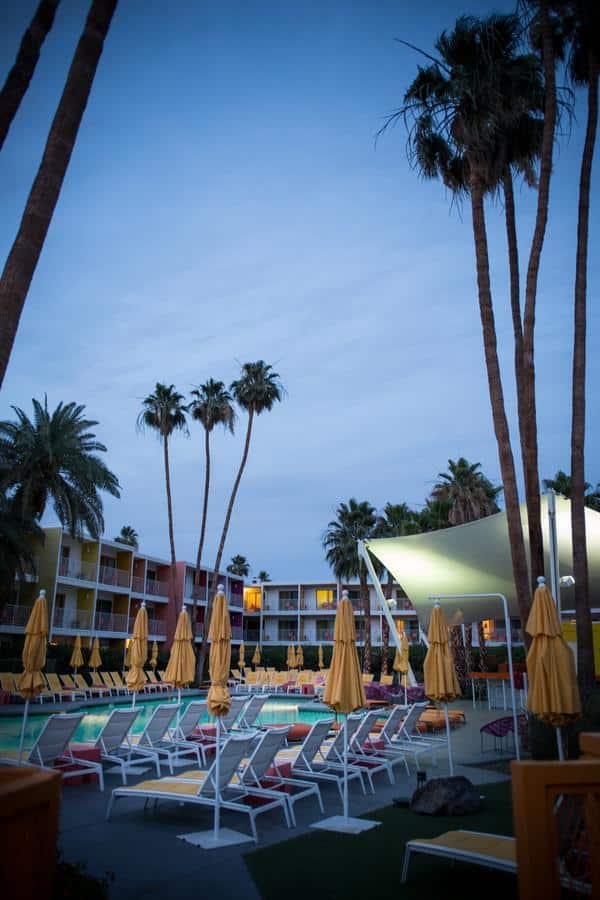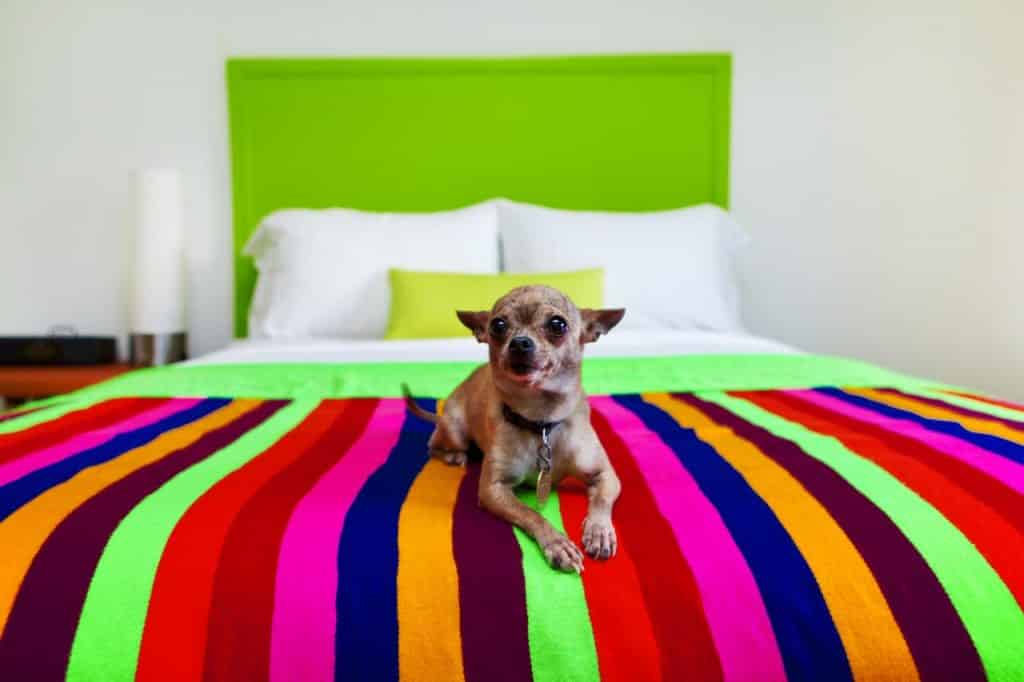 1. The Menu Will Never Leave You Bored
The Saguro's menu is packed with delights to be enjoyed either by the pool or in one of their restaurants or bars. El Jefe is open Monday to Sunday with different deals on food and cocktails to keep you going all week long. Rocco's Electric, on the other hand, is your place to find the perfect brunch, open on Saturdays and Sundays from 7am-3pm this is where you want to go for fantastic food or perhaps an early cocktail.
There is also a pool bar that serves a range of snacks and drinks meaning that if you wanted to, you'd never have to leave the poolside.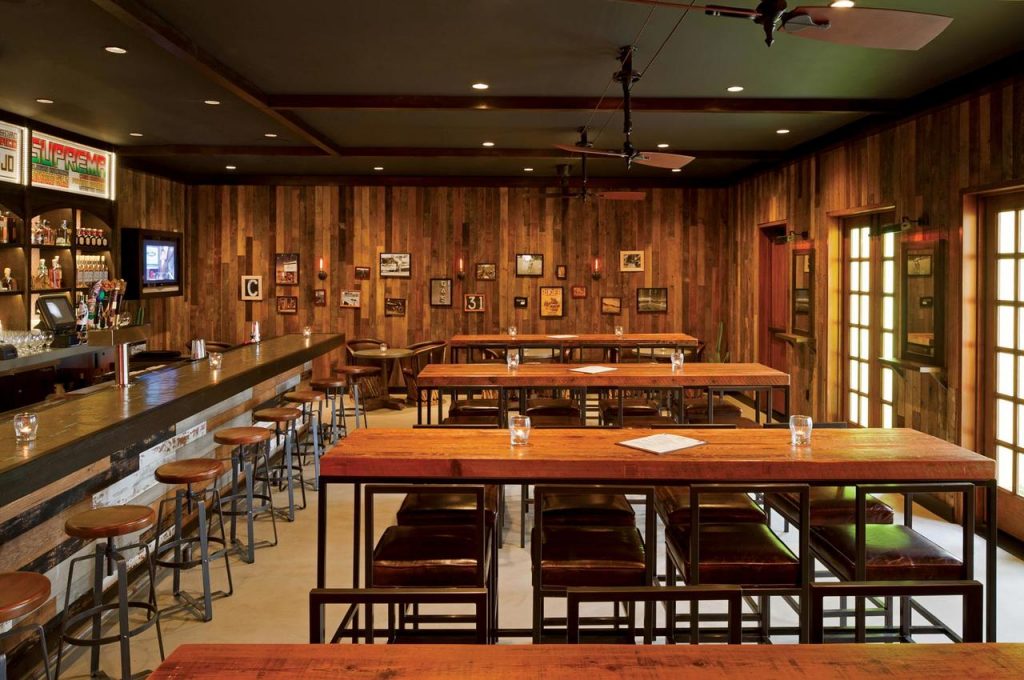 2. There Are Luxe Poolside Cabanas To Live Your Best Life In
If you're looking for that extra bit of luxury when relaxing by the pool you can book one of the colourful poolside cabanas. These colourful hideaways come with a sofa, TV and are equipped with tables and even a small safe. These cabanas can become your home away from the hotel room when staying at The Saguro.
It's oh so easy to grab a drink out of your personal mini-bar, grab one of your favourite TV shows on the 49 inch TV and then take two steps and jump in the pool.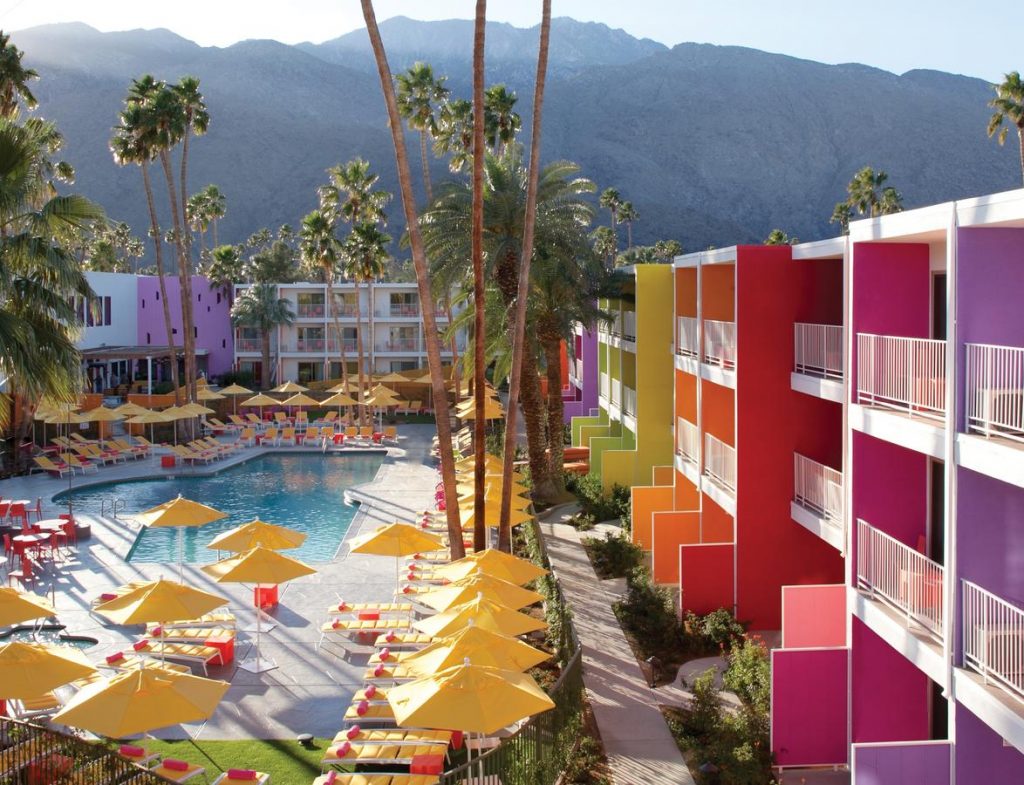 3. No One Will Judge You For Enjoying Margaritas At Breakfast
At The Saguro, everything is made ready for you to have the best possible time, Margharitas for breakfast? Why not!? The pool bar is constantly stocked with your desired fruit punches or delicious refreshing frozen drinks. The pool bar is open from 12pm-5pm Wednesday to Friday and 9am-6pm on weekends.
Don't worry, however, if you can't grab your drink by the pool head on over to Rocco's Electric on the weekend or El Jefe in the week and ask the barkeeps there to fix you up with whatever inspires your tastebuds.
4. There Are Modern New Rooms
You could be one of the first to jump in on The Saguro's brand new marvellous rooms. The Saguro maintains their classic pop art style throughout the hotel, so look out for a stylish interior to these newly renovated rooms. These new rooms open on July 1st so if you're looking to be one of the first to take advantage of all the new features be sure to book soon.
Expect sophisticated Amigo Modern furniture combined with the freshest of linens for a stay that you can really sink into. Each room has it's own custom art pieces, which are set of with brand new mood lightings. You'd be a fool not to take the opportunity this beautiful new rooms.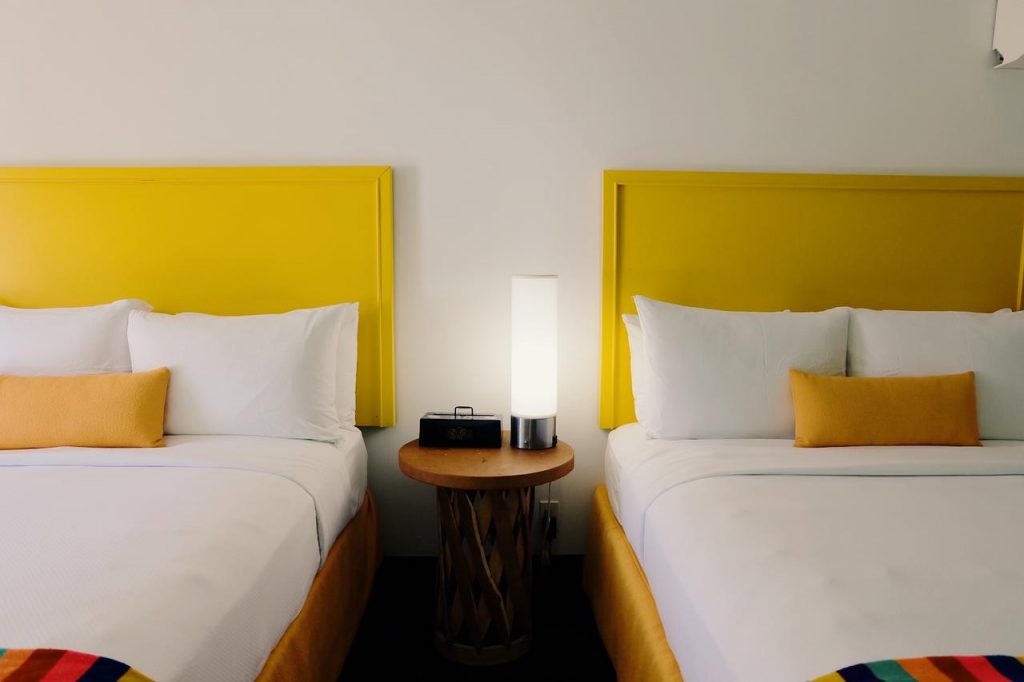 5. It Is A Fabulous Place For A Bachelor and Bachelorette Party
The Saguro is the perfect location for bachelor and bachelorette parties, not only will you be making sure that you'll be getting the most stylish pictures of your crew all night, but it's a great place to meet and hang out with other singles.
The party atmosphere that exists all year round at the Saguro means there are always events to attend and there is a great atmosphere from morning till night.
Whether your resting for the day before heading out to one of Palm Springs notorious parties or just looking to get your party on around the pool The Saguro is a great hub for partying and celebrating in Palm Springs.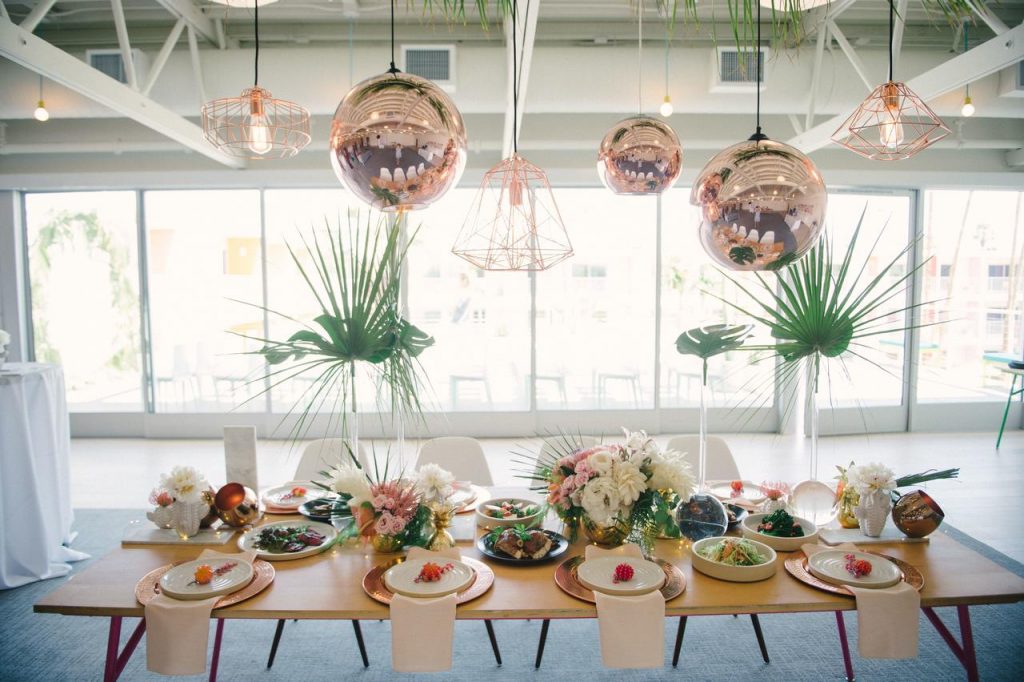 6. You Can Stay Summer-Body Fit At The 24-Hour Fitness Centre
You won't have to worry about keeping up your fitness routine whilst staying at the Saguro. If you've like to wind down by getting a sweat up you'll be able to make use of the gym open 24 hours a day 7 days a week. If you're looking for a more structured workout there is daily yoga on offer with both a morning or evening session Monday to Saturday.
Finally, if you're just looking to take your relaxation to the next level you can book into The Saguro spa for a real pampering between Monday and Wednesday. There are a range of spa treatments available so make sure you check the spa plan in advance and book in to save yourself a spot.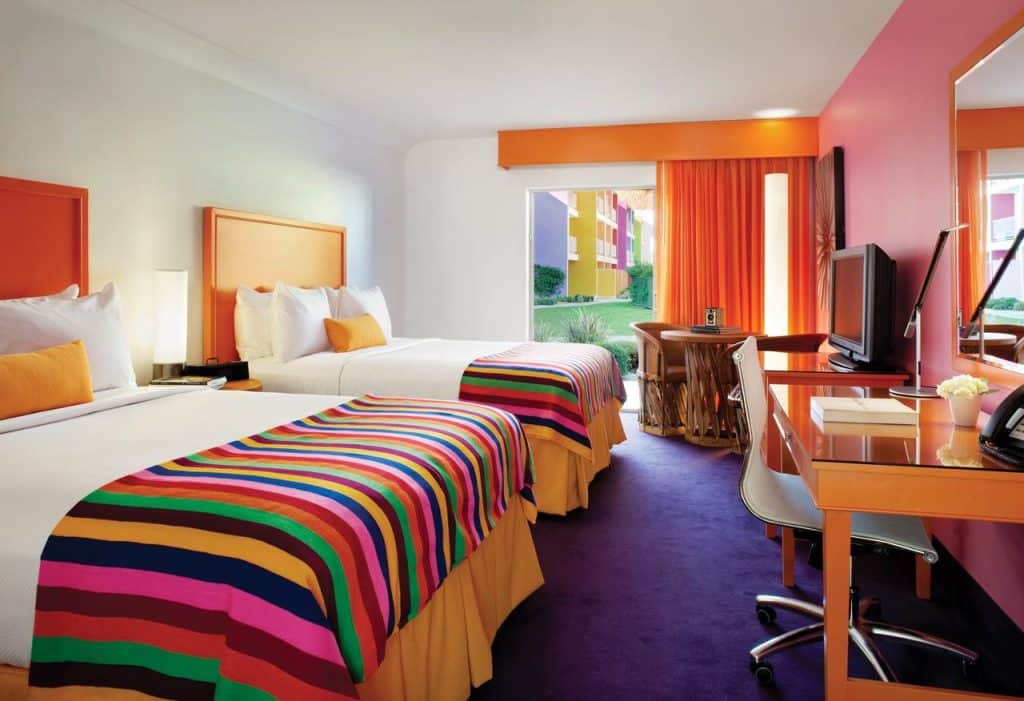 7. You'll Never Be Bored With Their Amazing Happenings Including Splash House
The Saguro is the official hotel of Splash House 2019 which runs for two weekends during the summer. The festival takes place around Palm Springs but The Saguro is setting the stage for the most colourful house, disco and Electronica. The festival runs from June 7th-9th and later in the seasons from August 9th-11th.
If you have the likes of A-Trak, Justice and Pete Tong in your Spotify playlist there is simply no better to spend the summer and see them perform live. Think colour, sun, great drinks, great music and pool parties.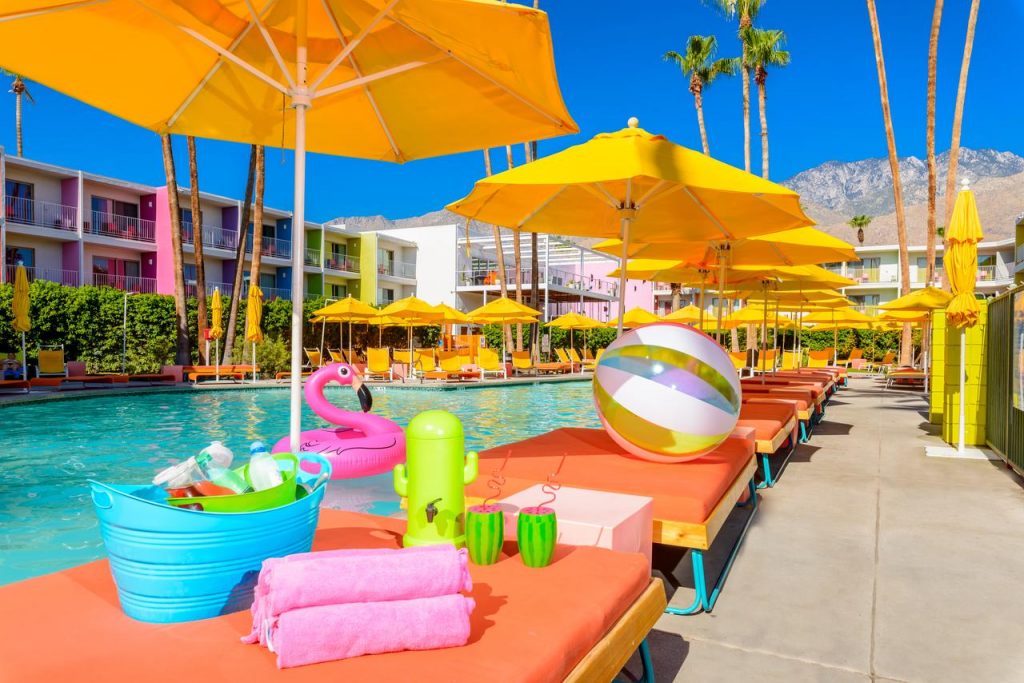 8. You Can Get Out And About With Desert Cruiser Bikes
If for a day you're looking to get away from the pool you can hop on one of the hotels oh so stylish desert cruiser bikes to head to other destinations around Palm Springs. Not only will you be the most stylish bikes on the road, but you'll be able to cruise to the other architectural and style hotspots around Palm Springs.
Our favorite place to head is downtown to Arenas Street where you can find the biggest concentration of LGBT owned venues in Palm Springs.
There is so much to see and do here – by day or by night – we couldn't possibly list it all but some of the highlights have to be Hunters Nightclub, one of the most happening LGBT spots late at night or Blackbook Bar, a relaxed hangout for people watching with outdoor seating and comfort food galore.
BIKE Palm Springs Rentals is also located here, with affordable rates and fun itineraries you can recreate as a do-it-yourself tour – and don't miss popping into Krave and Kulture for some truly vibrant, out-of-this-world gay fashion choices.
There is also a video bar, piercing shop, Paino bar, fetish stores and more – plus plenty of annual rainbow community events that let everyone know that are welcome as they are 24/7. The Arenas Road Gaybourhood has a fabulous feeling about it – and no trip to Palm Springs would be complete without a visit here.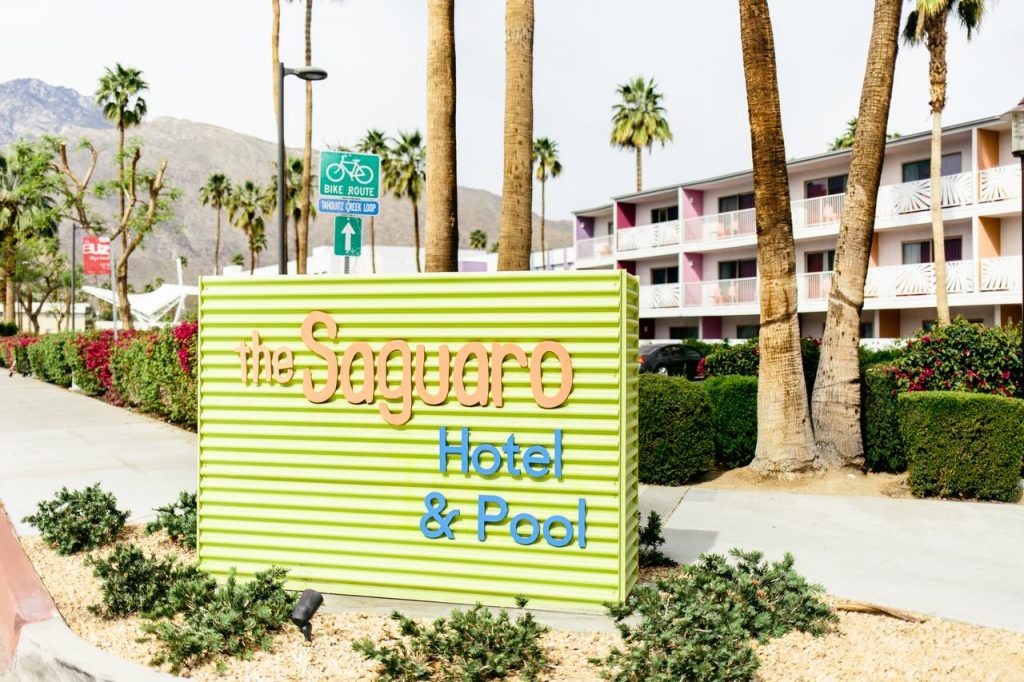 9. You'll Be Staying In A Stylish Hotel Featured in Vogue
You don't find modern colour scheme so artfully employed in many hotels, which is what got The Saguro Palm Springs featured in the likes of Vogue, Elle and Esquire. If you're hot on keeping your Instagram flush with the freshest looks there are few better places you can head then Saguro.
The Saguro inside and out is one of the most stylish and quirky hotels in Palm Springs. Getting that perfect shot is easy and you'll have loads of shots to look back at your time spent at the hotel.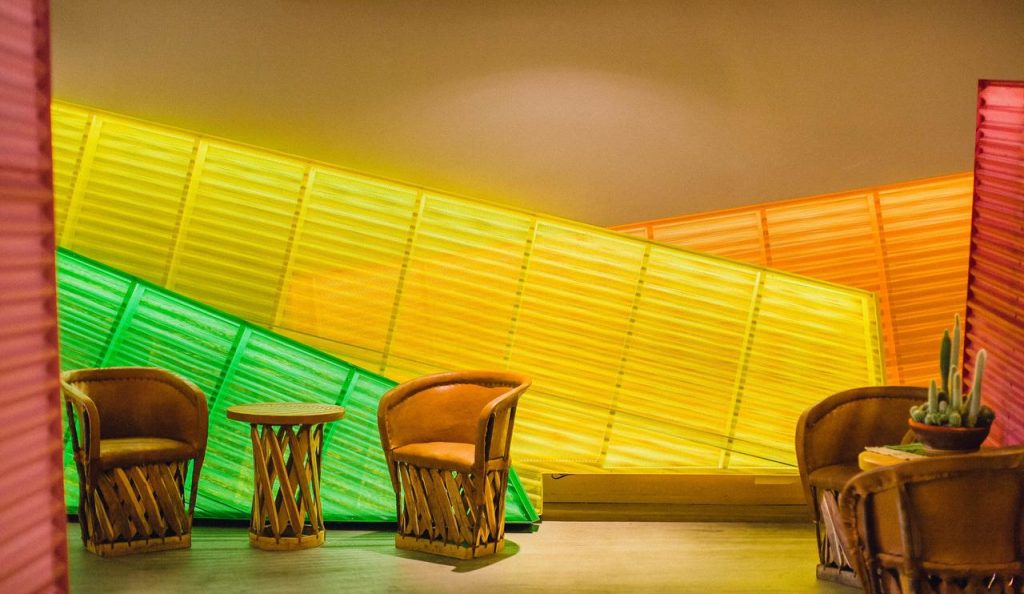 10. Palm Springs Is On Your Doorstop
Only a mile from the foot of the majestic San Jacinto Mountains, the Saguaro hotel is also only 3 miles from downtown Palm Springs with its incredible restaurants and 9 miles from the Palm Springs Aerial Tramway – meaning you can explore easily, and return for frequent breaks by the pool.
The amazing thing about Palm Springs is how relaxing it is. With the azure sky stretching endlessly above, time seems to slow down. Whether you want to hike, hop from coffee shop to coffee shop, admire the midcentury architecture or just lie by a pool, you'll be able to do that with a sense of your worries slipping away.
It might have the reputation of being home to golf-playing retirees, but the recent resurgence means that it's bursting at the seams with trendy and colorful hotels, restaurants and shops. There's some truly great food to be eaten here and we could easily spend the whole time going from restaurant to café to restaurant again.
But the place isn't without culture or art. After all, a city that hosts an 11-day event dedicated to midcentury architecture (Modernism Week) and is moments away from the Coachella Festival Ground has to have a great culture scene. It's also one of the more LGBT friendly cities in America with the highest concentration of same-sex couples in the country.
With such great credentials, now you won't be surprised that there are loads of unique things to do in Palm Springs and the surrounding areas. Here are just a few to tempt you. And if you are traveling as part of a bigger trip, and hiring a car, might we suggest stringing together a trip to Palm Springs with San Diego, Santa Monica and Las Vegas for the ultimate road trip…