Morelia is one of the most surprising destinations in Mexico. The state capital of Michoacan, Morelia is a dynamic, bustling and stunningly gorgeous city oozing with colonial architecture so well preserved it is literally like being transported back in time.
And one of the best places to experience this old-world charm is from within the regal Hotel Los Juaninos Morelia, centrally located with Panoramic views of the emblematic Morelia Cathedral.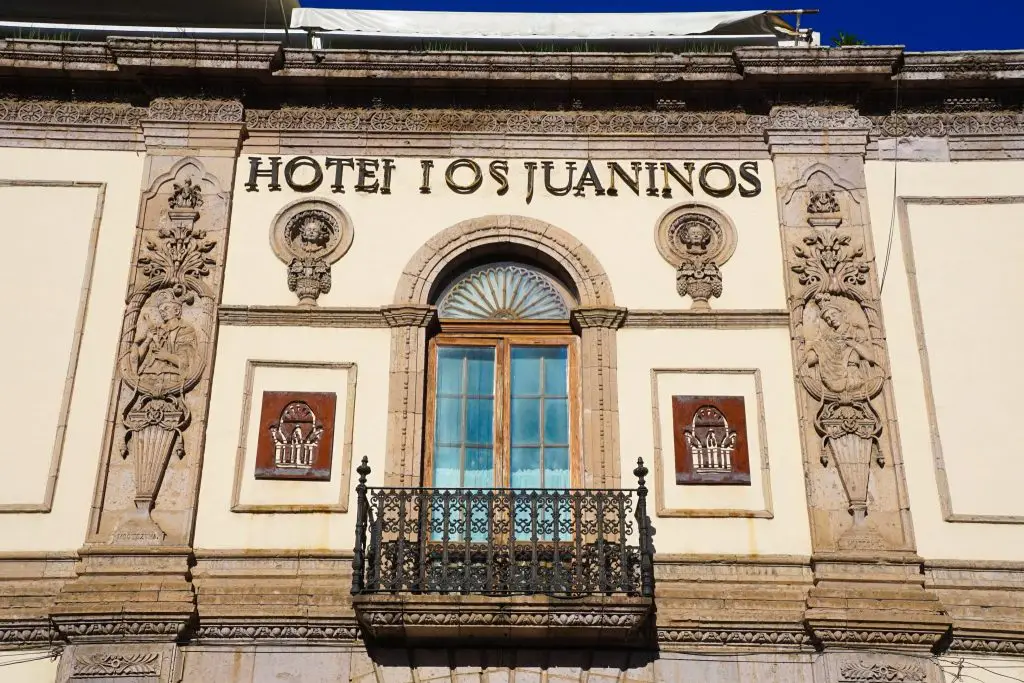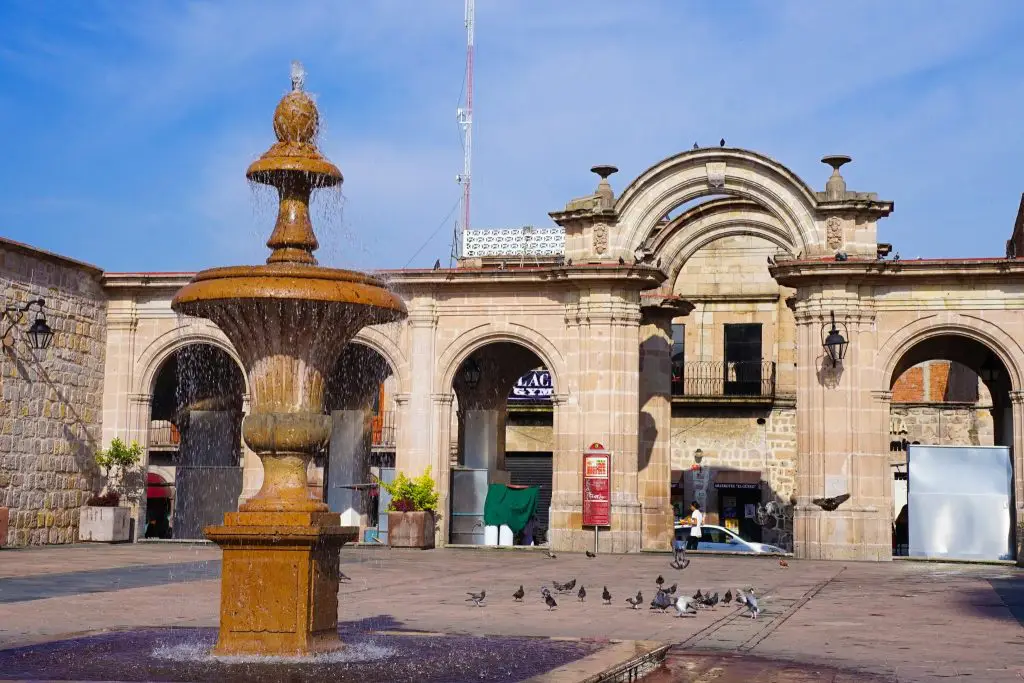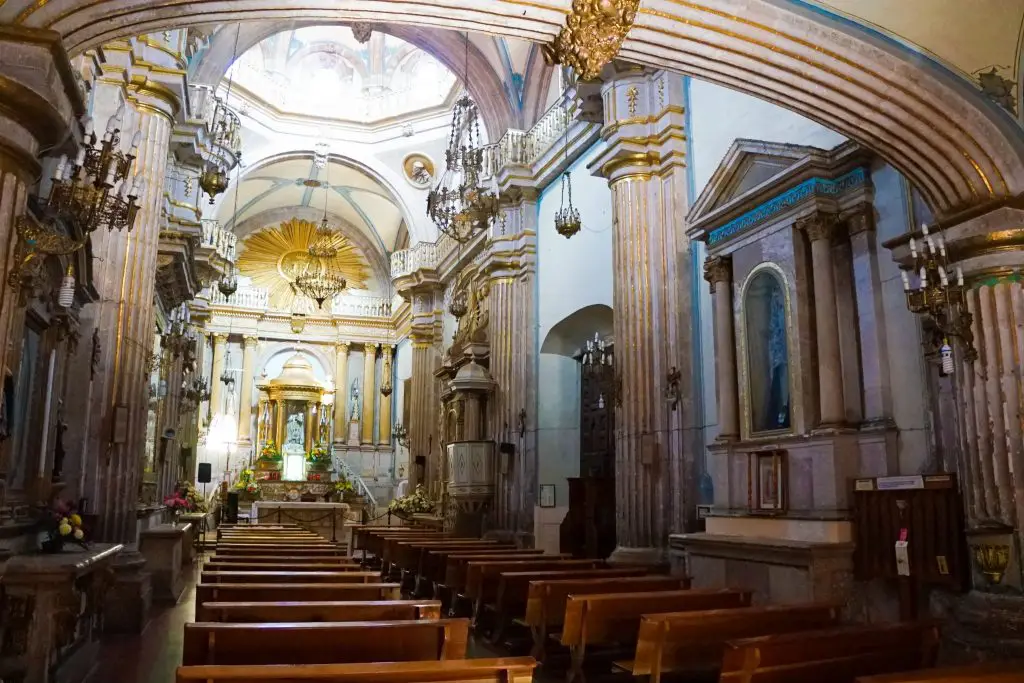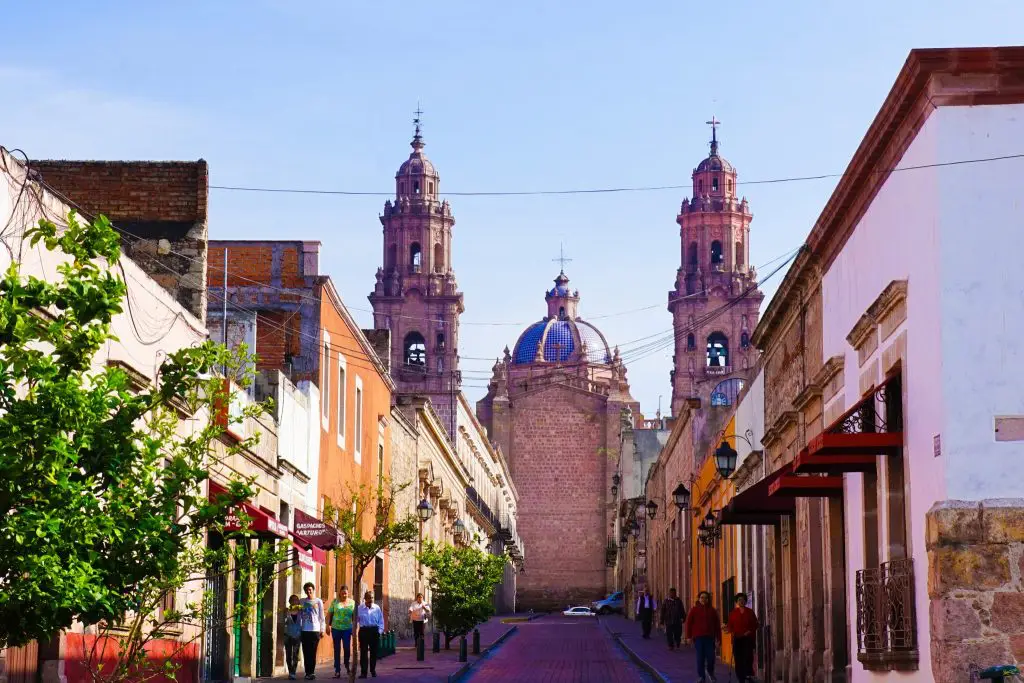 A stay at Hotel Los Juaninos is to immerse yourself in the history of this UNESCO World Heritage listed city, being housed in a 17th-century grand palace tastefully converted into a world-class hotel with 30 boutique rooms. Each room has a different character and charm, yet with all the modern comfort that a 5 star hotel should have.
When you check in you are immediately transported & transformed into the aristocrats of pre-revolutionary Mexico as you bath in the architectural grandeur found throughout Los Juaninos: from the ornate facade and old stone walls to the high-ceilings, glorious arched hallways and balconies with views to die for.
No other hotel in Morelia offers such a harmonious experience, seamlessly continuing the surreal Spanish colonial spirit of the town into it's lobby, guest-rooms and suites. If you have travelled to Morelia to admire its glorious past, Hotel Los Juaninos Morelia offers the perfect compliment as a window back in time.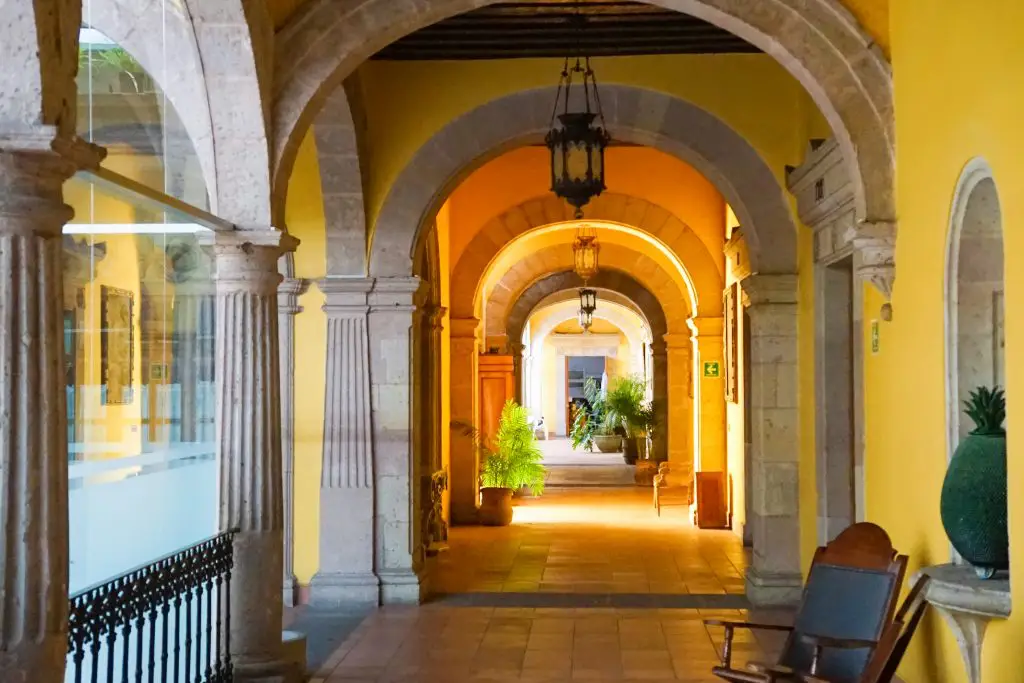 Hotel Los Juaninos in Morelia, Mexico: Old-World Charm and Views To Die For!
The History of Hotel Los Juaninos in Morelia
The building in which Hotel Los Juaninos Morelia currently inhabits has a long and proud history – as is to be expected for it's privileged position right on Morelia's main square. It was ordered to be constructed – then as a opulent Bishop's Palace – by the Captain General of New Spain in the late 17th century.
In 1700 was then turned over to the Los Juaninos religious order who converted it into the Royal Hospital of San Juan de Dios. For over a century it maintained this purpose and even today is still marked as such on many maps of interesting historical buildings in Morelia. In 1857 however the building would find a new use as it was sold into private hands and transformed into the Hotel Oseuera, even then one of the most luxurious hotels of it's time.
Heavily influenced by the romantic architectural style trend of the time, it largely catered to the elites and nobles who travelled on the newly opened Mexico City to Morelia railway line. Over the next hundred-odd years the buildings fortunes waxed and waned, as did those of Morelia and Mexico in general, but finally in 1998 the entire building was restored with no expense spared to its original splendor as the Hotel Los Juaninos.
Once again the Bishop's Palace opened its doors as one of the most luxurious and coveted hotels in Morelia with a location that simply cannot be beat!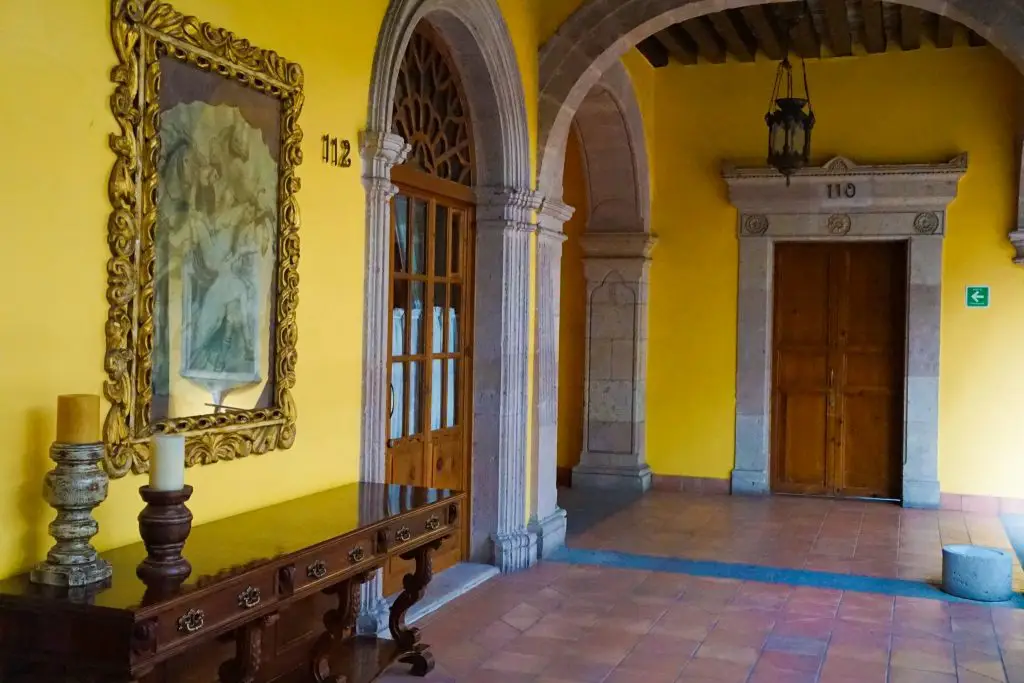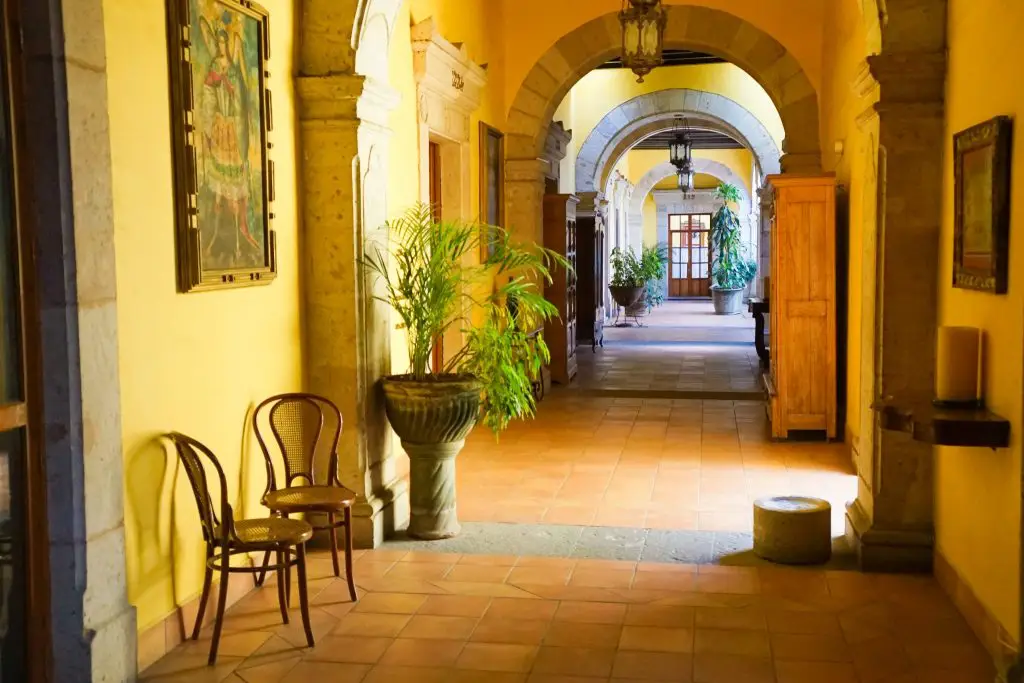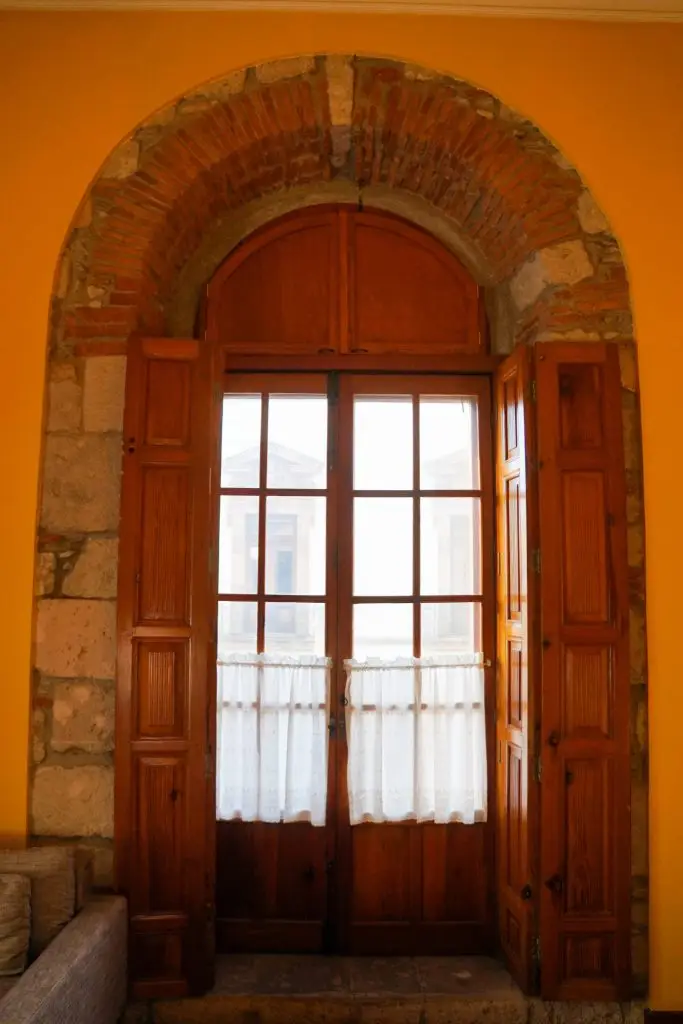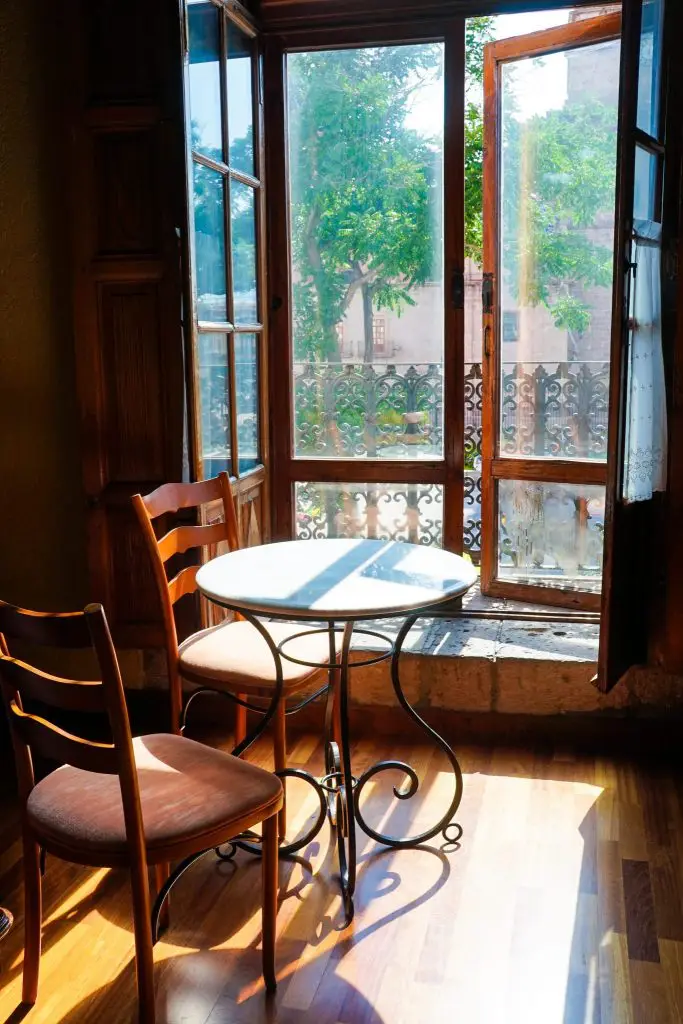 Rooms & Suites of Hotel Los Juaninos Morelia
My favourite part about this unique hotel in Mexico is that each of it's rooms are completely different, meaning you could return time-and-time again and have 30 distinct experiences to enjoy!
Each room has its own individual design and feel, and each preserve historical elements of the 19th century hotel including original wooden doors, arched ceilings, European bathtubs and more. Complete with beautiful and historically representative pieces of art it is truly possible to feel immersed in the past.
There are however, three basic guest-room types on offer: suites, balcony rooms, and internal rooms.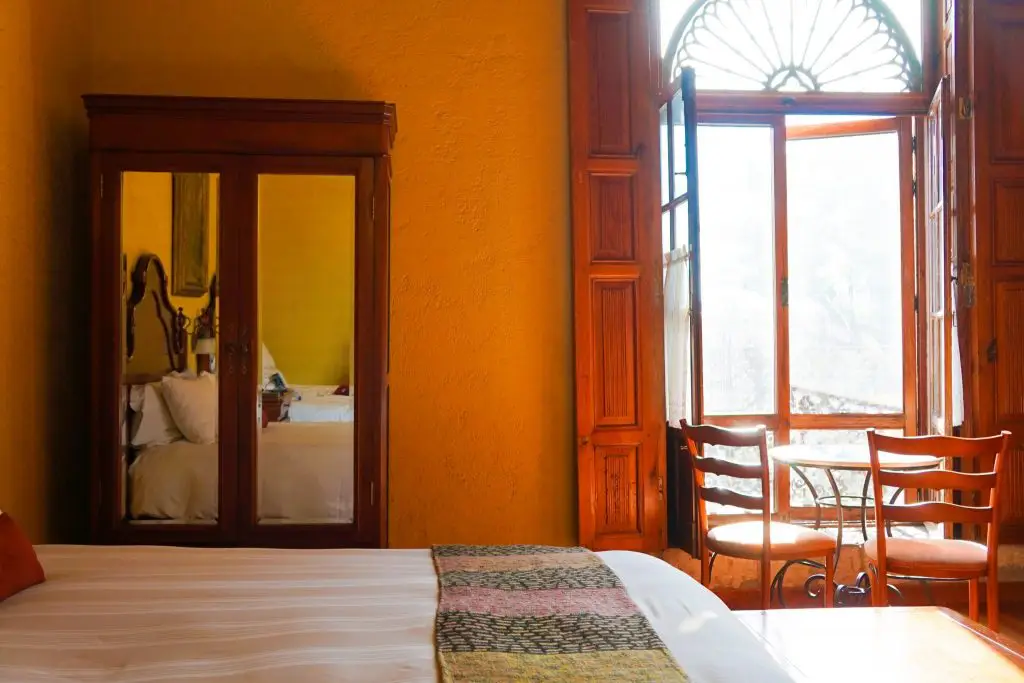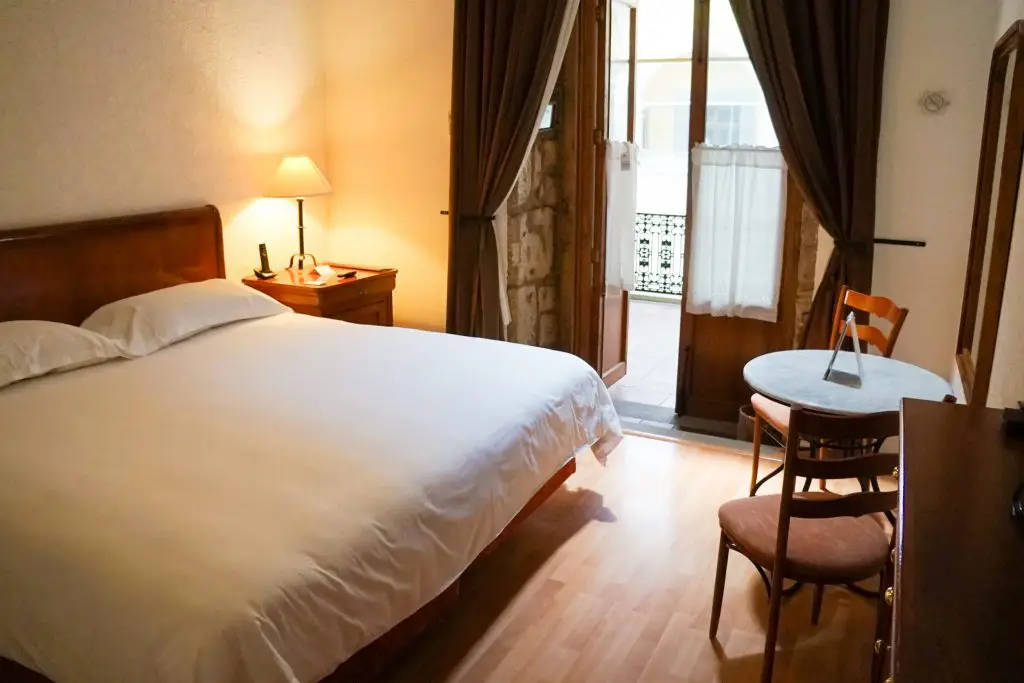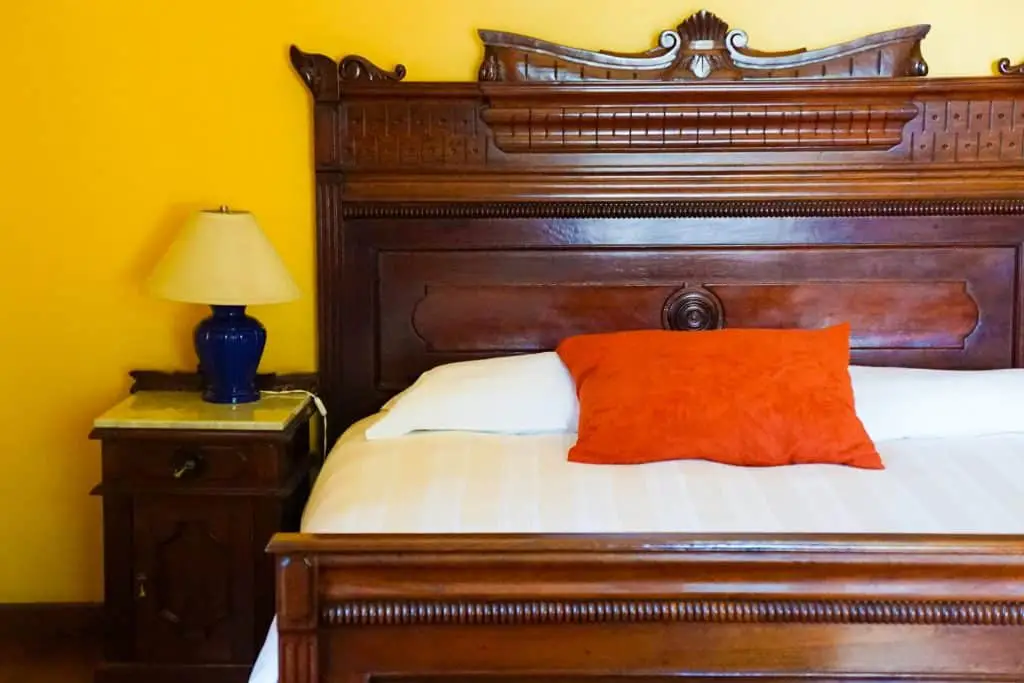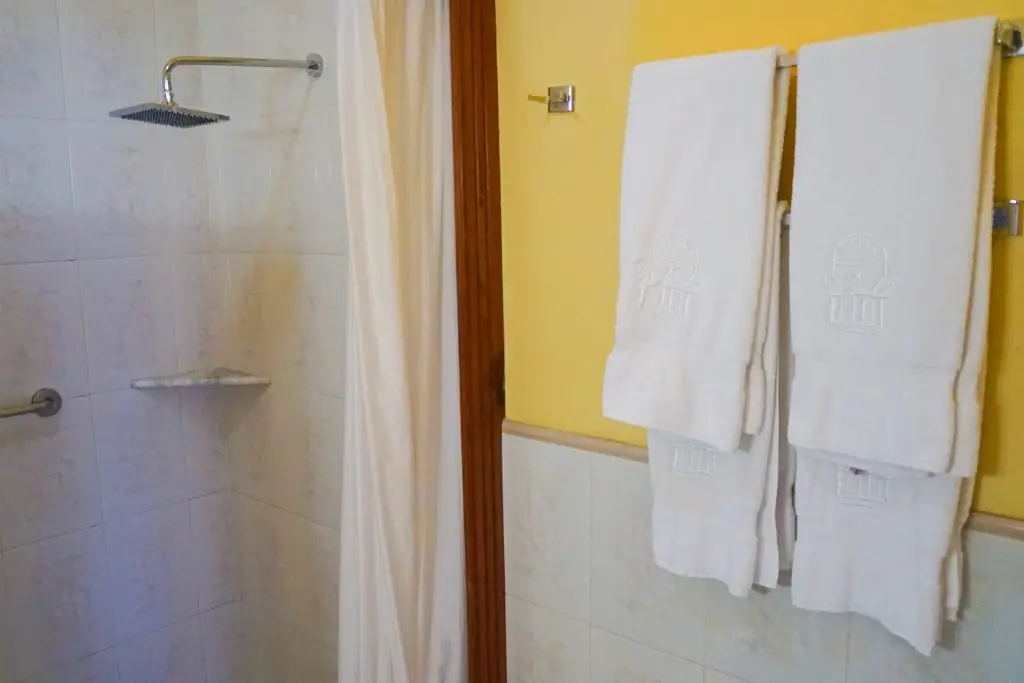 All are simply stunning, but for the full experience I do think it's extremely worth it to spring for the balcony rooms at a minimum.
These rooms offer simply breathtaking
views of Morelia's cathedral that change through the day from the soft tones of the pink quarry stone during the day to it's magical glow at dusk and it's perfect illumination at night. Better yet – if your stay includes a Saturday there is a fireworks display in Morelia in front of the Cathedral at 8.45 for which you will have prime view.
If not – the balcony still offers immersive views and the cities main square just across the street provides hours of entertainment in the form of people watching.
Much like the rooms, the view is never dull.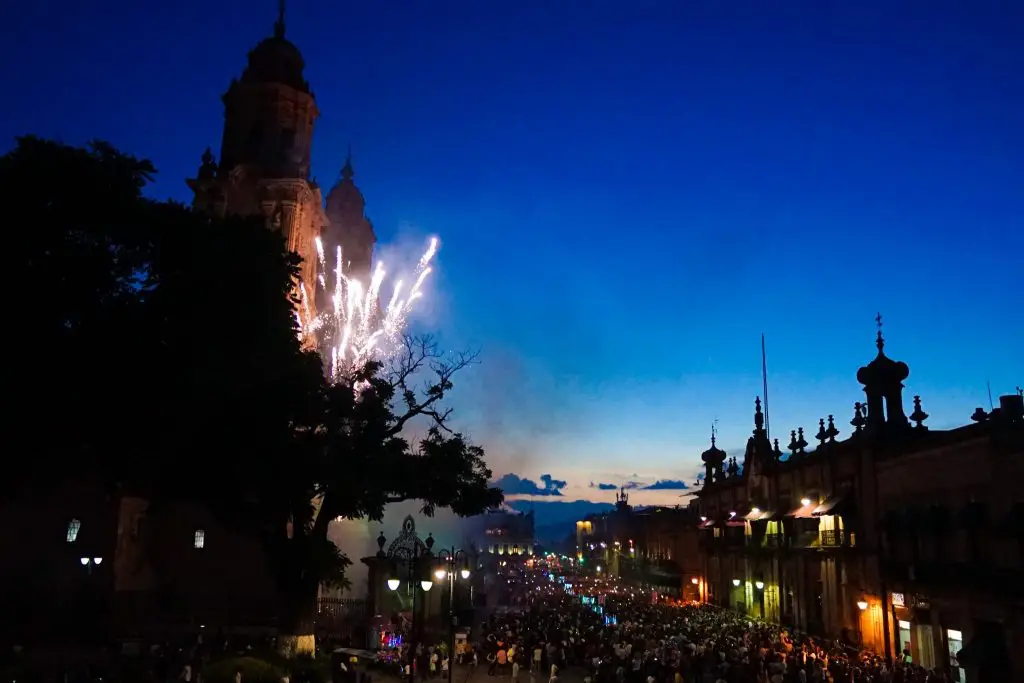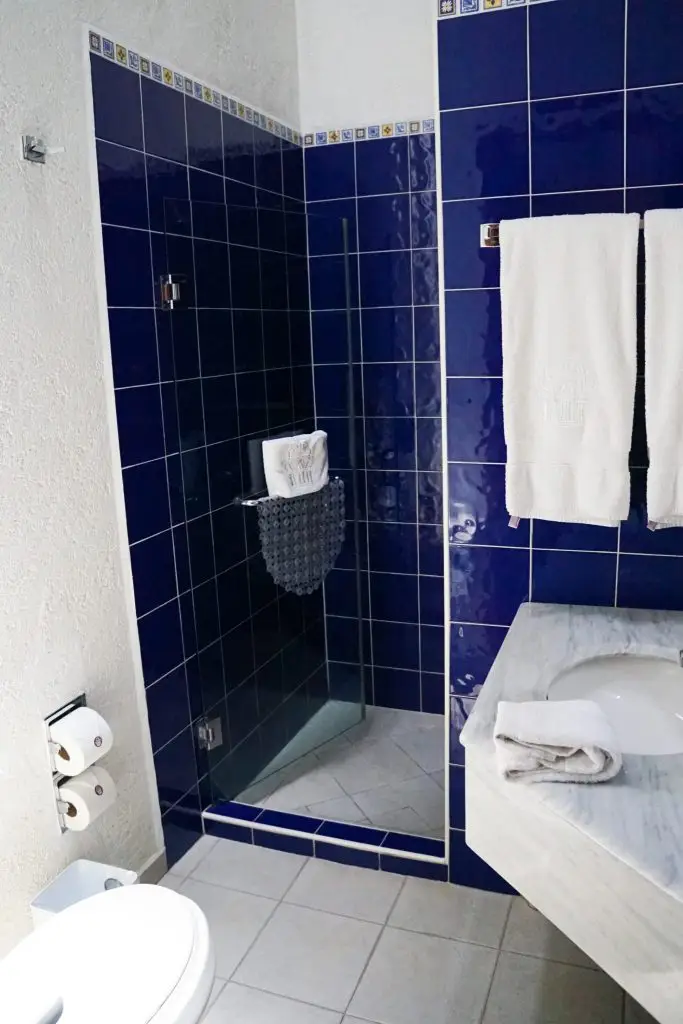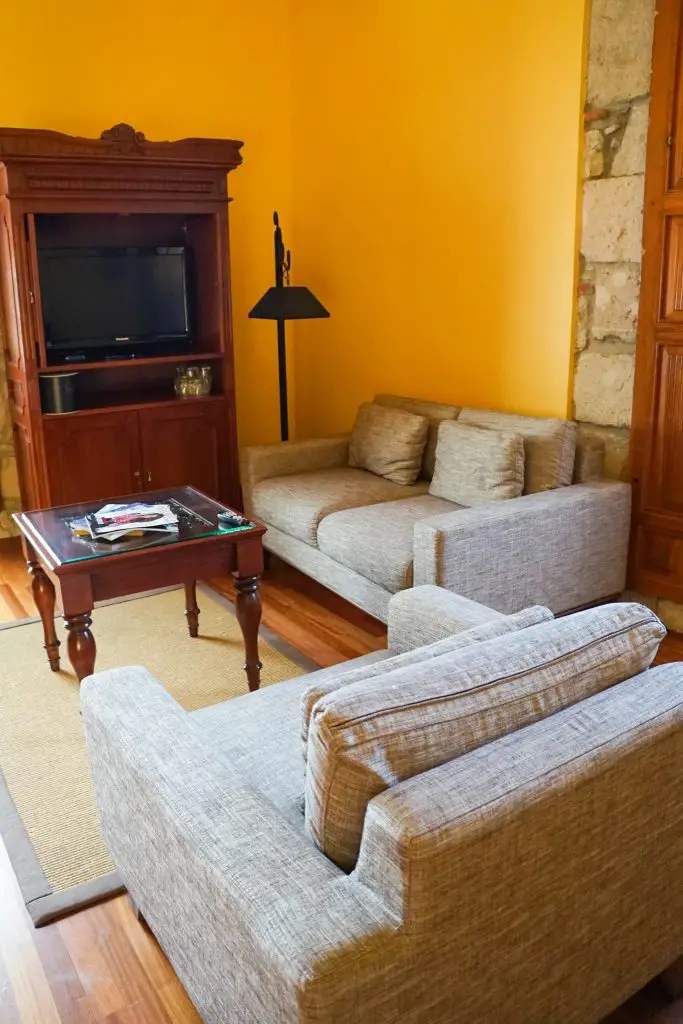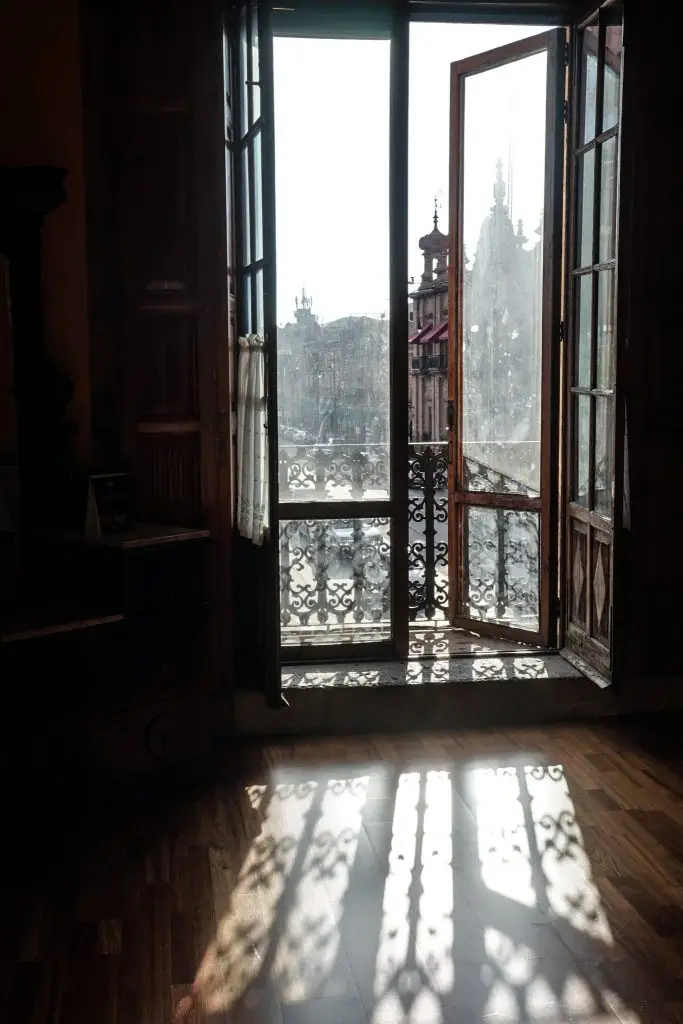 Amenities of Hotel Los Juaninos Morelia
Of course as the top luxury hotel in Morelia you can find all the expected amenities befitting of its status. Wifi throughout, room device, an onsite restaurant and bar and daily housekeeping are only just the beginning. You can also find at Hotel Los Juaninos Morelia:
Valet Parking
Business Center
Conference Room
Private Transfer Service from the Moreli Airport
Specialized Tours and Excursions organised through reception
VIP entrance to the exclusive members only Morelia Golf Club and Spa with a green-fee discount
Laundry and Dry-Cleaning Services
Free daily newspapers
In-Room Massages
Bicycle hire
And almost anything else you may need help with in Morelia. Reservations, questions and more!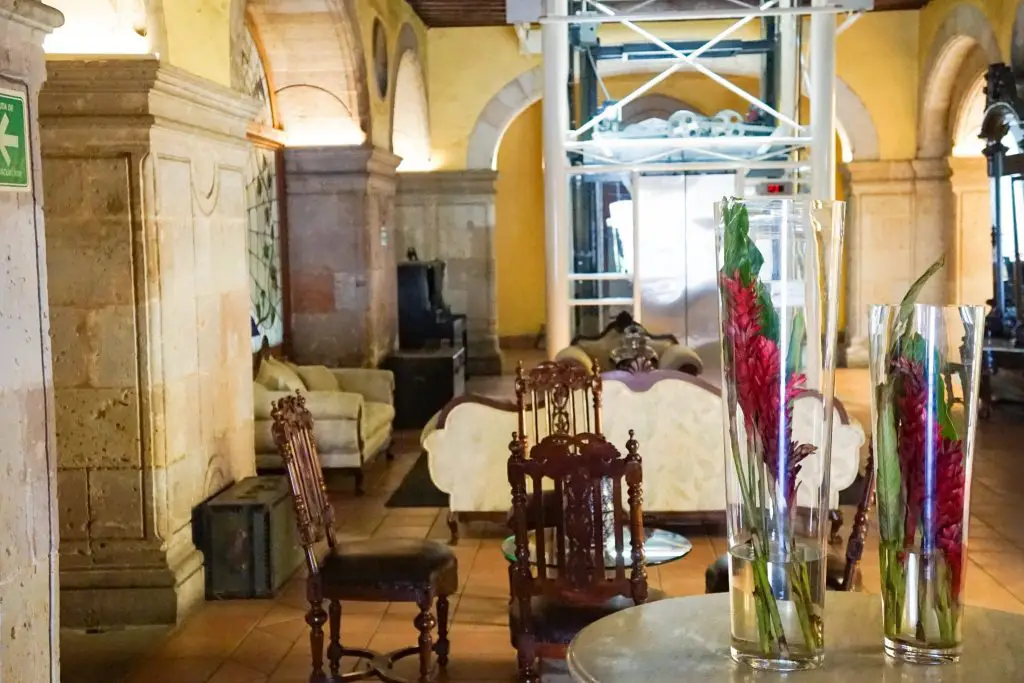 La Azotea Morelia Restaurant: The Terrace Bar and Restaurant
When considering where to eat in Morelia Mexico you need look no further than La Azotea – the onsite restaurant and bar taking up the top-floor / rooftop of Hotel Los Juaninos with the best views of the Morelia Cathedral by day or night.
Open for breakfast, lunch and dinner everyday La Azotea Morelia Restaurant offers a relaxed, fine-dining feel with a very chic white fit out and views from every table. Perfect for an early morning breakfast, sunset drinks or a romantic dinner. On Friday nights there is live music from 10 pm and Saturday's there is a DJ playing alternative pop and retro music into the night.
The food is focused on contemporary Mexican gastronomy which is heavily influenced by Morelia's own regional tastes – and thankfully, this is one restaurant that doesn't coast on it's fabulous views and the food is just as incredible.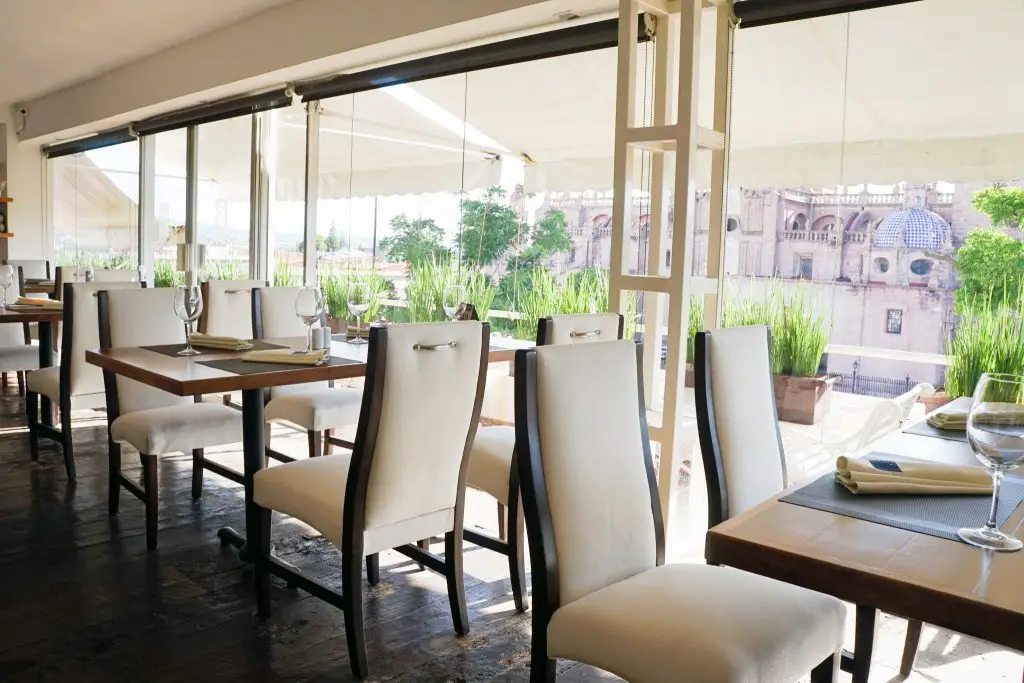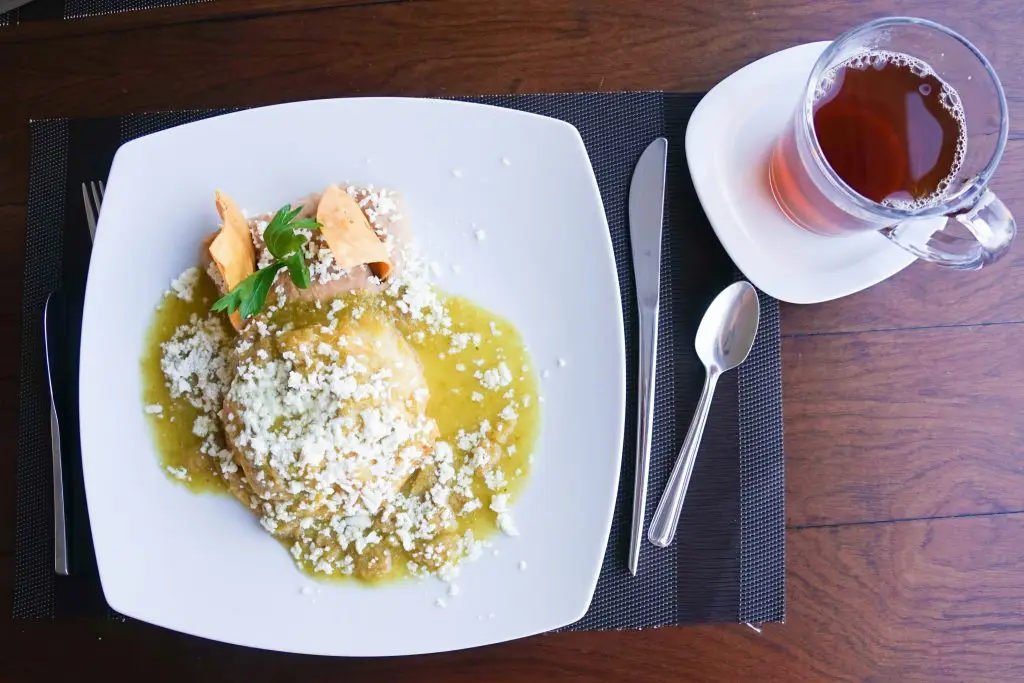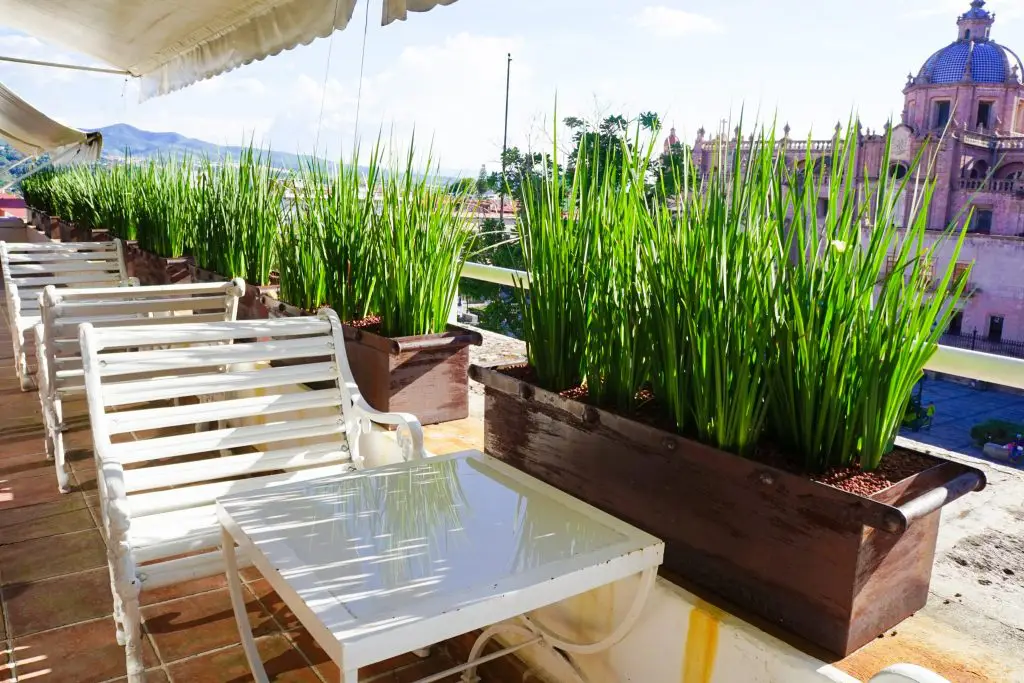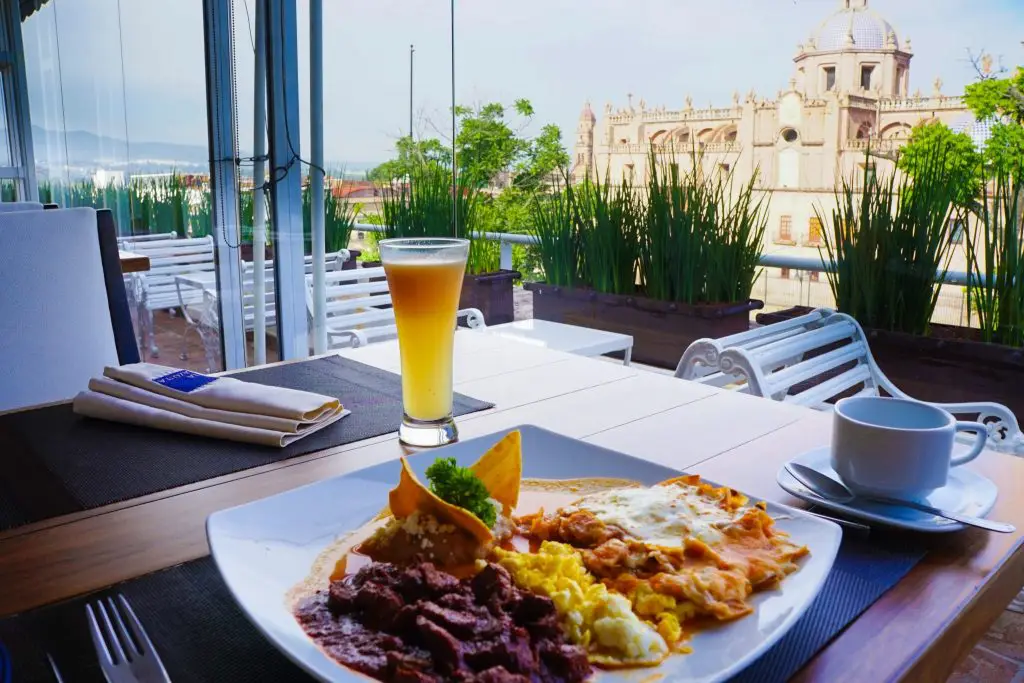 Things To Do in Morelia And Around!
Being one of the most beautiful towns in Mexico, Morelia is practically just one big destination and simply meandering around you can explore more of its interesting colonial buildings – many of which are open to the public at some point during the day.
However, there are a few principal stand out attractions that any self-respecting tour of Morelia city could not miss:
The Morelia Cathedral: Enormous, Grand, Baroque. You can't fail to miss this but be sure to pop in to truly appreciate it, and look out for the many street performers that appear on the square outside during the day.
The Morelia Aqueduct: Hidden at the back of town, this huge aqueduct runs for over a kilometer and brought water for this young growing city in the 17th century.
The Guadelupe Sanctuary: One of the most beautiful churches in Mexico, its soft pink and white details are a splendid work of art and will leave you in awe!
The Houses of Morelos: Morelos is a Mexican Independence War Hero who the city was renamed after. Both of his houses have since been converted to museums are interesting to understand his role in shaping Mexico.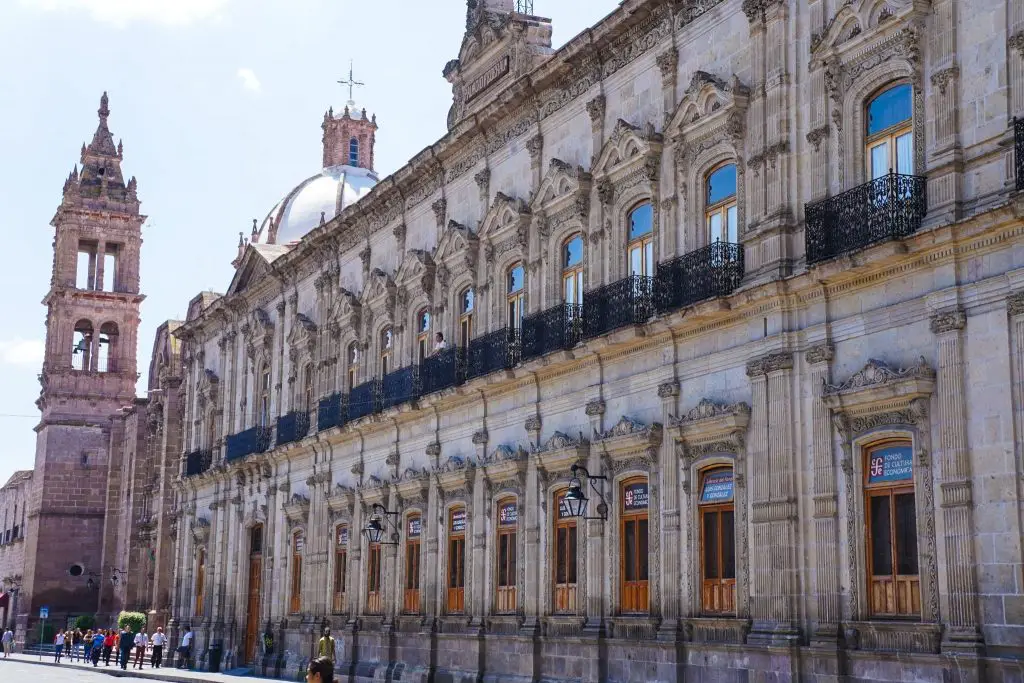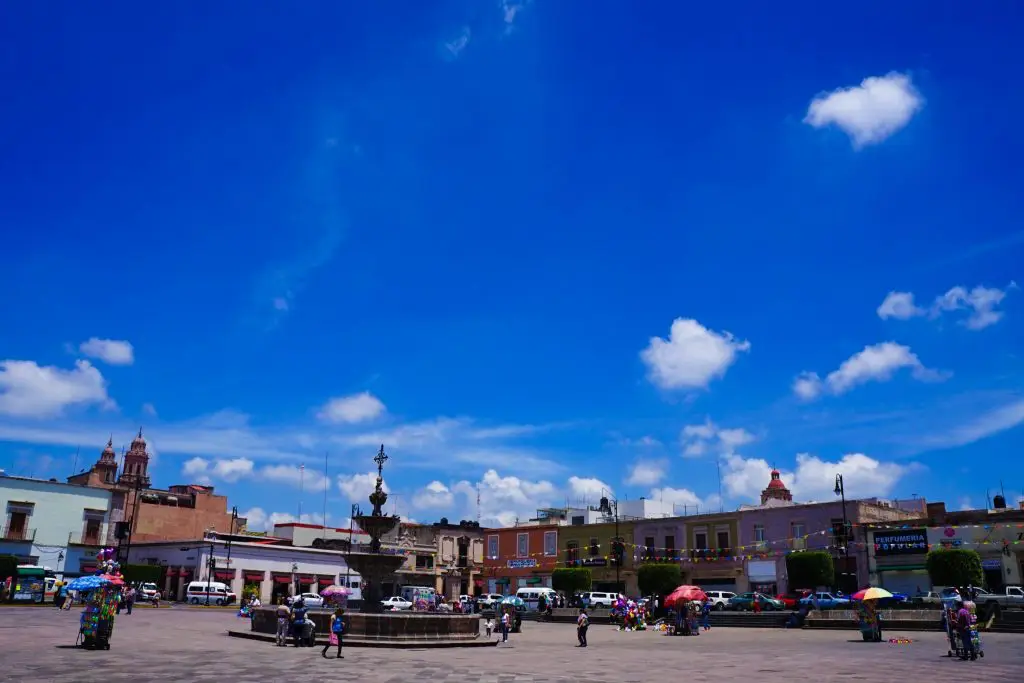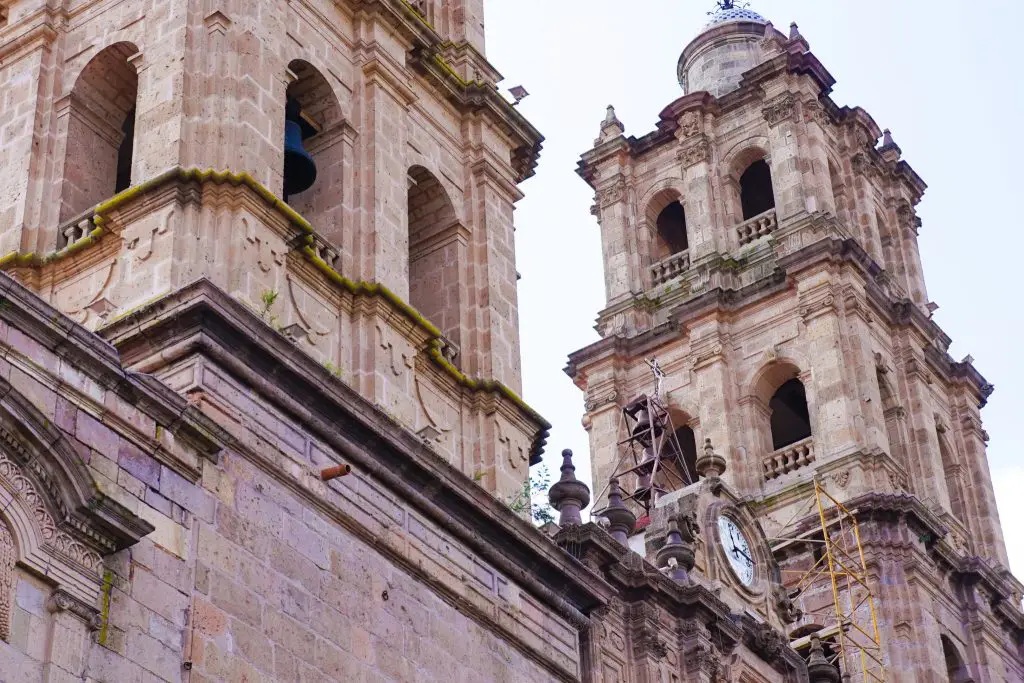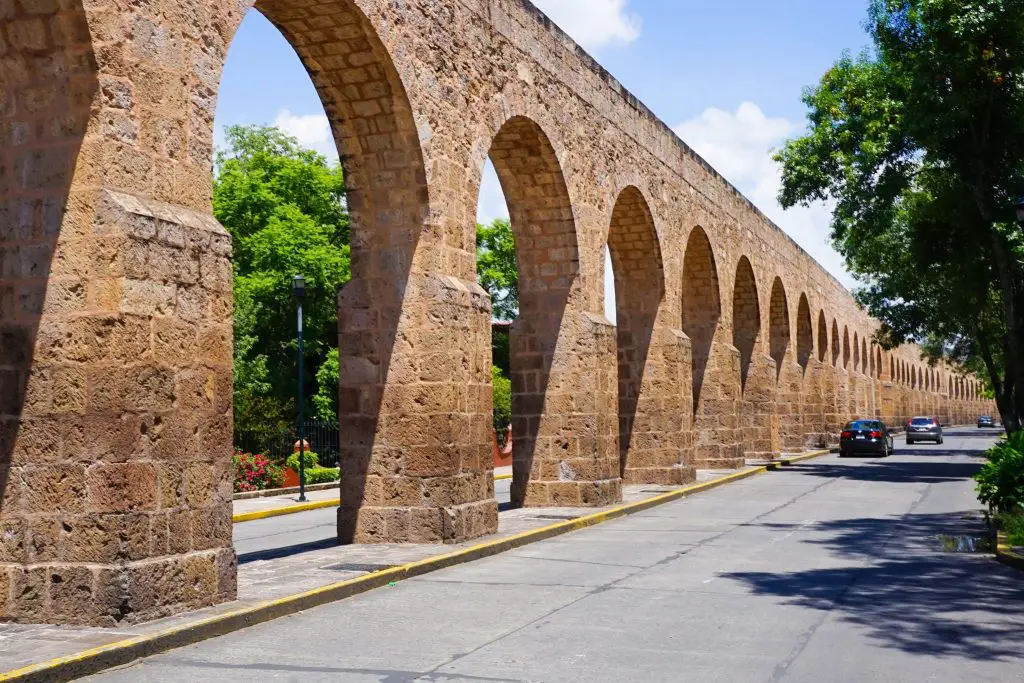 Outside of town there is also plenty more to see and do, which you can reach via car or organized tour with the Los Juaninos Morelia reception.
Some of the highlights include the famous Monarch butterfly reserves of Mexico (seasonally), Los Azufres and Uruapan Waterfalls, Patzcuaro or Volcan Paricutin and its lava covered church. Plenty of attractions are abound in this part of Mexico inviting you to stay longer and fully explore Morelia and Michoacan. And if you're heading further afield in Mexico why not consider the other great destinations too: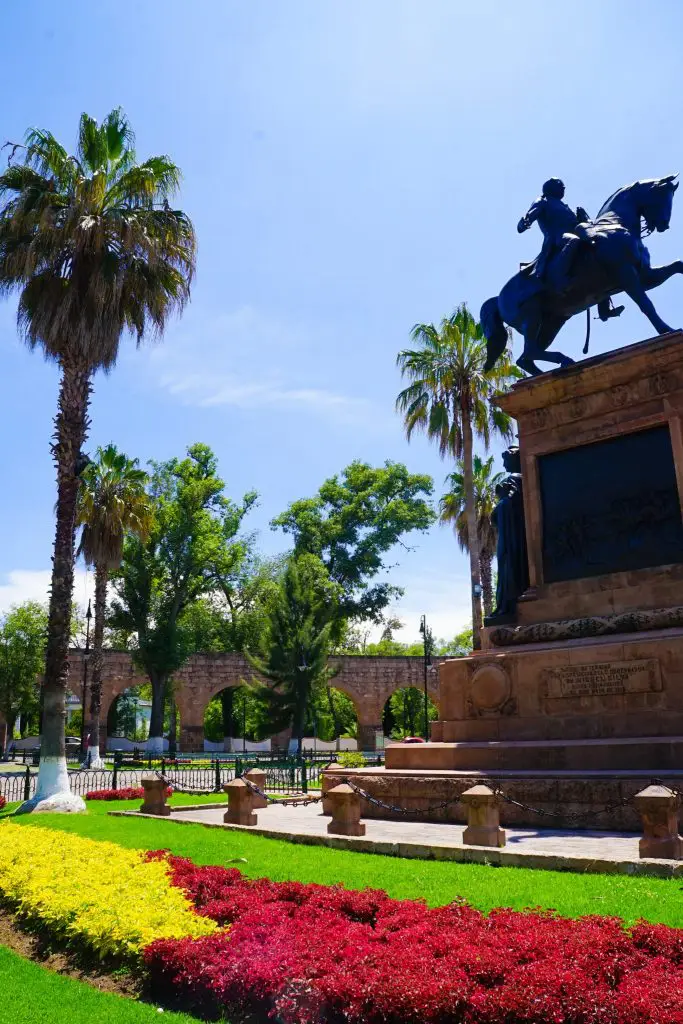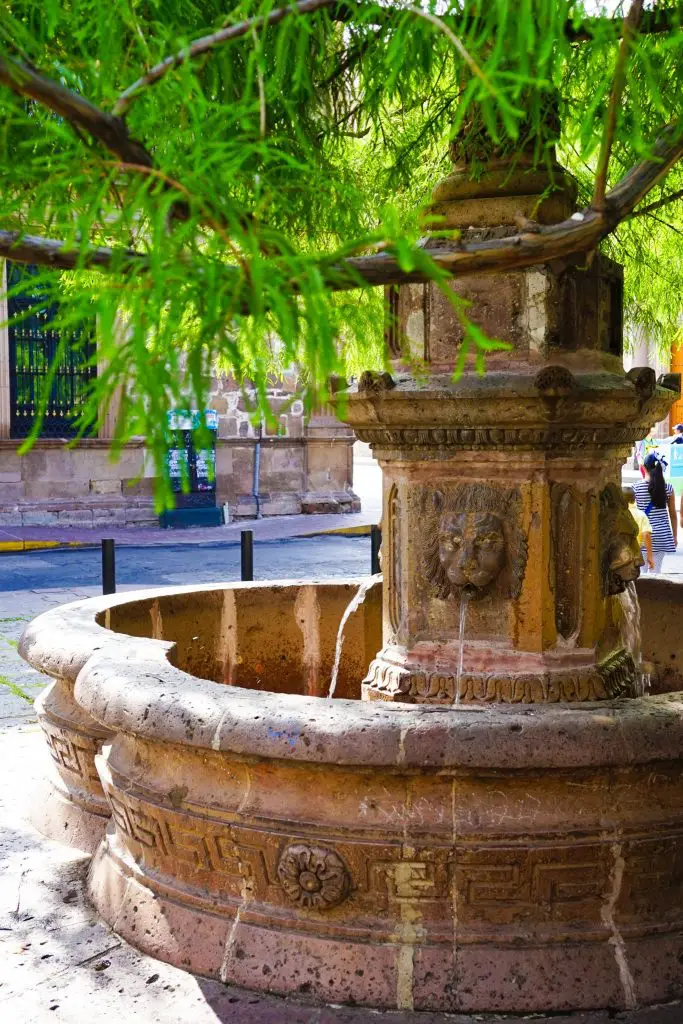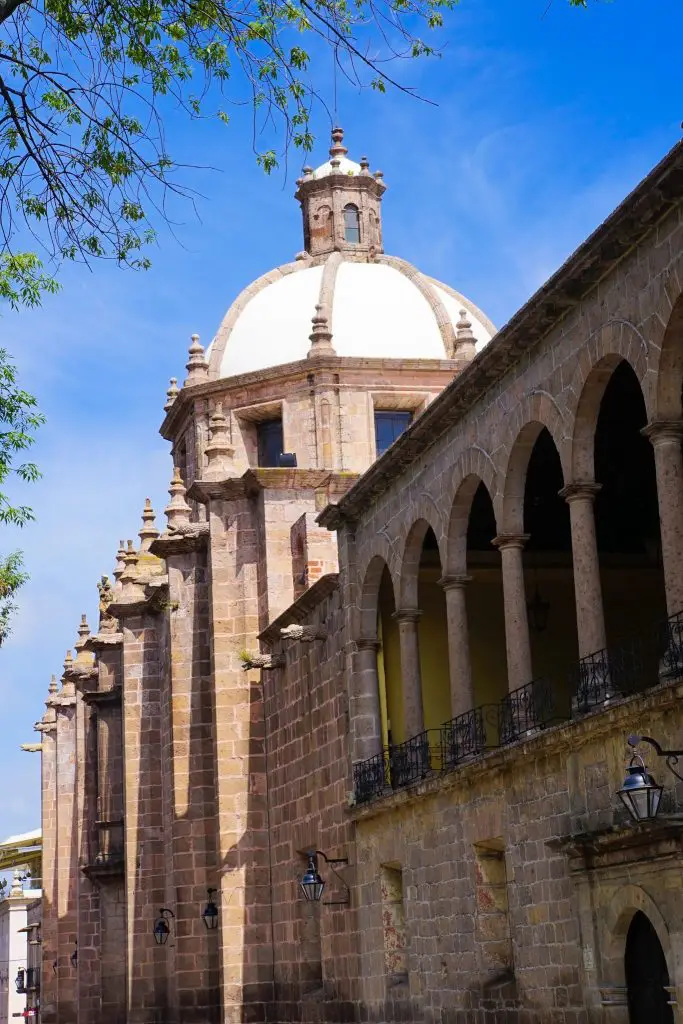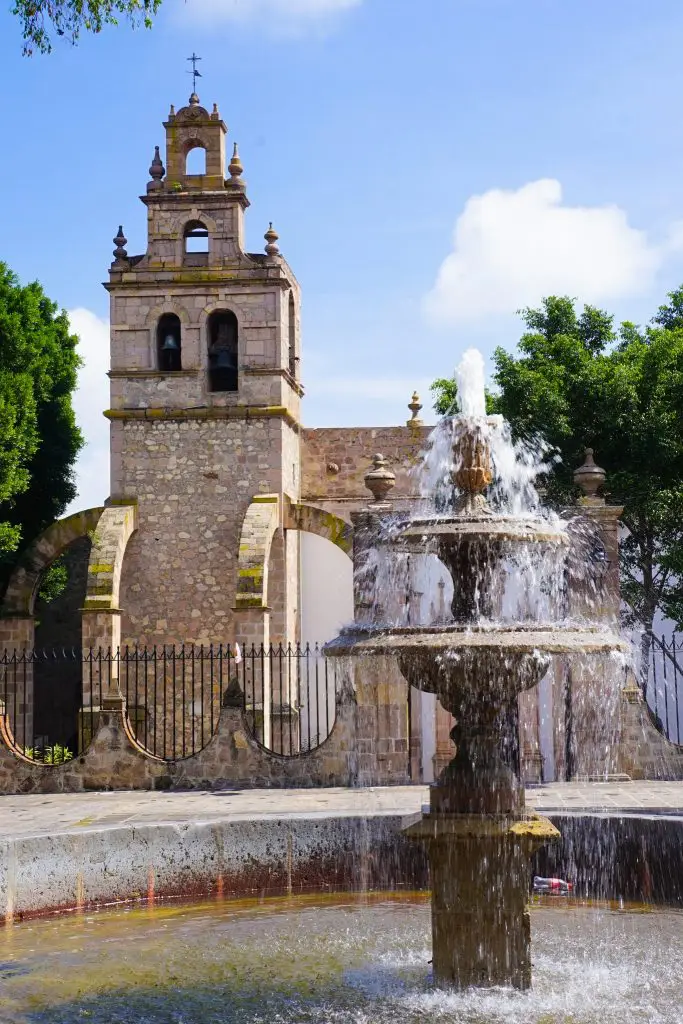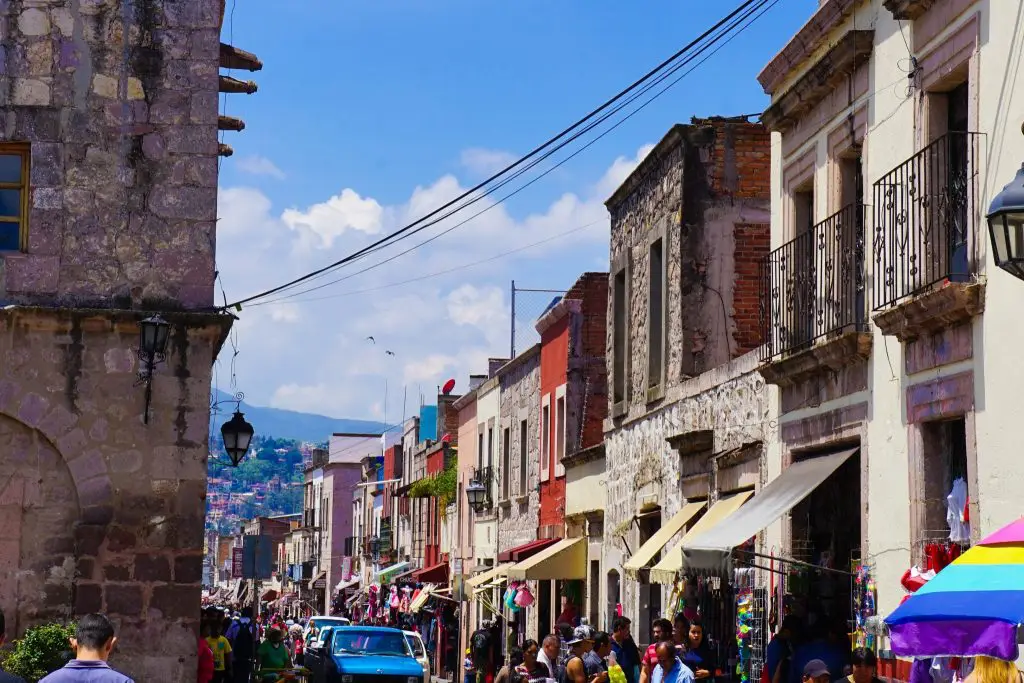 How Far Is Morelia from Mexico City (Or How to get to Morelia!)
Ok – so by now you must be sold on the beautiful yet unassuming Morelia City and are probably wondering how far is Morelia from Mexico City as you try to fit it into your itinerary!
No worries – It is very easy to get to Morelia by bus, car or plane – and actually it is located almost half-way between Mexico City (303 km) and Guadalajara (250km), the two biggest cities in Mexico, making it a great stopping point!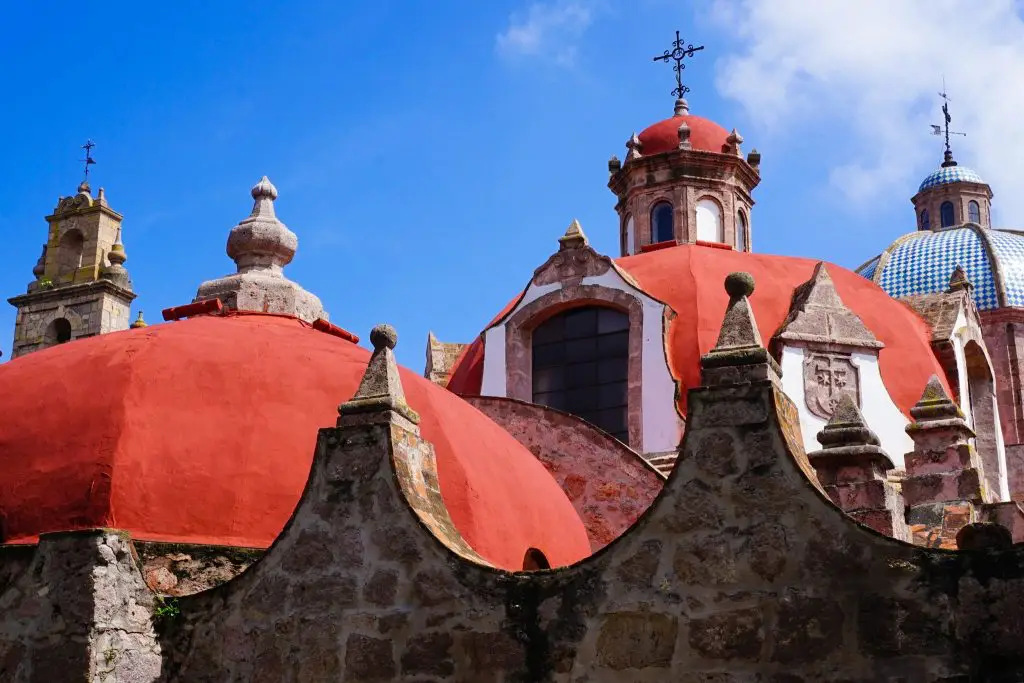 By bus you can arrive to Morelia at it's new bus station in the cities north (60 pesos taxi to downtown) with direct connections to Guadalajara (3.5 hours), Mexico City (5 hours) and beyond.
There is even a new Greyhound service to Morelia direct from the United States. By car the journey is fast on a modern toll road with plenty of rest stops along the way and incredible desert scenery and lakes that reflect the sky.
Of course – for many the plane maybe easier which is great as Morelia International Airport offers daily international flights to Los Angeles, Dallas-Fort Worth, Houston, and Chicago as well as many domestic flights including to Guadalajara, Mexico City, Monterrey, and Tijuana. And don't forget the guys at Hotel Juaninos (as if you could even forget the best view in Morelia!).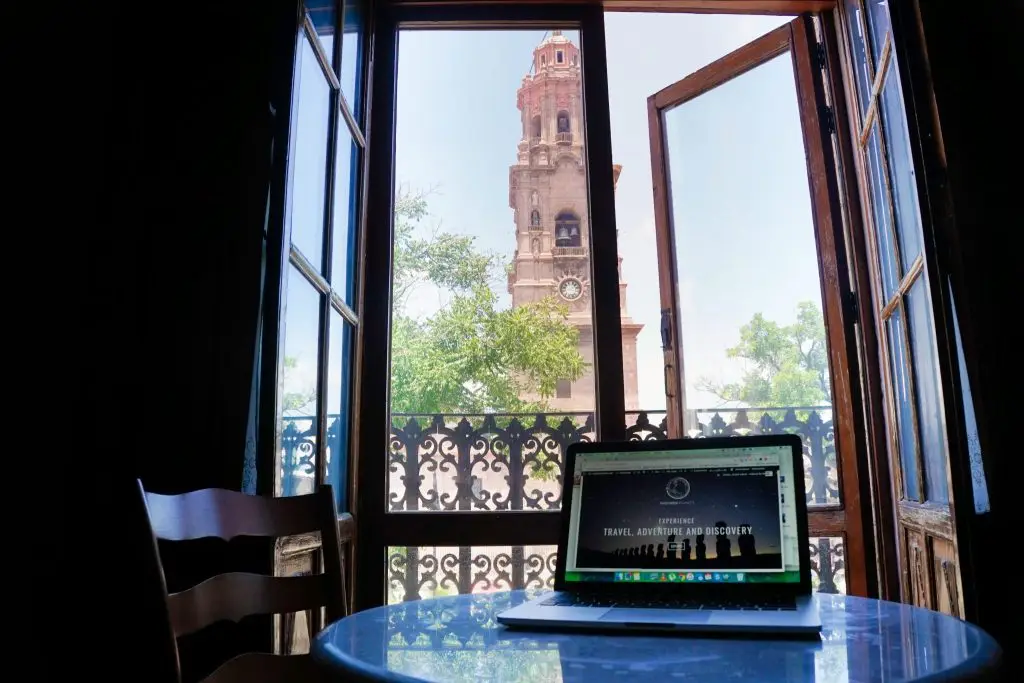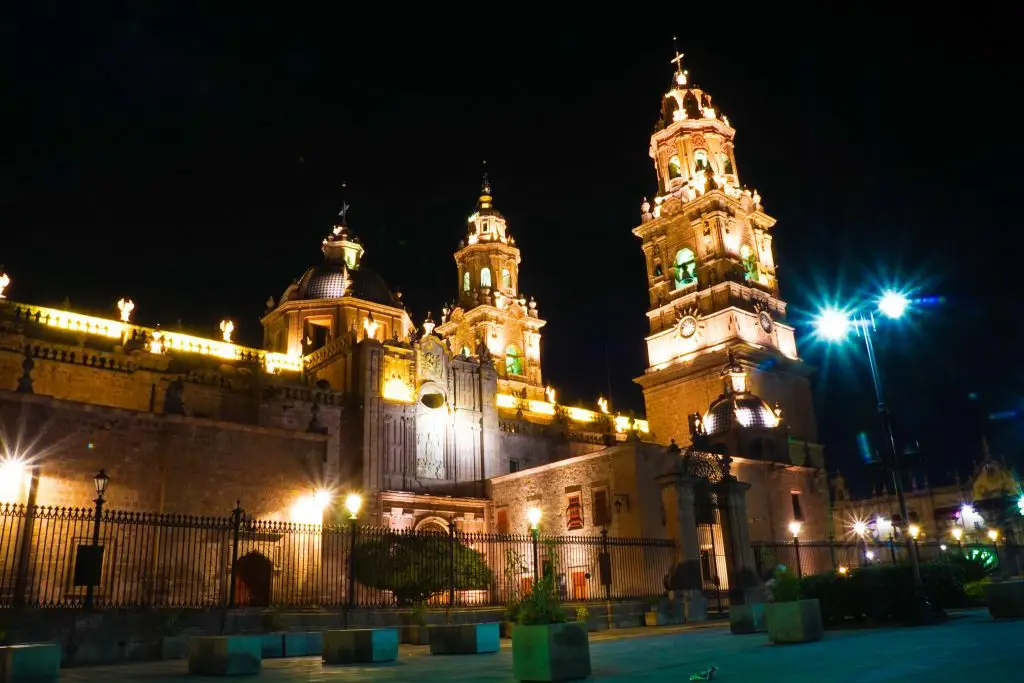 For such a well connected city it truly is surprising that Morelia has not yet caught the eye of mass tourism! Which is probably for the best as those who arrive here are rewarded with an almost entirely intact colonial city in all it's splendid details.
To truly make the most of your stay consider Hotel Los Juaninos, the most luxurious hotel in Morelia with the best view – it is truly like being transported back in time, except with all the modern amenities you could desire along with great service, food and rooms – and with having one of the best Morelia restaurants on your rooftop you will never be wondering where to eat in Morelia Mexico!
I will never forget my nights gazing off their balcony onto the Cathedral as the sunset and the lights transformed it, and I hope you can enjoy this too!
Staying Connected While Travelling
In today's increasingly connected world, staying online while traveling has become essential for a seamless experience. That's where eSIMs come into play, revolutionizing the way we access mobile networks during our global adventures. Say goodbye to hunting down local SIM cards at the airport; eSIMs provide instant activation the moment you land, sparing you the fortune usually spent on international roaming and allowing you to genuinely travel like a local (without getting hopelessly lost!).
With eSIMs, tasks like restaurant recommendations and reservations, up-to-the-minute public transport instructions, checking opening hours, and accessing further information become a breeze. And, of course, sharing your journey on social media is easier than ever. To stay connected wherever you roam, consider using either Airalo or Holafly. Airalo boasts the most extensive range of destinations worldwide, offering smaller data bundles tailored to your needs, while Holafly provides unlimited data packages and fantastic EU data deals.
So why wait? Embrace the future of travel connectivity with eSIMs and make your next journey effortlessly smooth.
Further Things To Consider Before Any Adventure
Now you're all set and prepared to explore our big wide world, why not sort out everything else out all in one go? If necessary for your travel plans make sure you have brought proper travel insurance, protected your privacy by getting a secure VPN, compared all the top hotel booking sites to find just what you're after, reserved an unbeatable rental car price and - of course - booked the best flight deals!
Or maybe just forget it all and go for a last-minute cruise or effortless tour instead?
Many budget travelers (including me) indulge in worldwide airport lounge access, so we can experience luxury while still slumming it in economy. Naturally, we would never leave home without a more general travel guide since we couldn't possibly cover everything here!
Just add an adventurous attitude and plenty of smiles - they go a long way - and that about covers it all! Now go out, find your own path and don't forget to share your best inspiration stories with me on Facebook, Twitter, and Instagram...I'd love to hear from you!