Seeking something that refreshes and revitalizes during your cocktail hour? The lemon rosemary martini may be the sea change you need to take your drinks to the next level. It's ideal for those who enjoy martinis, though if you've hesitated in having a traditional Tanqueray martini with a twist, adding lemon and rosemary makes it more approachable.
Ernest Hemingway was undoubtedly one of the biggest influencers of the original martini, though it was around long before 'Papa' wrote his prose about it in A Farewell to Arms. Some say it was around the late 1880s in California during the heat of the gold rush when bartender Jerry Thomas made a cocktail for the miners. Others say Martini & Rossi vermouth led to the creation original martini.
Say what you will, though, but the martini has endured many twists (get it!). And while there are a number of them that you'll find on drink lists across the globe, it seems that this California-style version with lemon and rosemary is one of the most enduring. Elevated with these flavors, it takes on a Mediterranean vibe that will whisk you away to the azure cliffs by the seaside.
It takes lemon's tart and citrusy flavors and harmonizes them with that piney, woodsy rosemary taste for incredible balance. While this lemon rosemary martini only calls for an infused gin base and a dash of honey, you can add extra-dry vermouth for a more complex and classic martini drink. This 2-to-1 ratio is ideal, though for those who want it a bit stronger, go ahead with a heavier pour.
However, you have a cocktail that brings the refreshment anywhere and can be thrown together in seconds.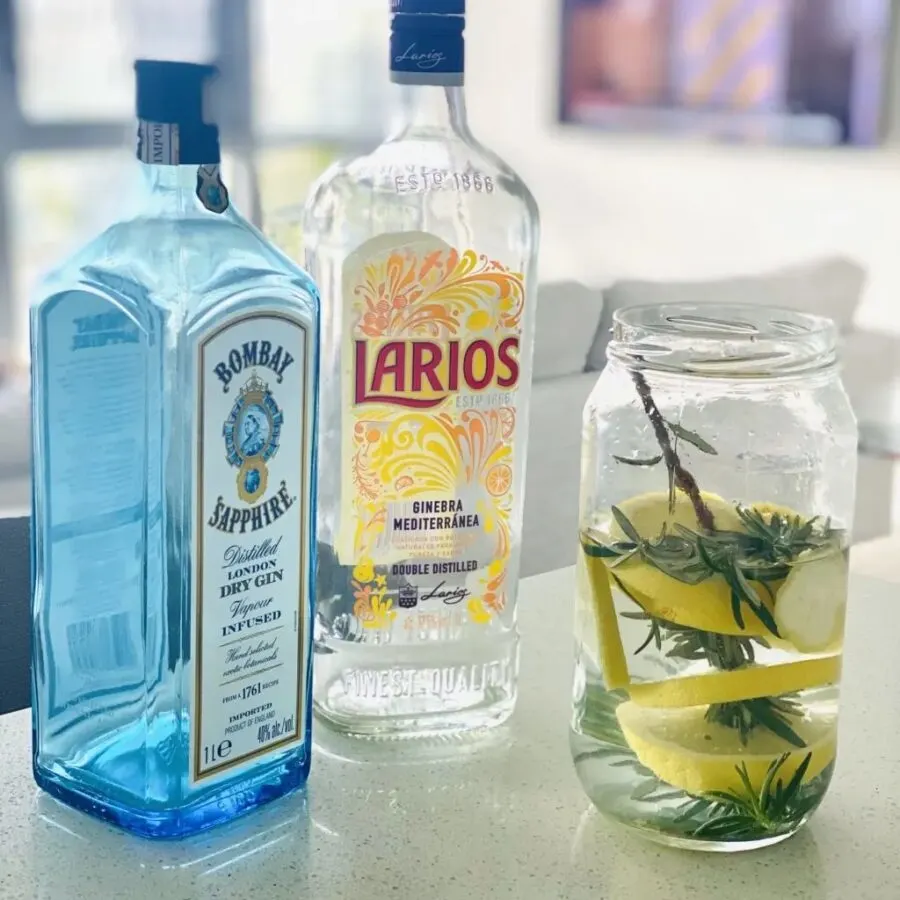 Perfect for an elegant summer affair or a spiffy Friday happy hour cocktail, this drink will be one you'll call upon anytime. Even if that time is simply in the middle of winter, you want to envision yourself in a warm and flourishing environment bathed in sunshine.
If you don't have gin on hand, you can get these delivered – along with beer, wine, and other essentials in under 60 minutes using a service like Drizly, covering 1500+ cities in the US.
Finally, a note on the fresh ingredients: lemon and rosemary. Wee have traveled the world for years and wondered how the same cocktails could taste so vastly different. For example, a mojito in Cuba tastes nothing like that of one in Las Vegas. We originally chalked this up to the romance of an exotic locale, the view, the scent of the air – or the longing for home, but then we realized it might come down to something far more tangible: the fresh ingredients.
While spirits are largely standardized around the globe, citrus grown in Florida will taste nothing like those produced in Sydney. And the same goes for rosemary.
For this reason, it is hard to make blanket statements regarding the quantities required, and we recommend tasting the lemon juice first to ensure it isn't a great deal acidic or sweeter than normal. You might even want to test various infusion strengths for your Lemon Rosemary Martini cocktail and add more or less lemon, depending on your desired taste. The same goes for the spring of the rosemary.
Other citrus-based cocktails like the Lemon & Basil Martini or Prohibition-Era White Lady Cocktail have the same issue, but don't be put off. Over time, you will become an expert in your local lemon strength – if you are not already!
Ideally, you would have a sprig of fresh rosemary and a lemon peel twist, which adds the perfect garnish to this visually pleasing cocktail. Try binding the lemon peel around the rosemary for a stunning pop of colors and beauty. Toast to the good times ahead with those you love, or spoil yourself with a concoction that rewards you for all your efforts.
You may even want to pair this pretty cocktail for your next dinner party. Fresh seafood drizzled in lemon is a stunning match, as are crab cakes. For appetizers, bacon-wrapped dates are a savory way to spoil your taste buds with incredible contrast from this refined and renowned cocktail.
[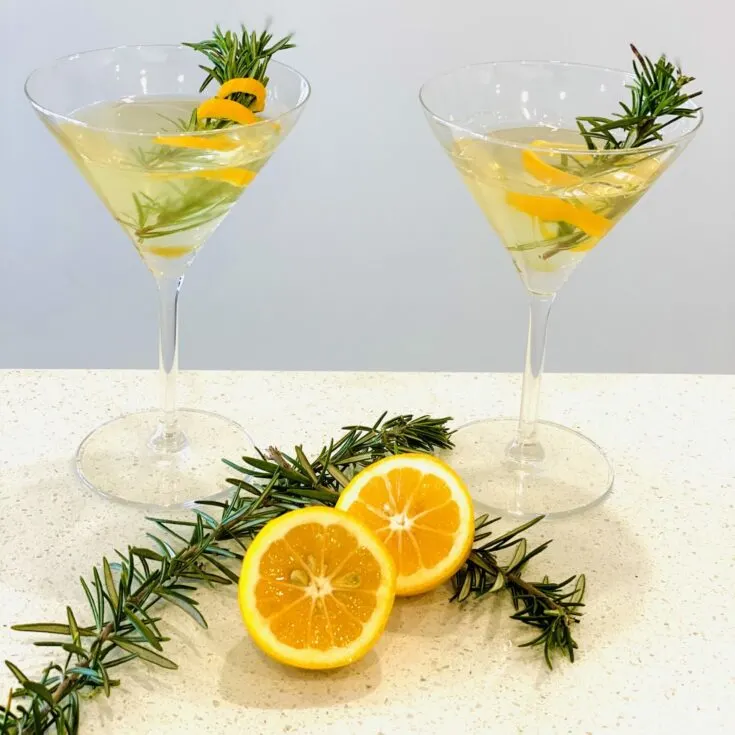 Yield:

10+ cocktails
Heavenly Lemon Rosemary Martini Recipe
Total Time:
7 days
2 minutes
Sometimes you want something a little sweeter, a little more herbaceous, a little - different.
Ingredients
1 bottle gin (700ml to 1 liter)
3 sprigs rosemary (washed)
3 lemons
high-quality liquid honey
1 jar for infusion
Instructions
Cut one large lemon into slices and thread onto a washed sprig of rosemary
Place into a 1-liter jar and pour in gin.
Store in a cool, dark cupboard for one week.
Double-strain gin out into the original bottle and chill in fridge or freezer
Swirl honey around the base of a chilled martini glass
Pour in lemon and honey-infused gin.
Garnish with a lemon twist around a spring of rosemary. Perfecto!
Notes
Vodka can be used instead of gin for infusion.
Infused gin is best used within a few weeks (flavor gets slightly worse over time)
You can infuse less gin should you wish to trial, with each cocktail requiring around 75-100 ml
[/sc]