Upwelling: an oceanographic phenomenon that involves the rising to the surface of dense, cold, nutrient-rich water.
Upwelling, in a nutshell, is what makes Coiba National Park, a UNESCO World Heritage Site in Panama, one of the world's most exciting dive sites.
Coiba is located a mere 90 minutes from the Panamanian mainland by boat and a 1000 feet drop-off occurs just off Coiba's western side, known locally as Hannibal Bank.
This sudden drop-off forces cold deep-ocean water up, laden with nutrients, that then act as a fertilizer and promote extreme biological productivity.
The end result is an unbelievable abundance of fish and marine mammals who all congregate here to feed – I'm talking big schools of snapper, jacks, barracudas, flocks of all kinds of rays, white-tip sharks and even hammerheads!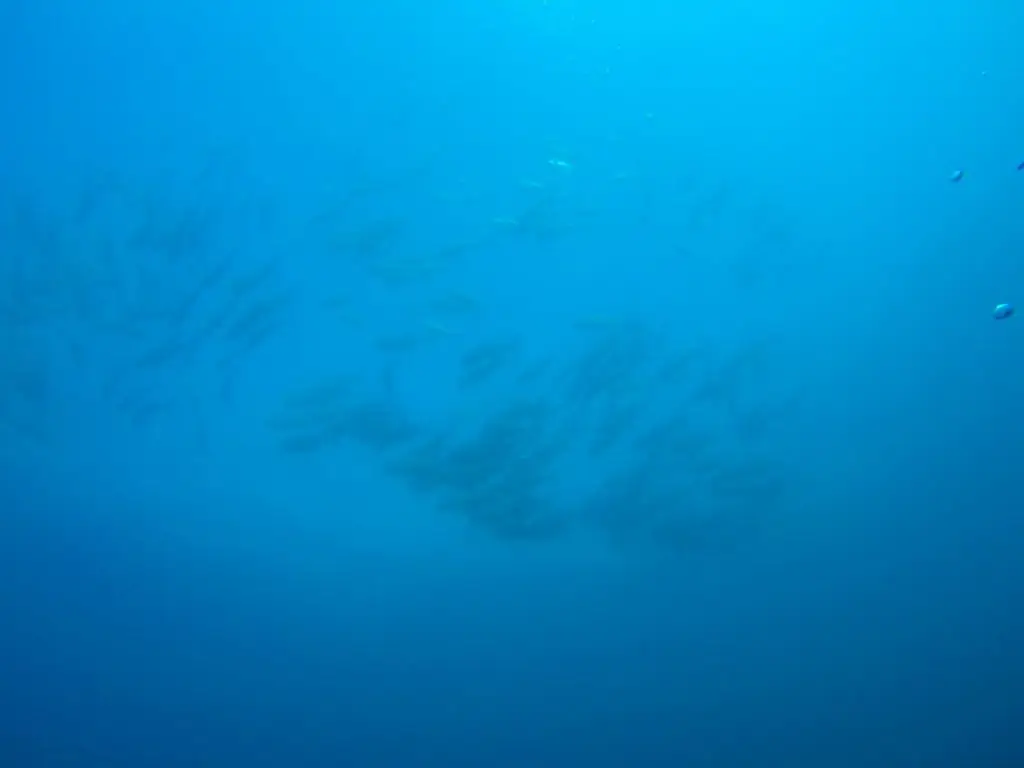 The Pacific Ocean is notorious for its changing visibility, and it was not optimal while I was there but I didn't mind as I knew that while increased plankton levels worsen visibility, they also attract hungry larger fish!
If that wasn't enough Coiba National Park also has the largest coral reef in Pacific Central America, so you also get the crazy, small things here too – think frogfish, seahorses, harlequin shrimp, just to name a few!
Needless to say all of this contributes to making Coiba a diving mecca, without even meantioning Coiba Island itself, and on my quest to visit every UNESCO site in the world I was ridiculously excited to come here.
I opted for a multi-day trip with Panama Dive Centre, the only 5-star dive shop heading out to Coiba and , to quickly sum up, I was not disappointed! I have put together a comprehensive Panama Dive Centre Review with everything you need to know to dive Coiba as follows.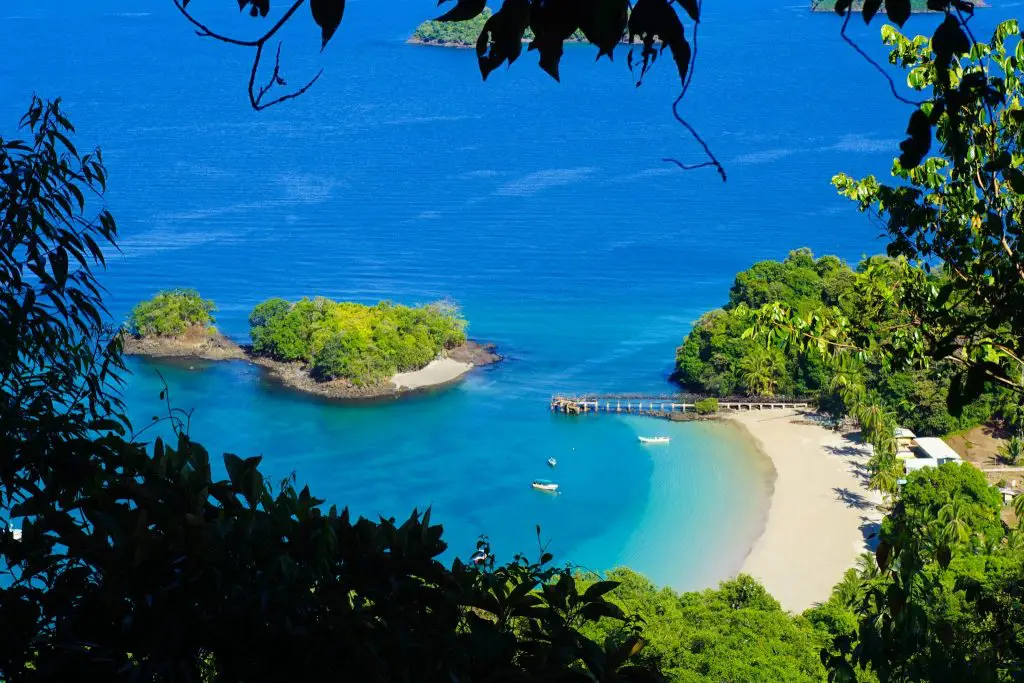 Panama Dive Centre Review: World-class Above and Below the Water
Panama Dive Centre Review: Before the Dive
From the second I contacted Panama Dive Centre (based on their stellar TripAdvisor reviews and raving word-of-mouth recommendations) I knew I was in good , capable hands.
I let them know I was interested in staying the night on Coiba Island and Sabina – the owner – promptly recommended my best options, explained the benefits of each option and generally just making my life a lot simpler! I arrived the day before at their dive shop, located at the heart of the tiny surf town of Santa Catalina, to sort out the details which went just as smoothly – smiling faces, good dive chats and a knowledgeable team.
I was in good hands. The team checked my insurance and dive certificates, sorted out all my gear (included a dive watch – safety first!) and was honest with me about the conditions, which I really liked! Better to under-promise and over-deliver right?!
None of these 'Shark's Guaranteed' signs with a misleading picture of a whale shark on it here, although I do doubt you could ever have 3 dives in Coiba and not spot at least a half-dozen reef sharks!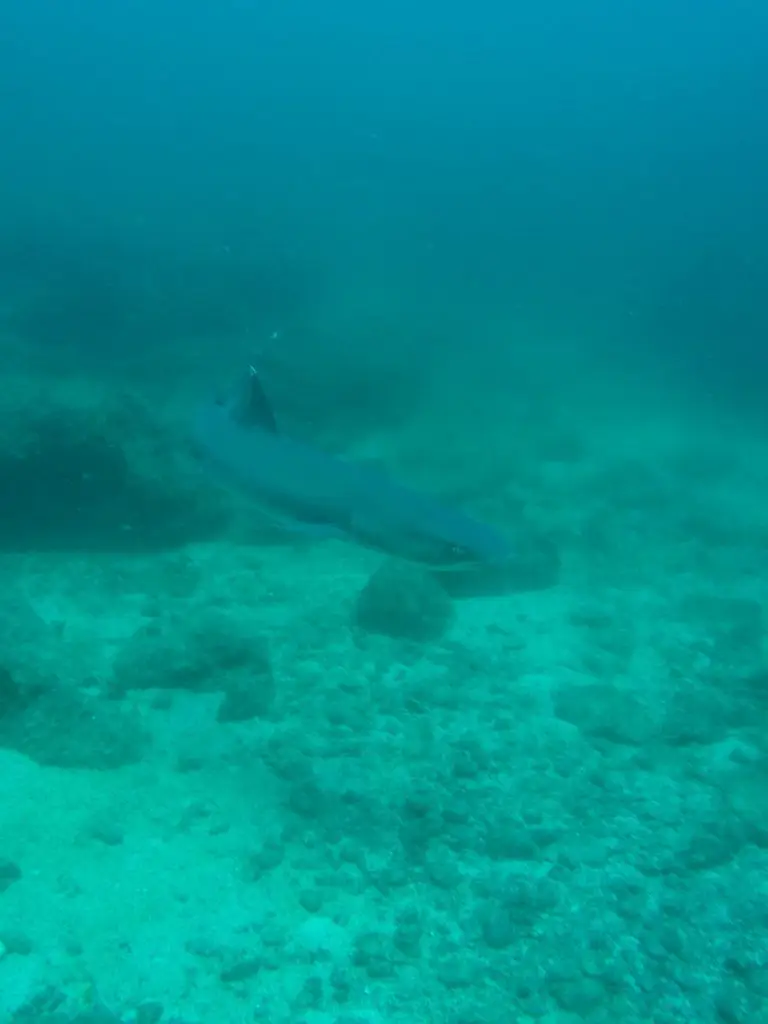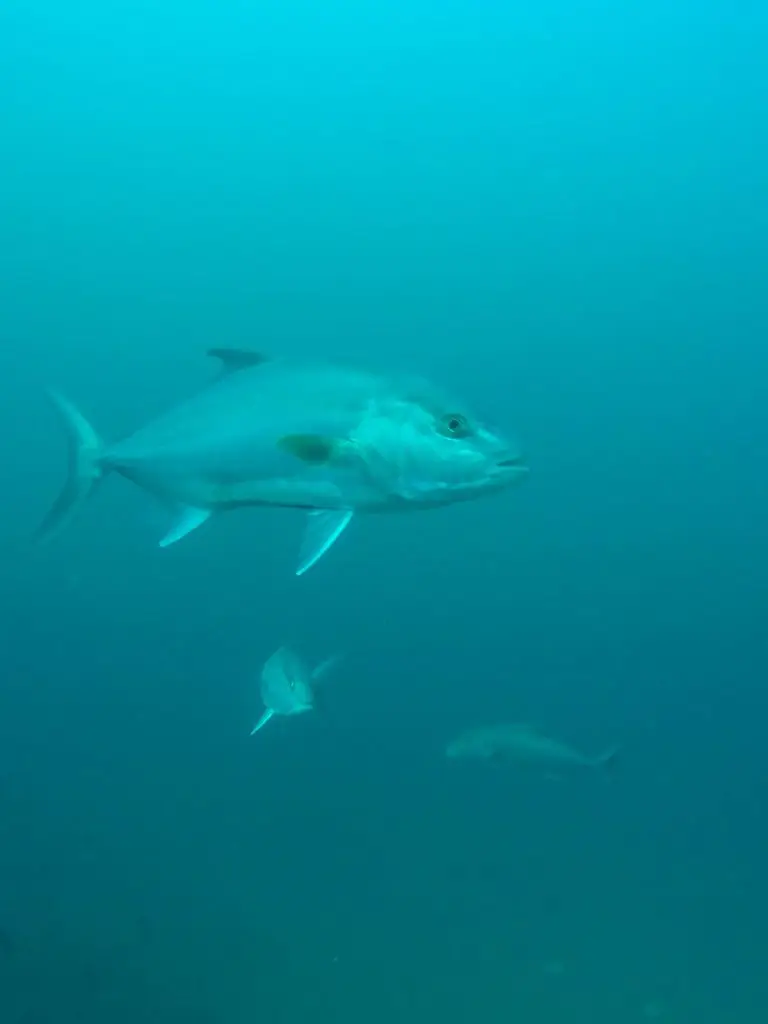 The next morning, geared up and with a thorough safety briefing from our bubbly divemaster Sophie the 4 of us were lead out to the boat and we were on our way to adventure!
As we headed out onto the deep blue the excitement was palpable. Flying fish flocked alongside the boat, goading us on and seemingly as excited to see us as we them. The moon still stayed high in the sky, as if ignoring its bedtime just to get a glimpse of what we might find in this magical place.
A hour later our the engines quietened as we reached our first dive site, my heart was racing with excitement and I willed it to calm down as we deflates our BCD's and descended…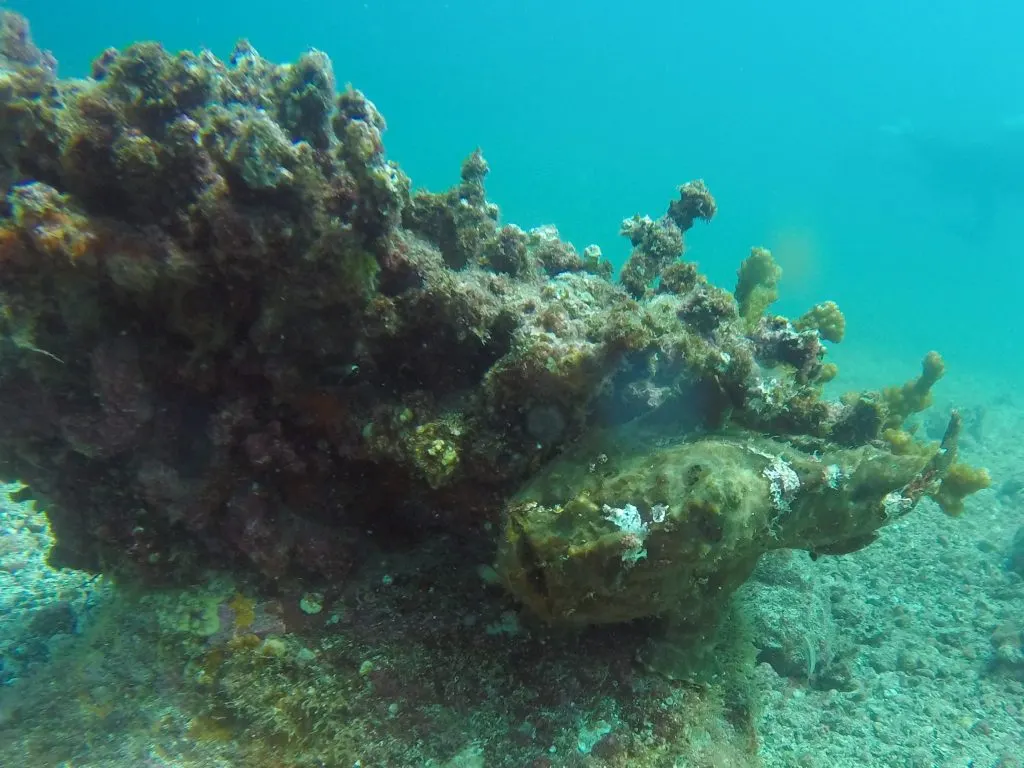 Panama Dive Centre Review: The Diving
Well, what can I say – Yes, the Coiba diving was absolutely as good as I expected! In fact even more so as I had not counted on there being much micro-life – but in every coral, around every rock or hidden in every nook and cranny there seemed to be some weird and unexpected life form worth staring at for atleast a few moments.
To me Coiba is easily comparable to the Galapagos, Sipidan or the Komodo Islands – my other all-time favourite dive locations. I undertook six dives here over two days and there was a great diversity of sites with varying depths from sandy bottoms, to colourful reefs, to underwater pinnacles swept by the currents and covered in giant fan coral.
Each dive site was sufficiently different and filled with life you could never be bored here, and even though we repeated one dive site I could have sworn it was a new place given how much the conditions had changed between the dives.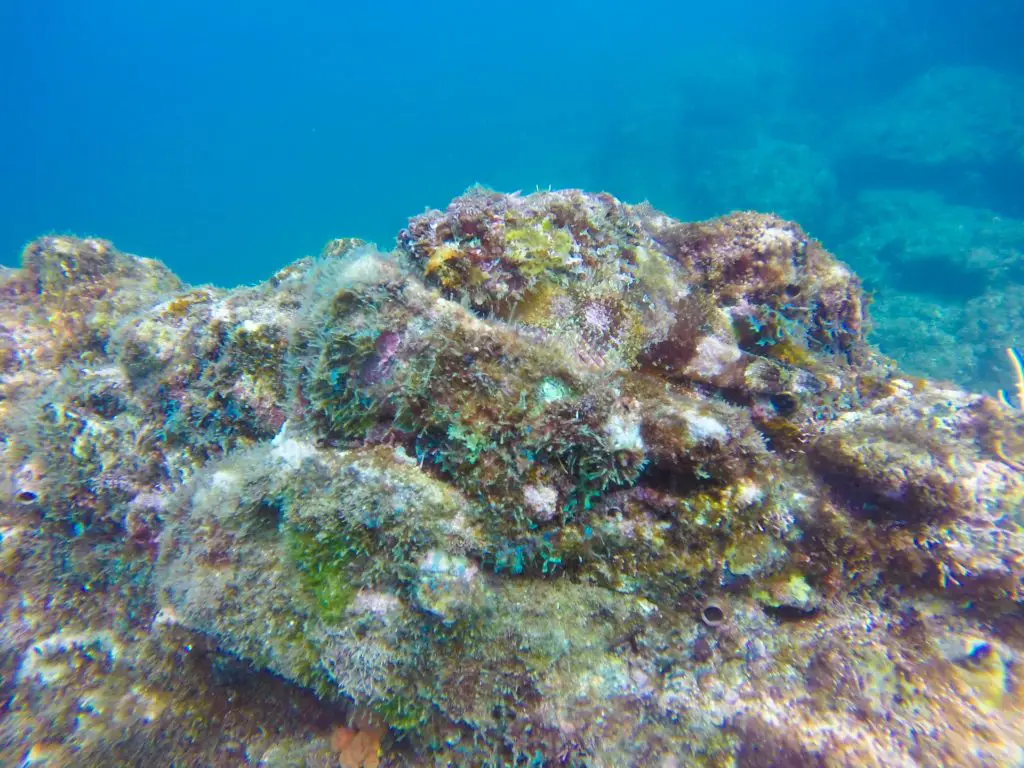 Of course there is also the macro-life here, and lets be honest – thats what everyone really came for! You always need to keep one eye on the deep blue here for something bigger lurking, a passing school of eagle rays or even dolphins (whose echo clicks we could hear on many dives but sadly only saw on the surface!).
Depending on the season you come here you can find hammerheads, manta rays and yes – even whale sharks… But its not by any means guaranteed! You'll get lucky and see something incredible here I am sure, it just might not be exactly what you were hoping for.
Our dive master for the first two dives, Sophie, was an expert at finding tiny micro-curiosites and I will forever be thankful for her rabid enthusiasm and finding of a adorable lone sea-horse which entirely made my day…..
Believe it or not, these buggers are ridiculously hard to find and this was only the third one I have ever seen (and the best looking by far!). Her pace was great, as well as her above water briefings so we knew exactly where we were going and never felt rushed.
I am someone who loves to take their time and marvel at anything and everything so was just perfect for me!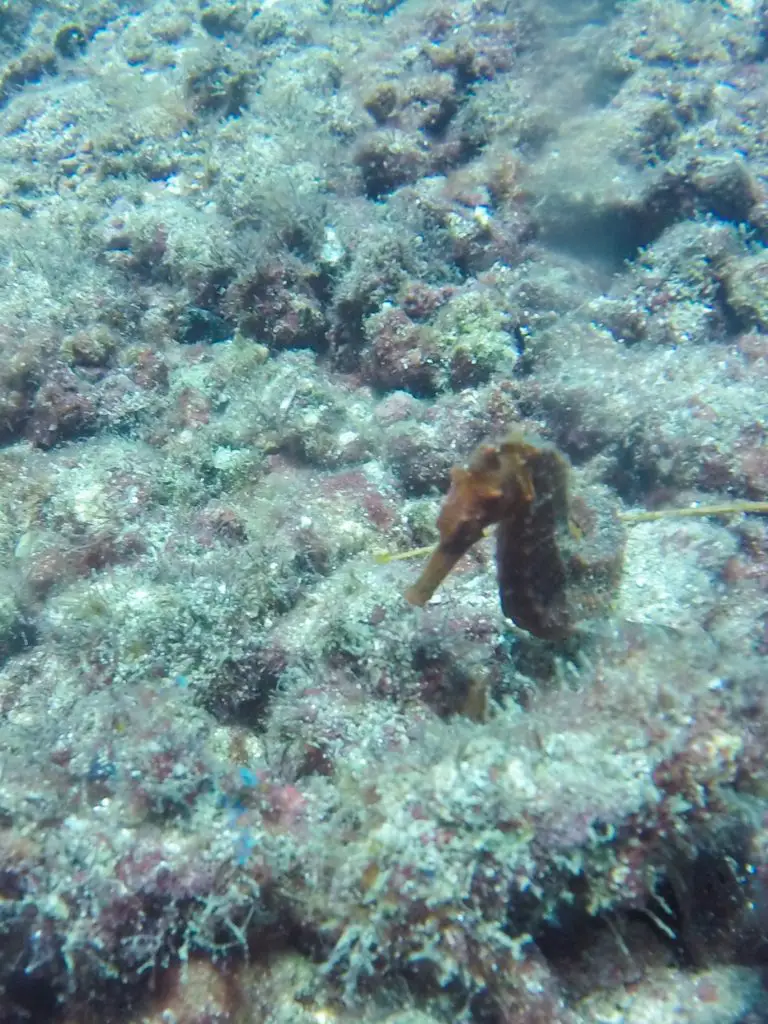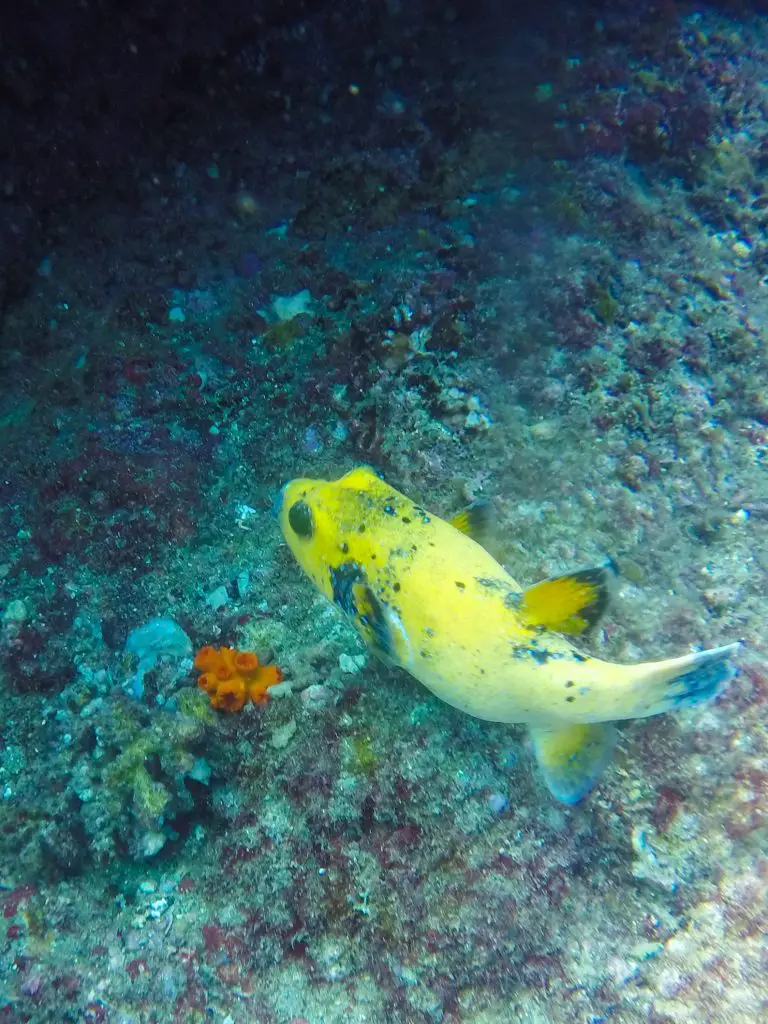 Our second guide for the next four Coiba dives, while fantastic, sadly was not quite as enthusiastic as Sophie (who on reflection was one of my all-time favourite dive masters!) but I might also put this down to our group who, weirdly enough, would come out of the water and sit in silence…I mean come on, really?!
Our second guide also was a bit more fast-paced underwater and once or twice I found myself struggling to keep up with the current and her speed. However again I think this was the product of the group and at no point was I ever lost. Just let you guide know beforehand your style and what you are interested in seeing and it will be fine (though this applies to any dive operator!).
Overall both guides spotted lots of weird and unusual things, were very thorough on their safety and dive briefings, were very experienced and I felt the entire time I could relax and just lap in the amazing scenery!
---
If you like this, you might also like:
---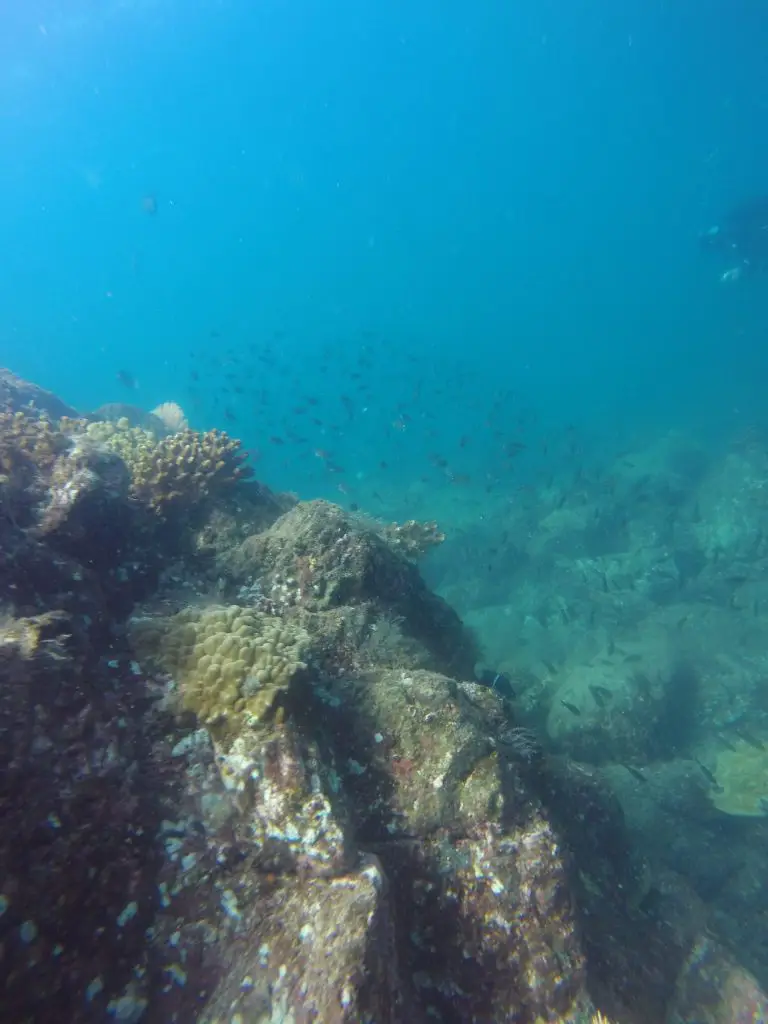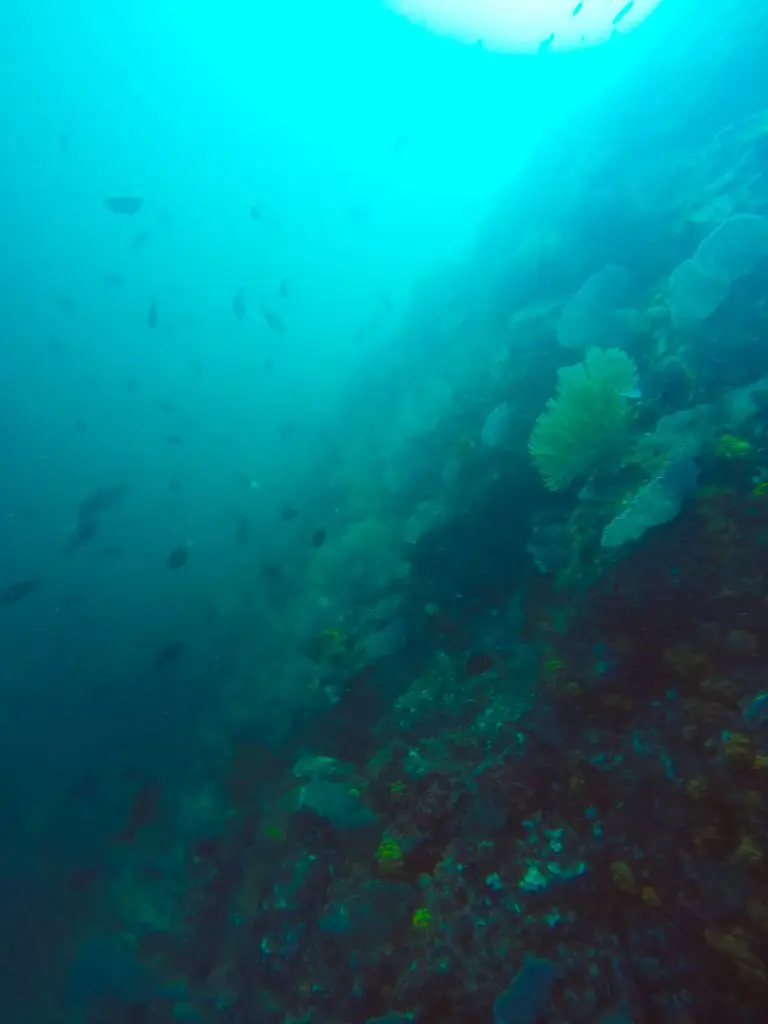 Panama Dive Centre Review: Life on Coiba Island
Between dives as well as for our overnight accommodation we headed to Coiba Island proper which is a delightfully ramshackle collection of cabins and hammocks tucked between two bays.
The accommodation for all dive center's is the same here as it is run by the National Park, and it would be unfair to judge Panama Dive Centre on this – but I was actually pleasantly surprised. Air-con and hot water was available and there was fresh, clean sheets waiting in our cabin, what more can you ask for on a deserted island! What could be helped was the food, and here Panama Dive Centre again under promised and over delivered!
They organize for their own chef to meet you on the island who always has food loving prepared, on-time and delicious. Bacon, eggs, cereal and pancakes for breakfast, Mexican make-your-own burritos for lunch and seafood for dinner – every meal was different, delicious and of ample size.
It was actually a bit of a highlight if I'm being honest and nothing like the drab Panamanian food I was expecting. They also cater for different dietary requirements.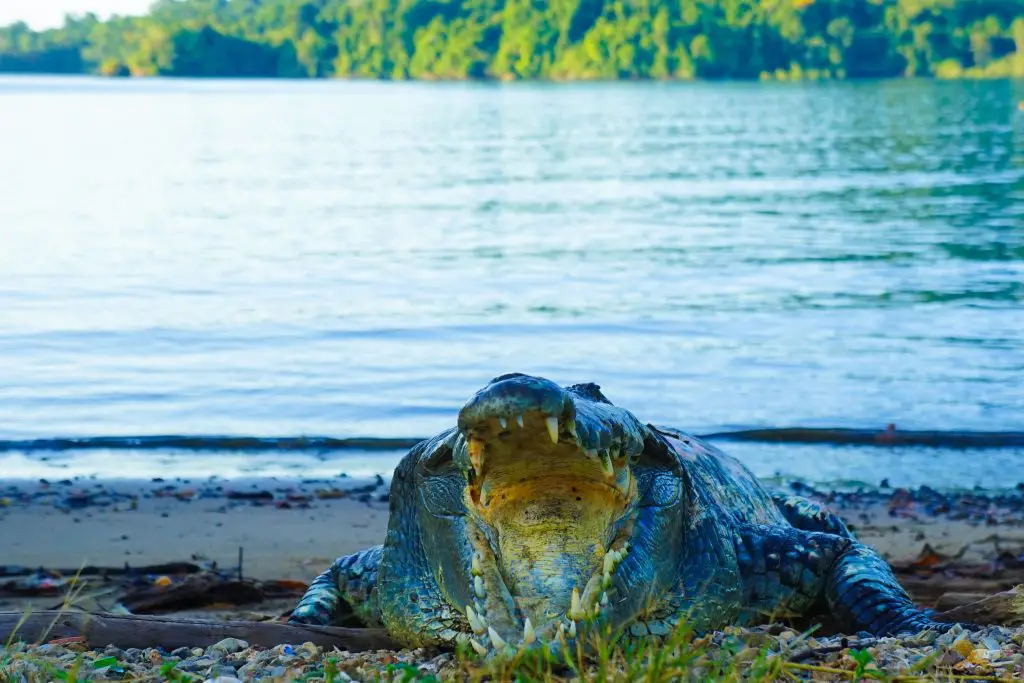 There is plenty to do on your island down time but one of the best things you can do is a quick one hour walk to a nearby summit, which along the way I saw plenty of monkeys and got up-close to two mammal species not found anywhere else in the world: the Coiba Island howler and the Coiban agouti!
The howler was even in full mating mode and I got to watch him make his booming roar across the forest in search for his perfect mate. If your not up for the walk there is a stunning white sand beach to relax on or you can look for Tito, the resident salt-water crocodile who can be seen lurking behind a fence on the second beach.
This I think is what really made the trip special for me, I mean in how many places in the world can you see wild turtles, dolphins, sharks, monkeys and crocodiles – all in the same day! And of-course when you are on the island, don't miss the opportunity to stare at the stars.
You can see the milky-way clearly here and it will take your breath away – if the rest of Coiba has already left you breathless!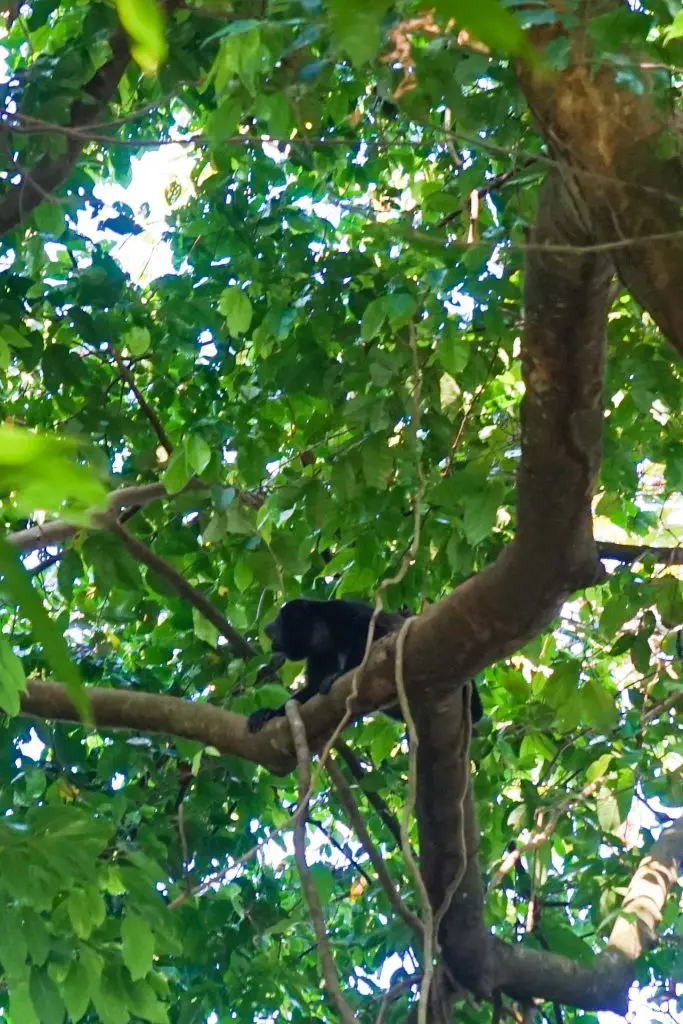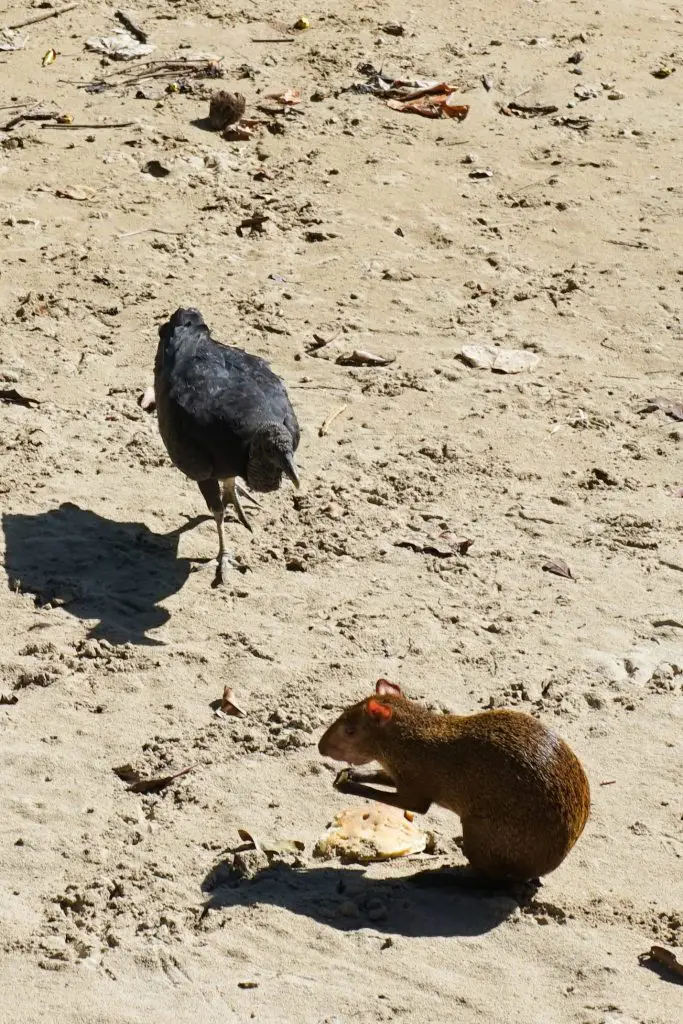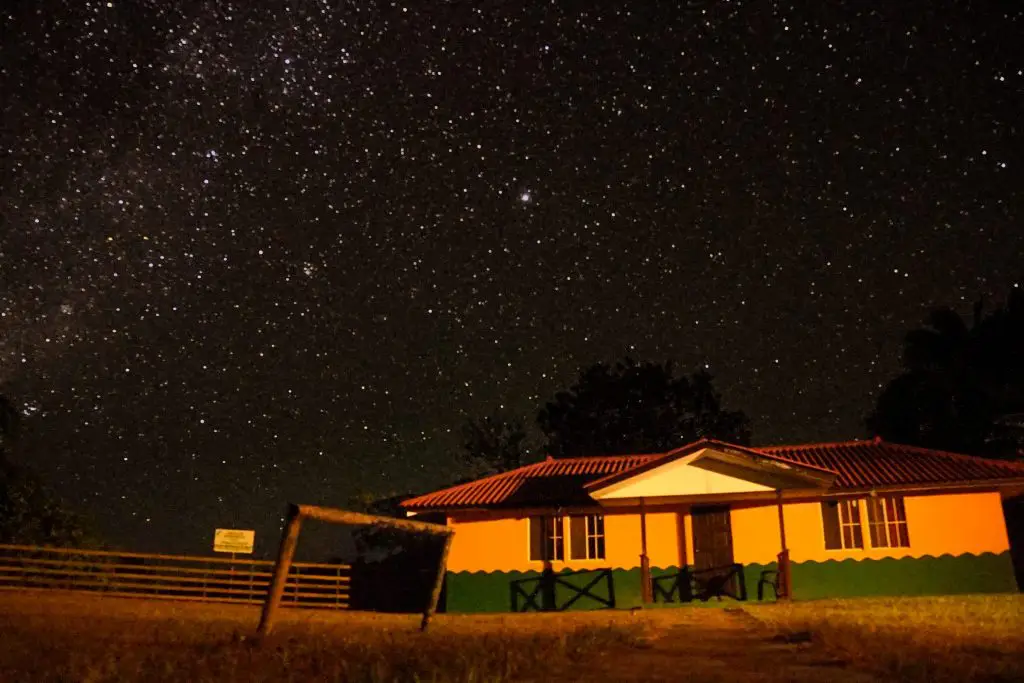 Panama Dive Centre Review: What Else Do They Offer?
While I would highly recommend the multi-day adventure to Coiba offered by Panama Dive Centre (with either a two or three night stay) as it allows you to truly experience Coiba both above and below water, I understand this doesn't suit everyone's budgets or interests.
In this case it is also possible to opt for a single day of Coiba diving with either 2 or 3 tanks, which also includes a short surface interval at the ranger's station (and therefore a chance to see Tito the crocodile!). I also loved how Panama Dive Centre will go even if they only have one diver booked, something that no other Coiba dive centre offers.
This means that if you are a solo traveller you don't miss out if a stranger cancels the day before – and yes, this does sadly frequently happen!
If you are a group or couple with non-divers they can also accommodation snorkellers on the trip at a reduced price, or better yet – you can also study your open water certification here.
I am a big believer in getting straight out there and seeing the underwater world when you start diving, to inspire you and get you hooked from the very beginning – and Coiba diving is going to offer just that! I mean, whats cooler than seeing sharks and turtles on your first dive.
For those with more experience Panama Dive Centre can also help you continue your education with their Advanced, Specialty or Rescue Course, or you can even get your dive masters here. I was ridiculously tempted by this idea as the diversity of the underwater environment here means you simply couldn't get bored!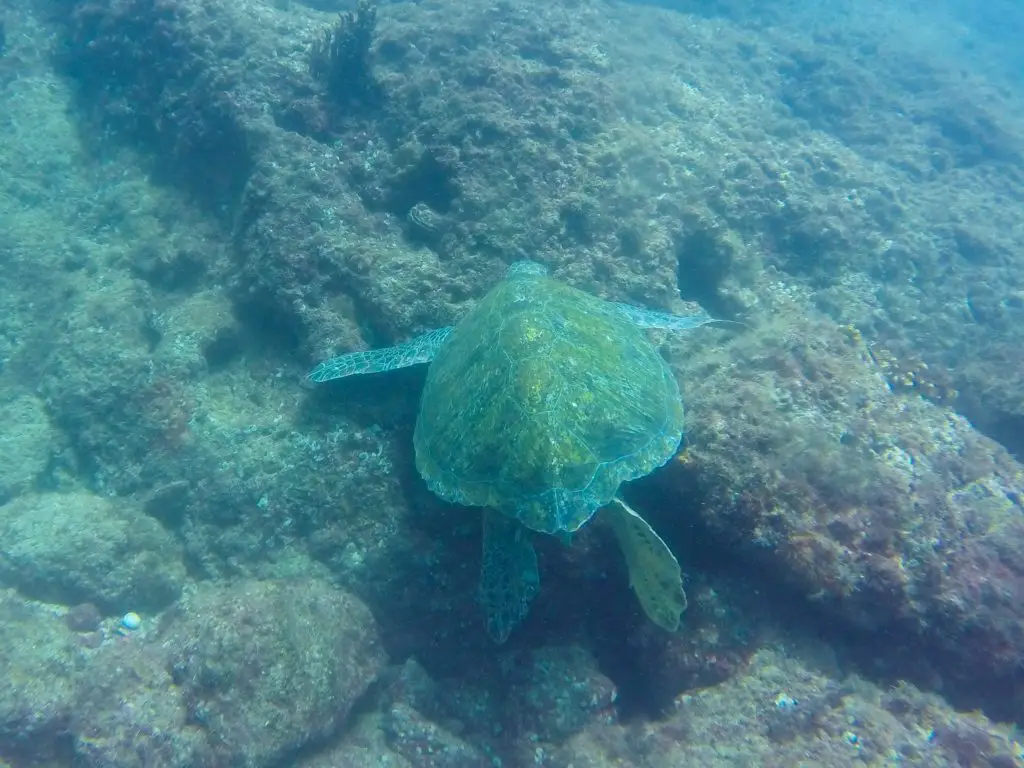 Panama Dive Centre Review: The Verdict
Put simply: If you are a diver then you just cannot miss the opportunity to dive one of the last magical places left. And Panama Dive Centre, being the only 5 star dive centre in Santa Catalina, should be your first point of call for getting there.
Their enthusiastic dive masters, high safety standards, competitive prices and experience running multi-day trips ensures that your trip will go smoothly – and because they go out even with just one reservation you don't risk the chance of being cancelled on last minute!
Coiba diving is a completely life-changing experience, where you get the feeling anything can, and does, happen – so embrace the unknown and sign up for the adventure of a lifetime knowing you are in good hands.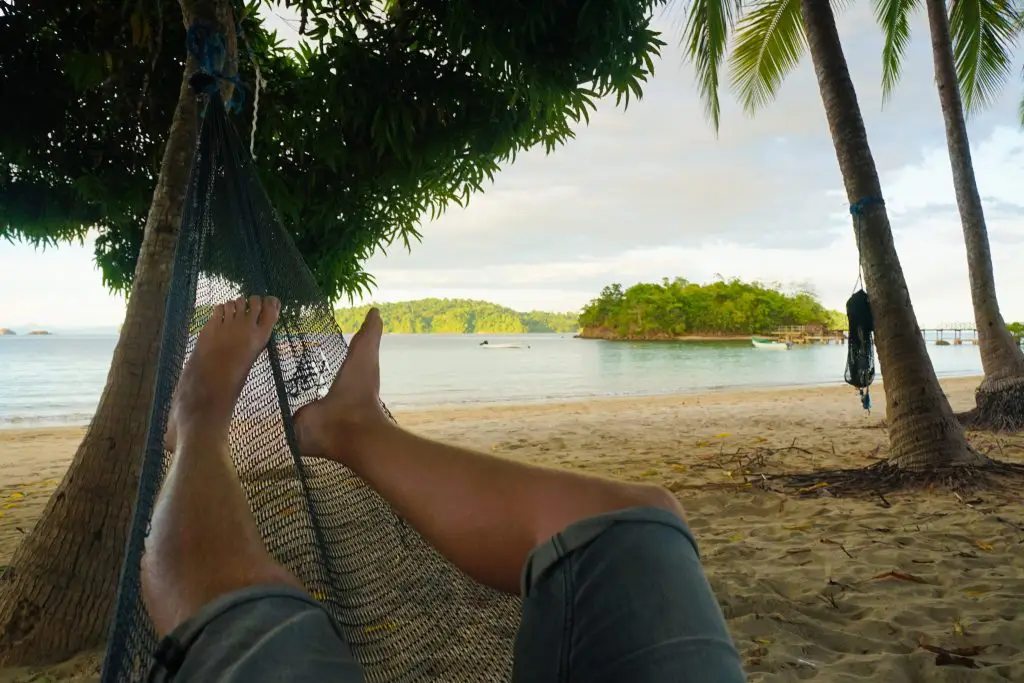 Have more time in Santa Catalina before or after your Coiba Diving Adventure? Why not check out these ten things you absolutely cannot miss in Santa Catalina Panama…or read my review of Hotel Santa Catalina Panama!
There is so much to do in this region, and after making the effort to come all this way – take the time and relax a bit!