Graz in Austria is a charming city situated in a green and heavily forested region on the eastern edge of the iconic Alps in the south of the country. Often regarded for its architecture where unique blends of old renaissance and neo-gothic styles come to light, the city enchants locals and tourists alike.
Graz is the second biggest city in Austria with about 330 thousand residents. As you might expect, the only more populous city is Vienna, with closer to 2 million inhabitants. But where Graz truly demonstrates its sophistication is in the culinary marvels it's been known to create.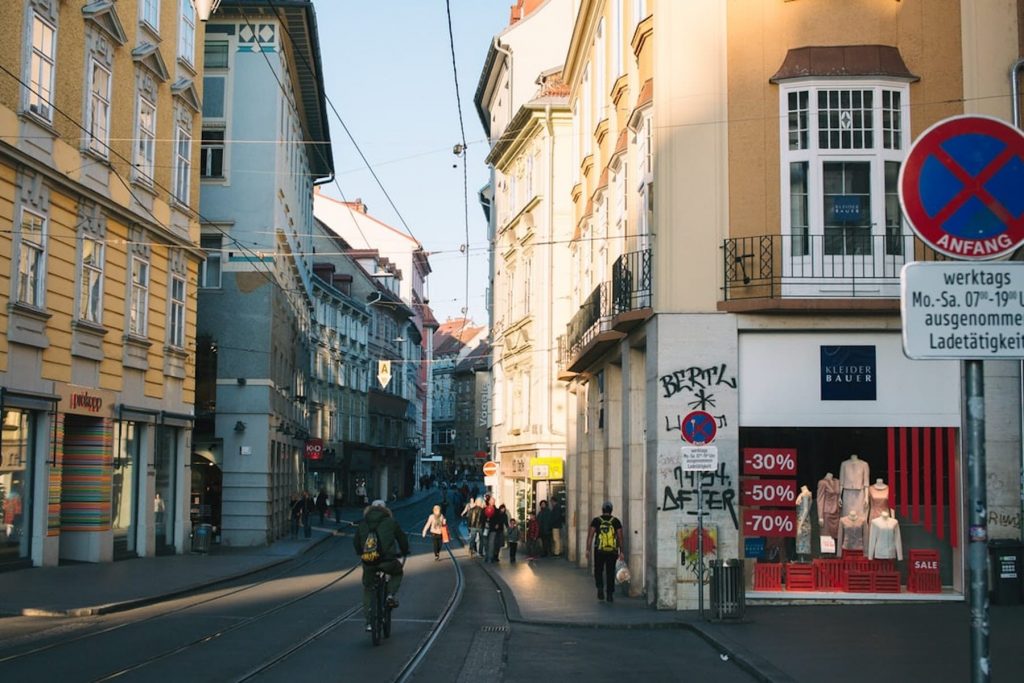 Try The Food in Graz
The city is unlike any other location in this esteem, and while Vienna might have its fabulous coffee houses, it is Graz that is widely considered to be the culinary capital of Austria. From handmade chocolates, Styrian wines, mouth-watering open-faced sandwiches, and the famed pork knuckle soup, Graz is truly the Culinary Capital of Delights.
The city has developed and perfected flavours from a rich variety of flavours, influenced by delicacies from the Italian, Adriatic, Polish, Hungarian, and Balkan regions surrounding. In effect, the flavour profiles created within this city are far more dynamic than you might expect.
Explore The Unique Buildings in Graz
But it's not just the food that will pique your interest. Many come (and stay) for the incredible architecture as well! Everywhere you look, there is some kind of magnificent building or design to catch your eye.
A day on foot strolling through the historic old town will be a rewarding journey, observing dozens of ancient courtyards, ornate Renaissance-inspired buildings, and a sea of red terracotta rooftops gleaming against the sky.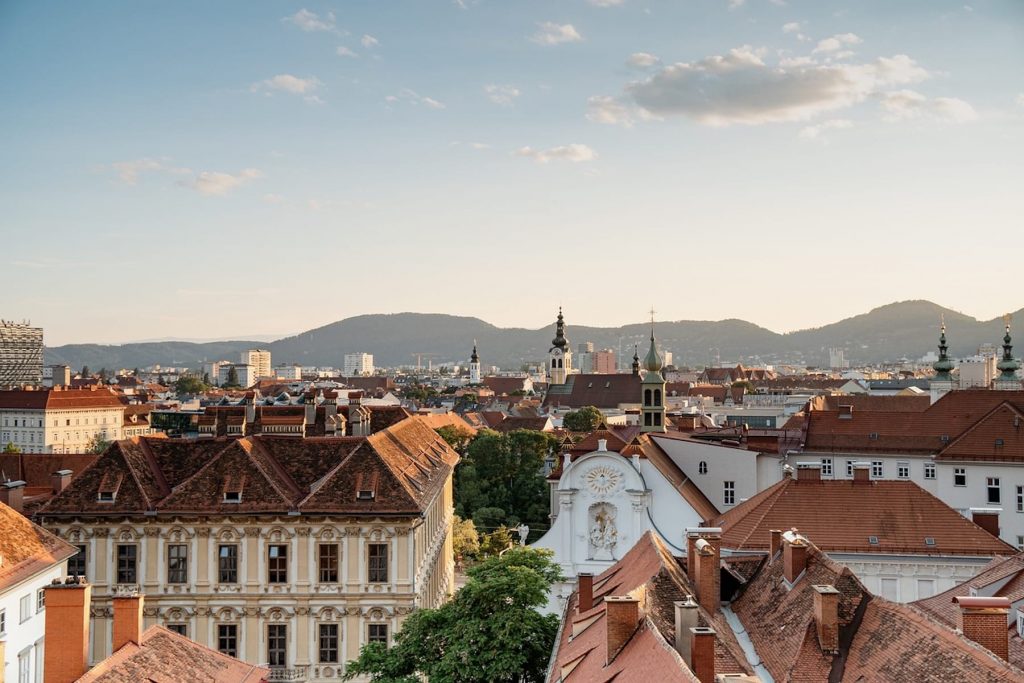 Visit The Awe-Inspiring Schlossberg
The landmark building of Graz, the Schlossberg Clock Tower, provides some of the best views of the old town and is undoubtedly a must-see attraction. Set on top of a tree-clad hill, this incredible building is a symbol for the city, with its bright white walls, large overhanging balcony, and tilted pointed roof. It exhibits a flair that captures some of the best elements in Western European architecture and reminds us of Stockholm or Prague in many ways.
The Schlossberg is also a nice place to welcome some solitary time with nature. There is a gilded set of stairs zig-zagging up the side of the hill leading toward the clock tower. What once was used as a strategic site for a fortress dating back to the 10th century, the Schlossberg now attracts visitors from all around the region.
And as good as the view is, absolutely no camping guys!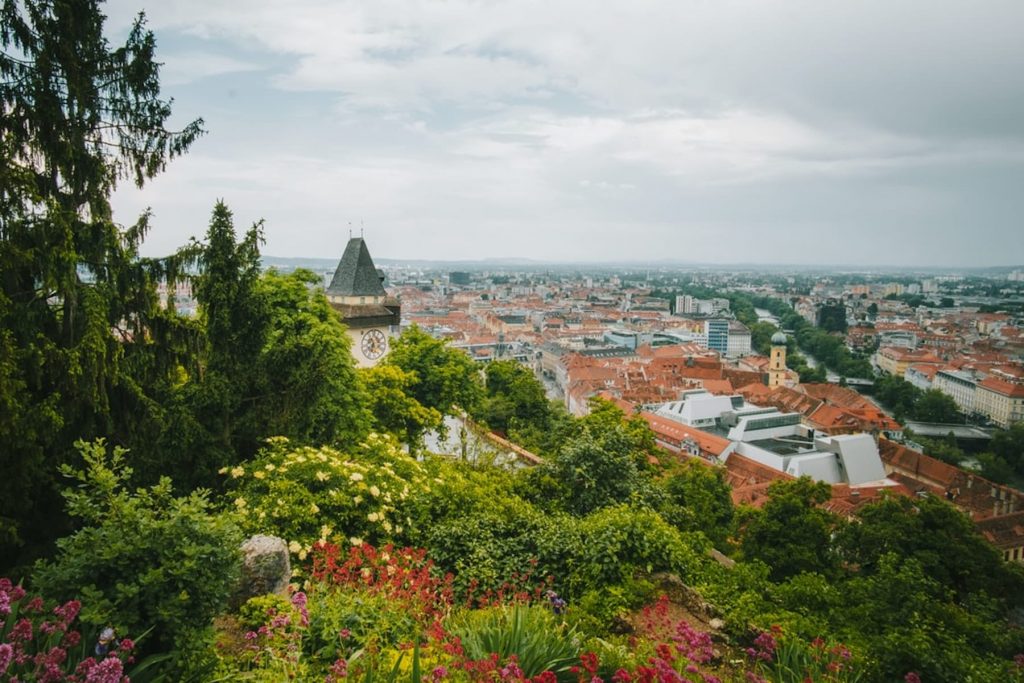 Pop In To The Graz Art Museum
If you're in the mood for some artistic galleries, I would also recommend checking out the Kunsthaus Graz, otherwise known as the Graz Art Museum. Built as part of the European Capitals of Culture celebration in 2003, the museum houses and celebrates contemporary art of the last four decades. Inside, you'll find some of Austria's finest and most well-renown pieces of art.
If you're wondering where to find the Kunsthaus Graz, it's truly something that can't be missed. Located near the center of the city on the waterfront of the Mur River, the amorphous blue building stands out against the backdrop of the stark white buildings with terracotta roofs nearby.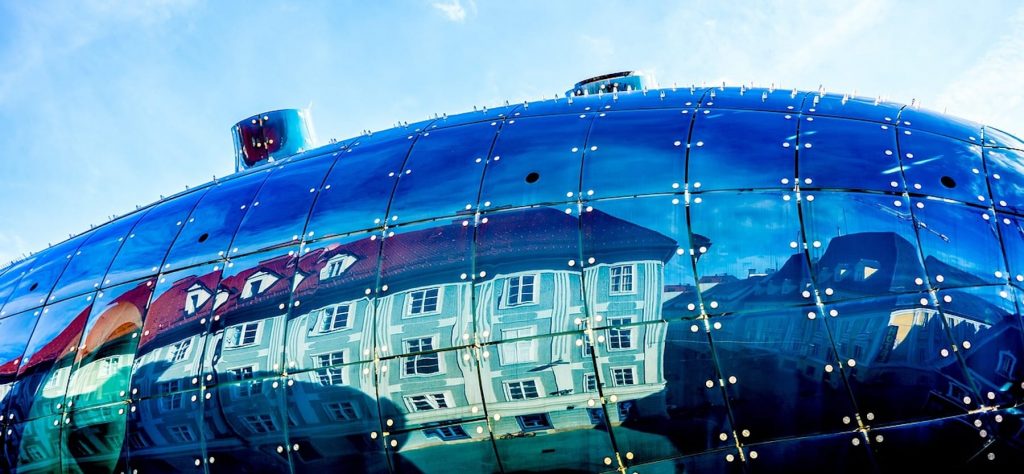 Try All These Places To Eat In Graz
Now at this point, you've probably worked up quite an appetite. You can't go wrong with any of the restaurants in the area. To name just a few, Thomawirt, Café Harrach, Landhauskeller, Aiola Upstairs, Backerei Sorger, and Der Steirer will leave you feeling satisfied beyond all measure. But if you're looking to experiment on your own some with the local foods and flavors, consider checking out the farmers' market.
It is also the perfect thing to do in Graz if you next activity is hiking in Austria, because lord knows you are going to need the carb-laden energy for all those mountains.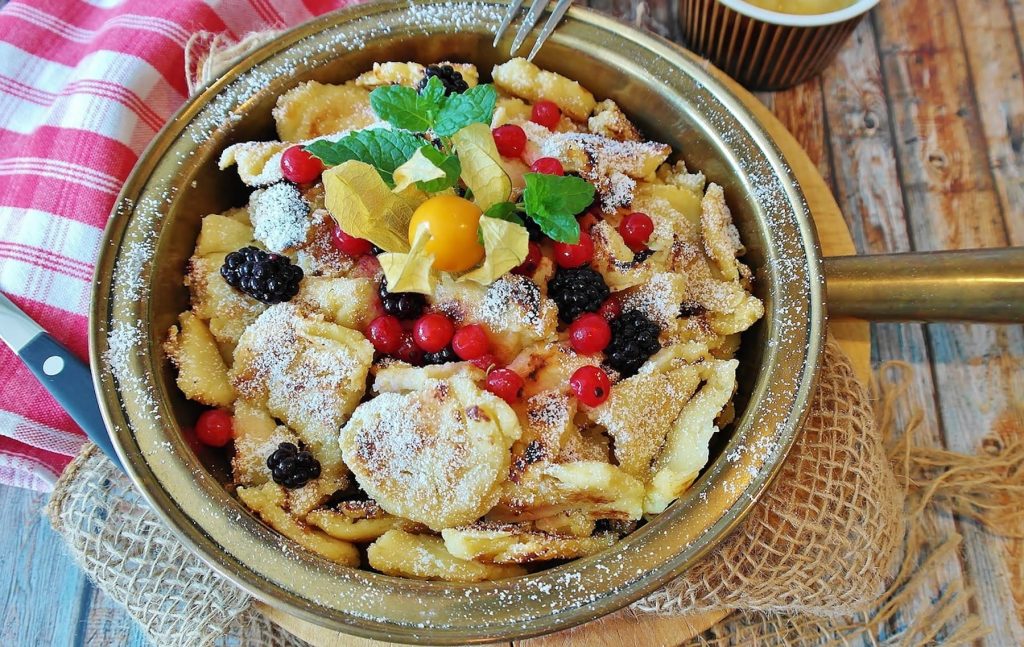 Plan A Visit To The Graz Farmer's Market
Open from Monday to Saturday, the huge number of farmers in the Graz region stock their market stalls with fresh produce picked from the very same day, local meats and cheeses, and colorful flowers. It doesn't get much fresher than that! If you want to experience Graz like a local, you'll want to get to the market early when it opens at 7:00 a.m.
If you do happen to stop by the farmers market, don't forget to check out the pumpkin seed oil. This Austrian staple that can be used on salads, poured over fruits, and splashed on your favorite sandwich. It's so good that you might as well get two bottles just to ensure you have enough once you return home.
To fully experience all that Graz has to offer, your best bet would be to make this a weeklong trip or more. There are several areas to highlight that definitely can't be covered in a daytrip.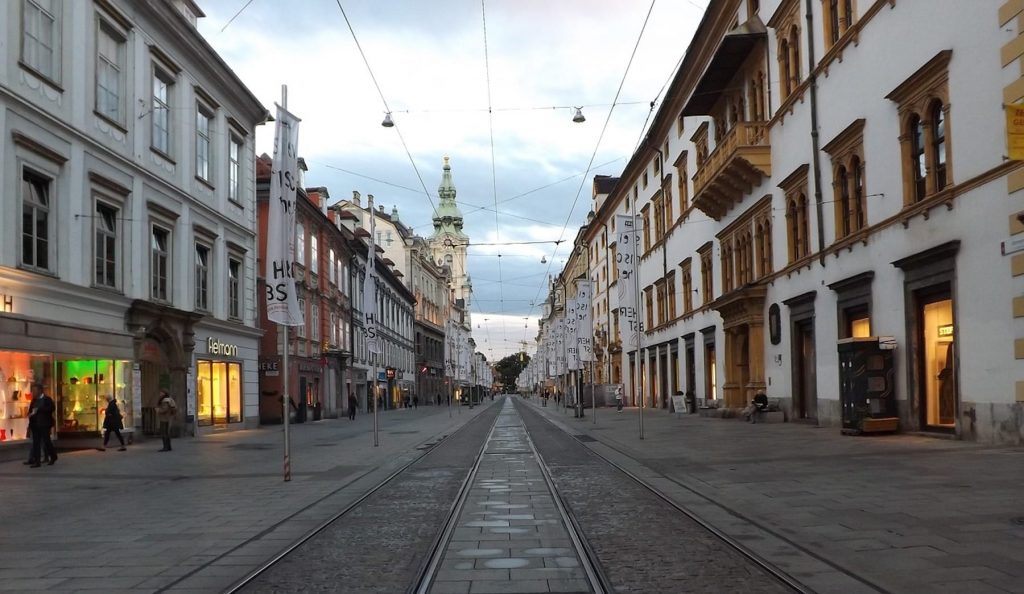 Wander Across The Murinsel Floating Bridge
The Murinsel floating island bridge located on the Mur River is well-worth a visit for its charming café, small theater, and striking nighttime illumination. Designed by American artist Vito Acconci, the Murinsel was meant to only be a temporary bridge until the city could come up with a more permanent design. However, the residents of Graz ended up loving the bridge so much that it stuck.
The bridge connects the old part of the city and the new with a floating architectural island at the middle. Inside the interior part of the island, many people stop for coffee and a strudel, taking in the calming sounds of the river Mur beneath. At night, the Murinsel glows blue, making it an enchanting pathway to cross over for an evening stroll.
Other Things To Do In Graz You Won't Want To Miss
Other notable points of interest include the Graz Botanical Gardens, the Kastner & Ohler shopping center, the Landhaus Courtyard, and the Landezughaus, an armory housing over 30 thousand well-preserved sets of historic weapons and armor.
As you can probably see, Graz has a lot to offer for fun-filled adventures and extravagant evenings. You'll not only have limitless opportunities to feast on some of the region's best delicacies, but you'll also be able to witness incredibly alluring forms of art and architecture.
Graz is only a two-hour drive south of Vienna (and could be done in a day trip). Needless to say, it will completely delight you with the totality of its charm and welcoming atmosphere. If you're looking for the full Austrian experience, Graz should be at the top of your list.
This unique city isn't just something to be marveled at for its architecture though. To truly know what it's like to stay in Graz, you're going to have to try as much of the mouth-watering local cuisines as possible.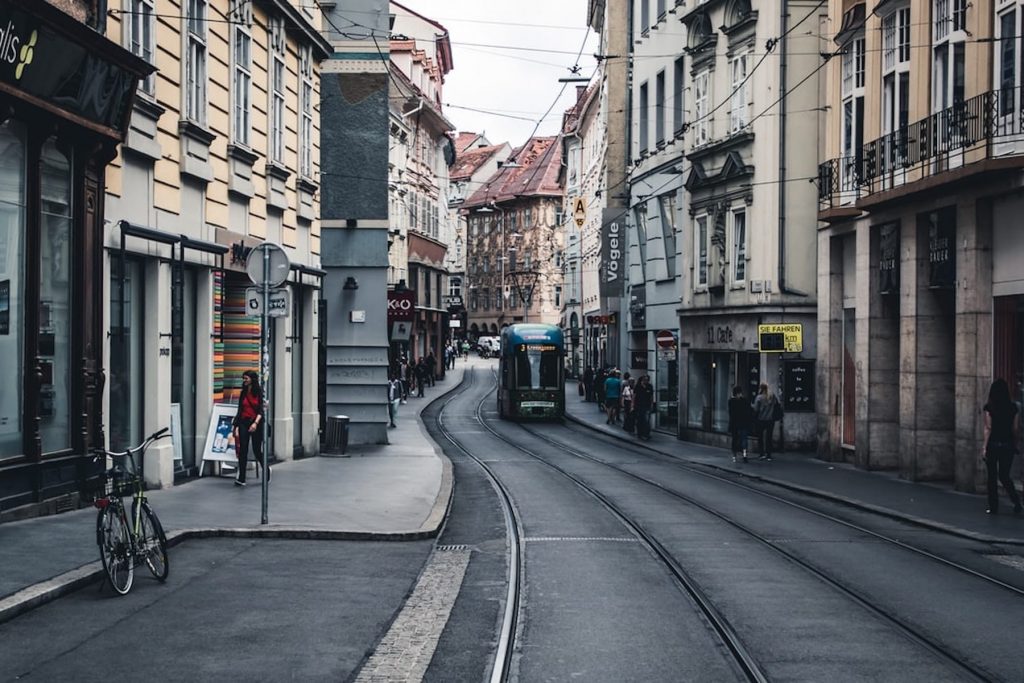 Further Things To Consider Before Any Adventure
Now you're all set and prepared to explore our big wide world, why not sort out everything else out all in one go? If necessary for your travel plans make sure you have brought proper travel insurance, protected your privacy by getting a secure VPN, compared all the top hotel booking sites to find just what you're after, reserved an unbeatable rental car price and - of course - booked the best flight deals!
Or maybe just forget it all and go for a last-minute cruise or effortless tour instead?
Many budget travelers (including me) indulge in worldwide airport lounge access, so we can experience luxury while still slumming it in economy. Naturally, we would never leave home without a more general travel guide since we couldn't possibly cover everything here!
Just add an adventurous attitude and plenty of smiles - they go a long way - and that about covers it all! Now go out, find your own path and don't forget to share your best inspiration stories with me on Facebook, Twitter, and Instagram...I'd love to hear from you!