Barcelona has a lot to offer for both national and international filmmakers. The city has fabulous modern cityscapes and is known for its awe-inspiring architecture. It is also well known for its stunning seaside scenery, vibrant nightlife and world-class cuisine. So it will come as no surprise that there are so many wonderful movies set in Barcelona.
There are many unique cities in Europe that everyone should visit at least once. The many jewels of the continent are often portrayed in films and series: London, Amsterdam, and Berlin. But the list of the most beautiful cities in Europe goes beyond these popular settings. The city of Barcelona, home of delightful cuisine and parties that are to die for, is one of them.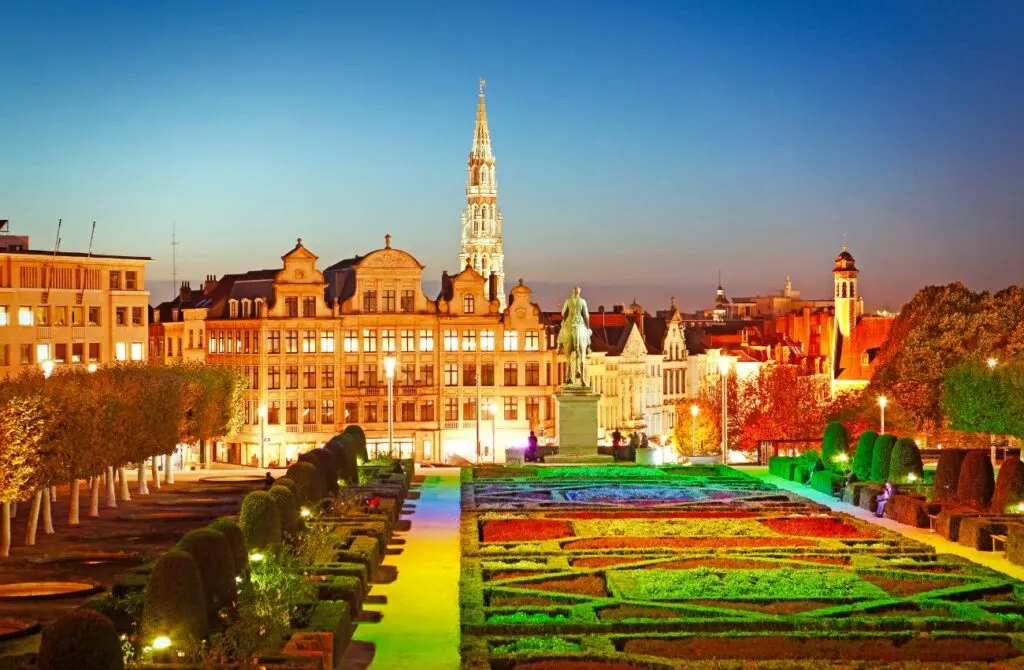 Barcelona is one of the most enchanting places in the world. This has been shown by many poets and writers, artists, and filmmakers, who have called this cultural hub their home. And it shows in the very structures that make the city: some of the most daring and interesting architecture can only be seen by those who travel to Barcelona.
Barcelona offers a whole new element when it comes to Spanish culture since the city is part of an autonomous community with its own culture and traditions. By the Pyrenees Mountain range which divides France and Spain lies Catalonia, a place of rich culture and captivating history.
Visiting Catalonia will be a totally new experience for those familiar with other regions of the country. For one, the inhabitants of Catalonia know how to speak Spanish, but they mostly speak Catalan. They have their own literature and stories just as they have their own language.
That's why it's a great idea to become acquainted with this particular place before visiting. The movies on this list showcase all the best that Barcelona and Catalonia have to offer. From comedies to tragic tales, dive deep into these wonderful stories set in this mesmerizing city!
These films set in Barcelona have narratives that rely on their settings as much as their main protagonists, and as a result, spectators get a glimpse of this iconic city through the director's eyes. To honor the concept of cinematic travel, we have also assembled lists of our favorite films shot in some of our all-time favorite travel destinations: Lisbon, Sydney, Dubai, Edinburgh, Toronto and Venice. And if these movies set in Barcelona don't quench your thirst, you might also consider these movies set in Spain!
Wondering where to watch? It depends on where you live in the world and which streaming services you have. We link to the streaming service we watch on in each case - be it Netflix, Amazon Prime, Apple TV+, or elsewhere.
You can get one month free of Amazon Prime (or a 6-month trial for students) of Amazon Prime and also get immediate access to FREE Two Day shipping, Amazon Video, and Music. While you won't be charged for your free trial, you'll be upgraded to a paid membership plan automatically at the end of the trial period - though if you have already binged all these, you could just cancel before the trial ends.
Apple TV+ also has a one-week trial, and Hulu has a one-month trial (which can be bundled with Disney!). Another option might be using a VPN to access Netflix titles locked to other regions. Netflix is now available in more than 190 countries worldwide and each country has a different library and availability. US Netflix is (understandably) one of the best.
While we wish everything could just be in one place - for now, it seems these are the best streaming platforms to watch on.
What better way to start this list than with one of the most widely recognized directors in Spanish cinema? In his long-lasting career, Pedro Almodóvar has garnered awards from all over the world.
Those who have seen his films won't be surprised: each of his works tells mesmerizing tales of love and desire that deal with important topics but are always filled with his characteristic sense of humor. Each Almodóvar film is a must-watch, but All About My Mother stands out as his best. It was, after all, his first Academy Award win (for Best Foreign Language Film).
The movie follows Manuela (Cecilia Roth), a nurse living in Madrid with her teenage son, Esteban (Eloy Azorín). When he suffers an untimely death due to a car accident, Manuela decides to leave her work behind and go back to Barcelona, where the boy's other parent lives.
All this time she had lied to her son, telling him that his father ran away. The truth is much different: his "father" was a transgender woman who worked as a prostitute in a big Spanish city. The film will see Manuela reconnecting with Lola (Toni Cantó) as more hardships come their way.
This is a great film for anyone planning to visit Barcelona, as it features many of the beautiful locations one can find in the city. Chief among these is Antoni Gaudí's, the city's most well-known architect, best work: the Sagrada Familia. Its appearance is brief, but its beauty makes it completely worthwhile.
It may come as a surprise, but one of the films to capture much of what makes Barcelona and its people so unique is actually French. Pot Luck, by Cédric Klapisch, is a must-watch for any youngster planning to visit the old Spanish city, for it will show you what living in an apartment with other young people is all about.
As its French title shows, the film takes place in a Spanish apartment where several students from all over the world come to visit. The film's main character, Xavier (Romain Duris), is a foreigner too, coming from France.
Through his eyes, we see the city of Barcelona as he arrives there for the first time. And it's also through his point of view that we meet the other students, which come from several European countries: from England to Germany, from Italy to Belgium. The film will tell their fun and romantic adventures as they get to know each other and explore the city.
Pot Luck is the first part of a trilogy by Klapisch that focuses on young people living abroad. The second film is set in Russia and the third one is in China. While they do not feature Barcelona, the other three films are must-watch for those people that love traveling whenever they get a chance.
Although many people from around the world were aware of the fact that Barcelona is one of the best tourist destinations ever, it wasn't until Vicky Cristina Barcelona that it became what it is today.
To put it simply, this film introduced the beauty of the Catalonian capital to many viewers from the United States. This wasn't a surprise to the Barcelonian government, who intended for this film to do just that and ended up paying for a small yet significant part of the film's budget.
Vicky Cristina Barcelona tells the story of two friends, Vicky (Penélope Cruz) and Cristina (Scarlett Johansson), who decide to spend a summer together exploring the enigmatic city of Barcelona.
While Cristina is out looking for love, Vicky is engaged and feels very strongly about staying loyal to her fiancée. When a charming Spanish man known as Juan Antonio (Javier Bardem) befriends them, the two friends will find themselves caught in the midst of many feelings of love and jealousy.
The film features some of the hottest tourist spots in all of Barcelona. Of course, we see Vicky and Cristina visiting the Sagrada Familia, as well as another of Gaudí's most famous works, the Park Güell (a mesmerizing park system that looks like it came out of a fairy tale).
One of the standout locations is the Els Quatre Gats, one of the city's oldest pubs and cabaret (and a landmark of Spain in its own right), which the two friends visit with Juan Antonio. But they also visit some of the best-hidden gems in the city, like La Marsella, a charming bar where all kinds of artists and bohemians spend night after a night drinking.
In this charming comedy-drama by Whit Stillman, director of the classic 1990 film Metropolitan, the eponymous city of Barcelona takes center stage.
The film offers a look at the way of life that people have while living in the city, particularly at the way that men get along with women while in Barcelona. It's one of those romantic comedies that packs a good amount of drama, great performances, and some very interesting meditations on the nature of male-female relationships.
Barcelona follows two cousins who find themselves spending some time together in the beautiful Catalonian city. While Ted (Taylor Nichols) is a salesman who has been living for a long time in the city, Fred (Chris Eigeman) is an officer of the American Navy who desperately needs a break. As he's sent on a public relations mission to Barcelona, he decides that he'll visit and stay in his cousin Ted's house.
These aren't exactly the best cousins: ever since they were little kids they were always fighting and bickering. Even as adults they do so. The city of Barcelona will offer them a breath of fresh air that could be the key to achieving a better relationship once and for all, but old habits die hard.
As they get involved with different local women, the relationship between the two men will grow more and more strained. Eventually, something is bound to break.
The Bilingual Lover is one of those irreverent satires that pokes fun at the absurd nature of some government policies. In this case, the film deals with Catalonia's linguistic policies.
During the eighties, after the fall of Francisco Franco's dictatorial regime, the community of Catalonia became much more prominent. A stronger sense of identity was forming and one of the main consequences was imposing Catalan as the normal language for the region.
While one can be completely in favor of Catalonian pride, these kinds of policies aren't kind towards foreigners and tourists who want to visit the many beautiful cities that Catalonia has to offer.
Here is where The Bilingual Lover comes in. The movie by Vicente Aranda, as well as the book written by Juan Marsé, tells the love story between Juan Marés (Imanol Arias), a Catalan man coming from a poor family, and Norma Valenti (Ornella Muti), the daughter of a wealthy Catalanonian family.
A short-lived love story, it should be said: only a few years after getting married Juan discovers that Norma was unfaithful to him.
He ends up alone again, but while living in the famous apartment building known as Walden 7, Juan will meet a whole array of characters who will inspire change in his life. Little by little he'll become the person that Norma wouldn't want him to be.
The film does a great job of showing that sometimes trying to force someone to be a certain way can make them become just the opposite.
Back in 1975, one of the most famous Italian directors ever, Michelangelo Antonioni, chose to tell a wide-reaching story that would take its characters throughout the whole world.
His last film in his contract, The Passenger wasn't a picture that Antonioni was particularly interested in making, but he took the chance to make something quite different from what he had done before. As such, the film is set in many different countries: from Chad to Munich, from London to Barcelona. In this list, Antonioni's film offers one of the first representations of Barcelona on the big screen.
The Passenger follows David Locke (played by Jack Nicholson in one of his first major roles), a TV documentarian who is trying to finish his film about Africa. After a disappointing day trying to get some key interviews and being left stranded amidst the dunes, Locke comes back to his hotel feeling the most frustrated he's ever been. When he discovers that his hotel room neighbor has died, he decides on a whim to switch identities with him.
However, the man he was impersonating was part of a weapons dealer who had been working with the revolutionary soldiers in Africa. At first, he's able to fool the man's contacts in Munich, making them think that he's the arms dealer. They hand him lots of money and tell him that the rest is in Barcelona. Deciding to get all the money he can, Locke flies to Spain. But nothing good waits for him there.
Salvador tells the story of Salvador Puig Antich, a Catalonian anarchist who fought against the oppression of Francisco Franco's dictatorial regime.
The film's main focus is on the time that Salvador spent waiting for his execution: a gruesome affair that involved the last known use of the torture and execution device known as the garrote. As the film shows, he became a martyr upon his death, inspiring so much unrest and protests that Franco's regime would fall only a year later.
The film follows Salvador as he is caught after a failed bank robbery. The liberationist movement that Salvador was a part of stole from major banks in order to keep funding their fight against the regime.
When a robbery goes wrong and a cop ends up dead, Salvador is quickly positioned as the killer. Without any proof of him being guilty, a military jury sentenced him to death. But Salvador didn't give up: he gave his best to try to prove his innocence and denounce the government's illegal practices.
Even though this film is Manuel Huerga's first and last feature, he did a wonderful job at capturing the tragedy that was Salvador's death while also elevating the good in his fight and ideals.
One cannot understate the success that Alejandro González Iñárritu has garnered as a filmmaker. Ever since his first film, Amores Perros, his talent for telling strange yet captivating stories drew the attention of audiences and critics alike.
With his last two films, Birdman and The Revenant Iñárritu solidified himself as one of the best. However, one of his least talked about films is also one of his most interesting. Biutiful didn't receive as much attention as his other films, although it was nominated for two Academy Awards. However, one could argue that this film offers one of his most touching stories ever.
Biutiful follows Uxbal (Javier Bardem) a medium living in Barcelona with his son and daughter. Their mother is a very unstable woman who Uxbal tries to stay away from. While he doesn't have much, he makes some money working as a psychic as well as helping illegal immigrants find work.
These two things may make the movie seem like a very weird experience, but Uxbal's abilities are shown in such a subtle way that it works perfectly. As someone who works talking with the dead, he is shocked to find out that he has cancer and that he'll die in a matter of months. Uxbal will try to help as many people as he can before his time to go arrives.
The film offers a look at the least pretty side of Barcelona: that of the illegal immigrants who are trying to make do with what little they have. It's a tragic film, for almost none of the characters manages to meet a happy end. Viewers should be warned that one should watch this film expecting to cry a lot!
When Rec was released back in 2007, it took the world by storm: its innovative use of the found footage genre, where a movie is comprised only of the footage recorded by people who were part of the fictional events told there (a genre started by The Blair Witch Project), brought a breath of fresh air to horror films.
Of course, after the success of Jaume Balagueró and Paco Plaza's film, lots of other filmmakers tried to do the same as them but failed. One has only to look at Quarantine, the American remake of Rec which is clearly inferior to the original.
Considered one of the best horror films ever made, Rec is set in an apartment building in Barcelona. Although not much of the city is shown in this film, it does offer a great chance to see some Catalonian actors playing parts one doesn't usually see.
The film follows a documentarian known as Ángela Vidal (Manuela Velasco) and her cameraman as they set out to film a journalistic piece about Barcelona's fire department. When the alarm sounds, the firefighters invite them to go and see their work.
However, this isn't a regular emergency: an old woman has become aggressive and there is something terribly wrong with her. Quickly they realize that the military has sealed off the building and that they are trapped with this woman.
When one of the firefighters suddenly plummets through the stairs, things start getting serious. Rec offers an imaginative twist in the zombie movie formula, one that would go on to spawn many sequels that are truly worth watching.
The Last Days is a sci-fi thriller film that offers a look at Barcelona like you've never seen it before. The film tells the story of the survivors of an almost-apocalyptic event that has decimated the city, leaving its inhabitants alone and in disarray.
Written and directed by filmmaking duo David and Àlex Pastor, The Last Days tells the story of the last days of civilization as we know it.
As he's looking for food in a broken-down building, Marc suddenly meets his former boss, Enrique. Their chance meeting awakens Marc's memories and we see through a flashback that he had a very bad relationship with his boss, who wanted to fire him as soon as he could.
While he doesn't really want to be with his abusive boss, Marc decides to use his help in order to find his missing girlfriend, Julia.
As they traverse the ruined city, Marc and Enrique will face several harsh situations, having to quickly decide the fate of several people. When they pick up Julia's trail, Marc decides to do everything in his power in order to see her again.
The Last Days offers an imaginative look at the apocalypse and delves deep into situations the people in these kinds of stories are forced to overcome.
Among the many films that were derived from previous works, videogame adaptations are highly regarded as the worst. Ever since their beginning with the terrible Mario Bros, it seemed like the genre was doomed to fail.
However, recent efforts by great filmmakers to bring video games to the big screen have found much success. The Sonic movies are a good example of that. Uncharted is an even better one.
The movie follows Nathan Drake (Tom Holland) as he's approached by Victor Sullivan (Mark Wahlberg), aka Sully, a man who had worked with his older brother who had left Nathan when they were young.
It turns out that Sam became a fortune hunter, like their ancestors before them, and Sully wants to enlist Nathan on a mission. While he's reluctant at first, Nathan decides to join in in hopes of finally finding out what happened to his brother.
Brought by Zombieland and Zombieland 2 director Ruben Fleischer, this film promised fans to bring the adventures of a charismatic treasure hunter in a way that hadn't been seen before. It seemed like a big promise, but the filmmakers behind Uncharted delivered.
It's a very enjoyable movie that will offer some amazing shots of its main locations. There's no doubt that the best part of the film is the time that the duo spends in Barcelona and their visit to the beautiful cathedral of Santa Maria del Pi.
Staying Connected While Travelling
In today's increasingly connected world, staying online while traveling has become essential for a seamless experience. That's where eSIMs come into play, revolutionizing the way we access mobile networks during our global adventures. Say goodbye to hunting down local SIM cards at the airport; eSIMs provide instant activation the moment you land, sparing you the fortune usually spent on international roaming and allowing you to genuinely travel like a local (without getting hopelessly lost!).
With eSIMs, tasks like restaurant recommendations and reservations, up-to-the-minute public transport instructions, checking opening hours, and accessing further information become a breeze. And, of course, sharing your journey on social media is easier than ever. To stay connected wherever you roam, consider using either Airalo or Holafly. Airalo boasts the most extensive range of destinations worldwide, offering smaller data bundles tailored to your needs, while Holafly provides unlimited data packages and fantastic EU data deals.
So why wait? Embrace the future of travel connectivity with eSIMs and make your next journey effortlessly smooth.
Further Things To Consider Before Any Adventure
Now you're all set and prepared to explore our big wide world, why not sort out everything else out all in one go? If necessary for your travel plans make sure you have brought proper travel insurance, protected your privacy by getting a secure VPN, compared all the top hotel booking sites to find just what you're after, reserved an unbeatable rental car price and - of course - booked the best flight deals!
Or maybe just forget it all and go for a last-minute cruise or effortless tour instead?
Many budget travelers (including me) indulge in worldwide airport lounge access, so we can experience luxury while still slumming it in economy. Naturally, we would never leave home without a more general travel guide since we couldn't possibly cover everything here!
Just add an adventurous attitude and plenty of smiles - they go a long way - and that about covers it all! Now go out, find your own path and don't forget to share your best inspiration stories with me on Facebook, Twitter, and Instagram...I'd love to hear from you!