Sydney has a lot to offer for both national and international filmmakers. The city has fabulous modern cityscapes and is known for its iconic architecture. It is also well known for its beautiful beaches and cultural diversity. So it will come as no surprise that there are so many wonderful movies set in Sydney.
The port city of Sydney is one of the most unique places in the world. Visiting will make you feel like you're in a different world than what you're used to. It's no surprise: Australia is one of the youngest countries and is, therefore, one of the most remarkable in how it has developed.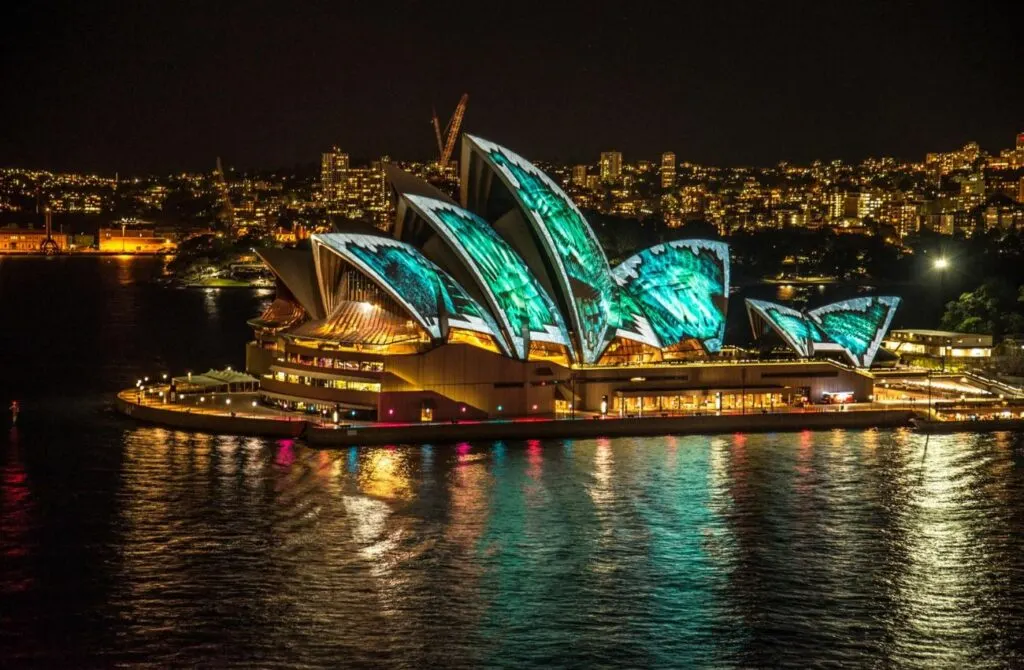 This uniqueness shows in Sydney: the city was built like the most modern of European cities, but it's also right on the coast of the city, being crossed again and again by water. There's nowhere in the world where you could see something like it – or experience all the amazing attractions Sydney has to offer.
If you love the beach but are also in love with the city, Sydney is for you. These movies will show you everything the city has to offer. But, most importantly, they will let you take a peek into the mind of its people.
These films set in Sydney have narratives that rely on their settings as much as their main protagonists, and as a result, spectators get a glimpse of this iconic city through the director's eyes. To honor the concept of cinematic travel, we have also assembled lists of our favorite films shot in some of our all-time favorite travel destinations: Lisbon, Dubai, Barcelona, Edinburgh, Toronto and Venice. Or if these Sydney films are not enough, you could also check out the best films set in Australia.
Wondering where to watch? It depends on where you live in the world and which streaming services you have. We link to the streaming service we watch on in each case - be it Netflix, Amazon Prime, Apple TV+, or elsewhere.
You can get one month free of Amazon Prime (or a 6-month trial for students) of Amazon Prime and also get immediate access to FREE Two Day shipping, Amazon Video, and Music. While you won't be charged for your free trial, you'll be upgraded to a paid membership plan automatically at the end of the trial period - though if you have already binged all these, you could just cancel before the trial ends.
Apple TV+ also has a one-week trial, and Hulu has a one-month trial (which can be bundled with Disney!). Another option might be using a VPN to access Netflix titles locked to other regions. Netflix is now available in more than 190 countries worldwide and each country has a different library and availability. US Netflix is (understandably) one of the best.
While we wish everything could just be in one place - for now, it seems these are the best streaming platforms to watch on.
Many great acting stars have been born in Sydney, but in recent years Toni Collette has emerged as one of the best and most influential. From The Sixth Sense to Little Miss Sunshine, from Hereditary to Knives Out, Collette has captivated audiences again and again with her powerful performances and captivating characters.
Critics love her too: she has won most film and TV awards there are, the only one pending being an Academy Award, for which she was already nominated. After all that she's achieved, it's especially interesting to go back to the film that started it all.
Muriel's Wedding is a 1994 film about a woman who doesn't get along well with others yet her only dream is to have a big and bombastic wedding. The film begins in the fictional dead-end Australian town of Porpoise Spit, where Muriel (Collette) lives.
At the beginning of the film, she isn't doing so well: she's the daughter of a corrupt politician who has been abandoned by her uncaring friends. But her luck changes for the better when she meets Rhonda (Rachel Griffiths), an old acquaintance which will prompt Muriel to abandon the town and move with her to Sydney.
While in Sydney, Muriel finds herself living a new kind of life: people are less mean and more open-minded than what she was used to back in her hometown. She decides to change her name and get a new job.
Everything seems to be going well until the two friends find out that Rhonda has cancer. Instead of being there for her, Muriel uses Rhonda's illness to gain sympathy and collects money that she plans to use for her wedding. Nothing will go as Muriel plans, but the two friends will end up reconciling and enjoying a new life in Sydney together.
Just like many talented actors and actresses began their careers in their native Sydney, many amazing filmmakers carry the city in their work. Among them, Gillian Armstrong stands out for her stories, both real and fictional, about the life experience of women in Australia. She's also known for breathing new life into Australian cinema with the release of Starstruck in 1982.
This low-budget and small-scale film was something that nobody was expecting. Armstrong was a young director, unrecognized both for her lack of experience and for the fact that she was a woman. Yet when this marvelous movie hit the theaters, naysayers were instantly proved wrong: it became a huge hit and one of the country's most successful films.
Set in the heart of Sydney, Starstruck follows a teenager who wants to become a famous singer. The young woman is called Jackie, and she works in her mother's pub in the city. She regularly attends talent nights around Sydney, trying to showcase her singing talents.
The film begins with Jackie meeting The Wombats, a band that wants to play with her. Jackie even becomes romantically involved with one of the band's members, Robbie. Everything seems to be looking up. But then comes the opportunity to play on a famous Australian TV show and Terry Lambert, its suave yet mischievous host, appears.
He'll charm Jackie, beginning to control her life and change her and her music to be easier to sell. Yet she can't perform as she used to while keeping up this new facade. Starstruck will see Jackie shooting for the stars and failing in the process.
Don't fret, the film does have something good planned for her in the end: she'll crash the New Year's Eve talent show (hosted in the famous Sydney Opera House – a landmark of Australia and a UNESCO World Heritage Site) and show the world what she is about.
If you like drag queens and you're unfamiliar with The Adventures of Priscilla, Queen of the Desert, you should put this film at the top of your to-watch list. This hilarious comedy tells the story of two drag queens and a transgender woman from Sydney who travel the Australian Outback desert in order to win an important drag race in Alice Springs. It is a must-watch before heading to Gay Sydney.
The film sees them encountering a lot of difficulties along the way, as well as making lots of new friends, but overall the film is about their journey as people. One of the many highlights of this film is the gorgeous costumes that the main characters wear. It's no surprise that the film won an Academy Award, among many ones, in the Best Costume Design category.
The main character of The Adventures of Priscilla, Queen of the Desert is a drag queen known as Mitzi Del Bra, whose real name is Anthony. This character is played by Hugo Weaving. Yes! The actor known for playing Mr. Smith and Elrond plays a drag queen in this film.
He's a very talented drag queen, but has lots of personal drama to deal with: he has an estranged wife and a son who he doesn't see. When his wife invites him to perform in the hotel she manages, he decides to cross Australia and meet her there.
He's also joined by Adam (Guy Pearce), a young queen trying to learn everything he can from Anthony, and Bernadette (Terence Stamp), an older transgender woman who wants to explore the world. There's one missing party in the group: the big tour bus they rent in order to traverse the desert. The title of the film comes from the name that Anthony gives to this bus before departing: Priscilla, Queen of the Desert.
Oyster Farmer is a romantic comedy set in one of the many famous oyster farms around Sydney. It tells the story of a young criminal who has to steal in order to take care of his ill sister. It's not your typical comedy in that its humor is very much Australian: black, raunchy and sometimes more than you bargained for.
Still, it's a thoroughly enjoyable movie with a very charming set of characters, which is its strong suit. You'll fall in love with the oyster farmers and even with the criminal who has infiltrated them. Oyster Farmer follows Jack (Alex O'Loughlin), a man who has been caring for his sister after she is in a severe car accident.
The threat of health insurance debt leads him to steal money from a big fish market organization, which he then sends to himself through the mail. The money will arrive in the Hawkesbury River, so Jack moves there and gets a job as a cover-up. He just so happens to land a job with some oyster farmers who will change his life for the better.
Anyone interested in getting a better look at Sydney should watch Oyster Farmer. There are two reasons. Firstly, the film will show you a part of the city that is often overlooked: the Hawkesbury River. This river runs to the northwest of Sydney and it's the place where the city's famous oyster farms are located. It's also a beautiful place that is very much worth visiting – and is one of the most romantic places in Sydney.
Secondly, you'll get to see how oysters are a key part of the culture of the city and have been for centuries. You'll realize that you shouldn't miss this delicious treat if you ever visit the city.
Danny Deckchair, written and directed by Jeff Balsmeyer, is a comedy film about a construction worker named Danny (Rhys Ifans) who lives and works in Sydney. Although he has a well-paying job and a girlfriend, he finds that life should be more than just that.
His girlfriend, Trudy (Justine Clarke), isn't that happy either. In fact, she's planning to cheat on Danny with a famous reporter who may help her get a job in the industry. He himself is witness to this as he goes out shopping. While he isn't surprised, he is sad.
That very day, as he's having a barbecue with his friends, Danny decides, out of the blue, to tie a bunch of helium balloons to a lawn chair and fly off into the sky. His friends look horrified as he goes up and up, and there's nothing they can do. Danny is also horrified, but quickly he becomes calm and accepts the situation.
Danny Deckchair will see Danny flying through the sky, first overlooking the beautiful city of Sydney, then flying off to the rest of Australia. But his idyllic moment doesn't last forever: when a thunderstorm catches Danny, he falls into a tree in an unknown Australian town. There he'll meet a woman named Glenda (Miranda Otto), who'll show him around the place and eventually fall in love with him.
From the mind of Academy Award winner and proud Australian Bruce Beresford comes this hilarious film about the lives of four department store workers during Christmas of 1959.
The film is an adaptation of a 1993 book by the late Madeleine St John, a very successful Australian writer known for her meticulous depiction of day-to-day life. This clearly shows in the film: Ladies in Black focuses on the little and big struggles these women have to go through in order to keep the store up and running and to keep their jobs.
The film begins when Lisa (Angourie Rice) is hired in the wake of the Christmas season. Everyone is trying to prepare for the incoming chaos that will sweep the store for hours on end: customer after customer, the women working there have to be prepared to do good work if they want to keep their job.
Many of them are immigrants, which makes their situation even more precarious because Australia wasn't the most inclusive of places back then. There Lisa meets Fay, a suspicious conservative woman (Rachael Taylor), who will become her boss; Patty (Alison McGirr), a young woman trying to get her husband to pay attention to her; and Magda (Julia Ormond), who comes from Slovenia.
Ladies in Black will see these women becoming friends as they face the stressful job they have ahead of them. Some very tender relationships form between these women: Madga becomes close friends with Lisa, who will in turn meet new people and even fall in love.
Their lives evolve as the Christmas season comes and goes, leaving them almost unrecognizable from the women they were before. Ladies in Black offers a colorful portrayal of 1959 Sidney, one that does a good job of bringing out the best that the city has to offer.
Every great city has its history, both good and bad. And it's always good to be familiar with a place's history before visiting it: it can provide much context to what you'll see and it can tell you what subjects are sore spots for the locals.
When it comes to Sydney, there are several chapters in its history that are worth knowing before visiting. One of them is the Cronulla riots: to put it succinctly, these riots took place in the beachside suburb of Cronulla after an alleged group of Middle-Eastern boys fought against Anglo-Australian lifeguards. Once the incident took place, the tabloid media kindled the flames of social unrest and thousands of people rioted against Middle-Eastern immigrants.
As you can see, this is a very serious subject, so you may be surprised to learn that Down Under takes the setting of these riots to make a black comedy. The film tells the story of Jason (Damon Herriman) and Nick (Rahel Romahn), two teenage boys who are each on a different side of the conflict. Each of them gathers his friends, whether they be willing or not, and riles them up in order to go to the riots and fight against the other side.
The film's director and writer, Abe Forsythe, is known for touching on heavy subjects through the lens of comedy in order to take some of the weight people associate with them. Down Under is the perfect example: even though it's about a controversial and yet unresolved subject, the film managed to become very well received by critics and audiences. It was nominated for several awards, both due to its directing and to the excellent performances by the boys.
Like Down Under, Around the Block focuses on a time of civil unrest in Sydney. A year before the Cronulla riots, another set of riots took place: those in the suburb of Redfern. The reason that the people of Sydney rioted in this suburb was due to the death of an Aboriginal Australian teenage boy named Thomas Hickey.
While the police stated that Hickey died during a crash when he was speeding through a street with his bike, the people of Redfern protested that the police were known for instigating and chasing Aboriginal people and that maybe Hickey died escaping from the police.
What happened is still unknown, and it was even harder to judge the facts back then, when people were angry and grieving. This led to a big riot being held by the inhabitants of The Block, a famous housing block in Sydney, which shook the city all night.
Around the Block, written and directed by Sarah Spillane, tells the story of a teenage Aboriginal Australian boy (Hunter Page-Lochard) who becomes friends with an American teacher (Christina Ricci). This teacher is called Dino and she has spent several years trying to introduce theater into the lives of young boys and girls in the district of Redfern.
Living there is harsh: there's much crime and drugs are a constant. That's why Liam finds the world that Dino offers so interesting: it's devoid of that violence that is always present in his day to day. They'll become friends, helping each other through tough times, until everything they built will be challenged by the riots.
Looking for Alibrandi is a comedy film set in Sydney during the nineties. The film follows a young woman called Josephine Alibrandi (played by the talented Pia Miranda) who is trying to get by the best way she can.
It was directed by Kate Woods and written by Melina Marchetta, who also wrote the 1992 book on which the film is based. The film won five awards at the Australian Film Institute Awards, most notably Best Film, Best Lead, and Best Screenplay.
While at first it may not seem like the most interesting or entertaining film ever, Looking for Alibrandi is very much worth watching. Not many people outside of Australia have heard of this film due to the fact that its success was big, but only limited to the country.
However, it does tell a story that's far bigger than it seems: Alibrandi is a second-generation immigrant who has to deal with the disconnect between her and her parents, between the way she was raised and what Australian society expects of her.
Looking for Alibrandi catches up with Josephine as she's struggling with her last year at school. While she usually did pretty well, this year she just can't seem to be able to focus. Too many things happen to her in a very short period of time.
First and foremost comes her meeting his long-absent father, a serendipitous occurrence that takes place after she gets arrested for punching a girl who was being racist. Of course, their meeting isn't the end: they try to form a relationship, but there's too much grief and guilt in them to truly love each other. They will struggle through this and try to make something good out of the situation.
This coming-of-age took the Australian film world by storm with its captivating story and masterful filmmaking. Babyteeth tells the story of a young girl who forms a romantic bond with a man who's addicted to drugs, all the while she has to battle cancer.
The film has a team of talented female filmmakers behind it. For one, it was Shannon Murphy's first ever feature film, which makes the fact that the film is so great all the more impressive. She was even nominated at the BAFTAs for Best Directing.
It features a first-time film performance by Eliza Scanlen. And the film was written by Rita Kalnejais, who was also the author of the stage play where the story originated. It became an overnight hit in Australia, sweeping the Australian Academy of Cinema and Television Arts Awards: it won nine accolades, including Best Film.
Babyteeth follows Milla Finlay (Scanlen) just as she has been diagnosed with cancer. Her parents are distraught and Milla is still trying to come to terms with the situation. One day, she meets a young adult named Moses (Toby Wallace) who is asking for money outside the train station. She immediately falls in love with him, eventually presenting him to her parents. While they are worried about her, her parents choose to let her see Moses, since it may be the only bit of happiness she may get at this time.
However, this relationship quickly becomes very co-dependent: Milla is only happy when she's with Moses, and Moses only wants her in order to gain access to drugs. There comes a point when her father asks Moses to live with them in exchange for drugs. Babyteeth is quite sad, so you should be advised that you'll probably cry by the end.
Staying Connected While Travelling
In today's increasingly connected world, staying online while traveling has become essential for a seamless experience. That's where eSIMs come into play, revolutionizing the way we access mobile networks during our global adventures. Say goodbye to hunting down local SIM cards at the airport; eSIMs provide instant activation the moment you land, sparing you the fortune usually spent on international roaming and allowing you to genuinely travel like a local (without getting hopelessly lost!).
With eSIMs, tasks like restaurant recommendations and reservations, up-to-the-minute public transport instructions, checking opening hours, and accessing further information become a breeze. And, of course, sharing your journey on social media is easier than ever. To stay connected wherever you roam, consider using either Airalo or Holafly. Airalo boasts the most extensive range of destinations worldwide, offering smaller data bundles tailored to your needs, while Holafly provides unlimited data packages and fantastic EU data deals.
So why wait? Embrace the future of travel connectivity with eSIMs and make your next journey effortlessly smooth.
Further Things To Consider Before Any Adventure
Now you're all set and prepared to explore our big wide world, why not sort out everything else out all in one go? If necessary for your travel plans make sure you have brought proper travel insurance, protected your privacy by getting a secure VPN, compared all the top hotel booking sites to find just what you're after, reserved an unbeatable rental car price and - of course - booked the best flight deals!
Or maybe just forget it all and go for a last-minute cruise or effortless tour instead?
Many budget travelers (including me) indulge in worldwide airport lounge access, so we can experience luxury while still slumming it in economy. Naturally, we would never leave home without a more general travel guide since we couldn't possibly cover everything here!
Just add an adventurous attitude and plenty of smiles - they go a long way - and that about covers it all! Now go out, find your own path and don't forget to share your best inspiration stories with me on Facebook, Twitter, and Instagram...I'd love to hear from you!