Caye Caulker in Belize is a paradise. White, powder-like sand, pristine reefs, turquoise water, and locals who always have a smile.
The perfect mix of small-scale tourism and local life, it is very, very hard to want to leave.
But alas, after extending your time here far too many times you will eventually have to move on – and if you're on the typical Gringo Trail in Central America that means either going south in the direction of Tikal or north, where you travel budget for Mexico will extend a lot further than in Belize!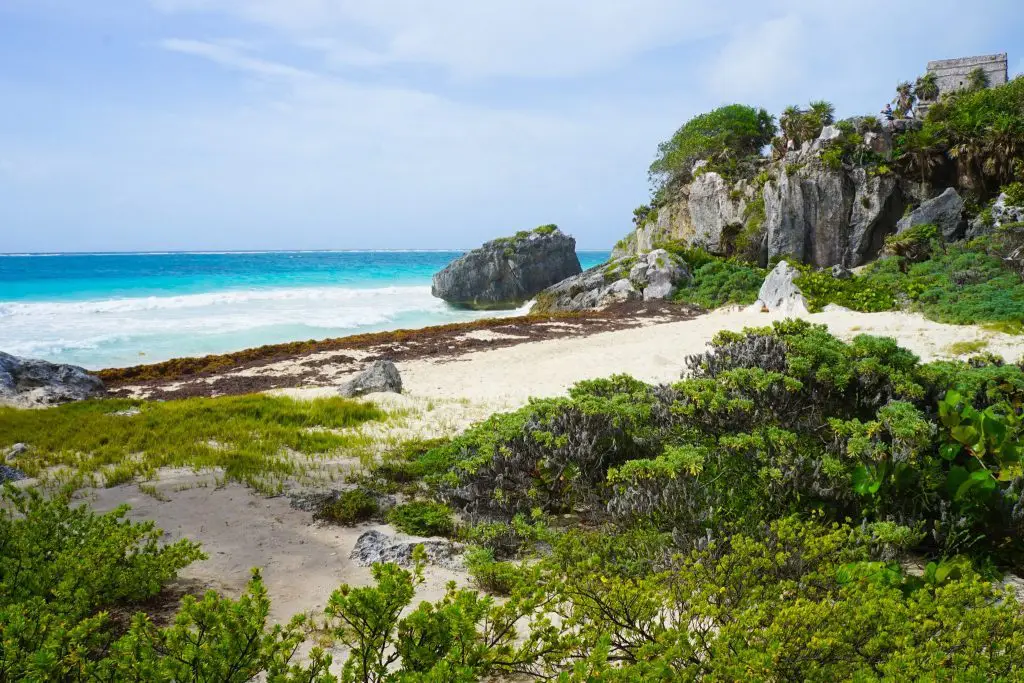 There is a lot of out-of-date or contradicting information out there, and I struggled to find the best option. So I have put together this guide for the best way to get from Caye Caulker to Tulum. You can also use it for travel between San Pedro, Ambergris Caye or Belize City to Chetumal, Bacalar Lagoon, the Mayan Rivera, Playa del Carmen, or all the way up to Cancun!
After all, there are plenty of ruins in Mexico you won't want to miss! I hope this guide helps and gets you where you need to go, I have given three options for a high, medium and lower budget traveler (with varying levels of comfort) – but of course, you can also opt for a very expensive flight from Belize City Airport.
And if you haven't actually left yet – why not check out our companion guide for all the inside gossip and fun things to do on Caye Caulker Island…
Please note none of the following options include the exit fee for Belize, which at the time of writing was USD 20 or BZD 41. It must be paid in cash and goes toward border maintenance, immigration, and conservation.
How to Get From Caye Caulker To Tulum Or How To Get From Belize To Mexico 🚌
Quickest Way To Get From Caye Caulker to Tulum: The The Cay Caulker Ferry To Mexico via San Pedro and Chetumal
The quickest way to do this route From Caye Caulker to Mexico is to leave on one of the daily boat companies, San Pedro Belize Express, departing from Caye Caulker around7 a.m.m going via San Pedro town on Ambergris Caye (where you can also pick it up) and continuing to Chetumal in Mexico. Please note the Belize Water Taxi Express is no longer in operation.
This boat from Belize to Mexico costs around USD 55 and takes around 2 hours, not including time to go through customs in San Pedro, which can often add an hour or so. There are also additional fees for going through customs in San Pedro and for using the dock, which is reportedly around another USD 10.
If you arrive late into Belize City and miss connections, these are the best options for Belize City hotels near the water taxi terminal! I prefer The Great House Inn, a short walk away from the station.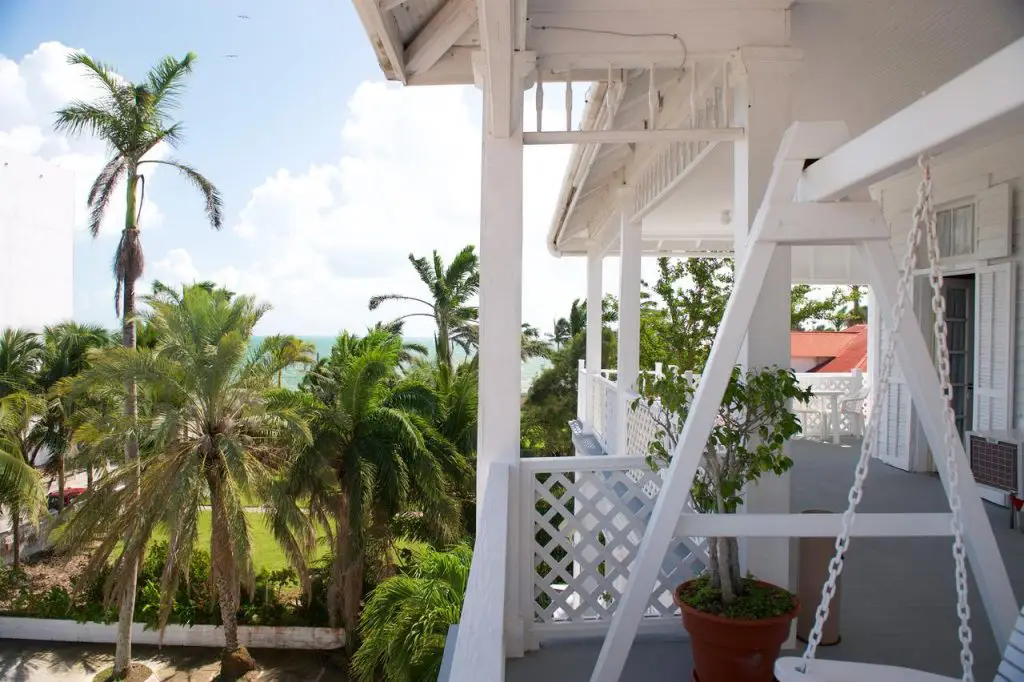 Also, note there are reports of the trip being horrible on the rough open sea section and Mexican immigration being slow at the port.
From the port, you should take a taxi either by yourself, negotiate with other passengers or wait a few minutes for the collectivo to turn up, which goes to the ADO bus station (20 mins, taxi is around 100 pesos, 24 for collectivo). From the ADO bus station, it is 4.5 hours via second-class bus (with air conditioning) to Tulum for 104 pesos.
It is around 5.5 hours to Playa del Carmen and 7 hours from Chetumal to Cancun. Total travel time to Tulum is around 7-8 hours depending on the day, so if you leave Caye Caulker at 7 a.m., you can expect to be in Tulum Town around3 p.mm. Total cost: $75 – $85 USD.
Coming from Guatemala? Whether your driving or busing, make sure you read my ultimate guide to Tikal before you go so you don't get ripped off!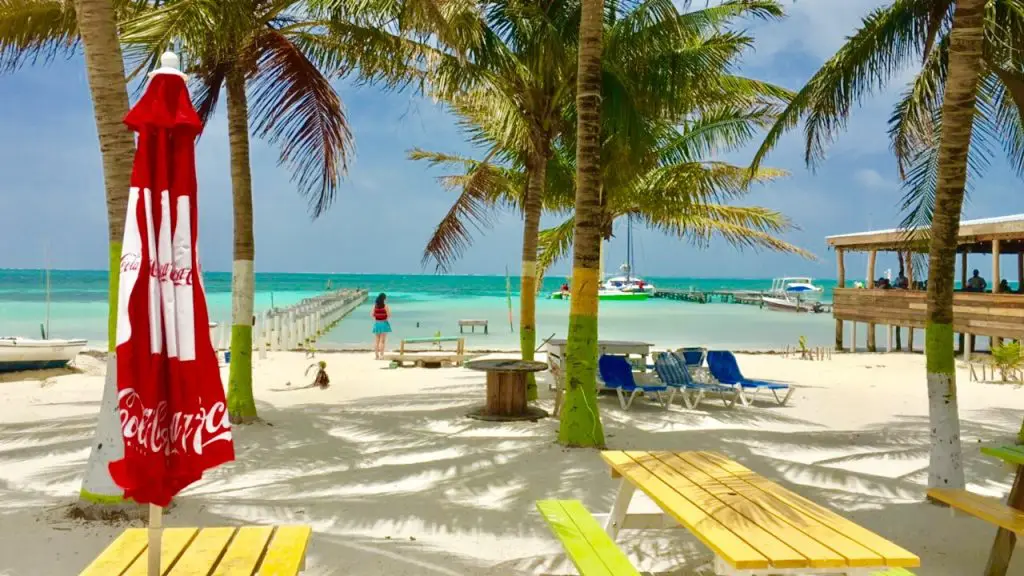 Middle-Ground Option To Get From Caye Caulker to Tulum: Direct Bus from Belize City to Tulum
If you want a slightly cheaper option, without the ocean crossing but still maintaining comfort – I recommend you get From Caye Caulker to Tulum via boat and premium ADO bus.
An ADO bus from Belize City to Tulum leaves the Belize Bus Station two times a day, at11 a.m.m, and at9 p.mm. I don't recommend at night unless you take the ADO night bus from Belize to Cancun as it arrives at3.30–4 a.m.m in Tulum but arrives at a more respectable6 a.m.m in Cancun.
The cost for either option is $40 direct from Belize City to Mexico and your final destination, though, for some reason, you have to pay the fare twice. Half in Belize City and half in Chetumal.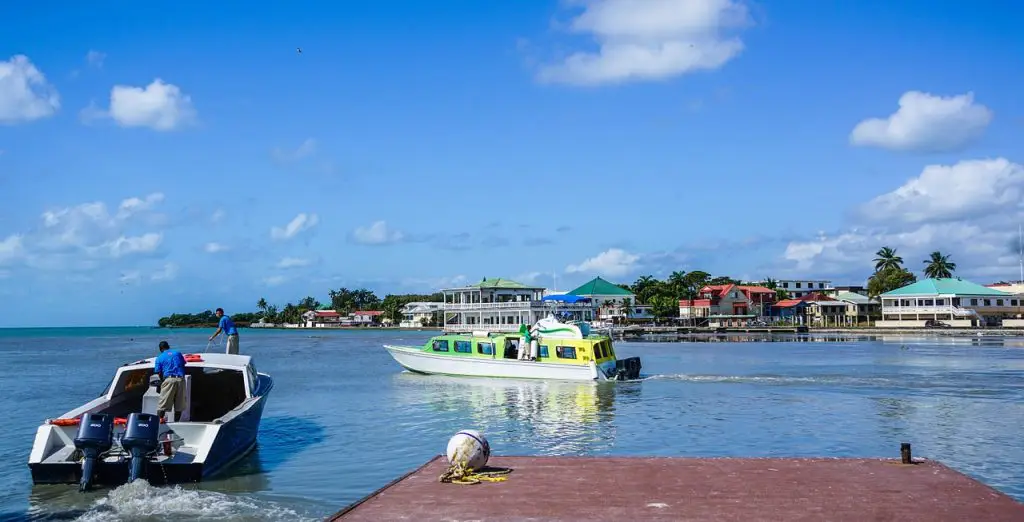 From all reports, this Ado Belize to Cancun bus does not fill up but cannot be purchased online, so I recommend arriving 30 minutes to one hour before departure. To get to the bus station is a 15-minute walk in a rather grimy area, so I recommend to take a taxi for BZD 8.
Ferries leave Caye Caulker roughly every hour (check the schedule at the dock in advance) and take one hour, so you should leave Caye Caulker at least 2 hours in advance in this case.
Ferries are USD 25 return or USD 15 one way. Total time is 9.5 hours – 10 hours depending on traffic and timing From Caye Caulker to Tulum, but you easily have options to stop earlier at Bacalar Lake or to continue to Cancun. Total cost: $55-$60 USD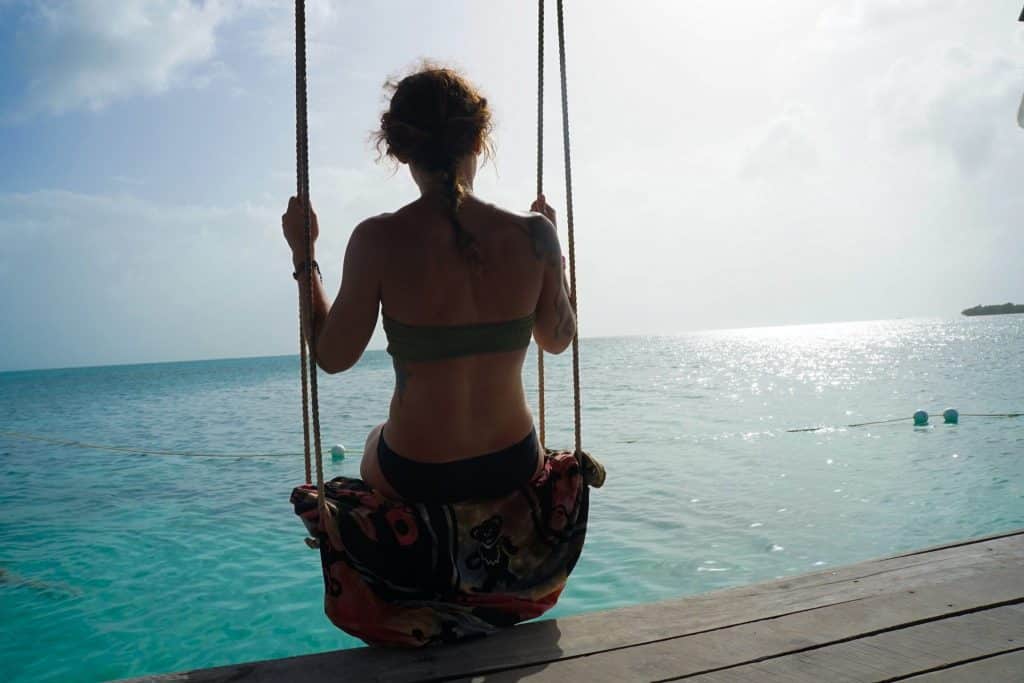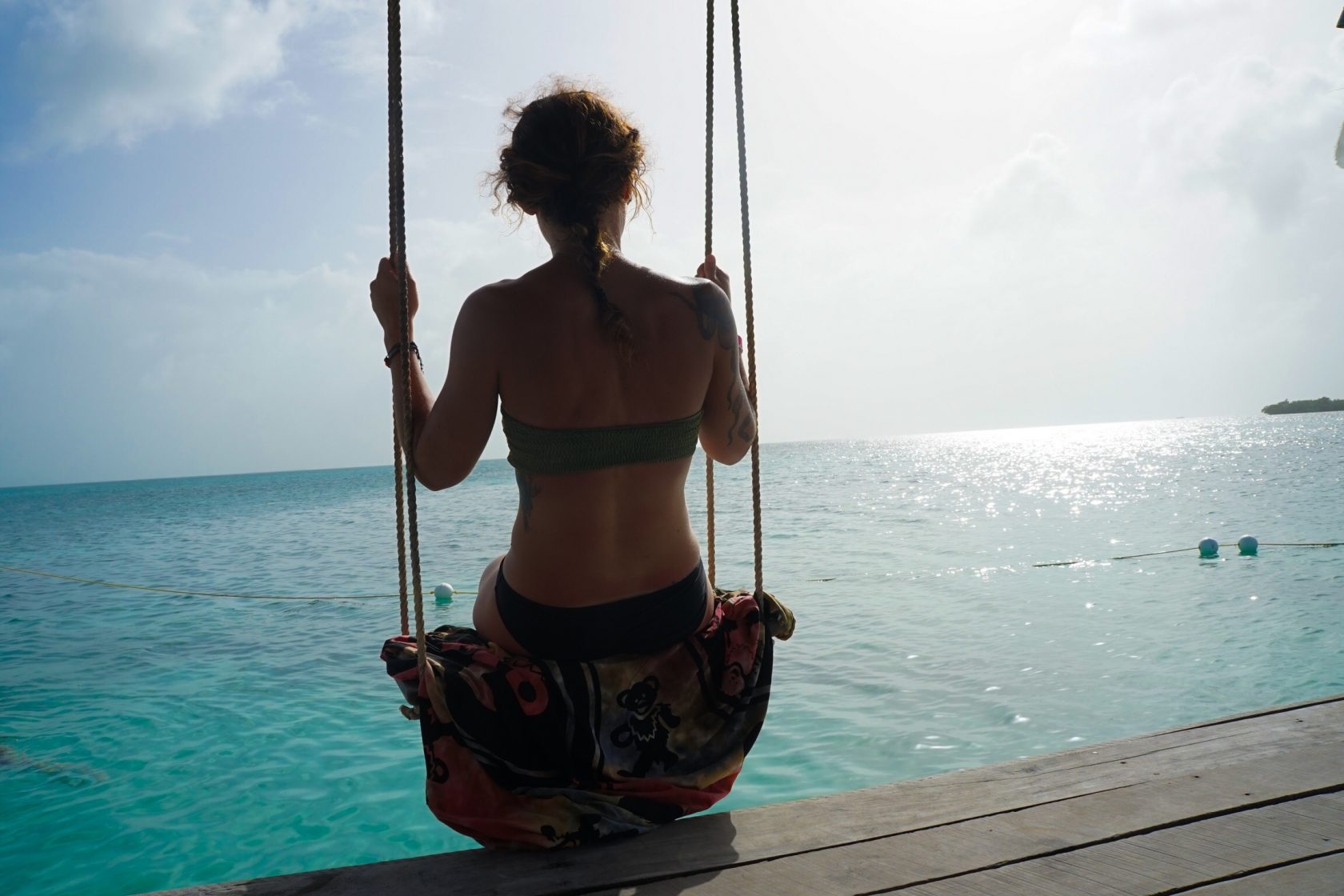 The Cheapest Way To Get From Caye Caulker to Tulum, Mexico: Chicken Bus from Belize City to Chetumal, Mexico
The third and final option is, by far the cheapest. It also takes the longest. I recommend you catch the first ferry out of Caye Caulker to Belize City (as above) or — at the very latest — the 9.30 a.m ferry.
When you arrive in the mainland, transfer to the bus station in Belize City either via taxi or walking yourself. From here, take the local chicken bus to Chetumal (the first step in taking the bus from Belize City to Tulum).
It leaves from the further 'gate' every 30 minutes to 1 hour and is clearly marked on the front.
It is not like other chicken buses in Central America and had luggage storage underneath, was not very full, was well-ventilated, and only stopped a few times, including Orange Town for 15 minutes bathroom and a food break. It cost USD 7 to the border with Belize, across to Mexico, and into downtown Chetumal.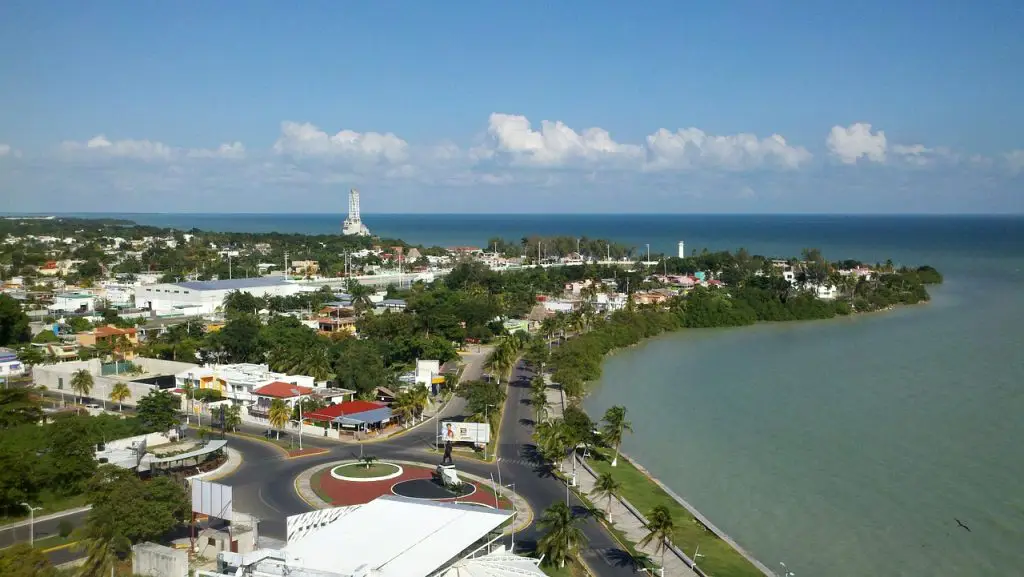 Be very sure to ask them to drop you at the ADO Primera Class Station, which is actually before the final stop and easy to miss. From there, we caught a second class bus to Tulum from Chetumal for 104 pesos as in the first option. Total travel time was 10-11 hours but had the lowest cost at USD 22 total, including a taxi to Belize bus station.
Or you can always take a break and go from Tulum to Chetumal then Chetumal to Caye Caulker…Maybe with a stay at the beautiful (and much cheaper than Belize) Fiesta Inn Chetumal!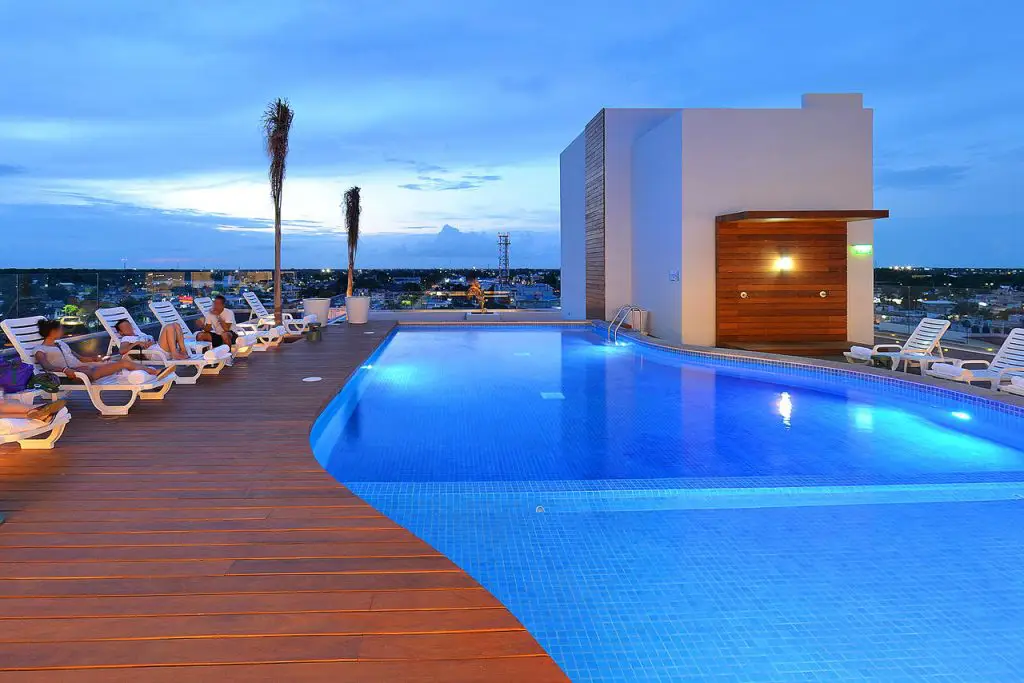 If you have plenty of time and plan to take the water taxi Chetumal to Caye Caulker (or vice versa), why not make it a longer stop as there are plenty of things to do in Chetumal Mexico including museums, archaeological sites, and cenotes.
The top sites to see in just a few days would have to be The Museum of Mayan Culture, the Boulevard Bahía sea walks, the Mayan ruins of Kohunlich, Oxtankah, and Kinichná or the Cenote Azul and the Laguna de Bacalar.
Bacalar is so beautiful itself, and you can find plenty of backpack orientated Bacalar accommodation. However, hotels in Chetumal are probably the best deal and very affordable compared to Caye Caulker accommodation or hotels in Tulum.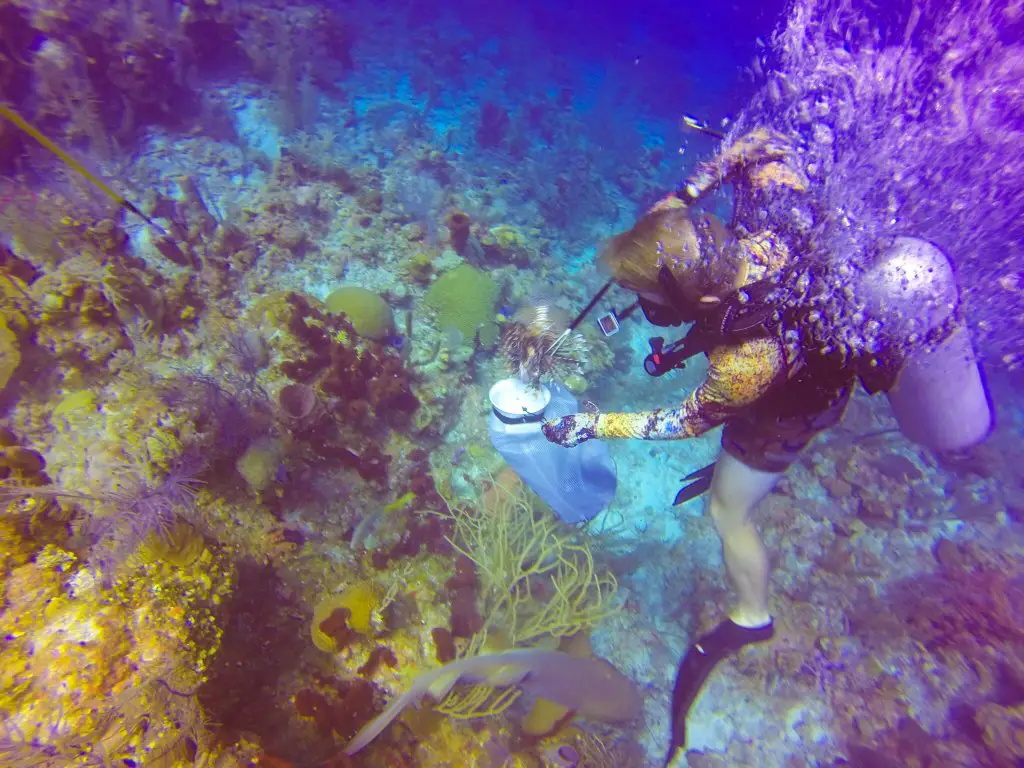 And there you have it, three options for getting from Belize Caye Caulker to Tulum Mexico by coach, boat, or chicken bus. Each has it's own pro's and con's and could suit better depending on if you prefer speed, comfort or local interaction and penny-saving! Let me know how you get on and if there is a new option I have missed!
And if you're in need of ideas for onwards travel in Mexico, I recommend Tulum, Chichen Itza, Campeche City, Oaxaca, and Mexico City (in that order). And of course, you could do this all in reverse to get the best way to get from Tulum to Caye Caulker, then onwards to the Tikal Ruins and Acatenango hiking!
Good luck!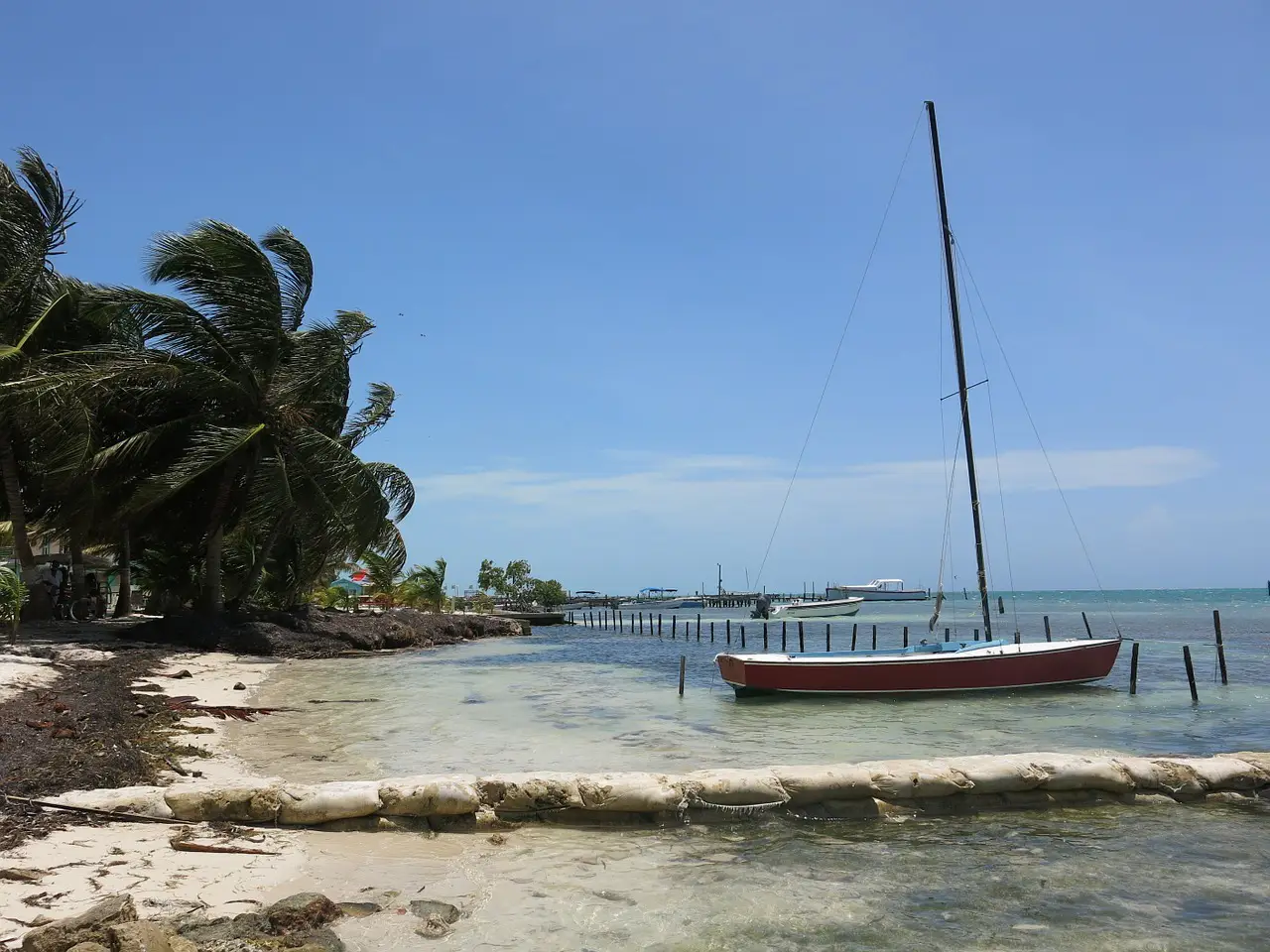 When you arrive in Mexico there are so many Tulum things to do you may want to consider including:
Staying Connected While Travelling
In today's increasingly connected world, staying online while traveling has become essential for a seamless experience. That's where eSIMs come into play, revolutionizing the way we access mobile networks during our global adventures. Say goodbye to hunting down local SIM cards at the airport; eSIMs provide instant activation the moment you land, sparing you the fortune usually spent on international roaming and allowing you to genuinely travel like a local (without getting hopelessly lost!).
With eSIMs, tasks like restaurant recommendations and reservations, up-to-the-minute public transport instructions, checking opening hours, and accessing further information become a breeze. And, of course, sharing your journey on social media is easier than ever. To stay connected wherever you roam, consider using either Airalo or Holafly. Airalo boasts the most extensive range of destinations worldwide, offering smaller data bundles tailored to your needs, while Holafly provides unlimited data packages and fantastic EU data deals.
So why wait? Embrace the future of travel connectivity with eSIMs and make your next journey effortlessly smooth.
Further Things To Consider Before Any Adventure
Now you're all set and prepared to explore our big wide world, why not sort out everything else out all in one go? If necessary for your travel plans make sure you have brought proper travel insurance, protected your privacy by getting a secure VPN, compared all the top hotel booking sites to find just what you're after, reserved an unbeatable rental car price and - of course - booked the best flight deals!
Or maybe just forget it all and go for a last-minute cruise or effortless tour instead?
Many budget travelers (including me) indulge in worldwide airport lounge access, so we can experience luxury while still slumming it in economy. Naturally, we would never leave home without a more general travel guide since we couldn't possibly cover everything here!
Just add an adventurous attitude and plenty of smiles - they go a long way - and that about covers it all! Now go out, find your own path and don't forget to share your best inspiration stories with me on Facebook, Twitter, and Instagram...I'd love to hear from you!