Israel is well known for its extraordinary history, vibrant culture, and remarkable urban landscapes. Fittingly, Israel is also home to eight of the more than 1,000 World Heritage Sites worldwide, as inscribed by the United Nations Educational, Scientific, and Cultural Organization (UNESCO).
Israel's captivating UNESCO sites include ancient hilltop fortifications, extensive archaeological excavations, and holy places of pilgrimage still revered today. These sites range from the modernist Tel Aviv and the breathtaking Bahá'í Gardens in Haifa to far-flung desert ruins along the Incense Route and the spectacular Old City of Acre.
The theme of culture is prevalent throughout the world heritage sites of Israel. While the UNESCO sites in Australia are predominantly natural, those in Israel are wholly classified as cultural heritage of the world. That isn't to say Israel is not phenomenally beautiful or without remarkable natural heritage — and many of its existing sites are made even more beautiful thanks to striking landscapes they are sound. Some of these sites are emblematic landmarks of Israel, but a few are somewhat obscure and likely only known to the most persistent of travelers.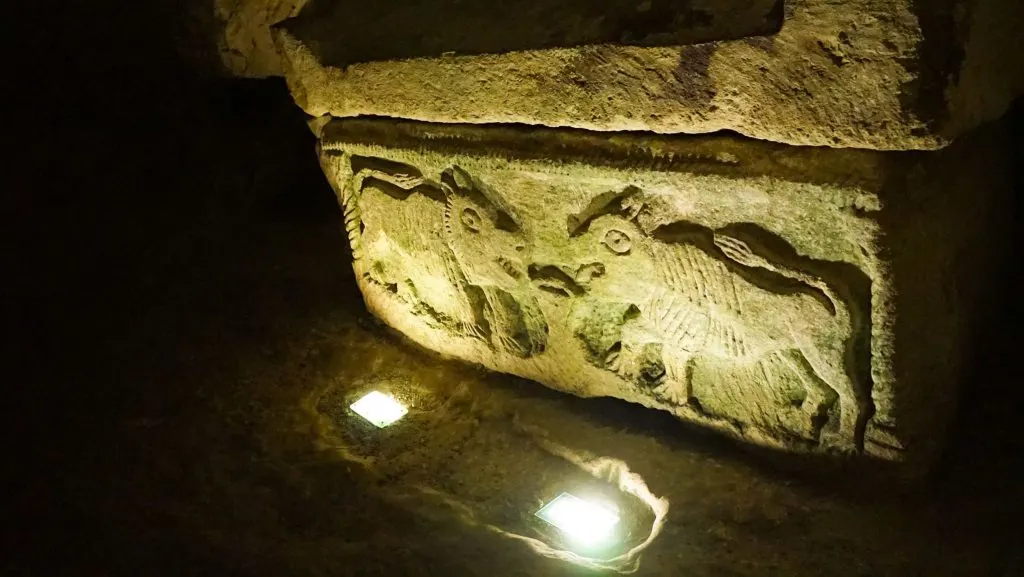 UNESCO is a bureau of the United Nations that endeavors to support the protection and growth of the world's intellectual and cultural property and elects UNESCO sites due to their "outstanding universal value" in science, history, or culture. As a result, UNESCO Sites are meaningful to the mutual interests of humanity – and legally guarded by international treaties.
Travel influenced by UNESCO sites allows visitors to explore esoteric spots, aid preservation, obtain specific knowledge about the history of Earth and humanity – and to wonder at unequivocally majestic sites. While a few such as Milford Sounds in New Zealand and the picturesque town of Hallstatt in Austria are famous around the world, there are far more untouristy UNESCO sites worthy of insertion in any 'off-the-beaten-track' bucket list.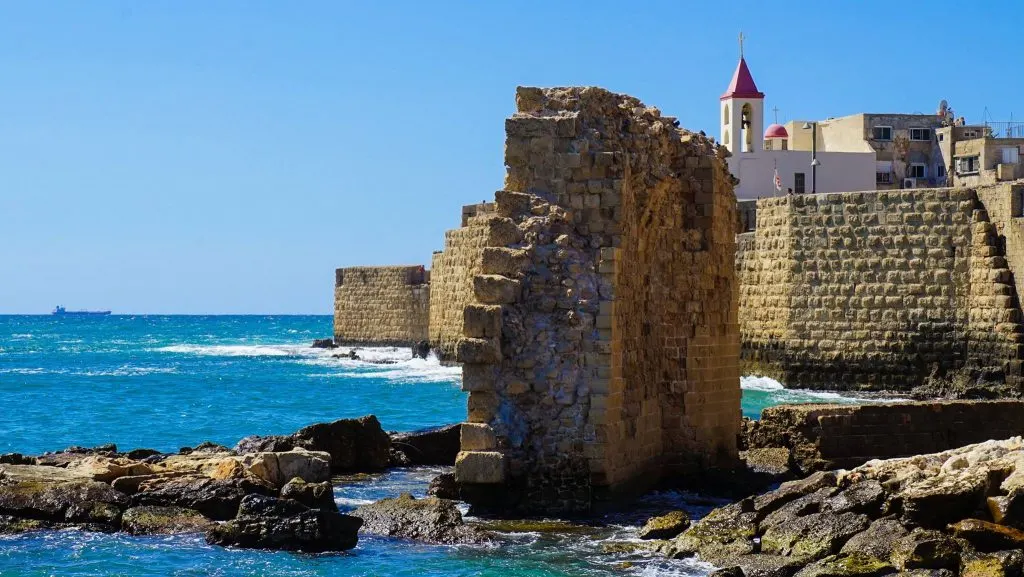 There are currently 9 UNESCO world heritage sites in Israel, and I have visited all of them myself. I have also included the Old City of Jerusalem in this guide, but to be clear: UNESCO does not include this site as being in any country. The Jerusalem holy sites are of ongoing controversy, and it will not be listed under any country until its status is settled under negotiations between Israel and the Palestinians. For travelers, however, it makes sense to list here. In the pursuit of fairness, you might also want to look at Palestine's inscribed world heritage sites, including the Battir land of olives and vines and the Birthplace of Jesus in Bethlehem.
So, why not immerse yourself in one or more of these sites on your next Israel vacation? From breathtaking natural wonders to unprecedented feats of human engineering, check out our exhaustive list of Israel UNESCO sites to determine which places resonate with you personally. You can then use them as a roadmap for the trip of a lifetime.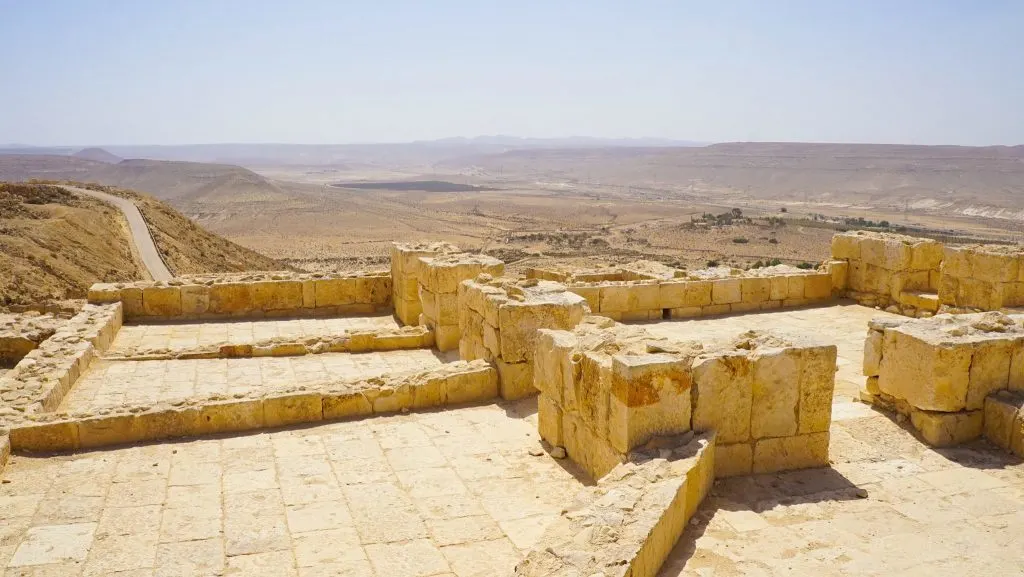 Cultural UNESCO World Heritage Sites In Israel
Bahá'i Holy Places in Haifa and the Western Galilee
The Bahá'i Holy Places are listed for their profound religious significance and the proof they bear to the robust tradition of pilgrimage in the Bahá'i faith. The sites comprise the two most holy places in the Bahá'í religion connected with the founders of the religion, the Shrine of Bahá'u' lláh in Acre and the Shrine of the Báb in Haifa, along with their neighboring gardens, linked buildings, and various monuments.
These two shrines are part of a more comprehensive collection of administrative offices, pilgrim buildings, libraries, archives, historical residences, and shrines at seven separate spots in Haifa, Acre, and Bahjí that are attended as part of the Bahá'i pilgrimage.
The Báb, the founder of Bábism and one of the central figures of the Bahá'í Faith, was a merchant from Shiraz in Qajar Iran who was eventually executed by a firing squad in Tabriz on apostasy charges. To Bahá'ís, the Báb fills a comparable role as Elijah or John the Baptist; a forerunner who paved the way for their own religion. Bahá'u'lláh, who was born in Tehran, was a disciple of the Báb who claimed to be the realization of the Báb's prophecy and went on to be the founder of the Bahá'í Faith. He promoted universal peace and unity among all races, nations, and religions.
After multiple exiles around the Ottoman Empire, he ultimately spent the final 24 years of his life from 1879 to 1892 in the prison city of Acre (present-day Israel), and his burial place has since become a destination of pilgrimage for his followers. As such, the Bahá'í shrines are also unique as the first sites inscribed by UNESCO that are related to a comparatively new religious and pilgrimage tradition that has developed only over the last century.
If you can only visit one site, the Bahá'í Gardens in Haifa -with its iconic nineteen terraces and staircase on the northern slope of Mount Carmel – would be my recommendation. The golden-domed Shrine of the Báb, which is the resting place of the Prophet-Herald of the Bahá'í Faith and the inner gardens near the shrine, is open daily until noon.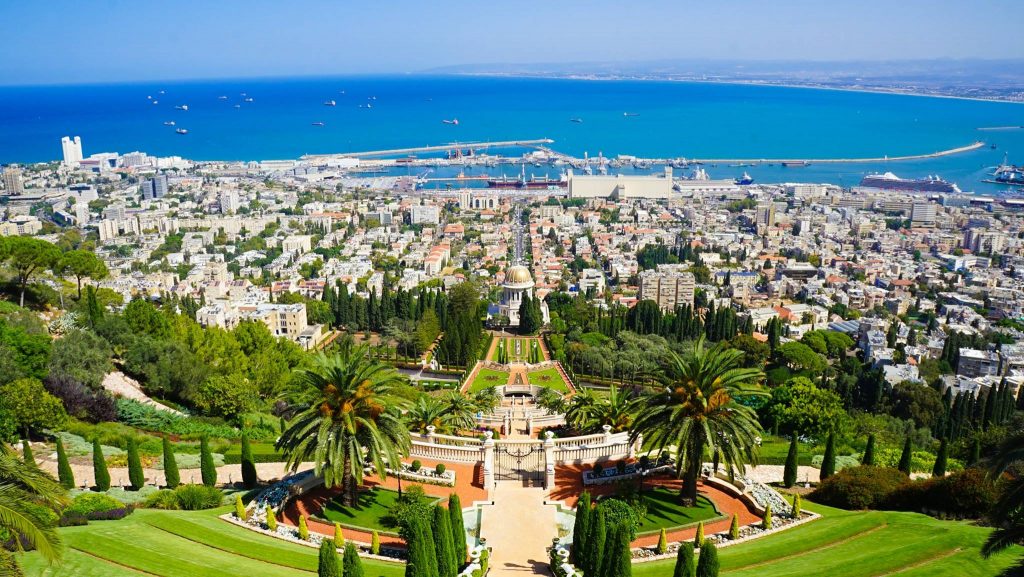 Biblical Tels – Megiddo, Hazor, Beer Sheba
Tels (ancient settlement mounds) are typical of the flatter lands of the eastern Mediterranean, especially Lebanon, Syria, Israel, and eastern Turkey. They are created over centuries of use by humans, with communities building and re-building on the ruins and refuse of the previous structures. The result is the mounds over time get taller and narrow, similar to a layer cake. They are eventually abandoned to become mere mounds over time as the environment is no longer fit for purpose, but this can take centuries.
There are more than 200 tels dotted around Israel. Still, of these, Megiddo, Hazor and Beer Sheba are the most meaningful ruins with biblical (Old Testament) connections. The three tels are exhibit extensive human-built water systems and provide significant insight into the development of dense urban communities in the Iron Age.
The construction of these three Tels began over 10,000 years ago and had last recorded use around 2,000 years ago in Roman times. As such, they also provide interest insight to the presence of centralized authority in Ancient times, the prosperous agricultural activity of the region during this time, and the movement of technology and goods along important trade routes in the past.
While you can opt to visit all three, the Tel Megiddo is the most toured in part due to its location along a popular route heading towards Sea of Galilee. Twenty-six layers of ruins have been uncovered at Tel Megiddo. They make for a fascinating exploration while being a testament to the wealth and power of the Bronze and Iron Age cities developed in the productive biblical lands.
Many visitors also come as the Book of Revelation mentions an apocalyptic battle at Armageddon, which is the Greek name of the site (descended from the Hebrew "Har Megiddot", expressing the "Mount of Megiddoh"). Thus Armageddon has become a byword for the end of the world, and some interpretations literally conclude the prophesied gathering of armies for a battle during the end times will take place here. Whether you visit for the sophisticated engineering solutions, ancient history, or biblical connections – these world heritage sites in Israel will make a great addition to your trip.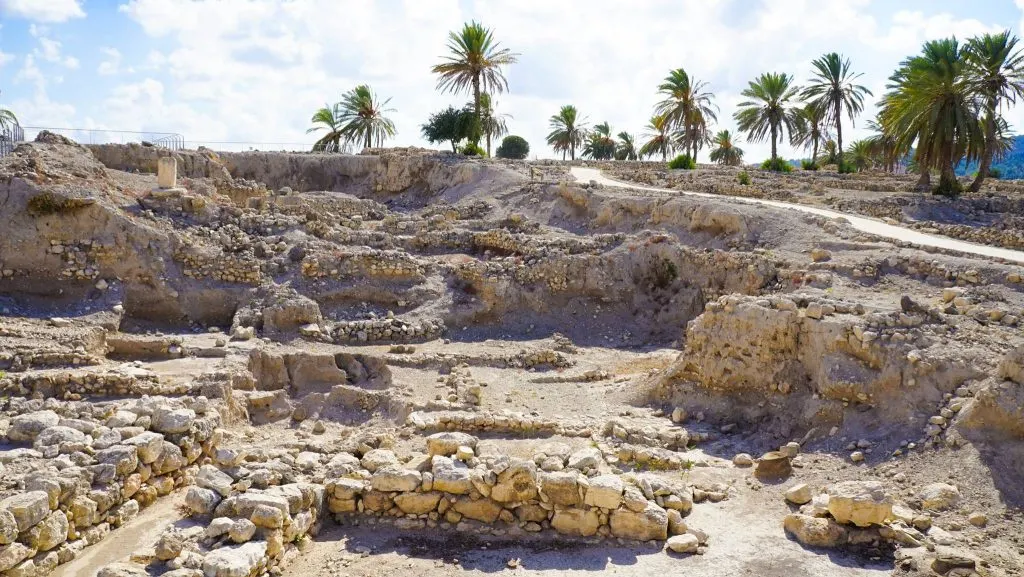 Caves of Maresha and Bet-Guvrin in the Judean Lowlands as a Microcosm of the Land of the Caves
This often-overlooked archaeological site is found under the former towns of Maresha and Bet Guvrin and comprises roughly 3,500 underground chambers. These chambers are scattered among separate subterranean complexes carved into the deep, soft, chalk ground of the Judean Lowlands at what was once a crossroads of important trade routes between Mesopotamia and Egypt.
The Caves of Maresha and Bet-Guvrin persevere as evidence of the area's evolution and development over 2,000 years from the 8th century to the time of the Crusaders. During this time, the caves were occupied and used by different cultures and people. The quarried chambers completed various roles, including use as reservoirs, oil presses, bathing areas, nesting boxes of pigeons, stables, places of religious worship, hideaways, and even burial areas.
The scale of the constructs is truly remarkable, with many even including vaulted arches and supporting pillars that survive even today. It has been described as a "city under a city" and when you visit, it is easy to see why. While the caves are probably the least publicized and visited Israel's world heritage sites, the caves are protected within the Beit Guvrin National Park. The park also includes a large Jewish cemetery, a Roman amphitheater, and a Byzantine church that are also worth visiting.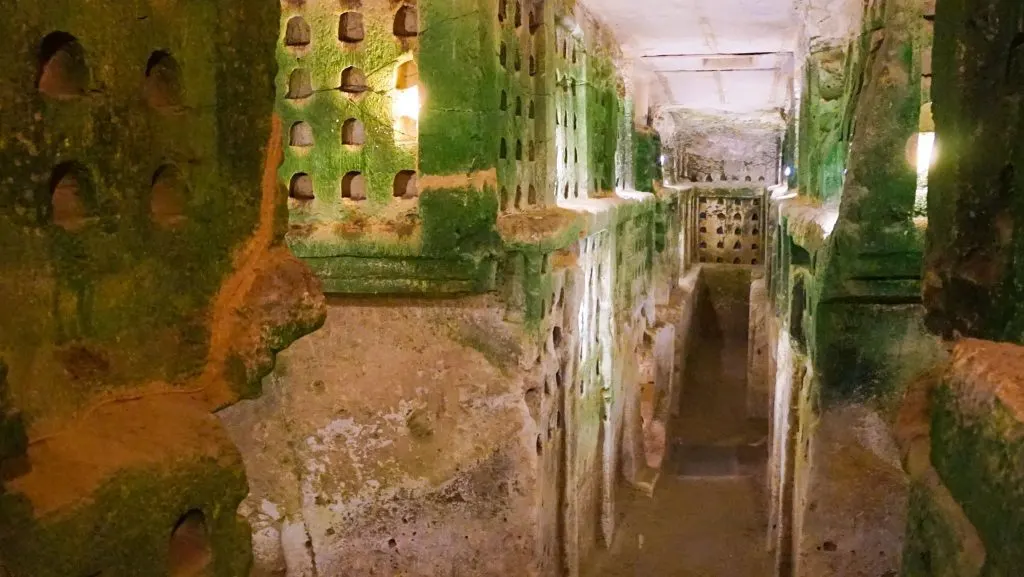 Incense Route – Desert Cities in the Negev
The four Nabatean settlements of Mamshit, Haluza, Shivta, Avdat along with their allied fortifications and agrarian landscapes in the Negev Desert are listed on the UNESCO World Heritage List as an outstanding example of a traditional human settlement along with being an exceptional testimony to a cultural tradition which has since disappeared.
Located in Southern Israel, these towns are disseminated along an ancient road that covered the Mediterranean end of the famous incense and spice route. Collectively they reveal the immensely profitable commerce undertaken in the movement of frankincense and myrrh between south Arabia and the Mediterranean.
This trade prospered from the 3rd century B.C. until the 2nd century A.D. Yet, even today, almost 2000 years after their abandonment, visitors are awed by the remaining vestiges of these achievements, which saw business and agriculture take place in a rather inhospitable desert. The inscription and sites contain advanced irrigation systems, urban structures, fortresses, and roadside inns for traders to stop off at – which remain well-preserved today as they were deserted from the 7th century.
The incense route sites today are managed by the Israel Nature and Parks Authority and the Israel Antiquities Authority, which oversee the continual conservation and excavation of sites. If you are visiting Eilat (for diving or otherwise), your route will almost certainly pass right by. Each of the four cities is worth stopping at given their relative proximity, but the ruins in Avdat perched 80 meters above the surrounding desert is particularly magnificent.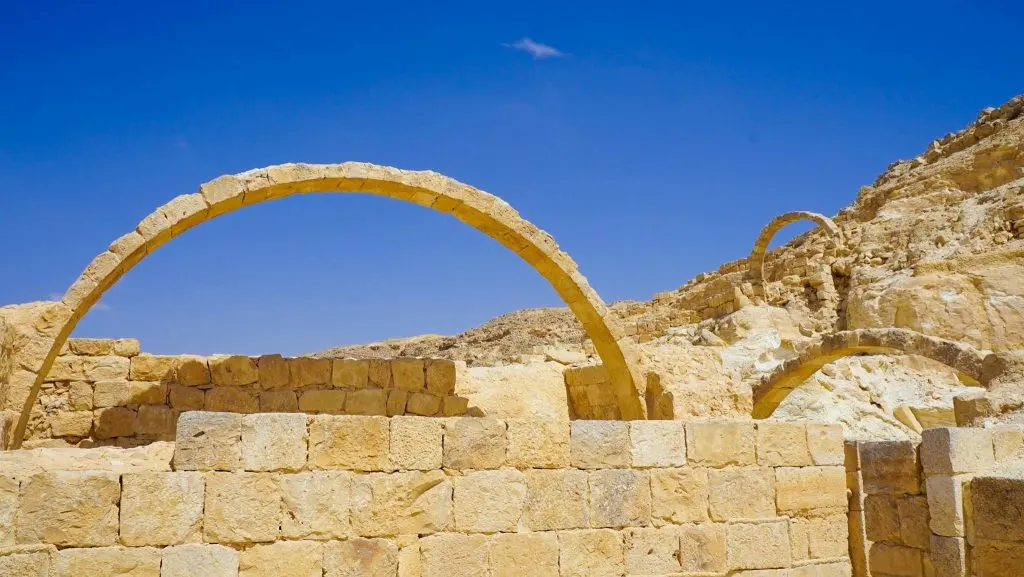 Masada
Masada is a mountainous natural fortress on top of a solitary rock plateau built in the Judaean Desert overlooking the Dead Sea. A place of dignified elegance – Masada is symbolic of the biblical kingdom of Israel.
Following Judaea became a dependency of the Roman Empire, Masada became the stronghold of the last survivors of the Jewish revolt. It is remembered for its brutal destruction in 73 A.D. in the last stand of Jewish loyalists. They embraced certain death at the hands of the Roman army rather than slavery. As such, it has a tremendous value for the Jewish people.
Masada was initially constructed as a palace complex, in the traditional style of the early Roman Empire, by Herod the Great, King of Judaea. The barracks, fortifications, and attack ramp that encircle Masada create the most intact Roman siege work enduring to the present day. Only an hour away from Jerusalem, when you visit, you will quickly appreciate this fortification achievement when you realize how difficult the natural approaches are. Steep cliffs fall abruptly on two sides of the site.
Today there is a cable car directly to the top, but this doesn't open until later in the day, so if you're heading here for the famed Masada sunrise, you'll have to hike. Although you might groan at the thought, we think it's all part of the experience to challenge yourself on the Snake Trail (the approach on the eastern side). This hike also gives you time to consider the immense significance of the site you are at, which remains as an emotional symbol of the enduring human struggle between tyranny and freedom.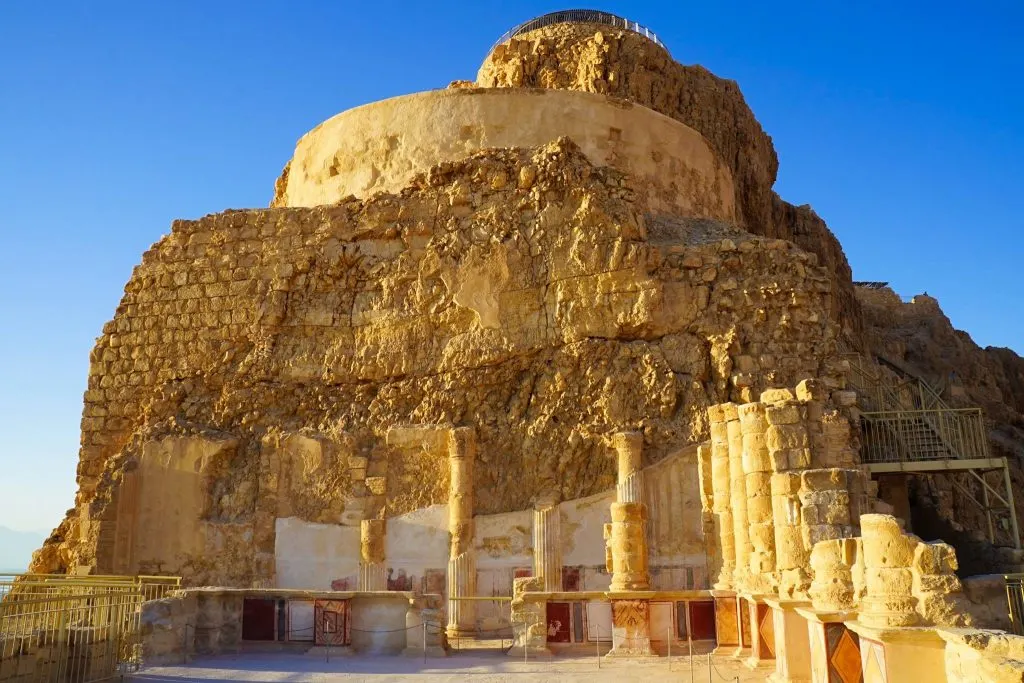 Necropolis of Bet She'arim: A Landmark of Jewish Renewal
Composed of a group of catacombs, the necropolis emerged in the 2nd century A.D. as the principal Jewish burial place outside Jerusalem after the defeat of the second Jewish revolt against Roman rule. Positioned southeast of the city of Haifa, these subterranean passageways are a repository of scholarly artworks and engravings in Greek, Aramaic, Hebrew, and Palmyrene.
One particular burial stands out above all others, that of Rabbi Judah the Patriarch, under whose direction the Jewish renewal took place after 135 AD. Hewed into a series of malleable limestone slopes, the catacombs of Bet She'arim show evidence of the wide dispersion of the Jewish people at that time through multi-language inscriptions covering a wide area around Europe, Asia Minor, and Mesopotamia. It also shows the embodiment of Jewish culture and influence into surrounding populations through artistic expression and burial types.
This was all possible because, at the time, Jewish who had the fiscal means delivered their dead to be buried in the Land of Israel, the land of their forefathers rather than be interred in foreign lands. The catacombs were disused after the 6th century and eventually abandoned. Today are protected by the Beit She'arim National Park, which oversees ongoing research and excavations.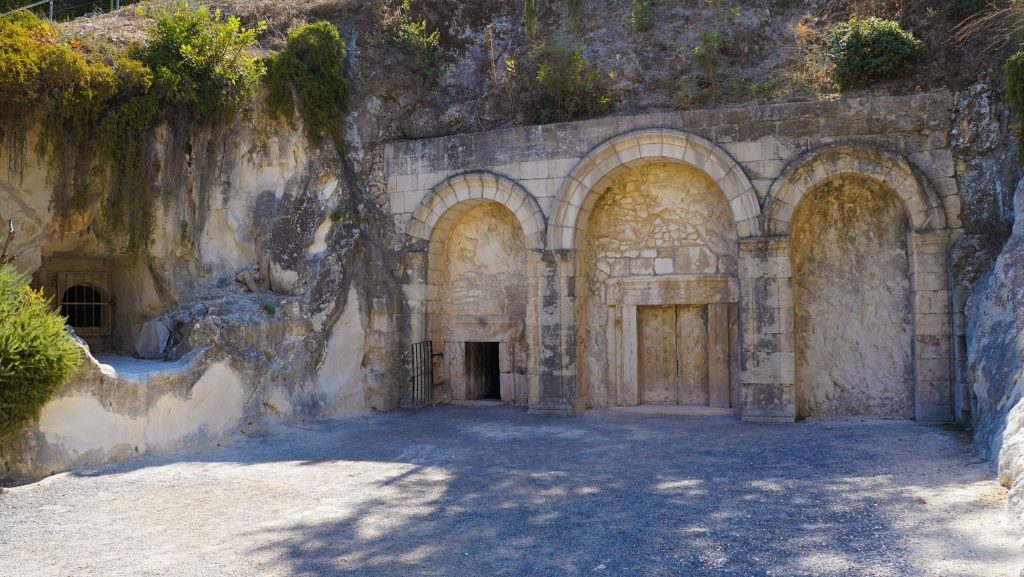 Old City of Acre
Acre is a beautiful walled port-city in northern Isreal with a long, consecutive settlement history dating back to the Phoenician period. It is famous for its Crusader structures and its Ottoman-era walls and defenses. The modern-day incarnation of the city is typical of a fortified town dating from the Ottoman Empire in the 18th and 19th centuries, with representative urban elements such as the stronghold, mosques, khans, and baths.
In 1104, during the First Crusade, the Crusaders made Ace their chief port, and it was under the reign of Sultan Selim I that the Ottomans later captured the city in 1517. At this point, acre fell into virtually total collapse but saw a rebirth around the end of the 18th century as it was revived under the rule of Dhaher al-Omar and his successors.
The remains of the previous iteration, built during the main Crusader period from 1104 to 1291, lie relatively unimpaired, both above and below today's street level, presenting an extraordinary picture of the organization, arrangement, and associated structures of the capital of the medieval Crusader kingdom of Jerusalem.
Acre today deserves at least a few hours, and many of its wonders can be seen simply by walking around – though there are many paid points of interest that should be visited to deepen your understanding of the site. As with many UNESCO inscribed cities around the world (like Campeche and Porto), you can encounter both beautiful corners and reconstructed perspectives, along with examples of disrepair. Many travelers lament this dilapidation, but Acre is still a living, breathing city today. As such, this juxtaposition is part of its charm.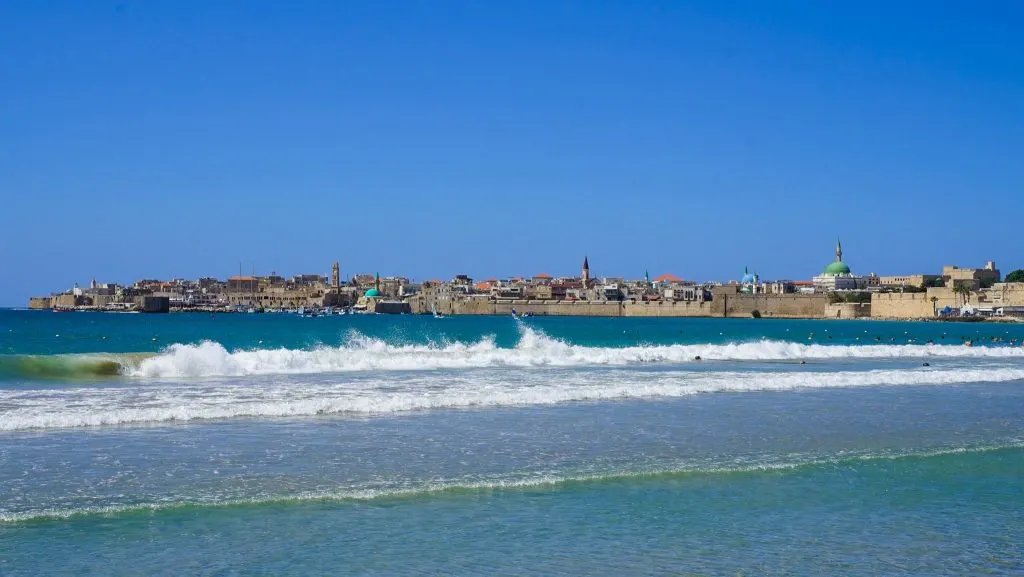 Sites of Human Evolution at Mount Carmel: The Nahal Me'arot / Wadi el-Mughara Caves
Located on the western slopes of the Mount Carmel range, this world heritage site encompasses the caves of Tabun, Jamal, el-Wad and Skhul. One hundred years of archaeological investigation have exposed a cultural progression of exceptional continuance, presenting an unparalleled record of early human life in south-west Asia.
This 54-hectare area includes cultural deposits outlining at least half a million years of human evolution. As such, it demonstrates the unusual existence of both Neanderthals and Early Anatomically Modern Humans within the same area. Confirmation from various burials and early stone construction signifies the shift from a hunter-gathering lifestyle to agriculture and animal husbandry in humans at the site.
As a consequence, The Nahal Me'arot / Wadi el-Mughara Caves of Mount Carmel have enhanced our understanding of human evolution in general, and particularly in the prehistory of the Eastern Mediterranean.
Today, the sites are protected within the Nahal Me'arot Nature Reserve, where there the caves are on display, including an audio-visual show – along with hiking trails that offer more insight and panoramic views. A not-to-be-missed world heritage site in Israel for those with interest in the evolution of the human species.
White City of Tel-Aviv – the Modern Movement
Tel Aviv was established in 1909 and emerged as a metropolitan city under the British Mandate in Palestine. The iconic White City, as it would later be known, was assembled during the early 1930s until the 1950s, as Tel Aviv expanded into a flourishing urban center into what would later be Israel's leading economic and cosmopolitan nucleus.
The metropolitan plan put in place by Sir Patrick Geddes, one of the leading urban theorists of the period, saw Tel Aviv become a large-scale urban realization of his organic planning principles. These saw an environmental approach to city planning based on the physical, economic, social, and human needs of its populace, rather than the garden city approach used before. This revolutionary approach to the nature of the city, allowing it to naturally grow in time and space, influenced urban planning in the 20th century internationally.
In addition, many of the buildings in Tel Aviv were devised by architects who were qualified in Europe and had practiced their profession before resettling here. They produced an exceptional architectural collection of the Modern Movement / 1930s Bauhaus buildings, not seen anywhere else on Earth.
It would be unheard of to visit Israel without enjoying the restaurants, nightlight, beaches and urbane vibes of Tel Aviv, but take time out in your visit to appreciate its planned form and architecture. There are too many significant examples to note here. Still, for those with intense interest, there are a few museums and specific tours dedicated to this extraordinary world heritage site.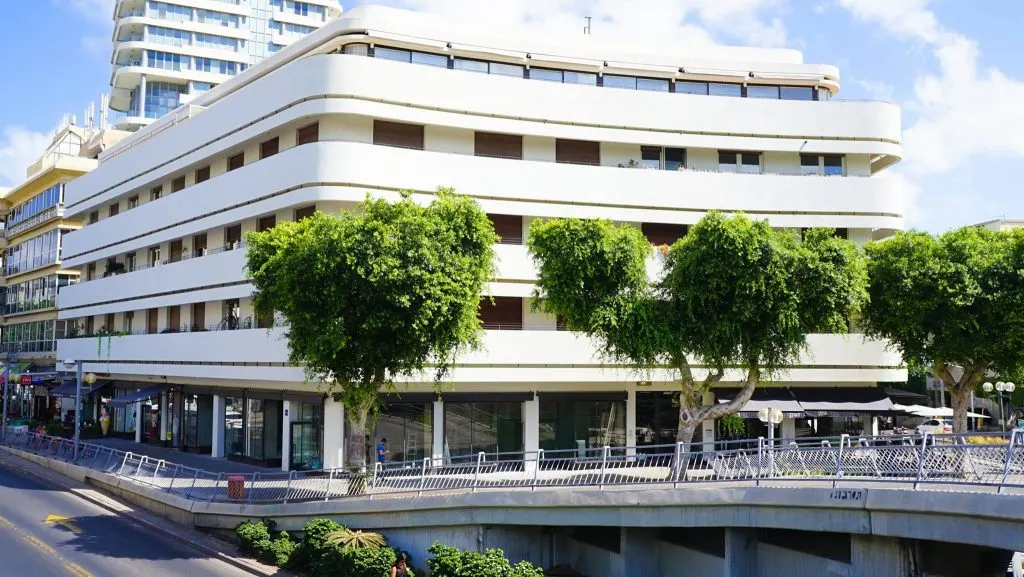 UNESCO World Heritage Sites In East Jerusalem
Old City and Walls of Jerusalem
As a holy city for the three most important Abrahamic religions (Christianity, Judaism, and Islam), it should come as no surprise that Jerusalem has always been of exceptional symbolic meaning. It is one of the oldest and most important cities in human history and is the cultural cradle of the Western monotheistic religions.
Even today, Jerusalem's control and existence remain heavily politized and mired in controversy.
An entire encyclopedia could be dedicated to this history of this city – and I won't try to rival them, but amidst Jerusalem's more than 220 historic monuments, the Dome of the Rock stands out as a must-visit. It was constructed in the 7th century and is embellished with delicate geometric and floral motifs. It is also identified by all three faiths as the site of Abraham's sacrifice.
The Wailing Wall is also of extreme importance as a place of prayer and pilgrimage sacred to the Jewish people and demarcates the sections of the distinctive religious communities. The Resurrection rotunda in the Church of the Holy Sepulchre is said to house Christ's tomb. While not part of the inscription, the Israel Museum, one of the countries [and indeed the world's] premier cultural institutions with over 5000 years of regional artifacts, is located in Jerusalem and should not be missed if you have any interest in world heritage.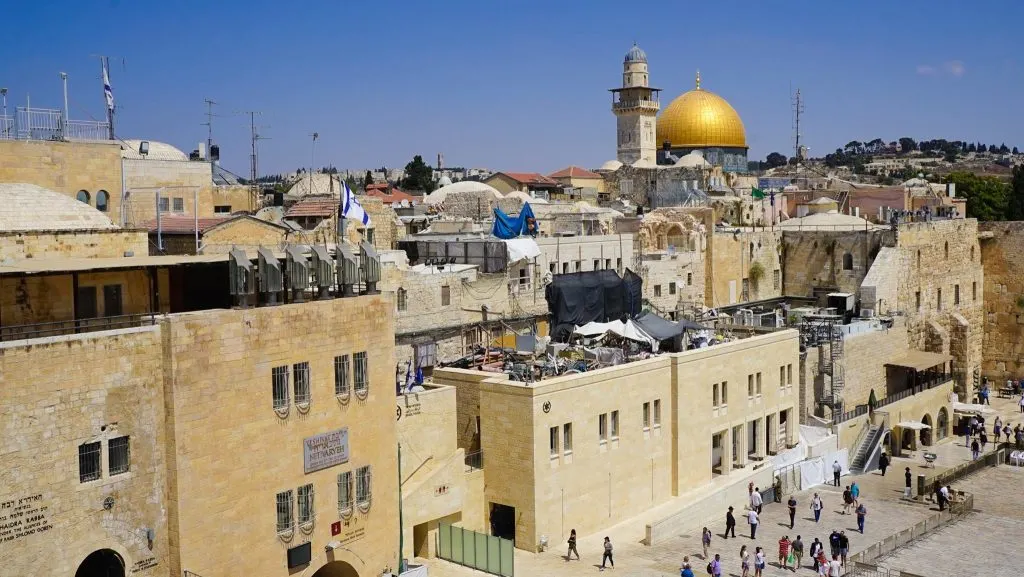 ---
And there you have it—all of the world heritage sites in Israel. Hopefully, you have learned something about this country's history already through these sites. Maybe some of them have even inspired your future travels. While overtourism and encroaching urbanism is most certainly an issue, Israel has recognized this issue and is taking steps in the right direction.
If you get the opportunity to visit, please make choices that encourage the protection of these special places for future generations.
If you haven't quite had enough, Israel also has tentative UNESCO sites which it has proposed but has yet to be ratified. These may or may not be included at a future date but are very telling in that they are what each country considers to be it's cultural and/or natural heritage of outstanding universal value.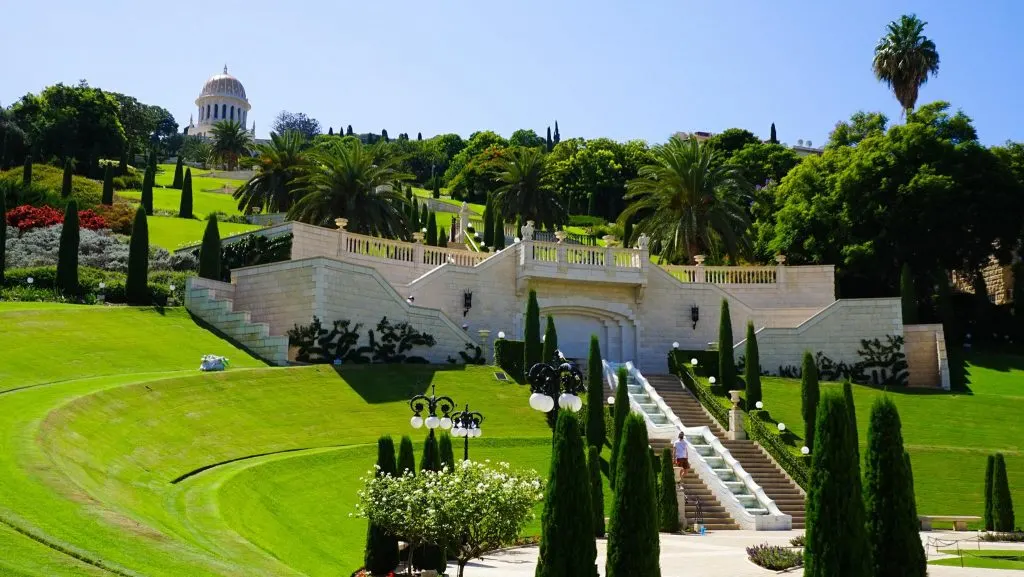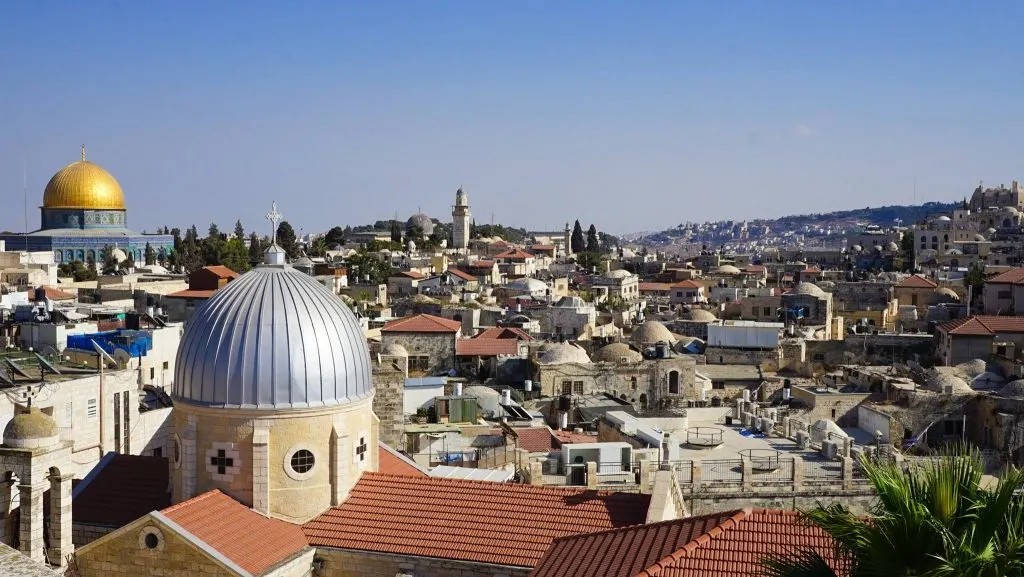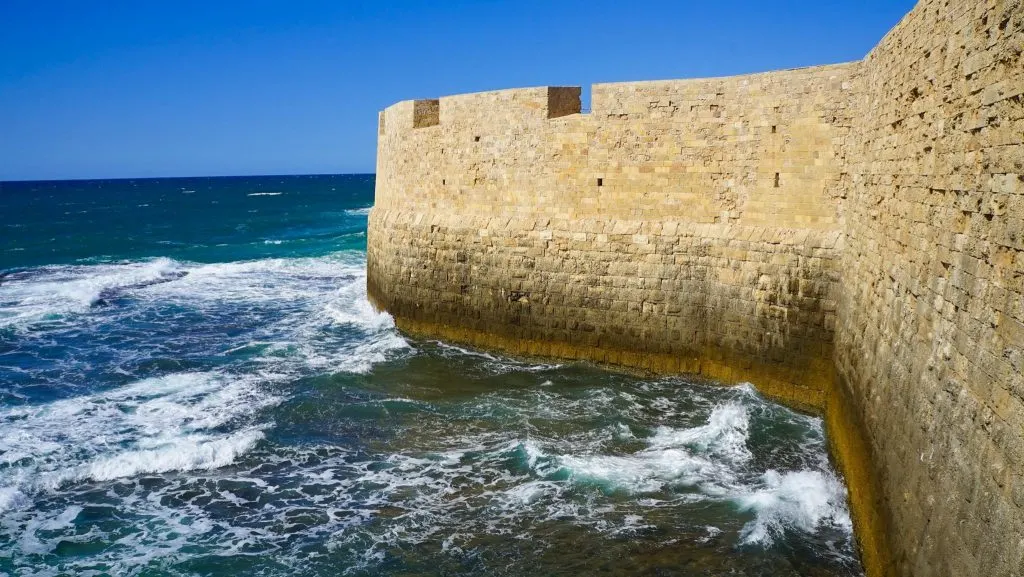 They typically are worthy candidates for inscriptions and should be of interest for adventurous travelers who want to explore under-the-radar spots before they become touristy. For Israel, these tentative sites are:
Triple-arch Gate at Dan & Sources of the Jordan
Early Synagogues in the Galilee
The Galilee Journeys of Jesus & the Apostles
Sea of Galilee & its Ancient Sites
Horvat Minnim
Arbel (arbel, nebe shueb, horns of hittim)
Degania & Nahalal
Bet She'an
Caesarea
White Mosque in Ramle
Jerusalem*
Makhteshim Country
Mount Karkom
Timna
The Crusader Fortresses
The Great Rift Valley – migratory routes – The Hula
Liftah (Mey Naftoah) – Traditional mountain village
Ein Karem, a village and its cultural landscape
Happy exploring!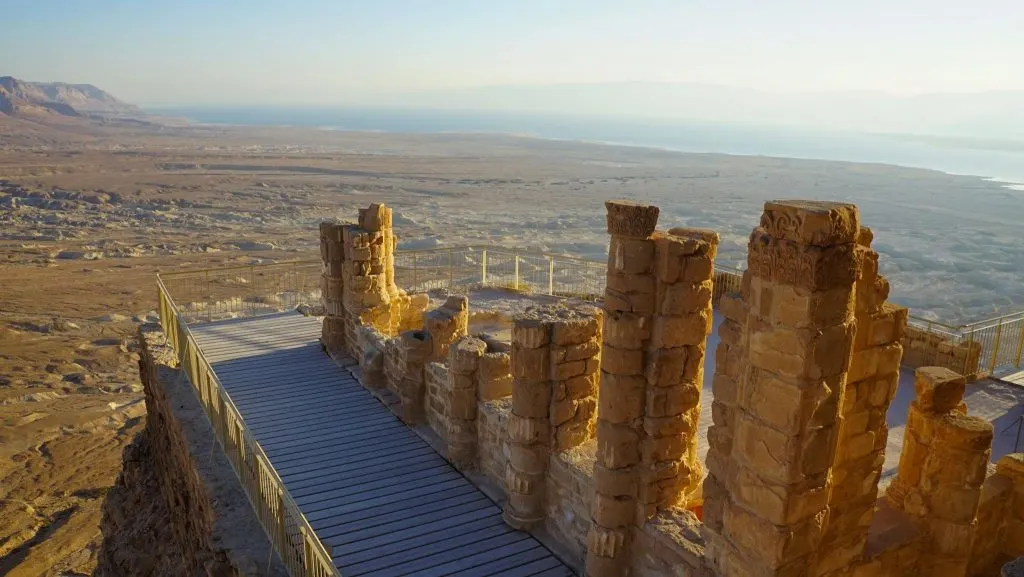 Staying Connected While Travelling
In today's increasingly connected world, staying online while traveling has become essential for a seamless experience. That's where eSIMs come into play, revolutionizing the way we access mobile networks during our global adventures. Say goodbye to hunting down local SIM cards at the airport; eSIMs provide instant activation the moment you land, sparing you the fortune usually spent on international roaming and allowing you to genuinely travel like a local (without getting hopelessly lost!).
With eSIMs, tasks like restaurant recommendations and reservations, up-to-the-minute public transport instructions, checking opening hours, and accessing further information become a breeze. And, of course, sharing your journey on social media is easier than ever. To stay connected wherever you roam, consider using either Airalo or Holafly. Airalo boasts the most extensive range of destinations worldwide, offering smaller data bundles tailored to your needs, while Holafly provides unlimited data packages and fantastic EU data deals.
So why wait? Embrace the future of travel connectivity with eSIMs and make your next journey effortlessly smooth.
Further Things To Consider Before Any Adventure
Now you're all set and prepared to explore our big wide world, why not sort out everything else out all in one go? If necessary for your travel plans make sure you have brought proper travel insurance, protected your privacy by getting a secure VPN, compared all the top hotel booking sites to find just what you're after, reserved an unbeatable rental car price and - of course - booked the best flight deals!
Or maybe just forget it all and go for a last-minute cruise or effortless tour instead?
Many budget travelers (including me) indulge in worldwide airport lounge access, so we can experience luxury while still slumming it in economy. Naturally, we would never leave home without a more general travel guide since we couldn't possibly cover everything here!
Just add an adventurous attitude and plenty of smiles - they go a long way - and that about covers it all! Now go out, find your own path and don't forget to share your best inspiration stories with me on Facebook, Twitter, and Instagram...I'd love to hear from you!