Tokyo, one of the world's biggest and most vibrant metropolises, is a crazy mix of past present and future that intoxicates travelers without fail. While you could stick to the traditional sites of Tokyo, why not spend some time exploring its weird and wonderful side?
Follow this list of 50 weird things to do in Tokyo, and you are guaranteed to see the real Tokyo and better understand this mysterious and passion-filled city!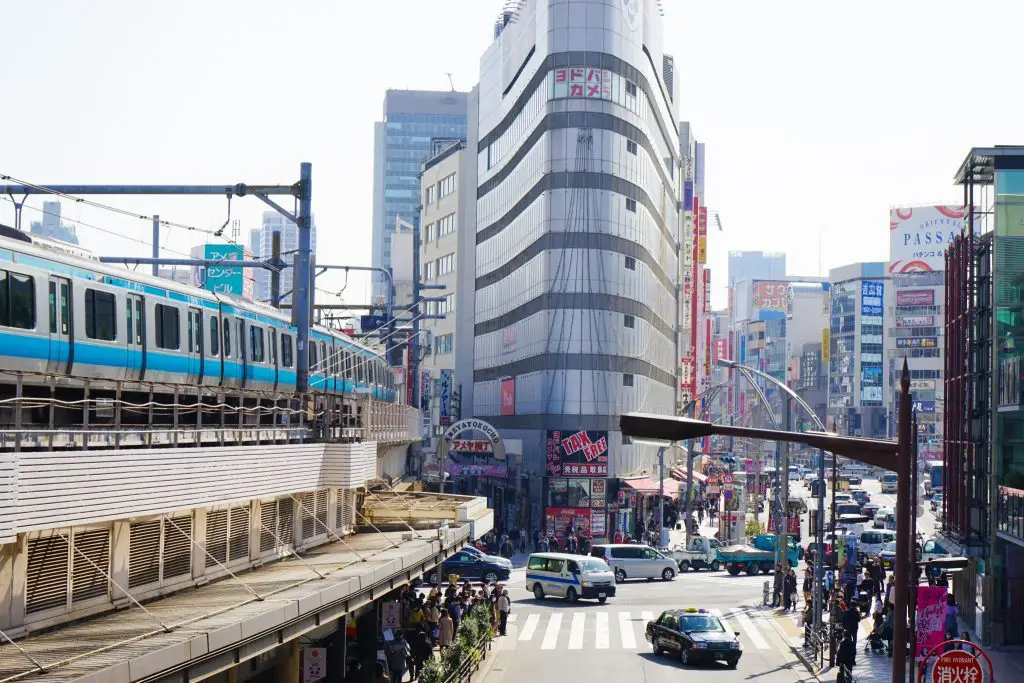 I had to limit myself to just 50 because – well for my sanity if I'm honest, and I didn't think anyone would bother to read more than 50. But I've left some other bizarre attractions and things to do in Tokyo at the end of the article which I didn't get the chance to experience – but they are 100% on my list for the next visit very, very soon!
Take your time to explore the neon-light landscape, seek out the curious and unusual, eat your heart out in the city that has more Michelin stars than any other, and let your soul wander freely. You never quite know what you will come across…
[/sc]
Tokyo is a city you are never, ever going to see all of – let alone in one trip – so there is no need to stress about seeing everything all at once. For first-timers in Japan, I'd recommend one week, but you can easily spend more. If you are traveling more around Japan, get your JR Pass before you fly to save yourself time and money, and be sure to book your hotel in Tokyo far in advance.
The best options for hotels in Tokyo sell out months in advance, and choices last-minute are limited at best (and because everyone keeps asking where to stay in Tokyo, the Godzilla Hotel aka the Hotel Gracery Shinjuku is my favorite option)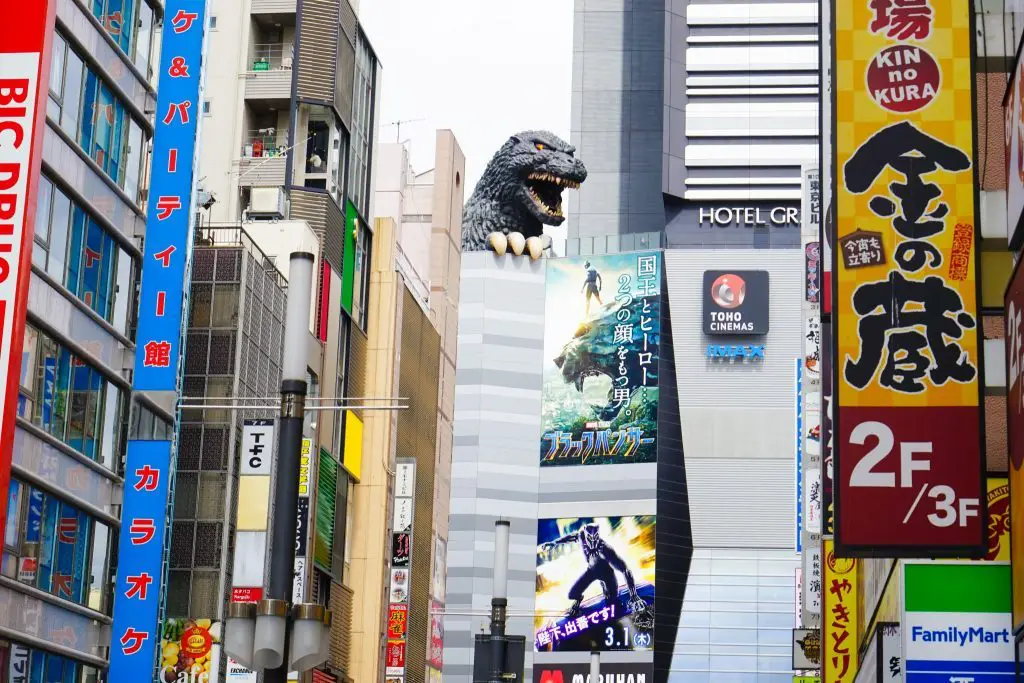 50 Unusual And Weird Things To Do In Tokyo Every First Timer Must Try!🗼
1. Have Your Own Mario Go Kart Adventure On The Streets Of Tokyo
I had to include this right off the bat, going on a real-life Mario Kart tour through the busy streets of Tokyo was one of the most bizarre and unusual things to do in Tokyo. There is nothing quite like it in the world, and besides getting your heart pumping and adrenaline running – you will probably be the most popular guy in Tokyo with locals running after your just for a picture!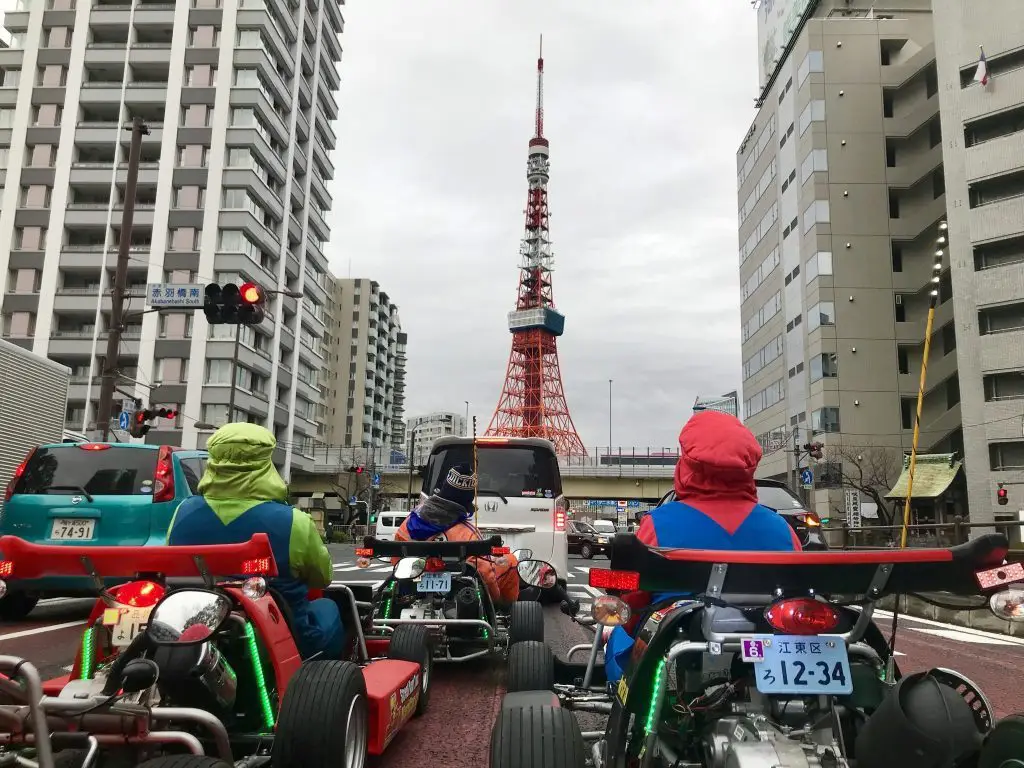 2. Shop Up A Storm At The Bizarre Don Quijote Store
Don Quijote is the biggest discount store in Japan, but it is so, so much more than that. Many are open 24/7 and sell everything you can imagine from Kit Kats and anime collectibles to children's toys and sex toys (right next to each other in this case). Don Quijote is now on every tourist's list of weird things to do in Tokyo – and for a good reason!
The largest Don Quijote in Tokyo is the newly opened Mega Don Quijote in Shibuya, but the Don Quijote in Shinjuku or Akihabara is pretty huge too! The perfect place to sort all your cute Japanese souvenirs!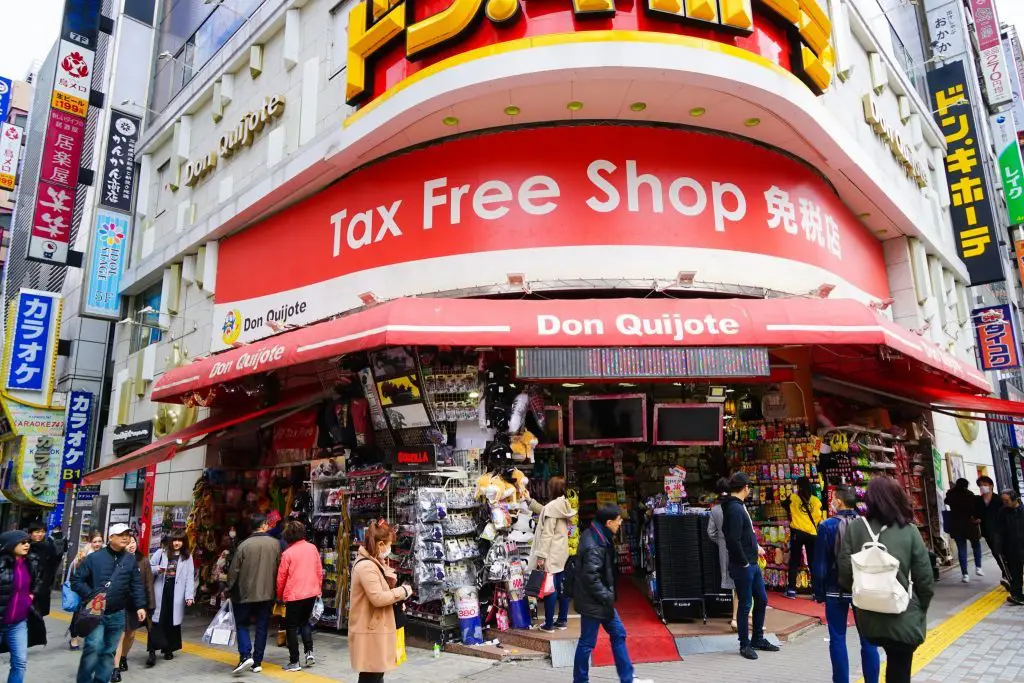 3. Get Re-Fuelled At Any Katsuya Restaurant Chain Store
The Katsuya restaurants are basically Japanese McDonald's, but far cheaper. There is fast service, large portions, a delicious Katsu, salad, and soup set menu, and an English menu. Katuysa can be found everywhere and are conveniently is designed to get in and get out: perfect for a busy day exploring Tokyo.
Katsuya Tokyo even hands out discount coupons good for any location after each meal, so once you have found one, you're likely to return again and again. Who said Tokyo on a budget wasn't possible!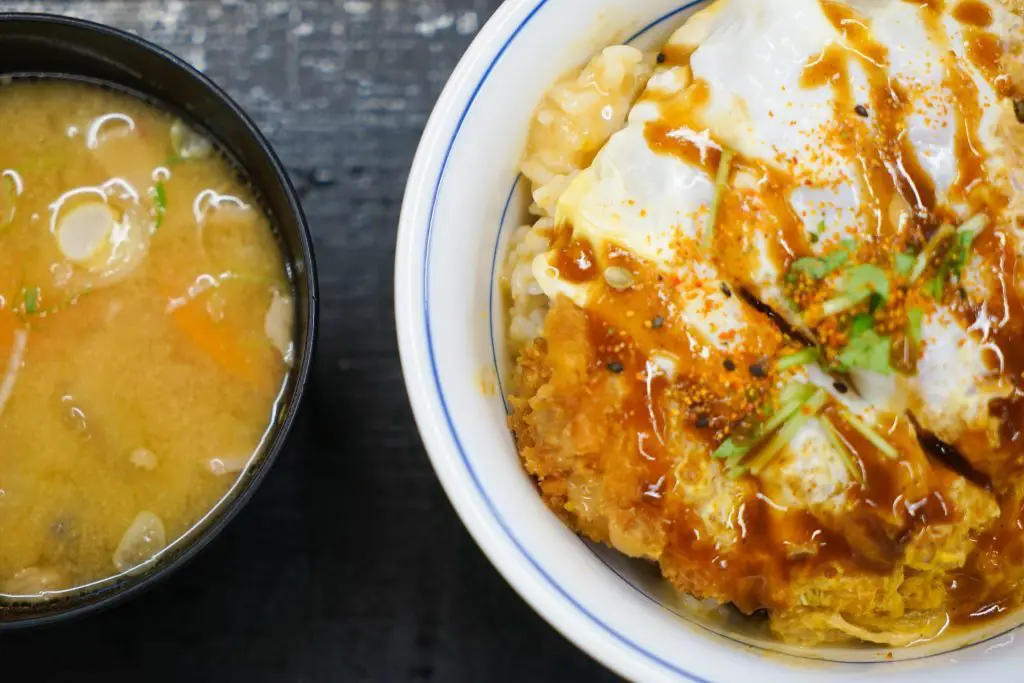 4. Experience Otaku Culture and Tokyo's Akihabara Neighborhood
Otaku, in Japan, is generally a young person obsessed with computers or particular aspects of popular culture (generally to the detriment of their social skills). In Akihabara, they find a home with plenty of maid cafes, video game shops, and cosplayers shops.
Most of these are featured separately on this list – but the area itself is colorful and worth exploring on its own to see what new and bizarre things in Tokyo you will find. Anime fans can also find filming locations in Akihabara of Tokyo Magnitude 8.0 and Darker than Black that are famous on Netflix Japan.
For a more female-centric version, head to Ikebukuro, where butler cafes are all the rage, along with indie stores for anime and manga.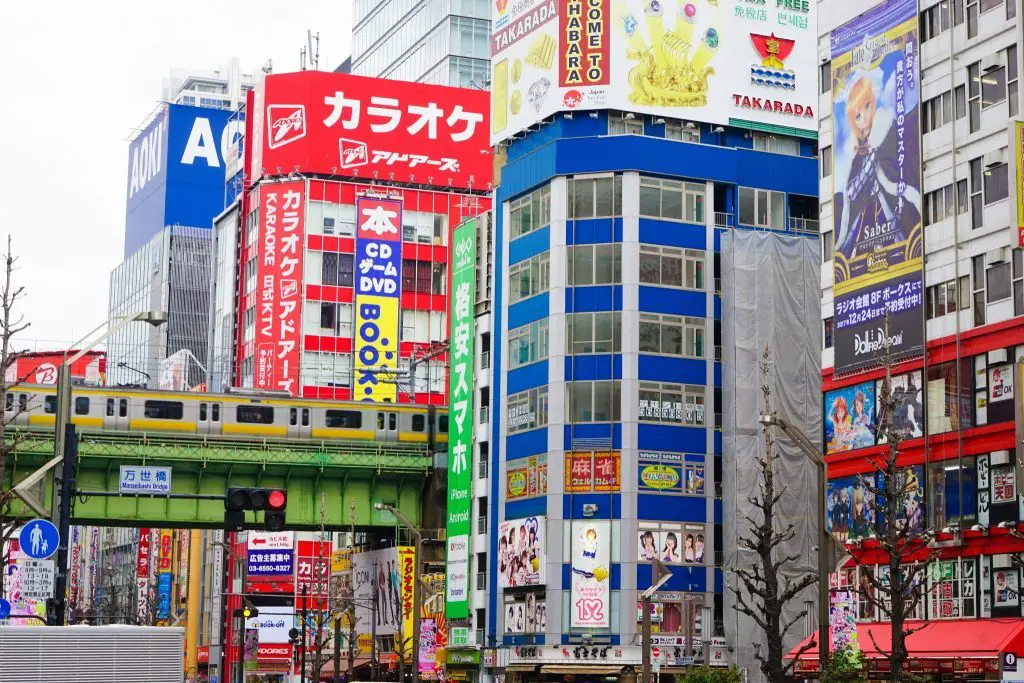 5. Unleash Your Inner Child At The Yamashiroya Toy Store
Competition is fierce for the best toy shop in Tokyo. Still, the Yamashiroya Toy Store must surely top the list with seven floors of pretty much every weird and wonderful toy or collectible you could ever imagine. You could easily spend hours inside Yamashiroya Toy Store – I'm not even kidding.
Our favorite finds where a cat piano, naked baby figurines, a Pokemon chess set, an entire Totoro corner, and more Moomin collectibles that I ever saw in Finland! Conveniently located a one minute walk from Ueno Station, the Yamashiroya Toy Store is one of the most unusual places to explore in Tokyo (and I loved it!).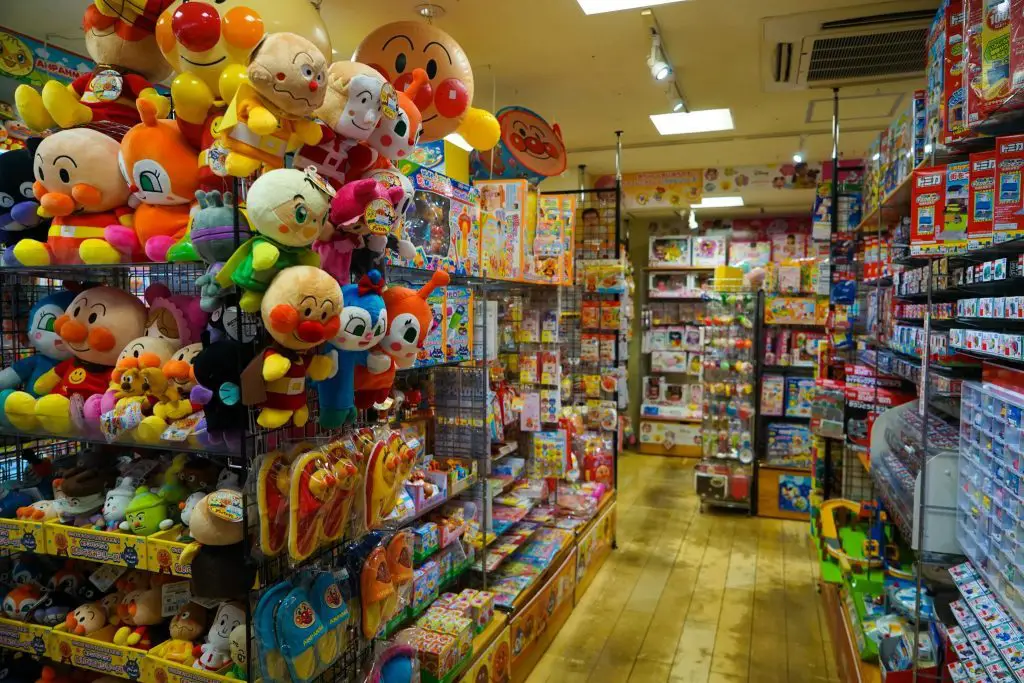 6. Get Lost In The Gaint Uniqlo Ginza Flagship Store
Uniqlo, the Japanese casual wear designer, currently taking the world by storm, has its flagship store in Ginza, and you really should check it out. Cheap fast fashion with a difference selling high quality, modern wardrobe essentials that are not going out of style – Uniqlo has become an international phenomenon (move over H&M!)!
If you're a fan, you have to visit the Uniqlo Ginza store, sprawling a ridiculous 12 floors, making it the largest branch of Uniqlo in the world! No kidding this one store hires 530 staff – and around 100 of which are foreigners, so if you need some assistance in English, you're in luck!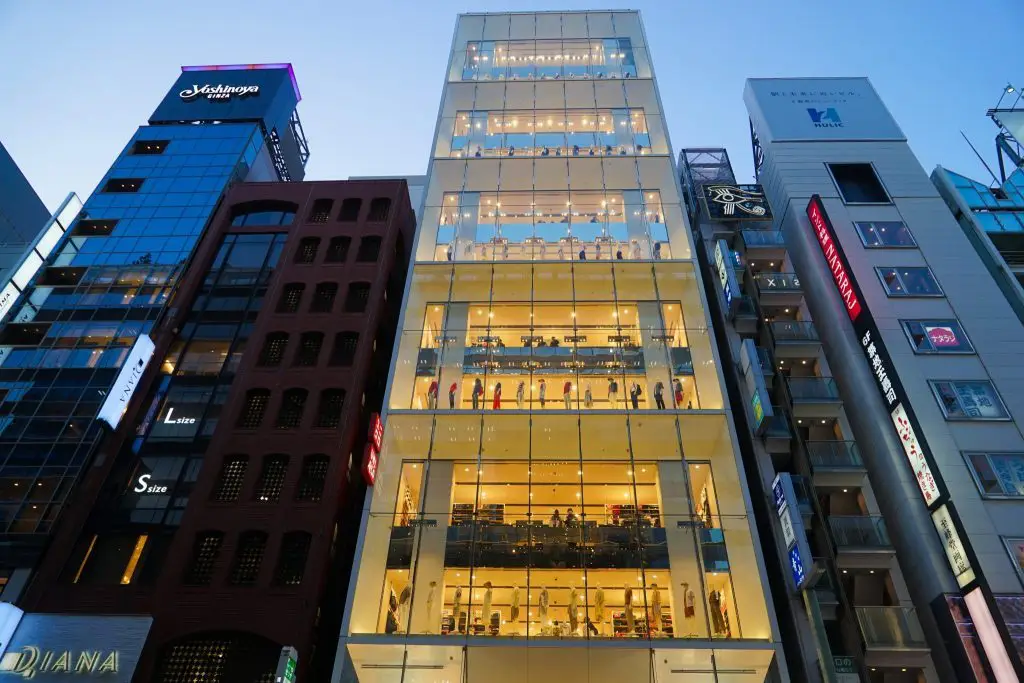 7. Visit The Rather Controversial Yasukuni Shrine
I wasn't sure if I wanted to include the Yasukuni Shrine here, but if you're going to understand Japan's past and present, a trip here is essential. Founded by the order of Emperor Meiji in 1869, the Yasukuni Shrine commemorates and houses the souls of all those who died in service of Japan from 1868 through to the end of WW2.
Controversy exists due to the enshrinement of war criminals (as decided by the International Military Tribunal for the Far East) here and the connected war museum, which is somewhat nationalist.
The shrine is often described as "a microcosm of a revisionist and unapologetic approach to Japanese crimes of World War II," claims which still plague Japan to this day. The frequent far-right activities and protests which occur here, along with visits to the shrine by Japanese Diet cabinet members in general and Prime Ministers in particular.
For the full story, read the controversies surrounding Yasukuni Shrine or just read about the cute, cuddly, and iconic Kyoto Fox Shrine instead.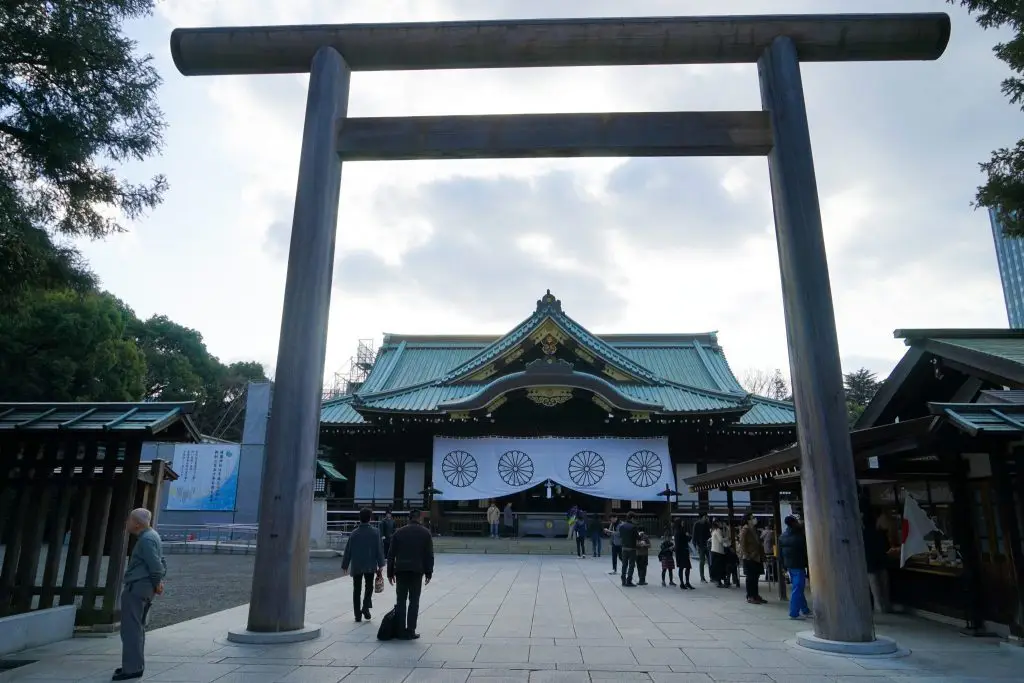 8. Wander Down Takeshita-Dori, a.k.a The Famous Harajuku Lane
Probably the most touristy spot in Tokyo, Takeshita-dori, or Harajuku Lane is still an unusual thing to do in Tokyo solely for the crazy array of shops and boutiques focussed on peculiar fashion items for mainly high school girls.
Designated an adult entertainment-free area by local authorities, there are no pachinko parlors or dirty sex shops anywhere nearby. Still, plenty of young teens (or older) can be spotted here exhibiting the latest in crazy Harajuku fashion trends.
Watch on perplexed as they each try to out-do each other with their eccentric outfit, all while waiting in line for the latest soft-serve ice cream phenomenon to open in the lane.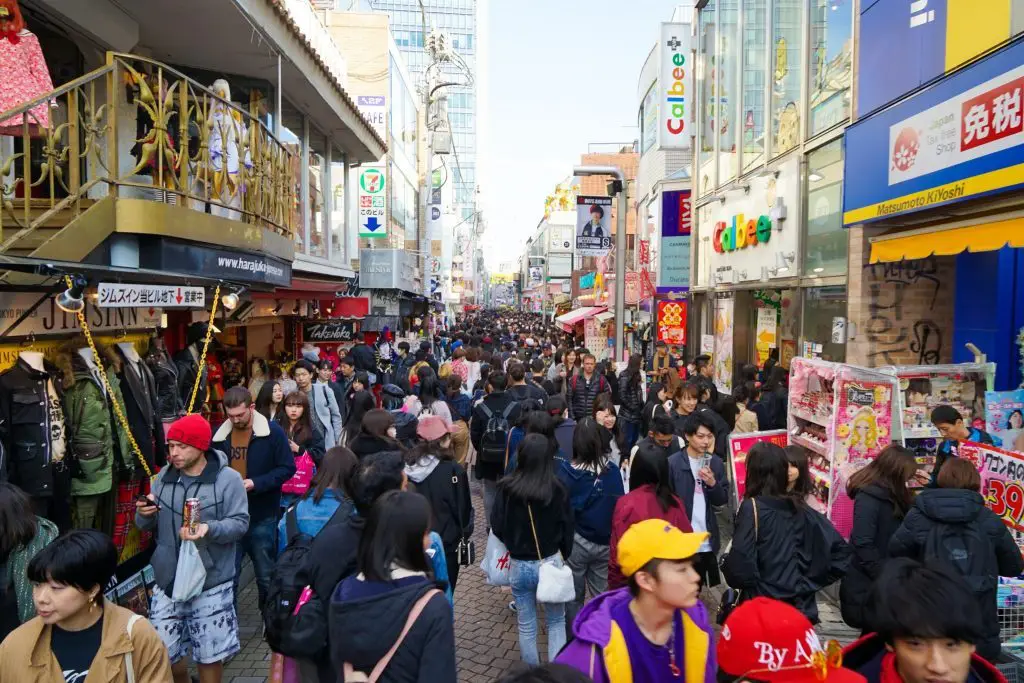 9. Take a Gamble In Any Of The Pachinko Parlours In Tokyo
What used to be a harmless recreation game has skyrocketed to popularity as Japan's #1 gambling game of choice. Noisy, smoky, garishly lit and oh-so-hypnotic this Pachinko Parlours are dotted all over the cityscape, and it would be hard not to find one merely wandering Tokyo for a few hours.
Pachinko is only government-tolerated as gambling is illegal in Japan. Some places can feel a little seedy – but practically everyone in Tokyo seems to go here. Choose a particularly bright one, head in, and drop a few hundred yen trying to figure out this weird pinball-esque game.
If you want to learn how to play and spend waste a few hours, head to the MARUHAN Pachinko Parlour in Shinjuku, which has a reputation for being foreigner-friendly.
P.S There are rumored connections with the Japanese mafia, though most have cleaned up their act recently. Still, I didn't want to photograph any of the Pachinko Parlours in Tokyo – so enjoy a photo of the original style Pachinko I found in Nasu – north of Tokyo!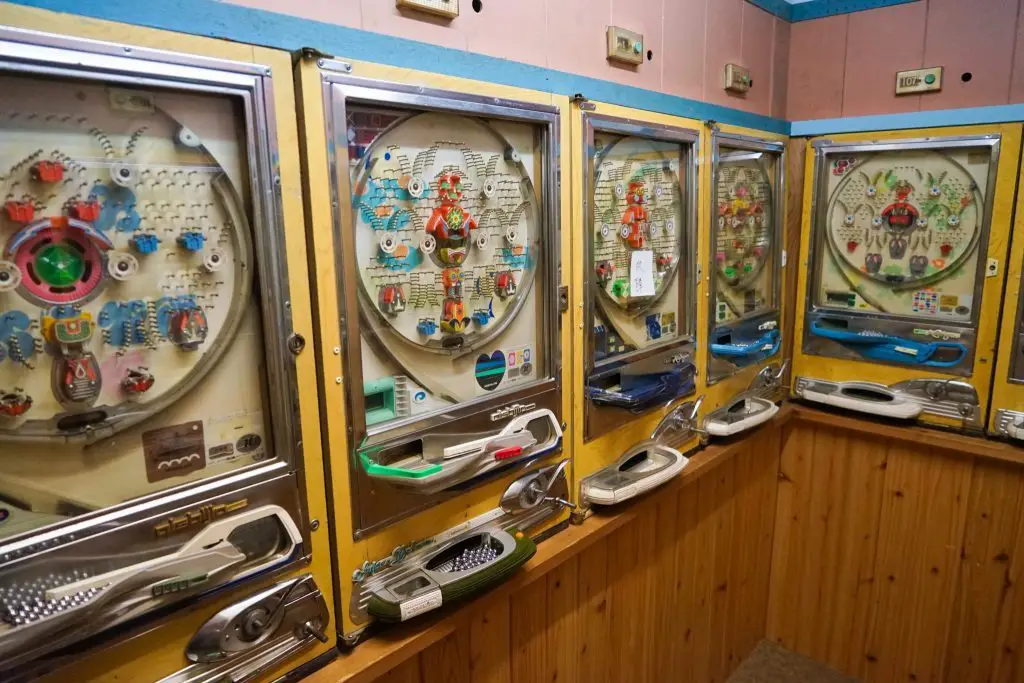 10. Marvel & Take Part In The Famous Shibuya Scramble
The busiest intersection in the world outside the Shibuya Station Hachikō exit, you can't miss the iconic site of hundreds or even thousands of people running in all directions with every pulsing light change – Yes, the Shibuya Scramble really is a scramble!
For the best view, head to the Starbucks Shibuya Crossing location, which has an epic bar with front-row seats from above, though you better be prepared to wait up to an hour or more for positions.
If you have a bit more cash to splash, there is always the L'Occitane Cafe Shibuya across the road for a far more refined way to view the chaos. I have literally sat and watched this go on for hours, it's insanely hypnotic and one of the weirdest things to do in Tokyo!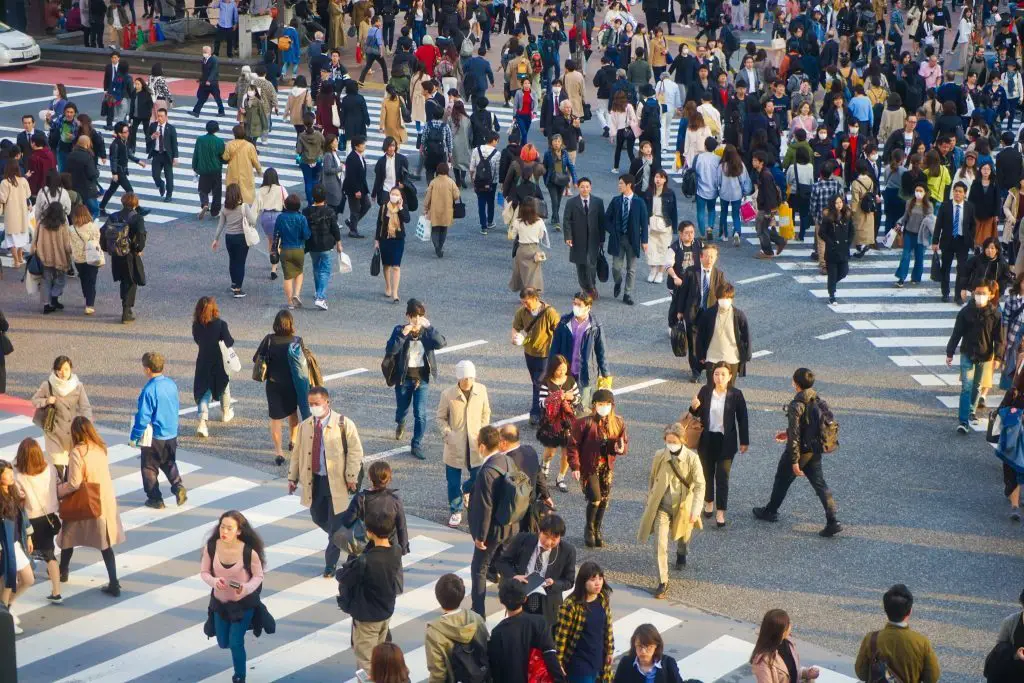 11. Pretend To Be A Ginza Richlister For The Day
Or hey, maybe you don't need to pretend, which will probably make it even more fun to explore Ginza, the most esteemed neighborhood in Japan where all the top fashion, gourmet, beauty, and luxury brands are located. No kidding, this neighborhood is so filthy rich Ginza's Public Elementary School recently announced new Armani uniforms for all students.
Kashoen Boutique Ginza.Tokyu Plaza Ginza. Matsuya Ginza. Suzunoya Ginza. Sanrio World Ginza. Toriba Coffee Ginza… These are just a few of the luxury malls here, but I think you get the idea. So pack your credit card (or better yet, leave it at home!), don your best attire, and window shop like you're going to buy it!
A visit to Ginza is best on weekend afternoons when the main street is closed and becomes a large pedestrian zone; I guess they have to make the ordinary people feel welcome sometimes…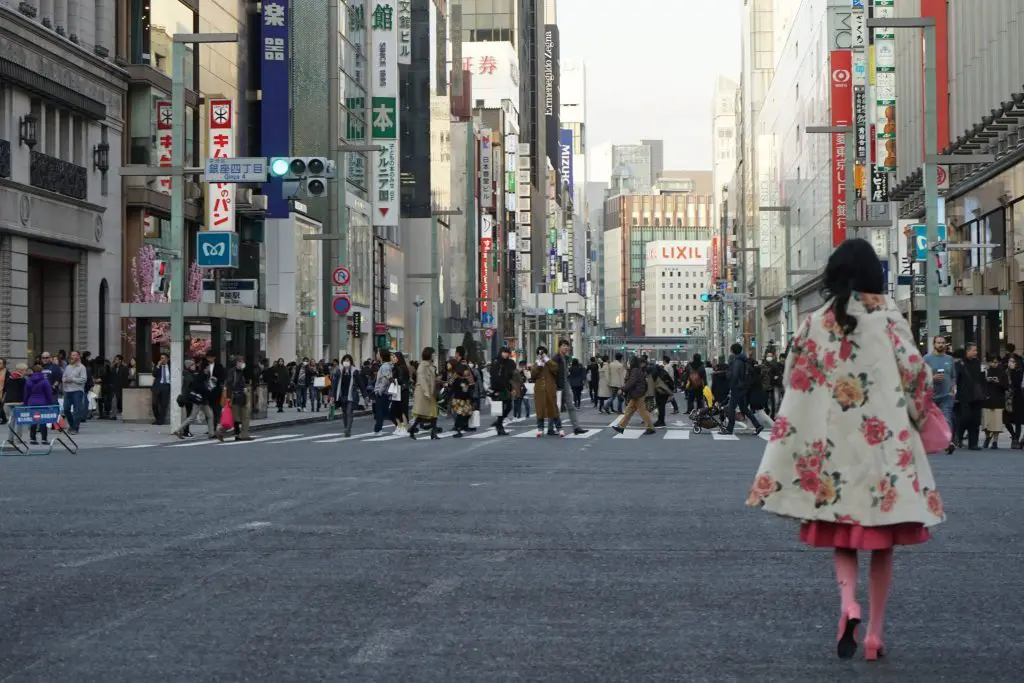 12. Dine At The Kawaii Monster Cafe in Harajuku
Kawaii, or the Japanese obsession with cuteness, is in full force at the Kawaii Monster Cafe – found in the already bizarre Harajuku district. Best described as a child's psychedelic dreams come to life with plenty of vivid colors and sounds, the Kawaii Monster Cafe is one of the most popular things to do in Harajuku.
Inside there is (to name a few) a merry-go-round of life-sized gummy bears and sweets, a jellyfish cocktail bar, gender-bending wait staff, and rainbow-colored food that often looks like it was thrown up by a baby unicorn. Like so many other weird things to do in Tokyo – I'm at a lack of words to describe this place, so your just going to have to book the Kawaii Monster Cafe and experience for yourself!
Another option for kawaii-ness is to visit the new Pokemon Cafe in Tokyo – which I loved so much I had to write an entirely separate article…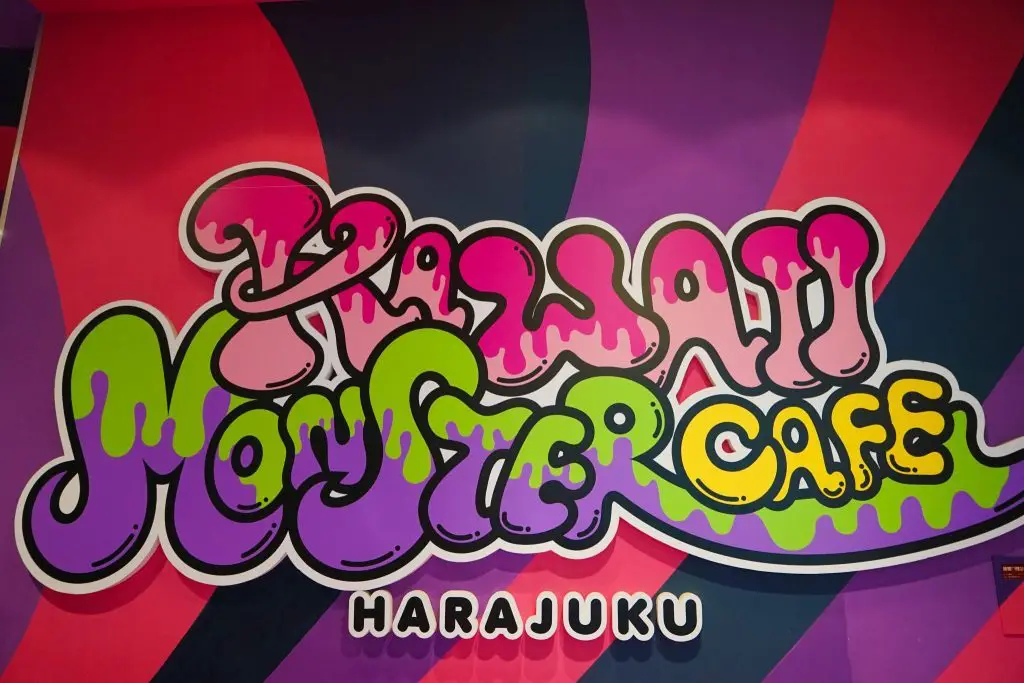 13. Taste Delicious & Cheap Sushi At Genki Sushi
A famous chain of conveyor belt sushi restaurants established in 1990. Genki Sushi has now expanded worldwide, but it still just tastes best in Japan, where you can order hundreds of sushi combinations, including horse meat sashimi and a sushi burrito off a tablet in front of you and have them all come whizzing along on a train direct to you.
All the fun of a sushi train – but none of the 'what on Earth did I just pick up.' My favorite Genki Sushi outlet was the Genki Sushi Shibuya, but be aware wait times can get very long in peak periods.
For maximum effect, try to get a table furthest away from the kitchen, and while you can order up to three things in on order, you should only order one thing at a time so you can maximize the deliveries!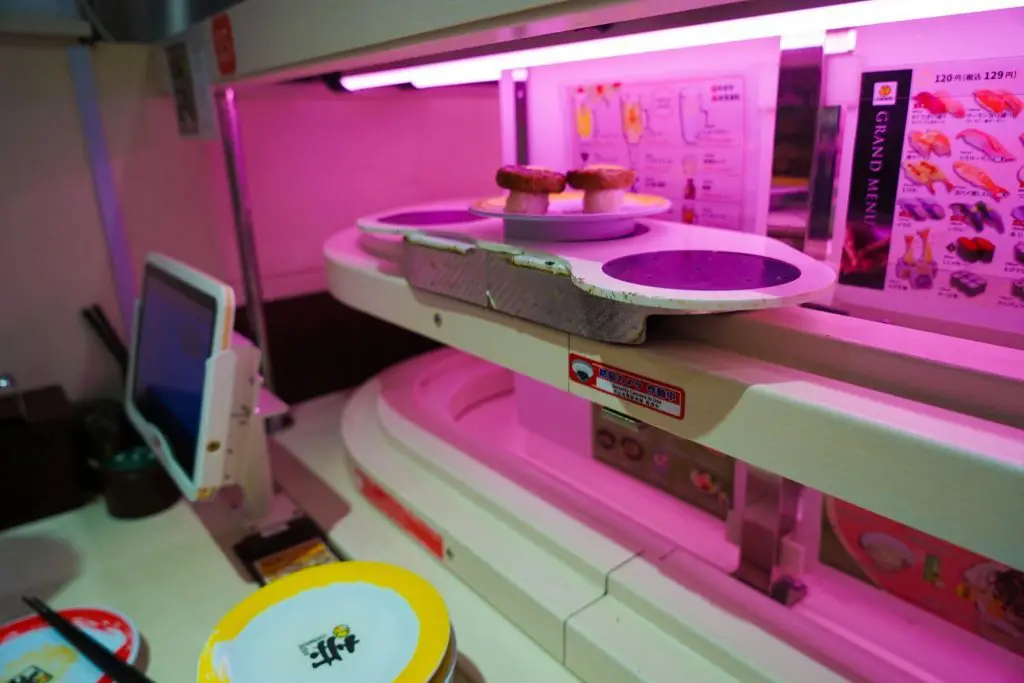 14. Take A Helicopter Trip Over The World's Largest City
Sure, it's not going to be cheap, but dam – taking a helicopter trip over Tokyo at night is going to be one of those things you never forget. Seeing the glittering glory extend out as far as the eye can see in all directions, there is no better way to appreciate the vastness and complexity of Tokyo.
Perfect for an anniversary or unique experience in Tokyo, and if you have got the cash to splash…Maybe take me?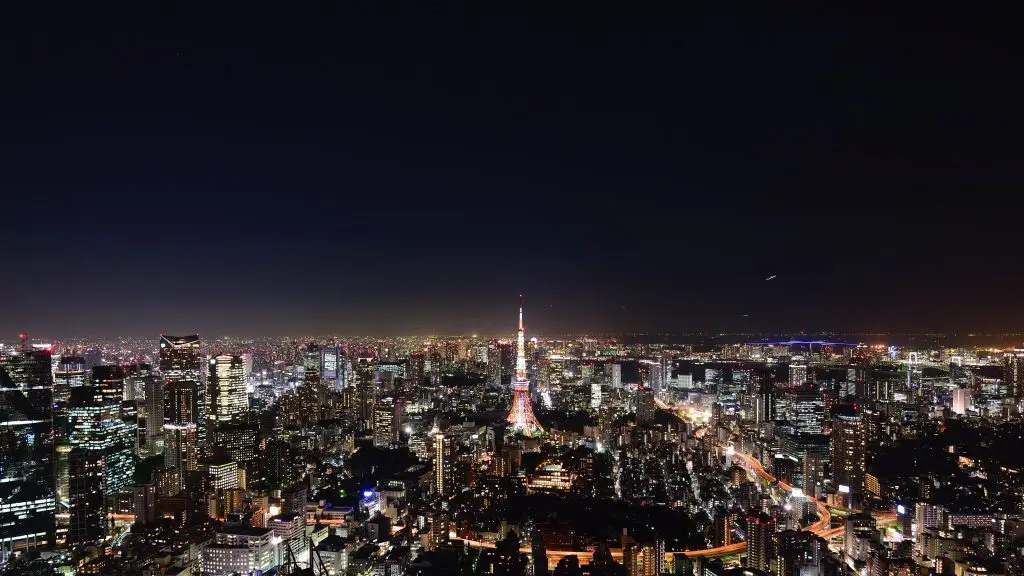 15. Party All Night In The Shinjuku Party District
If you're a night owl who loves nothing more than hidden bars, smoky karaoke, and loud pop music, then you're going to fit right into the Shinjuku nightlife scene. Hundreds of bars, clubs, and more dot the backstreets here, and even though this infamous area can feel sleazy – it's perfectly safe, even at night.
In true Japanese style in the Kabukicho district of Shinjuku, you will find everything from fine dining to loud Irish pubs, deep underground clubs, and a side of sex and sleaze. If your more interested in gay nightlife in Tokyo, you have Shinjuku Ni-chome just a few blocks away, which is the beating heart of the Tokyo gay scene.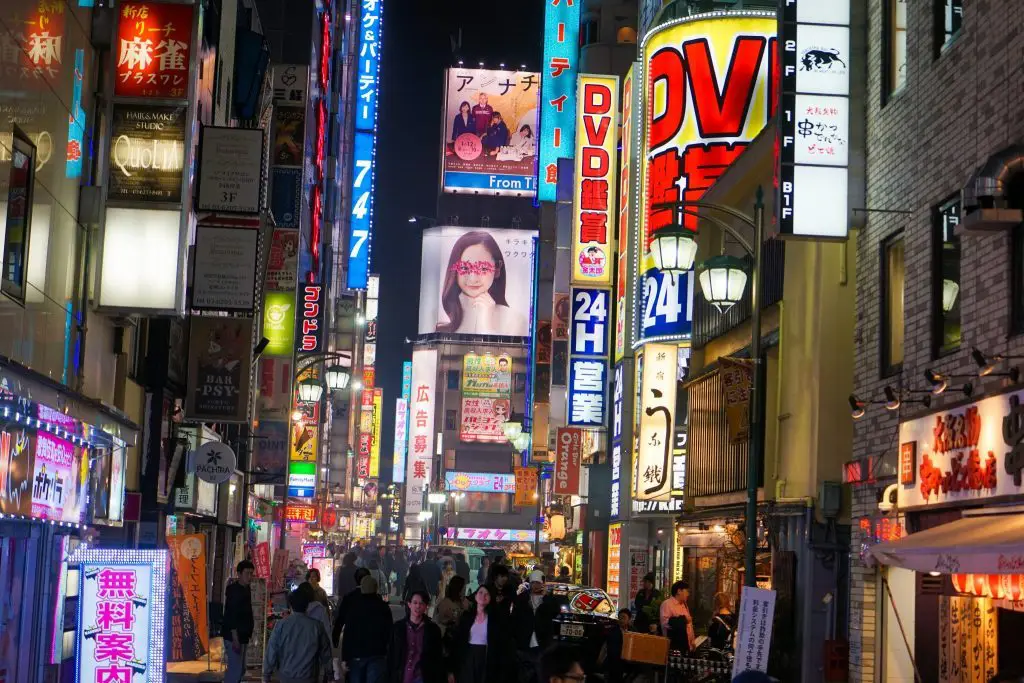 16. Discover Japanese Cuisine Beyond Sushi With A Tokyo Food Tour
There is no doubt that Tokyo is a foodie city, but finding the best of Japanese cuisine can be a real challenge amongst so many options. I highly recommend you try to book a Tokyo Food Tour to savor legendary Tokyo flavors and culture with the help of a local Tokyoite guide.
Try yakitori (skewered BBQ chicken) streetside, Monja-yaki Japanese pancakes at the place they were invented, or try wagashi, a traditional sweet with different flavors depending on the season. Food tours are possibly the quickest way to understand a city, and in Tokyo, this is no exception.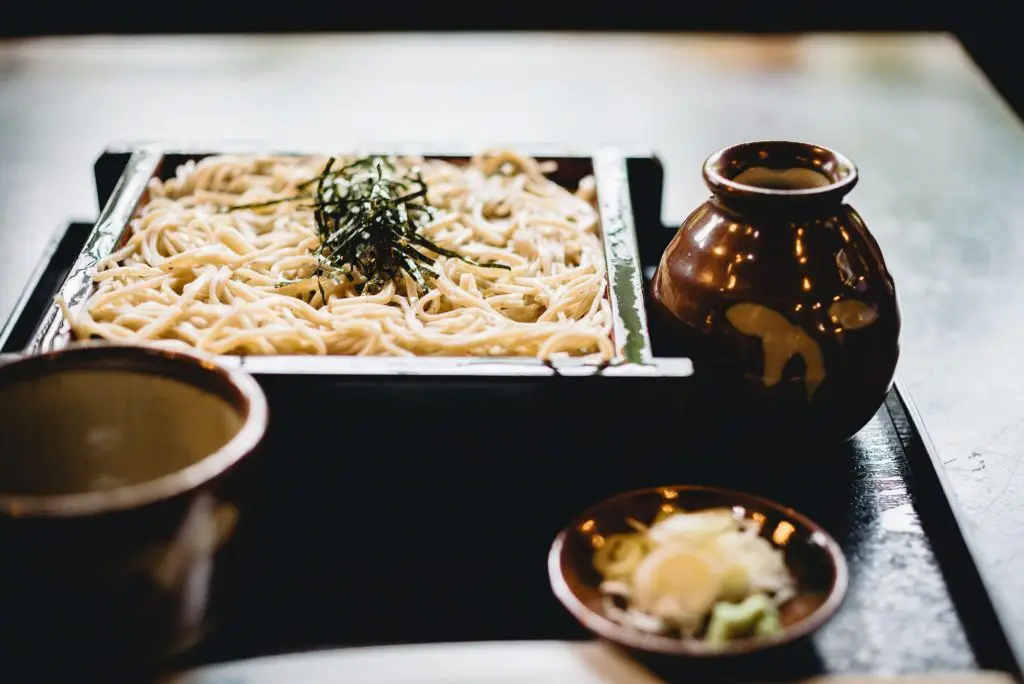 17. Spend The Day At The World's Best Disneyland
I thought Disneyland would be the same everywhere in the world…How wrong I was!
Forget Harajuku, Disney Resort Tokyo is where you are going to see the absolute weirdest outfits ever as teen Japanese go all out. The Japanese queue for absolutely everything (including to get selfies on blank walls), go crazy for curry popcorn (and other bizarre flavors) which must be consumed from limited edition Disney Popcorn buckets and all dress as twins in identical outfits (with identical soft-toys!) in something called the Osoroi Code…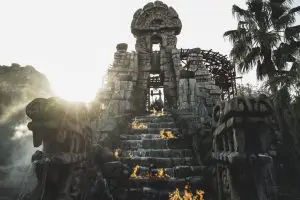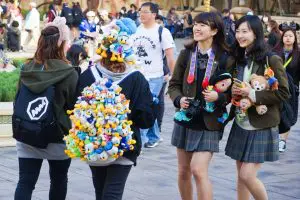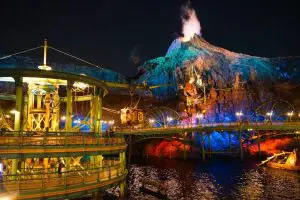 While Disneyland Tokyo is the worst Disneyland I have ever been to (and will probably never, ever return), I'm convinced DisneySea Tokyo is the best theme park in the entire world!!
Inspired by ocean tales and legends, DisneySea Tokyo has seven-themed areas and far too many attractions for just one day (I recommend two days). It's like nothing else you have ever experienced. Such an unqualified statement may seem hyperbolic, but trust me on this – Once you visit DisneySea Tokyo, you are going to understand what I mean.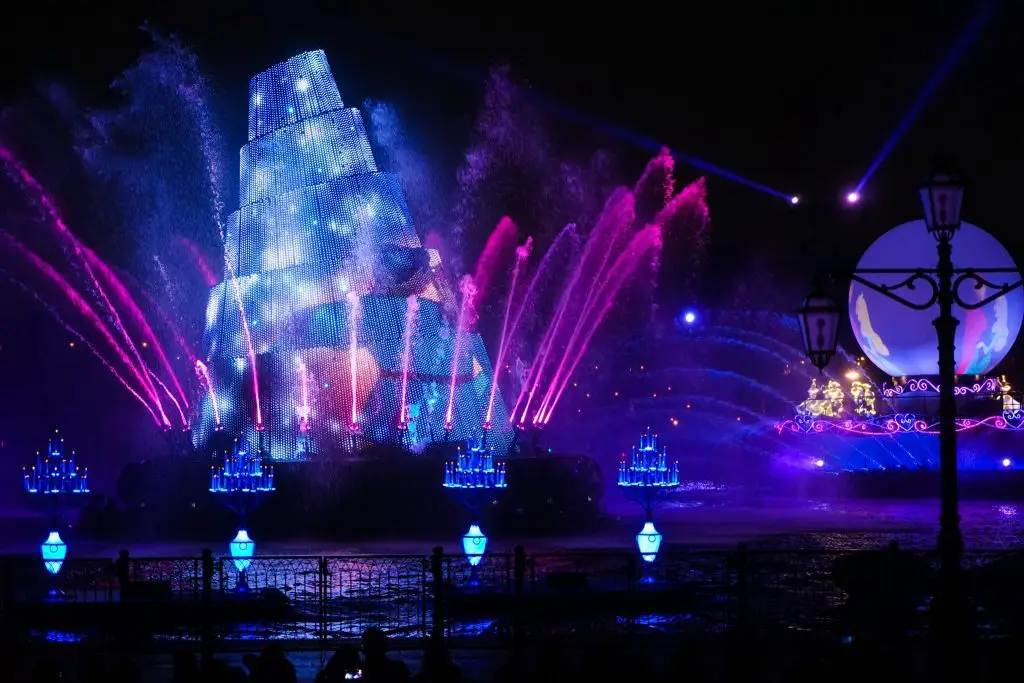 18. Delight In The Spring Cherry Blossoms In Tokyo
The most famous annual event in Japan, the Sakura / Cherry Blossom event in Tokyo is fleeting – only lasting a few weeks at the end of March and beginning of April. During this time, millions of people take to the parks and cherry blossom viewing spots in Tokyo, and hotel prices surge.
Seeing an otherwise nature-free city suddenly covered in pink blossoms is rather otherworldly, and there is no better time to visit Tokyo – if you can afford it. Pack your camera, brace for the crowds and get your hotel in Tokyo sorted far in advance, the magic of cherry blossoms of Tokyo will make it all worth it!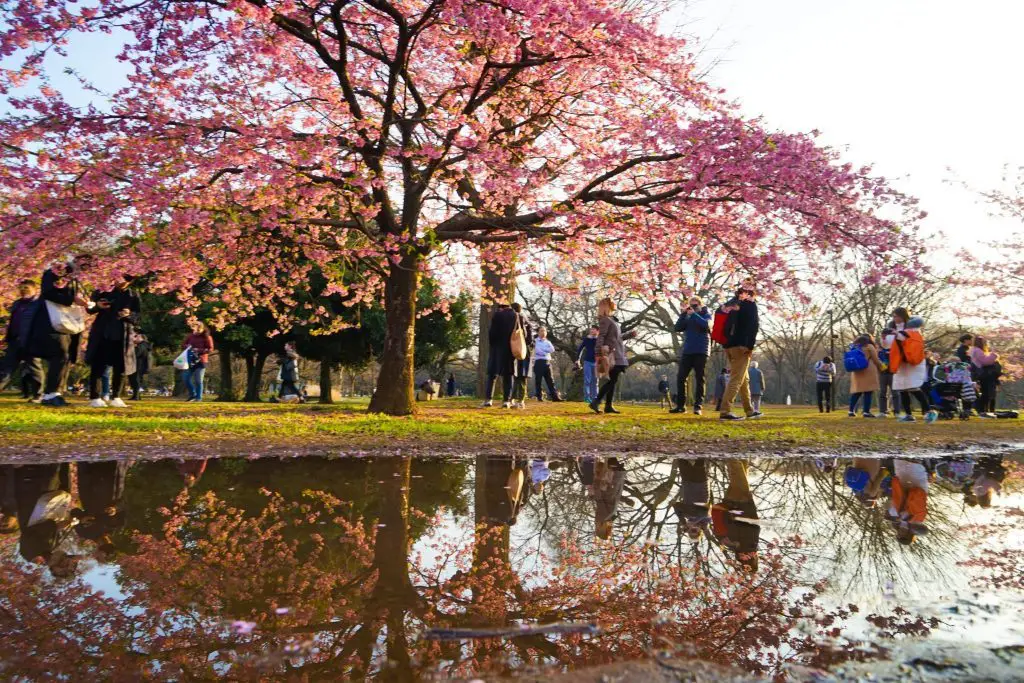 19. Seek Out All Of The Wacky Vending Machine in Tokyo
Vending machines are a way of life in Japan. With high labor costs and petty crime almost non-existent, you can find drink vending machines on practically every corner in Tokyo. The Japanese didn't stop there, and nowadays, you name it, and chances are there is a vending machine for it.
Umbrellas, hamburgers, surgical masks, and I kid you not: Used Ladies' Underpants (found on the ground floor of M's pop life sex department store – in case you are wondering). I even heard rumors of a puppy vending machine but never managed to find one myself. Keep an eye out on all the vending machines around Tokyo to see the weirdest things you can come up with!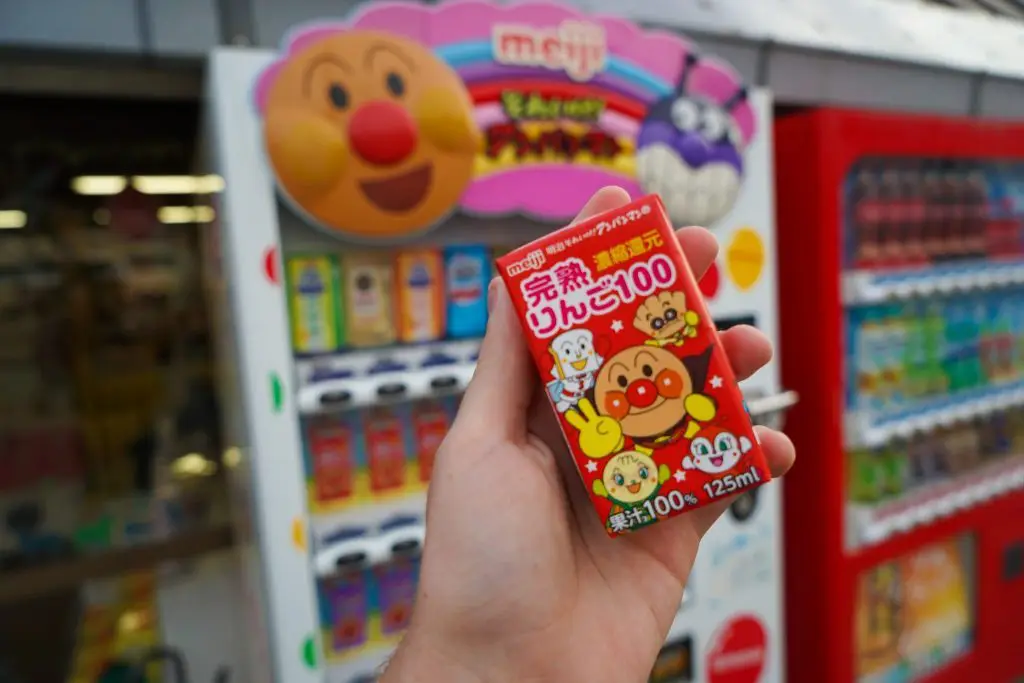 20. See The House Of The Japanese Emperor, the Tokyo Imperial Palace.
Still very much in use by the Japanese Royal family, the Tokyo Imperial Palace cloistered away in the very heart of Tokyo is quite the sight to behold (if you can ever get in). The private grounds of the Tokyo Imperial Palace are only open to the general public on January 2nd (New Year's Greeting) and on December 23rd (Emperor's Birthday) when you can enter and see the members of the Imperial Family make public appearances from a balcony.
Your best bet of visiting the Tokyo Imperial Palace otherwise is reserving tickets far, far in advance – like as soon as you book your hotel in Toyko – for 75 minutes guided tour of the palace grounds held in Japanese.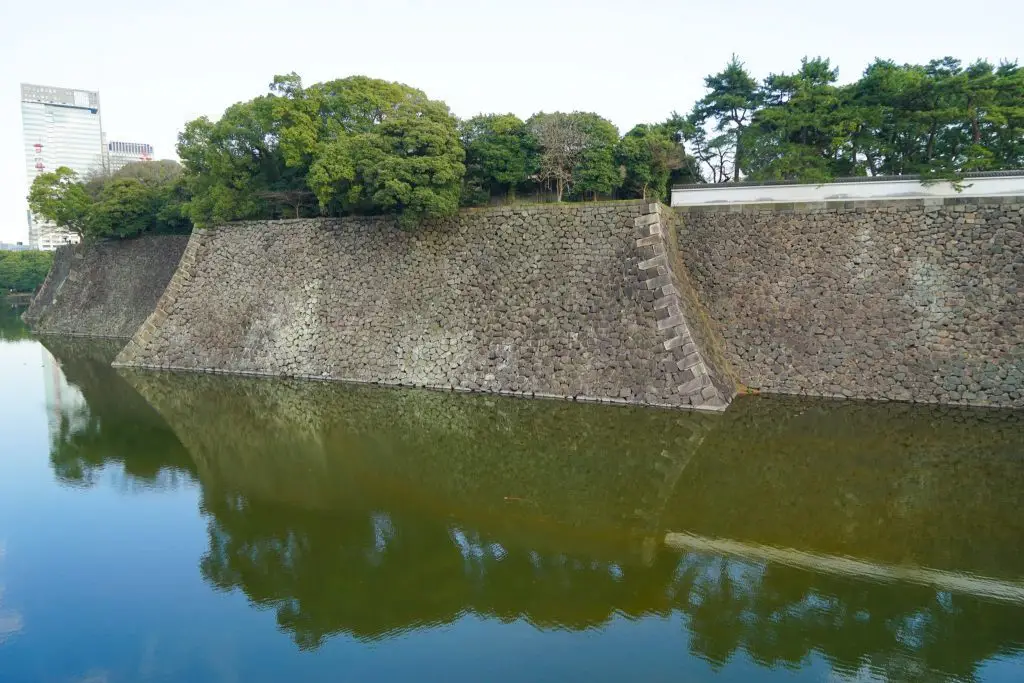 21. Step Back In Time At The Edo Wonderland Themepark
Technically not in Tokyo (ok-not at all) but only a 2-hour train trip away with the essential JR Pass, Edo Wonderland is a uniquely Japanese theme park that resurrects and showcases the life and culture of the Edo period. You can dress up for the day as a geisha, samurai, lord, or farmer and attend ninja training, geisha shows, oiran processions – all the while exploring an authentic town straight from the Edo period.
Edo Wonderland was perhaps the most fun things to do in Japan. Thanks to their handy shuttle, you can visit Edo Wonderland in one day from Tokyo, but I recommend taking a more extended stay in Nikko and enjoying Old Japan.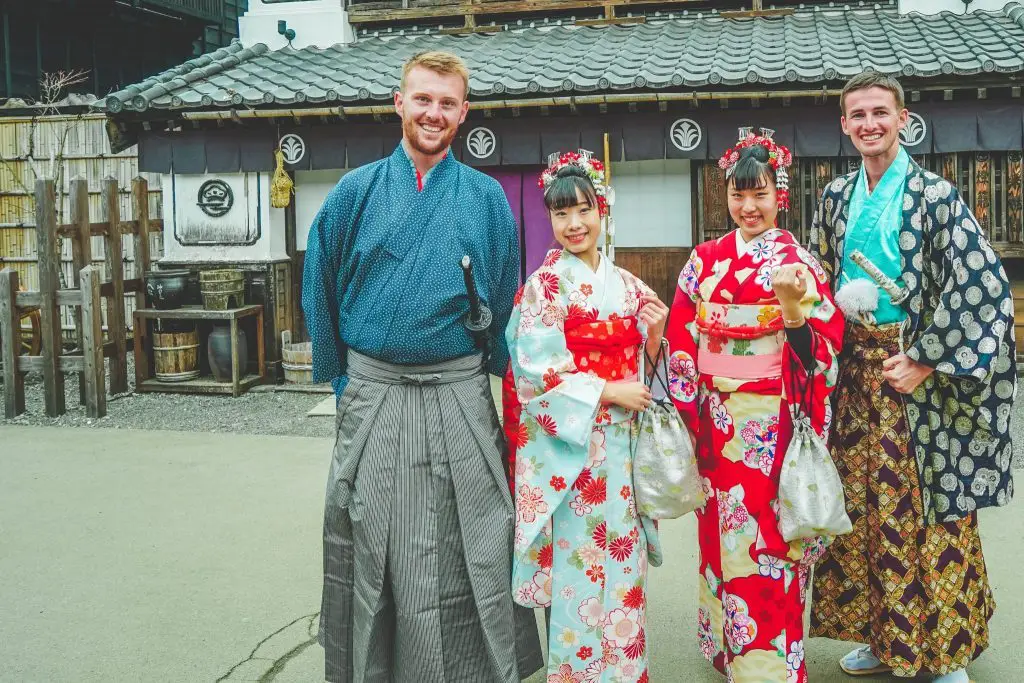 22. Visit Mandarake, The World's Largest Anime And Manga Reseller
Established way back in 1987 as a pre-owned manga dealer, Mandrake today has morphed into Tokyo's largest vendors of used anime and manga-related products with 25 branches in Tokyo. My favorite is Mandarake Akihabara, which spread out across eight floors, with each level dedicated to different collectibles, manga works, and art.
Not for the faint of hearted, the middle floors have some pretty hardcore anime works that cross some boundaries (let's just say Japan only made the possession of child pornography at crime in 2014, and explicit anime is not covered). A time capsule of Japanese pop culture, a visit to the claustrophobic aisle of Mandarake has got to be one of the most unusual things to do in Tokyo, and if you're not careful, you could spend days here.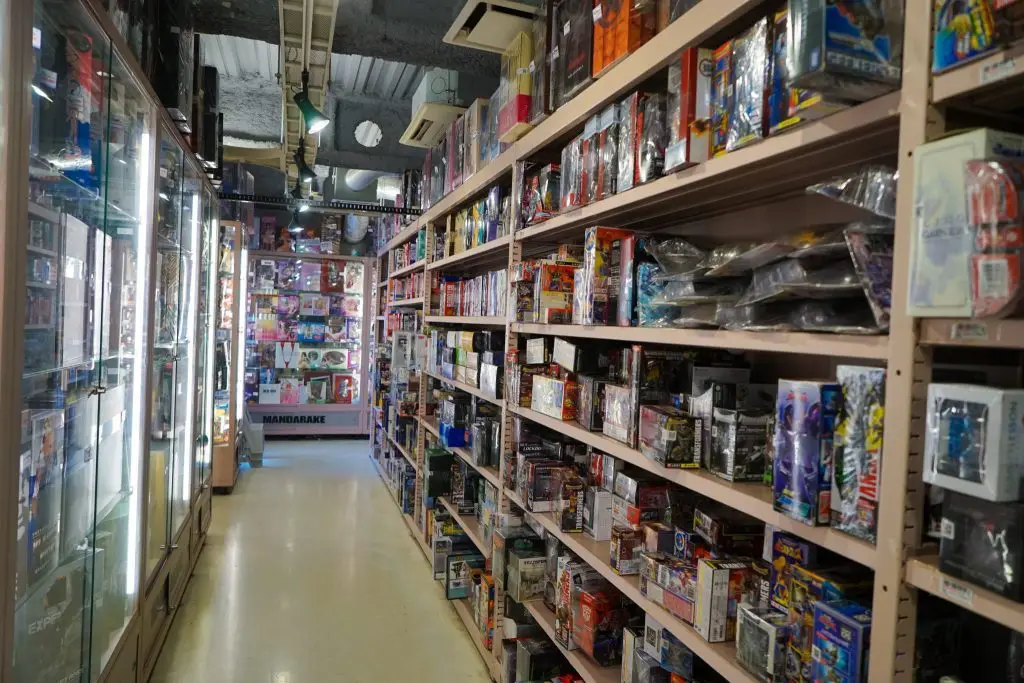 23. Make A New Prickly Friend At A Tokyo Hedgehog Cafe
It seems no adorable creature is safe from Japan's animal cafe crazy, and the latest iteration of this trend is the Tokyo Hedgehog Cafes (who needs cat's and dog's anyway right!). I was somewhat skeptical at first, but surprisingly Hedgehog's are not as spiky as you would assume and are very kawaii.
I visited Cheese Hedgehog Cafe in Akihabara, and while I still have reservations about the stress caused to these nocturnal animals, I can say the staff here are genuinely passionate about their little buddies. They frequently swapping them out when they get tired and making sure everything is clean as a whistle.
Whether it's your cup of tea or not, you have got to admit the Tokyo Hedgehog Cafe of the most unusual things to do in Tokyo, right?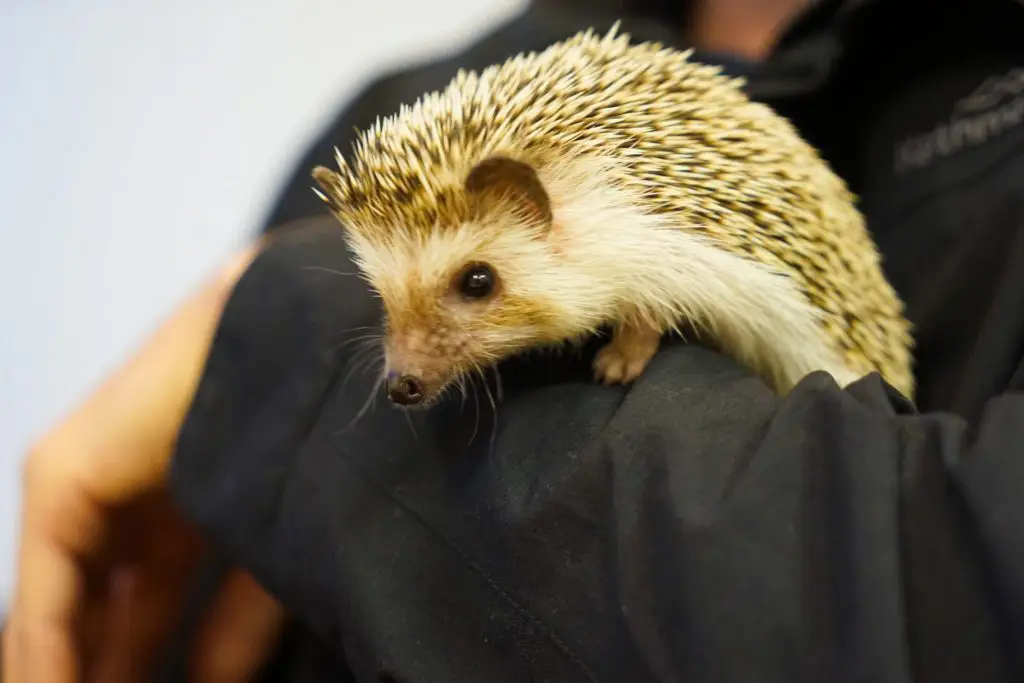 24. Visit The Insanely Popular Japanese Animation Studio Studio Ghibli Museum.
If you have gotten this far, you will probably have any idea how crazy Japan is over anime, and no place does this come together more than the Ghibli Museum. See all the stories of Hayao Miyazaki's creative mind in real life and spot the famous characters from this many films. If you don't know about Studio Ghibli – creators of Spirited Away and Howl's Moving Castle – then you are missing out!
At the Studio Ghibli Museum, you can learn about the history and techniques of animation as well as visit the famous rooftop garden. Normally sold out weeks or even months in advance, no tickets are ever sold at the Studio Ghibli Museum, and you need to book far in advance to avoid missing out. If you're a Studio Ghibli fan, you won't want to miss this!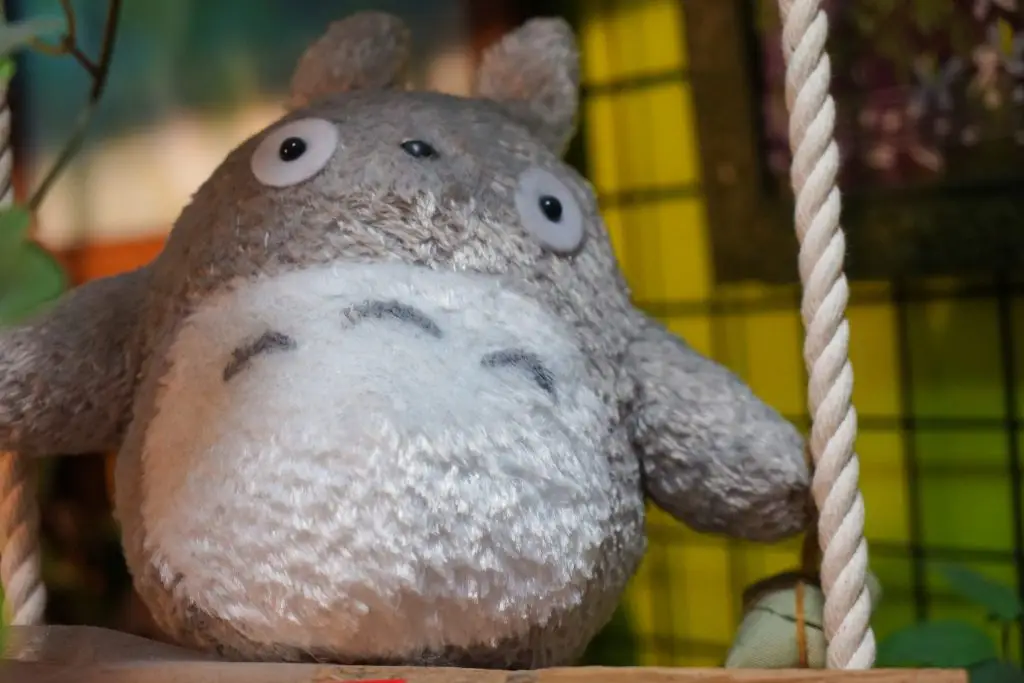 25. Try Your Luck At Catching A Crowded Tokyo Subway At Peak Hour
You can't claim to have seen or experienced Tokyo until you have been on the Tokyo subway at peak-hour. It is true – there is order in chaos. There is no better example of this than the Tokyo peak hour subway commute, where thousands of people somehow form snaking lines and fit themselves orderly and calmly into every available space in the subway cars.
It is not for the faint of heart, but luckily there usually are platform guards on hand with white gloves to give a diplomatic push to help get the doors close and the next subway along. I'd recommend avoiding the weekday rush hour peak in Tokyo between 8 am and 9 am and just after 5 pm, if possible – except for the first experience.
If you need to go, wait for a full train to depart, and then you will be front of the queue for the next one and quickly get in without having the doors close on half of you. If you have a backpack or suitcase in these hours, forget it and take a ride-share in Tokyo. Want to save yourself from this unique experience in Tokyo? Just take a look at these photos of the Tokyo subway at rush-hour!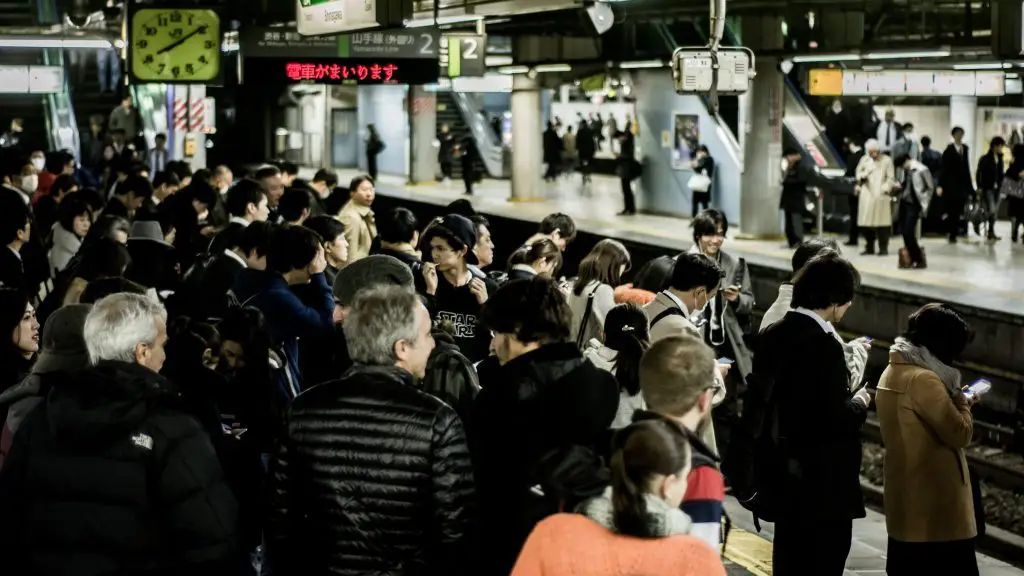 26. Head To The Toto Daiken YKK AP Tokyo Collaboration Showroom
It doesn't get much weirder than this, but yes, the Toto Daiken YKK AP Tokyo Collaboration Showroom is open to the public in the heart of Shinjuku – and they even have English guide-maps for you to show yourself around. A collaborative of iconic Japanese companies showing the very best of interior design, robotics, windows, and yes – Japanese toilets to the world.
Spread out across three floors, some of this stuff is very advanced and not available for sale outside Japan (well, that's what they told me!). Wandering around admiring Japanese toilets and be surprised by the self-rising lids was hilarious, and you are made to feel welcome. However, I clearly had no intention of buying anything.
If, for no other reason, visit the Toto Daiken YKK AP Tokyo Collaboration Showroom for the hilarious story, right?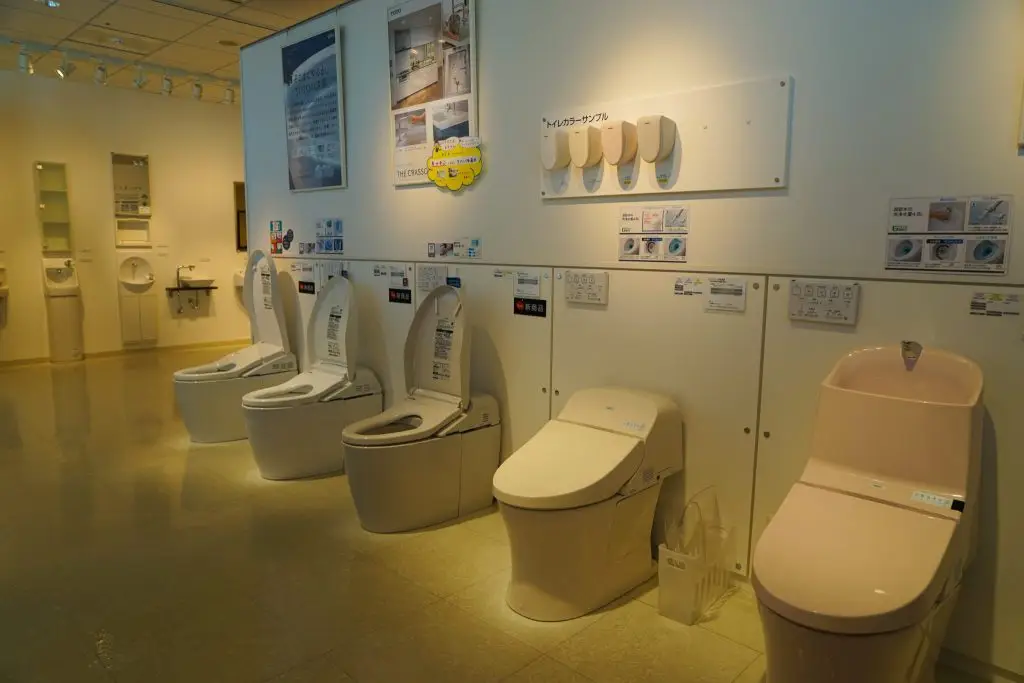 27. Wake Up At The Crack Of Down For the Tsukiji Fish Market
The largest wholesale fish and seafood market in the entire world, you have probably heard of the daily auctions that take place at Tsukiji Fish Market around 5.20 am. From the world's most expensive caviar to cheap seaweed – you name it, and it's for sale here feeding the insatiable demand for Japan's seafood and sushi restraints.
A significant tourist attraction in its own right (and popular with jet-lagged tourists), be sure to go early as everything closes by mid-afternoon at the latest. Plans to move the Tsukiji fish market before the 2020 Summer Olympics in Tokyo have been on the cards for years but continually postponed due to issues around the new location's hygiene.
Currently delayed in July or Autumn of 2018, be sure to check the current location before heading out!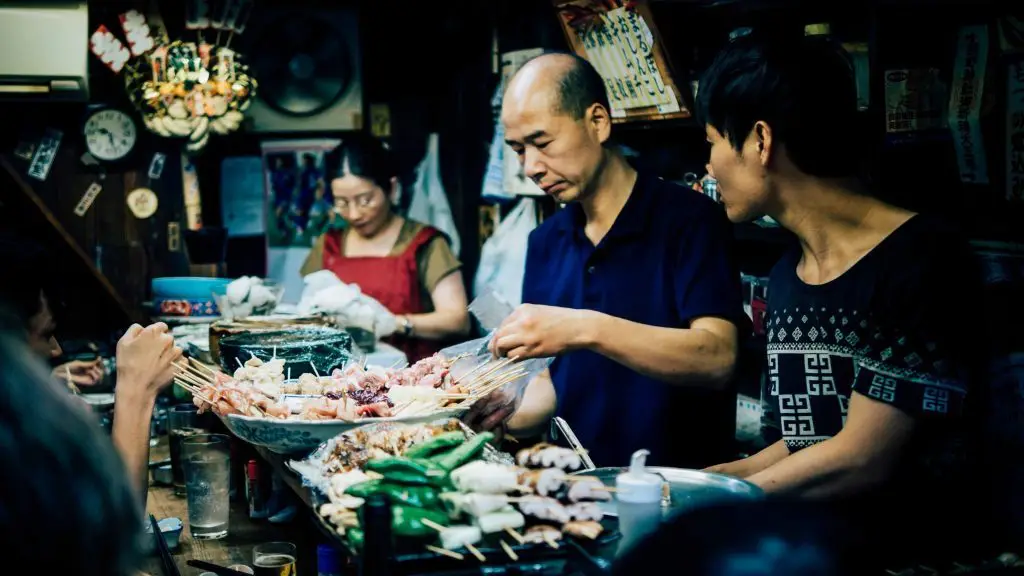 28. Order Ramen From A Ticketing Machine in Japan
Quintessentially Japanese, when you enter one of Tokyo's many, many delicious ramen shops, you are probably going to find yourself confronted by a mysterious machine with child-like buttons and a chef gesturing wildly at it when you try to order. Fear not, this food ticket system is going to allow you to order ramen – very much a staple of Japanese dining – precisely the way you like it.
Choose your ingredients, broth base, and pay. The tickets that fall out will identify your order when you hand them over to the chef, and soon, you will have a delicious bowl of ramen right in front of you! Many newer ramen shops have touch screens with an English option, or English translations on the buttons (or a nearby card)…But if they don't, someone will help you out.
It's all part of the Japan experience, right!?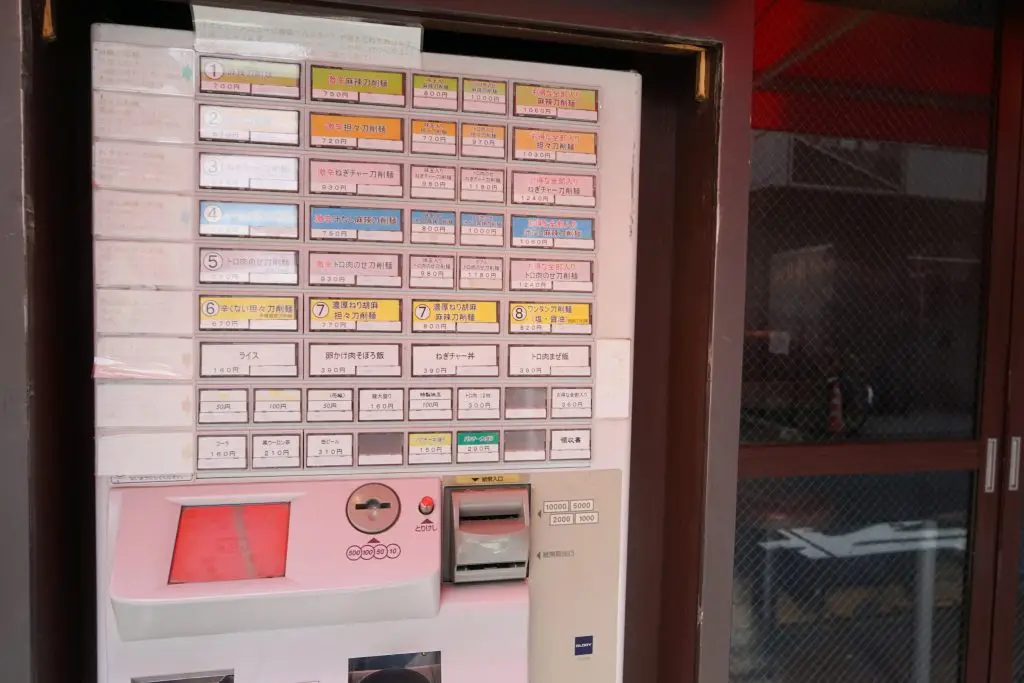 29. Get Spooky At An Owl Cafe In Tokyo
I guess this has something to do with the kawaii culture in Japan, but I just don't get it? Owls are creepy and objectively not cute…Why would anybody want to hang out with these winged demons who sit silently and plot our demise? I mean, can you even pat them? Or sit in awkward silence?
Still – its one of the weirdest things to do in Tokyo, and judging by the prominence of owl cafes in tourist spots in Tokyo and how sold out they are, I guess I'm in the minority with how I feel. Make sure you book your owl cafe in Tokyo in advance if it's something you want to do…but come on, really?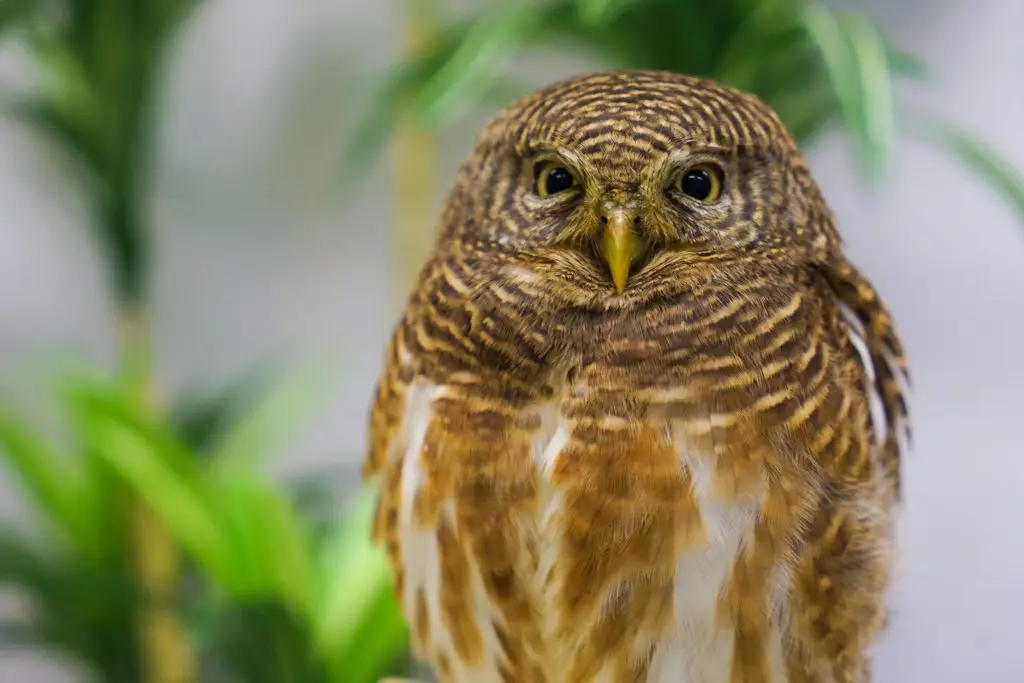 30. Spend The Night In A Tokyo Love Hotel
Coming in all shapes and sizes, love hotels are as iconic of Tokyo as Godzilla and the Tokyo Tower. These short-stay establishments are ubiquitous in many neighborhoods of Tokyo, and while they can be slightly risqué and not welcoming to foreigners.
Many of the more eccentric love hotels in Tokyo have wild themes and, as such, have been kitted out like a subway, classroom, hospital, or the rather cliched S&M sex dungeon. If you're game, you can wander around Shibuya's Love Hotel Hill (real name Dogenzaka) to find one to suit you.
Most, however, only speak Japanese and accept exclusively Japanese customers. Still, there are a select few who are embracing tourism and cleaning up their act ever so slightly, expanding their market to short stays by tourists with weird flight hours or stopovers.
You can even book a few online, so why not take a look at the Calm Hotel Tokyo or Hotel J-Mex. Just be sure to read all the T&C's.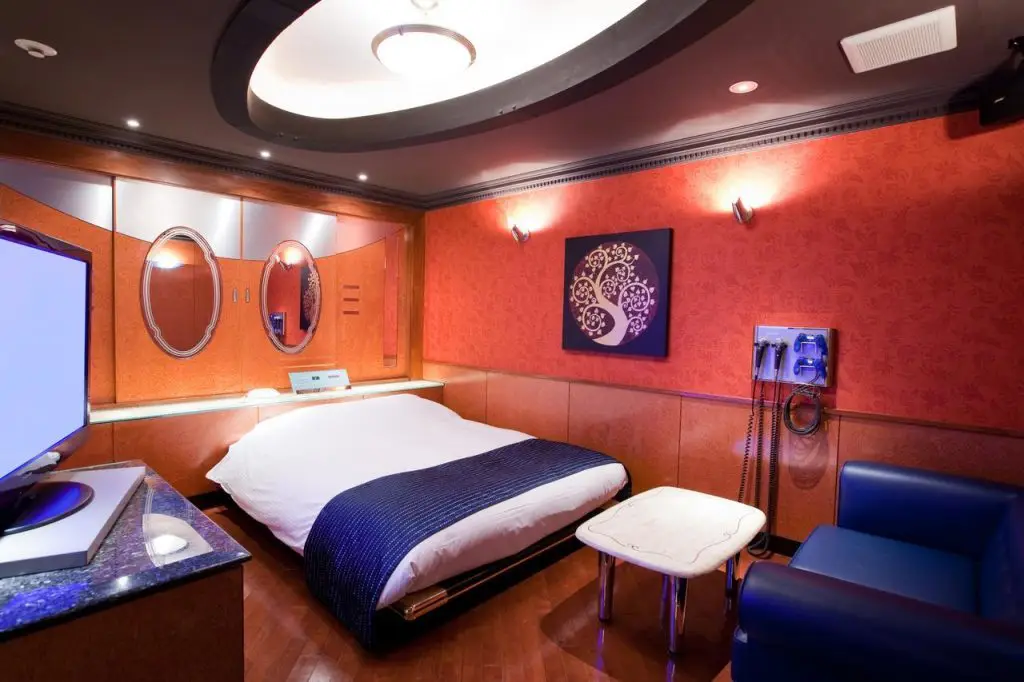 31. Stroll The Open Air Ameya-yokocho Market
A large and famous open-air market located next to Ueno Station, this is one of the few outdoor markets left in Tokyo and a great place to get to see everyday Japanese out shopping. Famous for the antics of its loud seafood sellers, Ameya-yokocho Market is a great place to try fresh Japanese seafood without heading to the Tsukiji fish market.
There is a big mix-up of shops here with everything from pharmacies and pearl shops to a growing market for American casual fashion. You won't find anything else like Ameya-yokocho Market in Tokyo, and being so centrally located, you have no reason not to visit!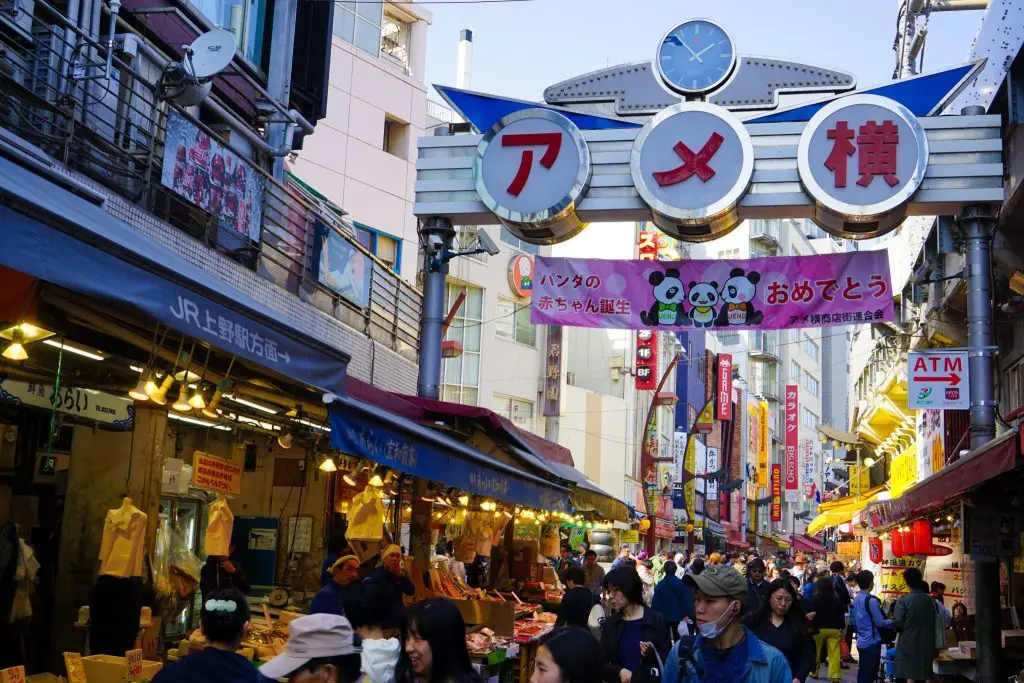 32. Stock Up With Cheap Supplies At The 100 Yen Shop
We all know Japan is not the cheapest country to travel in, and besides getting the JR Pass for significant cost savings, you can also visit any of the 100 Yen shops in Tokyo to pick up food at bargain-basement prices. Sure it's not glamorous, but there are plenty of exciting food items on sale here and all for 100 Yen, making these stores a great place to get snacks in Tokyo (and save money for more important things like visiting DisneySea).
One of the biggest 100 Yen Stores in Tokyo is Daiso Harajuku, just a few steps from Harajuku Station, but ask your hotel in Tokyo or look in Google, and you will find plenty more.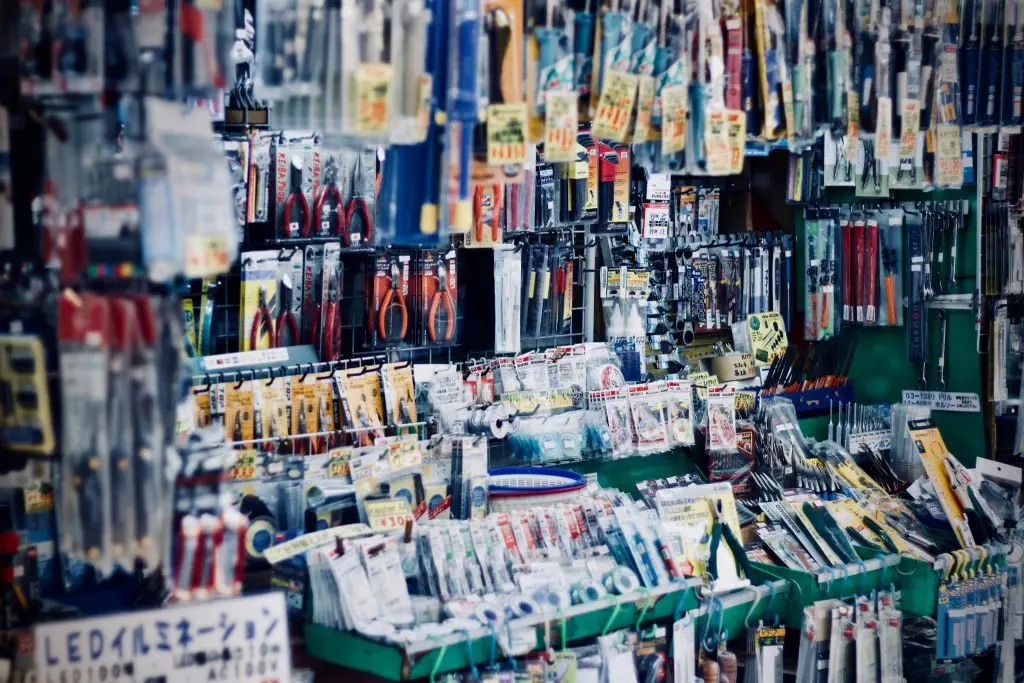 33. Take Your Kids To Hakuhinkan Toy Park
While the most famous toy shops in Tokyo generally involve weirdly sexualized anime, the giant Hakuhinkan Toy Park, located in fashionable Ginza, is great family-friendly fun in Tokyo.
A great selection of Japanese and foreign toys, you can find almost anything you want here, including a vast, remote control race track, a theatre on the eight floors, and plenty of giant Hello Kitty cuddly toy.
A world away from the otherwise high-end fashion brands in Ginza, the Hakuhinkan Toy Park could be the perfect compromise for couples or families with differing ideas of how to spend their time…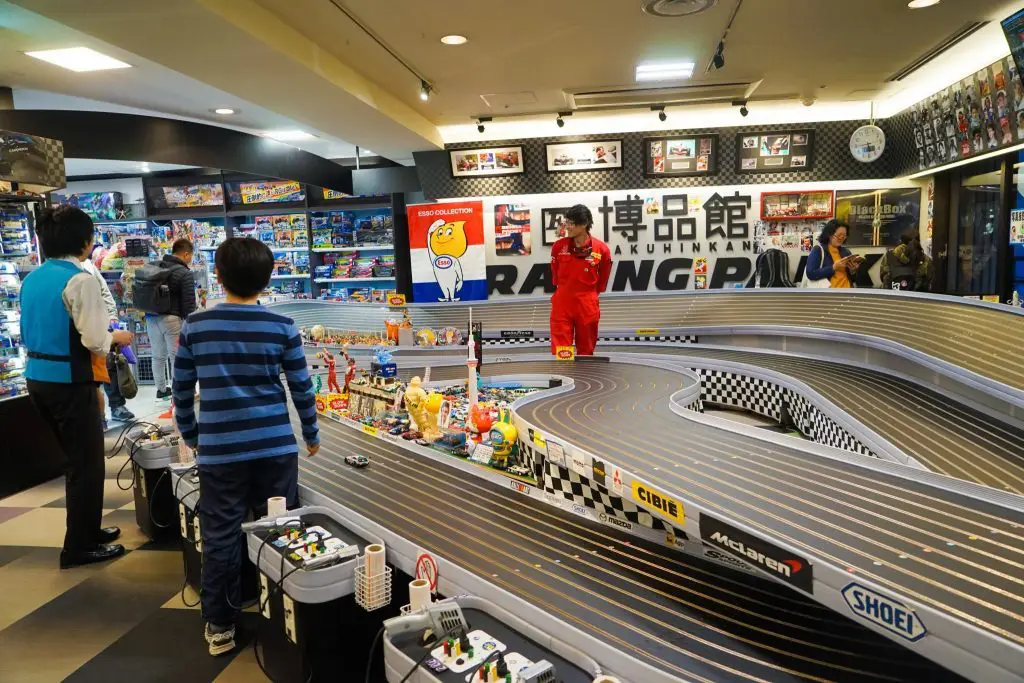 34. Visit The Imperial Resort Town Of Nasu
Again, not in Tokyo but close enough to hire a car in Tokyo or use the JR Rail Pass and make a short visit is the intriguing Nasu. Famed throughout Japan as home to the Imperial Retreat, us mere commoners are now free to travel here and enjoy its glorious nature, weird attractions, and the best hot springs close to Tokyo.
There is even a dinosaur hotel, an alpaca farm, lion feeding, skiing, and the best strawberries in Japan. You can read here plenty more things to do in Nasu Japan if you are sufficiently intrigued!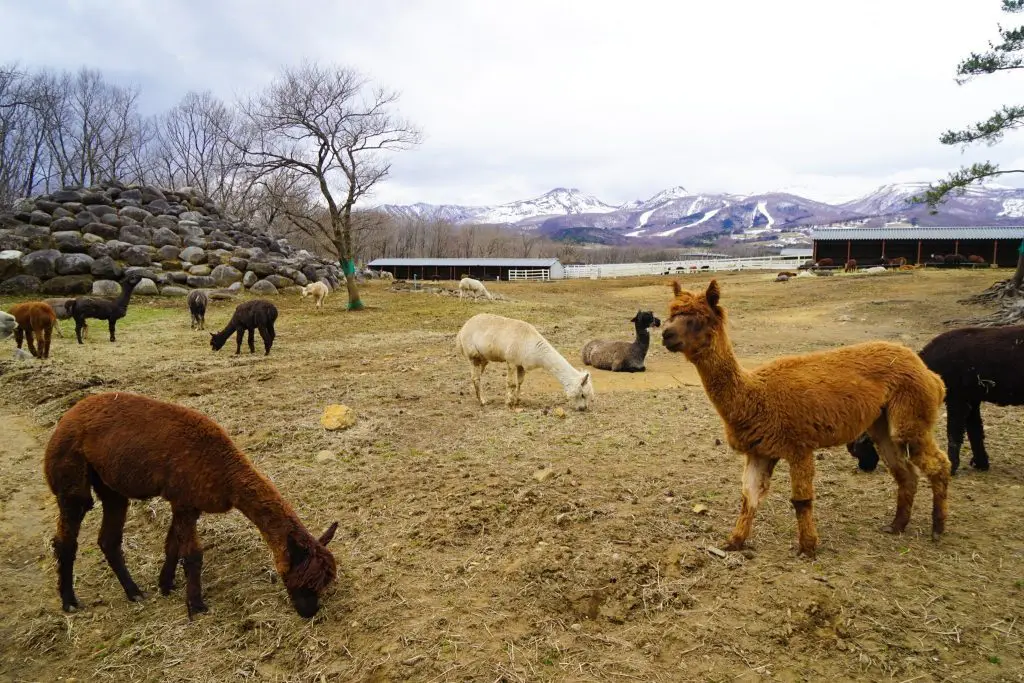 35. Survive A Visit To The Ultra-Fashionable Shibuya 109
Young teens in Tokyo might head to Harajuku to show off their crazy threads, but chances are they bought them at the Shibuya 109 Department Store. A mecca for all fashionistas looking to release their inner Harajuku, this place is cooler than cool with ten floors and more than 120 stores all blaring J-Pop and vying for your attention.
At Shibuya 109 seems each store tries to outcompete the other for the craziest concept, and its customers eat it up. A kitsch neon maze, you are either going to love it or hate it, but you really should take a look to decide. Guys, if you are interested just across the way, is the lesser-known 109 Men, a similar concept for guys but far less intense.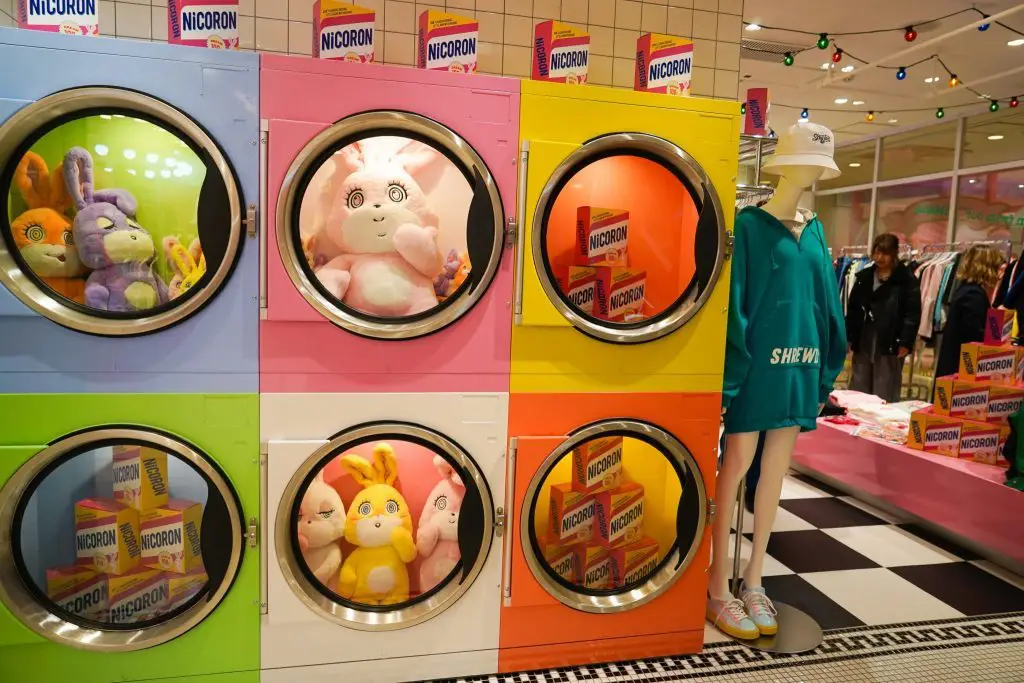 36. Be Amazed By All The Gachapon Machines At GEE!STORE
A vending machine mixed with gambling, Japan is obsessed with gachapon – a small vending machine where you insert a coin and a brilliantly detailed toy and figure pop out.
You probably have seen one before, but not on a scale like that found at GEE!STORE, where over 450 machines are all lined up with prizes ranging from toys of anime characters, cats with different seasonal outfits to iconic Japanese foods. I kid you not! A casino for otaku youth with nothing better to do, take a look, and be sure to take at least one home as a souvenir!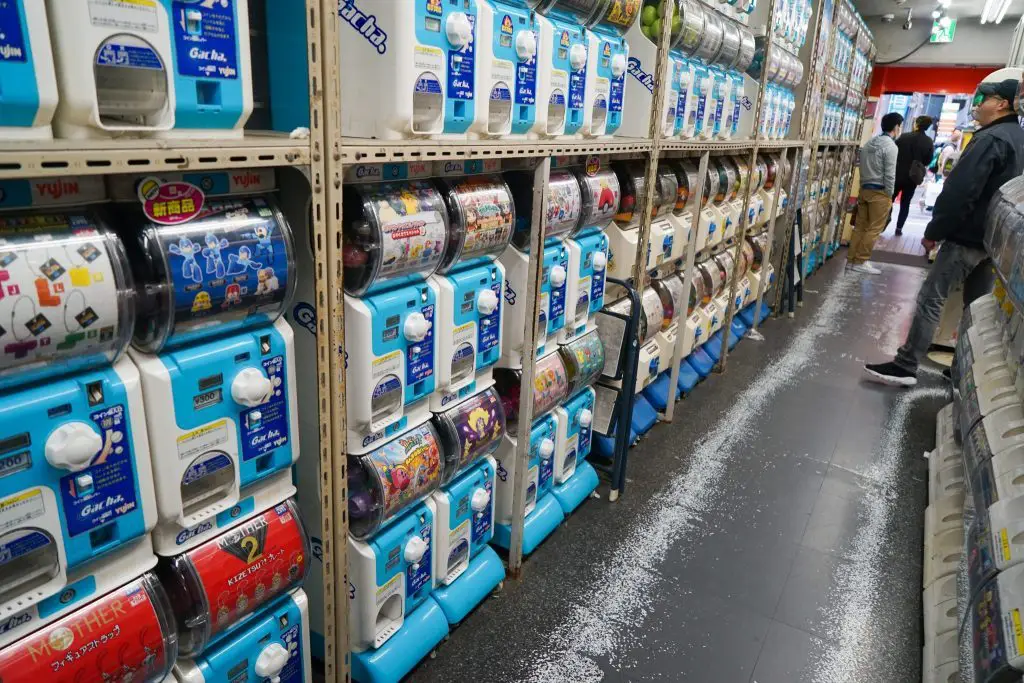 37. Unleash Your Inner Cosplay Character At Cospatio
You might be familiar with cosplay, the practice of dressing up as a character from a movie, book, or video game, from your local comic con, but it originated in Japan – and so, of course, they have taken it to the next level.
Head to Cospatio, a manufacturer and one of the biggest cosplay stores in Tokyo to see their wild collection of merchandise related to characters in Japanese anime, manga, and games. Want to be a sexy Pikachu? A sexy damsel? A sexy Mickey Mouse? You get the theme here, right…
If this isn't enough, you have head upstairs at GEE!STORE and visit Little World and all of their creepy, creepy cosplay dolls.
38. Lose Yourself In The Yodobashi Akihabara Mini-City
The Yodobashi store in Akihabara is the possibly the biggest electronics store in the world, and quite honestly – after you visit, you might never want to go to another ever again. Nine overwhelming floors covering an entire city block offer everything you could need, and then some.
Camera, phones, games, restaurants – heck there is even a batting cage in here. Sometimes I think the Japanese make things this outrageous to see if people will go…But it's still crazy packed on weekends!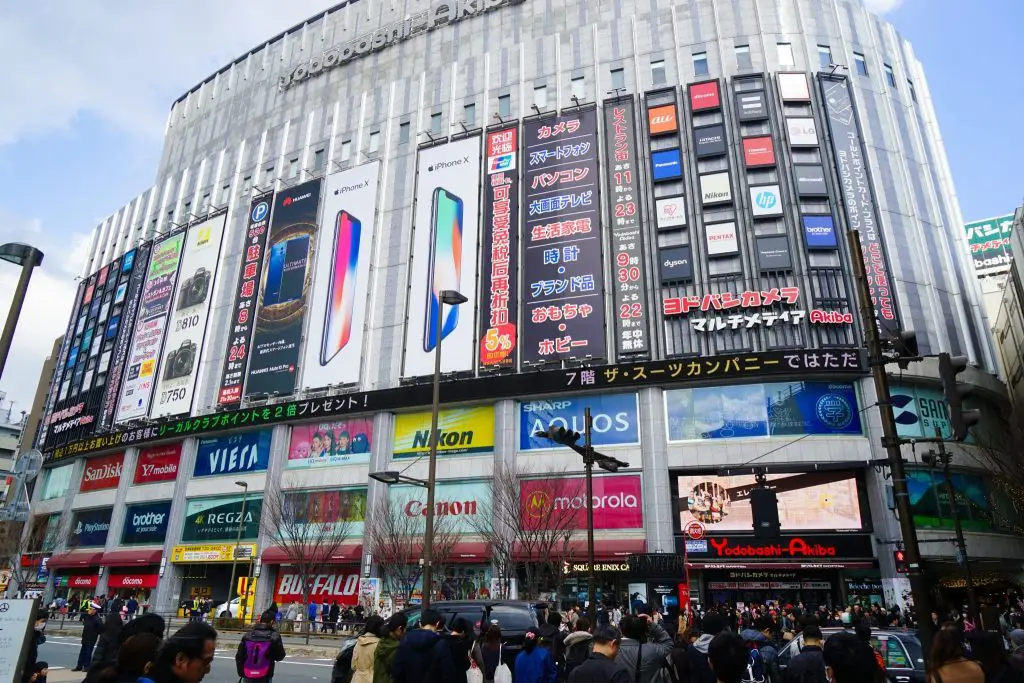 38.5 See How Much The Latest Trading Cards Are Going For
Continuing the theme of 'how much are Japanese people really willing to pay for that'…You have just got to visit 'Trading Of The Cave.'
A 4-floor trading card store housed under a bridge, the entrance makes it look small, but inside, you can find floor upon floor of glass cabinets housing rare cards from Japanese card games, such as Yu-Gi-Oh or Pokemon or the Western Card game Magic. Just take a look at prices on each card – the mind boggles!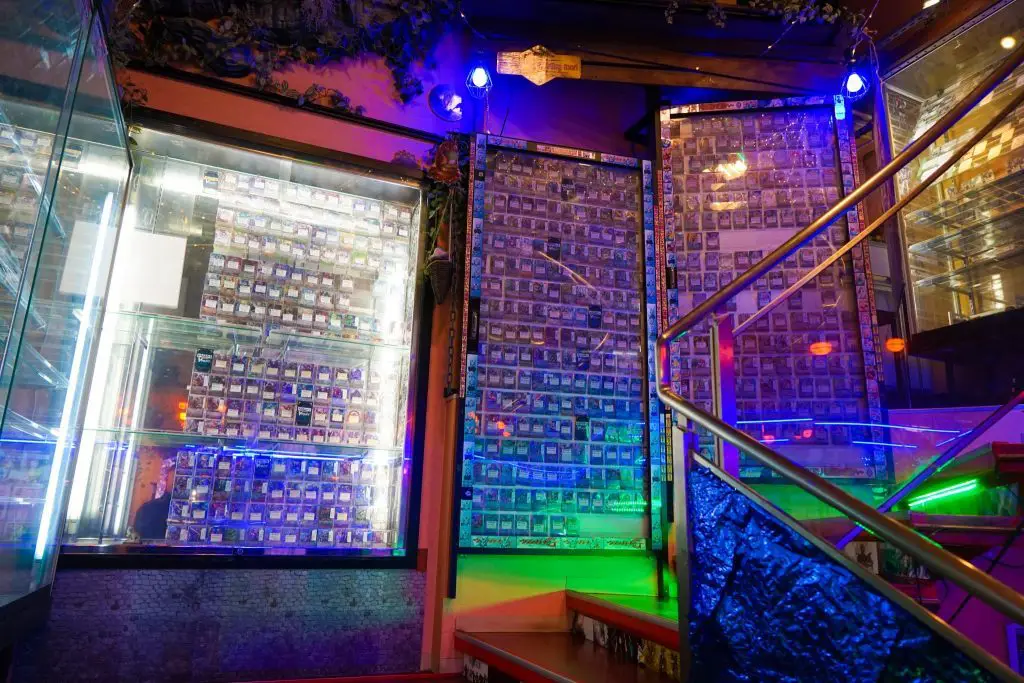 39. Enjoy The Relative Serenity of Ueno Park
One of the original public parks in Tokyo, Ueno Park is an unusual thing to do in Tokyo precisely because it's relaxing and not overwhelming. On a weekday, take a wander around, grab a coffee at one of the most beautiful Starbucks stores in the world and enjoy the people watching.
It's rare to find such a large, open space in Central Tokyo, and plenty of families know it. They come not only to visit the world-class museums surrounding the Park or to see the panda at the Toyko zoo but to relax in nature and enjoy a quiet space when the sun is shining!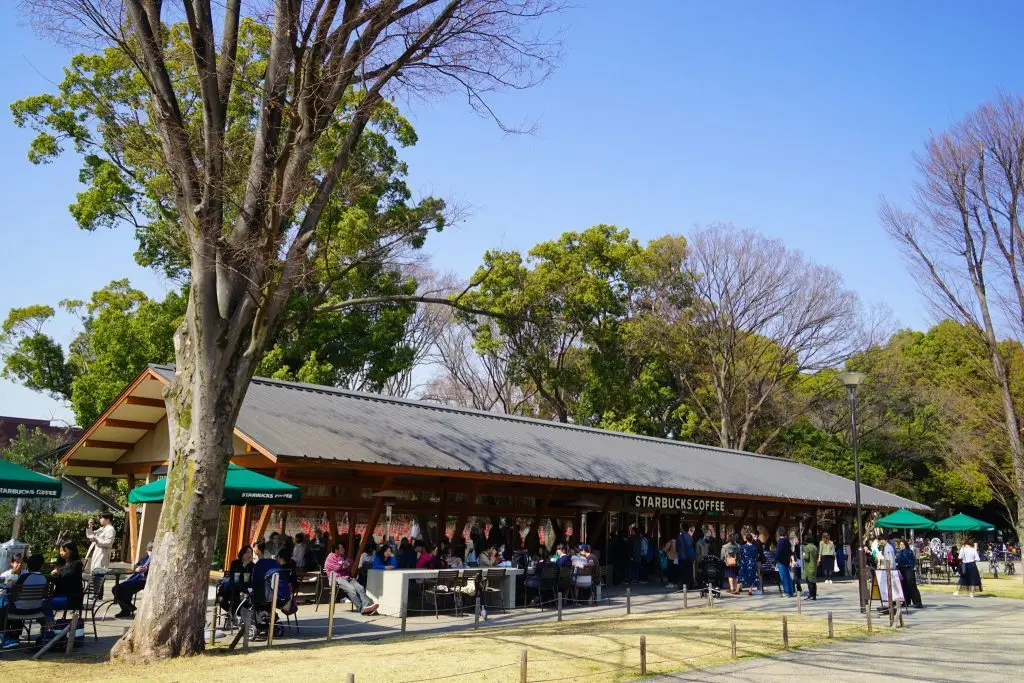 40. Check Out The Latest Tech At The Nissan Concept Store
Known locally as Nissan Crossing, an architectural masterpiece, and prime location to showcase the future of Nissan is a must-visit. Not only can you spot the latest supercar concept or see how Nissan is focussing on green tech – but there is a crazy cafe serving Nissan coffee art and boasting a killer view out over Ginza from the 3rd-floor balcony.
Nissan Crossing in Ginza free and designed as an information center rather than a sales center – so why not take a look? The almost impossible helix design alone makes it one of the most unusual things to do in Tokyo.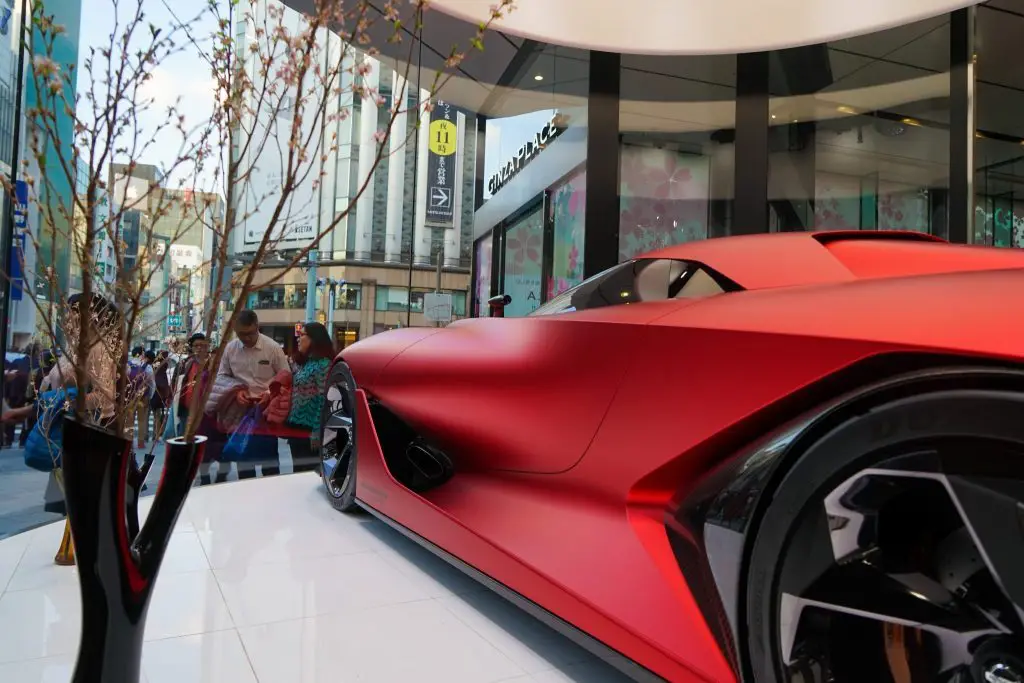 41. Experience A Sensory Overload At Any Of The Tokyo Video Game Arcades
While in the Western world, arcades have gone the way of the cassette tape and hammer pants, in Japan, they are still big business. Tokyo Video Game Arcades are not just for children either; pop into any given arcade around lunchtime, and you will see row upon row of businessmen all getting their fix before heading back to work.
Most have multiple levels filled with machines covering everything, from horse-racing to dancing to subway driving.
My favorite Tokyo Video Game Arcades are SEGA World / Club Sega in Akihabara or Taito Station in Shinjuku, which claims to have the most arcade games in the world. Most even have floors exclusively for females, and if you get to experience this, the contrasting music, color, and games are hilarious. Let's just say there might be some cultural limits to feminism in Japan, to say the least (as if all other weird things to do in Tokyo had not already given you this impression!).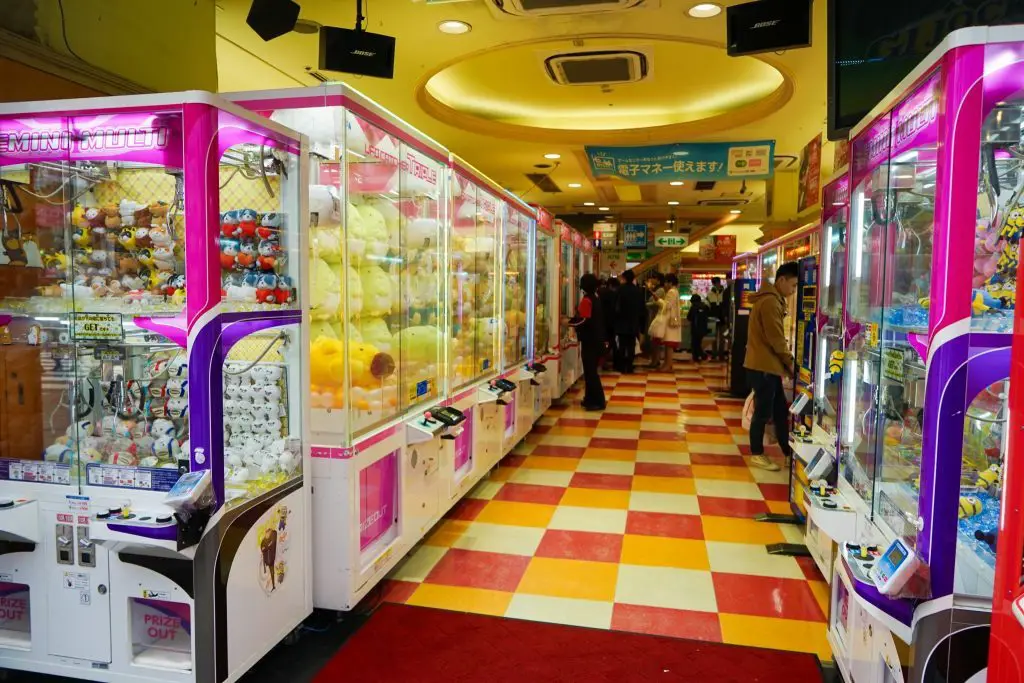 42. Go Full Otaku At A Tokyo Maid Cafe
What was once considered a fad looks here to stay. Do you want to be served by a kawaii girl all dressed in a slightly risqué maid cosplay costume who proceeds to calls you master or 'brother'? I'm not quite sure why anybody would want these, but since maid cafes seem to be expanding internationally, I guess there is a market for it.
Don't worry – it's all for show, and signs gently warn foreigners, this is all just a game – nothing more!! Still, for a rather high price, you can get dishes serves with adorable ketchup smiles and extra-tasty drinks with magical spells on them.
Different cafes have different policies, but if there is no entry fee, expect to pay dearly for any photos with the girls. If your still not interested, take a look at Tokyo Maid Cafe prices …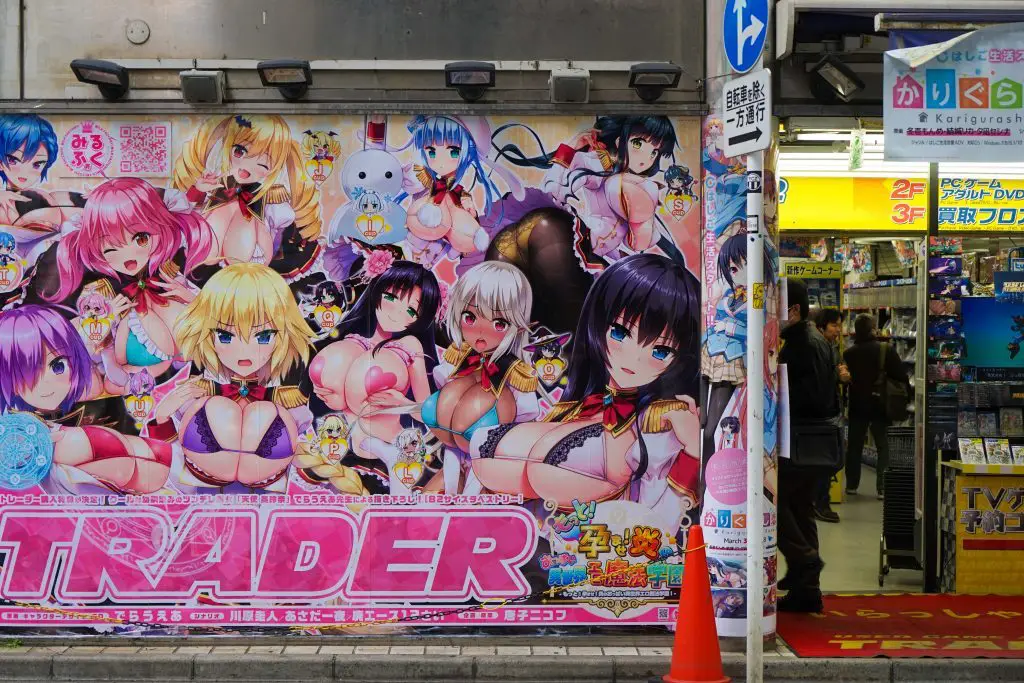 43. Get The Best View In Town At The Tokyo SkyTree
At 634 meters, the Tokyo SkyTree is the tallest structure in Japan and the second tallest in the world after the Burj Khalifa in Dubai. Built-in 2010 after the Tokyo Tower started to be blocked out by the rising Tokyo skyline.
The Tokyo Skytree has a large shopping complex with an aquarium in its base and dual observation decks, but they frequently sell out, have long lines, and it's not cheap. The view from the top is genuinely unparalleled so that the Tokyo SkyTree price might be worth it … but if you are up for a free option to keep reading.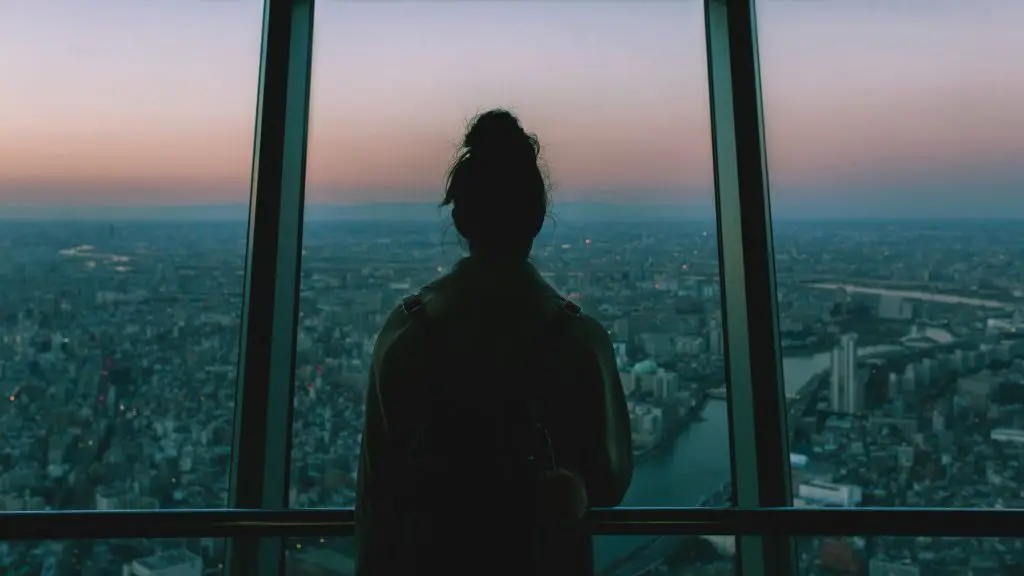 43.5 Save Your Yen And Head Up The Free Tokyo Metropolitan Government Building
Located in Shinjuku, the Tokyo Metropolitan Government Building has kindly opened observatories in both of their 243-meter tall towers providing incredible and free panoramic views of Tokyo – and even to Mt. Fuji on a good day. Beautifully designed by esteemed architect Kenzō Tange, the Tokyo Metropolitan Government Building No. 1 is still the third-tallest building in Tokyo at 243 m!
Not only can you get a good view of Tokyo, but northern tower offers a 1000 Yen set breakfast (or lunch from 1300), including unlimited soft drinks, which means unlimited herbal teas, coffee, iced lattes, and five types of juices. Insanely good value given the view – yet somehow it always seems to be empty? Go figure.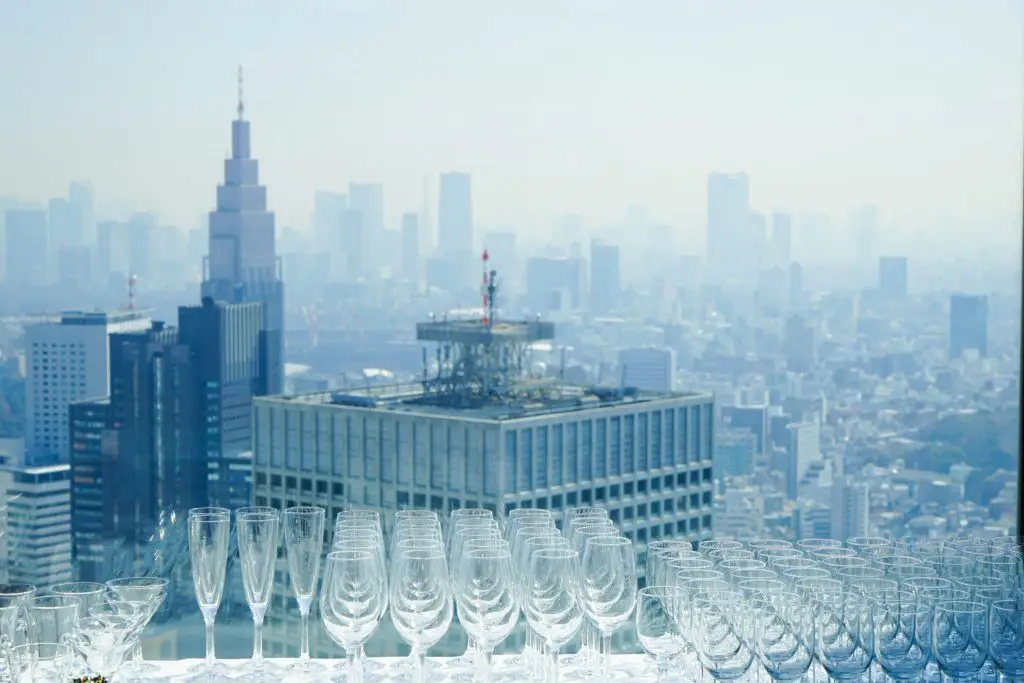 44. Spend A Night Or More In A Capsule Hotel In Tokyo
In a city where space is a premium, and many office workers want a place to crash for the night, it's no wonder capsule hotel's soared in popularity. Then tourists found out about them and wanted to experience for themselves the feeling of being crammed into a coffin-sized space with 40 other people nearby. Many capsule hotels then felt tourists were too loud, disrespectful, and didn't understand the etiquette of capsule hotels (yes, you need to pay for your showers) and stopped allowing foreign guests to stay.
Tokyo capsule hotels now seem to have found the perfect compromise with high-end (almost luxury capsule hotels) such as Prime Pod Ginza and Nine Hours opening up with unambiguous rules and English-speaking staff. The Japanese then wanted in on these higher standards and now …well, let's say they are back at square one. Still, you have got plenty of capsule hotels in Tokyo to choose from now!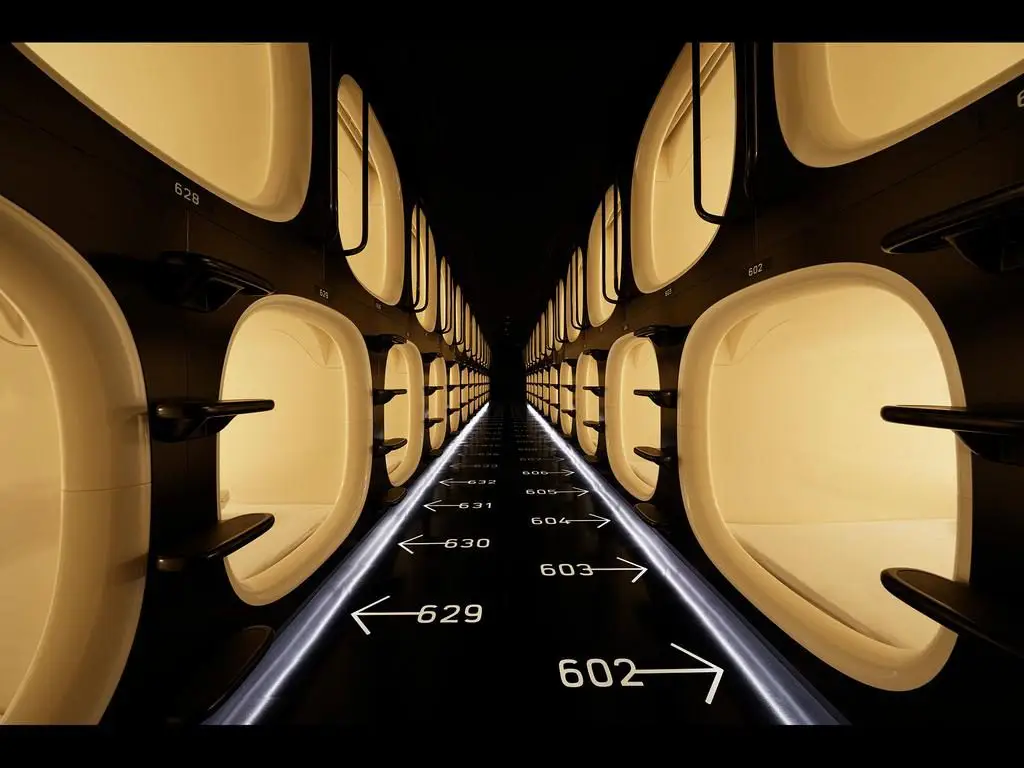 45. Visit Colourful Shibuya By Day Or By Night
A major commercial and business center in Tokyo, there is more to Shibuya than just the Shibuya Crossing. An entertainment hub and home to the flagship stores of most affordable international fashion brands, you can find almost everything that makes Tokyo unusual here in just a few blocks.
Packed with shopping, dining, and nightclubs, Shibuya is totally safe and brightly lit by neons 24/7 – and doesn't have the same seedy feel as Shinjuku after dark. Eat, drink, and be merry, if you're ever wondering what to do in Tokyo: Shibuya is the answer.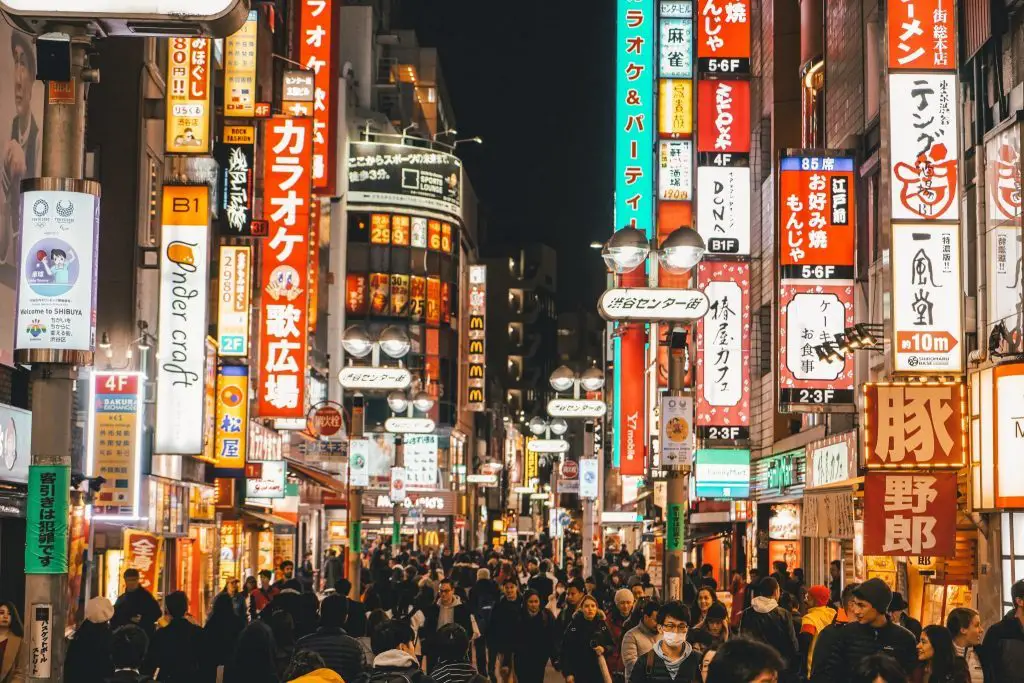 46. Sample Enough Genuine Sake To Kill An Elephant
Well, the quantities you chose are up yo you, but only in a country like Japan would you be allowed to taste 100 different kinds of sake with an all-you-can-drink sake session. Taking place nightly at the Kurand Sake Market and insanely popular with locals – be sure to book in advance and BYO food for this 6-hour epic odyssey to discover every type of sake possible that probably won't end well.
Perfect for starting a night out on the town, it's a very social environment, so even if you're by yourself, you are almost guaranteed to leave with friends at the end!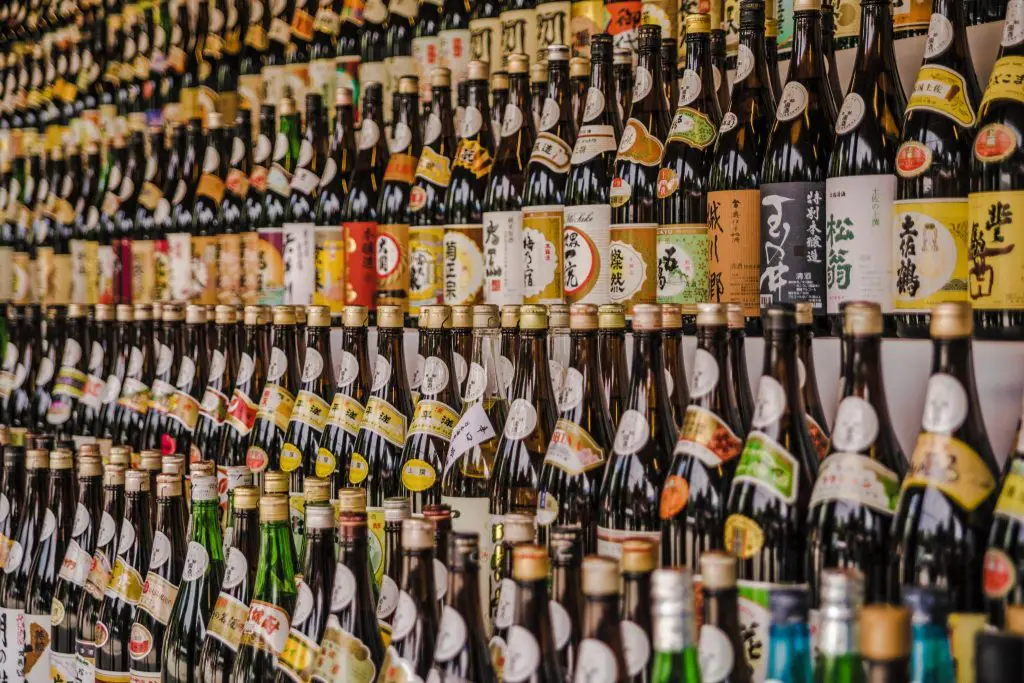 47. Climb Up The Tokyo Tower And Receive A Certificate For your Efforts!
In my mind, still the most beautiful tower in Tokyo, this Eiffel Tower-inspired lattice tower is now less-visited thanks to the SkyTree – but how could you not love that color scheme! To make your visit even more unique, grab your Tokyo Tower Main Observatory Ticket and head here on a Saturday and Sunday when they open up the 600 stairs to the top.
A calorie-burning quest that takes only 15 minutes but will leave you with a sense of accomplishment when you reach the top – and a cool Noppon Official Stair Climber Certificate as a present!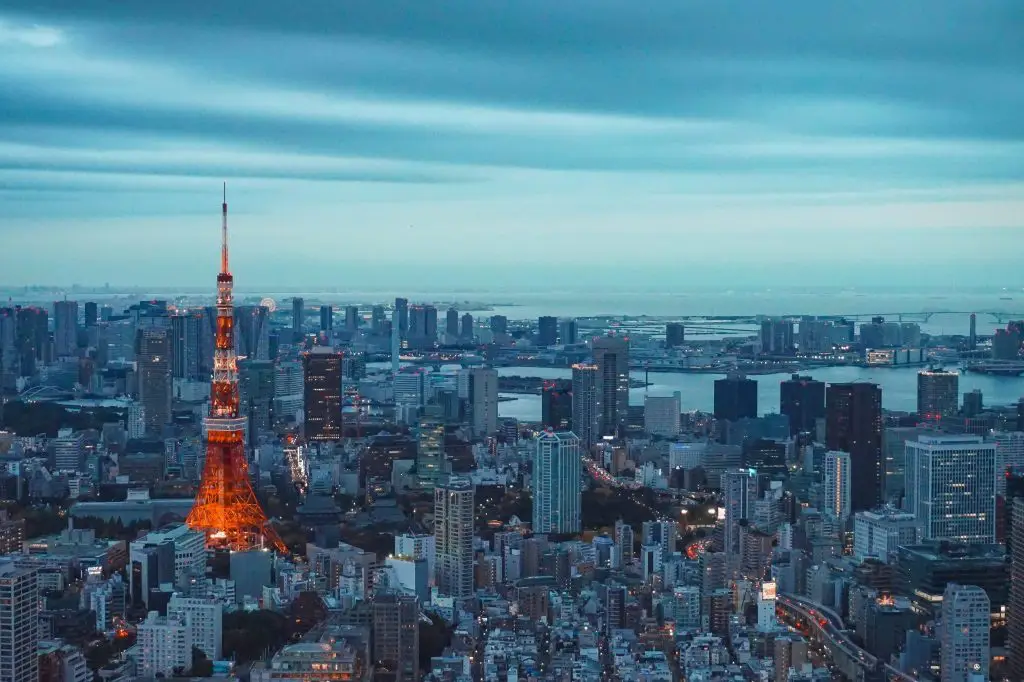 48. Find A Nice Patch Of Grass In Tokyo And Enjoy A Picnic
Don't laugh, but in a city like Tokyo, finding grass is a rarity – and there are even whole websites dedicated to finding these rare patches (much to the contempt of locals who want to keep their favorite spots a secret!). You'll understand when you are there, trust me.
My favorite spot was inside Shinjuku Gyoen National Garden, with plenty of quiet spaces to enjoy a picnic with killer views of Shinjuku along with plenty of exciting botanical features such as the tropical greenhouse, cactus garden, bonsai and cherry blossom in the right season.
Rumour also has it there is a secret green patch in Yoyogi Park that only locals know of, and it might be true, but I sure couldn't find it!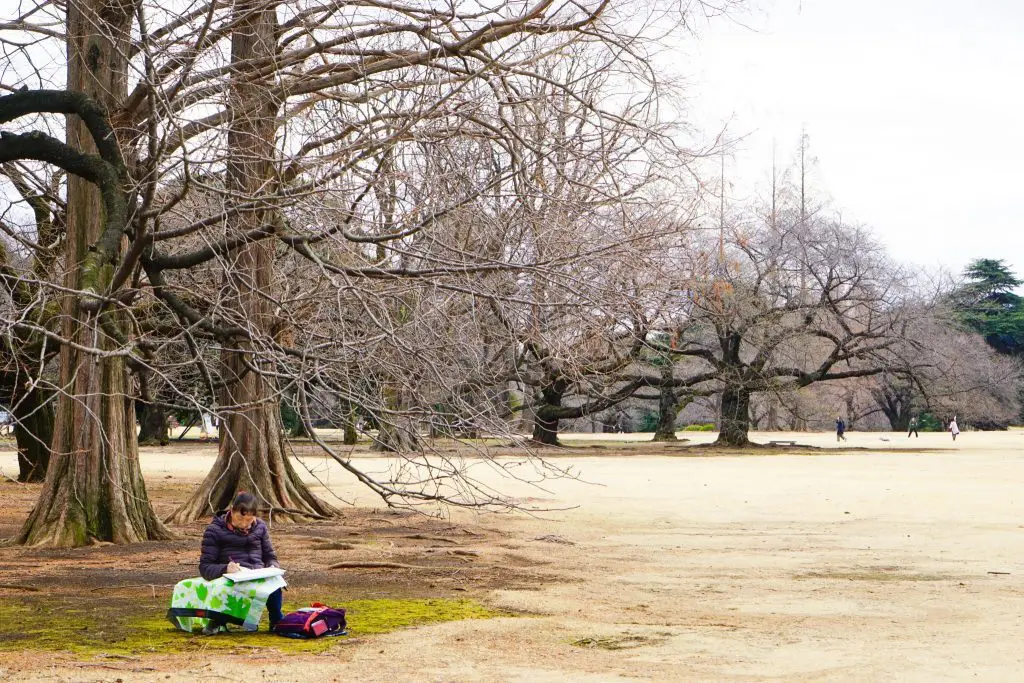 49. Marvel at the natural beauty of Mount Fuji on a day trip from Tokyo.
The most beloved and famous mountain all Japan, a trip to Tokyo, really wouldn't be complete without seeing her majestic slopes and otherworldly symmetry. Enjoy the natural wonders surrounding Mount Fuji, the sight of the summit covered in snow year-round, or the famous eight ponds formed from the melted snow at Oshino Hakkai.
It's all possible on a comfortable yet long day trip from Tokyo, but hey, you came this close, right! Surprisingly affordable take a look at Mount Fuji Day Trip prices from Tokyo…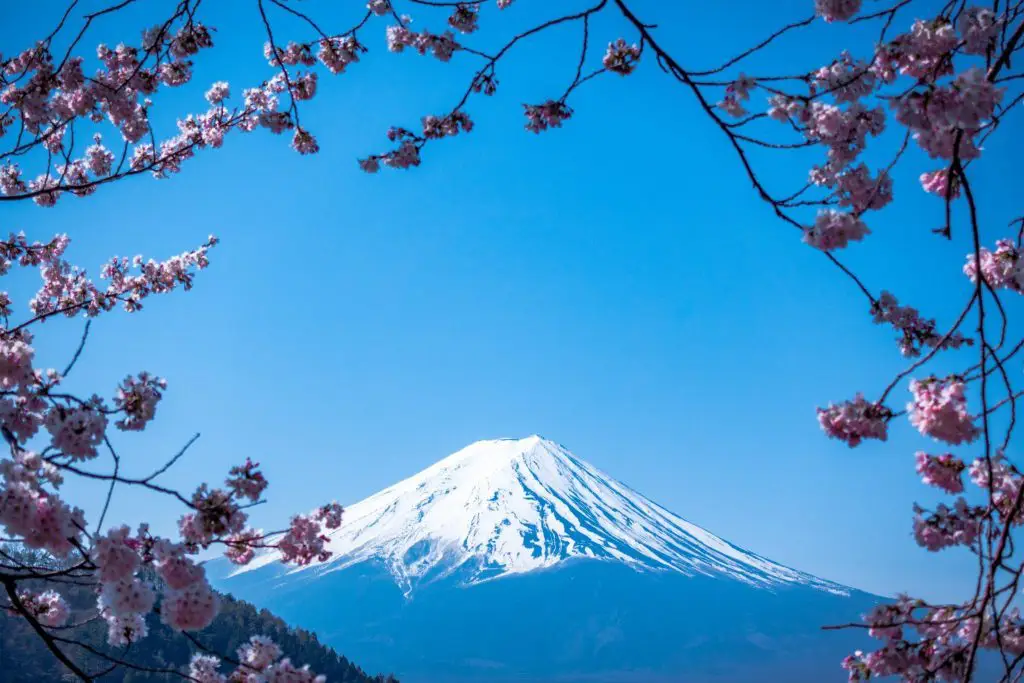 50. Change Life As You Know By Going To The Robot Restaurant in Tokyo
They say to save the best for last, and boy have I! The Robot Restaurant in Tokyo has got to be the craziest, weirdest, most bizarre, and unusual thing to do in Tokyo hand-down. Again, the Robot Restaurant in Tokyo is one of those things you can't explain, but it involves one of the greatest shows on Earth, high-tech lasers, dino-robot battles, fireworks, flashy dancers and more.
If you only do one thing in Tokyo, I beg you to make it this – No matter your age! Book your tickets in advance as there is minimal seating and book the drinks deal for 100 yen extra (500 yen otherwise). You can also read my full review here.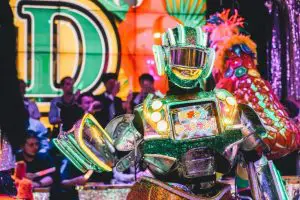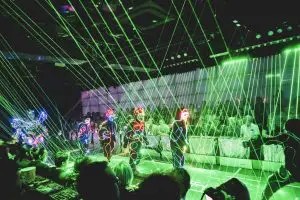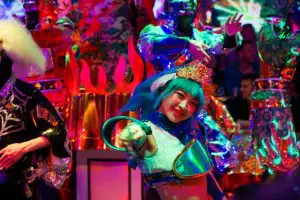 Make sure you arrive a full 50 minutes before the show to take in the bar area with your now included drink because it will blow your mind – And that's just the beginning! I was up in the air about going because admittedly the ticket price is steep, but after going I'd pay twice as much to go again – And I will on my very next visit to Tokyo!
If you are on a budget book, the First Performance Offer (4:00 pm on specific dates) and you will get the lowest price possible plus two exclusive gifts: a JPY500 souvenir and pictures with the robots! These sell out fast, often weeks in advance, so don't delay.
I might sound like a broken record now, but serious: the Robot Restaurant Tokyo will change your life, and nothing will ever be the same again!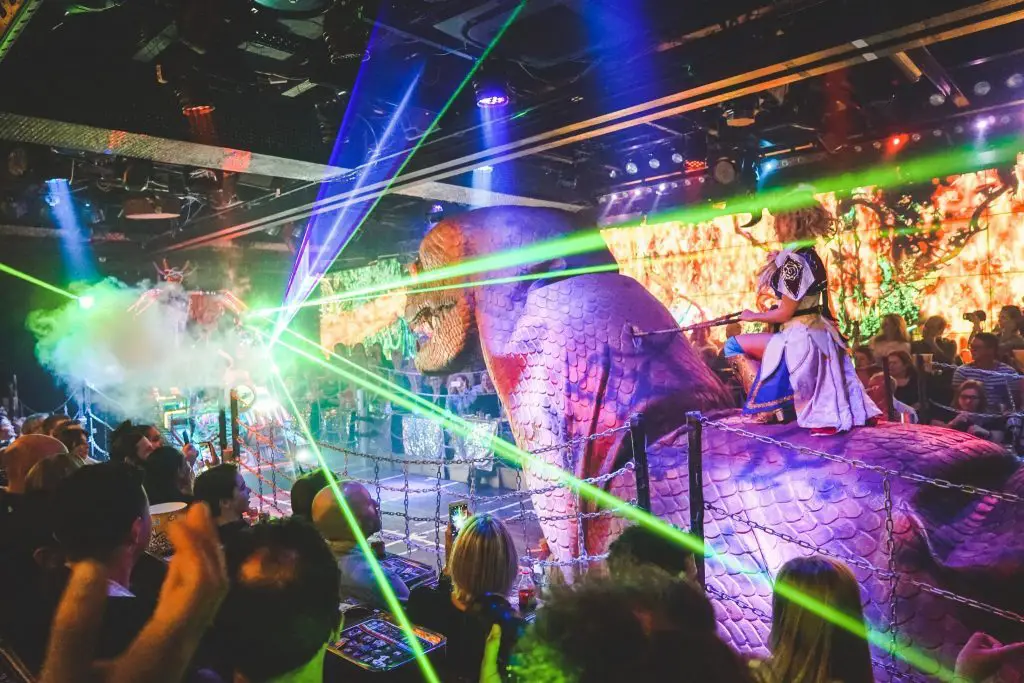 And Some More Unusual Things To Do In Tokyo…
Because Tokyo is such a huge city, this list needed to be limited to 50 so I could decide on my absolute favorites and preserve my sanity writing this.
During my research, I found plenty more unusual things to do in Tokyo but did not have enough time. Perhaps your preference varies from mine, so take a look and decide if you want to bump any of these Tokyo activities further up the list – or add them to your Tokyo itinerary!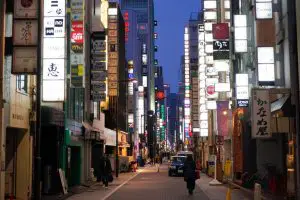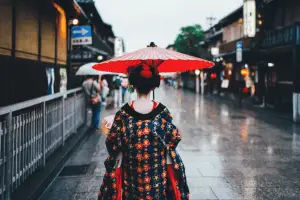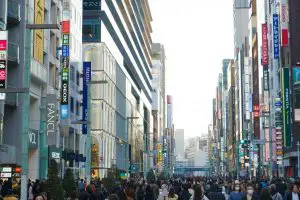 So, there you have it – my travel guide to all the unusual and weird things you should see in Tokyo. It's a pretty safe place, so I hope you get up to some exciting mischief – Just make sure you are covered with good travel insurance.