For those who undertake a trip across the famed Overseas Highway through Florida's Keys, snorkeling in Key West is often at the top of the list of things to do when they arrive. And why would it not be?
The Great Florida Reef is the third-largest coral reef in the world, the only living coral barrier reef in the continental United States — and nothing short of remarkable.
However, sadly – the Great Florida Reef has been a victim of its fame and tourism success in recent years as almost a million tourists arrived in Key West by cruise ship alone in 2016. ) As a result of Key West snorkeling – along with other reef based activities – have caused significant damage to the once extensive coral reefs in Florida, as having the slowly increasing water temperatures in Key West and worldwide.
Thousands of tourists are jam-packed daily onto tours for reef snorkeling Key West where they are taken to the nearest barely alive reef, ceremoniously dumped in the water without supervision in crazy numbers, and cause extensive damage to the brittle coral and sea-life.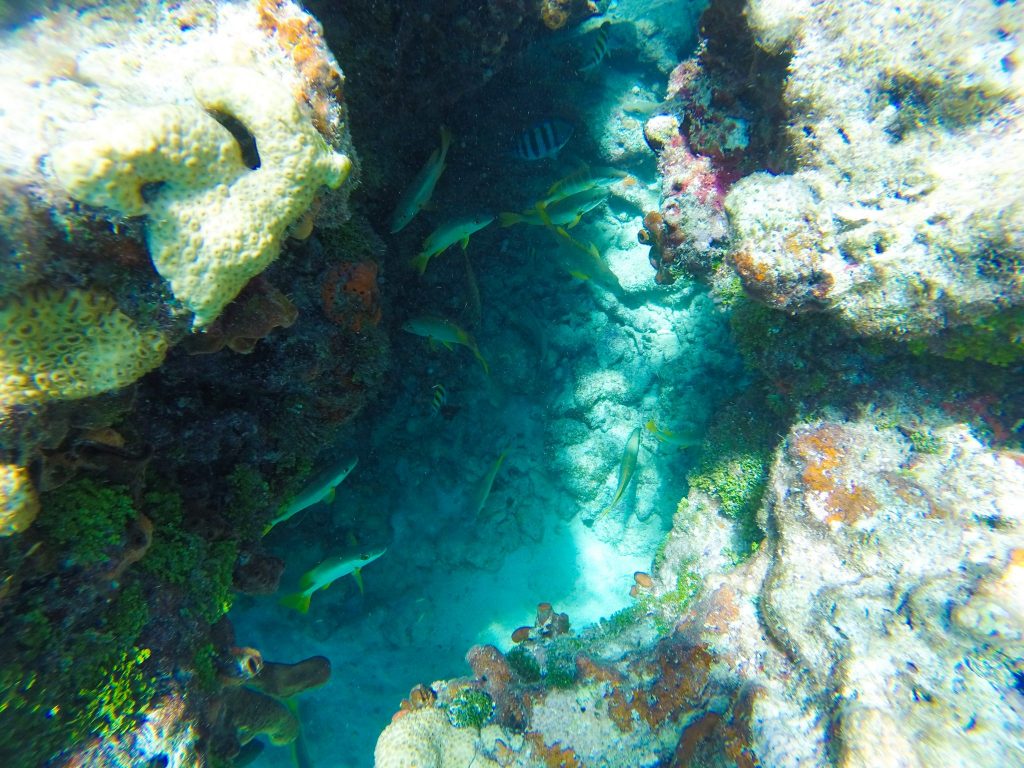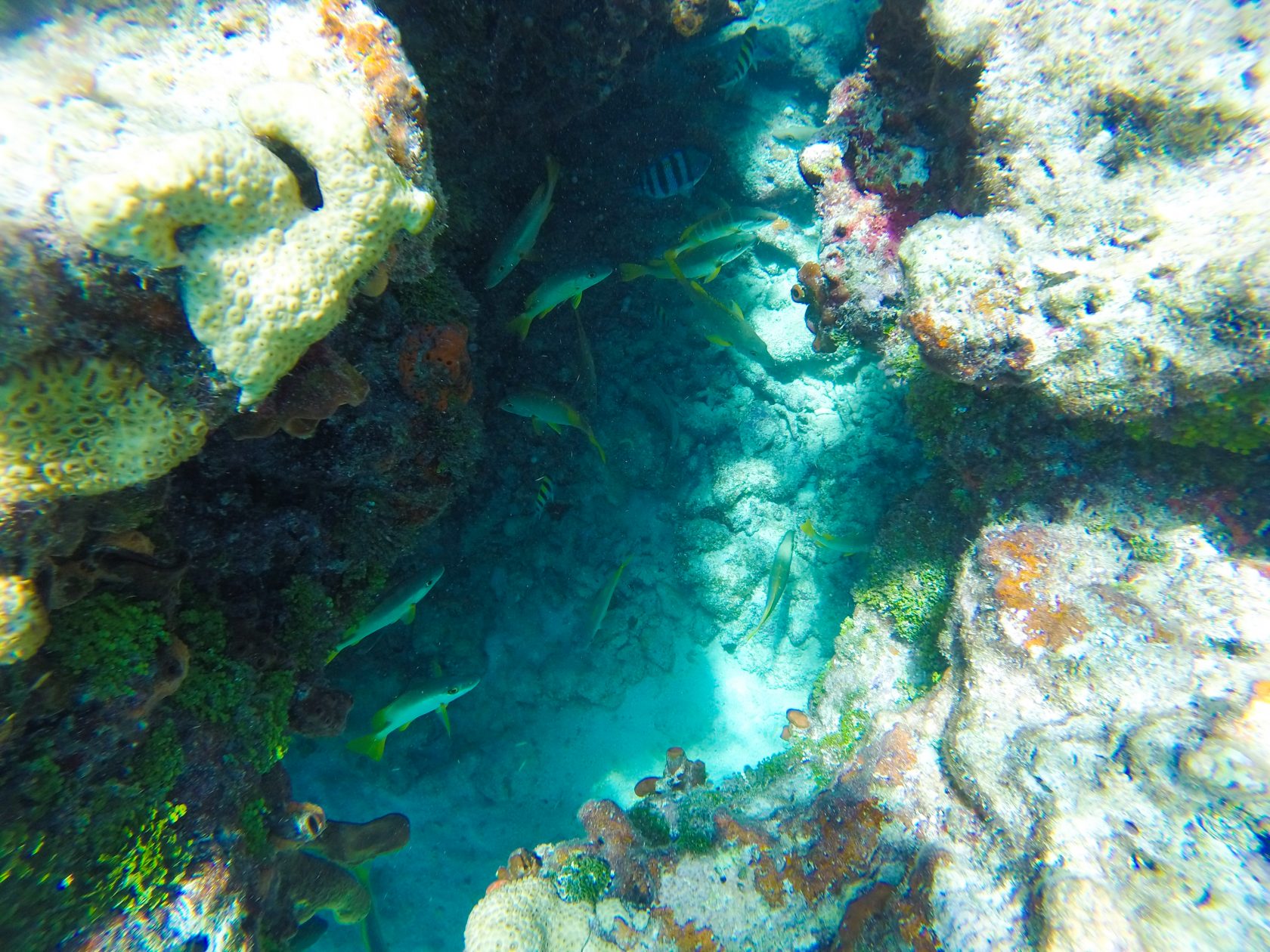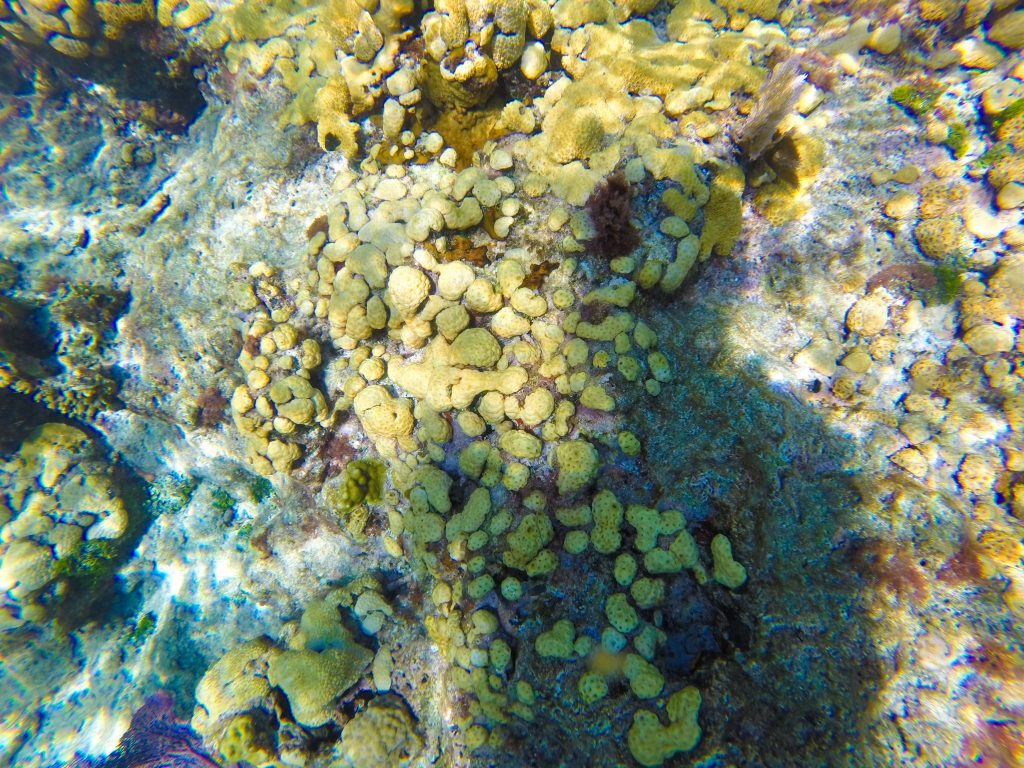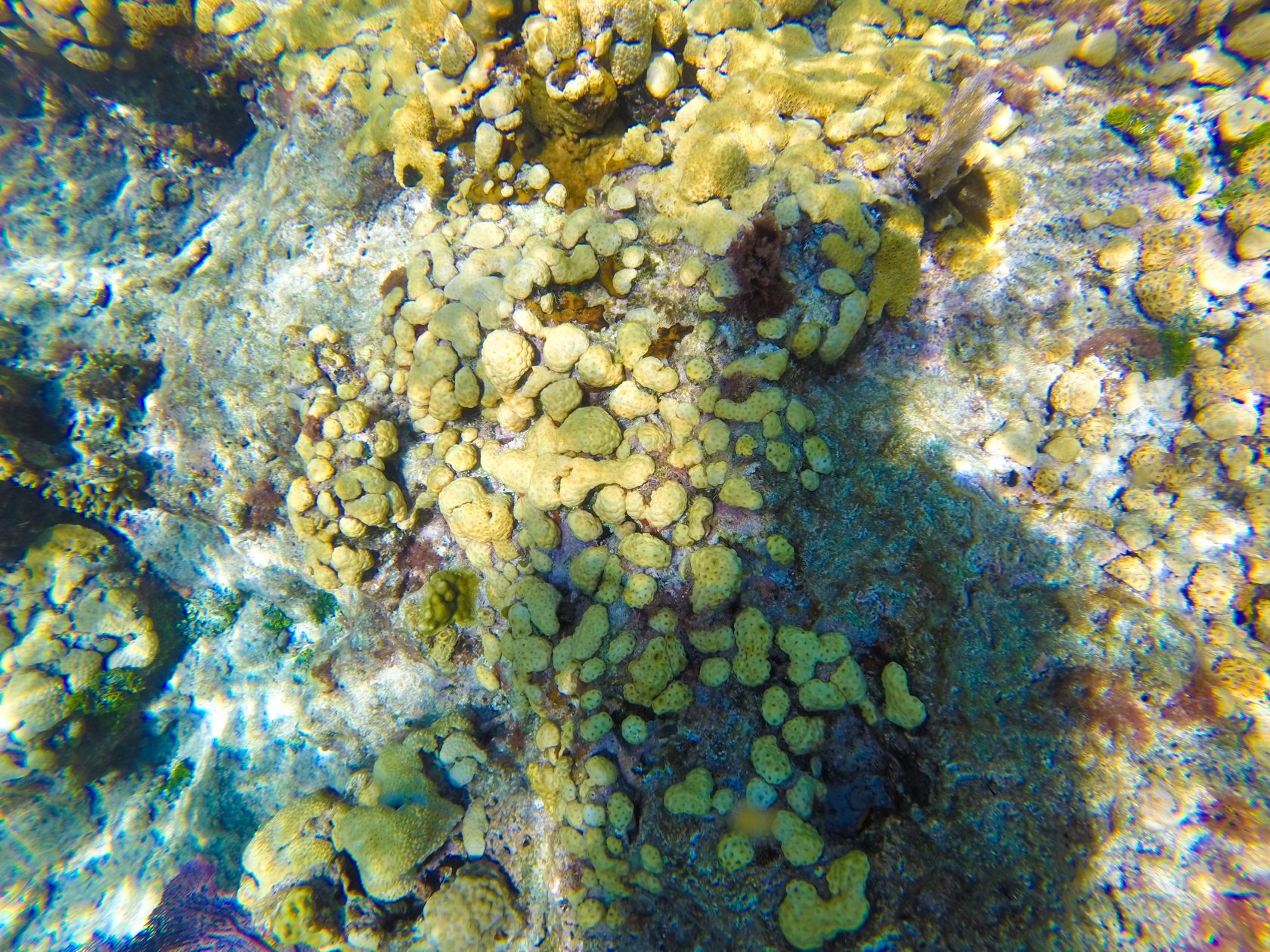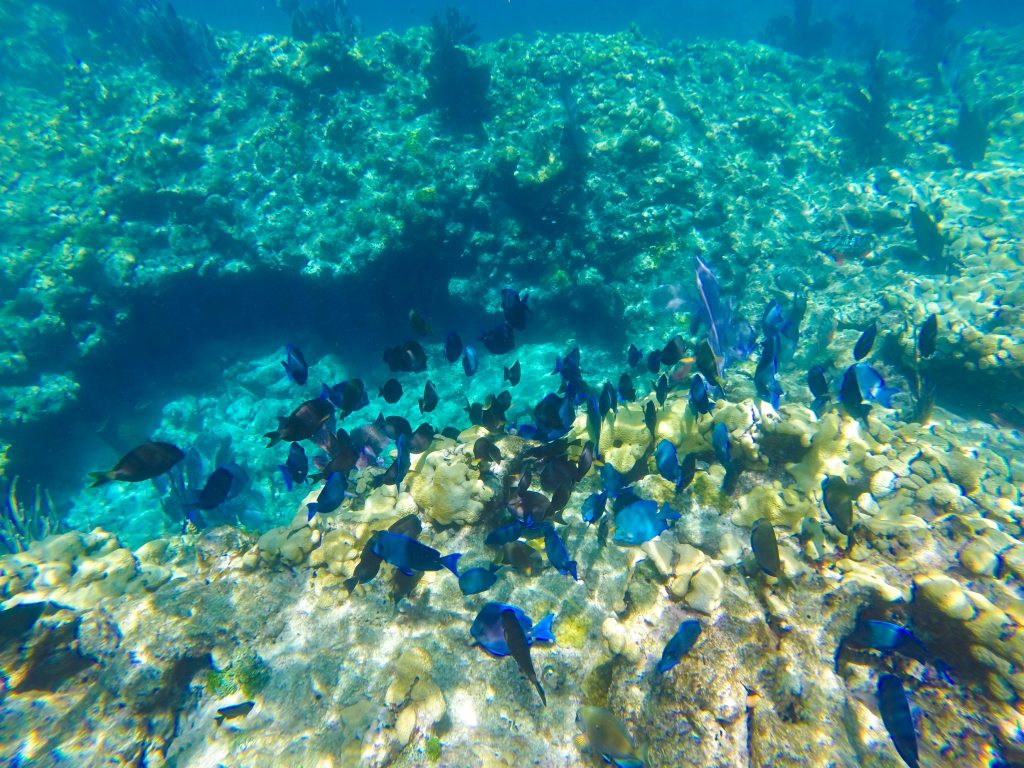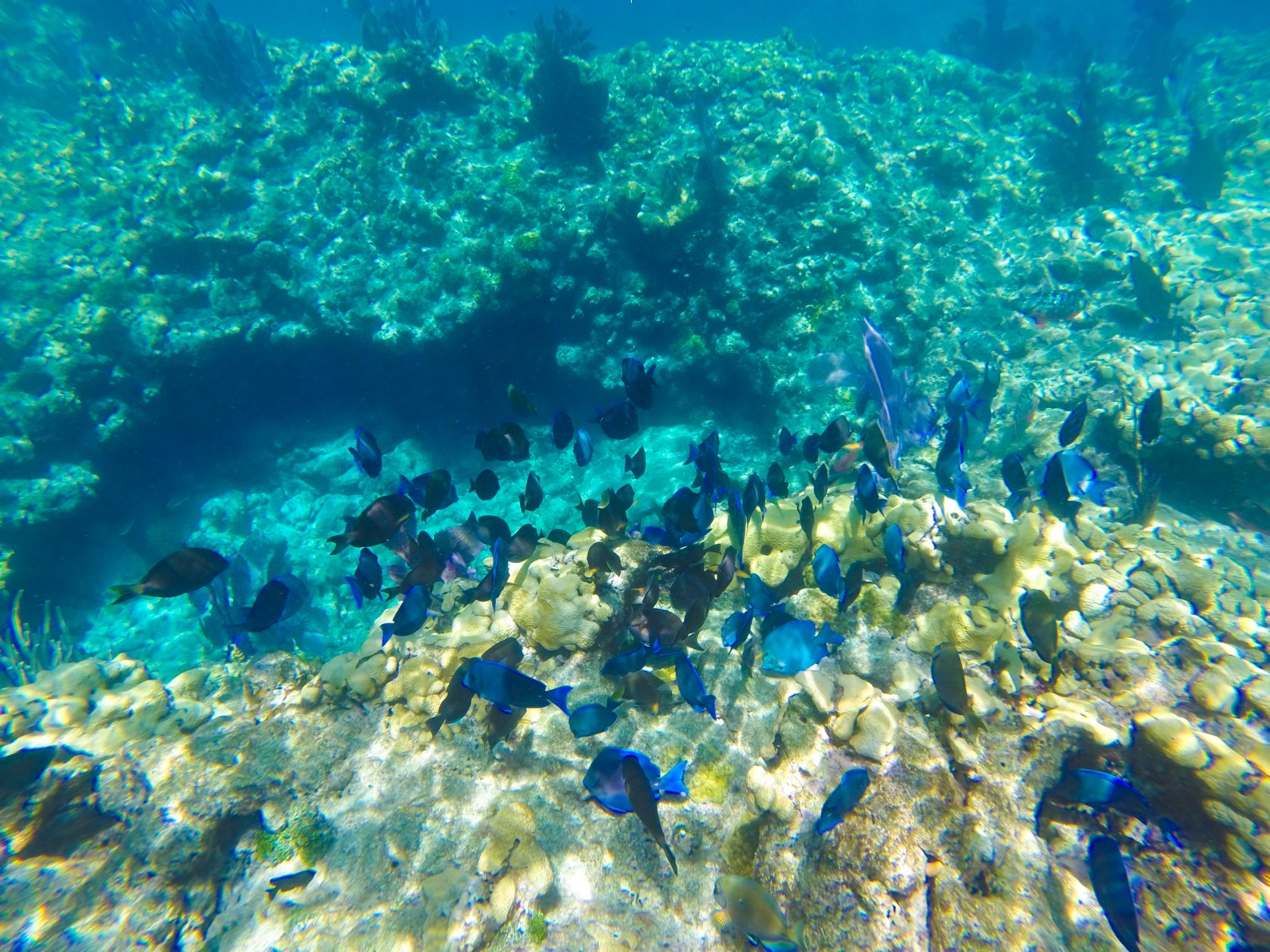 Often, these mass congregations of snorkelers looks more like a Miami nightclub or crowded Brisbane weekend market than the ideal of sublime, tranquil reef trip the brochure advertised.
It's a prime example of unsustainable tourism perpetrated by tourists who probably don't know any better, and tour operators who are only concerned with their bottom line. Luckily, however, on a recent trip to Key West, I was able to find an eco-tour operator, Namaste Eco Excursions, who knew the secret to find the best snorkeling in the keys.
They were also more concerned with conservation and education than profit, and practiced a sustainable tourism model. Namaste Eco Excursions was even awarded Blue Star status by the NOAA's Florida Keys National Marine Sanctuary.
Read on to learn more about the state of the Key West coral reefs and to explore your options for finding the best key west snorkeling tours. We will also help you discover how choosing an eco-friendly Key West snorkeling trip can improve your experience — and show you how to help save the fragile coral reefs of Key West while doing it.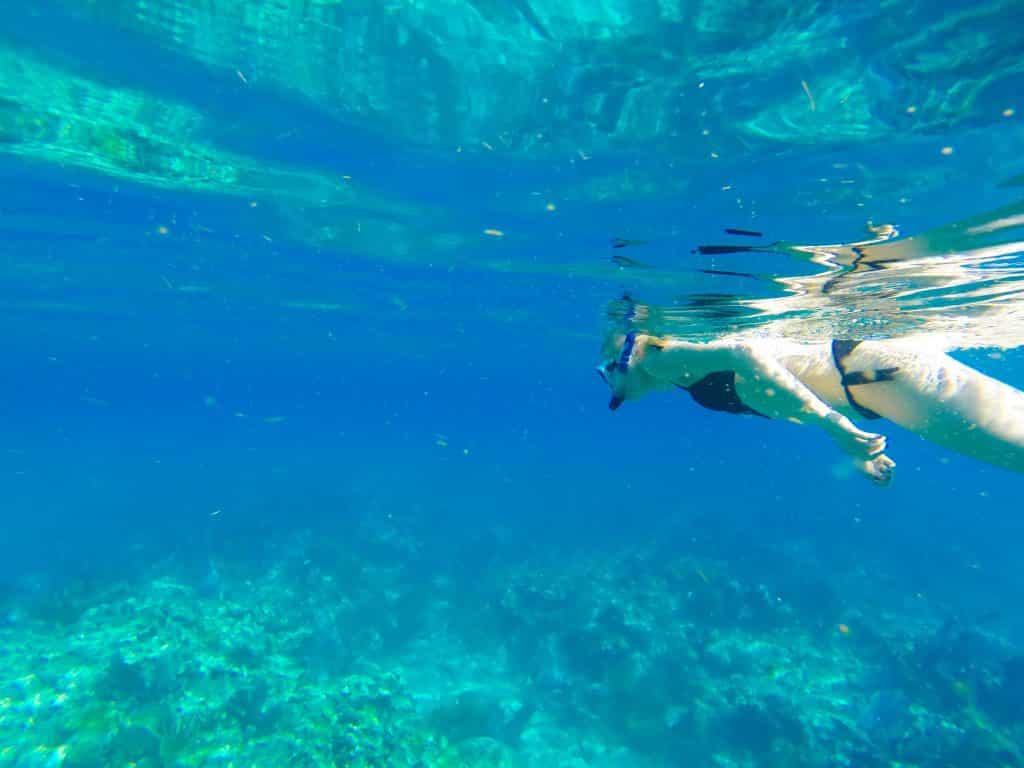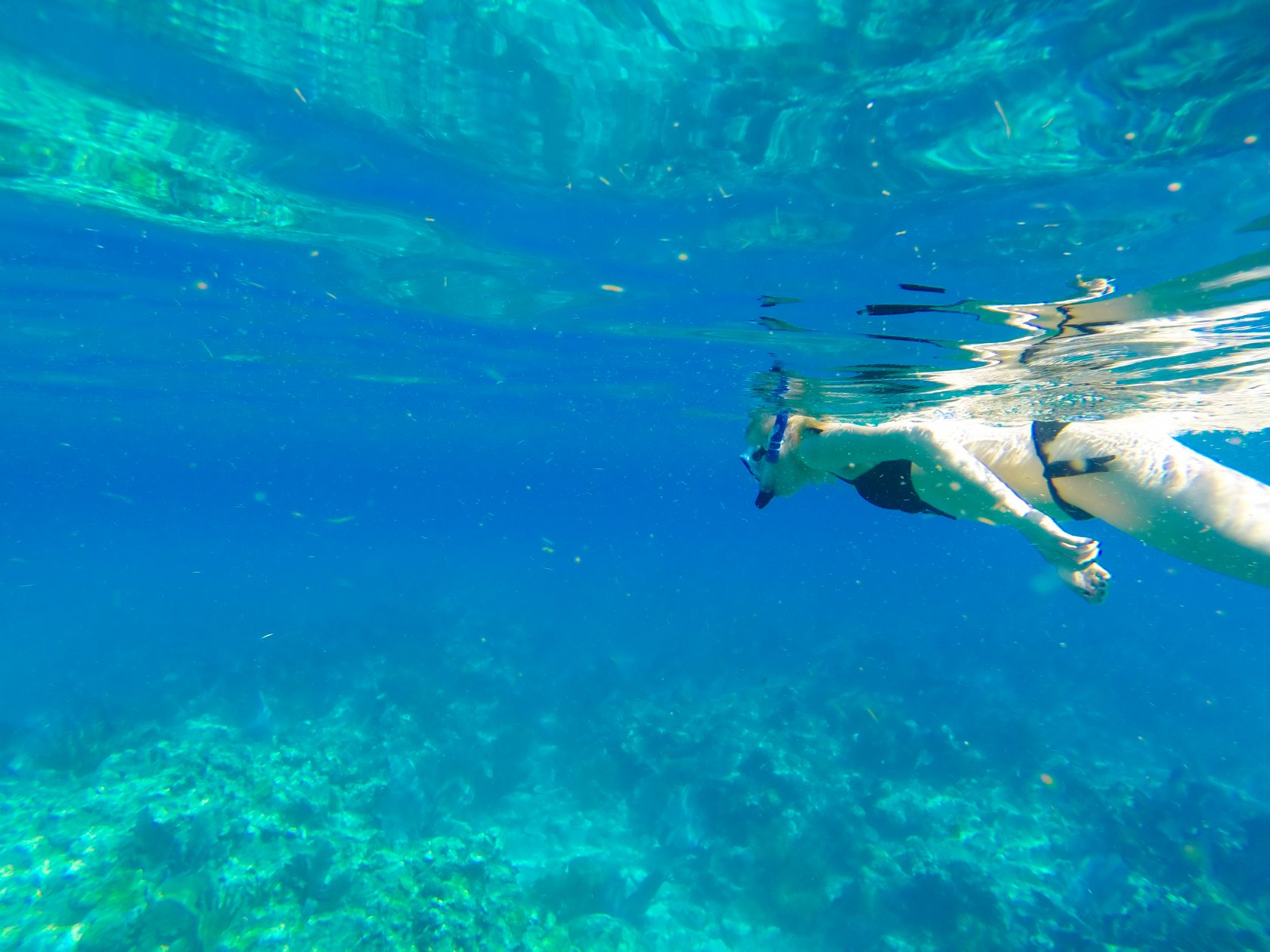 How To Find The Best Snorkeling In Key West: A Namaste Eco Excursions Review 🤿
Background to the Coral Reef off Key West and The Coral Reefs in Florida
The Great Florida Reef lies a few miles off the Florida Keys, is around 4 miles (6-7 kilometers) wide and extends for over 170 miles (270 kilometers).
The reef system is compromising of over 6,000 individual reef systems, protected through a confusing number of state and national parks around Key West that fall under the Florida Keys National Marine Sanctuary.
The coral reefs began to form only 5-7,000 years ago towards the end of the last glacial period, and today around 1,300 species of marine animals, plants, and coral call these reefs home.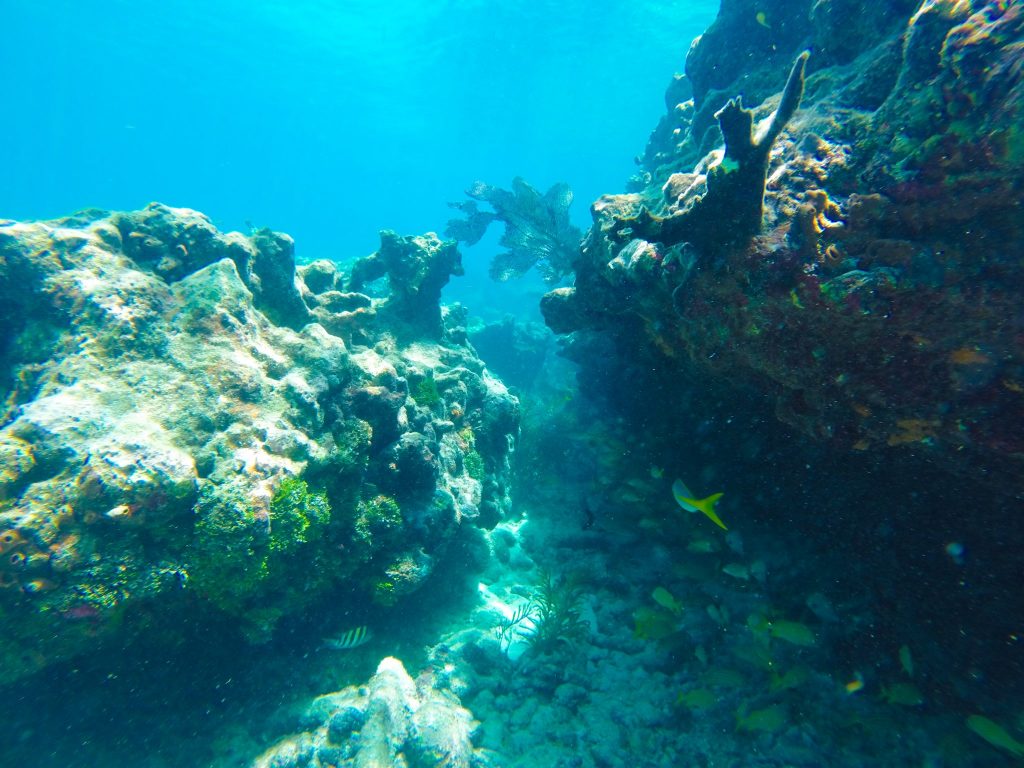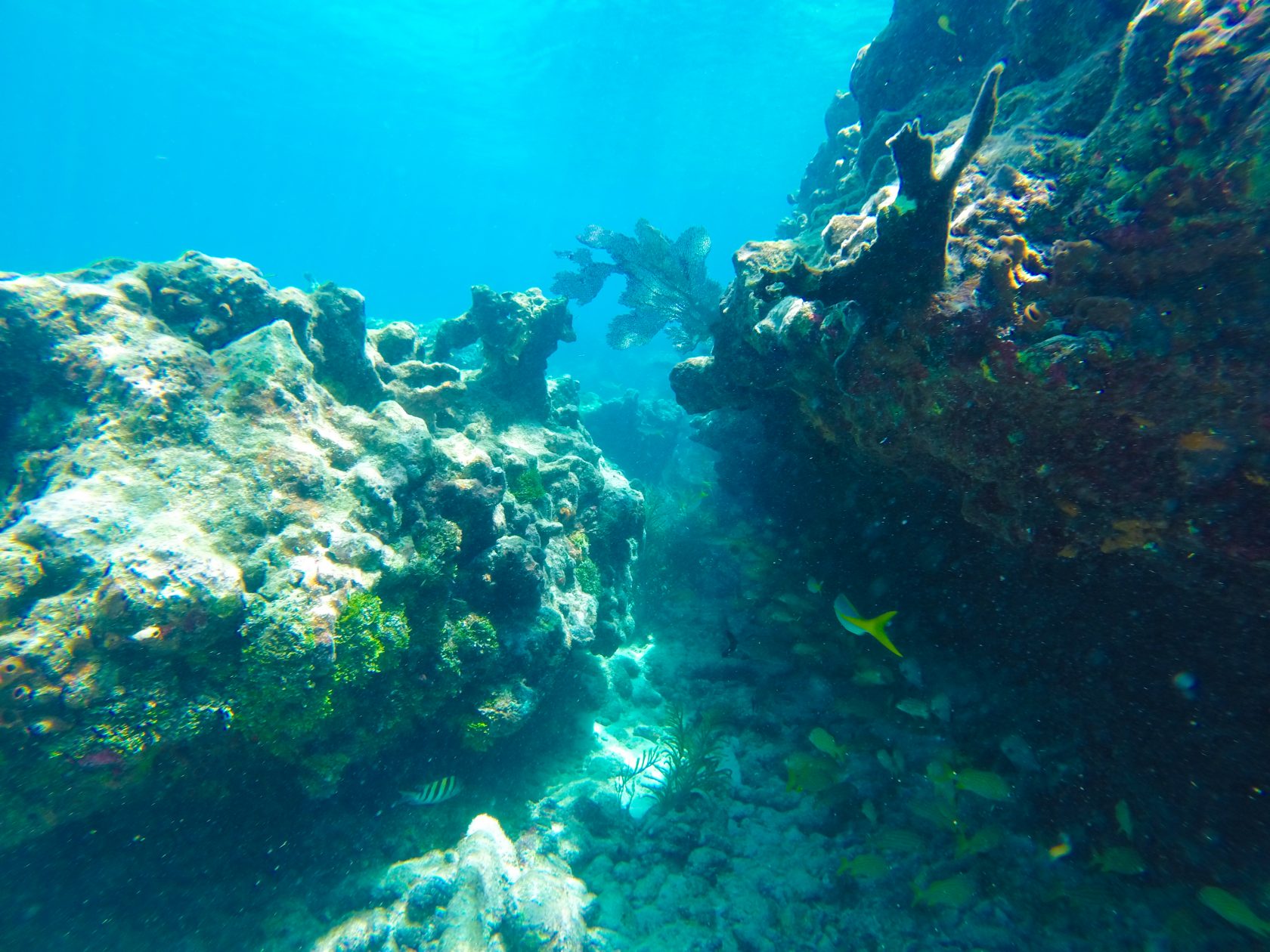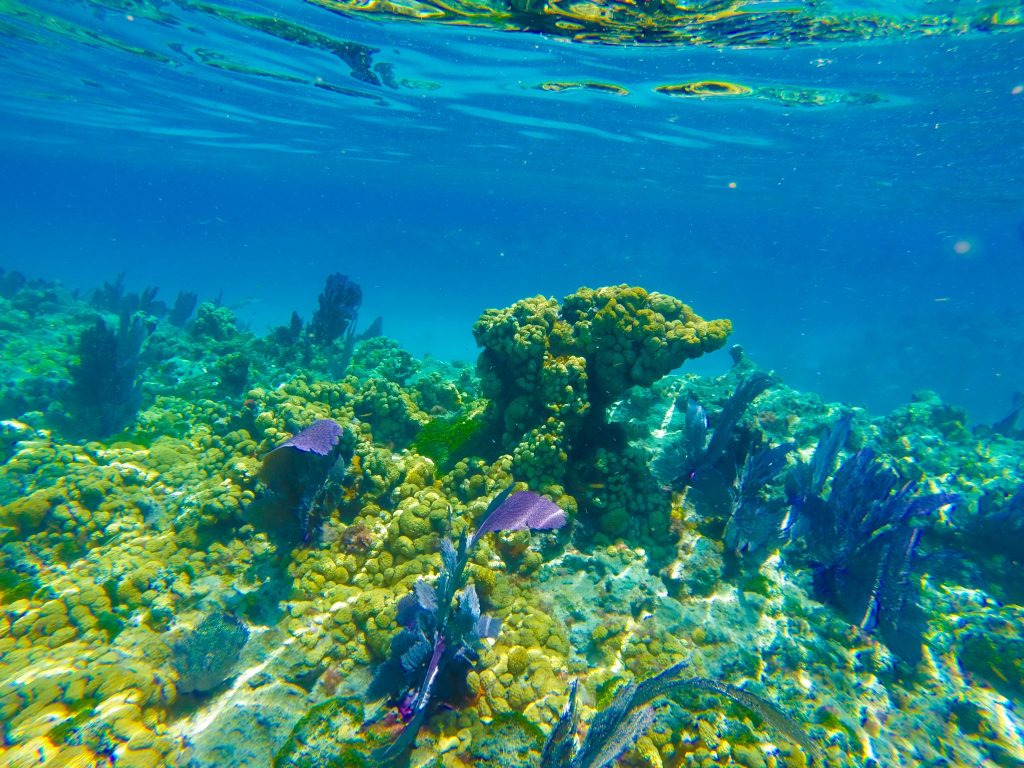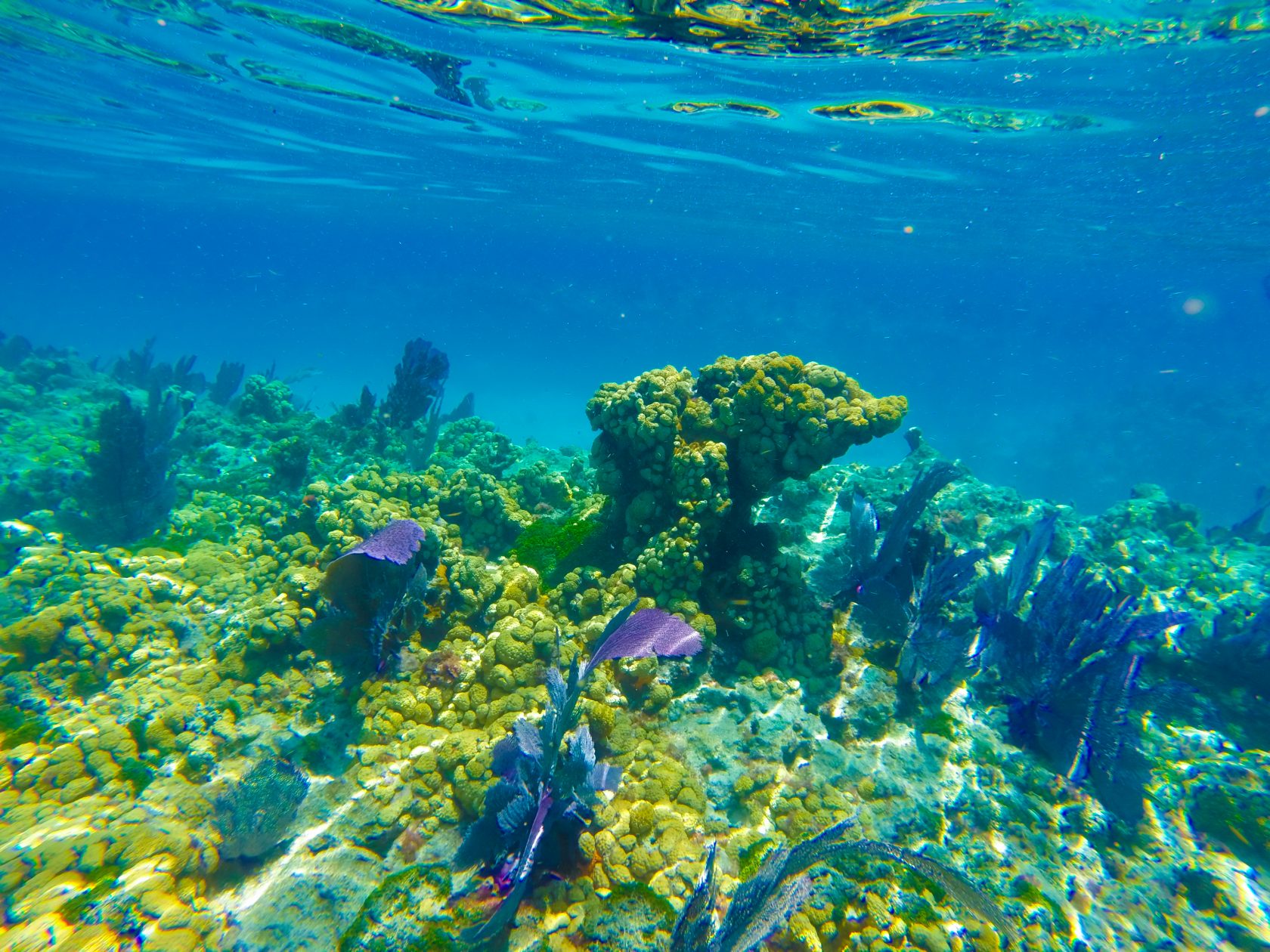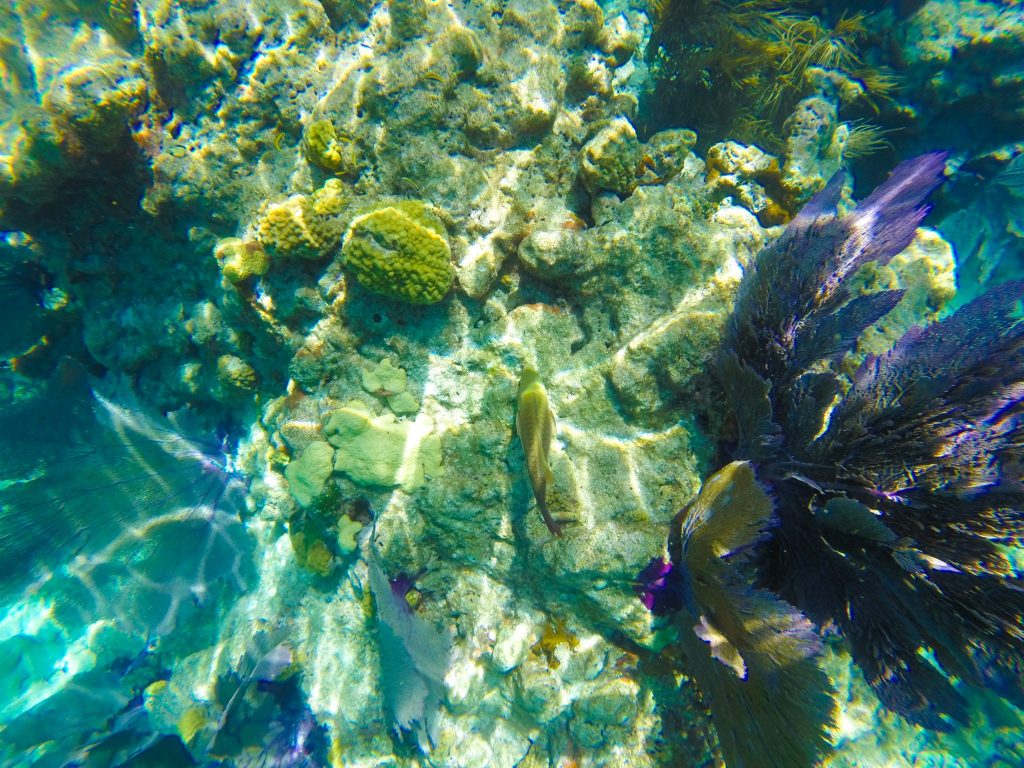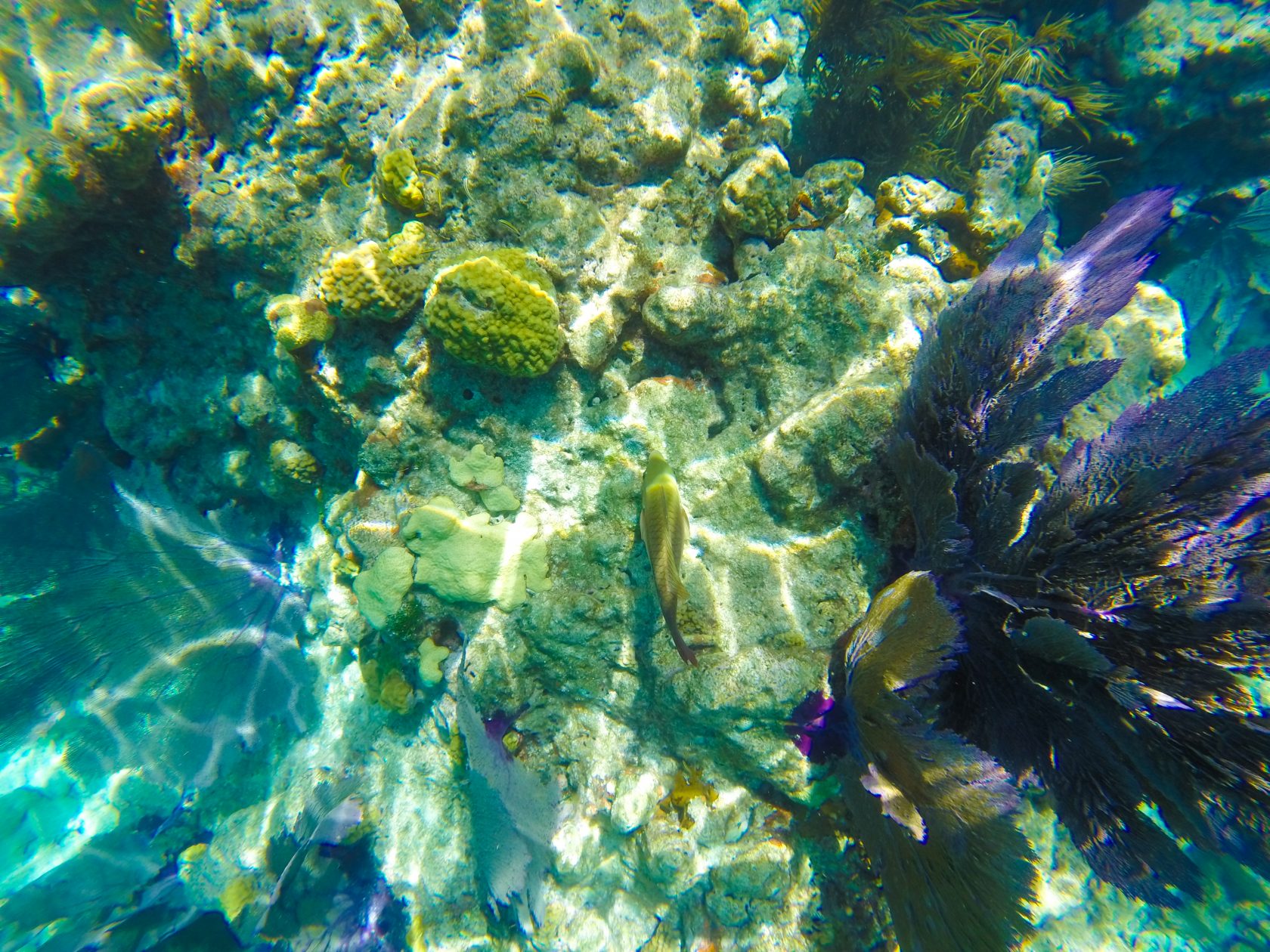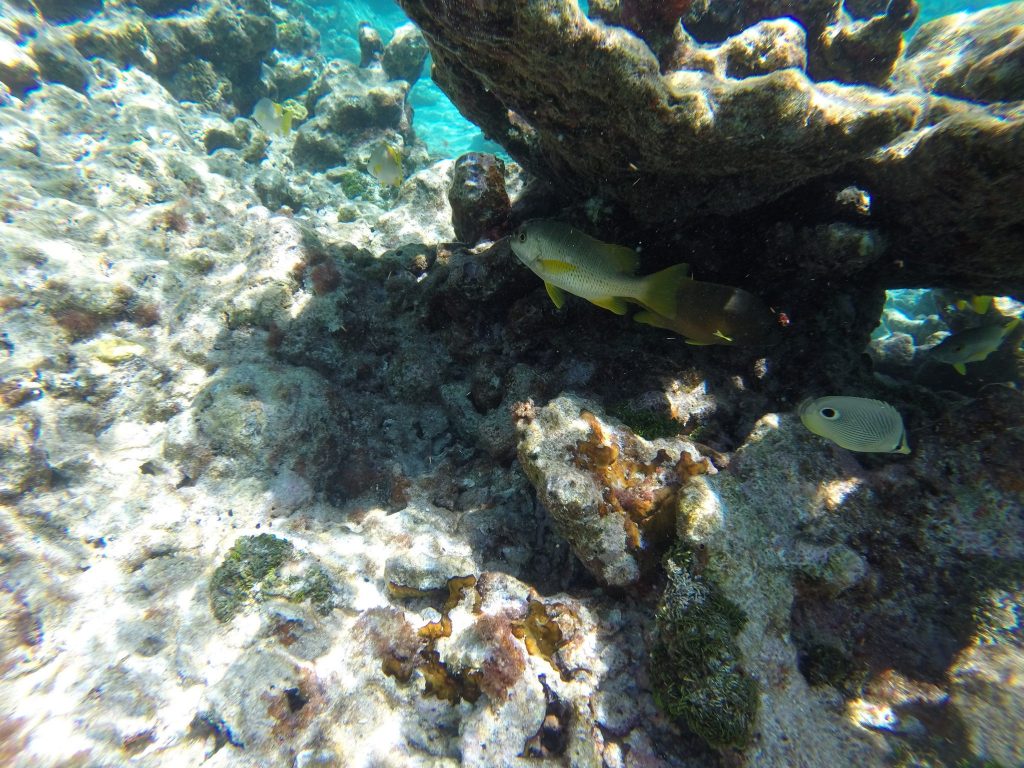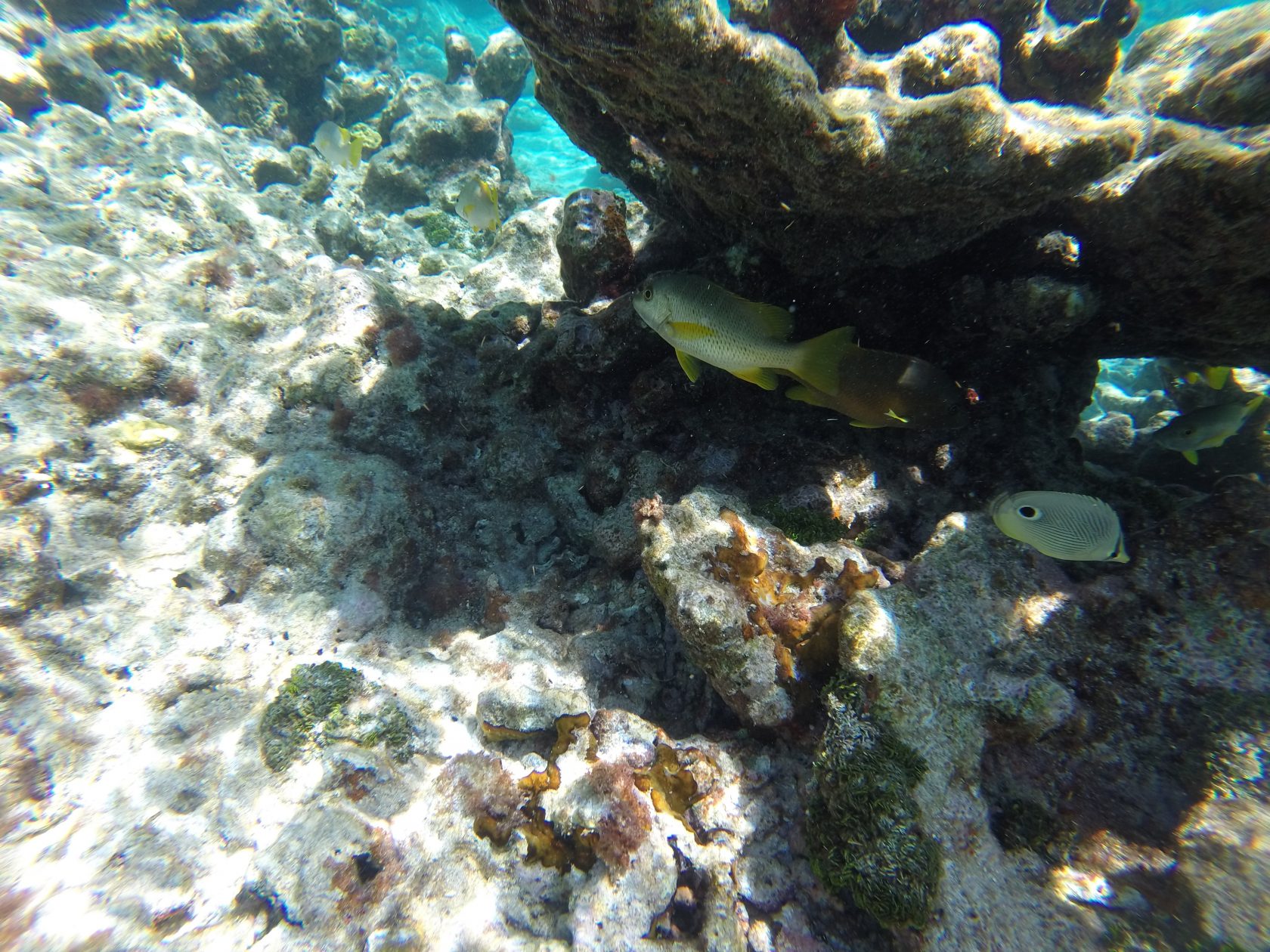 The Florida Keys National Marine Sanctuary protects not only coral reefs but the hard bottom, seagrass meadows (important for manatee in Florida), mangroves, and sand flats.
While strict protections are in place, it is managed mostly at a state level and lacks adequate funding for the necessary policing of its vast 2,900 square nautical miles. In saying this – the secret 'non-touristy' coral reefs off Key West were some of the best I have ever snorkeled or dived around the world.
Truly a highlight of my Florida road trip, they were in much better condition than I had expected —primarily due to many private individuals who take small actions every day to protect and enhance the reef.
This is why it is essential for anybody looking to snorkel Key West to be informed of proper snorkeling etiquette, the potential hazards (to both yourself and the reef), and to make an informed decision as to which Key West snorkeling tour operator you will choose.
This means not just basing your choice on the lowest price. Remember, your money and actions can help and support the reef, or sadly be given to operators who could not give two pufferfish!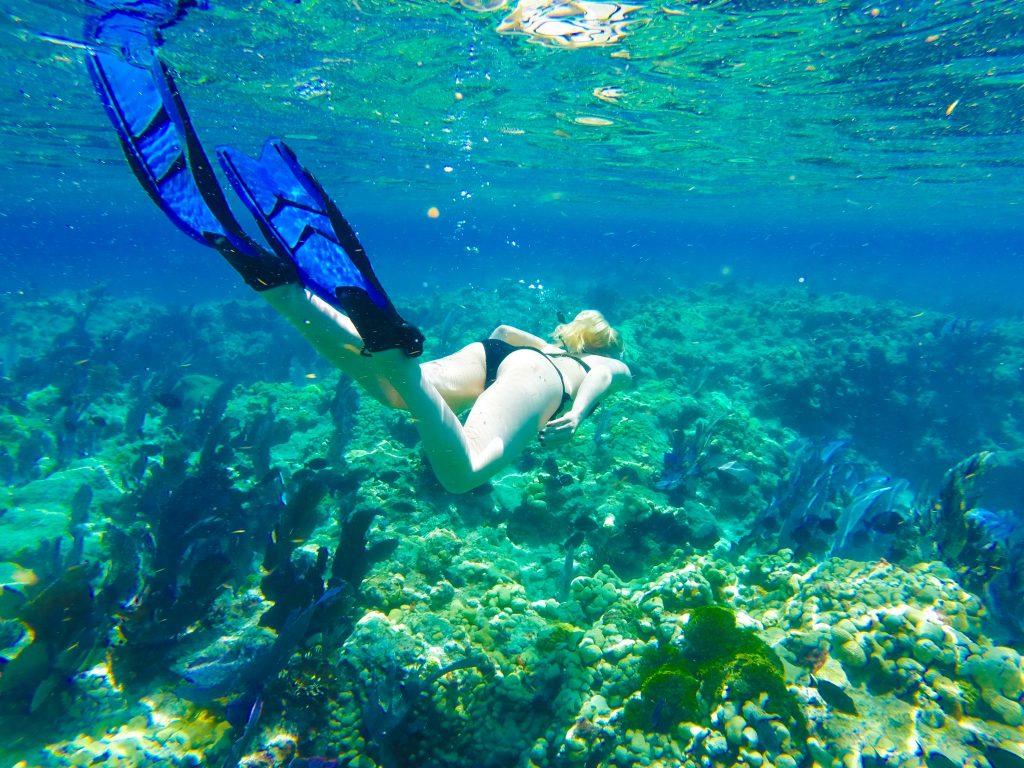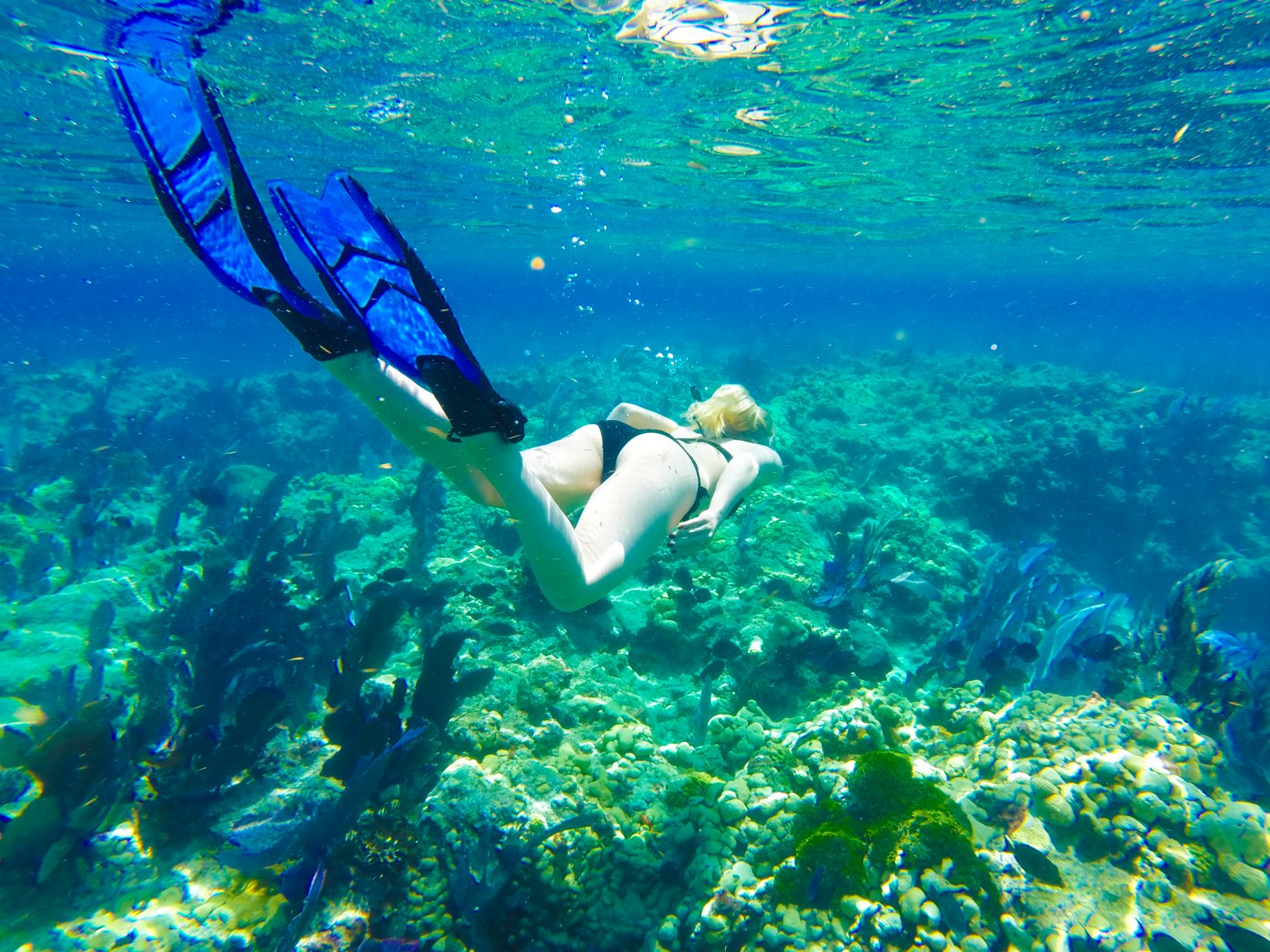 Threats To the Key West Coral Reef System (and Around The World)
Over a quarter of all ocean life lives in coral reefs – themselves a relatively small percentage of the ocean – making their survival critical to ocean ecosystems and our existence on the planet.
Sadly, however, coral reefs are incredibly fragile and sensitive to pollution, overfishing, ocean warming due to climate change and ocean acidification and are being destroyed at an increasingly rapid rate globally. It's not just in Florida, we have also seen this in Cuba, Hoi An, and Tulum.
While I could write an entire thesis and not cover the effects of all these on coral reefs, the basics are that coral bleaching is increasing globally as a result of the sudden warming of water beyond which corals can reasonably handle. This causes corals to lose their nutrients and turn white while over-fishing itself decimates reef fish populations in many parts of the world.
Captain Jeff, a confessed 'Reef Geek' with Namaste Eco Excursions does a fantastic job explaining this further on the ride out to his secret reef spots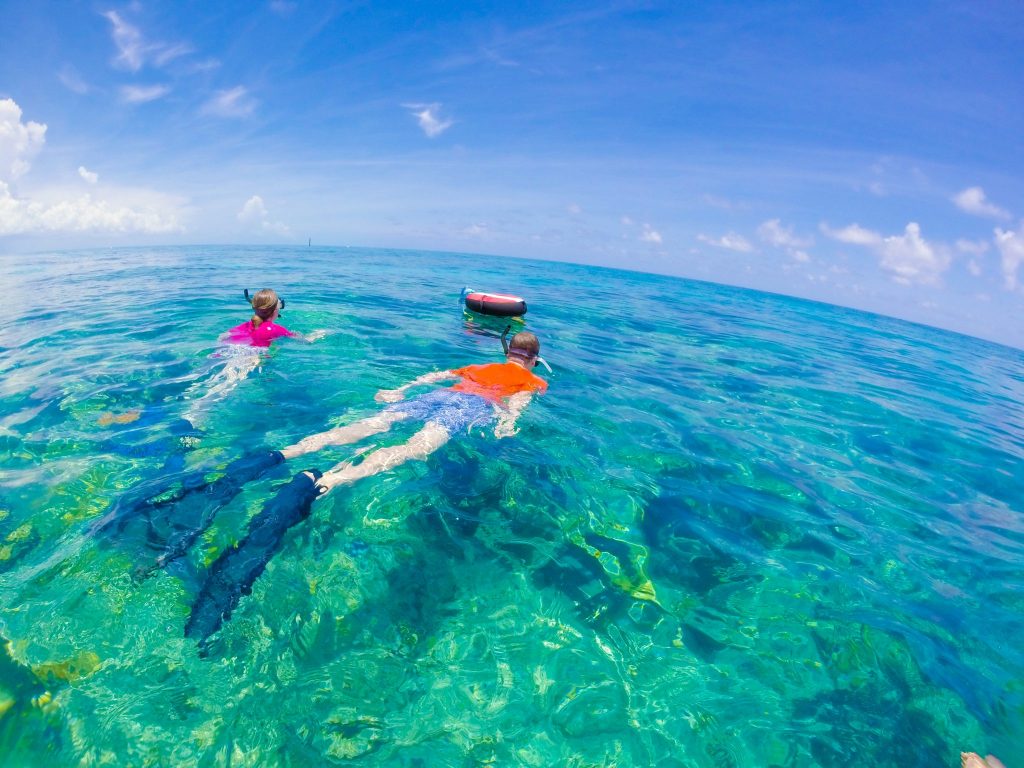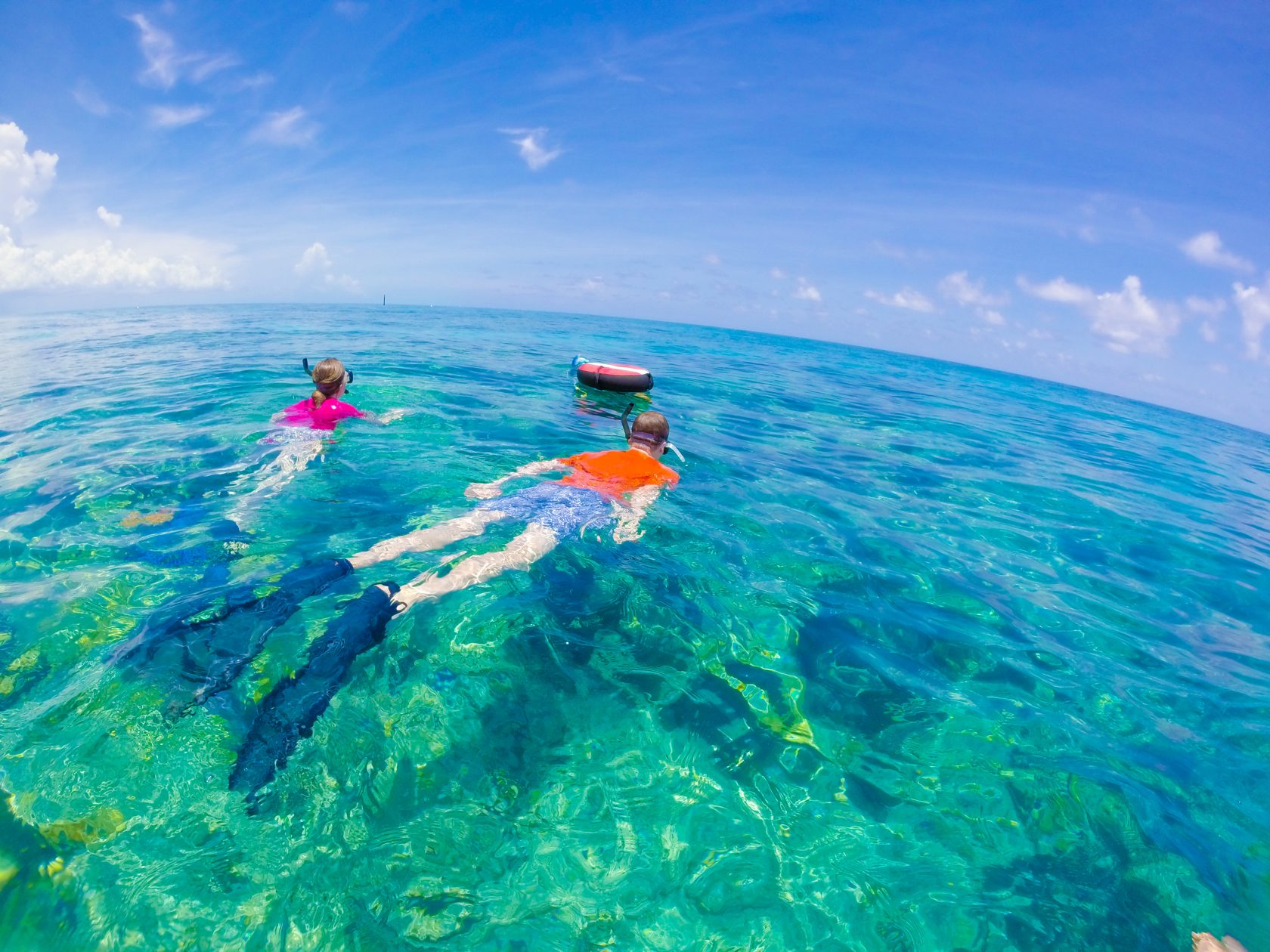 Specifically, within the Key West coral reef, there has been a decimation of Elkhorn and Staghorn coral (giant, branch-like corals), with an estimated less than 1% of the original population remaining since the 1980s.
Other corals have proven more resilient, but the year-on-year loss of total living corals are still recorded across the reef system, as well as significant coral bleaching events becoming more frequent with rises with sea level temperatures.
As these effects are often at a regional or global level, it is difficult to say what an individual traveler can do to help guard against them, besides limiting carbon emissions, lobbying state representatives, and wearing coral-reef friendly sunscreen.
Still, the human impacts locally on the Key West coral reef systems are something you have the power to minimize and change.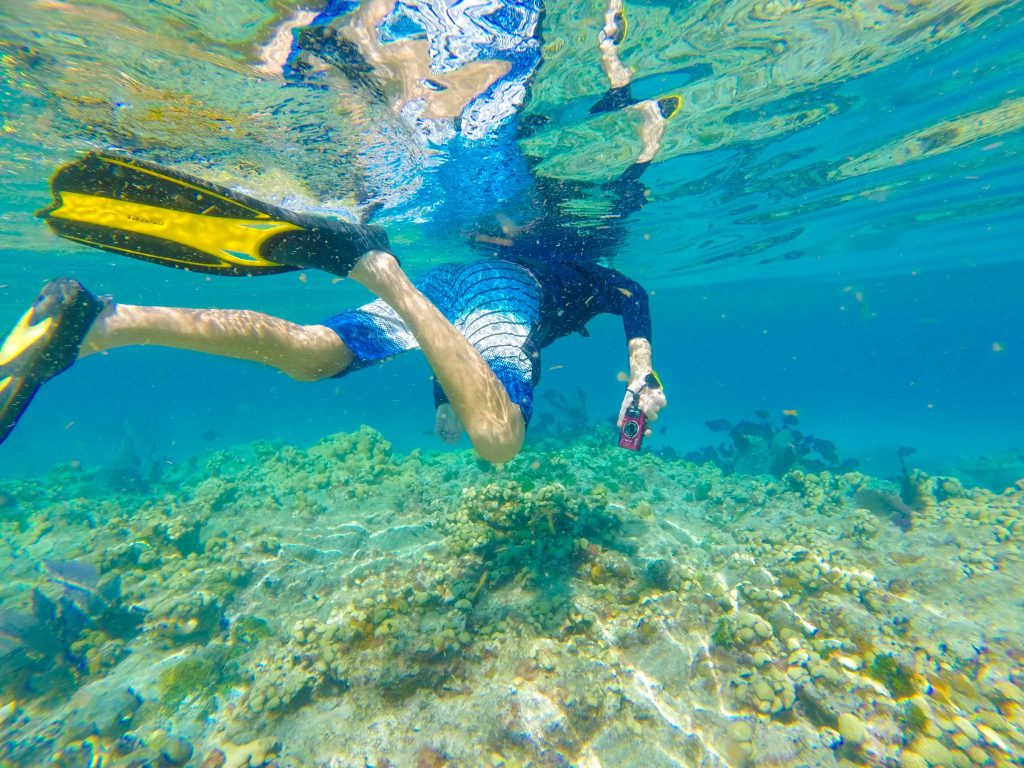 It is estimated that across the coral reefs in Florida, there are 30 million person-days of recreational use of the reefs, including scuba diving, fishing, and snorkeling.
A tremendous strain on the reef resources (along with a 1000% increase in recreational boats over the last 50 years) that – while important to the local economy in sales and jobs – must be carefully managed in order to ensure the coral reefs of Florida have the best chances of survival into the future.
I firmly believe that sustainable business practices and sound eco-tourism principals – along with significant investment in reef research and re-generation programs – are the best way forward for the Key West Reef.
For a traveler, this can be as simple as looking for small-group excursions that limit the number of people on any one site, following a no-take, no-touch policy on all marine life including corals and plants and checking for the use of sustainable fuels.
To take things further, you might also opt to visit a human-made reef system or other areas if you are only looking for a dip in the water and a day in the sun!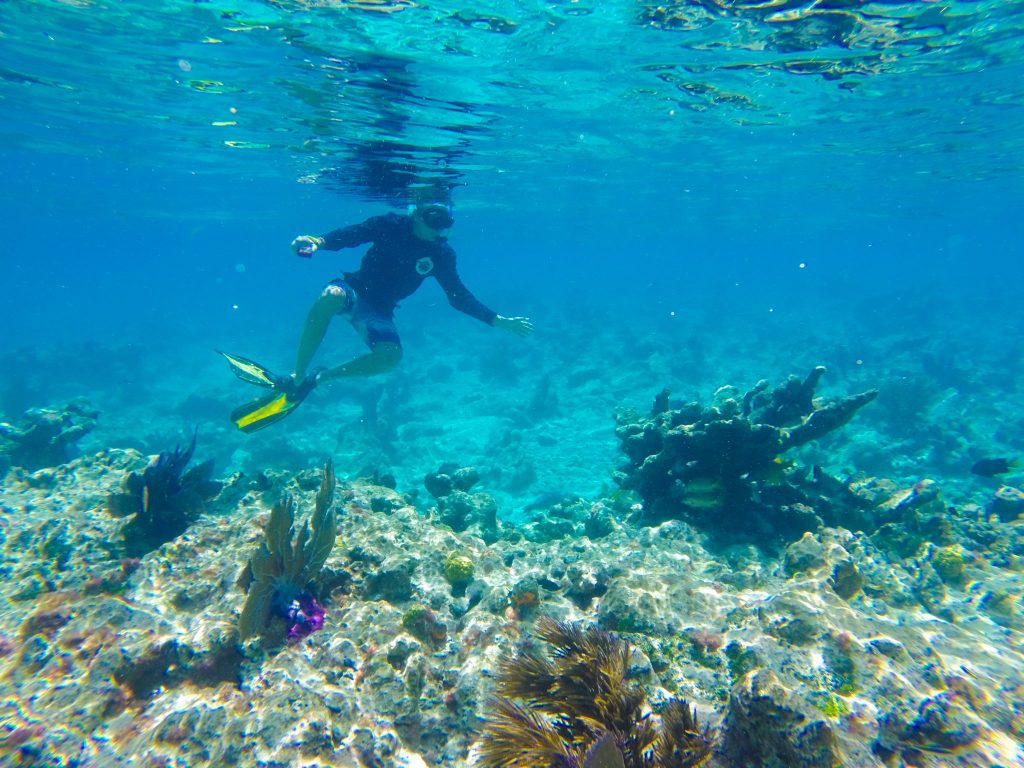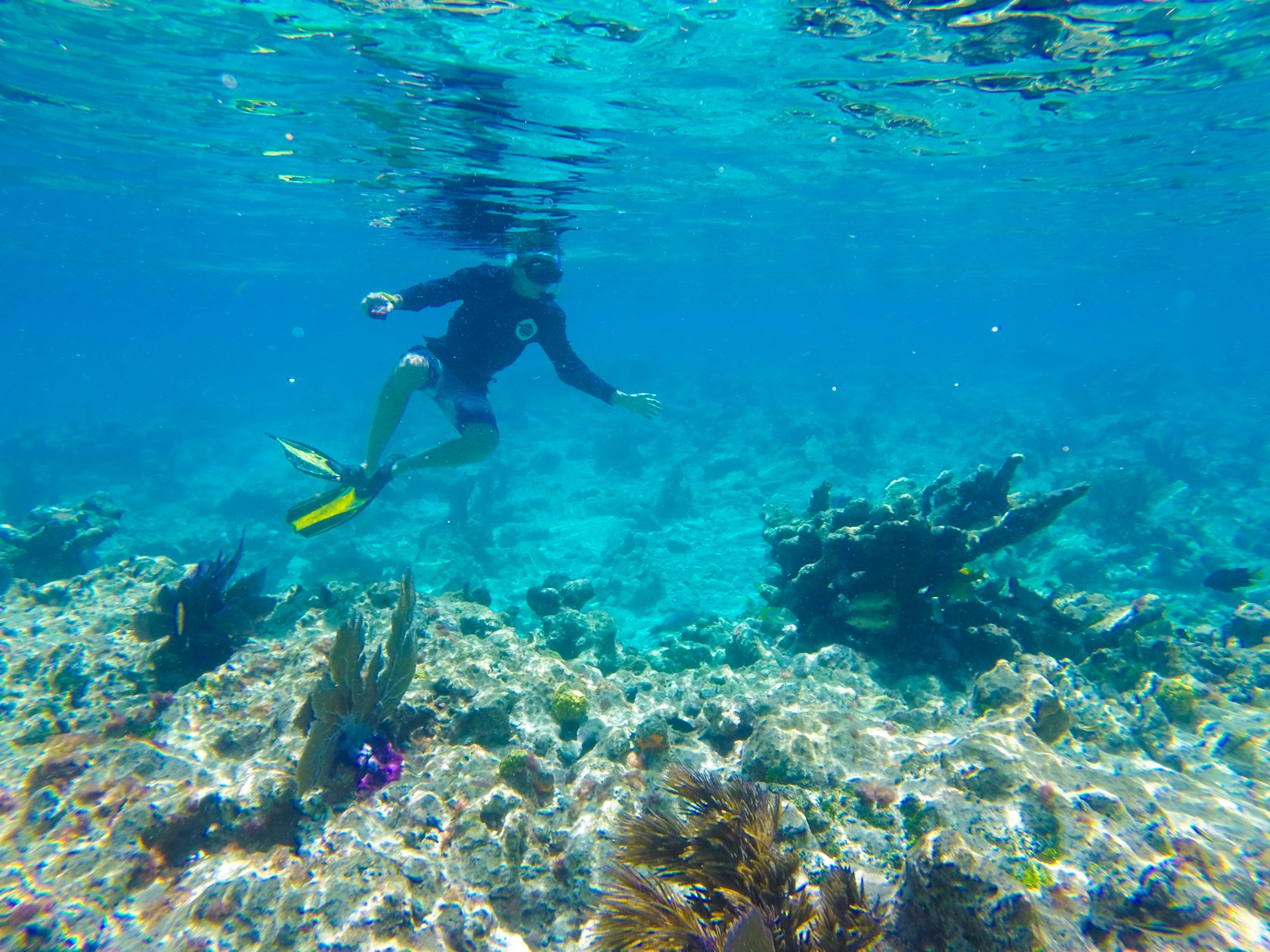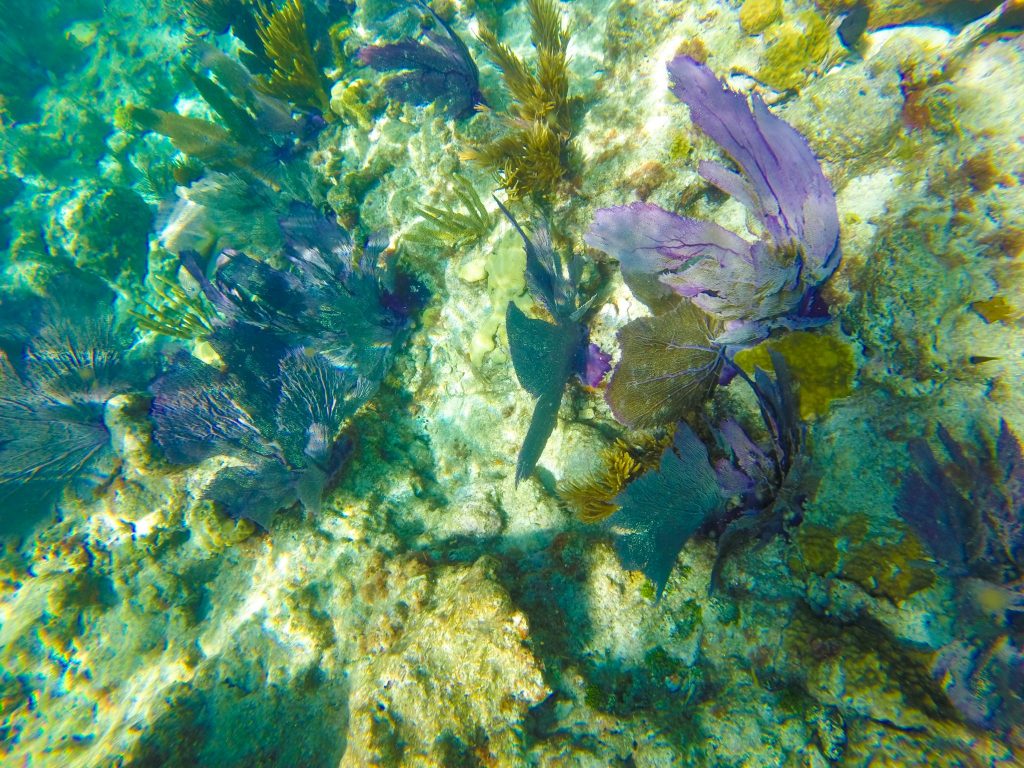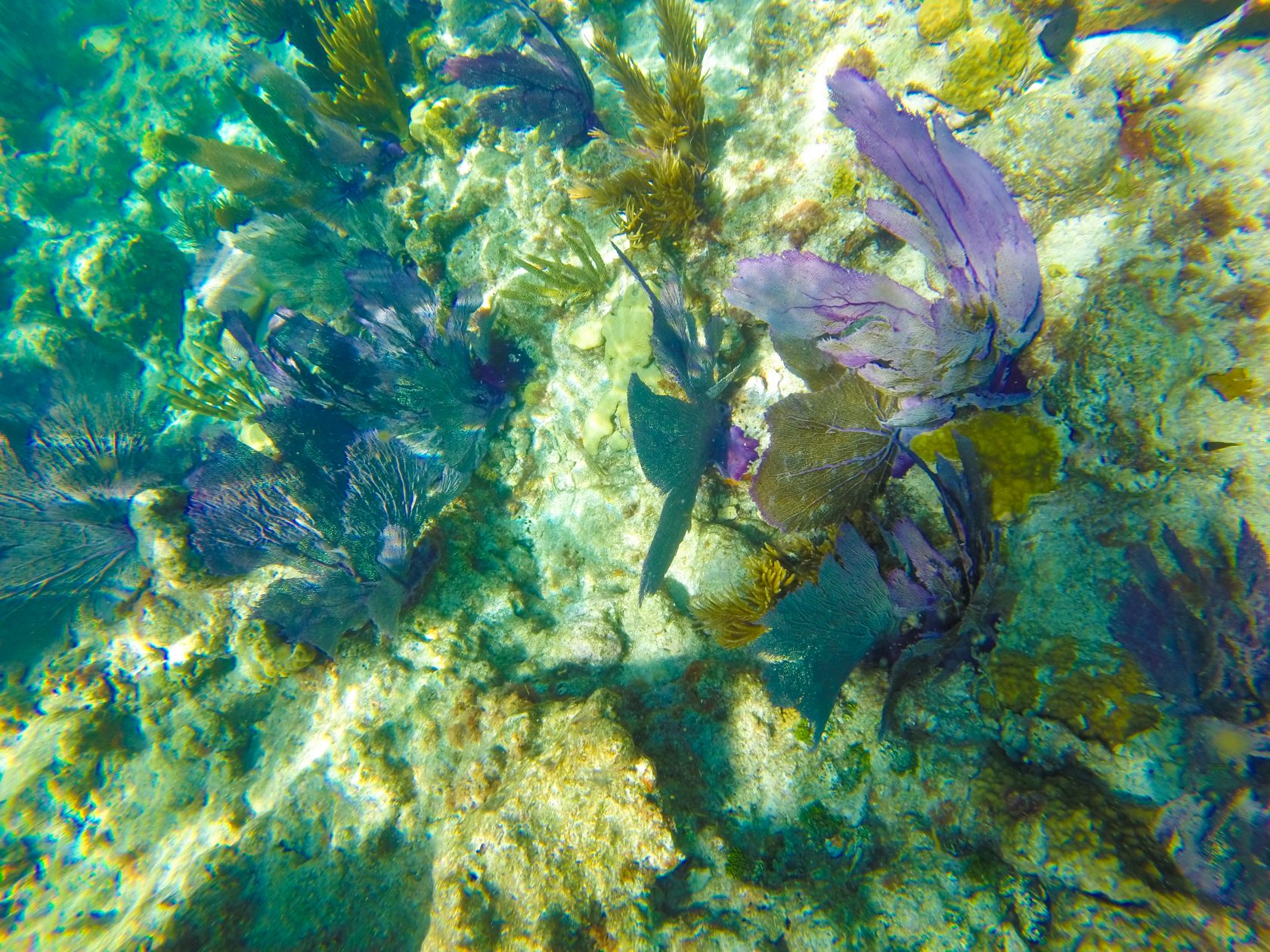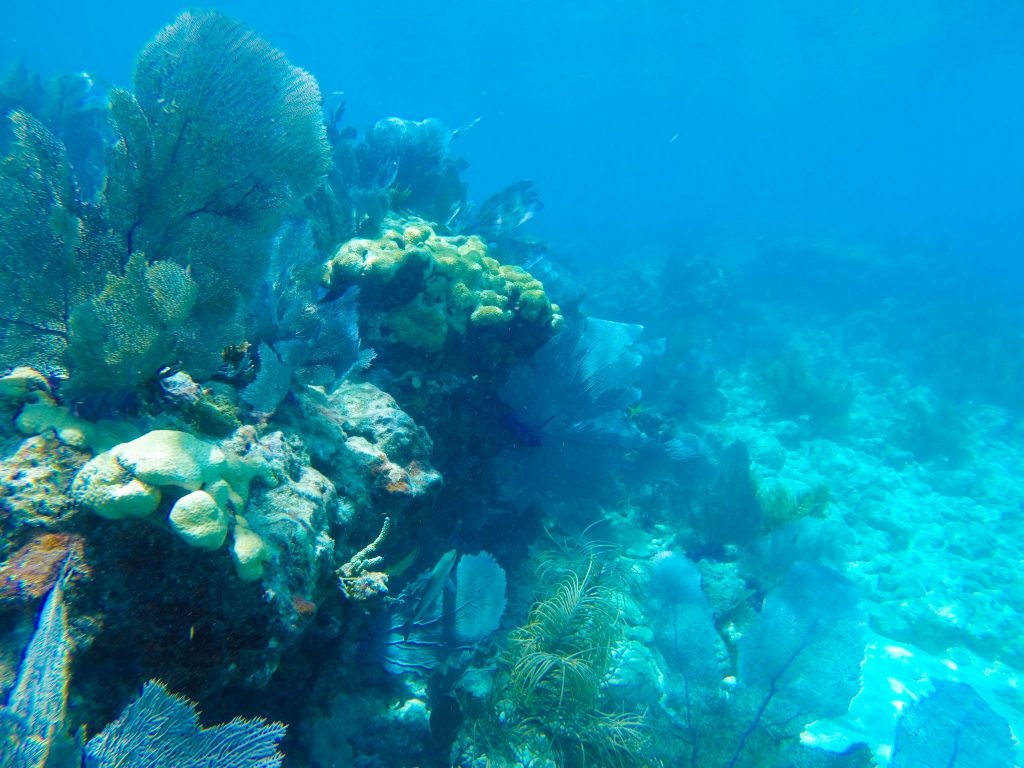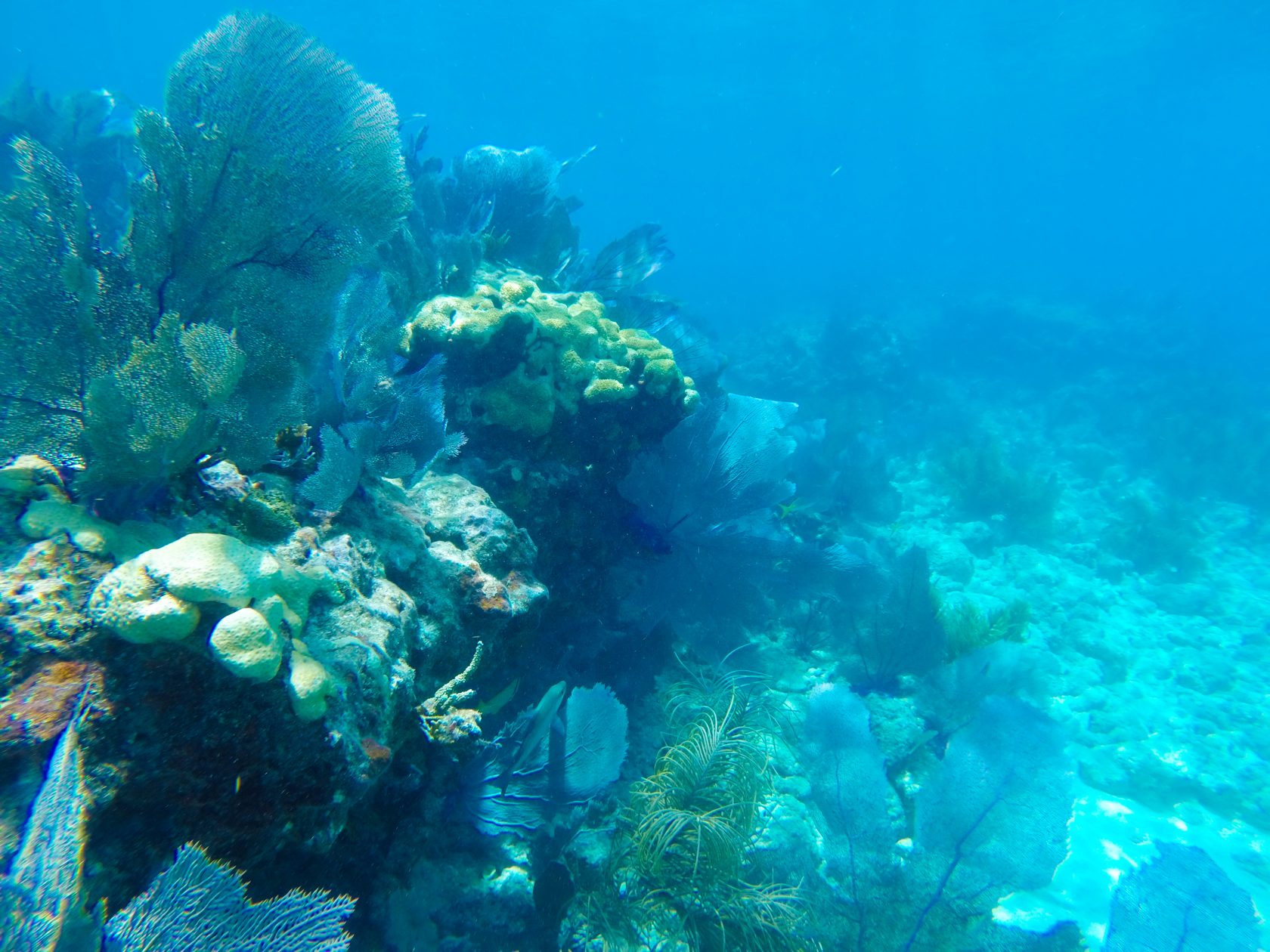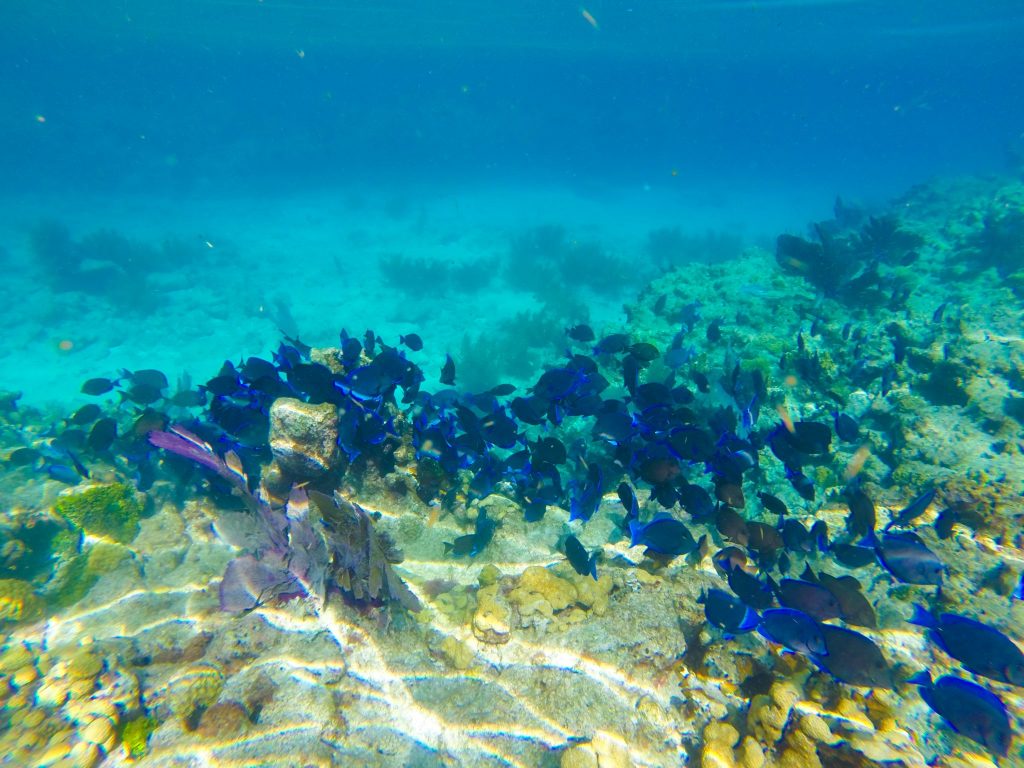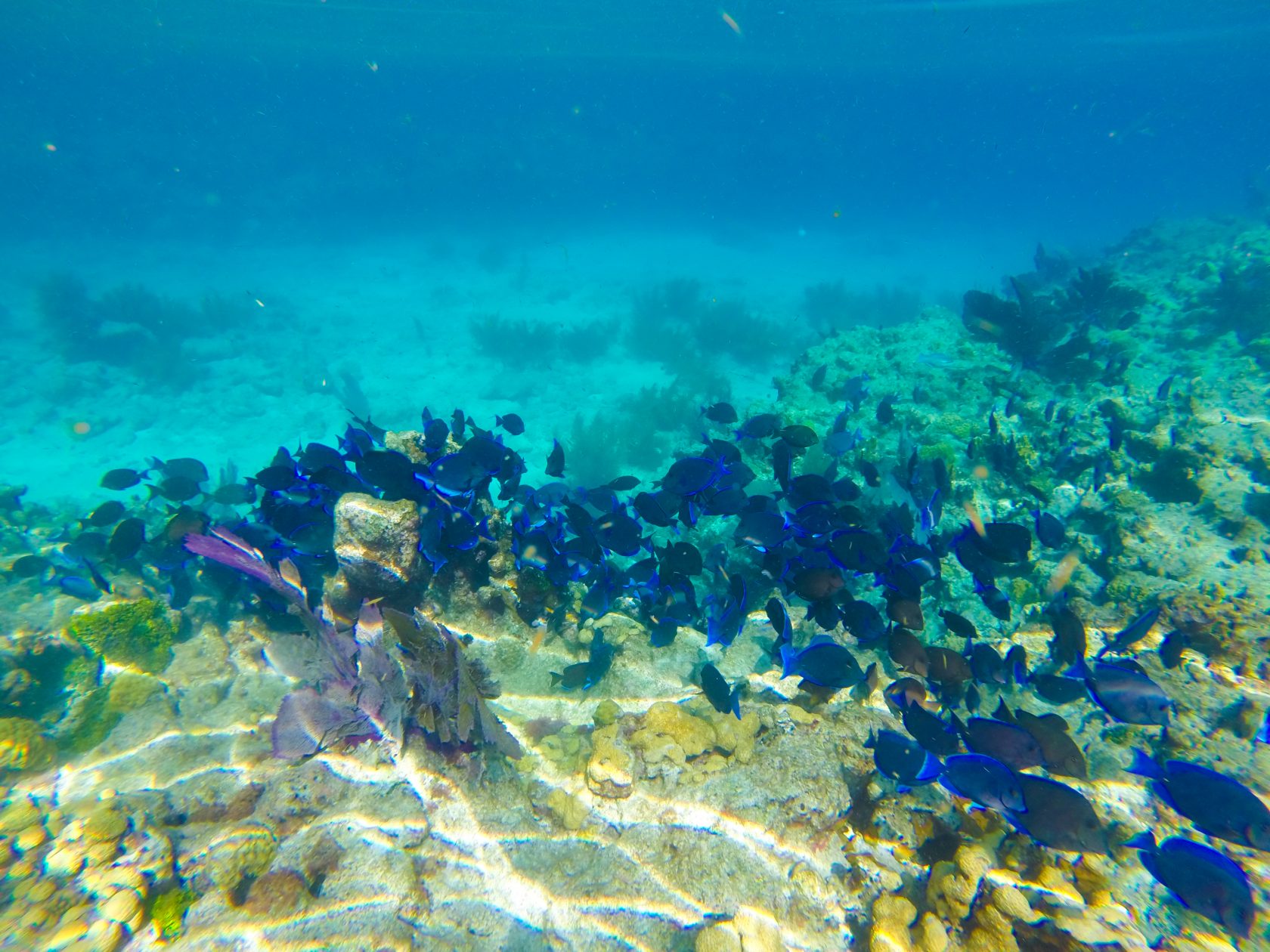 The Three Types of Key West Snorkeling Tours
Before exploring the Key West snorkeling tour options, it is worth noting that practically all snorkeling in the Florida Keys is by boat.
This is due to the Florida coral reef's location offshore, meaning there is almost no shore or beach access for snorkeling. The only landbased snorkeling is the Pennekamp and Bahia Honda parks in the Middle Keys, but there are inferior sites with little to see.
This means free snorkeling just is not possible. To see healthy, colorful reefs and the best snorkeling in the Keys, you will need to go on a snorkeling trip. These come in three types: lowest price cattle cruises, high priced private excursions, or medium range eco-operators.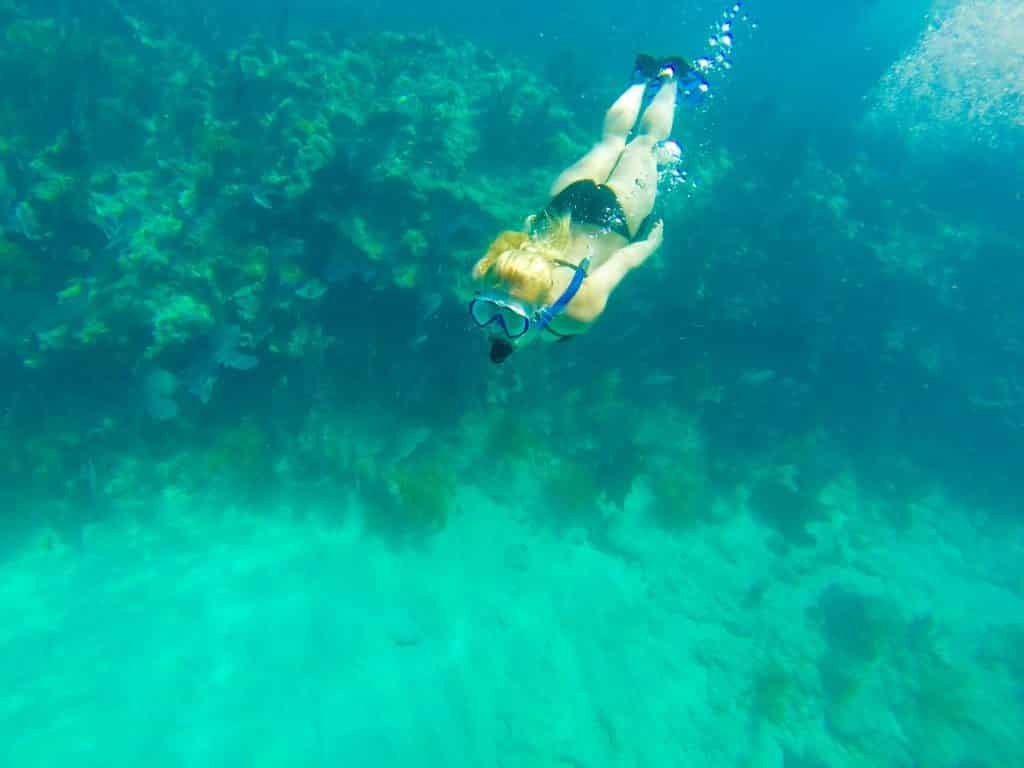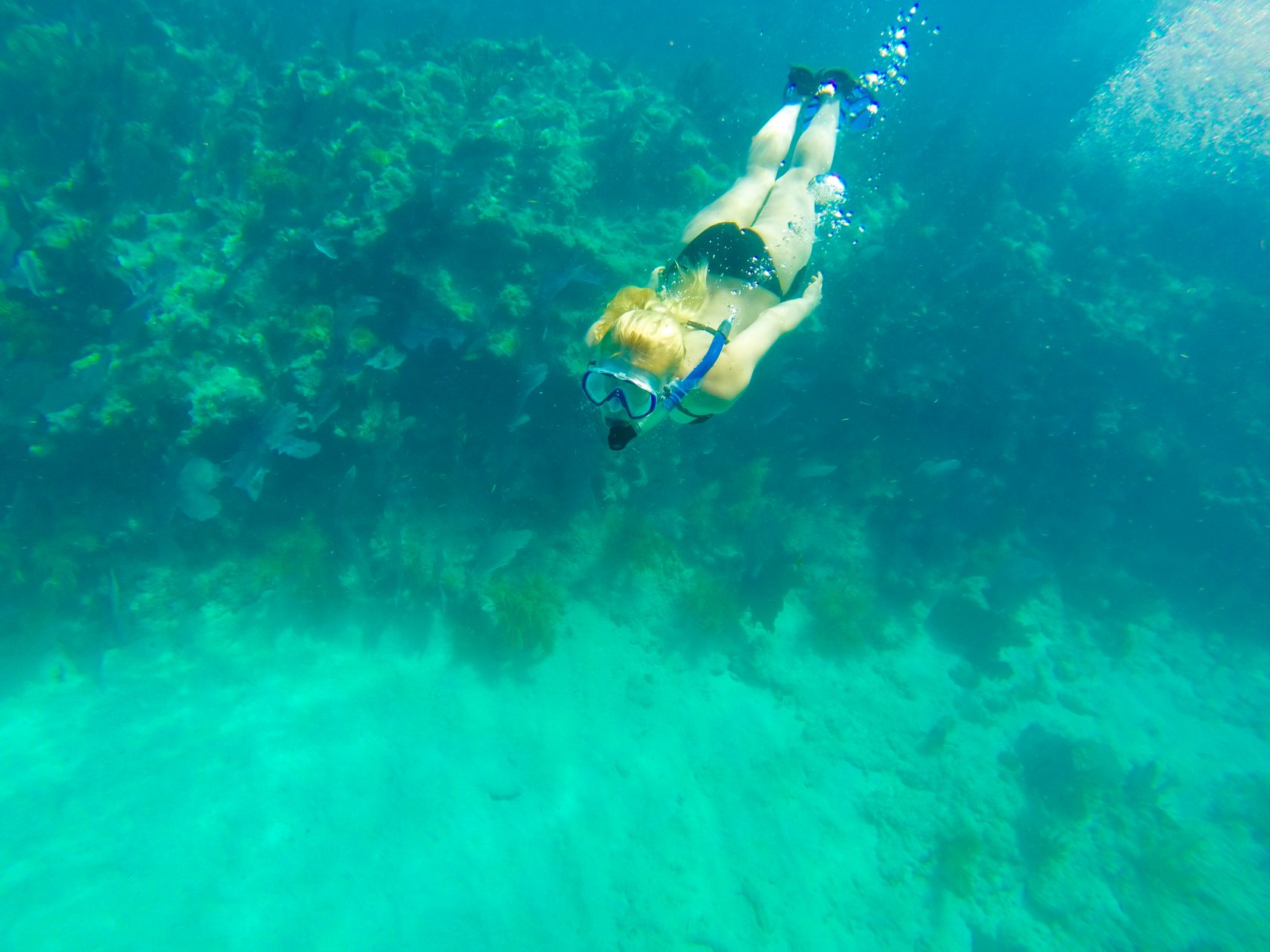 Based on everything we now know – the lowest price cattle cruises should be avoided at all costs. These are the types with high advertising budgets that pay big commissions so that you will find recommended everywhere.
Only go for these if you want to experience beautiful reefs without 40-50 other people all splashing around, scaring marine life, and generally just going on a booze cruise hoping to find Nemo. With strict time-limits, hardly a guide to be found, and usually no information on what you will see, these are more suited to sunset cruises around the island with no water entry if this is your cup of tea! And trust me – there is no chance you will see the best places to snorkel in Key West at all!
Private charters can be right for some people as you can convince you, captain, sometimes to take you to the 'locals only' spots without the crowds.
Still, they can be very pricey if not in a large group, and you are getting more of a cruise option than a reef tour with experts – perfect for some situations but not for those who want to learn about the Key West coral reefs and find weird and exotic creatures.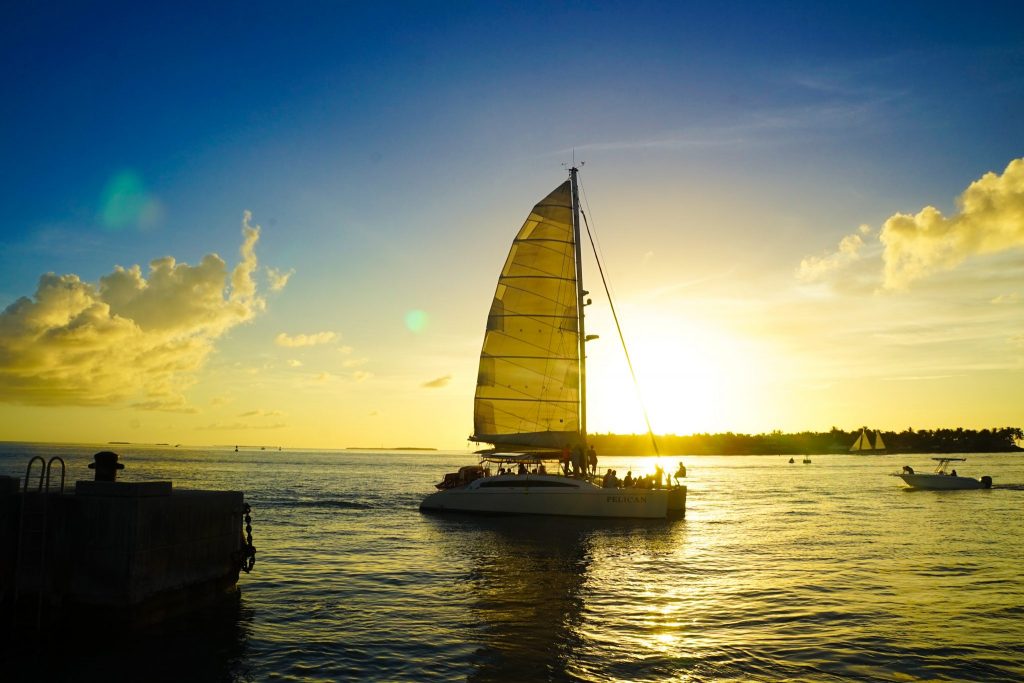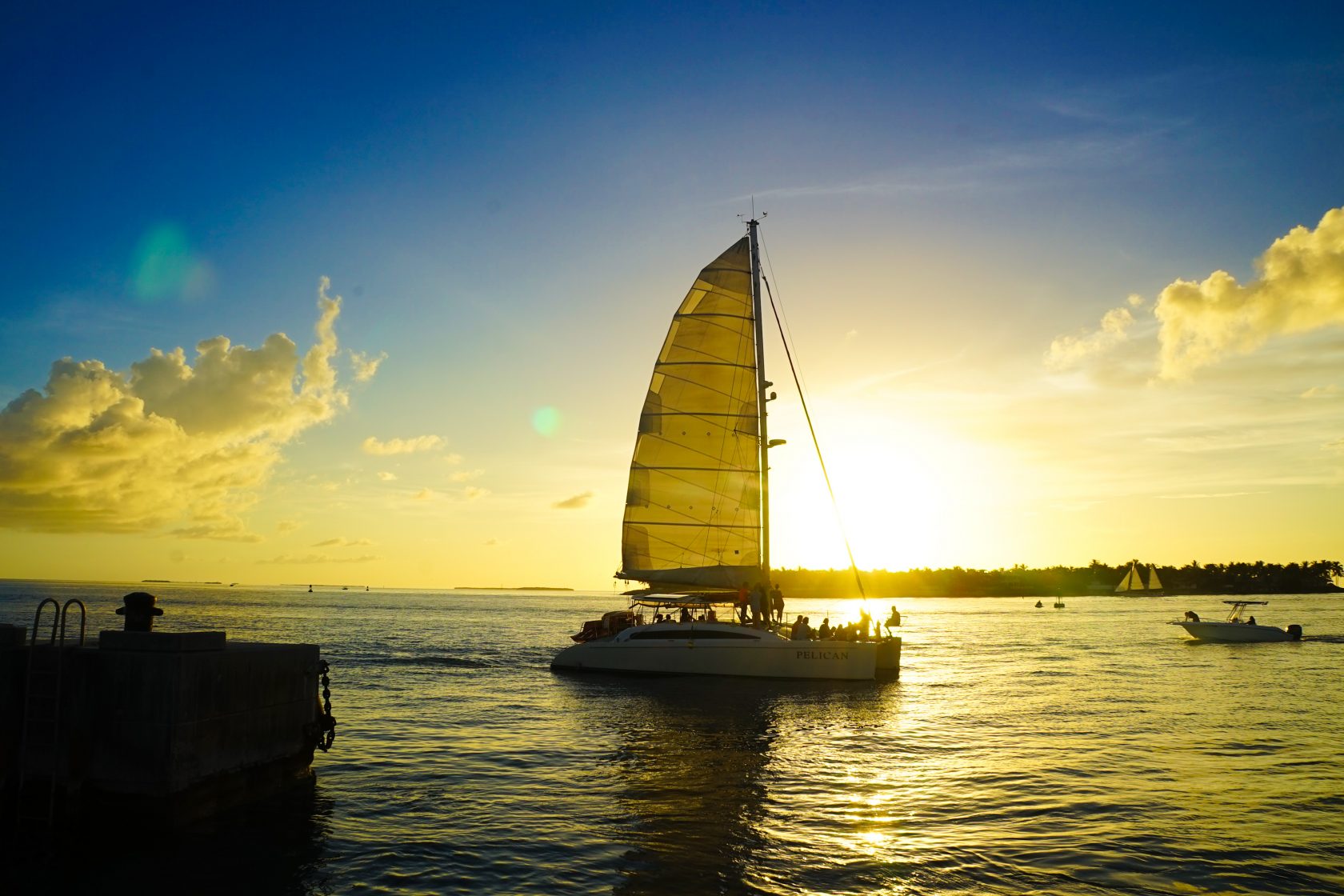 The final option – and the best, in my opinion – is to go with an eco-tourism provider who follows sustainable business practices. This way, you can be ensured a great experience on the reef, a passionate guide and crew (since they are not in it for the money or they would convert to a cattle cruise!) and a unique experience.
If you choose correctly, you can opt for an operator who donates a percentage of the proceeds to a coral protection charity. Not the cheapest option, but by paying a little extra, you ensure a great experience with a tour operator that cares!
It was for these reasons, and more, that I opted for – and wholeheartedly recommend – Namaste Eco Excursions, an eco-tourism operator based out of the Perry Hotel Marina and endorsed by the Florida Keys National Marine Sanctuary's Blue Star education and conservation program.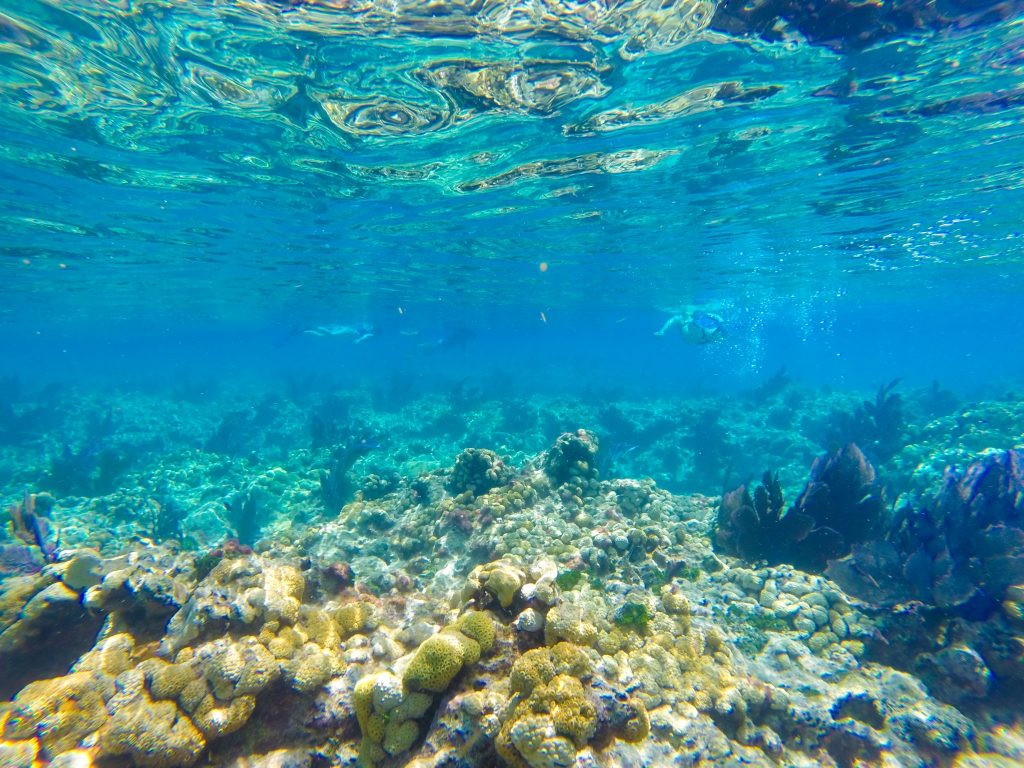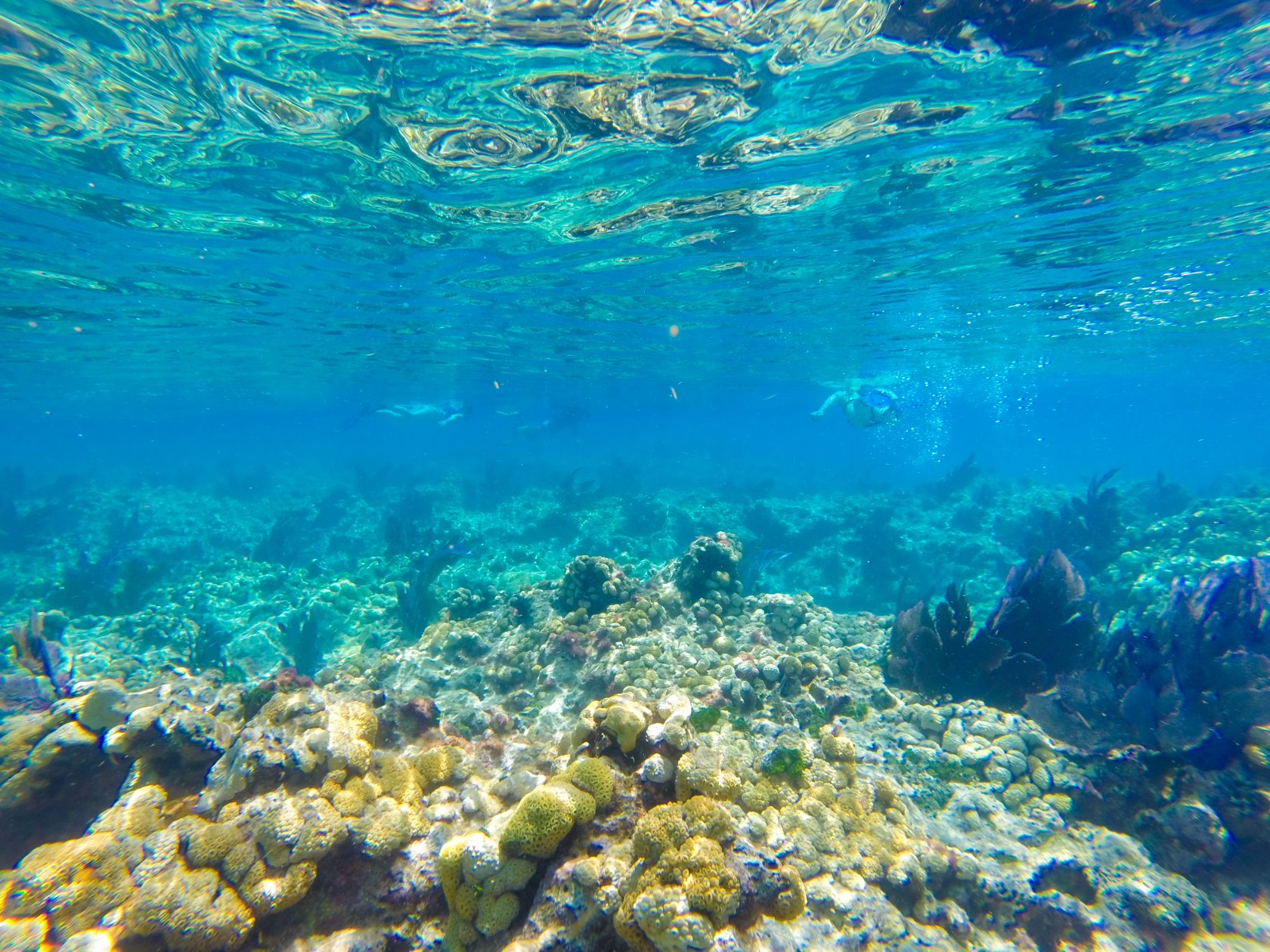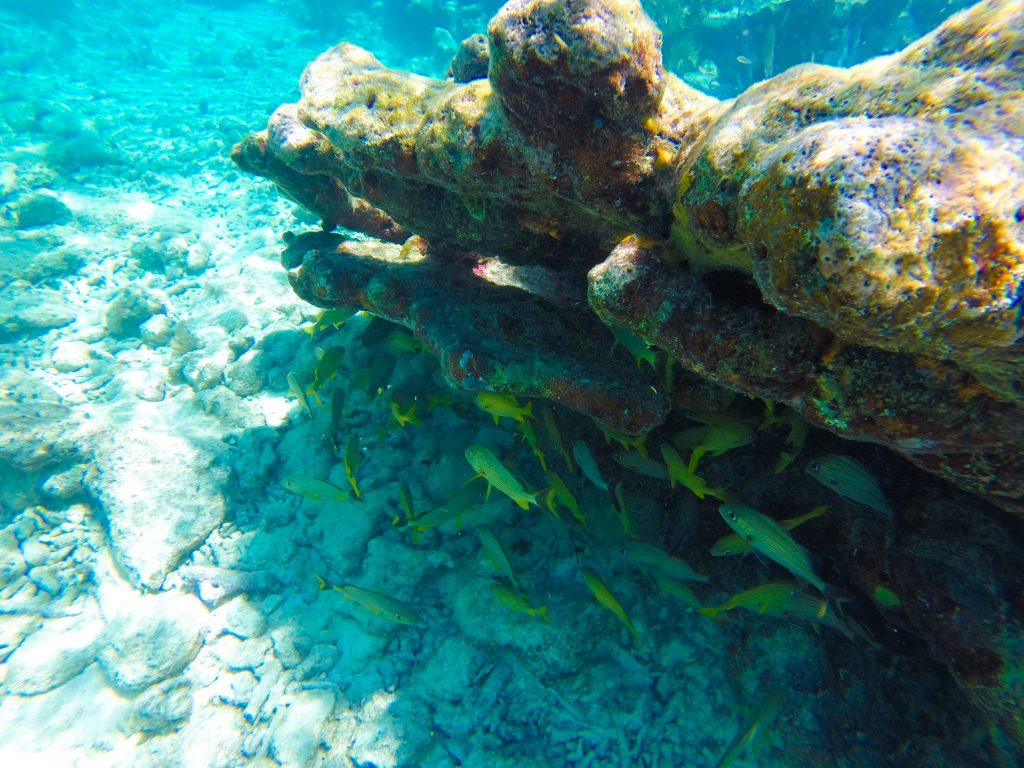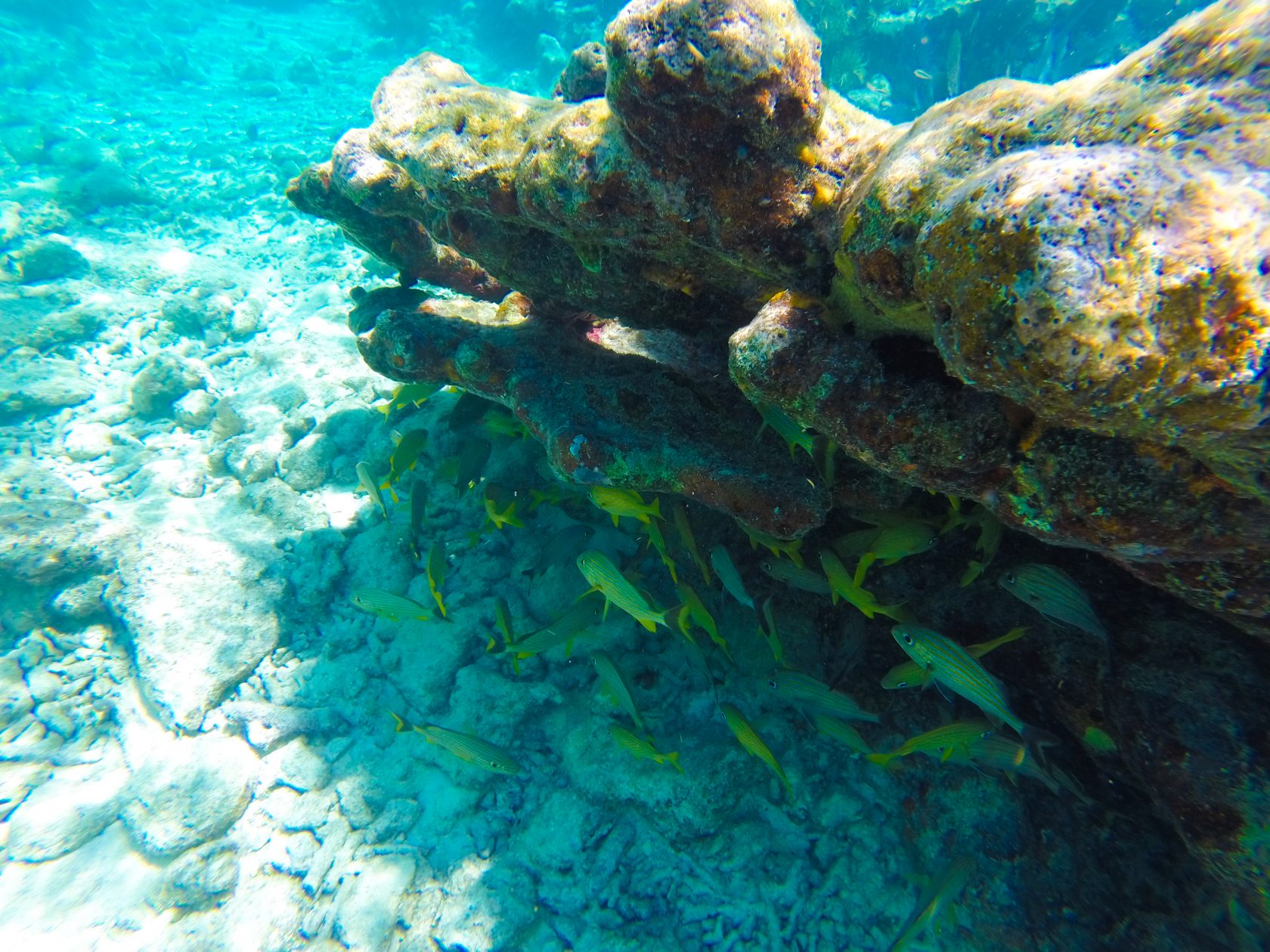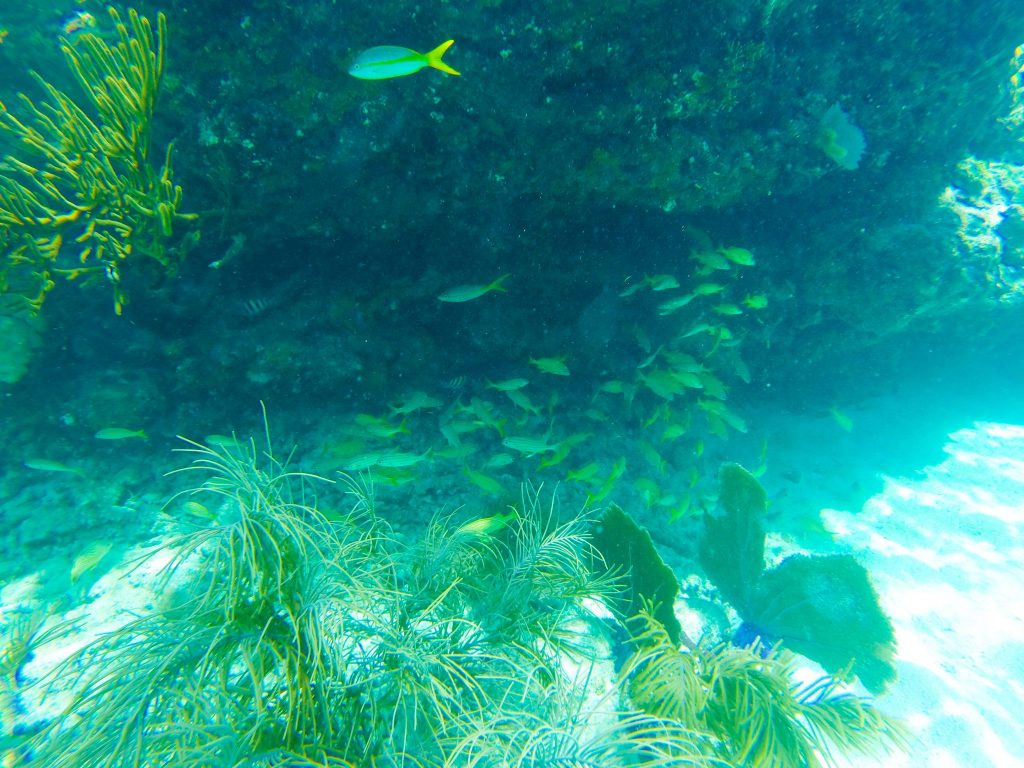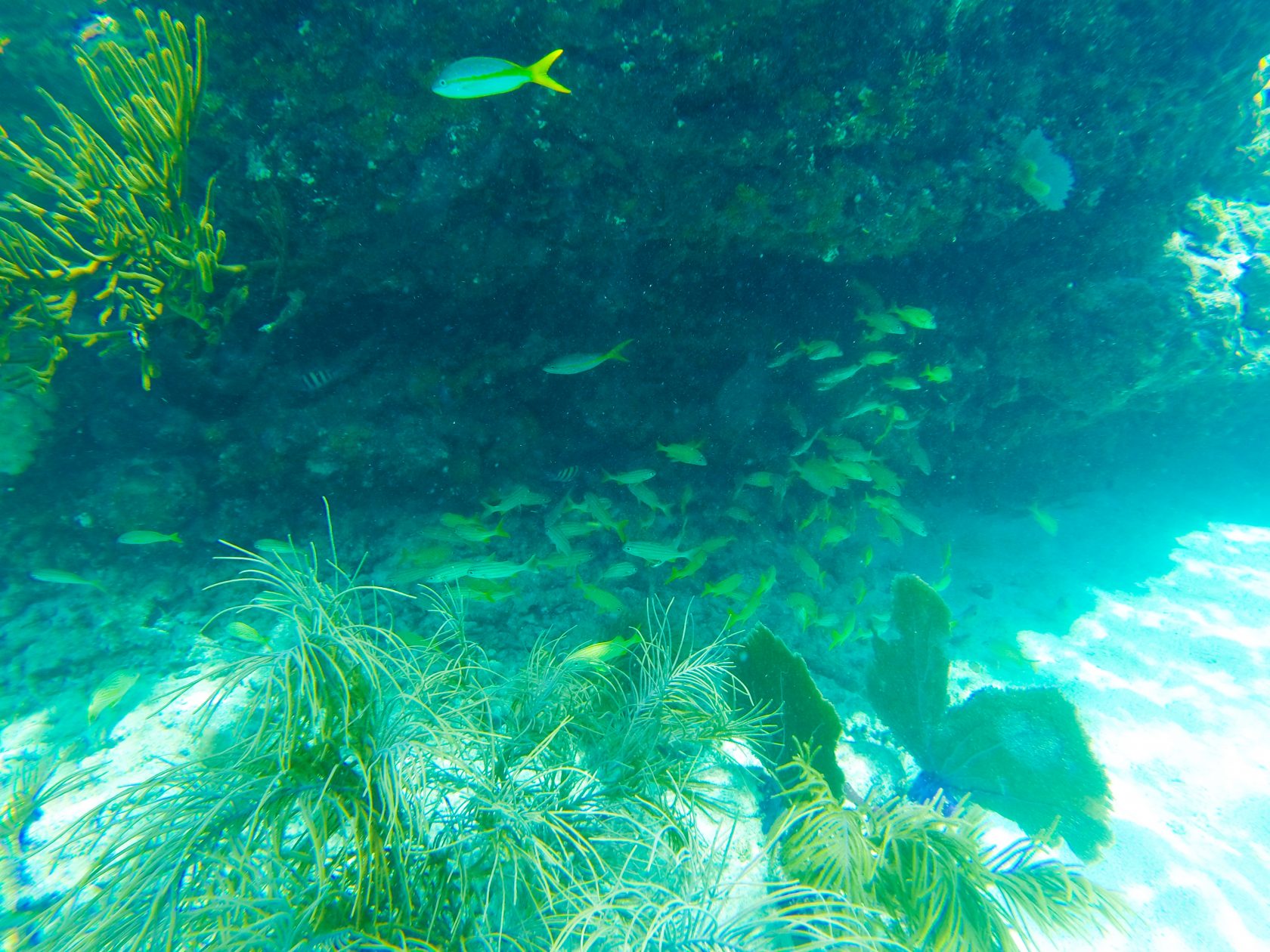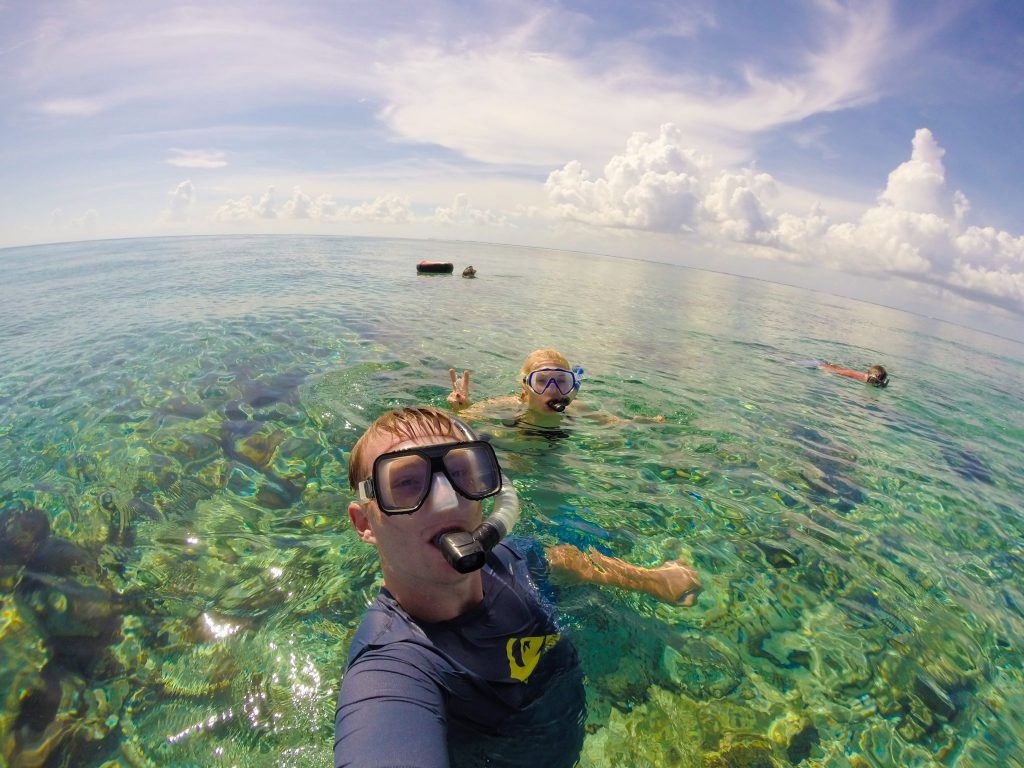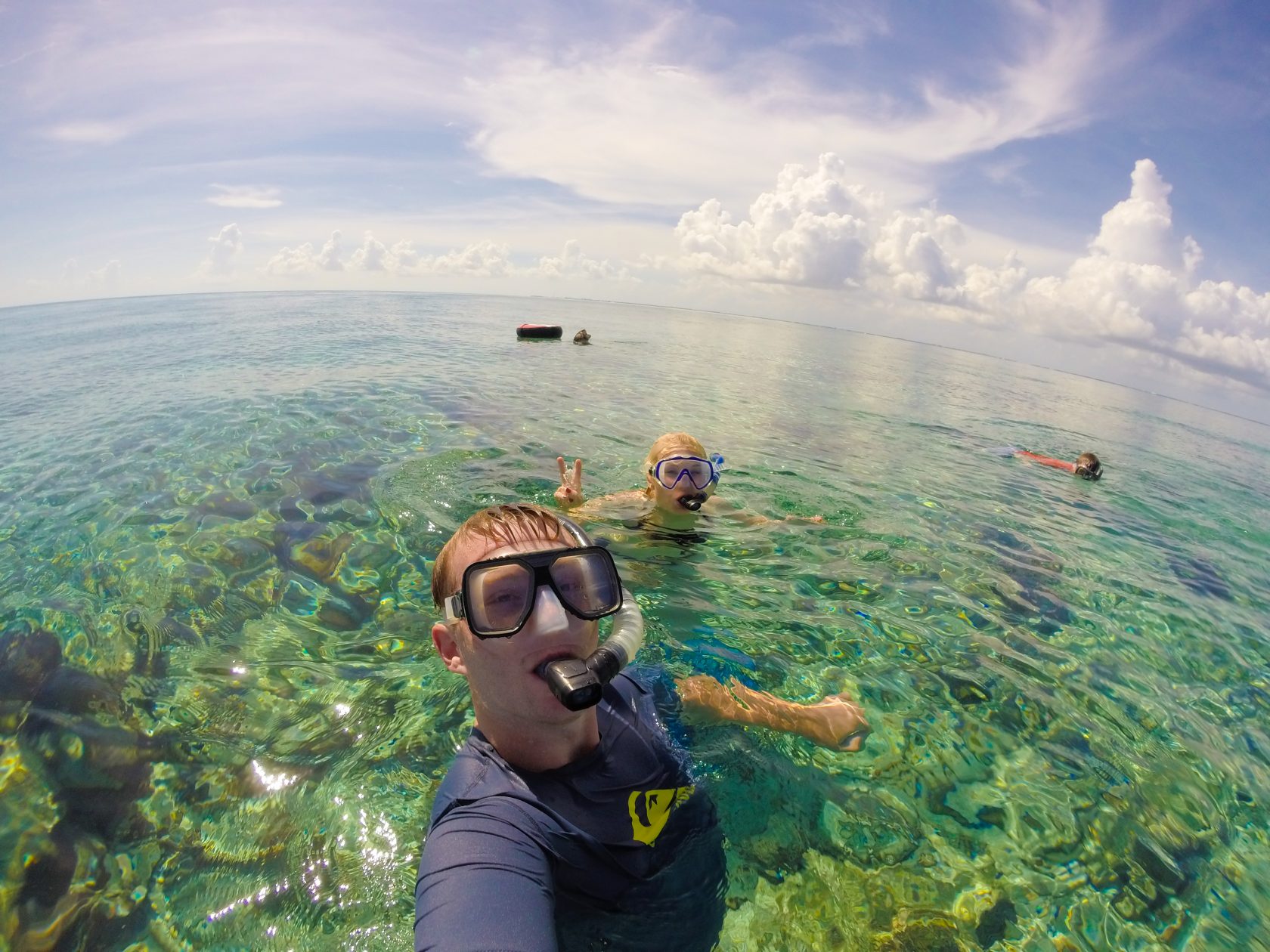 Why You Should Choose Namaste Eco Excursions For Key West Reef Snorkeling
After researching all my options, I decided to go with – and to recommend now – Namasté Eco-Excursions, a small-group, family-operated operator who specializes in ecological underwater adventures. Captain Jeff – aka 'reef geek,' just oozes passion for marine life and the coral reefs of Key West.
He is the kind of guy that once you get him started, he just won't stop… And that is an excellent thing as not only did we get to see plenty of rare and bizarre wildlife thanks to his' luck,' we also learned plenty about coral reef ecology and reef etiquette. As a life-long diver, I am a bit embarrassed to say I didn't know over half of what he told me!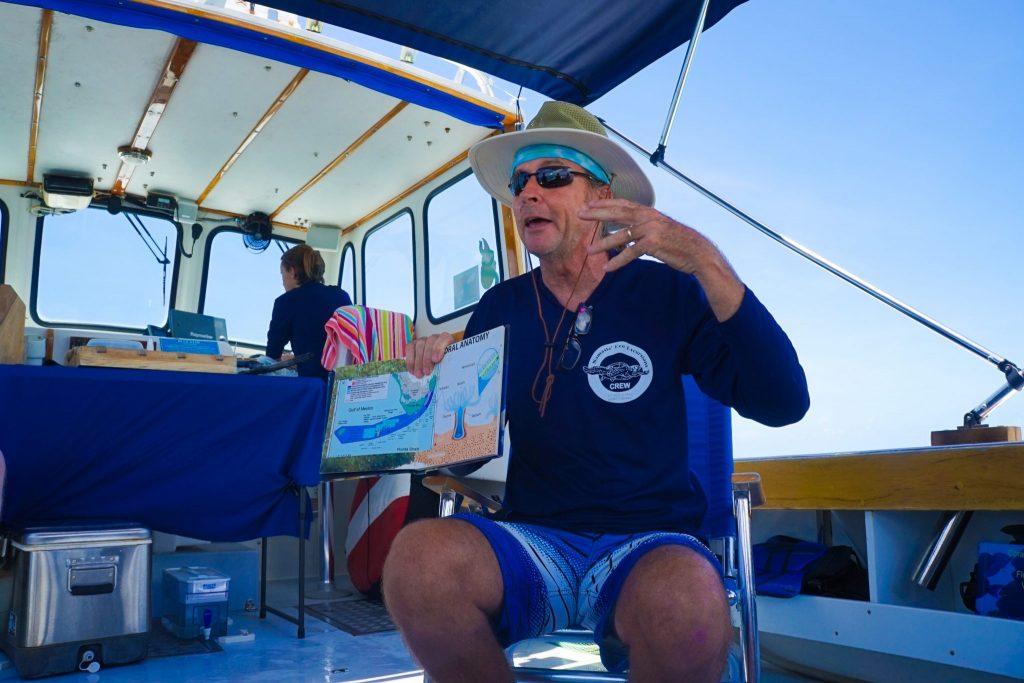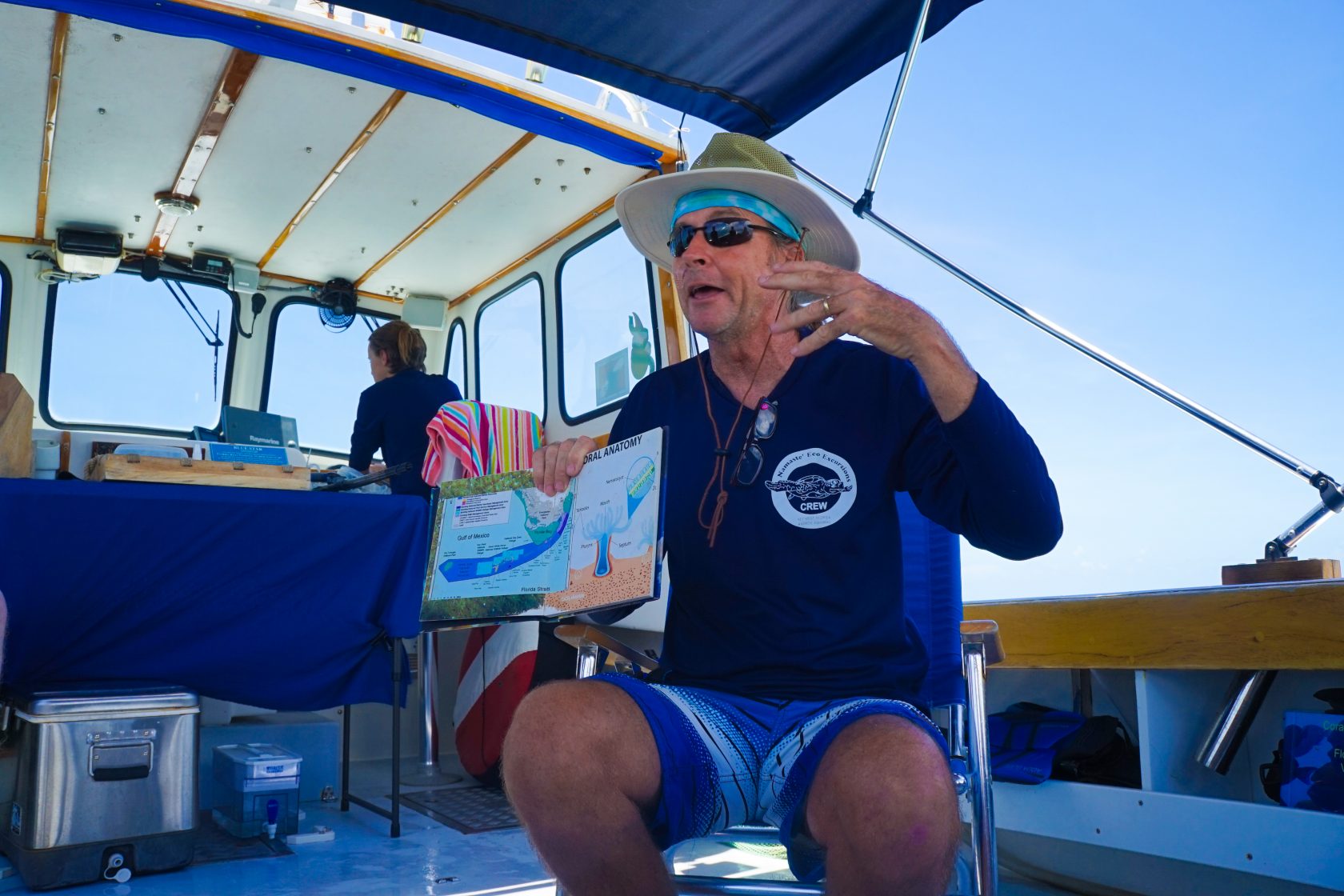 Of course, if you don't believe me or the other stellar reviews online, you can rest assured that Namaste Eco Excursions is 100% Blue Star certified. This means that any certified operator is focused on low-impact tourism through reef conduct, education, and conservation-related activities such as fish counts and reef clean-ups and has the support of NOAA and Florida Keys National Marine Sanctuary.
Not an easy task to become certified by any means, but when it comes to sustainable tourism, you will soon see that Namaste doesn't just pay lip-service through green-washing but are the real deal. Their boat – a New England lobster boat built to handle any conditions – uses bio-diesel to power its engine, does not require external power thanks to onboard solar panels, and has onboard tanks to hold any toilet waste.
You are also provided with a free water bottle to prevent plastic consumption that you can keep after the trip.
All water supplied on tour is purified from the mainland. This means you don't get those small plastic bottles that go straight to landfills or the ocean, as I see, most operators continue to use!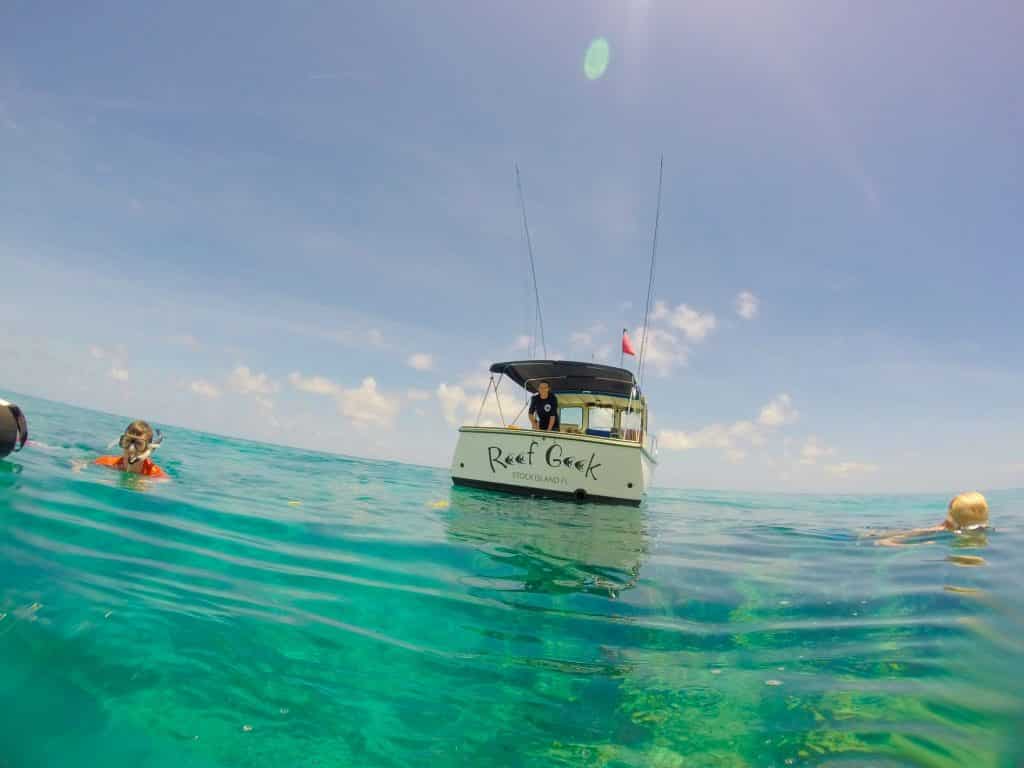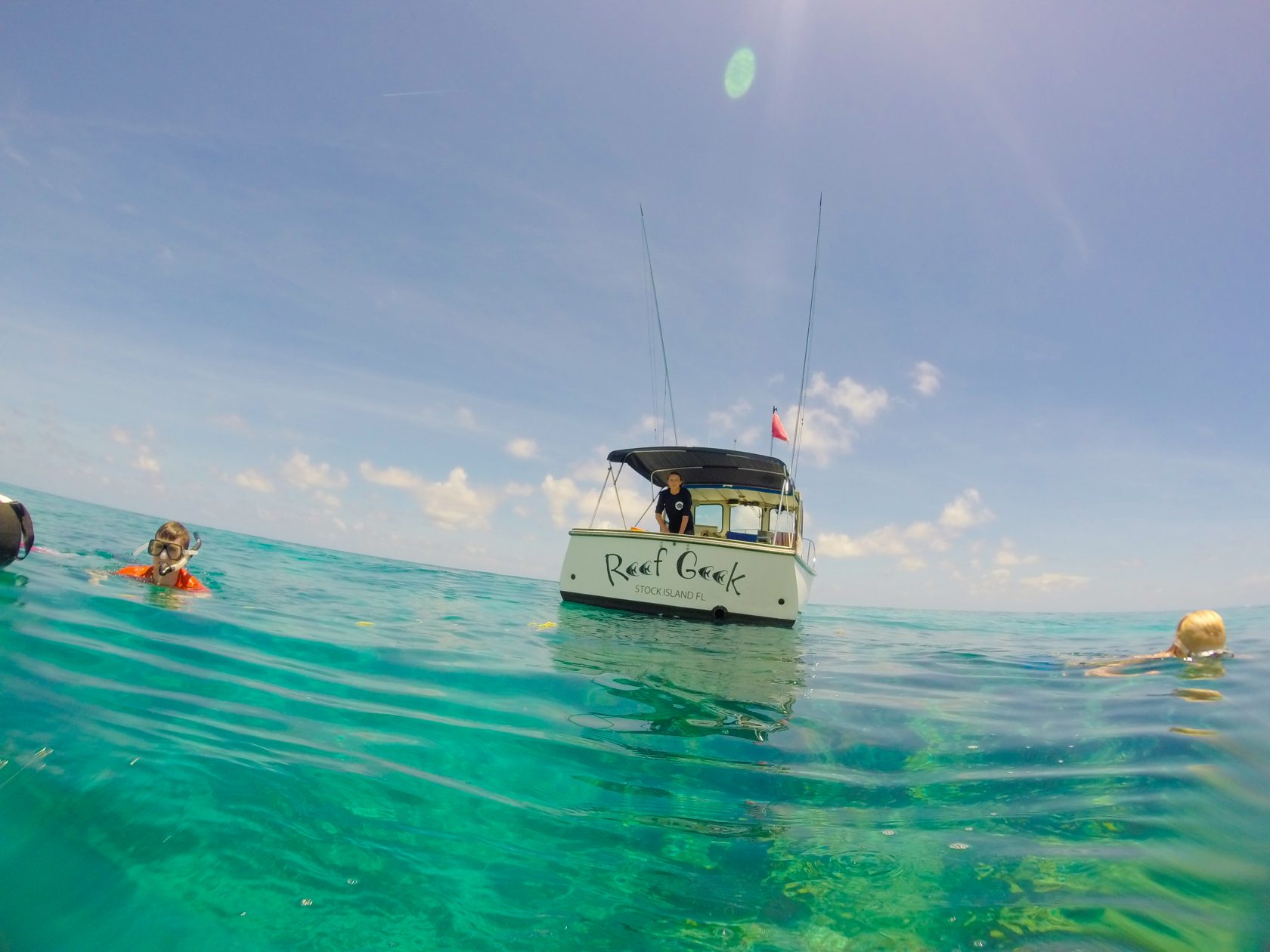 Of course – being sustainable is one thing, but you also need to run a great tour, and there is no doubt in my mind that Captain Jeff runs one of the best snorkeling tours in the Florida Keys.
Namaste Eco Excursions guarantee a small group size (8 maximum), provides all fins, masks and snorkels, and delicious snacks, including fresh fruit, cheese, and crackers – perfect for after a long swim. There are no wetsuits provided, but with the high water temperature of Key West year-round, you will not need them!
You also get a ridiculously experienced guide — Jeff himself in most cases. Jeff has been doing this for almost 15 years and now has an innate ability to predict where turtles, sharks, and other cool fish are due to weather conditions – perfect if you are exploring Key West with kids!
He likes to downplay this as luck, but it becomes clear very quickly he knows precisely what he is doing, and he knows all the best places to snorkel in Key West! Captain Jeff and his crew are not only extremely passionate and knowledgeable.
Still, they seem to be heavily involved in the local community, so ask any questions you want about Key West, and he will have a story or a side project he is working on!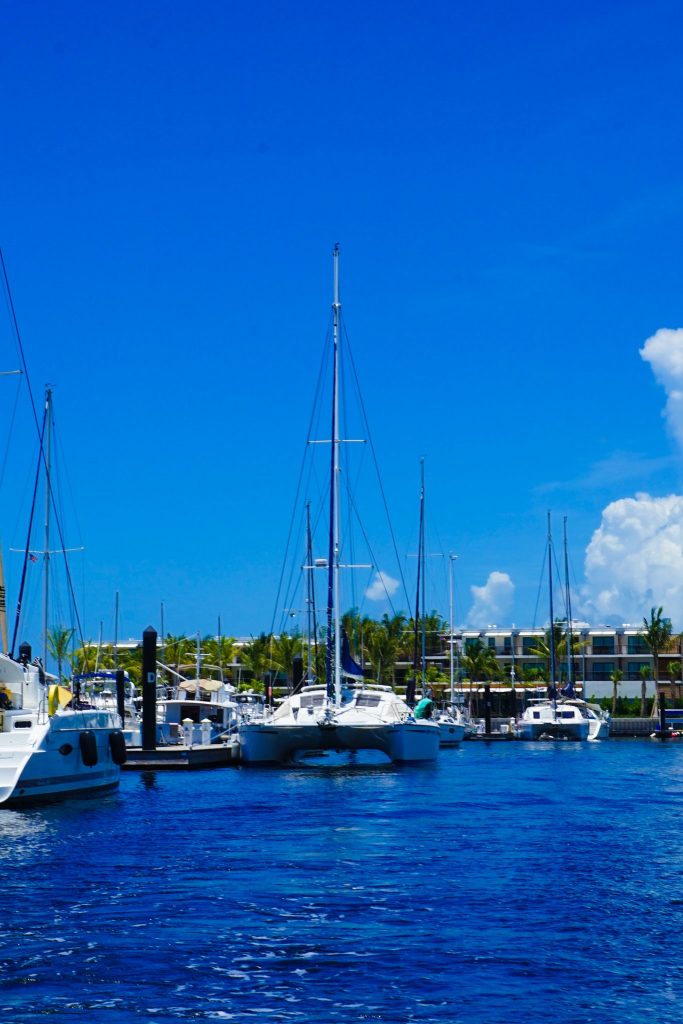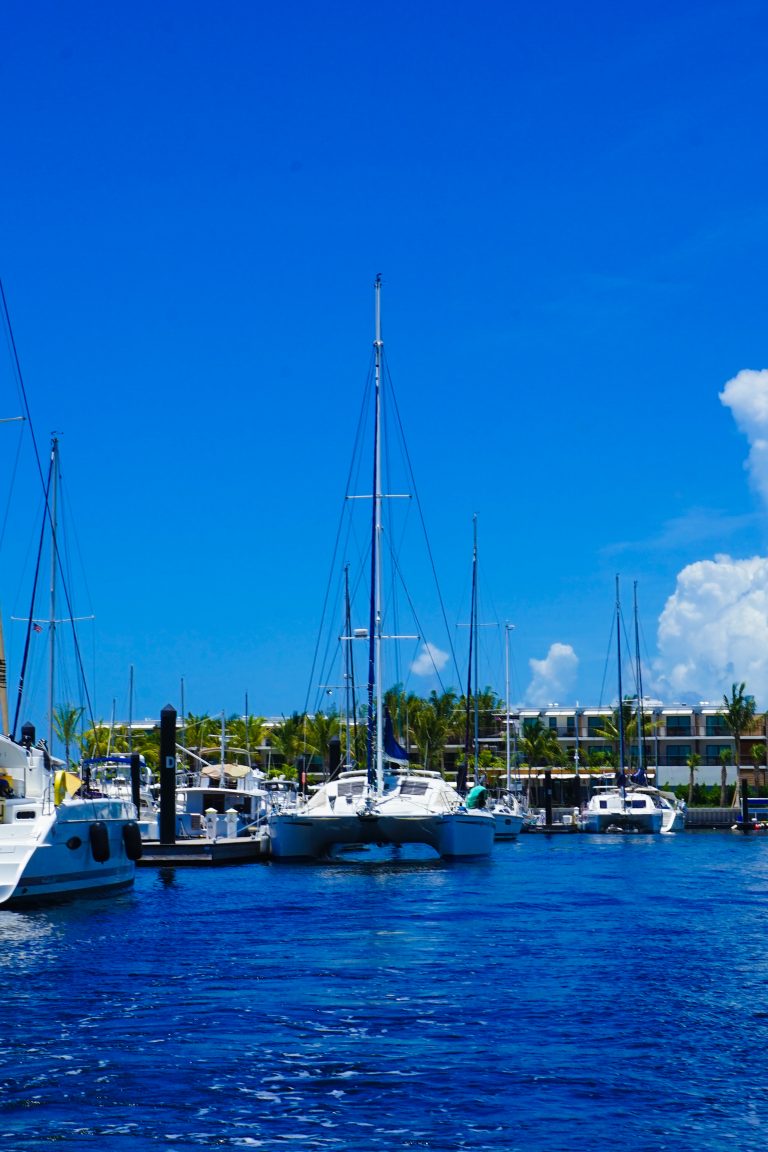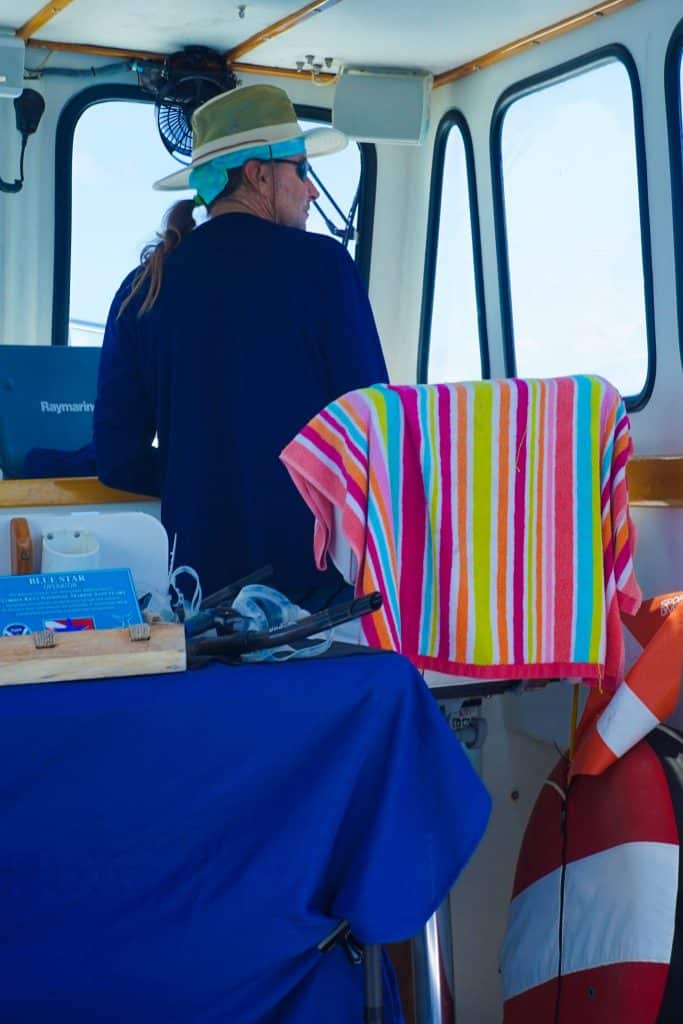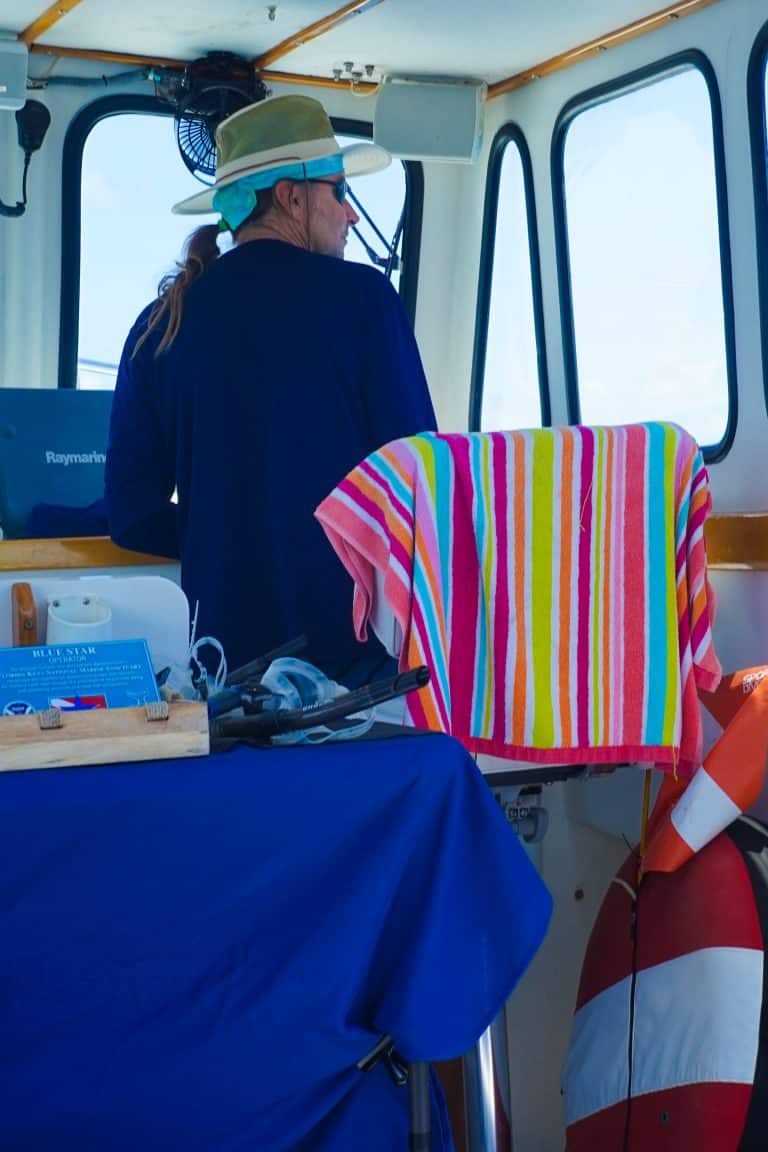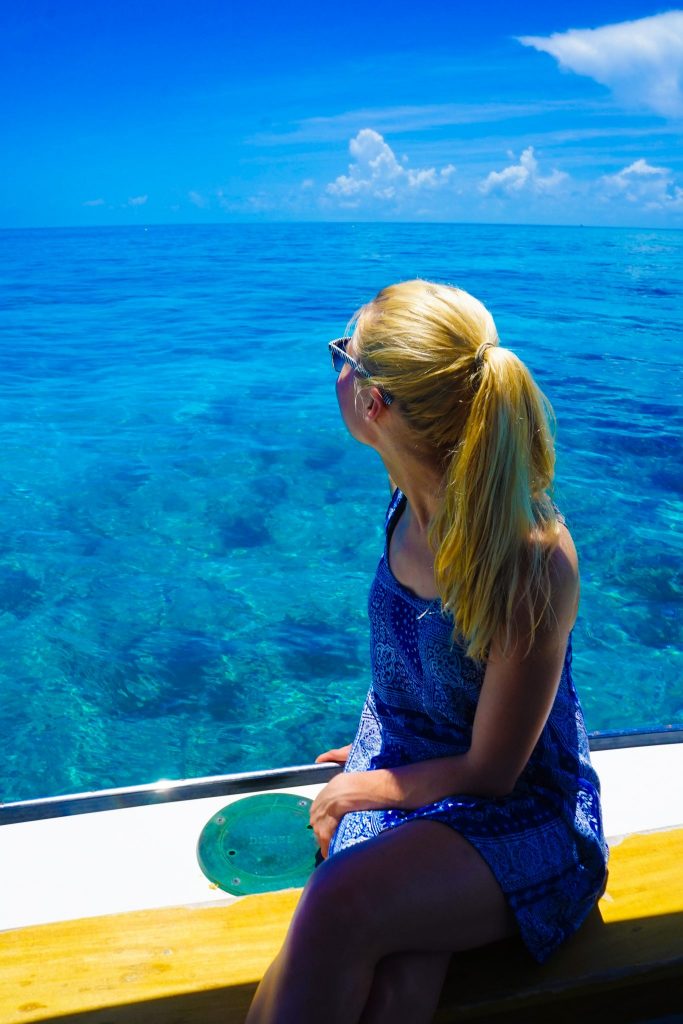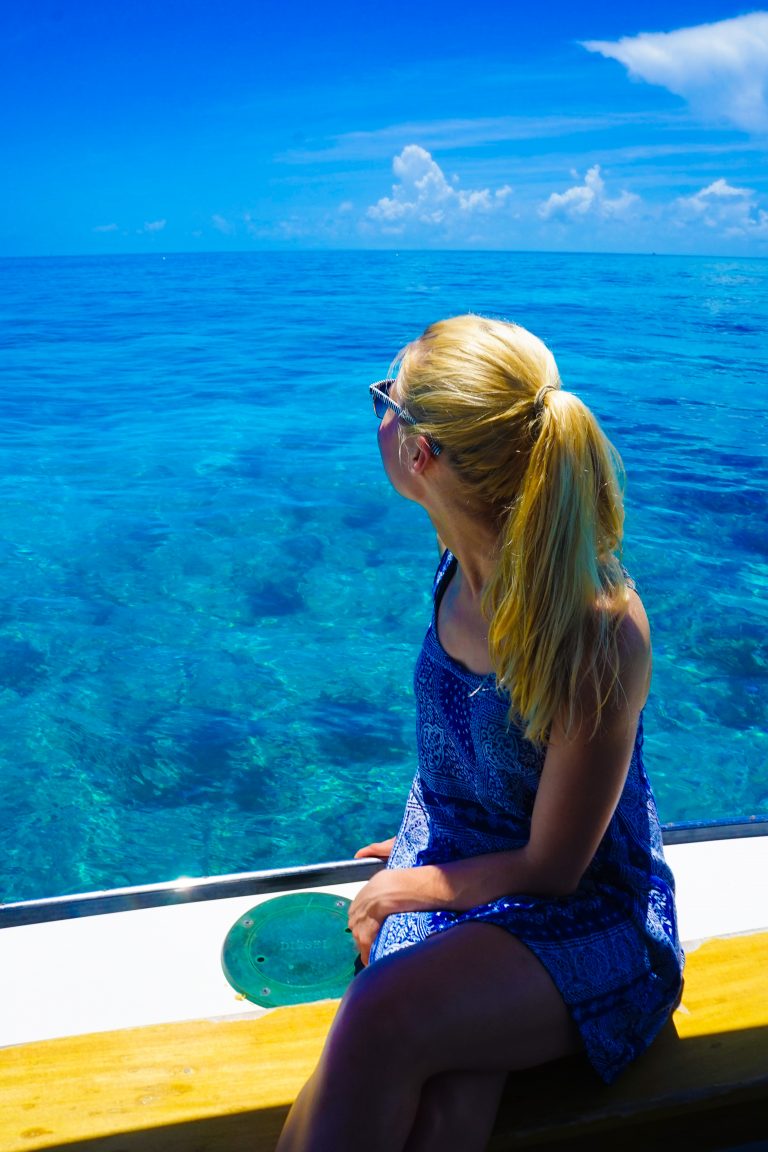 With both morning and evening trips based on guests' requirements and redundancy itineraries based on local weather conditions, you can be sure every trip out with Namaste Eco Excursions will be fun, safe, and memorable.
Not only will you enjoy a day in the sun surrounded by turquoise waters, but you will generally get two snorkeling tours – each at a different location – on your trip, usually for as much time as you can handle. With a staff ratio of 3 to 1, if you're not a confident swimmer, there will be someone around to assist at all times – no prior snorkeling experience is needed, so don't but put off by that!
I cannot recommend Namaste Eco Excursions highly enough, one of my favorite tours of all time, and easily one of the most passionate eco-tourism guides I have ever worked with. Look them up for the best snorkeling in Key West, and you too will soon foster secure and more profound connection and appreciation of the deep blue sea!
So there you have it – that's how you help save the coral reefs of Key West while still getting to experience them!
Thanks to Namaste Eco Excursions for leading the pack, giving a great model for sustainable tourism not just in for all the other Key West snorkeling tours but globally. Passion, knowledge, all the equipment you could need, and of course – the best snorkeling spots in the keys! Add a trip with Jeff to your list of things to do in Florida is a no brainer, right?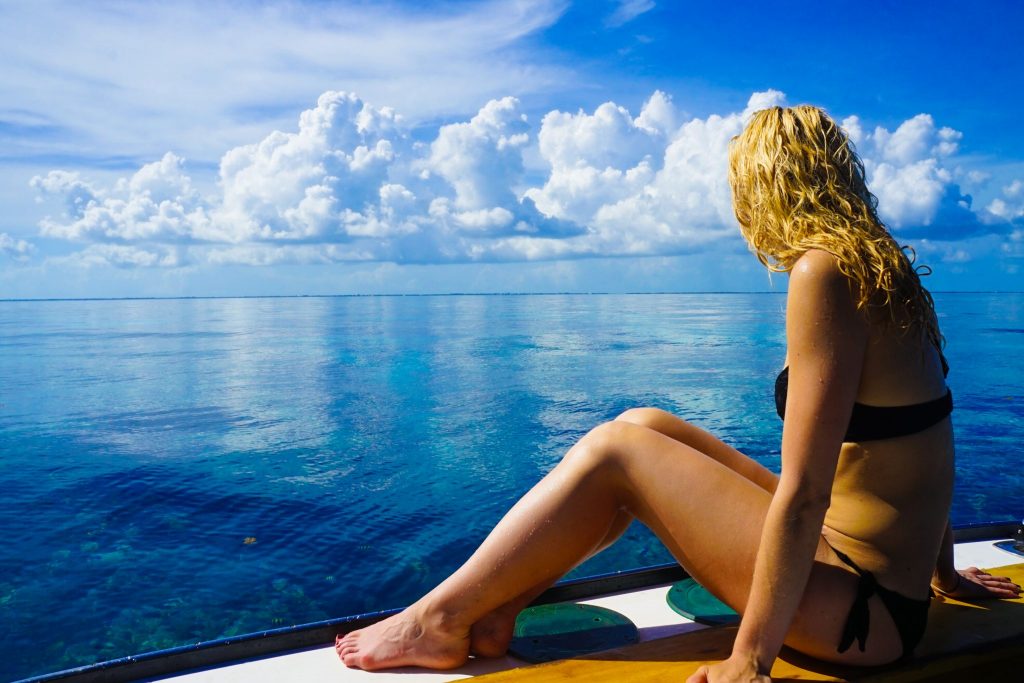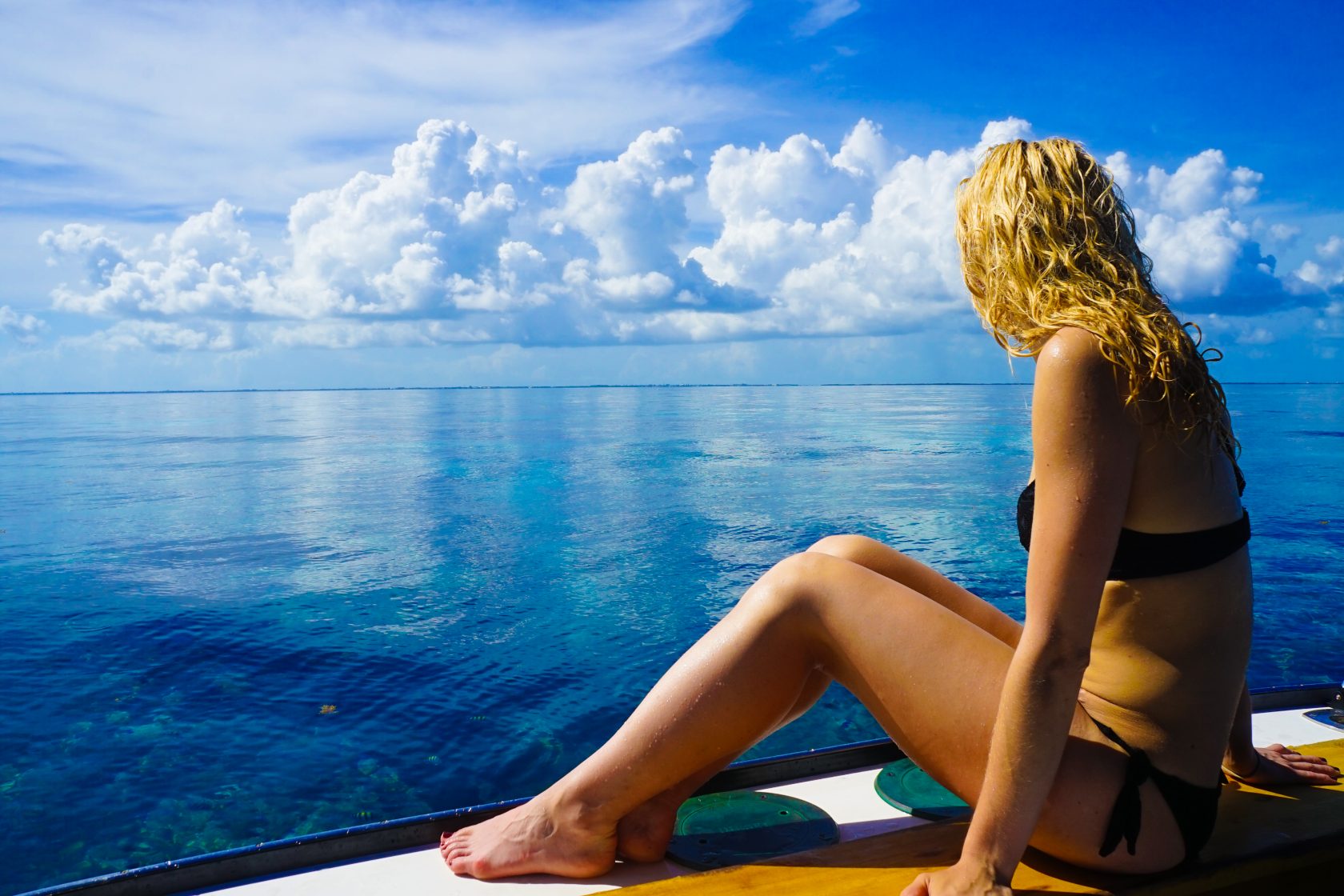 Further Things To Consider Before Any Adventure
Now you're all set and prepared to explore our big wide world, why not sort out everything else out all in one go? If necessary for your travel plans make sure you have brought proper travel insurance, protected your privacy by getting a secure VPN, compared all the top hotel booking sites to find just what you're after, reserved an unbeatable rental car price and - of course - booked the best flight deals!
Or maybe just forget it all and go for a last-minute cruise or effortless tour instead?
Many budget travelers (including me) indulge in worldwide airport lounge access, so we can experience luxury while still slumming it in economy. Naturally, we would never leave home without a more general travel guide since we couldn't possibly cover everything here!
Just add an adventurous attitude and plenty of smiles - they go a long way - and that about covers it all! Now go out, find your own path and don't forget to share your best inspiration stories with me on Facebook, Twitter, and Instagram...I'd love to hear from you!