Rising from the Hauraki Harbour just 600 years ago, Rangitoto Island is the youngest volcano in New Zealand and a jewel in Auckland City's crown.
Overrun with natural and cultural history, Rangitoto Island has long been a favored day trip destination for Aucklanders – but one not overtly advertised to outsiders. As a result, international tourists simply opt for Waiheke's wineries over the iconic Rangitoto Island but don't make this mistake. Rangitoto Island is utterly unique and not be missed.
Home to the largest forest of the crimson-flowered pōhutukawa trees in the world, Rangitoto is also of international significance to science as one of the few places on Earth where all stages of the establishment of life on volcanic life are visible. You'll see everything from raw lava fields, scrub establishment, and sparse forests as you explore here.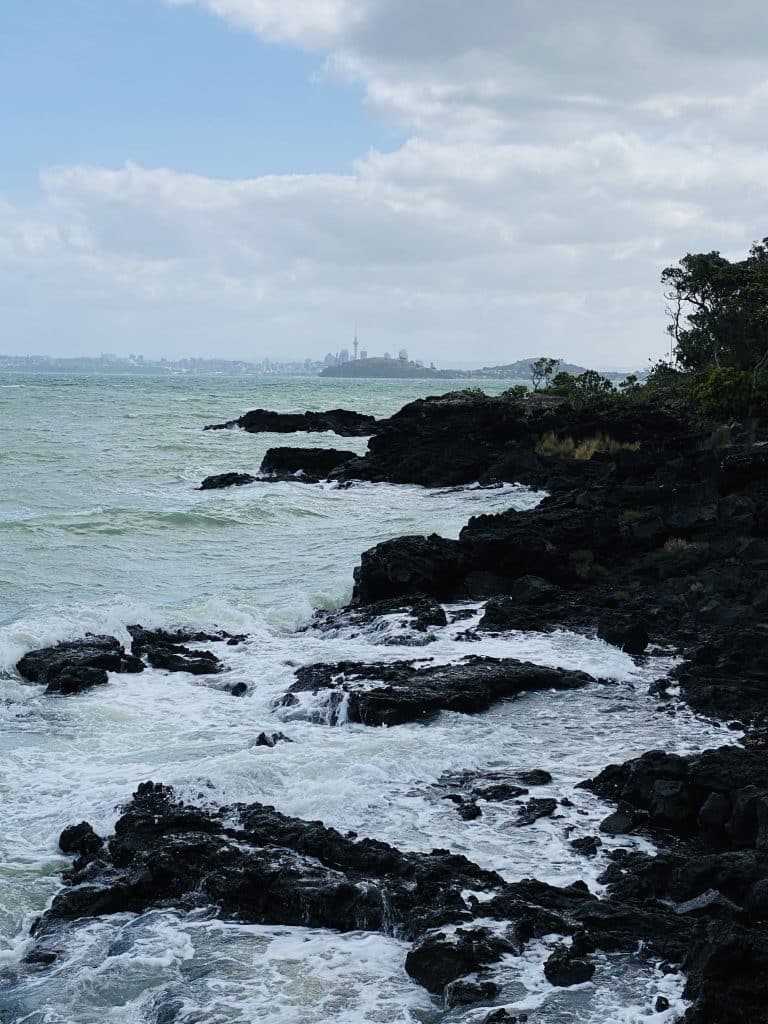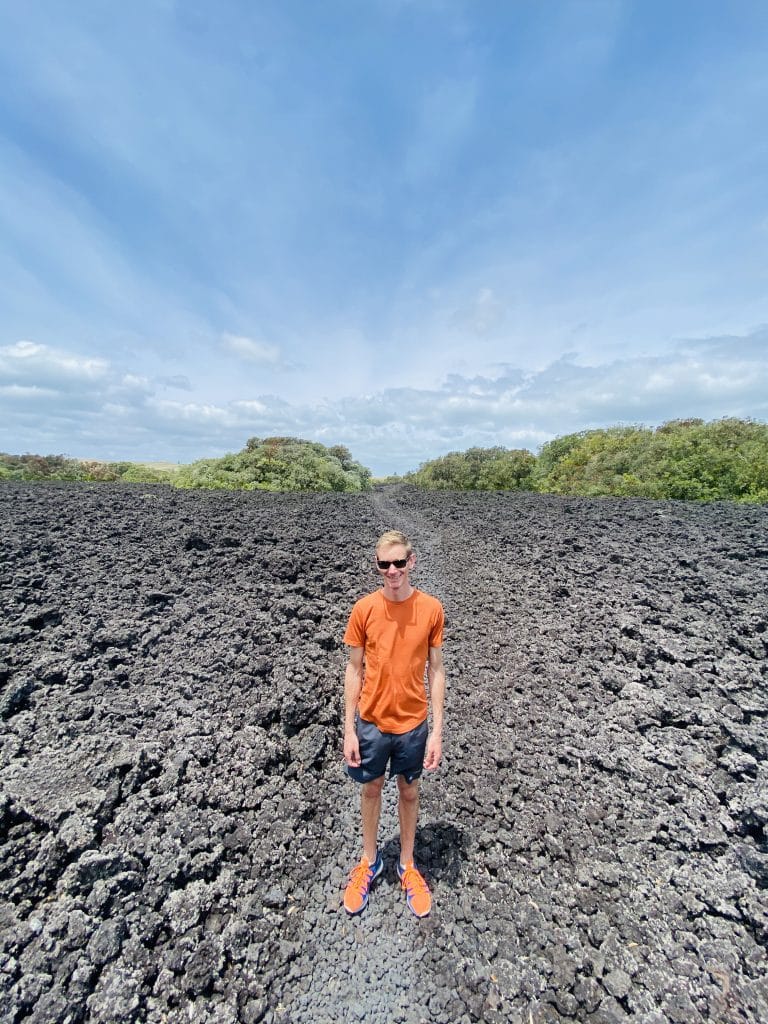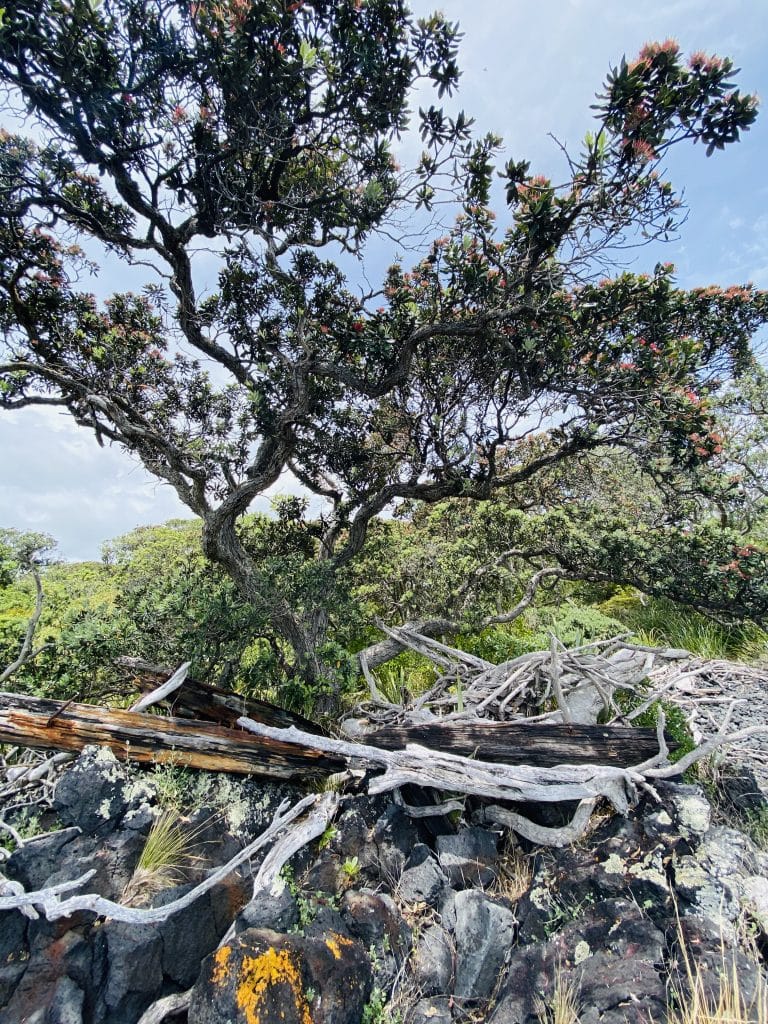 Rangitoto has also hosted military installations, shipwrecks, holiday homes, and more over the years. As a result today, this island has a strong cultural and natural legacy to draw visitors in.
The youngest and largest of Auckland's 48 volcanic cones, Rangitoto is also Auckland's most visible volcano with a distinctive symmetrical conical shape that can be seen from most of Auckland's eastern and northern suburbs. Trust me, while it is undoubtedly majestic from a distance, it is even more magnificent up close. With its recent pest-free status, there has been no better time to visit Rangitoto Island for a walk – and you'll be in good company as even kiwis are now doing it!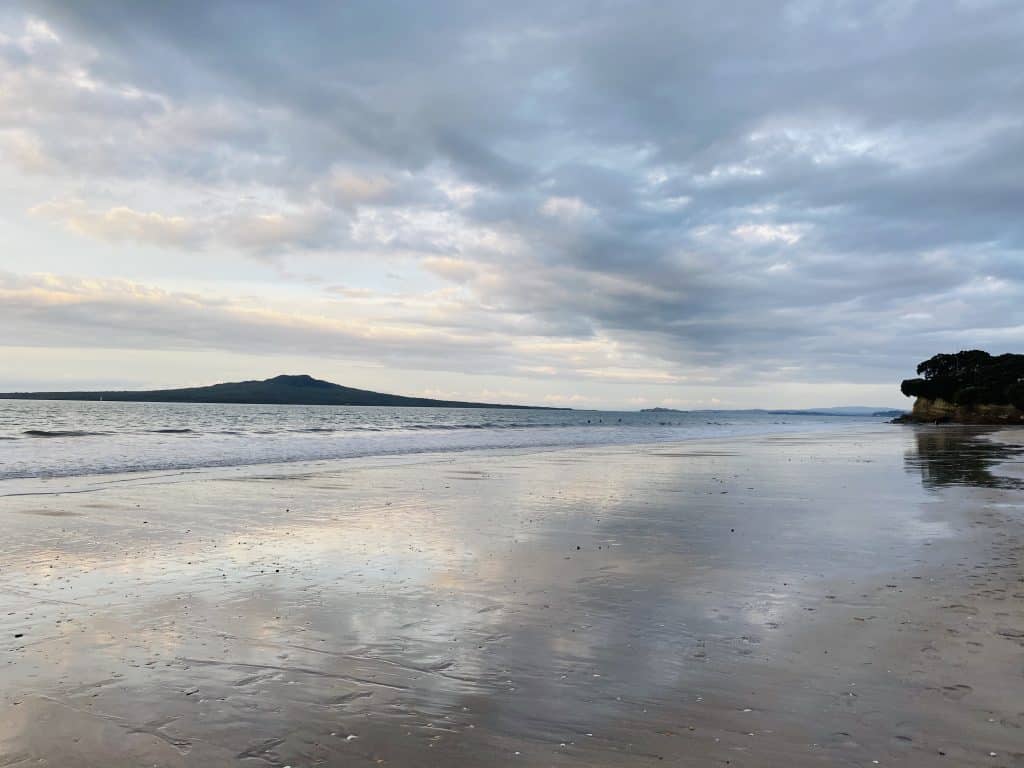 Rangitoto Island Day Hike: Walking The Youngest Volcano In New Zealand 🥾
What Makes Rangitoto Island So Special?
Rangitoto Island is recognized internationally for its raw, rugged, and seemingly inhospitable lava terrain that provides a home for abundant native plant life. It has the largest pōhutukawa forest globally, but it also provides a refuge for many of New Zealand's endangered native bird's thanks to its pest-free status.
Home to two separate scenic reserves, both Rangitoto and neighboring Motutapu Island, were announced pest-free in 2011 after an extensive eradication program. As a result, avid bird watchers can now spot the imperiled saddleback, the musical tūī, and the curious kākā if they look hard enough. The morepork, New Zealand's only surviving native owl, can also be found here – though your chances of spotting during the day are slim. Ground-dwelling natives like Takahe and Kiwis are absent however due to Rangitoto's volcanic scoria and extreme water scarcity.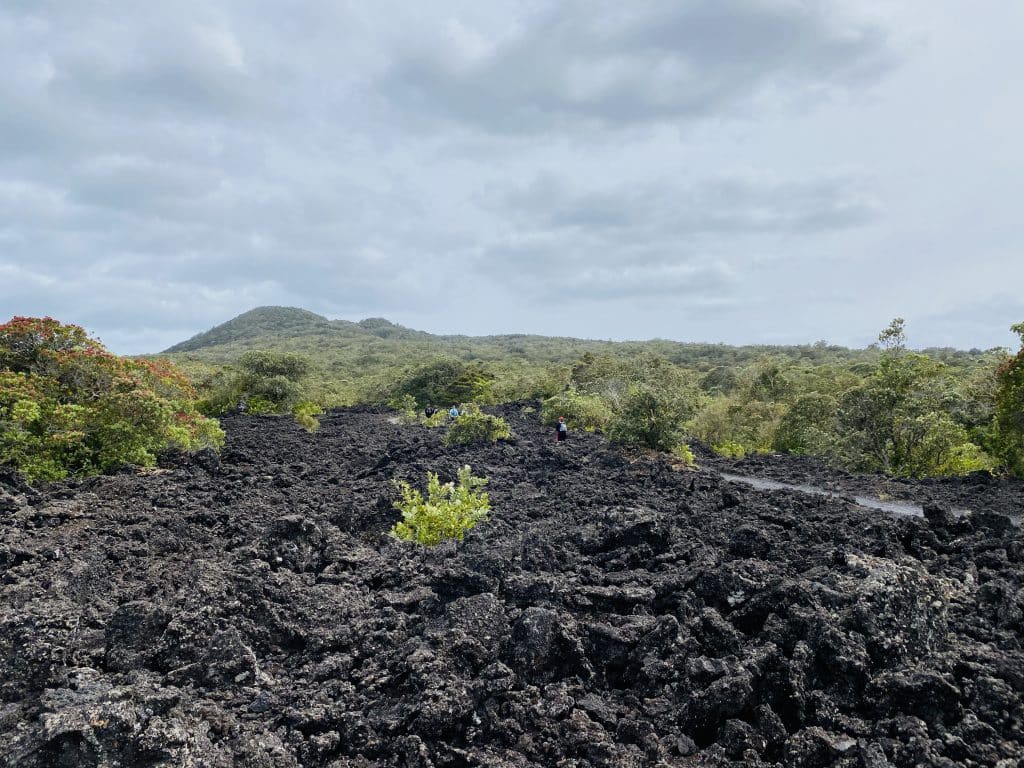 Covering approximately 3,800 hectares, Rangitoto's lava rock might seem unwelcome but is home to over 200 species of native trees and plants, including the pōhutukawa, numerous ferns, and even several species of orchid. Many of the plants here exhibit unusual behaviors to cope with such harsh living conditions, including the lack of soil, and some are now considered hybrids of their mainland counterparts having adopted such strang and extreme traits.
Pōhutukawa trees afford shelter, shade, and security for many other plant species to then grow, so as you hike Rangitoto lookout for these unusual 'vegetation islands.' You'll quickly see for yourself how life can find a way here. Its genuinely remarkable – and to have each stage of the colonization (by plants) of this bare land on full display is exceptionally unique. Who needs the Komodo Islands when you have such an incredible show of natural science just a short ferry trip from the city.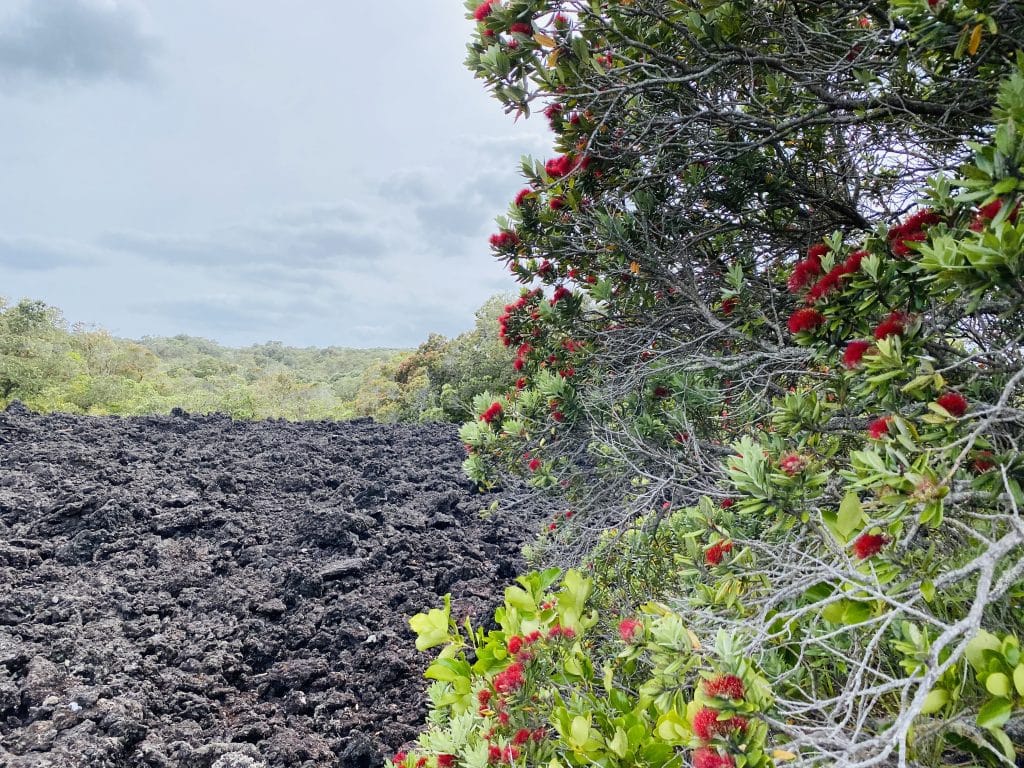 Rangitoto Island isn't just intriguing from a natural perspective. It also had a fascinating history since its creation 600 years ago. Māori have a strong relationship with Rangitoto.Māori refer to the Island as 'Nga Rangi-i-totongia a Tamatekapua' which translates as 'the day the blood of Tamatekapua was shed.' Tamatekapua was an important chief who lived around 1350 and is said to have fought a battle with another tribe at Islington Bay on Rangitoto, which left his face bloodied and beaten.
While Maori have never lived here due to the extreme terrain, they used the summit as a lookout in times of war. There are burial caves on Rangitoto where bones were brought from neighboring Motutapu – which they inhabited in the past.
The Crown bought Rangitoto from its Māori owners for £15 in 1854, and in 1890 it became a public domain. It quickly became a favorite destination for day-trippers and boaties. Facilities were developed significantly, however, until the 1930s when holiday homes (or baches) were built. These baches were leased out, and while most have been removed today, around 30 remain and some can be rented for the night. It was also at this time that prisoners were brought over to build roads and trails, many of which are now used as walkways on the Island – and the foundations for Rangitoto and Islington Bay wharves.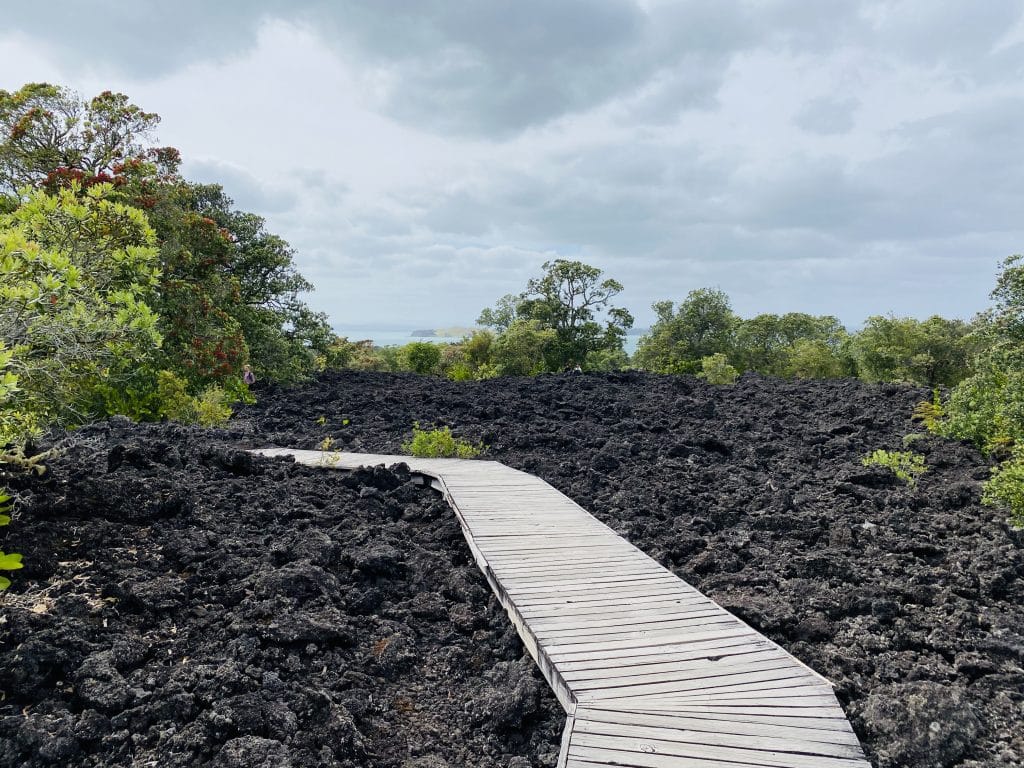 In this time, Wreck Bay on Rangitoto was also formed between 1887 and 1947. Its name might be a bit misleading as it is a graveyard where ships were scuttled (not wrecked), but at the time, it was the most cost-effective way to get rid of unwanted vessels. The remains of many of these cumbersome wrecks can be seen at low tide still – if you are intrepid enough to undertake the walk to get there, many of which are now protected historical sites.
Another exciting chapter of the Island's history began when the menace of the European wars loomed over New Zealand in WW2. Thanks to Rangitoto Islands' position between both channels approaches to Auckland Harbour, it became a restricted area and was used for military operations.
Its summit was once again used as a lookout spot, this time for harbor defense and as a radar station. The remains of these buildings can still be explored today, along with various other military constructs and gun batteries scattered around the Island, including at Islington Bay, where Auckland minefields were run from. It was also during this time that a causeway was between connecting Rangitoto and Motutapu. Needless to say, there is plenty more fascinating history to be discovered at Rangitoto Island – and thankfully, there are many signs located around to give you a more in-depth island of what went on here.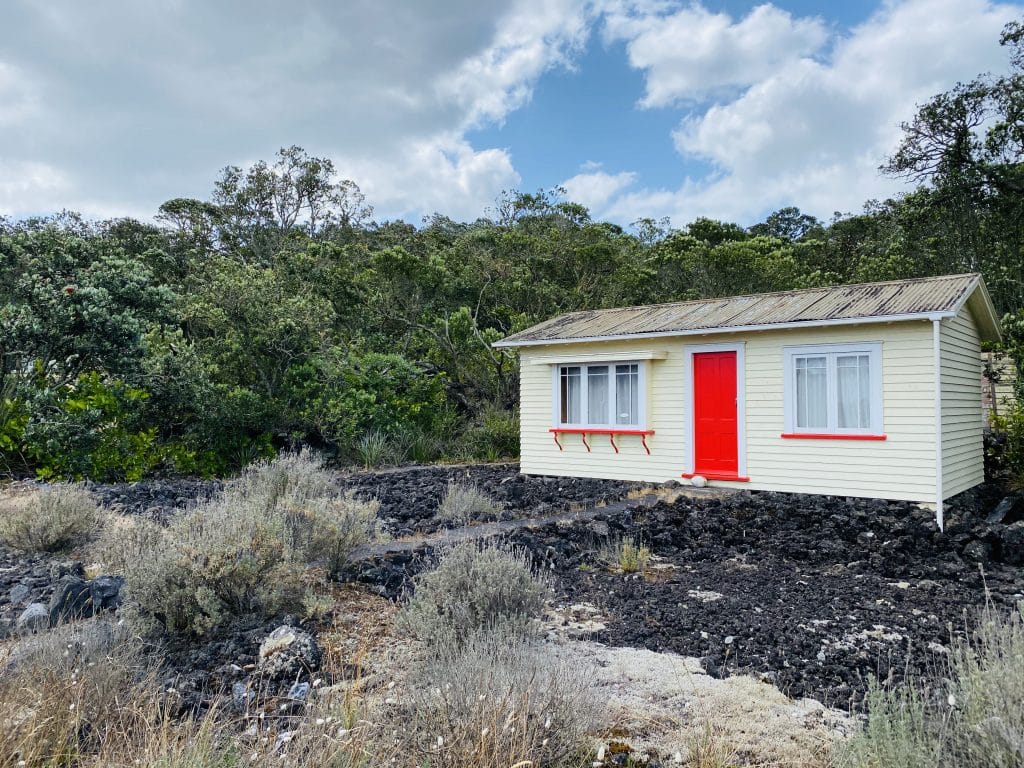 How To Get To Rangitoto Island On A Day Trip
Assuming you don't own your own boat, Rangitoto Island is best accessed on a day trip via ferry from Auckland's Ferry Terminal. The timetable is seasonal, with more sailings in the peak summer months and on Saturdays, Sundays, and Public Holidays. Personally, I'd go on a weekday and just make sure to plan around the timetable as there will be fewer people. You can check the current schedule here.
The ferry sailing over to Rangitoto takes around 25 minutes. All ferries arrive into Rangitoto Bay Wharf unless weather conditions force them to use the less exposed Islington Bay. Rangitoto is also open to seasoned kayakers. It takes roughly two hours to kayak to Rangitoto Wharf from Auckland's North Shore – and there are even various tour companies sound you be feeling particularly athletic.
Another recommendation?
Look out for return ferries that stop at historic Devonport, across the harbor from the CBD. This is one of my favorite spots in Auckland, and perfect for an evening meal, or wander around the beaches and wooden houses. It is like two-day trips in one, and you can jump off here for sunset then catch the (far more frequent) ferries back to the city when everything is lit up at night. Just magical.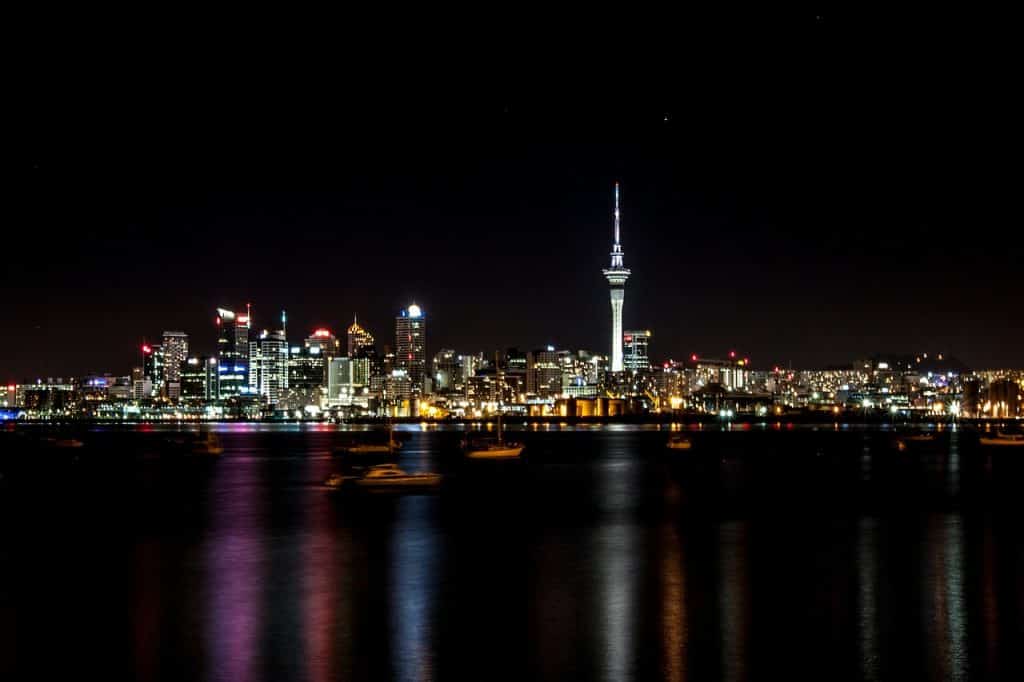 List Of Walks On Rangitoto Islands
There are a great many walks on Rangitoto Island to consider. Still, if you are visiting on a day trip, your options will be limited. These are our top recommended walk options to complete on a day trip. It will take around 5-6 hours with ample breaks, but it will be best to start early as you don't want to cut it close and miss the last ferry back to Auckland.
Make sure to grab a map on arrival or from the ferry beforehand. Still, I have added one below to show the trails together that I recommend (Summit, Wreck Bay, Islington Bay, Coastal Track). This will ensure you see all the top highlights of Rangitoto in one go. Too easy!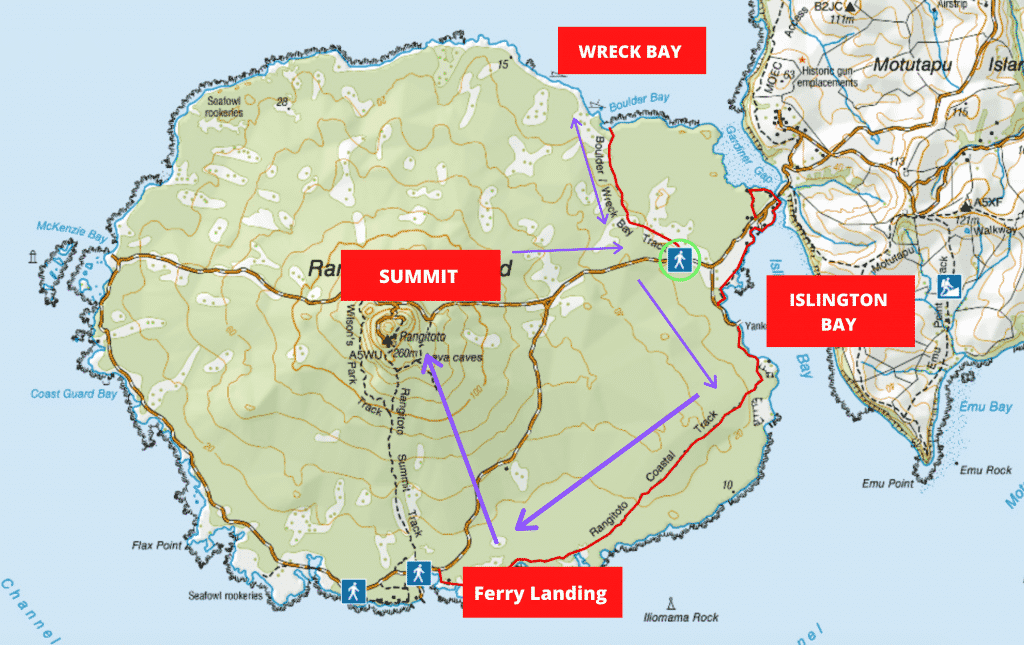 Rangitoto Summit Track – An relatively straightforward climb through stunning pōhutukawa forest and immense lava fields that culminated in panoramic views of Auckland and across out over the Hauraki Gulf from the summit. This is the main walk of Rangitoto Island and the best for most day trips. It leaves directly from the ferry pier on Rangitoto heads straight up to the summit. It is 3.5 kilometers each way and takes around 2-3 hours to complete with plenty of stops. If you are short on time, you might do this up-and-down or consider adding on a few other short walks in Rangitoto to make a full day of it.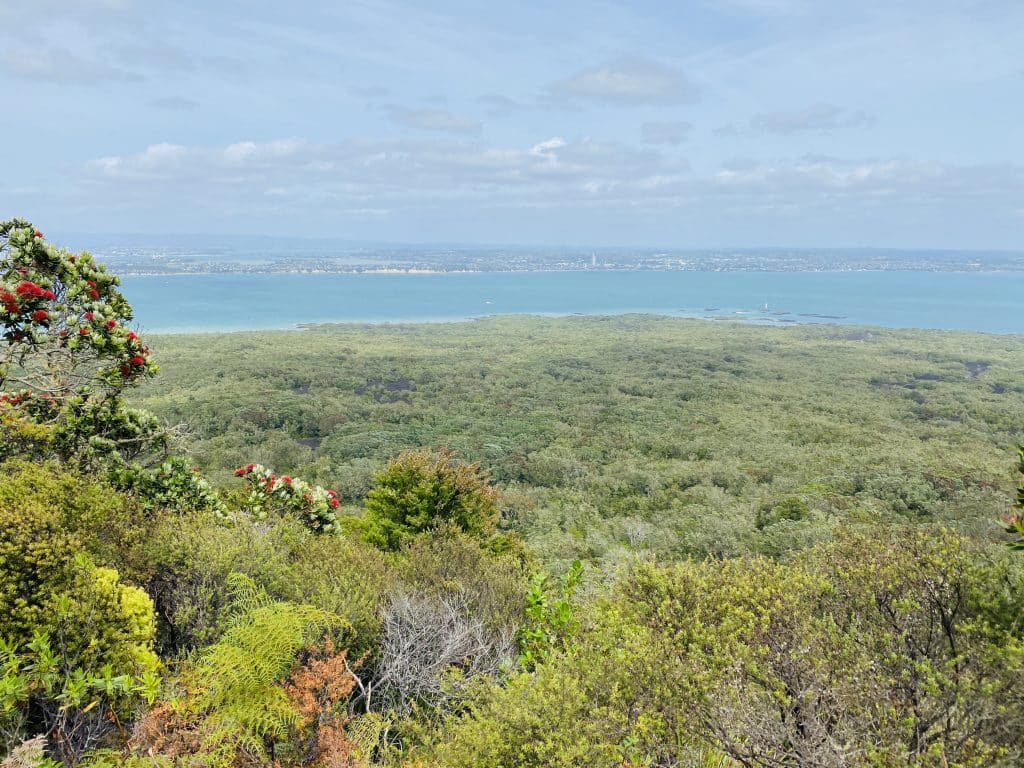 Lava Caves Track Side Trip – While not quite as impressive as the UNESCO-listed Lava Caves of Jeju Island, this short detour off the main Rangitoto Island Summit Track heads to a few lava tunnels and caves. Adults and kids alike will love to explore this unique geology, but bring a flashlight should you want to explore them fully. I wouldn't recommend using your phone torch in case you drop it. It is a 15-minute diversion each way from the summit trail via the signposted track.
Rangitoto Summit to Wreck Bay – One of the hidden wonders of Rangitoto that 99% of people miss is the historic Wreck Bay on the north side of the Island. You will need to head down from the summit toward Islington Bay and just before there is a trail leading offer over a broken lava field. It is 30-60 mins each way, so allow plenty of time, but you will be rewarded with pure isolation, a volcanic terrain unmodified by humans, and then finally a dumping ground for old ships. If you can, the time you visit for low tide to see the rusting hulks of these ships emerge from the sea. Not for children or those without a sure footing, as the terrain is very rough and uneven. Proper footwear is essential here more than anywhere else. Still, it is a beautiful place to relax and perhaps enjoy a picnic lunch. Chances are you will have Wreck Bay on Rangitoto all to yourself.
Wreck Bay To Islington Bay Wharf + The Coastal Track To Rangitoto Wharf – This is also an alternative route to Islington Bay for those who do not want to summit Rangitoto. It is rockier and again not recommended for those without sure footing. The Coastal Track from Islington Bay Wharf to Rangitoto Wharf takes around 2 hours. It passes by plenty of historical remnants, including bachs and boatsheds, disused storage areas of the military equipment left over after the war, and more. Be aware that some areas are still off-limits to exploration due to asbestos and the possibility or sea mines. There is also a quiet bush with native species of birds that are less disturbed by humans than the main summit trail. Should you wish to swim, Islington Bay is probably your best bet, as there is a small sandy bay, but its nothing like other places in New Zealand like Ruakaka, Coromandel, or Northland. This trail ends back at the Rangitoto Wharf, where there are a few 10-15 minute look trails you can do if you are early for the ferry.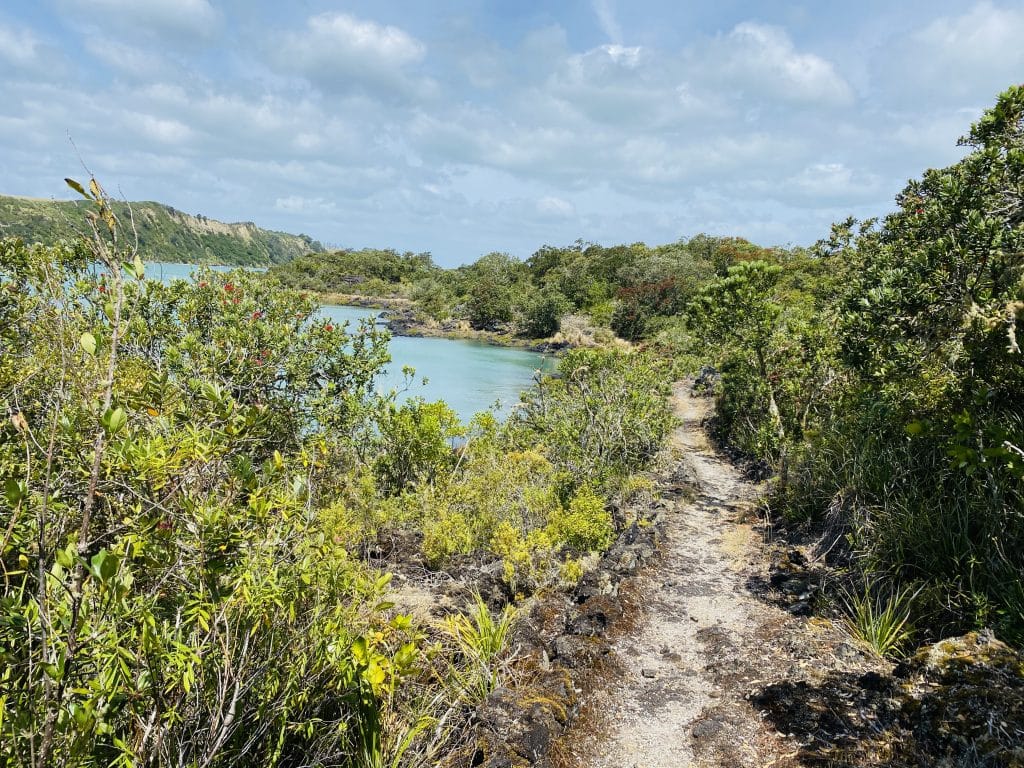 Things To Pack For A Rangitoto Island Walk
As we have established, Rangitoto Island is a rather harsh environment – even for a day trip. So, make sure you are well prepared. You can't pop into a clothing store or supermarket should you forget anything.
Sunscreen and a Hat. New Zealand sun has relatively high UV levels, alongside Australia and high-attitude destinations like Peru. Don't be fooled by a cloudy day, and always wear sunscreen.
Wet Weather Gear. Four seasons in a day are very much Auckland, and even a day of blue sky can deteriorate rapidly. Since you are isolated on an island, you need to prepare for every eventuality. The cover is minimal while walking Rangitoto, and the prevailing wind direction often leaves you rather exposed.
Swimming Gear. In the warmer months, you might be tempted to swim at Rangitoto Island, but as there are no real beaches, you will have to contend with sharp jagged rocks to get in and out. It is not suitable for swimming unless you are very brave, but life is all about the experiences and in the heat of summer you might find one or two spots which work. Please, don't swim alone under any circumstances, and be careful.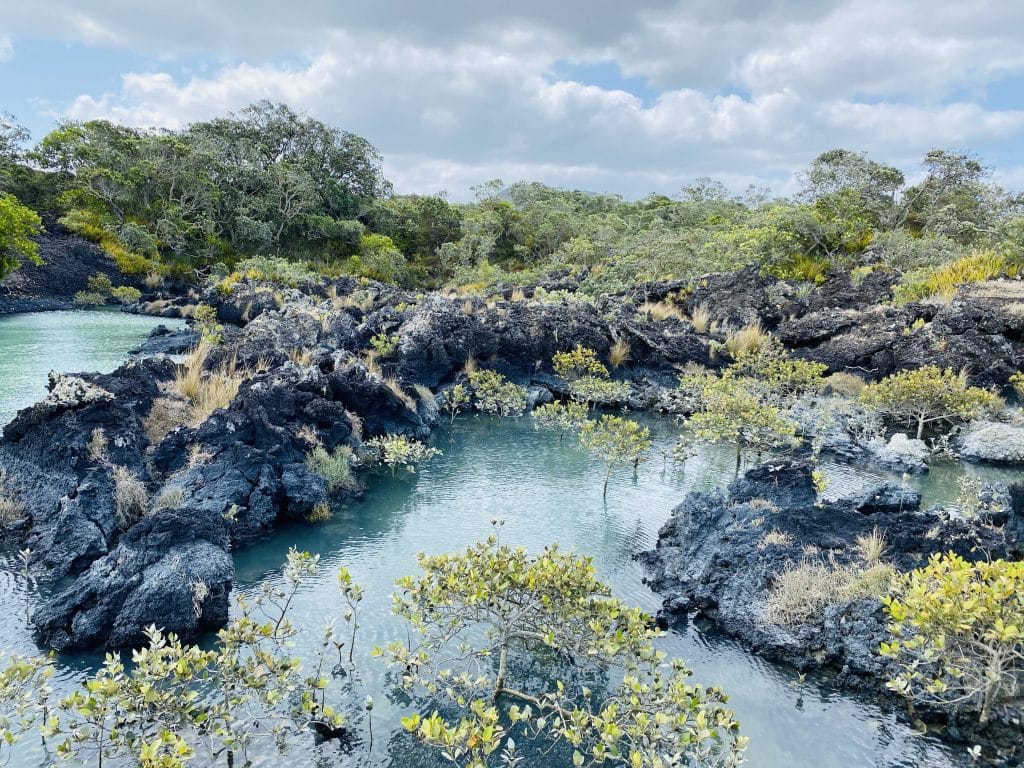 Good Footwear. You will be walking on sharp, jagged rocks in places – especially if you opt for some of the less popular walks on Rangitoto. Your shoe or boots should have a solid sole and be comfortable for long periods. No flip-flops, at all.
Food. You'll need to bring all of your water, snacks, and lunch, as there is nowhere to buy food on Rangitoto. You can get a (rather terrible) coffee on the way over in the ferry and some average snacks. Personally, I'd recommend going to the Countdown Metro close to the Auckland Ferry Terminal. If you are feeling somewhat decadent, Amano is one of my favorite Auckland cafes and is only a few blocks away with incredible coffee and baked goods that will happily pack for takeaway.
A rubbish bag. It seems sensible, but just to re-iterate that Rangitoto Island is a pest-free island and there are no rubbish bins facilities here. Do not leave even your food scraps here for animals to forage. Leave this remarkable Island precisely as you found it so future generations can experience its wonders for themselves.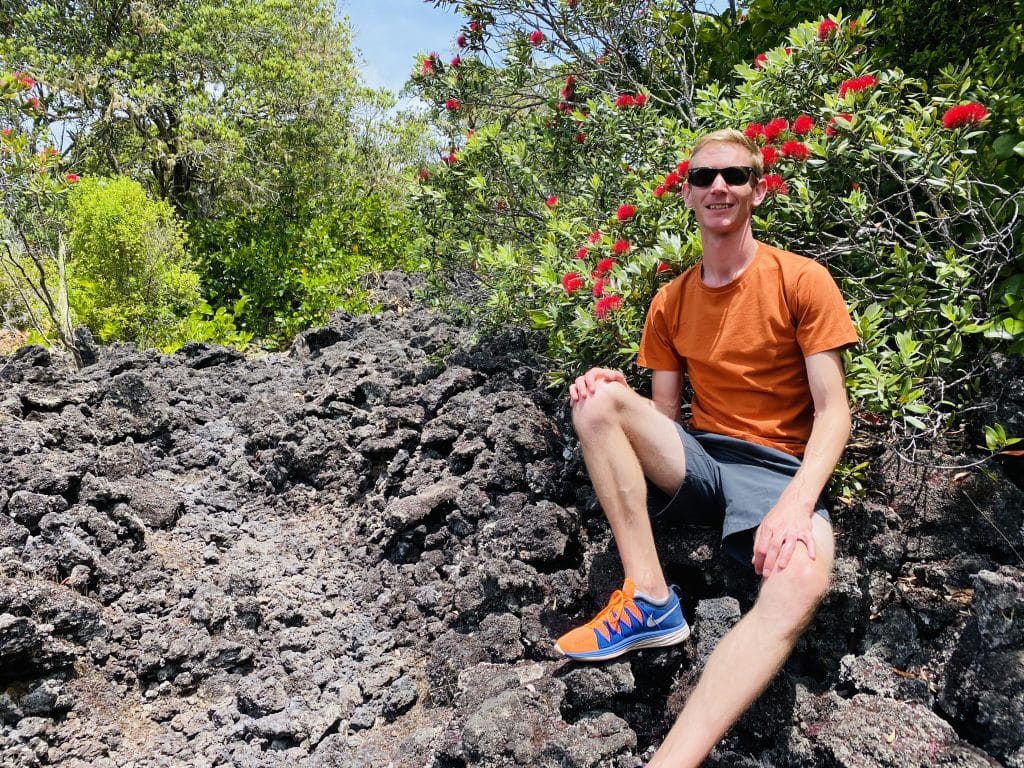 Other Important Information For Rangitoto Island Walks.
Toilets? The Rangitoto Island ferry has bathrooms, but there are also toilets at Rangitoto Wharf, at Islington Bay and McKenzie Bay. There are no toilets on any of the trails or at the Rangitoto Island summit.
Can I Stay the Night on Rangitoto? The Rangitoto Island Historic Conversation Trust leases two baches that can be reserved in advance. They are very popular with Auckland locals, however, so you'll need to plan months out. Camping isn't allowed anywhere at all on the Island, and wild camping in New Zealand is not particularly easy in general. Should you wish, you can camp on neighboring Motutapu Island, by closing the causeway between the two islands – but this is much more than a day trip and only suited to those with an abundance of time.
While My Cellphone Work? The amount of people who seem concerned about staying connected here is somewhat mind-boggling, but in short: yes, if it works in Auckland. This is not Hong Kong or Singapore; however, and coverage can be patchy. You will likely get on the summit walk and summit itself, but I found it very hit and miss on the north side and coastal trail around the Eastern side of the Island.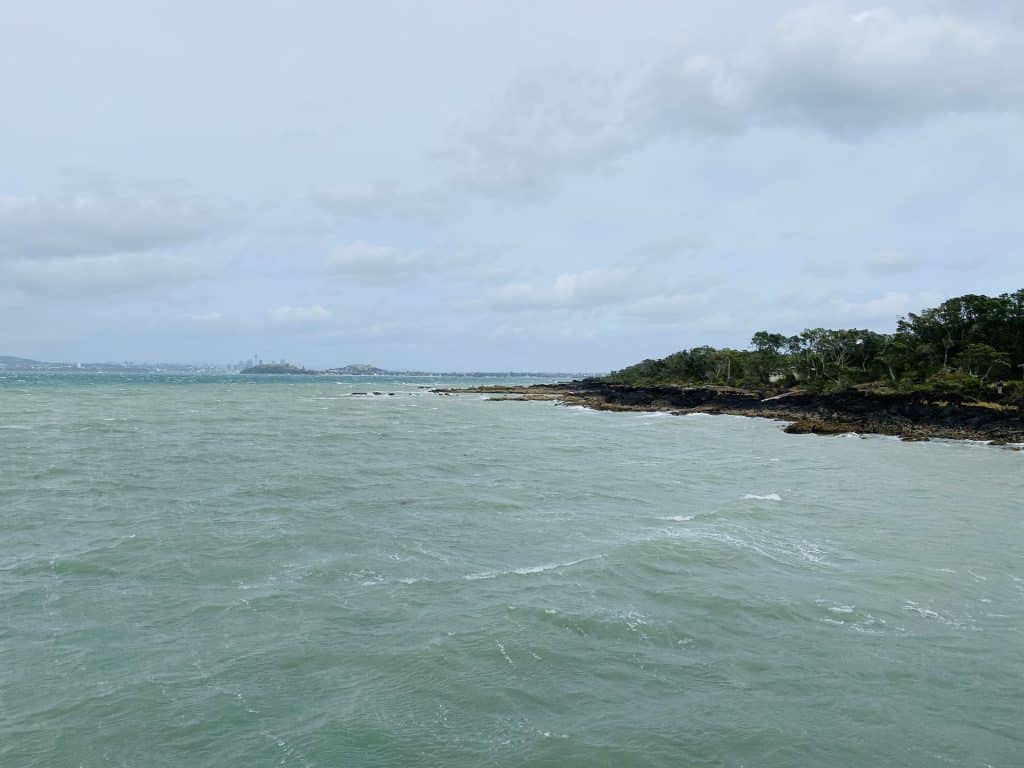 When To Visit? There is no best season to visit Rangitoto Island – as long as you are dressed appropriately. As you can imagine, a rainy day is less than ideal. Auckland frequently has stunning blue skies in winter – perfect for a Rangitoto day hike without the heat. In the middle of summer, Rangitoto can be very, very hot. It is a massive volcano consisting of black rocks, after all. In this case, I recommend starting early in the day, so you at least have the strenuous summit out of the way before peak heat hits. Swimming is best considered from December to March or April. You should be aware that there are limited swimming spots as sharp volcanic rocks replace white sandy beaches here. Your best bet is the sheltered Islington Bay. You might also try to plan a visit timed with the Pohutakawa Bloom in November or December – its almost as magical as Sakura in Kyoto Japan, but far less touristy.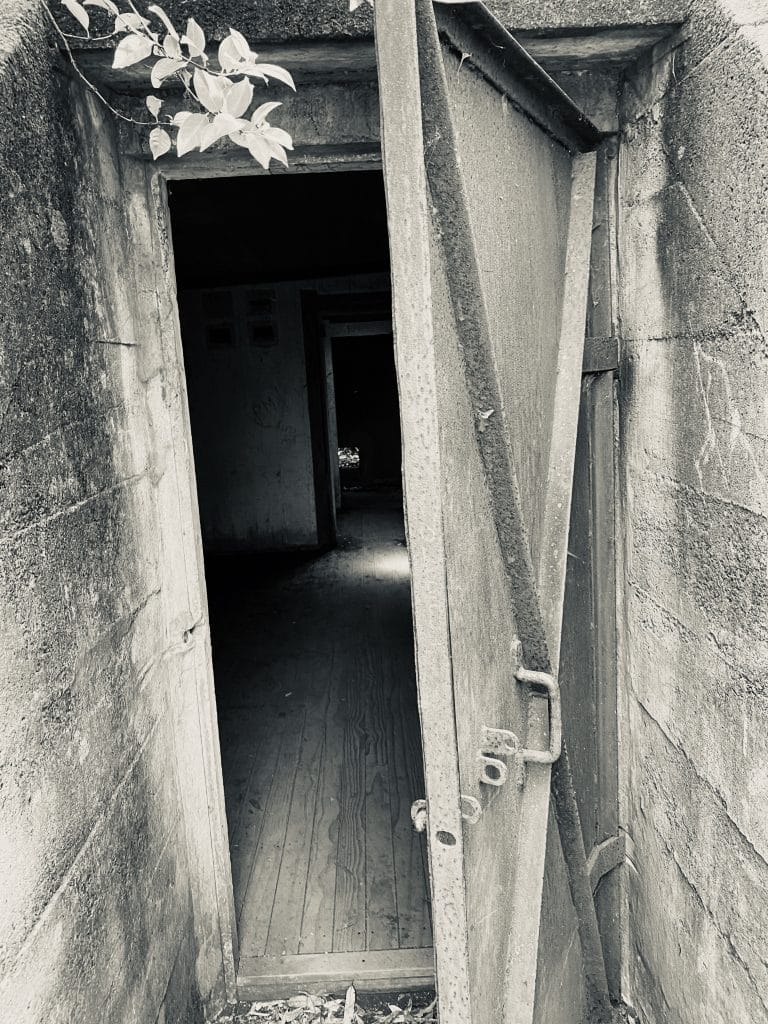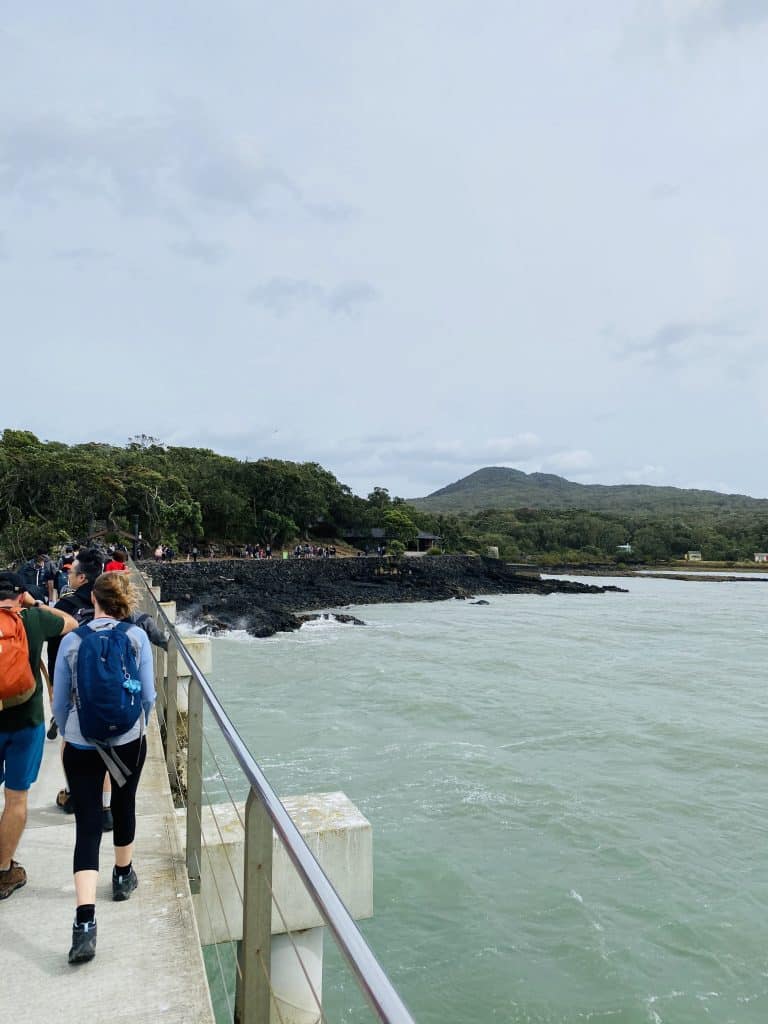 Where To Stay In Auckland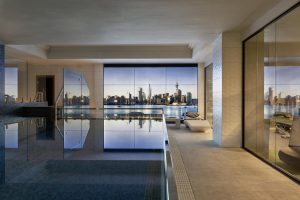 LUXURYSO/ Auckland
The trendiest artistic and musical melting pot in town. A luxurious urban hotel with avant-garde design, local energy, and magnificent views. –> Treat Yourself!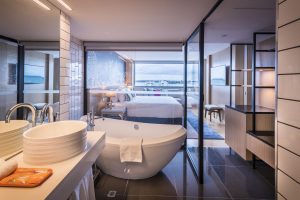 MID-RANGE M Social
A 190-room designer hotel overlooking the vibrant Princes Wharf with wallet-friendly prices, glass-enclosed bathrooms, and harbor views. –> Find the best price!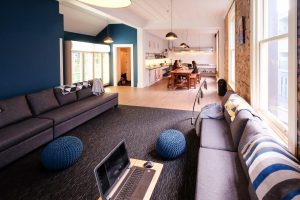 BUDGET Haka Lodge
Enjoy a warm welcome, comfy beds, and free unlimited wifi at this upmarket backpacker lodge located on hip-and-cool Karangahape Road. –> Book now!